Above: Austria's Salzkammergut region (photo credit:travelioo.com)
Most people associate Austria with skiing, Mozart, schnitzel, strudel, and images of Julie Andrews twirling around to a backdrop of mountains and green valleys. There is actually much more to this country. Austria also has some of Europe's most varied museums, contemporary architecture, sophisticated cities (with elegant bars, restaurants and cafes) as well as countless picturesque villages. And while ¾ of the country is covered by the Alps, there is a diverse mix of landscapes packed into a relatively small area; glaciers, meadows, alpine valleys, wooded foothills, gently rolling farmland, vineyards, river gorges, plains and even semi-arid steppes. There are many attractions in Austria, both natural and historical, that make this country stand out.
Costs
Accommodation; While accommodation in Vienna and Salzburg can be expensive, you can find good-value B&Bs (starting at 50 Euros per double) in the countryside. Also available in well-travelled rural areas are private rooms (Privatzimmer) ranging from €30–45 for a double room. Local tourist offices have lists of these and will often call around and book something for you. There are around a hundred HI hostels (Jugendherberge or Jugendgästehaus) around the country with rates in the in the €15–25 range for a dorm (including breakfast). Austria also has many campsites, although most are only open from May to September .
Food; Prices for a lunch special are around 6-9 Euros, while an evening meal with a glass of beer or wine will cost 15-20 Euros. It is customary to tip about 10%. Save money by buying food and drinks at supermarkets.
Transport; Austria's public transport is fast, efficient and comprehensive. ÖBB (www.oebb.at) runs the train network, which includes most towns of any size. All stations in cities and larger towns have luggage lockers. Buses (www.postbus.at) serve remoter villages; fares are around €10 per 100km. Daily and weekly regional travelcards (Netzkarte), covering both trains and buses, are available in many regions.
Below: Map credit Lonelyplanet.com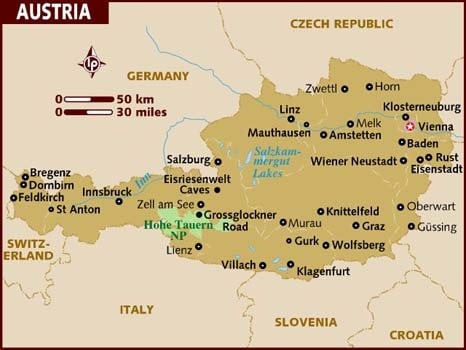 Places to See
Vienna. The capital of Austria, where about 25% of the population lives, is located where the Danube meets the easternmost fringe of the Alps, not far from the border with Slovakia. Long a centre of power in the Holy Roman Empire, it is the country's capital and the most popular destination in the country. Schönbrunn Palace with its 1441 rooms is the absolute highlight, although the more centrally-located Hofburg Imperial Palace is also stunning. The zoo, Tiergarten Schönbrunn, is the oldest in the world. The 12th century St. Stephen's Cathedral is the most prominent religious building. The Vienna State Opera is an incredible architectural structure and one of the most celebrated opera houses anywhere in the world. Vienna is packed with Medieval and Baroque structures.
Below: Vienna (photo credit: wikipedia.org)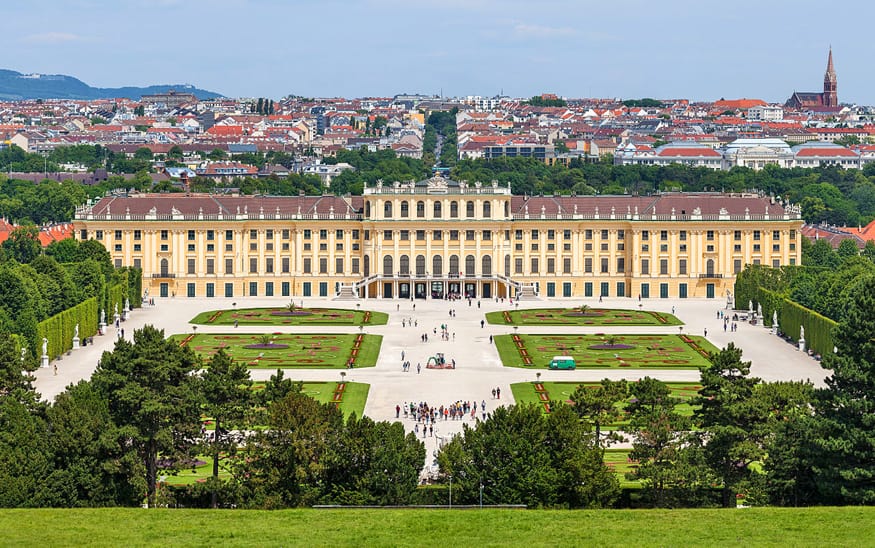 .
.

Wachau Valley
Just west of Vienna, along the Danube, is the romantic Wachau Valley. This area is full of vineyards, castles, beautiful abbeys (Melk abbey is one of the most famous monasteries in the world) and historic small towns. Melk and Krems are the main towns, but also worth a visit are Spitz and Durnstein. Much of the valley looks like scenes from a fairy-tale – but a trip to the Wachau Valley isn't complete without the chilling contrast of a visit to the Mauthausen concentration camp memorial.
Below: Melk (photo credit: Austria-guide.de)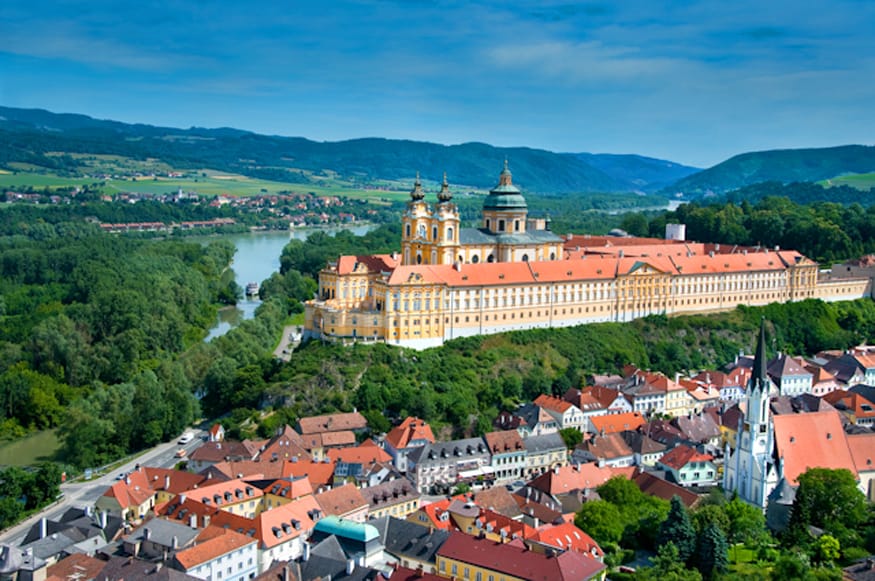 Salzburg
Salzburg is famous for Mozart, The Sound of Music, its pretty old town, great gardens, Baroque churches, and Europe's largest intact medieval fortress (Hohensalzburg castle). Salzburg feels made for visitors, indeed about eight million tourists visit the city each year.
My detailed post on Salzburg.
.
Hallstatt and the Salzkammergut region.
The Salzkammergut region is just east of Salzburg and is a mountain district full of lakes, caves, and peaks. It has great hiking, biking (the Transkammergut path covers 294 km through the region), and many resorts with spas and 'wellness' centers. Hallstatt is a must-see, a historic village (a UNESCO heritage site) it has a gorgeous location, wedged between a mountain and a swan-filled lake.
Below: Hallstatt (photo credit: Wikipedia.com)
.
Innsbruck
Innsbruck is the capital of the Tirol region. It is a beautiful and historic city located in the Alps and is known as 'the largest ski resort in the alps' (it has twice hosted the Winter Olympics). The Altstadt (medieval town) has unique architecture and is a sophisticated urban center. One of its most famous landmarks is the Golden Roof. This house was constructed by the Holy Roman Emperor Maximilian I and was decorated with thousands of gilded copper tiles that create the appearance of pure gold.
Below: Innsbruck (photo credit: Innsbruck.info)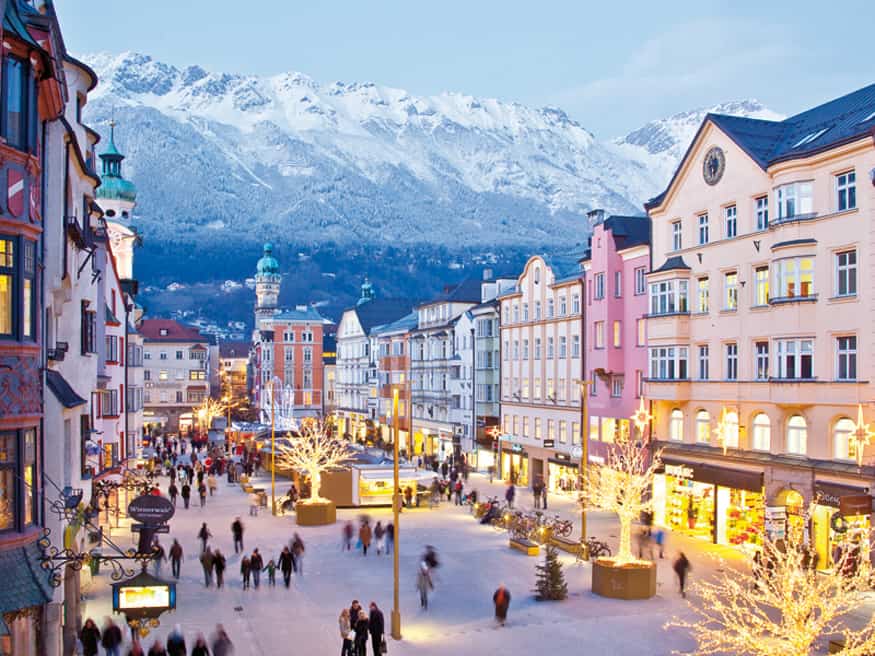 .
Hall and Reutte
Also in Tirol, Hall and Reutte are much quieter towns. Hall is located about 5 km east of Innsbruck and, although a small town, has a bigger old center than Innsbruck (some say that Hall has twice the charm and none of the tourist crowds). Full of historical buildings (the luxurious Tyrolean Baroque church is a highlight), it is surrounded by mountains. For great views and a look at life in the high Alps, drive up 5,000 ft Hinterhornalm.  Northwest of Innsbruck, close to the German border, Reutte is a quiet town made famous for the Ehrenburg ruins, 3 castle ruins located on the high hills situated around the town. Many people have never heard of Reutte – surprisingly it is only 20 minutes away from busy Fussen (where Neushwanstein castle is one of the most visited castles in Europe) in neighboring Germany. I always recommend to anyone visiting Fussen/Neushwanstein to take the bus from the Fussen bahnhof to visit Reutte. It warrants at least a full day and you may even have the ruins all to yourself (as we did).
My post on incredible Reutte.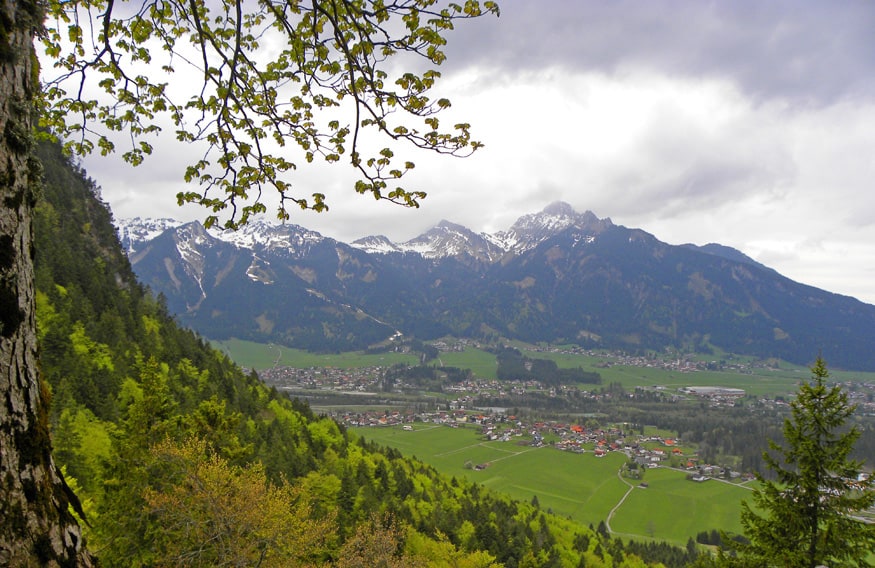 .
Graz
Graz is the second largest city in Austria with a population of approx 290,000. It is famous for the 12th century fortress built on Schlossberg hill – according to the Guinness Book of Records the strongest fortress ever built (it was the only spot in the region not to fall to the Ottoman Turks in the 16th century). Lots of historic sites in the old town which is a World Heritage site.
Below: Graz (photo credit: europesgreatest.com)
.
For people looking for nature and adventure: The High Mountain National Park in the Zillertal Alps (in Tirol) is one of the most spectacular national parks in Austria with peaks up to 3476m. Lots of narrow gorges, steep cliff walls, summits and glaciers – great for hiking and mountaineering. The country's highest peak is called Grossglockner and is located on the border between Carinthia and East Tirol. The Grossglockner High Alpine Road is one of the most famous alpine roads in the world with gorgeous panoramas. National Park Thayatal (north of Vienna, forming the border with the Czech Republic) has different geography, combining beautiful valley landscapes with a variety of castles and ruined fortresses.
Feel free to comment with recommendations, tips, or your stories on Austria. I'm always looking to supplement/update the above and welcome all constructive feedback!
.
——————————————————————————————————————————————————————————————-
Planning on visiting Austria? If so check out my favorite affiliated companies. I book all my hotel stays with Booking.com (because you don't have to pay upfront). 
If you're staying longer, book an apartment on Airbnb. You're getting a Bbqboy discount if you sign up using the link below.
——————————————————————————————————————————————————————————————-
.