Bangkok doesn't make a great first impression. My first time here was on a trip with a girlfriend. We stayed in the Sukhumvit area (close to the Nana skytrain station) and were overwhelmed by the air pollution, traffic, and cement. We were scammed for $3,000 on our first day (that's an embarrassing story detailed here). We were impressed by the Grand Palace/Wat Phra Kaeo but had been happy to leave Bangkok for the countryside.
My 2nd and 3rd visits to Bangkok were as a single guy and I enjoyed the city much more. I barely remember my evenings here - between the cheep booze and the easy friends I made it is all a bit of a blur…Bangkok is the most exciting city that I've ever visited and it can just overwhelm. I had heard all these crazy stories about Westerners falling for girls half their age, losing all their money, and becoming addicted to the nightlife. Men lose themselves here, if you don't believe me read all the colourful stories on Stickman's site. I don't care if you're an expat or a visitor, you have to exercise control to survive in  Bangkok. It took me a few trips here to learn that lesson.
I stayed at the Royal Hotel on those trips, located close to the Grand Palace, and used the river boats to visit sites such as Wat Arun on the west bank of the Chao Phraya River and Dusit Zoo (a bit further up the river). It was also close to Khao San Road which is admittedly really tacky but a good place to have a beer and people watch.
This time, with Lissette, was my 4th time in Bangkok. We stayed 2 days and visited many of the sites I had missed on previous trips. She didn't like the city as I much as I do (again, too chaotic and polluted) but I expected that. Bangkok is a city that grows on you. The city still excites me, just mentioning it gets my heart pumping. On one of my trips I encountered an elephant walking along the sidewalk – where else would this happen but in Bangkok?
My favorite things to do/see in Bangkok:
Visit Wat Phra Kaeo / Grand Palance / Wat Po (all in same area)
take ferry along river
Wat Arun Watchararam (try climbing the steps, gulp…)
Jim Thompson house for a taste of classic Thai culture/architecture
Golden Mount (Wat Saket)
Patpong at night. More risqué are Nana Soi / Soi Cowboy
Sky bar for views at sunset
a ride on the skytrain
Dusit zoo (for those that like zoos like I do)
I've mentioned that Khao San Road is tacky. It is, but still worth a visit just to watch the mix of trashy tourists and locals.
A couple of tourist attractions I found disappointing: The Vimanmek mansion (where you are herded in like tourist cattle) and Muay Thai kickboxing (I love Muay Thai, but see it somewhere else – prices for tourists astronomical in Bangkok).
Below: Photos of Wat Phra Kaeo. The highlight of any visit to Bangkok.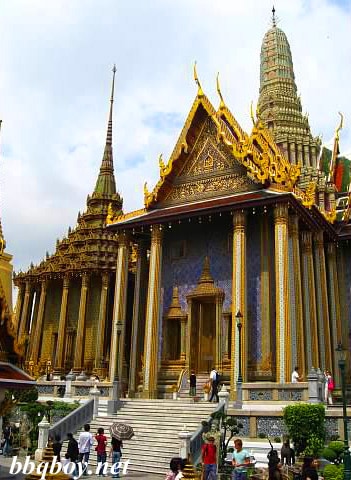 A funny story from Bangkok. We're walking around Wat Phra Kaeo (above) when a young Oriental couple comes up to us. "Hello, can we take a picture of you?" says one. I mean, how weird looking are we that someone, walking around this beautiful wat, drops everything and thinks "hey, I've got to take a picture of those 2 people"?  We said ok and posed for a photo. I asked them where they were from and they said Japan. Not to be outdone, I asked them to pose for a photo. They didn't have a choice. Here they are.
Bet they don't think they're so funny now that their photos splashed on the internet

Below: view of river from Wat Arun Watchararam
Below: Yup, lots of pussy in Bangkok

Below: Boy who sold us a rose / White tiger in Dusit zoo
I mentioned scams. You'll get scammed here by taxi drivers and touts and might not even realize it. Maybe it's better that way. When you've been here a few times you recognize every little scam and get upset and frustrated. It's not worth it, it's actually the worst thing you can do. Keep a smile on your face, protest lightly but persuasively; "saving face" is a huge thing in Thailand and you have to play the game to resolve situations. Exercise control and keep your eyes open and you might actually find yourself enjoying Bangkok.
Any great Bangkok stories? Always like any tips, feedback, or stories shared!
If you like our blog and our photos, please subscribe to get your FREE PHOTOBOOK as well as our most recent posts.
Thank you!