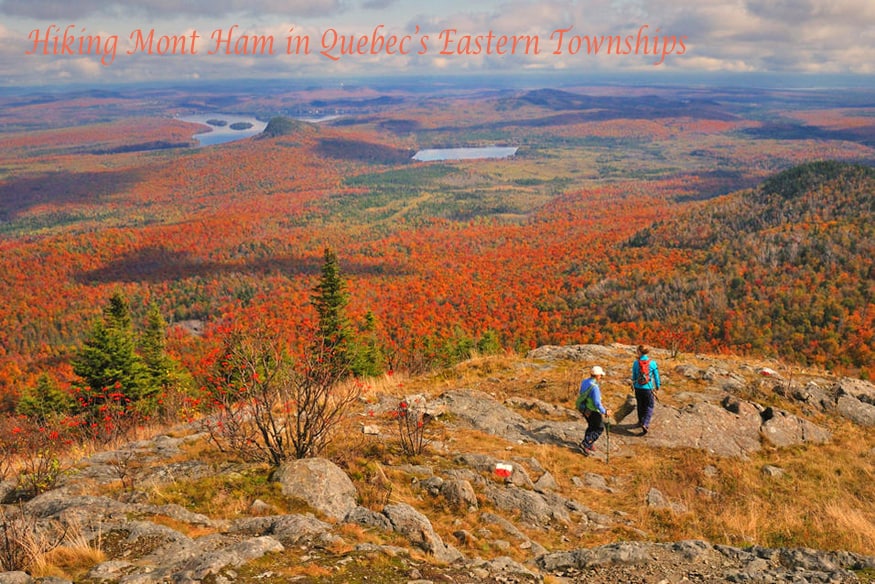 Above: photo credit Tourismdessources
Mt. Ham is about 2 hours from Montreal in Quebec's Eastern Townships. We hiked the "Intrepid" Trail, a 1.7 km hike up to the summit where we were blessed with impressive 360 degree views. Far away we could see Mont-Megantic and Mont-Orford. The views are quite awesome.
I have mixed feelings about the hike though. What we didn't like at Mont Ham is the trail, which features a lot of mud and loose rocks. Lissette is a nervous hiker and doesn't like loose rocks. If your girlfriend doesn't love hiking in the first place, this is not the mountain to bring her to. On the other hand, if you're an experienced hiker and a billygoat on rocks you'll manage the ascent quite easily and will enjoy the views on the top.
related: other nearby hikes
Our favorite Eastern Townships hike – Mt. Pinacle, Quebec
Visiting Parc National du Mont-Megantic
Photos – Parc National du Mont-Tremblant, Quebec in the Autumn
Have you been up Mt. Ham? What did you think of it?
——————————————————————————————————————————————————————————————-
If you haven't subscribed yet and want to get our posts and newsletters sent to your email, just insert your email address below: