This Destination Guide is contributed by Italian resident Arianna Ferrari (love her name!). Arianna is a newly-born travel blogger with a passion for her adopted country and a genuine love for Paris. She contributes to several blogs and has finally started her own. Lots of new ideas every day and plenty of projects coming up.
Her Blog: Parisforeverblog   On Twitter: Ariadnethread80
Italy is the country that enjoys the greatest number of UNESCO World Heritage Sites in the world: in total 49 sites including cities, churches, gardens, archaeological areas, mountains, seaside villages and so forth. In 2013 the list got two new sites: the Mount Etna, the tallest European volcano still in activity, on the east coast of Sicily, and the Medici Villas in Tuscany, a complex of rural building scattered around Tuscany, which belonged to a prominent Italian family, that of the Medici, between the 15th and the 17th century.
You'd probably like to know that the first recognized World Heritage Site in Italy dates back to the year 1979 and includes the large collections of prehistoric stone carvings in Val Camonica.
Such a huge number of terrific cultural and natural sites account for a visit to this extraordinary country which is known throughout the world with the appellative "Bel Paese".
Italy is no doubt a beautiful country in virtue of its cultural heritage and landscape treasures. Not to mention the local food. Each region has its own peculiar recipes and sometimes tastes differ so much from one another that you'd think you are visiting two different countries. Food is definitely another excellent reason to travel to Italy.
Costs
Italy is not that cheap. However, compared to northern Europe and the United Kingdom, prices are much more accessible.
Accommodation: The money you are going to spend is influenced by different factors. First of all, there exists a huge gap between North and South: visiting Milan will affect your pockets much more than a holiday to Palermo. The season too, whether it is high or low season, has a strong impact on prices: in this regard, you'd better avoid the month of August when tariffs go up extraordinarily.
In any case, Italy provides travellers with a large assortment of accommodation ranging from the most economic pensione to the most luxury 5-star hotel, from a not-too-fancy Bed & Breakfast to a respectable mid range hotel, from a simple room to a cheap hostel. The choice is up to you! In recent years, we have been witnessing the extraordinary boom of holiday apartments which a specific type of tourists appreciate more and more.
Check out HotelsClick.com for hotels (it is an Italian-based booking site with lots of connections in the country and exceptional hotel prices) , AirBnB for apartments, Hostels.com for hostels and BBItalia specifically for B&B's.
Food; prices can be very changeable. Also in this case, the city where you are in strongly affects the bill for your meals and again the South tends to be much cheaper. Prices can range between 20 Euros (which is considered good value) and 50-60 Euros for one meal including two main courses, a dessert, drinks (of course, house wine) and coffee. The best tip is to stay away from places which are clearly touristic, those with the classic banner saying: "Touristic Menu": prices are indeed tempting, but quality tends to be pretty scarce. The good news is that you are not supposed to leave a tip because generally there is a service charge included in the bill.
Transportation. The costs for public transportation are quite reasonable, although taxis are much more expensive. Renting cars is not so convenient, also because fuel is expensive. If you decide to travel by train, you can save money using the regional lines which are however really slow and not reliable at all. You can browse the official site of Trenitalia, the main train operator in Italy or you can try Italo, the new high-speed train connecting some of the main Italian cities.

(Map credit: Lonelyplanet.com) 

What to see in Italy (alias 10 obvious places to visit)

Rome
Everybody should visit Rome at least once in their lifetime. Wouldn't you visit a place which is known as the Eternal City? The Italian capital is truly an open-air museum or, if you prefer, a precious chest revealing a treasure at every corner. Take some time to enjoy an accurate visit to Rome: her priceless monuments, her fine museums, the typicalrioni, the majestic river Tiber, the Vatican…
Let's not reduce the city to a mere list of things to see. Rome is first of all a magic place where past, present and future meet harmoniously.
Below: Rome
Venice
Venice needs no introduction. Indeed it is one of the most unique and spectacular cities on the entire planet. It can be supposed that visiting Venice for the first time can be (positively) shocking. The Floating City, the City of Canals, the Queen of the Adriatic, the City of Bridges… No matter which name you are going to use, Venice offers endless splendour and absolute romance. The local Carnival is one of the most flamboyant shows in the world and it draws thousands of visitors every year. Venice is likewise famous for the Film Festival which takes places every year on the beautiful location that is Lido island.
Florence
One of the Italy's most splendid jewels, a UNESCO World Heritage Site since 1982, Florence is first of all a cultural destination rich in incredible works of art and architecture. Only to mention the most famous: Santa Maria del Fiore, the city's cathedral, with its magnificent dome built by Brunelleschi, the Fountain of Neptune in Piazza della Signoria, Ponte Vecchio (the Old Bridge), the Basilica of Santa Croce, Palazzo Vecchio, the church of San Lorenzo with the Medici Chapel and, of course, the Uffizi Gallery, one of the oldest art museums on the planet.
Below: Ponte Vecchio in Florence
Turin
It was Italy's first capital back in 1861 and home to the House of Savoy, one of the oldest royal families in the world: Turin indeed looks like a prestigious and influential city.
The city hosts one of the UNESCO World Heritage Site, the Savoy Residence, a complex of astonishing buildings, including palaces and castles, scattered in Turin and its province.
One of the most representative symbols of the city is the Mole Antonelliana, a monumental building, originally conceived as a synagogue, which today houses the National Museum of Cinema.
Below: full moon over Turin (photo credit: compfight.com)
The Umbrian hills
If you wish to go medieval on your next trip, then Umbria with its hill towns is the right place to be. From Assisi and the Basilica of San Francesco to Spoleto and its Bridge of Towers, from Todi to Gubbio, from Perugia, Umbria's capital, to Orvieto and its Etruscan past. Not to mention some delightful small villages, like Bevagna and Montefalco.
Naples
Perhaps you are familiar with the expression "See Naples and then die." And maybe you can guess what that means. In other words, you must visit Naples before you die and, as you do not know when you will die, you'd better hurry up. This way of saying embodies all the good reasons why you should go to Naples.
Below: Naples Bay (photo credit: compfight.com)
Dolomites
They have been described as the most beautiful peaks on the planet. It could be in virtue of the magnificent rose pink colour they get early in the morning when sun rises and late in the afternoon when the sun begins to set, a phenomenon which is known as alpenglow. The Ladins call it Enrosadira that literally means "to become rose". It could be for their majestic height (up to 3000 metres above the sea level) and their sumptuous shape that reminds you of perfect monuments. It could be because of their geological history: they originated around 200 millions years ago from the depths of the primordial sea and they indeed represent a journey through space and time, an open book on the history of our planet waiting to be read. It could also be thanks to their exceptional natural heritage that includes countless species of animals and plants.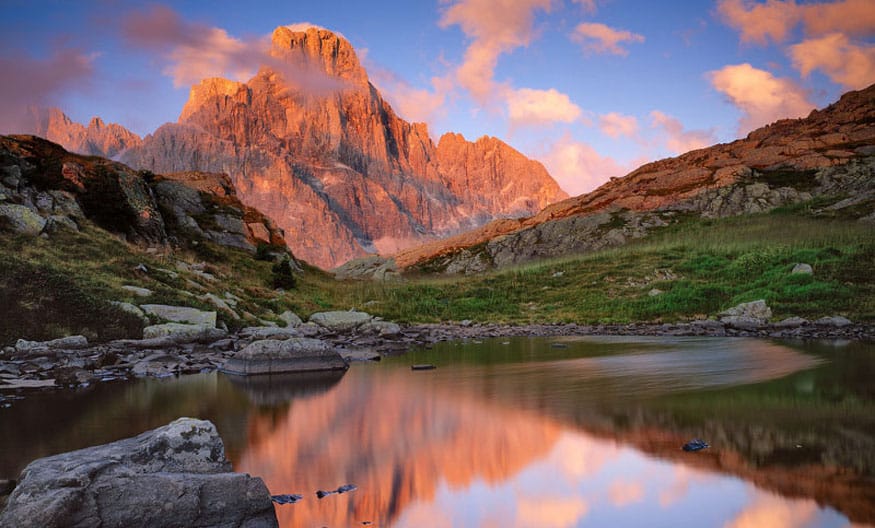 The Amalfi coast – Campania
A legendary stretch of sea in the Province of Salerno, Southern Italy, that has become a haunt for poets, artists and travellers from around the world.
No-one can deny the unique charm of this place with its picturesque villages overlooking the Tyrrhenian sea, its magnificent villas, its smell of lemons and its beautiful sea.
What can you say about its extraordinarily steep cliffs and profound sea caves? Just sit and marvel.
There is a fjord along the Amalfi coast, near the town of Furore, where every year a spectacular diving contest is held (it's called MarMeeting).
Below: Amalfi Coast (photo credit: compfight.com)
The Sassi of Matera – Basilicata 
They are stone houses carved out of the cliffs and are thought to be some of the first human settlements in Italy.
The entire area was declared a UNESCO World Heritage Site in 1993 and since then its fame has been constantly increasing.
The funny thing is that for a long time they had been considered a shame rather a pride: it was inconceivable that family units could live inside these caves along with their livestock with no electricity, running water or sewage.
Below: Sassi of Matera (photo credit: compfight.com)
Milan and Leonardo's Last Supper 
The Convent of Santa Maria delle Grazie houses one of the world's greatest paintings, an authentic masterpiece of unparalleled beauty: the Last Supper painted between 1495 and 1497 by Leonardo da Vinci. Definitely worth a visit!
Below: The Last Supper (image credit: the sacredpage.com)
5 less obvious things you must visit in Italy
The legend of the bell-tower of Graun im Vinschgau and the Lake Reschen
We are in northern Italy, in the South Tyrol province. The Lake Reschen is an artificial lake near the village of Graun im Vinschgau (in Italian Curon Venosta) which is famous for the ancient half-submerged bell-tower whose steeple pops out of the water. It belonged to a 14th century church whose remains now lay on the bottom of the lake. In winter, when the water freezes over, the bell tower can be reached by walking. Legend has it that sometimes, during the cold winters, you can still hear the bells ringing, although they have long since been removed.
Below: bell-tower of Graun im Vinschgau (photo credit: compfight.com)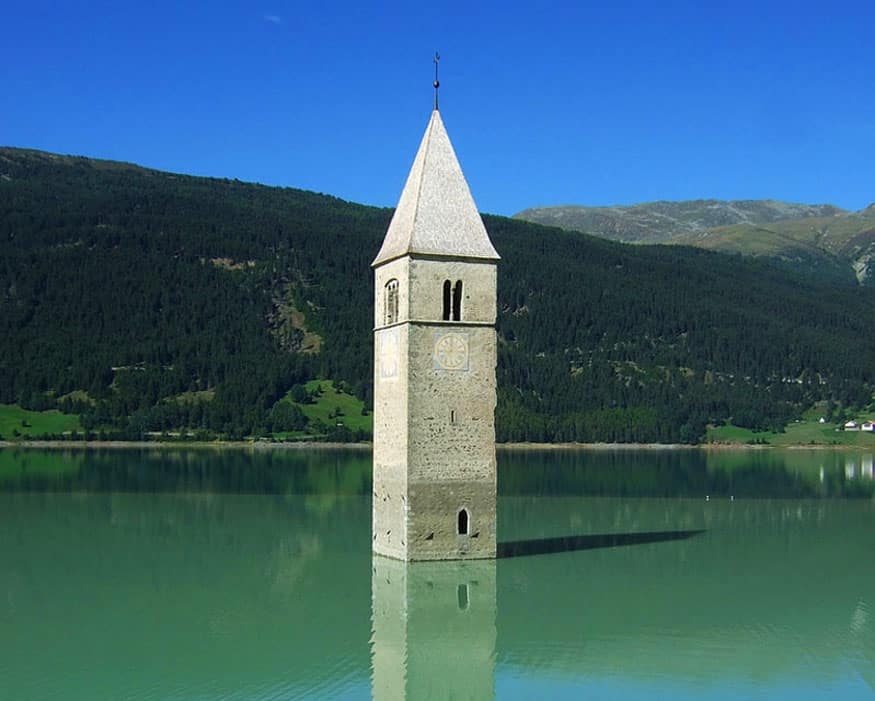 The Alcantara Gorge
A complex of amazing natural canyons located in the Alcantara Valley, in Sicily. They originated from ancient lava flows and can be up to 50 metres deep. The site offers a unique show with spectacular rock structures and effervescing waterfalls.
Below: Alcantara Gorge, Sicily (photo credit: compfight.com)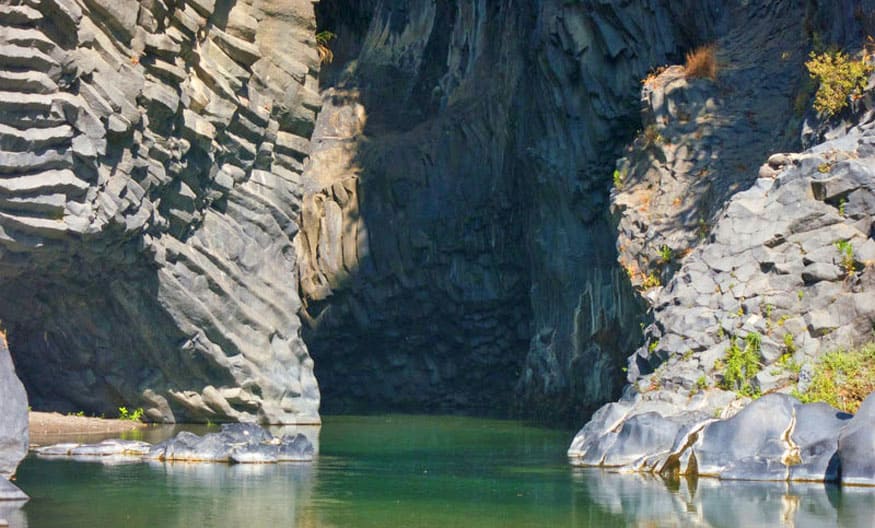 The cities made of tuff
We are in south Tuscany, where Etruscans lived in ancient times.
Here is a trilogy of three small ancient towns entirely built on tufa rocks offering spectacular views you will never forget. The funny thing about them and the surrounding area is that even many Italians do not know about it.
Here are the three names you need to memorize: Sovana, Sorano and Pitigliano. They truly represent something unique, almost unbelievable, as the local buildings look really like as though they were coming out of the mountain.
Around 30 kilometres from the tufa cities, in the territory of Marciano, Saturnia is a spa town famous for the local sulphurous thermal waters and their therapeutic qualities.
Below: Town of Pitigliano (photo credit: compfight.com)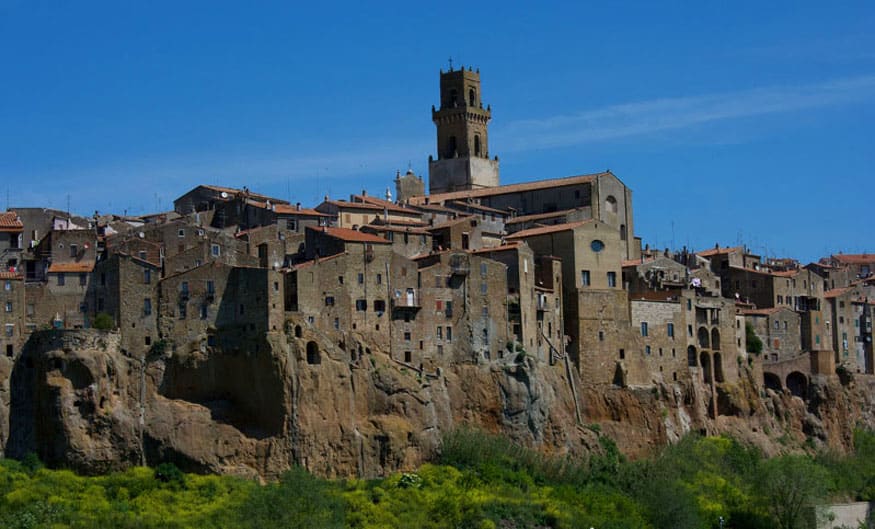 The Conero Park
Mount Conero is the only promontory on the sea that you meet along the Adriatic coast from the city of Trieste, in the north, and Gargano, in the south. The area around has become a protected territory with the establishment of a regional park that safeguards places of supreme beauty. It is an authentic nature sanctuary to the south of Ancona. Not to mention the sea: crystalline waters and splendid white breaches that you would not expect along this section of the Adriatic coast.
There is also a delightful medieval village in the area, Sirolo, almost a balcony on the Adriatic.
Polignano a mare
Castled on a cliff overhanging the sea, the enchanted village of Polignano a Mare is a precious gem on the Adriatic coast about 30 kilometres from the city of Bari.
The atmosphere there is truly magical thanks to the fact that the village has managed to preserve its historical and artistic heritage. Once there, go and enjoy the astonishing viewpoints overlooking the sea.
Below: Polignano a mare (photo credit: compfight.com)
To conclude; It is not easy at all to prepare a guide on Italy that includes all the great things travellers can enjoy in the country which is well-known in the world as the Bel Paese.
In Italy, beauty is everywhere, from North to South, from West to East. Italian beauty has no regional borders nor geographic limits.
Just enjoy La Dolce Vita!
—————
Related photo posts/stories on Italy covered in this blog
Feel free to comment with recommendations, tips, or your stories on Italy. Do you have your own favorite spots? I'm always looking to supplement/update the above and welcome all constructive feedback!
.
——————————————————————————————————————————————————————————————-
Planning on visiting Italy? If so check out my favorite affiliated companies. I book all my hotel stays with Booking.com (because you don't have to pay upfront). 
If you're staying longer, book an apartment on Airbnb. You're getting a Bbqboy discount if you sign up using the link below.
——————————————————————————————————————————————————————————————-
.
.