T
his Destination Guide is contributed by Jess Signut at Tripelio. Jess is originally from the US but is a long-term expat and traveler who has lived in various locations across the world since she was a child. Have a look at her guide on Krakow then check out her website!
.
Krakow is a city of legends, stories and tradition. It is a UNESCO World Heritage site and Poland's highlight destination. This Guide covers all the logistical information you need to know and tells you what you should see and do while visiting this beautiful city.
.
Costs


.
Accommodation
Before even starting your Polish adventure, you will first need to find a place to sleep. You can find options to stay in hotels, hostels and even apartments. Here are a few places to stay that will make your experience extra incredible.
Hotel Wentzl: This historic hotel has been around since 1792. It looks out over the Kracow Market Square, giving you one of the best views in town. The location, service, and food  can't be beat. Expect to pay in the USD 200 range.
Zamek Korzkiew: A great place to stay if you want something a little more peaceful and outside of the city. You will feel like you're staying in an old Polish castle in the countryside. This hotel is only a 15 minute taxi ride to the city center. Approximately 100 USD/night for an exceptional experience.
Mariacki Apartment: This has to be one of the top romantic accommodations in Krakow. This charming attic apartment will give you incredible views and a cozy experience. Perfectly located  right next to the Main Market Square. Approximately 80 USD.
Hotel Grodek: This hotel manages to have a cozy, charming and authentic feel, while still being right in the center of town. In this hidden hotel you will find amazing staff, service and food. (approx 120 USD/night)
Looking to save a bit of money?
Flamingo Hostel is superbly located and has everything from dorms to private rooms ranging from USD 15 to 50.The Abel Hostel and High Life Hostel have  similar facilities and prices.
Use this special Booking.com link to get savings (off the prices above) on all these accommodation options.
.
Above: Polish food (photo credit: Fifthfloorkitchen)
.
What to Eat
Polish cuisine is an eclectic and amazing mixture of cultures from all around the world including French, German, Jewish and many more. You will find a large variety of flavors within the regions of Poland as well. The city of Krakow carries on the tradition of food diversity. You will find traditional Polish food, as well as amazing pizzas and kebabs.
Rough costs: 15 zl (4 USD) for a Pierogi, Pizza 20-30zl (5-8 USD). You'll pay about 2 USD for a beer and should get by with 55 zl (15 USD) for a simple meal for 2. See the Expatistan cost of living report on Krakow for various food/living expenses.
Some recommendations:
Starka Restaurant: This tasty restaurant will serve you all of the traditional Polish favorites you need to try. Rated as one of the best Krakow Restaurants on Trip Advisor. In addition to great food, they make their very own vodkas. You can find everything from cranberry to ginger flavored vodka. A must try!
Pod Sloncem: This centrally located restaurant has great traditional Polish food with a very rare vibe. Within this cozy restaurant you'll find a unique stone carving of Mr. Sunbeam that makes your eating experience that much more unique.
Zapiecek Polish Pierogi: You cannot leave Poland without eating a Pierogi. They are the epitome of Polish comfort food. Zapiecek is the perfect place to try them. You can find all different types that are sweet, savory or a little bit of both. You will be able to fulfill all your pierogi desires here.
For more: this excellent post on A Foreigner's Guide to Polish Cuisine.
.
Above: Krakow tram (photo credit: Tundria.com).
.
How to Get Around
Trams/Buses: Krakow has a very extensive transport system throughout the city that is fairly cheap. You can purchase anything from a one way ticket to a 72 hour pass. You can find more detailed information on prices and where buses go here.
Taxis: Taxis are very plentiful and easy to find in Krakow. However, many taxi drivers may not speak English so it may be a good idea to write down the address of where you are going, or ask your hotel for assistance.
Walking: This may not always be the fastest, but it is definitely one of the most enjoyable means of travel. Krakow is a very walkable city that has plenty of sites and scenery to see along the way. You can download several Krakow specific apps that will guide you on a city walking tour. However, you may possibly need to download a VPN as you may not have access to all websites or apps when outside your home country.
.
 .
Places to See and Things to Do
I'm sure you did not just come to Krakow to sleep and eat (but that does sound pretty nice). Here are some tips on the top places to see and things to do to help you get the most out of your trip.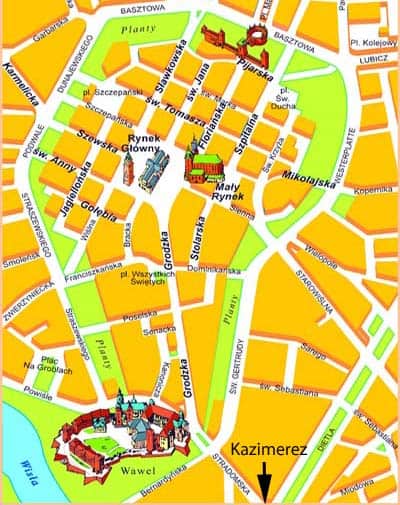 Above: Krakow Tourist map (Credit: Krakow-info.com)
.
 The Historic Centre of Krakow
This is both a Unesco World Heritage Site and the historical and cultural center of Poland. The old town (or Stare Miasto), as it is called, is covered in historic landmarks: it has Europe's largest market square (the 'Main Square' or Rynek Główny in Polish), several outstanding churches (St. Mary's Basilica, the Church of St. Wojciech, and the Church of St. Barbara), a Town Hall Tower (narrow steps but great views at the top), as well as many noble residences, row houses, monuments and museums. The historic center is encircled by a 3 km defensive wall complete with 46 towers and 7 entrances. The moat, which used to lie outside the gates, has been filled in and turned into a green belt called Planty Park. Many consider Krakow's Historic Center to vie with Prague's as the most impressive in Eastern Europe.
I mentioned St. Mary's Basilica above. This imposing church with twin towers is the focal point of the Main Square and has long been an icon of the city. Visit inside to see its beautiful alter piece. With pivoting panels, it was carved in the late 1400s by Veit Stoss and is considered one of the most impressive medieval woodcarvings in existence. I also recommend a visit to the Rynek Underground permanent exhibition. The museum's main exhibit is "In the footsteps of Krakow's European Identity." As you walk through the museum that lies underneath the market square, you will be transported back in time through the history of Krakow.
Below: Main Square from St. Mary's Basilica (photo credit: Pko via Wikimedia Commons)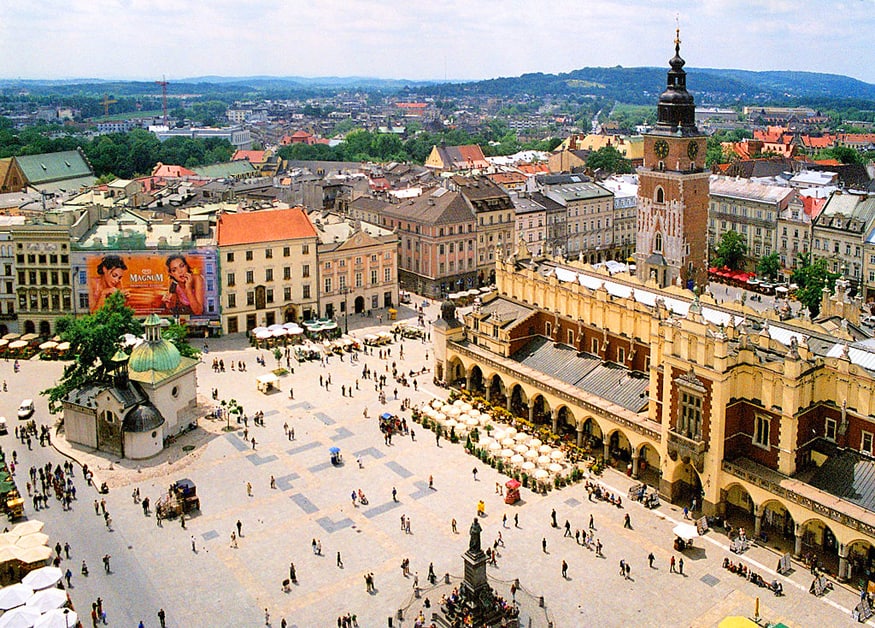 The Jewish District
Many Jews around Europe fled to Krakow's Jewish, or Kazimerez, district during WWII. The district became a safe haven until March 1941 when German soldiers forced all Jews living here to resettle in a ghetto. The majority of them eventually died in the nearby concentration camp of  Auschwitz (covered further below)
Today the district has transformed. While there are synagogues, cemeteries and Holocaust monuments memorializing the victims of the Krakow ghetto, it is also a very fashionable and hip district.
.
Wawel Hill
Wawel has long been a place of great significance to the Polish people. It was a site of fortifications in the 9th century, a residence for the first historical ruler of Poland (Mieszko I) in the 10th century, as well as a principal center for Polish Christianity. Until 1611 it was the formal seat of the Polish monarchy. The fortress-like Wawel complex visually dominates the city and is home to Wawel Castle and Wawel Cathedral, two must-see highlights for the visitor to Krakow.
Wawel Cathedral contains 18 chapels full of religious art. The most notable of these is the Kaplica Zygmuntowska (Sigismund Chapel), considered to be the finest Renaissance chapel north of the Alps. Dominating the nave of the cathedral is the mausoleum of St. Stanislav, Poland's patron saint. Another major attraction of the cathedral is a climb to the Sigismund Tower, reached through the sacristy and a wooden staircase. The tower holds the famous Sigismund Bell (Zygmunt Bell), commissioned in 1520 by King Sigismund the Old. The great bell is one-third heavier and 350 years older than Big Ben in London. It is tolled only on solemn state and church occasions.
Below: Wawel Castle (right) and Wawel cathedral (left) (photo credit: Fotocavallo via Wikimedia Commons)
Dragon's Den
The spectacular limestone formation of Wawel Hill is not the solid piece of rock it appears to be, but rather filled with eerie caves and crawl spaces. As legend would have it, the craggy chambers beneath Wawel were once home to Smok Wawelski, or the Wawel Dragon, a particularly nasty creature who liked nothing more than to gorge himself on sheep and local maidens. The caves sound like something out of a movie and it look like it, too! You can walk into the Thieves' Tower and walk down into the dark area that was allegedly home to the dragon.
Below: Dragons's Den (photo credit: Craig Nagy via Wikimedia Commons)
 .
Juwenalia Festival
If you are in Krakow in late May, you may come across this student festival featuring games, parades, concerts and more. Juwenalia is celebrated by all colleges in Poland. In Krakow, Juwenalia start with a triumphant parade of colorfully dressed students. The participants march from a college's campus to city's main square, where in a symbolic gesture, the mayor of a city hands keys to the city's gates to the students. The three days are free from lectures and filled with concerts, parties, sports events as well as beer drinking.
.
.
Outside Krakow

Auschwitz
This former concentration camp has become a symbol of the Holocaust. It is only a short drive from Krakow. It is a good idea to plan a trip and guided tour before visiting, as it has become increasingly more crowded with visitors.
Auschwitz I was first constructed to hold Polish political prisoners, who began to arrive in May 1940. The first extermination of prisoners took place in September 1941, and Auschwitz II–Birkenau went on to become a major site of the Nazi "Final Solution to the Jewish question". From early 1942 until late 1944, transport trains delivered Jews to the camp's gas chambers from all over German-occupied Europe. At least 1.1 million prisoners died at Auschwitz, around 90 percent of them Jewish. Approximately 1 in 6 Jews killed in the Holocaust died at the camp. Others deported to Auschwitz included Romani and Sinti minorities, Soviet prisoners of war, Jehovah's Witnesses, homosexuals, and tens of thousands of people of diverse nationalities. Many of those not killed in the gas chambers died of starvation, forced labor, infectious diseases, individual executions, and medical experiments.
Visiting Auschwitz can be an emotional, disturbing and exhausting experience. But no visit to Krakow is complete without it. You will most likely not want to plan anything else during the day you visit.
Below: Gates to Auschwitz (Photo credit: Carrigmanblog.wordpress.com)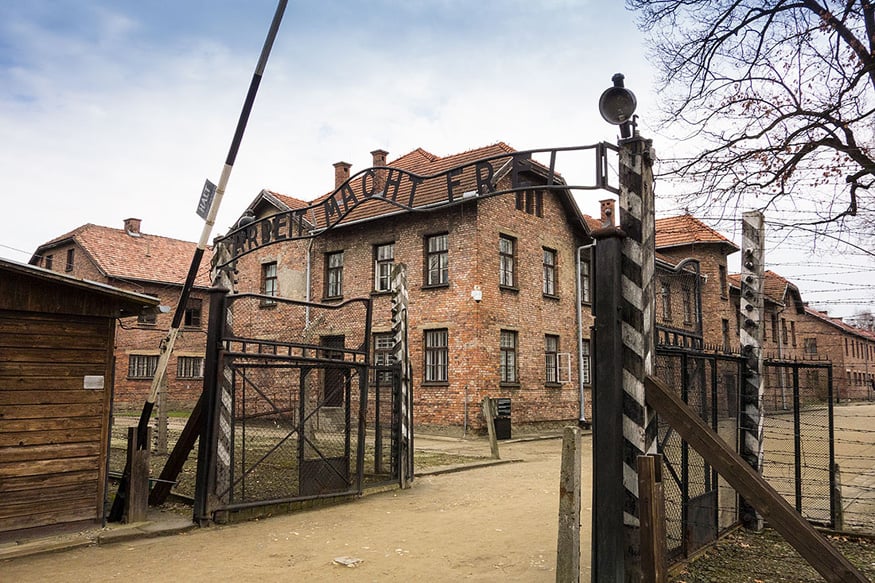 .
.
There are plenty of things to see and do in Krakow. If you're into learning the rich history of Krakow, trying diverse food, or embracing the unique Polish culture, you'll find it in every corner you turn. If you've been to Krakow, feel free to comment with recommendations, tips, or your stories. I'm always looking to supplement the above and welcome all constructive feedback!
——————————————————————————————————————————————————————————————-
Planning on visiting Krakow? If so check out my favorite affiliated companies. I book all my hotel stays with Booking.com (because you don't have to pay upfront). 
If you're staying longer, book an apartment on Airbnb. You're getting a Bbqboy discount if you sign up using the link below.
——————————————————————————————————————————————————————————————-
.
.