Pisa – We passed through Pisa for a couple of hours on our way from Lucca to Siena. It's a worthwhile day trip as long as you can stand dealing with hordes of tourists.
Above: Pisa Cathedral and the leaning tower on the right.
Overall, there isn't much to see in Pisa; it was heavily bombed during WW II and much of it was destroyed. Most of what remained are the historical sights north of the river Arno, the most famous of which is the leaning tower of Pisa.
Probably everyone has seen photos of the tower. Still, it took me by surprise: 1) it is shorter than what I expected and 2) seen from the right angle, you can really see the lean. It didn't seem so pronounced in pictures I've seen. Other than that I was honestly not that impressed. I also thought I'd have to kill myself  if I saw one more tourist doing that thing where they're pretending to be supporting the tower. I don't know, I didn't see Asian or Indian people doing that, it is a Western/Caucasian thing it seems. All I know is that it is really annoying. You can't take a photo of the tower without somebody getting in the way with an imaginary lean, a goofy smile on his face…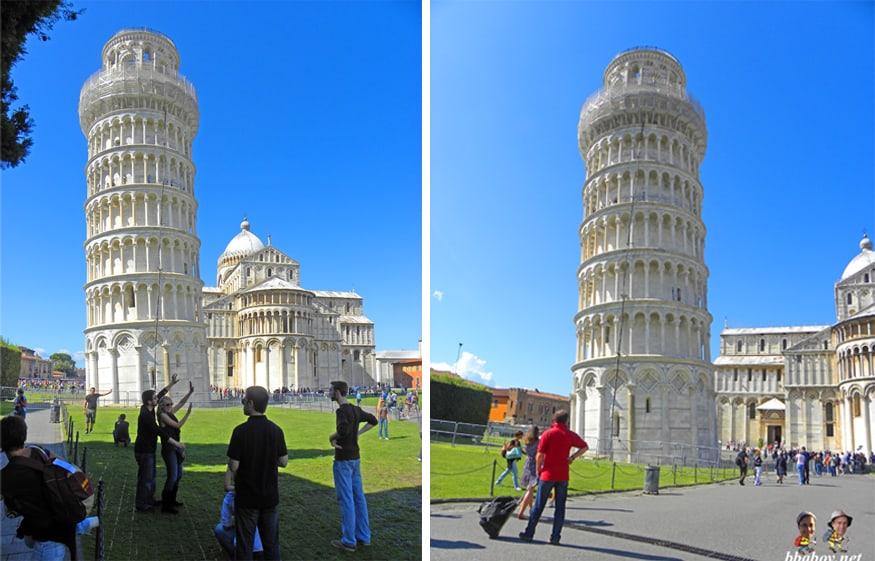 Above: "Look at us, we are holding up the tower. Yup, that's what we are doing. We're so smart and original…". 
Everyone makes a big deal about the tower because it's leaning but we were actually more impressed with the immensity of the Cathedral and the whiteness of it all. We didn't go in though. There was a huge line of people, it was hot, and we honestly weren't that inspired. We went for a beer instead.
The whole area is very, very touristy. Still, I really recommend a visit as a day trip – we stored our bags at the train station (which a lot of people seem to do) and walked the 20 or so minutes to the site.
Above: The Arno river
Addendum: Pisa made it on CNN's list of the World's Worst tourist traps.
Check out our Destination Guide on Italy for travel tips and highlights
Have you been to Pisa? What did you think?