Above: Cappadocia (photo credit: onenationtravel.net)
This destination guide is contributed by Louise. Originally from the UK, she's currently teaching English to Kindergarten kids in Istanbul, blogging about her experiences at One foot in Europe. Read her overview on Turkey below, then check out her site for more on her travels and expat adventures.

Straddling two continents Turkey is, as is oft repeated, a place full of contradictions.  You will not find anywhere else in the world that blends these two cultures together so effortlessly. Think drinking in a trendy rooftop bar in Istanbul (that would not be out of place in Barcelona) when the haunting call to prayer shakes you out of your reverie, reminding you of where you really are.
Being strategically located as it is, Turkey was the centre of many a civilization; Rome, Byzantium and the Ottoman Empire to name but a few. When visiting this unique country you will not be short of Ancient sights to feast your eyes on. More ruins than you can shake a stick at, with historical and some with even biblical significance. Turkey literally offers something for every kind of traveller; the mountain adventurer, outdoorsy hiker, city breaker, beautiful natural landform seeker, water sports lover. There is even skiing. This country should be on everyone's bucket list and not just for the unique lava shaped landscape of Capacciocia. Its natural beauty, ecological diversity (there are more plant species in the province of Istanbul than in the whole UK), delicious food, proud culture and the inevitable history lesson that comes with immersing oneself in the story of this place make it somewhere to see before you die.
.


Turkish Cuisine (photo credit: icmeleronline.com)
.
Costs
1 USD = 2.13 Turkish Lira = 0.59 £ (exchange rates Apr. 2014)
Accommodation. Hotel accommodation is cheap! The average of a cheaply priced private room with bathroom (your basic no-frills hotel) is around 30 lira a night per room. That's around £10. You can of course pay more if you want something more substantial and it is definitely not unknown to pay less. A traditional Turkish breakfast is nearly always also included, typically you will get sliced tomatoes, cucumbers, olives, bread, a hardboiled egg and spreads.  You can't really go wrong with this style of breakfast. Booking.com is my favourite for cheap hotels in Turkey. Hostelbookers for hostels. I recommend checking both, sometimes private rooms are the same price as a bed in a hostel. It depends on the location and what you are after.
Food. Meat, meat and more meat. Turks like meat. Eating out is very cheap it is certainly possible to get a kebap sandwich for 2.50 lira (less than £1). In touristy areas you will pay at least double this, but if you walk just a little off the beaten path you will find your 2.50 tl tavuk pide (chicken kebap sandwich). Expect to find a lot of kebap, kofte (meatballs) and the odd chicken snitzel.
Try Iskender Kebap, originating in Bursa, this dish takes the kebap to another level. With a layer of chopped and toasted bread, a tomato based sauce and kebap with a side of yoghurt to pour over it.
Kocorec (a horizontally roasted kebap) is another one worth trying. Usually served inside hollowed out bread chopped up with peppers tomatoes and dried herbs, don't let the fact that this is actually made of sheep intestines put you off.
For those vegetarians and vegans out there try out Cig Kofte. Originally made of raw meat this delicious paste like substance is now made up of Bulgur wheat, tomatoes and spices. Delicious rolled up in a wrap with crunchy salad. Cig Kofte can be found everywhere, for around 3 lira for a wrap. If lucky enough to be invited to a Turks house for dinner beware – the Cig Kofte they serve is likely to be the traditional raw meat style.
Alcohol on the other hand is pricey compared with the cheap nature of everything else. Expect to pay a minimum of 7 lira for a glass of beer and 10 lira for a glass of wine. Minimum. Sometimes it may be possible to pay less. Sometimes.
Transportation. Public transport is very good in Turkey. Intercity buses are cheap, comfortable and sometimes they even have WiFi. You can book bus tickets at any of the bus companies offices, either on the day of travel or in advance.  If you are travelling with somebody of the opposite sex and do not book together you will not be permitted to sit together on the bus.
As Turkey is so huge domestic flights are an inexpensive and fast way to get from one place to the other. Turkish airlines (voted the best airline in Europe in 2010,2011,2012) offer domestic flights within Turkey averaging at around 110 lira (£30) to some destinations. On a 45-minute flight you will get a free bit of lunch complete with a small desert and drink. Luxurious.
Hiring or driving a car is of course also possible, but beware of the Turkish rules of the road- i.e there are none. It's a free for all. Not for the faint hearted.
Intercity trains exist, but they are slow and inefficient. Bus journeys are much quicker.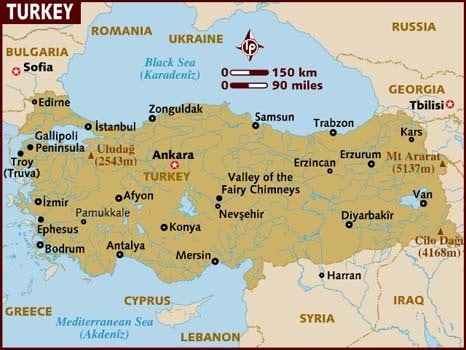 Map Credit: Lonelyplanet.com
Top Places to See
Istanbul
No trip to Turkey would be complete without a visit to Istanbul. Turkey's biggest city and the only city in the world to span two continents, this sprawling metropolis is the historical and cultural centre of Turkey. Sultanahmet, the old town hosts The Blue Mosque, The Hagia Sofia (formerly a Greek orthodox church converted into an imperial mosque now a museum) and Topkapi Palace (primary residence of Ottoman Sultans for 400 years). Also of note here is the Bascillica Cistern, the largest of a network of underground cisterns in Istanbul, built by the Romans (a personal favourite).
A ferry ride over the Bosphorus, crossing continents is a must! The Asian side well worth a visit for the bohemian neighbourhood of Kadikoy and laid back Uskudar, home to Fethi Pasa Korusu, a beautiful park with stunning Bosphorus views.
Taksim, seen by many as the centre of the city and is a hotspot for nightlife. You will be spoilt for choice with its clubs, bars and restaurants. Take a stroll down the main thoroughfare Istikal Street until you reach Galata tower. Go to the top of the tower for stunning panoramic views of Istanbul. Once finished carry on down Galata to Eminonu, and watch locals fishing over Galata bridge, day or night. Visit Eminonu's Egyptian Spice Bazar, once the centre of the spice trade in Istanbul. From Eminonu hop on the tram to Beyazit, home of the Grand Bazaar, the largest of its kind in the world with over 3,000 shops- don't forget to haggle!
Below: Istanbul (photo credit: Olandology.com)
.
Ephesus
One of the worlds largest archaeological sites with only 15% of it actually excavated, Ephesus is a sight to behold. Set amongst a picturesque backdrop of mountains a 20 minute walk from the quaint town of Selcuk, Ephesus is a must see for anyone remotely interested in history. When part of the Roman Empire, Ephesus was second only to Rome in size and importance. It is now one of the most highly frequented archaeological sites in the world, perhaps due to how excellently presented and preserved the monuments are. Look out for the Library of Celcius, built to store 12,000 scrolls, the Roman senator Celcius was buried in a sarcophagus beneath the library, in the main entrance. A great example of how archaeology and tourism can work side by side, a mind blowing and educational experience for all.
Below: Theatre at Ephesus (photo credit: bibleoutlines.com)

Pamukkale
Pamukkale, meaning cotton castle' in Turkish is a sight for sore eyes almost literally. This site has been a tourist resort since the 2nd Century AD when the Romans used it as a spa town.  A natural wonder in white, hot springs and travertines (sedimentary rock deposited by hot spring water- or as I like to call it calcium coloured cliffs) make this a bucket list worthy destination. Walk up the travertines in bare feet (no shoes or socks allowed) and feel the warm spring water trickle through your toes. Stop and take in the breathtaking views of the countryside and marvel at this natural wonder whist bathing in one of the many pools scattered around this wondrous place. The ruins of the ancient city of Hieropolis lie at the top of the travertines and should not be missed, especially the impressive 12,000 seat Roman amphitheatre.
Pamukkale, more than just calcium coloured cliffs

Below: Pamukkale springs (photo credit: boundingoveroursteps.com)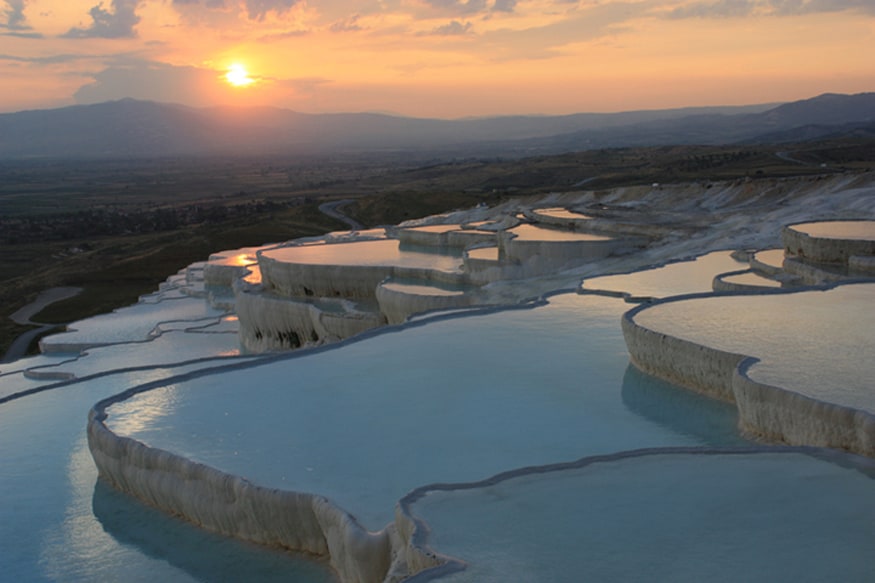 Antalya
Antalya is much more than a tourist resort. With beautiful beaches, waterfalls, awe-inspiring mountains and a character filled old town, this city has something for everybody.  An hour away from Antalya, Olympos National Park contains the Chimaera flames, a natural sight of eternal fire caused by methane emissions. It also contains one of the best beaches in Turkey according to the Daily Telegraph. Whether you want to opt for the all inclusive resort holiday or budget hotel/hostel, Antalya is a great all rounder and a perfect example of Turkey's turquoise coast.
Top Five Reasons EVERYBODY should visit Antalya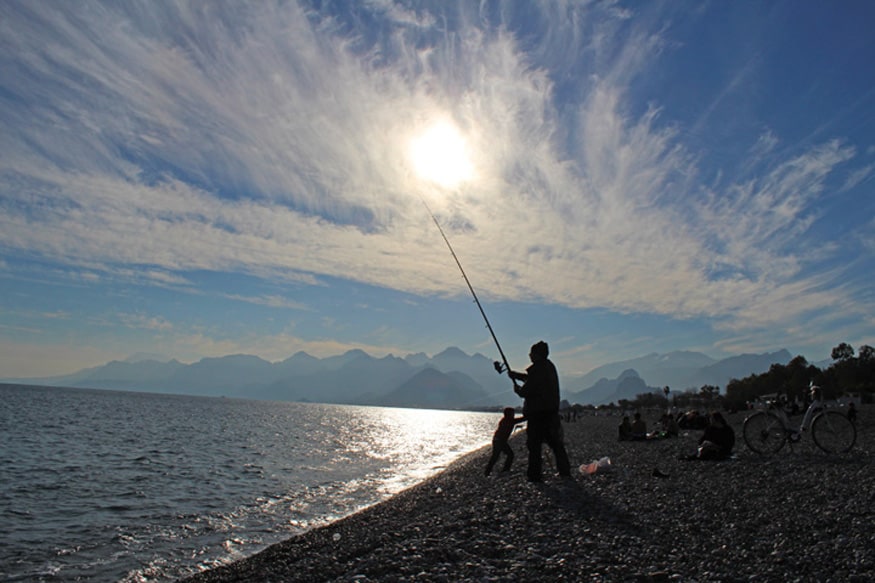 Fethiye
Home to the Lycian rock tombs carved into the mountains and one of the only places in the world you can find stone sarcophagi scattered around town, Fethiye has everything you could possibly want and more. Historical sights combined with beautiful marina, beaches, mountains, quaint villages incorporated into the city, plus paragliding and water sports make Fethiye a must see destination. Kayakoy ghost village, a 20 minute dolmus ride away should not be missed. An old Greek village abandoned in the 1920's, it is somewhat haunting to witness the overgrown gardens and crumbling houses of a village once full of life.
Below: Fethiye (photo credit: hotelskalkan.com)
Cappadocia
No mention of Turkey would be complete without including Cappadocia. Known for its moon like landscape, underground cave cities and fairy chimneys to name but a few, this is a place you have to see to believe. Splurge on a hot air balloon ride to get the full picture of this amazing landscape and stay in a cave hotel. You only live once and Cappadocia is one of the best places in the world to remind yourself of this.
Below: Cappadocia (photo credit: travel.nationalgeographic.com)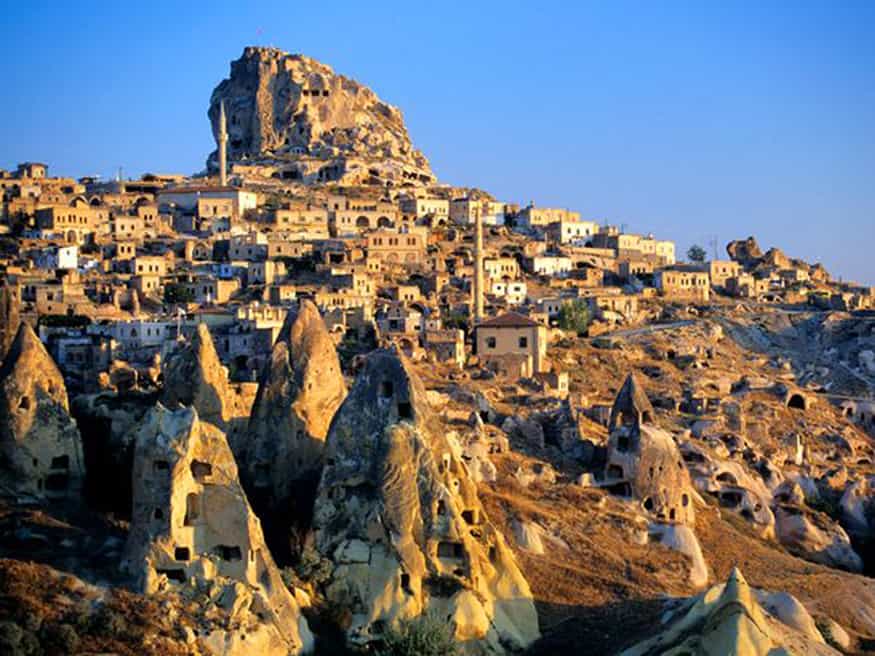 Feel free to comment with recommendations, tips, or your stories on Turkey. I'm always looking to supplement/update the above and welcome all constructive feedback!
.
——————————————————————————————————————————————————————————————-
Planning on visiting Turkey? If so check out my favorite affiliated companies. I book all my hotel stays with Booking.com (because you don't have to pay upfront). 
If you're staying longer, book an apartment on Airbnb. You're getting a Bbqboy discount if you sign up using the link below.
——————————————————————————————————————————————————————————————-
.