Above: A miserably cold and rainy day.
Fussen is a cute little town 2 hours by train from Munich, full of cafes, restaurants, and tourist shops. It's touristy but hasn't lost its charm. The town is dominated by a castle which has some nice views of the Alps. Fussen is right in the foothills of the Alps, the mountains looming right behind it.
Fussen is the jump off point to King Ludwig's castles in nearby Hohenschwangau. By far the most popular (and probably the most famous castle in the world) is Neuschwanstein. It is the inspiration for Disneyland's Sleeping Beauty Castle. So, despite bad weather, we took the bus from the Fussen Bahnhof (buses leave every 30 min) and arrived 15 minutes and 5 km later at the ticket center located just below the castles.
You can get tickets for one, or both castles (the other is Hohenschwangau, his childhood castle), at the ticket center. With the tickets you get a tour (which is mandatory, you can't wander around on your own) at a specified time no less than an hour ahead. If you tour both castles you require 2 hours between tours. You can also reserve your ticket by internet at an extra fee. This is a good idea because you can you skip in front of the line to pick up your ticket. Reserving assures you a ticket, which is not a given for a destination as popular as Neuschwanstein.
Summary: getting into Neuschwanstein requires a bit of planning..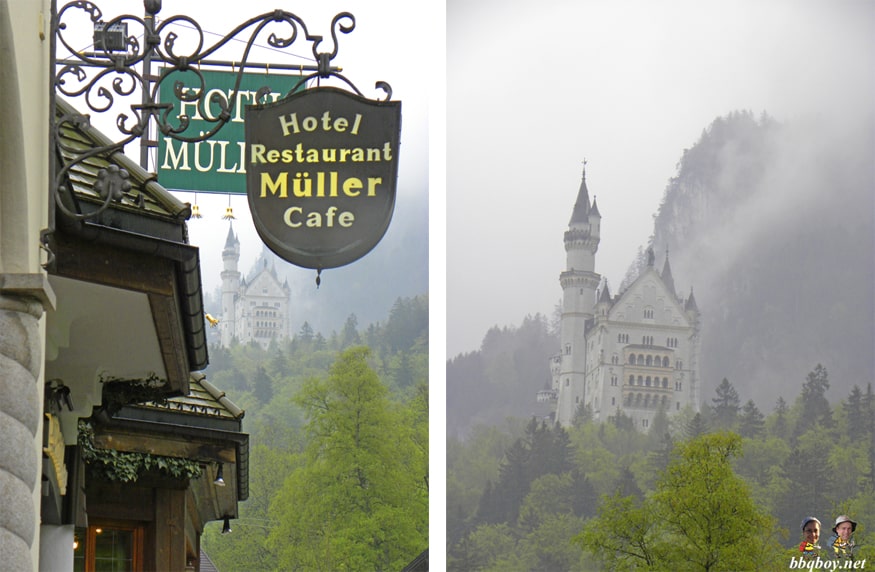 We walked up to Neuschwanstein from the ticket center (20 min) and waited for our tour number outside the front game of the castle. The number shows up at a electronic sign at the entrance. It's like waiting in line at the bank. When your number gets called you go through an electric turnstile and proceed to the 2nd floor of the castle where you are greeted by your tour guide. What followed was a very scripted, uninspiring tour through the servant's quarters, Ludwig's bedroom, and a few extravagant halls. The setting is beautiful, you have great views through the windows. No photography is allowed (which explains the few photos on this post).
You realize that King Ludwig was crazy when touring the castle. Much of the design is outlandish and fantastical. Ludwig had a cave room ('The Grotto') built which honestly looks like a batcave at a zoo. Another hall is painted as a forest scene. Furnishings and paintings are almost amateurish. It wasn't so much impressive as weird, one of the weirdest castle tours we've ever been on. The tour took 20 minutes which was disappointing – but what few know (I didn't) is that only 15 of more than 200 rooms were ever completed.
Was the tour worth it? We don't think so. I guess it shouldn't be a surprise, but Neuschwanstein castle is the most overrated and touristy castle I've ever visited. I know this is not a popular opinion because everyone loves Neuschwanstein…

After the tour we walked 10 minutes further to Marienbrucke (Mary's Bridge) where we had beautiful views of the castle and the countryside behind it. I think this is actually the highlight. Neuschwanstein is more spectacular for it's exterior and geographical setting than anything inside. I think this is why everyone is awed by this castle. I can understand this having seen some incredible photo posts on Neuschwanstein from other bloggers (Look at this one if you don't believe me).
Summary: We were disappointed but I wonder if we would have been awe-struck if it had been a clear day. Maybe the cold, rainy day made us biased? I would actually come here again* on a sunny day just to experience some of the views I've seen plastered all over the internet.
* We found Neushwanstein disappointing but loved nearby Reutte. If you are in Fussen I strongly recommend a visit.
Below: views of the alps from the pretty town of Fussen
————–
We stayed in Alstadhoten zum Hetchen in Fussen. Very nice, modern, clean, with a balcony for about 90 Euros. Well situated, close to everything. No breakfast included. They also have a nice Bavarian restaurant downstairs with several fish specialties from the region. It was Lissettes's birthday and we celebrated with the Pike for her, pork roast and dumplings for me, lots of beer, apple strudel, and another dessert of dumpling stuffed with cherry served in a custard-like sauce. Was all great.
4 of 5 – we would stay here again anytime.
I know not too many people will share my views on Neuschwanstein. Still, love to hear what you thought of the castle and why you (probably) loved it.