Cost breakdown: Montreal Vs Prague Vs Bangkok
Note: This post dates back to 2015.
When we left Montreal last July we knew that our money would go further overseas. While not the most expensive city in Canada, Montreal is an expensive city by most standards. We figured that Prague would be cheaper and Bangkok even cheaper.
We've kept track of all our costs since we left Montreal and it's been interesting to compare expenses in the cities we've lived over the last 5 months. What we've tabulated below are by no means a bible; your expenses will vary according to your lifestyle. Keep in mind that we're a) slow travellers (in our case staying somewhere between 1-3 months) and b) a bit older (in our late 40's) and working. So we need our comforts, strong wifi, and clean apartments with a bit of working space. We're not backpackers staying in guesthouses. I think, that for people living our lifestyle, that the costs below are a pretty accurate representation of the cost of living in the 3 cities covered in this post.
I've kept a summary of expenses by the following categories: Accommodation, Food (bought at markets or malls), Bars & Restaurants (ie. entertainment), Booze, Public Transportation (metro, bus, trams etc), Taxis, Tours, Sim Cards, and Toiletries. Individually, by category, you may come to certain conclusions about costs that may be misleading. I'll get into that. But overall – and I'll summarize everything at the bottom – I think you'll find some of the results of this cost analysis interesting.
---
---
Accommodation
Accommodation has the largest impact on the bottom line when it comes to travelling. Other costs can be adjusted for. Restaurants are expensive? You can cook for yourself. Booze expensive? You can adjust to local beverages (like switching from beer to wine). Or you can drink less. We find that, especially as slow travellers, accommodation is also the biggest headache because of the hole between the short-term hotel/hostel/guesthouse market and the longer term (3 months +) rental market. It can be further complicated if you have certain quality demands (such as having AC in tropical countries). You can always find something you want – but you may be surprised by what you pay even in developing countries.
In our case we've been staying in either studios or 1-bedroom apartments. We don't need a lot of room but wifi, having a working desk, table or counter, and general cleanliness are priorities. Next comes location and access to public transport. Having a coffee shop and a local restaurant nearby are pluses.
One of the things we'll do going forward is research accommodation options available for slow travellers like ourselves in all the locations we cover. Accommodation hasn't been easy so far and we've booked through Airbnb a few times because we couldn't find other options. Airbnb is always a safe option but apartments are always over-priced; if you do decide to book with Airbnb because of the convenience, make sure try to bargain down – there's a lot of negotiating room.
You'll see a few Airbnb rentals below. Sometimes it is what you are stuck with. As I say, there's a real hole in that 1-3 month market and it's something that this blog will do a better job at researching, both for ourselves and others who travel like us.
Montreal
We are homeowners in Montreal and have rarely had to rent short-term. That changed in July after putting all our stuff in storage and renting out our condo. We rented an apartment in a less-trendy part of the Plateau Mont-Royal for a total cost of $820 for 10 days. That's cheaper than a hotel which will set you back at least $120/night. But it's still pricey as far as I'm concerned – having lived in Montreal almost 30 years I know that apartment would not rent for more than $800/mo on the local market.
---
---
A month's rental in Montreal will set you back about $1,500 for a furnished apartment. For best prices, get away from downtown or the Plateau but stick to somewhere close to a metro line. My rule is that you should never be further than a 10 minute walk away from a metro station.
PS. Airbnb owners are notoriously bad at being honest about location and how close they are to public transportation. The apartment above was a perfect example of that.
Resources: Airbnb and Montreal furnished Studio. $1500/mo is also the cost of our favorite B&B on the Plateau.
Conclusion – $1500/mo is a good indication for what you'll pay for a decent place in Montreal.
.
Prague
We hit the jackpot in Prague because a friend of a friend needed someone to finish up their lease. We paid approx $500 a month (9,100 Kc) for a simple yet very comfortable apartment close to a bus stop and a large grocery store. Location could have been better (we were 30 minutes from downtown on public transport) but we couldn't pass up the price – and we ended up really enjoying the neighborhood despite not being in the center.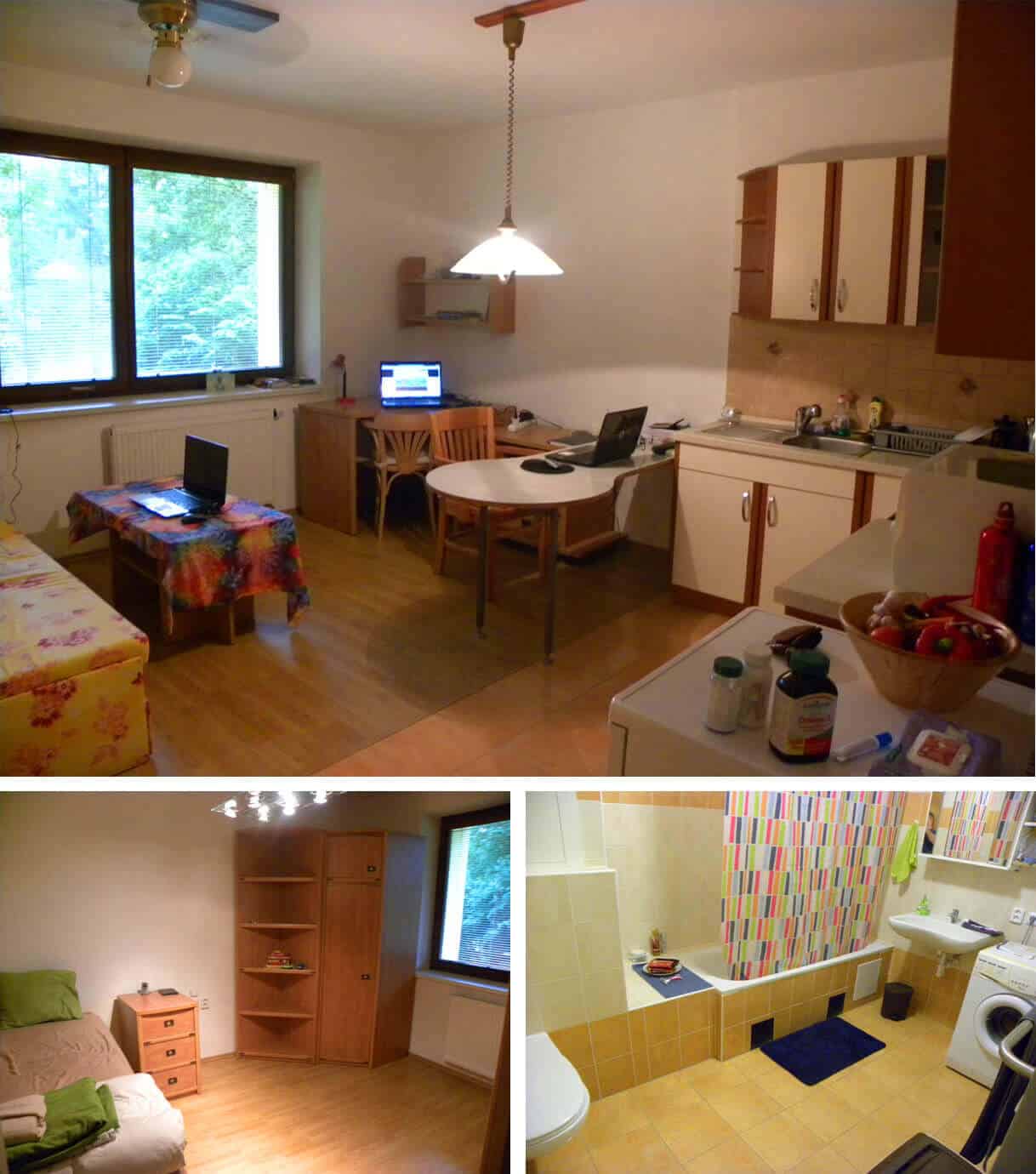 ---
---
Speaking with a few Czech friends, you can find a short-term rental in the 12,500 – 15,000 Kc ($675 -$800). The transport in Prague is fantastic and if you're close to a metro or tram stop you can get anywhere pretty quickly.
Resources: Expats.cz has furnished apartments in their forum area. It also advertises a directory of private apartments. There's of course Airbnb – but they don't seem to have a great list for Prague and the apartments listed are generally as expensive as in Montreal.
Conclusion – $750/mo will get you a simple, yet comfortable flat in Prague.
Bangkok
There are a lot of apartments for rent in Bangkok yet anything well-located and up to Western standards is not cheap. We were actually quite shocked.
Firstly, you want to be close to a skytrain station in Bangkok. Forget anywhere that's not.
The first condo where we stayed, in the Sathorn area (next to trendy Silom) cost $750 for 10 days. It was a small apartment but had a nice pool and gym (which a lot of the highrises in Bangkok have). We considered staying longer but shocked on the price – $1720 a month was too rich for our blood. Right across the street is an apartment complex which looked just as nice from the outside and, at 10,000 baht/mo ($365/mo), the price was right – until we saw the interior of the apartments. It was a rundown mess and we suddenly understood why there were no Westerners staying there.
Instead, we moved to a condo much less centrally located but situated right on the skytrain line. There we paid $564 for 2 weeks. Beautiful building, nice pool and gym – but the apartment was very small and situated right off a highway. No neighborhood, nothing in the vicinity. Although cheaper, the quoted monthly rate is $1,400/mo. Terrible value.
---
---
We met a few locals as well as bloggers who told us to go to the On Nut skytrain area where they supposedly have a lot of apartments catering to expat Westerners. I was told you could get a 1-bedroom in the $300-400 range. We searched the area and visited 4 buildings. Our experience there: 2 of the 4 were not interested in renting for less than 3 months, 1 of them (which looked nice) was a 15 minute walk down a busy street with no sidewalk. The 4th rented at prices similar to what we saw on Airbnb – but the quality of the apartments was abysmal. Nothing in the area would ever want to make us stay there. We then explored the Silom neighborhood and saw a few depressing and over-priced options. Other bloggers have given me advice "you have to visit places and walk in and explore". When pressed for any specifics the same people have nothing to say.
In short: over-priced, poor quality, badly suited for travellers wanting to rent 1-3 months. We decided to quit Bangkok which, honestly, we were getting fed up with. We ended up renting a very nice condo in Hua Hin for which we are paying $1000 for 5 weeks. That's still $800/mo. It's made us re-think how 'inexpensive' Thailand is (or parts of Thailand).
Overall we paid $1400 between 3 weeks in Bangkok and a week in Hua Hin for the month of October.
Conclusion: With a lot of work, you can find a decent apartment for $800/mo – I've seen some listed on Airbnb. But that really seems to be the starting point. Make sure to bargain. If there are other resources for the 1-3 month traveller going to Bangkok I'd love to hear it.
.
.
Food
Montreal
Relatively, Montreal is not a cheap place when it comes to buying food at the supermarket. In Montreal we buy groceries at 'Metro' and our vegetables at the local 'fruiterie' (I find cheese especially expensive in Canada). I actually monitored our food costs over our last 6 months in Montreal and found that total food costs averaged $600 a month.
Prague
We knew the Czech Republic was cheaper than Canada but were blown away by how much cheaper it actually is. We would go grocery shopping at Lidl and Billa (Lidl is cheaper) and our food costs over 3 months averaged $260 a month. Less than half of Montreal. We would walk out of the store with full bags and would be incredulous at how little we had just spent. Even cheaper was booze (to be covered further below).
Bangkok
Incredibly, we've averaged food costs (not including restaurants) of $325 a month over our time in Bangkok and Hua Hin. Which I find surprising because our first 10 days were spent mostly eating in a small restaurant next to the condo in Sathorn. The following 2 weeks, which we spent in the condo off the highway, we would buy groceries at a nearby mall and cook at home. And we would look incredulously as our bill would consistently be in the 1000 baht area (about $35) for a couple of bags of basic groceries. We've done better with time, going to local markets to buy veggies or picking up those pre-packaged plastic bags of curry sauces from street vendors. Still, I'm astounded that we've paid $325 a month, especially when we've spent a lot of time eating in restaurants while in Bangkok.
.
---
---
Restaurants
Our per month costs of eating in restaurants: $300 in Montreal, $350 in Prague, $450 in Bangkok. Doesn't make sense, right?
That's because there's an inverse relationship at play here; the cheaper the cost of eating in restaurants, the more we've tended to eat in them.
The cost of eating out in Prague and Bangkok are actually very similar. Most of our outings to restaurants in Bangkok have ended up in the 700 baht range (approx $25) which gets you a 2 entrees, 2 main dishes, and 2 beers. In Prague we ate out less because we were further from downtown. But when we did eat out meals would end up in the $18-$25 range. We splurged a few times at our favorite restaurant (the brewery at the Strahov Monastery) but even then we would never top $50 a meal. One of the principal reasons why it's so inexpensive to eat in Prague is the incredibly cheap cost of beer. So while the food in Bangkok is actually cheaper than in Prague, once you've tacked on a couple of beers the final bill actually comes out to the same or more.
We averaged $300/mo eating out in Montreal restaurants over our last 6 months there. The reason is that we were being careful with our money and eating in. Although cheaper than Toronto or Vancouver, you can very easily spend $120 between 2 people at a restaurant when you've included 15% for sales taxes plus another 15% on tips.
So the total spent in restaurants in these 3 cities is not representative of the costs of eating out. But, if you add the cost of buying food at the local supermarkets, I think you get a good overall indication of the full cost of eating in these cities.
.
---
---
Booze
Average costs of booze per month: $300 in Montreal, $100 in Prague, $150 in Bangkok.
We love our wines and $300/mo in Montreal is actually not that much when the average price of a bottle is about $15.
All booze in Prague is cheap. Incredibly cheap. $100/mo between two people is actually a lot of booze. Imagine: $4 bottles of wine, $0.60 cans of beer (and darn good beer).
We've actually cut back on drinking a lot in Bangkok. $150/mo = $5/day which includes 2 beers (1 each for 55 Baht) and a bit of bedtime Thai Whiskey (Sang Som – 155 Baht/bottle ie. about $5.70 which lasts about a week)
.
The above are the major costs, for us, associated with living somewhere. Some of the other expenses we tracked:
---
---
Transportation
In Montreal the cost of an individual ticket on public transportation is $3. We used to travel downtown a few times a week and our average monthly cost of transport was $80/month.
Prague's excellent transportation network is approximately half the cost of Montreal's per ticket (a 24 Kc ticket, about $1.30, would be what we would usually buy to get downtown). The average we spent was approx $50/mo.
Bangkok's skytrain is approximately the same as Prague's system. Ticket costs are based on destination but if I average them out it comes to about 35 Baht/ticket = $1.30. We spent $60 in our month in Bangkok
Taxis
Costs per month on average: Montreal $50/mo, Prague $60/mo, Bangkok $20/mo.
Montreal is expensive and we generally tried to avoid taxis. The problem in Prague that that the cost varies between taxi companies and the time of day you travel. They screw the tourist over. The trick is to get a good recommendation from someone you know and call that taxi driver whenever you need a ride somewhere. That's what we did and we found that the price per ride dropped significantly ([email protected] – good guy). Bangkok was very cheap and you have to make sure that the driver uses the meter when you get in the cab. If he doesn't get out.
Tours
This cost category includes visiting museums, getting into historic sites, visiting an Elephant foundation, going up towers in Prague.
A few sample costs in Prague (per person) : Mucha Museum (180 Kc = $9.60), the Old Town Hall Tower (110Kc = $6), the Prague Public Transport Museum (35 Kc = $1.80).
Sample costs in Bangkok (per person): Grand Palace/Wat Phra Kaew (400 Baht = $14.65), Wat Pho (100 Baht= $3.70), Wat Arun (50 Baht = $1.82).
Costs in both Prague and Bangkok vary by how touristy the site. Overall however, costs were for us pretty comparable in both cities; we averaged $40/mo in Prague, $50/mo in Bangkok between the two of us.
---
---
Sim Cards (ie. telephone costs)
Canada has some of the most expensive wireless costs in the world due the 'monopoly' held by the big 3. The cheapest prepaid Sim card you can get in Montreal, with no zone restrictions, comes out to about $50/mo.
In Prague we picked up a prepaid card from Vodaphone upon arrival. The card cost 200 Kc ($10) and lasted us the 3 months we were in Prague (ie. approx $3/mo).
In Bangkok we picked up a 380 Baht Pre-paid card (approx $15) that is renewable monthly.
Toiletries
Costs per month: Montreal $75 (averaged out over 6 months), Prague $25 (averaged out over 3 months), Bangkok $15 (one month).
The above is quite representative except for Bangkok. Spanky tells me we bought a lot of products in Prague (hair, feminine hygiene etc) that we are still working through. She says the products found in Bangkok pharmacies more expensive….I may update the above after a few more months in Thailand.
Totalling it all up
Note: The above excludes things like clothes, haircuts, massages, insurances etc. I've concentrated more on the major expenses associated with living elsewhere with the goal of ascertaining a general index of the comparative costs per city.
.
---
---
Basically my numbers suggest that, including rent, Bangkok is 35% more expensive than Prague and that Montreal is 113% more expensive than Prague.
Because our rent was really low in Prague (probably below the cost most would pay), I've also calculated the costs excluding rent. Based on that, excluding rent, Bangkok is still 22% more expensive than and Montreal is 64% more expensive than Prague.
.
Most people will still not believe the above. I didn't. For years I've been reading blogs about how Bangkok is incredibly cheap for expats.
.
But here is the proof: check out the "Expatistan" cost of living comparison indexes:
According to this, Montreal is 67% more expensive than Prague (almost bang on with my figures excluding rent).
According to this, Bangkok is 18% more expensive than Prague (also not that far from my figures excluding rent).
So nice to know I'm not going crazy.
.
A great post by an expat couple that I came across that basically supports my claim about the myth of cheap life in Bangkok. As the writer suggests, you can maybe live under $500 a month in Bangkok. You can do anything if you're prepared to live in abysmal conditions. But the reality is that if you want to live the Expat life without giving up some of the comforts of home you may be surprised by the actual costs you may be facing in Bangkok*.
* That's not to say that other parts of Thailand are as expensive as Bangkok. Chiang Mai, where a lot of expats live, is cheaper than Bangkok, primarily because of abundant accommodation (although I've been told by some that costs have gone up quite a bit in recent years). Our next stop will be Nong Khai, in Northern Issan which also promises to be much cheaper. I'll do a cost analysis after a few months of living there.
.
---
---
.
What it means for us
We are pretty flexible in where we can work from. So when we considered where we would go this year we considered places that we'd like to discover more of (both Prague and Bangkok fit that bill) as well as costs. We don't know how long we can live our current lifestyle so we decided to play it safe by going to places that wouldn't be too hard on the budget. Places where we could save money while we are still working.
People had told us that Prague would be cheap. We didn't realize how cheap before spending time there. We also didn't realize how much we would end up enjoying Europe. It's opened our eyes and we're now considering spending more time there next year. How to spend more than 90 days in Europe? Nomadic Matt covered it well in this post. There are several ways but in our case we would do it by dividing our time between some of the Schengen countries (like the Czech Republic) and some of the Non-Schengen countries of the Balkans and Eastern Europe (like Croatia, Montenegro, Macedonia, Bosnia & Herzegovina, Serbia, Romania, Bulgaria).
As much as Prague was a pleasant surprise, Bangkok was a surprise in the negative sense. Someone pointed out to me that Thailand gets about double the tourist numbers that it did back in 2008 (the last time we were here). I checked the numbers and he's right: there were 14.5 million arrivals back in 2008, 26.5 million in 2013. A taxi driver told us that prices have skyrocketed in the capital and surrounding area and blamed it on the tourists and expats. The numbers support his theory. Other cities haven't felt the economic impact of the growth in tourism though. It'll be interesting to see the costs of living in Nong Khai.
.
Costs are not the be all and end all when choosing a place to settle down for a while. There are so many other things to consider. But knowing your costs is a good thing and can open your mind up to certain places you hadn't previously considered. It can also lead to the realization that other places, places that you previously thought as 'cheap', may not be that inexpensive after all.
.
Appreciate all feedback, including any tips/recommendations for apartment rentals aimed at slow travellers in any of the above cities. Are you surprised by the costs above? Are you an expat in Thailand? I'd love to hear your views. For other travellers – what are your favorite good-value destinations? Would like to get some recommendations.
---
---