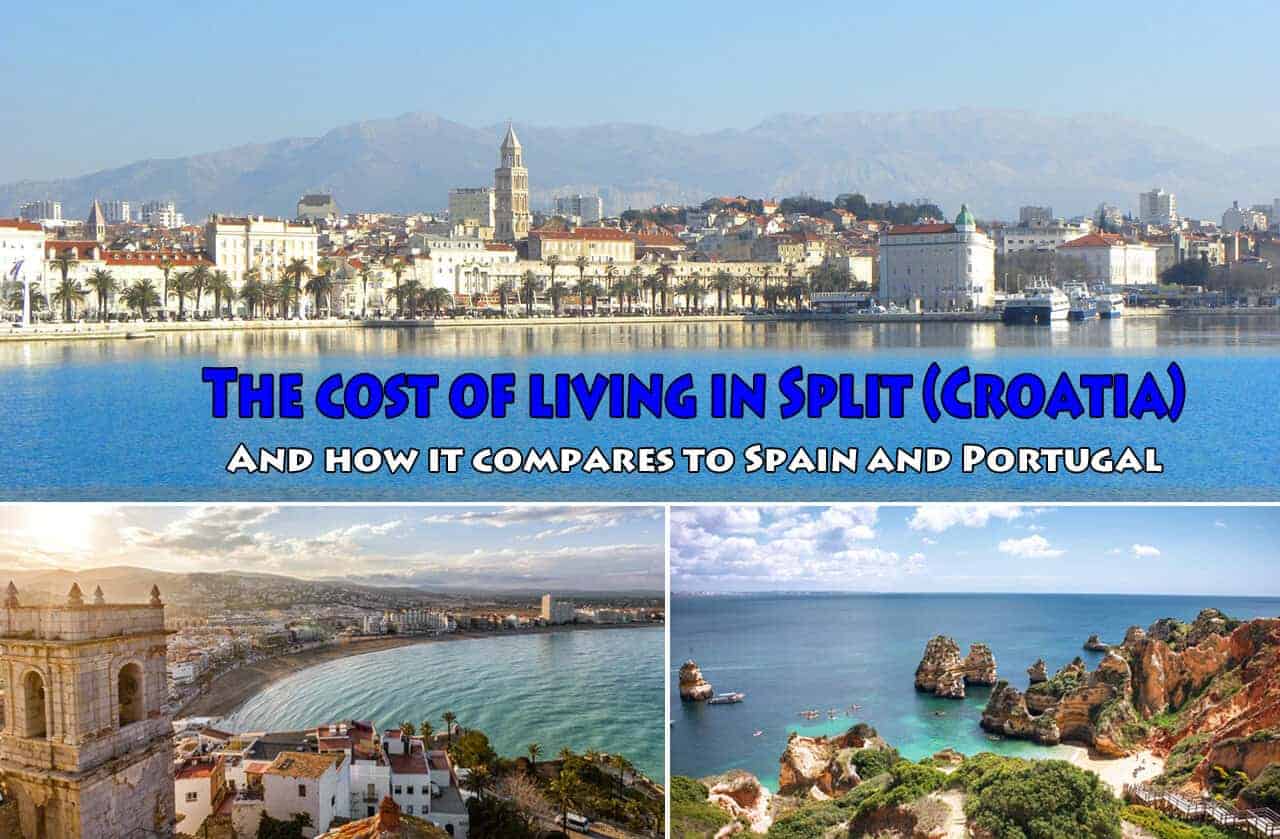 The cost of living in Split (Croatia).

I've previously stated somewhere on the blog that the cost of things in Split is roughly similar to what you would pay in Spain and Portugal. That was based on travelling here several times and staying a few months. It wasn't based on Expat life. That changed last year when we got our 1-year Temporary residency in Croatia and rented an apartment in Split.
So how much does it cost to live in Split as an Expat? I've tabulated our monthly costs below.
Note: your cost of living anywhere will depend on your lifestyle. So while I hope the figures below are helpful to readers, they're by no means a bible to costs in Split.
Further below I've compared our costs to that of some blogger friends of ours living in Spain and Portugal. Again, you'll note differences in costs based on different lifestyles. But it should give you a rough idea of costs and how the 3 locations compare.
.
.
.
---
---
First our costs in Split. Below I breakdown the costs in detail.
Monthly costs in Split
Kuna
CAD
USD
Rent (600 Euros)
4500
$ 930
$ 735
Utilities
– Electricity
295
$ 59
$ 47
– Cable + TV
319
$ 64
$ 50
– Water
131
$ 26
$ 21
– City Tax
77
$ 15
$ 12
– misc
62
$ 12
$ 10
——-
——-
——-
total utilities
884
$ 177
$ 140
tax to rent apartment
120
$ 24
$ 19
Healthcare
880
$ 176
$ 139
Food
– Spar/Konzum grocery store
2704
$ 541
$ 427
– veggie stand
524
$ 105
$ 83
– fish store
380
$ 76
$ 60
– Bio place
564
$ 113
$ 89
– corner grocery store
1061
$ 212
$ 168
——-
——-
——-
total food
5233
$ 1,047
$ 827
Pharmaceuticals
810
$ 162
$ 128
Restaurant/coffee
812
$ 162
$ 130
UBER
200
$ 40
$ 32
haircuts
220
$ 44
$ 35
gym
450
$ 90
$ 71
———-
———
———-
14,109
$ 2,852
$ 2,256
Kuna
CAD
USD
---
---
Rent (4,500 k/ $930 CAD/ $735 US)
We rented an apartment that is essentially a 1 bedroom apartment. The two rooms are very large however and we put a 2nd bed in the living room. Total space 80 square meters plus a 20 square meter balcony = a total of 100 square meters for which we are paying 600 Euros. You can see our apartment here. It isn't the perfect apartment as we ideally would have like something with 2 bedrooms – but it is difficult finding an apartment in Split and for our short term needs it is perfect as is: 1) it has a large storage space in the basement, 2) the landlord has no issues with us renting to tourists when travelling.
600 Euros is higher than the average in Split. When we searched apartments we came saw places in the 450 – 600 Euro range. This apartment was at the top of our range but as I say, supply is short in Split and we grabbed this apartment when we found it.
Utilities (884 k, $177 CAD, $140 US)
When looking at apartments, landlords and real estate agents will tell you that utilities come to about 100 to 110 Euros per month. We've paid an average of 117 Euros (about $140 US/month) over the last year, the highest components being Electricity and Cable (including Wifi). Our landlord pays the bills and gives us copies. We include the utilities when paying him rent every 3 months.
Tax to Rent Apartment (120 k, $ 24 CAD, $19 US)
120 Kuna (about $19 US) is the fee paid to the city to officially rent out our apartment.
Healthcare (880 k, $176 CAD, $ 139 US)
We both pay 440 Kunas per month each (about $70 US each) to be on Croatian Health Care. Joining the Croatian Health Care system (HZZO) is a requirement of being a Temporary Resident. Prior to becoming temporary residents we had Expat Insurance which cost us about $125 US each.
We've never used Croatian health care while in Split so I can't say anything about the level of service.
Food (5,233 k, $1,047 CAD, $ 827 US)
I mentioned off the top that your lifestyle determines certain costs. This is most true in this category *.
We had a health scare last year and since then have been eating quite healthily. Twice a week we buy imported salmon from a specialty fish store. We buy tofu, cottage cheese and yogurt from a Bio store. We have a fruit/vegetable stand not far from home and always buy fresh produce. Apart from that, most of our grocery shopping is done at the large supermarket chains here in Split, namely Konzum and Spar. We usually like to have a bottle of wine with dinner (average cost about 40 kuna, about $ 7 US).
Still, I'm surprised by how high our monthly food bill is. I've never thought grocery shopping in Split was cheap but I'm shocked at how it added up quickly.
'* when we first started travelling we made a lot of pasta/pizza. You can live cheaply on that, but it also made us a bit chubby. We're now in the best shape that we've been in in a long time.
---
---
Pharmaceuticals (810 k, $162 CAD, $128 US)
This covers cosmetics, shampoo, soap, toilet paper, toothpaste etc as well as household cleaning products. We usually go to DM or Bipa for this.
.
Restaurant/Coffee (812 k, $ 162 CAD, $130 US)
We don't go to many restaurants in Split and when we do it's one of the many pizza restaurants in town. They're the best value. You'll pay about 45 kuna for a good-sized pizza for 1 (about $7.50 US) and about 18 kuna (about $3 US) for a large beer (0.5 L). We do that about twice a month. Once in a while we'll go to a local restaurant and have typical Croatian food (grilled fish or meat) with wine. That will usually total about 250 kuna (about $40 US) for the two of us.
We often go for coffee at our favorite cafe. A cup of Cappucino usually goes for about 15 kuna (2.50 US). We'll do that 4 or 5 times a week.

UBER (200 k, $40 CAD, $ 32 US)
Split is not a big city and we do a lot of walking. You can get anywhere in the city within 45 minutes. If we don't feel like walking or when going to a shopping Mall on the outskirts, we'll take Uber. Getting to City Center 1 (the best shopping center – but nowhere near the city center 🙂 ) costs 35 Kuna (about $6 US). So transportation hasn't been a major expense.
Haircuts (220 k, $44 CAD, $35 US)
I get a haircut every 2nd month which costs me 40 kuna ($6.50 US). Lissette gets her hair straightened at the beautician every once in a while (cost 100 kuna, or $ 16.50 US).
Gym (450 k, $ 90 CAD, $71, US)
We have monthly memberships at Marjan Fitness which costs us 450 kuna ($71 US) for the two of us. We go 4 or 5 times a week so it's very good value.
---
---
How our costs compare to those in Spain and Portugal

I've chosen to compare our costs in Croatia to those in Spain and Portugal for 2 reasons:
1) Spain and Portugal are the least expensive countries in Western Europe. They are also both popular destinations for retiring Expats.
2) Blogger friends Kemkem and Anita are situated in Valencia (Spain) and Lagos (Portugal) respectively. And both have recently written about their cost of living.
Kemkem on Cost of Living in Valencia, Spain
Anita on Cost of Living in Lagos, Portugal
As I've stated, costs vary significantly depending on people's lifestyles. Still, even accounting for that, there are some interesting comparisons.
.
I've summed up the cost comparisons below


Croatia comparison with Spain and Portugal

Split

Valencia

Lagos

(Croatia)

(Spain)

(Portugal)

EURO
USD
EURO
USD
EURO
USD
Rent
600
735
790
980
800
992
Utilities
112
140
194
241
215
267
Health
112
139
141
175
92
114
Food (groceries)
667
827
480
595
365
452
Household
103
128
160
198
Transportation
25
32
20
25
170
211
Restaurants/Entertainment
105
130
100
124
138
171
fitness
57
71
–
–
107
133
misc
43
53
74
92
215
267
——-
——
——-
——-
——-
——-
Total
1824
$2,256
1799
$2,231
2262
$2,805
Euro USD Euro USD Euro US
Note: I've changed some of the numbers from Kemkem's and Anita's posts in order to keep exchange rates consistent.
.
---
---
Overall: our costs are at par with those of Kemkem in Valencia. Anita's costs in Lagos are higher than both our costs in Split and Valencia. Generally speaking, we're all in the same ballpark which doesn't surprise me much. But there are some differences that are interesting
Rent
In Split we are paying 600 Euros rent (about $735 US) while both Kemkem and Anita pay about 800 Euros rent (almost $1000 US). They are paying 33% more than we are.
Superficially that seems to make sense. If you go to numbeo or expatisan (both my favorite sites to look up average costs in cities and compare them to others) they will tell you that rent in Split is 50 to 60% cheaper than that in Valencia or Lagos.
But a little analysis will tell you that numbers lie.
– We are paying 600 Euros/month in Split – but the average monthly rate for rent in Split is 300 to 350 Euros (I got this from asking around among my Croatian friends and it's confirmed by numbeo numbers). So taking our 600 Euro rent as a basis for calculating the cost of what rent should cost in either Valencia or Lagos is erroneous. In fact I looked up some rental websites in Valencia out of interest and I see lots of 2 bedroom apartments for rent in the 600 – 650 Euro/month range.
– Looking at both Kemkem's and Anita's apartments, they've gotten much more value out of their 800 Euros than we have out of our 600 Euros. Kemkem for example has 3 bedrooms and 2 patios for their 2 dogs. Anita has a gorgeous modern apartment with a 2 bedrooms, large balcony, rooftop terrace, underground parking and communal swimming pool. So we're not comparing apples to apples when comparing our 600 Euro apartment to their 800 Euro apartments
– The problem in Split is the scarcity of apartments available for rent.That skews the pricing on apartments that are available for rent here.
My point is that numbers can be deceiving. You can find a 350 Euro apartment in Split (if you're a local) but chances are that as a foreigner you'll pay more because of the illiquid real estate market and the lack of local connections. I know Expats paying 800 Euros in Split. Those prices are way outside the average. What expats in Valencia and Lagos pay seems much more in line with rental markets in either city. I'd be curious to what Kemkem and Anita have to say about that.
Utilities
Utilities seem to be substantially higher in both Valencia and Lagos. The major difference appears to be electricity. We use both AC and heating very sparingly so that might account for the difference but still I'm surprised by how much less we are paying.
.
Groceries
Wow, I'm surprised by how much more we pay for groceries than either Kemkem or Anita. I don't think that's anything to do with Split but more to do with the things we buy. As I've mentioned up top, that's due to dietary restrictions and health. If you stick to local items found at markets you'll do much better than we have. Keeping track of our recent food costs was an eye-opener.
.
Transportation
I've mentioned 'lifestyle' a few times. One of the reasons Anita's costs are higher than either our's or Kemkem's is due to owning a car ($200 US/month). Once in a while we'll rent a car here in Split but we haven't over the last 3 months. That can easily put a dent in the budget. Having a car certainly adds to the quality of life though and one day we might look into doing the same.
---
---
Need some more numbers to digest?
Numbeo places Split's Cost of living as 336th out of 553 cities in the world.
Numbeo places Valencia's Cost of living as 326th out of 553 cities in the world (ie. slightly more expensive than Split)
Lagos doesn't rank but falls within Split and Valencia when comparing costs and purchasing power. Lagos vs Split, Lagos Vs Valencia
I hope the above helps. It was partly inspired by seeing people posting online asking if a $500 US budget/month was sufficient for Split. As you can see Split is not as cheap as some people think. In fact, my conclusion is that costs in Split (and Croatia) are roughly in line with those you'll find in Spain and Portugal.
Any thoughts on the above?

Ps. If you find our blog helpful, please consider using our links to book your flights, hotels, tours, and car rentals. Have a look at our Travel Resources page.