On the frontlines of the migrant crisis in Budapest
September 10, 2015
I had no interest in writing about the migrant issue. This is a travel blog and although I have strong opinions on politics I try to keep them to myself. But sometimes subjects overlap, or issues are shoved in your face and you have to speak up. That's happened over the last week.
We were coming back from the gym on Friday, September 4 th, when we heard chanting and what sounded like exploding firecrackers coming down the street where we are staying in downtown Budapest. Traffic stopped. The chanting and explosions got louder. An army of guys in black shirts and Hungarian flags came up on us. Police in riot gear suddenly appeared out of nowhere. We grabbed our phone and made a video:
We assumed that they were a Nationalist party or skinheads supporting the government's anti-migrant stand. We got home and posted the video on Youtube.
The video went viral. Within 12 hours it had more than 15,000 views. Along with the views came comments, most of them of the 'White Power' variety: calling for 'Muslims out of Europe" or "Europe for Europeans". Many expressed support for the Hungarian position but some also used it as a forum to spout hatred towards Muslims or Jews. We thought of taking the video down but decided to leave it. We wanted to see how far it would go.
Almost 24 hours after posting the video we got a clarification from a commenter. The protesters were not Nationalists or skinheads. They were soccer fans marching to support the Hungarian team's game that night against rival Romania. What they were yelling is not anti-migrant, they're yelling "Transylvania is Hungary's"*.
* Hungarians have long been upset over the Trianon peace treaty (ending WWI in 1920) that handed a large part of Transylvania to Romania.
So we were totally off the mark in our description of the video right? Well, not quite. The full story (which we didn't see from any of the major media outlets) is that the fans continued their protest to the train station where they threw smokebombs at the migrants. See here.
What's worse? Nationalists/skinheads protesting on the streets OR football fans actually going as far as throwing smokebombs at migrants, many of who are women and children? No matter what you think of the migrants, these people have been through hell. Topping off everything that they've gone through with verbal and physical abuse is despicable.
***
We went to the train station where we saw them: families sitting next to tents that they've erected within the concourse of the station, youths sitting by themselves smoking, little kids playing on the concrete. As we passed by a group of about 10 men in Afghani garb were setting up to pray. Volunteers circulated among the crowd. It was quiet, the mood was sombre. I'm glad we came to see it in person because no matter what you think of what is going on (and I have my opinions as you'll see below) you can't help but feel empathy and sadness for these people.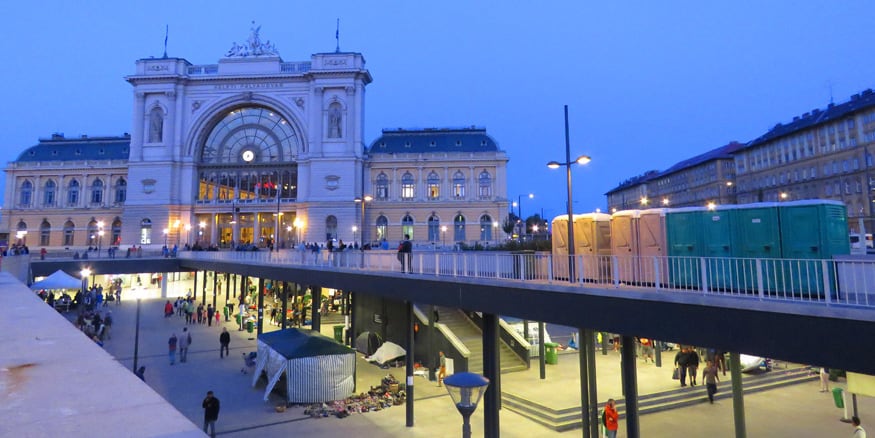 .
What the heck is Germany doing?
But my overwhelming feeling watching the news over the last few weeks has not been pity for the migrants, it has been frustration with European leaders. Because when you look at the scope of the crisis you see it is an impending disaster, something everyone knows but is unwilling to admit to or deal with. And Western European countries, especially Germany, are being weak. One the one hand they're asking countries to uphold the Schengen policy requiring migrants to register upon arrival in their first EU country (putting pressure on countries like Hungary, Greece and Italy), on the other hand they're officially welcoming migrants with open arms. The message is a green light for any migrant even thinking of leaving the Middle East. And it's not just the Middle East – in the first 7 months of 2015 60,000 migrants from Kosovo and Albania have asked for asylum in Germany (only Syria has more applicants). What's changed in Kosovo and Albania? Nothing. But when the door is open you might as well make a run for it. Until someone takes a hard line you'll see migrants (many of them economic migrants and not refugees) running roughshod over European Union borders. They'll text back home urging friends and family to join them. That's how the trickle has turned into a deluge, a deluge that won't stop until European leaders grow some balls. Hungary is taking a lot of criticism from other leaders and the media but they're the only ones who've actually tried stopping the migrants and have them registered legally according to the Schengen stipulations. Hungary's Prime Minister Victor Orban on Monday: "We have to face the reality that these people do not simply want refugee status. They are really after the German way of life." For those who have been so quick to criticize Hungary, this article is worth reading.
Last weekend (the weekend of September 12th) 12,000 migrants arrived in Munich. They were hugged and greeted like heroes. For the first time German politicians have started rumbling that the numbers are not sustainable. European countries are starting to fight among themselves. EU interior ministers are meeting in Luxemburg. Italy is threatening to stop migrant ships from docking while also giving migrants visas to go to other parts of Europe: France and Switzerland are threatening to stop any migrants coming from Italy, while both Austria and Hungary are threatening to close their borders to migrants. Even Germany's interior minister has suggested suspending the Schengen agreement.
The issue is a threat to all of the EU as well as to the already weak economies of Europe. In Kos (Greece), residents last week attacked migrants. The island's tourism industry is being ruined by the inundation. Migrant shelters in Eastern Germany have been been subject to arson and Roma beggars have been attacked in Sweden.
.
***
Back to the video, which has over 29,000 views as I write this.
Really, it doesn't matter what the video is about. People just want to vent their anger. A French friend recently made a very true and chilling prediction: if the politicians don't change the present course of action the voters will decide the future by electing extreme right parties. All over Europe you're seeing right wing parties opposed to immigration, specifically Muslim immigration, on the rise. If Hungary has been extreme in its handling of the migrants it is partly because of the rise of Jobbik, one of Europe's most extreme right-wing parties. In France, Marine le Pen's radical Front National recently won 25% of a nationwide vote. You'll see many comments in French on the video. France has the 2nd highest Muslim population in Europe and the highest percentage of Muslims in Western Europe. So is it a coincidence to see so much anti-Muslim sentiment?
The other news this weekend was that the World Food Program has had to cutback one-third of its food voucher program designated for Syrian refugees in the Middle East. So these people have one more desperate reason to leave the Middle East for Europe. You would think that the world would be pouring money into these refugee camps, making them safe and comfortable so that these people wouldn't have to risk their lives getting to Europe. Instead, European leaders are arguing over how incoming migrants should be shared among EU countries. That's not dealing with the underlying issues and it's certainly not a long term strategy.
Sept 9 – Thomas Friedman of the New York Times on what is just the beginning of a larger crisis.
.
***
.
What we are seeing now is only the tip of the iceberg. Prepare for a long, ugly ride.
..
I'd love to hear your opinion on this subject! Let me know!
(anything verging on hate speech will be deleted)

.