Why Now is the Time to Visit Cuba
I've been to Cuba 6 times, it's one of my favorite countries. It's been in the news a lot lately and, with the gradual opening up of the island to tourism from the US, I've been reminded of what a unique country Cuba is to visit. Now is definitely the time to visit.
The sun kissed shores of Cuba attracts thousands of visitors every year. It's no surprise given the beaches, resorts and natural wonders. If you're visiting Cuba for the first time, these must-visit attractions can't be missed.
.
Havana
Havana is a living museum that has to be visited at least once in a lifetime. The streets of Old Havana made famous in movies and books is unlike anywhere you've ever visited. Stroll the winding streets of the UNESCO World Heritage Site, admire the colonial architecture and stop for a mojito in one of the many charming bars. The most popular street, Obispo, is often lined with classic cars which have become synonymous with the city. From Buicks to Chevrolets and Cadillacs, it transports you back to the 50s.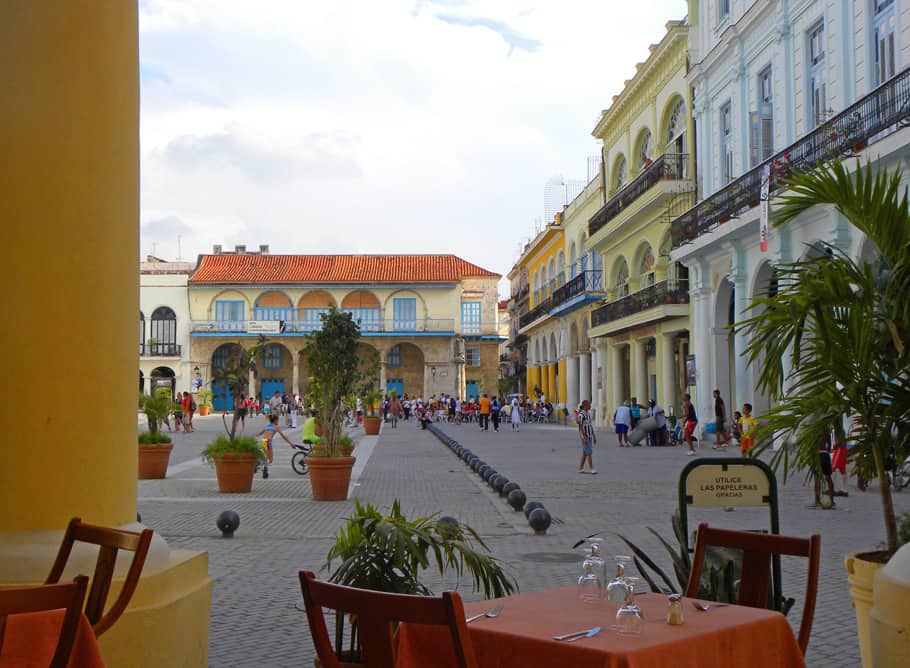 .
Revolutions Square. At the center of Havana's largest square sits the impressive monument to Cuba's national hero, José Martí. If you can brave the heights, take a lift to the top of the 42 meter monument and enjoy the best views of Havana.
.

Other Havana highlights: Central Havana, with its crumbling buildings and (more) old cars, The Malecón (the famous seawall) for its views over the city and ocean, and El Morro fortress at the mouth of the harbour. Lots of nightlife including salsa and jazz clubs, cabaret and ballet. Havana is one of the most exciting cities in the Caribbean and you'll never be bored.
A couple of tours you might be interested in: This day trip of Havana from Varadero. Or, if you're already in Havana, this 2 hour tour in a classic 1950's American convertible.
Accommodation: We stayed at the Iberostar Parque Central. Excellent, a refuge from the busy streets of Havana.
Trinidad
A world Heritage site with grand colonial buildings, courtyards, and church towers. Small and relaxed with lots of museums, restaurants and music venues, Trinidad has some interesting sites within proximity such as Playa Ancón (one of Cuba's most beautiful beaches) and the very green Valle de los Ingenios (the valley containing the ruins of the 19th century sugar mills that made this area rich). Trinidad is actually our favorite place in Cuba.
Tours: there are day tours from Havana but I don't recommend that. Too rushed. Instead stay a night or two and enjoy this beautiful town.
Accommodation: We stayed at Addys and Suarez House, a really nice casa particular. Very comfortable, great food, sweet people. Highly recommended.
Viñales
Famous for the Parque Nacional Vinales, one of Cuba's most spectacular natural settings. The valley is known for the large rocky outcrops (called mogotes) rising above green tobacco plantations and palm trees. Great for hiking, climbing, and horseback riding.
Tour: This full-day trip from Havana in a classic car. It's a fixed rate for up to 3 people.
.
Cayo Naranjo
Nestled in the Bahia de Naranjo Nature Park sits a dolphinarium which has become one of Cuba's major tourist attractions. The site is situated in the sea, giving the dolphins the option to come and go as they please. If you're lucky they may showboat for the crowd, leaping into the air with impressive tricks. The surrounding national park also offers some great hiking routes for walkers of all abilities.
.
Cayo Saetia
For a castaway paradise, take the short boat journey from Guardalavaca and you'll find this haven of pure relaxation. Aside from the beaches, the island is home to exotic wildlife where visitors can take excursions into the forests, spotting zebra and maybe even some water buffalo. The island is also home to plenty of dive sites, offering an unforgettable underwater adventure.
.
Cienfuegos
A Unesco World Heritage site known for its impressive colonnaded buildings (most built in the mid-1800's) and monuments. Must see's: downtown around Parque Jose Marti (you'll see Cuba's version of the Arc de Triomphe, a Theatre, cathedrals, and a museum), the malecón (like Havana's seawall, except the views are over the beautiful Bay of Cienfuegos), and Punta Gorda (the peninsula at the southern end of Cienfuegos).
.
Montemar Great National Park
Situated on the Zapata Peninsula (and not far from Cienfuegos), wildlife fanatics shouldn't miss a trip to this expanse of verdant forests, lagoons and beaches. It's also home to Cueva de los Peces (Cave of Fish) – a 70 m crack in the tectonic plate where visitors can scuba dive or snorkel in a flooded cave among a jaw dropping array of tropical fish. The area is also known for its Cuban crocodiles, best spotted in the swamplands on a guided tour.
.
.
.
.
Cuba's best Beaches
I couldn't have an overview on Cuba without including beaches, they are the reason most travelers come to Cuba.
Varadero. The most popular and least expensive destination in Cuba. If you're just going for the beaches, maybe with the kids, it's a fine destination as the beach is beautiful. Lots of water sports as well as some fantastic golf courses.
Playa Ancon. One of the country's best beaches, close to Trinidad. It's a wonder that it hasn't been built up yet but you can bet that this will change in the near future. For now a very quiet, white-sand beach.
Playa Ensenachos and Playa Mégano. Located on the tiny islet of Cayo Ensenachos, which is part of la Cayería del Norte, these protected crescents of sand drop off very gently, allowing bathers to wade 90m (295 ft.) or more out into the calm, crystal-clear waters. Both beaches are astoundingly beautiful. Entry point is the city of Santa Clara.
Cayos Coco and Guillermo. These tiny cays off the north coast, separated from the Cuban mainland by a long man-made causeway, are tucked into shallow waters that flow into the Atlantic. There's barely a sign of the "real Cuba," but what you do get is stunning, unspoiled beaches, excellent diving, and a full contingent of watersports. The most beautiful beach is Playa Pilar at the western tip of Guillermo.
Guardalavaca: Probably Cuba's prettiest resort area, Guardalavaca is a hot spot, but not as overheated as Varadero. The area is one of lush tropical vegetation, brilliant white sands, and clear turquoise waters. Long stretches of coastline are interrupted by charming little cove beaches, and some of Cuba's finest resort hotels are here. Located close to Holguin.
Playa Paraíso and Playa Sirena. These two connected beaches are the most outstanding of the uniformly spectacular stretches of sand along the length of Cayo Largo del Sur (a small island south of the Cuban mainland). Located on the more protected western end of the island, these are broad expanses of glistening, fine white sand, bordering the clear Caribbean Sea.
Tired and just want to relax? I've had a trips where I've just gone to a beach resort and spent the whole time drinking Cuba Libres, Mojitos and smoking cigars to the sound of Salsa. So Cuba is also a pretty perfect place to do nothing but chill.
Flying in
Most international travellers entering Cuba will fly into Havana's Jose Marti Int'l Airport (airport code: HAV). Another popular entry point is Varadero (Juan Gualberto Gómez International Airport. Airport code: VRA)
Below: We use CheapOair to find the cheapest and most flexible flights
Have you been to Cuba? If so, what is your favorite spot?
Ps. If you find our blog helpful, please consider using our links to book your flights, hotels, tours, and car rentals. Have a look at our Travel Resources page.