Our favorite Netflix Series
We've been travelling full-time now for 4 years. I always say that one of the things that we couldn't live without is Netflix. There's something about being able to log in – anywhere in the world – to watch your favorite shows that makes anyplace home.
We've seen a ton of Netflix series over the last 4 years. We've decided to compile some of our favorite series below. Lissette and I have very different tastes and you'll find a bit of everything (by the way, she's a bit of an insomniac which is why she's watched a lot more series than I have).
I'm going to always update this post. So if you have recommendations let me know – we'll have a look and it might end up on this list.
Here are our favorite Netflix Series by category. Scores are out of 5 (the higher the better)

This is a long post and I've included some menu items below. Click to get to the section you want.


Comedy is a very subjective thing and we generally don't like what most people do (except the US version of "The Office". Best sitcom of all time in our opinion).
There's no "The Office" in this list but here are a bunch of comedies we've really enjoyed on Netflix.
The good Place 4.8 (review by Frank)/ 4 Lissette's score

A woman dies and enters the afterlife where, despite not having been a very nice person on earth, she ends up in "The Good Place". But there's a twist.
A good, clean, quirky comedy with some good writing. I've never really liked Ted Danson but I like him here. Kristen Bell is great as the lead character.
Note: Couldn't watch anymore after season 3. This show sank fast…
American Vandal 4.8 (review by Frank)/ 4 Lissette's score
Who drew the dicks on the teachers cars in the school parking lot? Everyone thinks Dylon, a compulsive dick-drawer, did it. Or maybe he's just being framed?
This is a comedy/crime story in one. Lissette found it and I thought it would be stupid. It's not. It's excellently done, has smart writing, and is at times funny as hell. And you'll get immersed in finding out who drew the dicks.
Morty and Rick 4.5 (review by Frank)/ 4 Lissette's score
An animated series (I'm not usually a fan) focused on Rick, a mad scientist, and Morty, his grandson. They do crazy adventures in space and time, fighting aliens along the way. And Rick is a drunk and spends most of the show burping.
Whoever thought of this animated series is crazy in a crazy/genius kind of way. It takes a few episodes to settle in but then you'll be transfixed by the storyline and the witty writing. Can I say this show is actually "Intelligent"? Not for everyone but if you're a little weird you might like this series as much as I do.
Master of None 4.5 (review by Frank)/ 4.5 Lissette's score
Aziz Ansari is great in this role of an actor who just decides to leave New York and move to Italy to learn Italian and be a pasta chef. Funny, introspective and sensitive. This is not a straight up comedy. I especially appreciated the scenes where he, coming from immigrant parents, compares his life to them and the difficulties they faced bringing him to America. Very smart Dramedy.
Orange is the new Black (Dramatic Comedy) 3.5 (review by Lissette)
An upper middle class woman in her 30s is sentenced to 15 months to a minimum-security women's federal prison for an offense that occurred 10 years prior to the start of the series. So how does a series that deals with physical abuse, mental health issues and all forms of racism in prison fall into a comedy category? Not sure. Maybe I like dark comedies or maybe in spite of the serious story lines there's always an undercurrent of humor that keeps the characters and maybe the viewers from losing all hope.
Love (Romantic Comedy) 3 (review by Lissette)
2 wildly (and extremely) different individuals are drawn to each other and find their own definition of what love means. Like most of Judd Apatow's creations it's goofy, dumb, infuriating, all over the place and hopeful. Like my French-Canadian boss would often say to me on all matters related to life and love, "It's the real life".
Frank's opinion: I enjoyed the first few episodes which were funny. Then it got a bit dark and depressing and somewhere along the line I realized I didn't like either character…
Flaked (Dramatic Comedy) 2.5/5 (review by Lissette)
Chip is a recovering alcoholic who is the go-to guy for advice but secretly is terrible at handling his own baggage and there's A LOT of it. There are some major flaws with this series like ridiculous plots, unlikeable characters and some very dark moments. So why do I like it? Beside Will Arnett, I love the realness and the everyday struggle of all the characters. Like real life, there's a lot of drama with some very funny moments in between. If watching an open wound is not your idea of comedy, then maybe you should avoid this one.
—————————————————————————————————————————————————————


We're not big fans of horror unless it's Vampires (in Lissette's case). Here are the few horror series we've enjoyed.
Slasher 4.7 (review by Frank)/ 3.5 Lissette's score
There are a few seasons in the series, but the one to watch is Season 2 "Guilty Party". There are 8 episodes. It has the usual horror formula: good looking, scantily clad young people at camp. Someone gets murdered. Many years later the others come back to dig up the bones and one by one they're slaughtered. It can be gory – in one scene someone is cut in half by a chainsaw. It's horror but verges on being a comedic spoof, sometimes you'll laugh rather than shriek. In the end, it's all about finding out who the killer is.
It'll keep you in suspense and on the edge of your seat. I was sad when it was finished.
The Originals 3.5 (review by Lissette)
Vampires stories:
Since my favorite vampire series Tru Blood (5/5) is not always available to us on Netflix, I've had to settle for the next worst thing: The Originals (3.5/5) and The Vampire Diaries (3/5). Vampires, witches, werewolf and hybrids. What is the plot? Who knows and who really cares. I wish I was beautiful, immortal and could fly.
Vampire Diaries 3 (review by Lissette)
—————————————————————————————————————————————————————

.
I love thrillers more than Lissette. She'll watch anything except (most) thrillers – they don't help her insomnia.
Narcos 5/5 (review by Frank)
The story of Pablo Escobar, Colombia's cocaine king in the 1980's. In a way, it reminds me of the Sopranos – but this is a real story and the producers seamlessly intertwine real photos of Pablo (and the law enforcement and political figures involved in the war on drugs) throughout the series. It's almost a docu/drama but I hate saying that because anytime you say "documentary" people get bored. Narcos is not boring. Great series and the producers make you feel that you are right there, in Colombia, in the 1980's.
Narcos is fantastic (note my first 5 out of 5)
Homeland 5 (review by Frank)/ 5 Lissette's score
Claire Danes plays Carrie Matheson, a bipolar CIA agent rooting out terrorists at home and abroad.
Homeland is my ideal series, mixing international intrigue, travel (yes, travel), action and suspense…with a great cast. In fact I have the first 4 seasons on disk, sitting in storage right now (bought before they started showing it on Netflix).
I think they're up to Season 7 now but we haven't been able to see the show because of geographical restrictions (see my note at the bottom of this post). Great series.
Bloodline 4.8 (review by Frank)
A successful family running a resort in the Florida keys. They're picture perfect until a son returns home and old history rears its ugly head. From there everything goes to crap.
It took me a while to get into this series. I think I got hooked the 3rd time watching it. It's slow and addictive, and by the time everything starts going down the crapper you'll be hooked.
Ozark 4.5 (review by Frank)
Justin Bateman is a white collar criminal who launders money for the drug cartels. When his partner steals money, he's in trouble. He ends up moving his family to the Ozarks in Missouri where he has to launder even more money to make it up to the cartel.
Like Bloodline, it was hard getting into this series, particularly because none of the characters are very likeable: Bateman is a sweet-talking con artist, Laura Linney (his wife) is a cheater, and the two kids – well, they just make you hate teenagers. But, like Bloodline, the show gets you hooked.

.
—————————————————————————————————————————————————————

.
We both love crime series. We've broken this up into a few different categories as you'll see below.
.
Mindhunter 5 (review by Frank)
Set in the late 1970's, Mindhunter is about 2 FBI agents and a psychologist who interview imprisoned serial killers to understand how they think, with the hope of applying the information to solve ongoing cases.
The series is based on a real stories (and a book) and documents the origins of the FBI's Behavioural Science Unit. Like Narcos, it's a docu/drama based on real events and people. Again, the producers have brought the screen to life – I had goosebumps at times watching the interviews with the serial killers. Chilling.
Excellently done.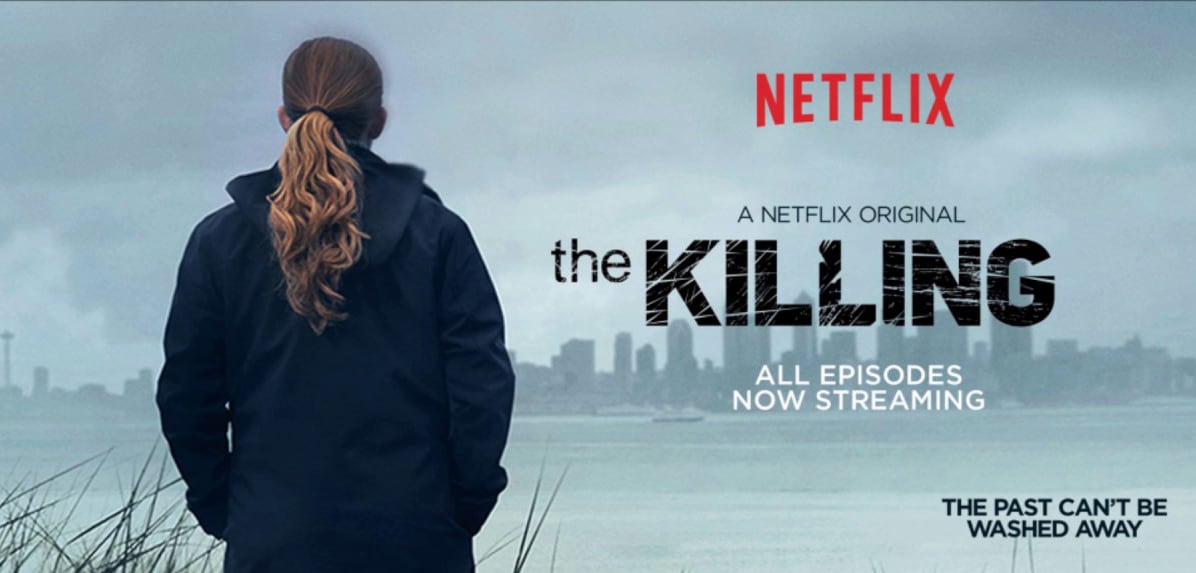 The Killing 4.8 (review by Frank) / 4 Lissette's score
One of my favorite ongoing Crime series. They're up to season 4 now and the story might have slipped a bit…but the two main actors (Mireille Enos and Joel Kinnaman) are excellent and form a great cop team. Other than that, the series is superbly shot and the backdrop of Seattle provides for a dark, dreary background to the crimes they solve.
Seven Seconds 4.8 (review by Frank)/ 2.5 Lissette's score
A police officer accidentally runs over a black teenager with his car. It's covered up by his fellow officers. A prosecutor, played by Clare Hope-Ashitey (she plays the lead in this series), is paired with a detective to get to the truth.
The story is well-told and both nuanced and intelligent. I thought the acting was excellent. But maybe Season 1 was "too real" – it seems Netflix won't be extending the series. That's a shame.
Lissette: I think the Brits do this genre a lot better than Americans. The story line is interesting but I often felt there something lacking and felt lost watching this series. Not surprised it was cancelled after 1 season.
—————————————————————————————————————————————————————

The British are overall the best with Crime series and there are a whole bunch on Netflix. It deserves its own category. Here are a few of the best.
The Fall 4.7 (review by Frank)/ 5 Lissette's score
Sexy detective Stella Gibson come to Belfast to find out who's been killing professional women.
A cat-and-mouse between Gibson and killer Paul Spector (I'm not giving anything away by naming him – in this series you find out who the killer is early on).
The first two seasons are very good, season 3 not so much.
Broadchurch 4.7 (review by Frank)/ 5 Lissette's score
Two detectives, the lead played by David Tennant, solving crimes in a small coastal towns on the British coast.
They're up to 3 seasons on this series.
Happy Valley 4.6 (review by Frank ) / 5 Lissette's score
A suspenseful drama about a stubborn policewoman uncovering an abduction plot. Excellent main character and the series really captures the vibe of small town England.
River 4.6 (review by Frank)/ 5 Lissette's score
A dark crime drama where the main character is haunted by the murder victims whose secrets he must uncover.
TOP OF THE LAKE 5 (reviewed by Lissette)
Elizabeth Moss (Peggy from Mad Men) returns to her hometown in New Zealand to investigate the disappearance of a pregnant 12 year old girl and in the process unearths town secrets and some dark truths from her own past. You'll never see the ending coming.
.
—————————————————————————————————————————————————————

(by Lissette)
I love almost all adaptions of Sherlock Holmes. From the 1950s Alan Wheatley to The 2018 all-female Japanese interpretation called Miss Sherlock (which I binged watched during our trip in Singapore), the whodunit genre will always be my favorite. Who does it better? Sorry Cumberbatch but I love just a little bit more the less traditional version with Jonny Lee Miller as Holmes with Lucy Liu as Watson. But I give both series a 5/5.
Elementary 5/5
Sherlock 5/5
.
—————————————————————————————————————————————————————

.
Series with Bad-ass characters or maybe they're just plain crazy.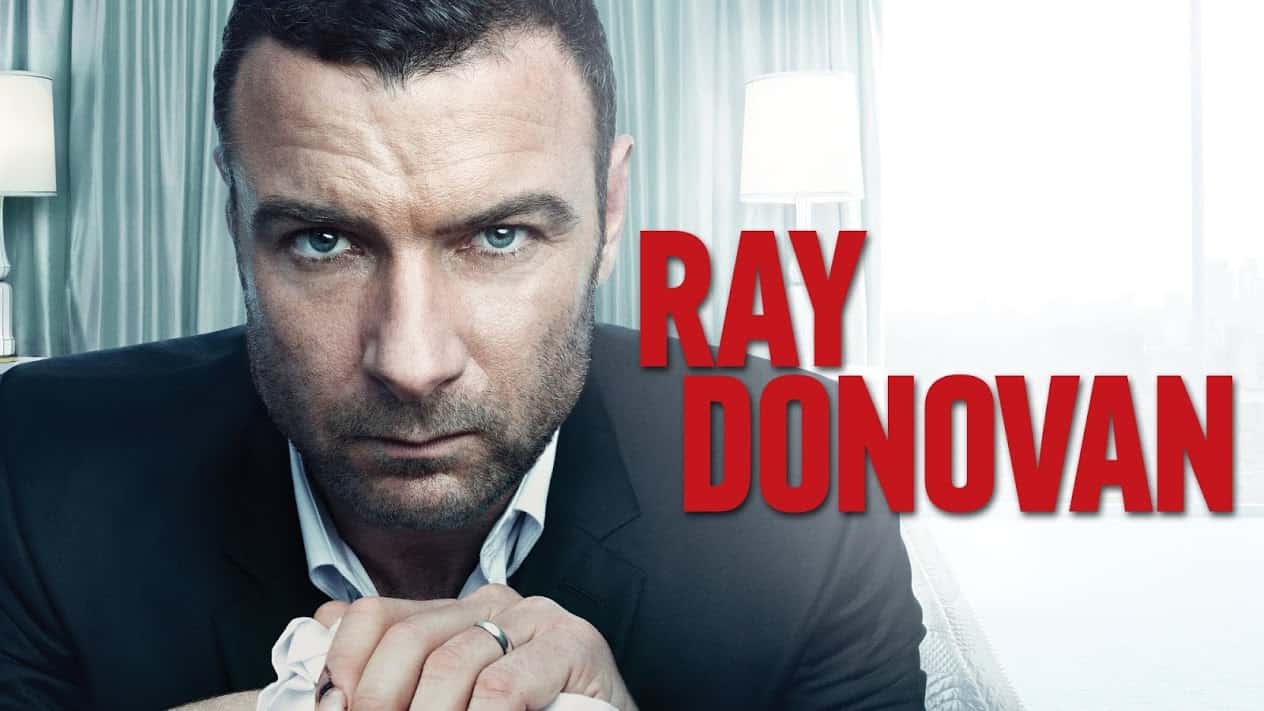 Ray Donovan 5 (review by Lissette)
A ruthless (and possibly psychopath) former South Boston thug transform himself into a Fixer for Hollywood's elite. He's the guy to call to make all their problems disappear from waking up to dead hookers to wanting an ex to just disappear forever. He just can't seem to make his own demons disappear not matter how hard he tries. Who knew Liev Schreiber could be such a bad ass with a bat.
Frank's opinion: A poor man's Sopranos (the ultimate series of all time). Entertaining though…
Luther 5 (review by Lissette)
The hotness that is Idris Elba plays DCI John Luther in this psychological crime drama who is obsessive, compulsive and sometimes violent in his pursuit of justice for victims and will not stop at nothing to get to the truth. One of my favorite lines, "I love to talk about nothing. It's the only thing I know anything about."
Marcella 4.5 (review by Lissette)
Anna Friel plays Marcella Backland a former detective who return to work to investigate a 11 year old open case involving a serial killer. Her inability to separate profession and personal life makes this series very interesting to me. She's as crazy as they come.
Gypsy 3.5 (review by Lissette)
Naomi Watts stars as seemingly successful NY therapist who develops intimate and illicit relationships with not only her patents but the people in her patient's lives. As much fun it was to watch the craziness unfold, I'm not surprise the series was cancelled after 1 season. There's just so much crazy a person can get away with before others catch on.
Frank's opinion: A terrible mess of a series. I tried to watch and to convince myself that if Noami Watts was in it that it had to be good. But at a certain point I gave up. (I have a list of series at the bottom that I just don't like. This is one of them)
Nurse Jackie 2.5 (review by Lissette)
Edie Falco play the title character Jackie Peyton. Like House MD, her love and dependency for prescription meds comes before almost everything else. Watching how she juggle her addition, her career and family made Season 1-3 interesting to me. Starting Season 4, the show became a little predictable and lost.
—————————————————————————————————————————————————————
This is Lissette's category, I'm not really into the whole Sci fi thing…
STAR TREK DISCOVERY 5 (review by Lissette)
The USS Discovery is set 10 years before the original Star Trek (with Captain Kirk). Though the mission is the same to explore new worlds and lifeforms this time they put a young black woman (played by Sonequa Martin-Green) at the center of the story. I loved everything about this series and can't wait for season 2.
Lost in Space 5 (review by Lissette)
I was a nerd in the 70s and I am a nerd in the 00s. This re-imagining of the 1812 novel The Swiss Family Robinson is pretty cool. It's 2048 and the Robinson family are part of interstellar spacecraft, which are carrying "selected" families to the new world. But before they reach their destination, they are breached by an Alien Robot and are forced to crash land on what seems to be a habitable planet. I love seeing Canadian actress Molly Parker play the mission commander.
Black Mirror 4.7 (review by Frank)/ 5 Lissette's score
A futuristic series with different, standalone, stories dealing humanity's dependence on technology. It's pretty dark.
I don't love each story (I didn't like episode 1). But many are phenomenal.
Lissette: Love this modern day version of the Twilight Zone
Travelers 4 (review by Lissette)
Set about a 100 years into the future, the last of the surviving humans engineer find a way of sending the consciousness of special operatives back to the 21st century. This mission is to save humanity from a terrible future with minimal impact on the time line. The creepiest part is not watching how the host body is taken over but how the Travelers sometimes receive urgent messages from the Director. Where do I sign up?
OA 4 (review by Lissette)
A young blind woman (played by Brit Marling) disappears for 7 years and reappears having regained her sight and claiming that she an angel (the Original Angel). She recruits the help of 5 locals (4 high school students and a teacher) to help save other missing people by opening a portal to another dimension. Yes, it sounds crazy and maybe my review is a little too telling but the visuals and acting are great and my secret hope in life is to go through a portal. This is just research.
SENSE 8 4 (review by Lissette)
The very unique and sometimes sexually graphic series by filmmakers Lana Wachowski and Lilly Wachowski tells the story of the psychic connection of 8 strangers who come together to fight an organization that is intent on hunting and destroying them. It's global, action packed and like a lot of Netflix shows it has very diverse characters.
Luke Cage 4 (review by Lissette)
This drama is set in Harlem and it's gritty and action packed. Luke (played by Mike Colter) is the reluctant hero forced into battle for his city. He has super strength and unbreakable skin. Despite this qualities, I like to think that he is tender, soulful and intelligent….and he looks great in tight t-shirts.
Jessica Jones 3.5 (review by Lissette)
After a tragedy puts an end to her career as superhero, Jessica settles in NYC and opens up a detective agency. She wants to do good but just not save the world. She possesses superhuman strength, can fly, and can block mind control. How cool is that?
.
—————————————————————————————————————————————————————
Mad Men 5 (review by Frank)/ 5 Lissette's score
Set in the 1960's, it covers the personal and professional lives of the characters at a New York advertising agency.
This is a phenomenal series, one of the very best series ever produced. You'll especially love this series if you're a bit older.
You HAVE to watch this series.
Masters of Sex 4.7 (review by Frank)/ 4.5 Lissette's score
Based on the real life story of Masters and Johnson (Dr. William Masters and Virginia Johnson) who are known as the "pioneers of sex" for their research on human sexuality in the 1960's. It might sound like dry material but it's not – there's a lot of drama centered on the politics and morality of the time as well on the two main characters (but I won't give that away). Very intelligent series.
.
—————————————————————————————————————————————————————
I love historical series. It teaches you about real life historical characters and how life was at the time. Some favorites: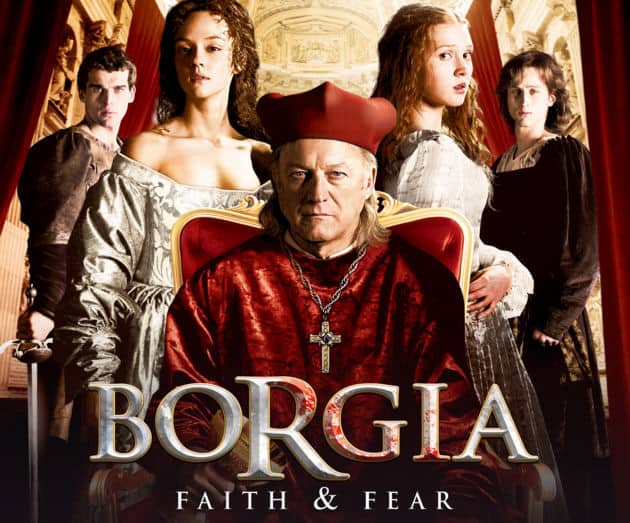 Borgia 5 (review by Frank)/ 5 Lissette's score
A European-made series about the rise of power of the Borgia family to the papacy in the 15th century. Based on the true story of Pope Alexander VI. Lots of political intrigue, backstabbing, sexual infidelities, and violence – all the stuff that makes religion great. Excellently made and very, very entertaining.
Don't confuse it with "The Borgias", another series that came out at the same time.
The Crown 5 (review by Frank)/ 5 Lissette's score
What a great series. A biographical story about Queen Elizabeth from the time of her wedding in 1947 to the present day. It really makes you see a more human side of the Queen and covers the many historical episodes (and characters) over Britain's history over the last 70 or so years. Fascinating.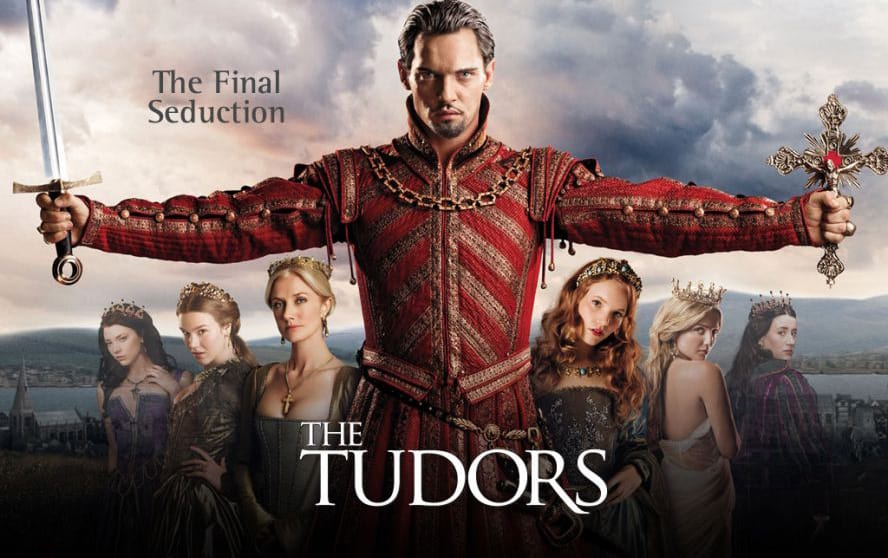 Tutors 4.5 (review by Frank) / 5 Lissette's score
Based on the story of King Henry VIII in 16th century England. Known for having 6 wives (2 of which he had executed), for reforming the Church of England, and for his wars in France and Spain. The series tracks a man who with time became a monster, an egomaniac, executing anyone who fell out of favour with him. Sounds like anyone you know?
Versailles 4.5 (review by Frank) / 5 review by Lissette
Similar to the Tudors, but this covers the history of King Louis XIV of France who ruled from 1643 to 1715. He built Versailles and centralized power in France. France at this time was the most powerful European power and King Louis consolidated power through wars and conquest.
Insightful and entertaining. Warning: If you're someone who thinks that every Frenchman is a raging homosexual this series might confirm that idea. It's created by the BBC and I wonder if there's a bit of French poking going on here…
.
.
—————————————————————————————————————————————————————
The Alienist 5 (review by Lissette)
This is a psychological thriller/whodunit set in NYC in the late 1800s. It has everything: a Ritualist killer, corrupt police force and a criminal psychologist/investigator with some major issues. Great seeing a grown up Dakota Fanning.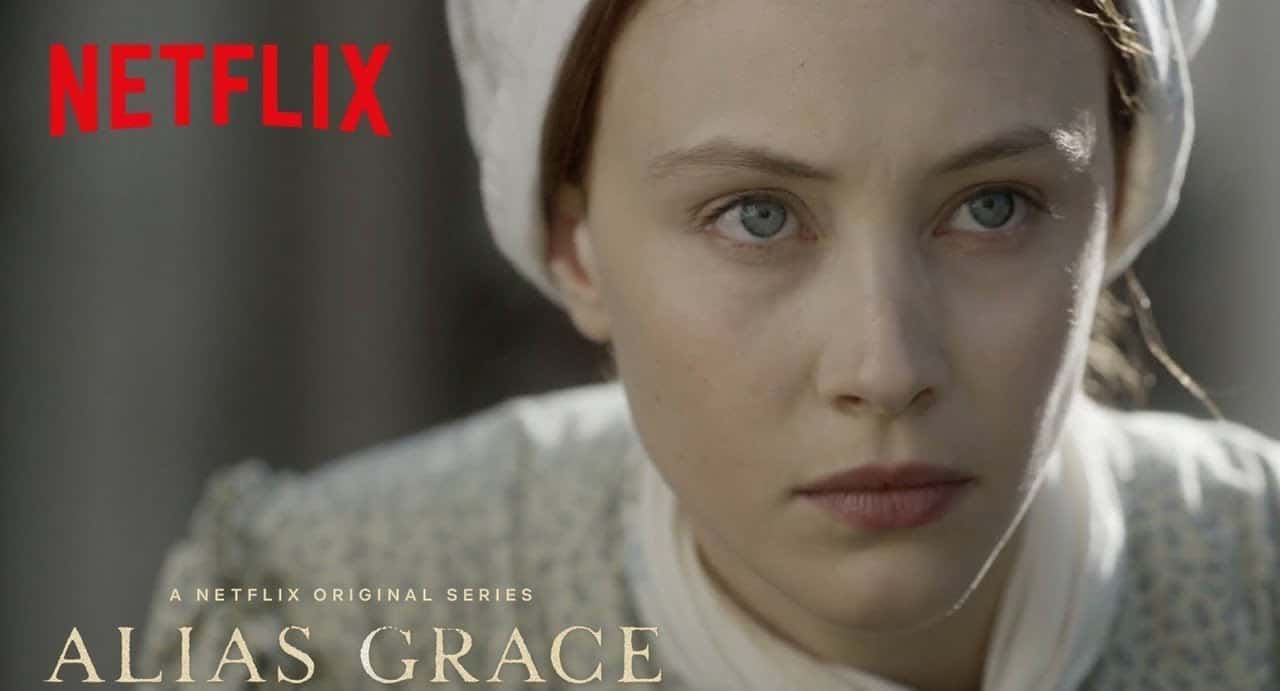 The Alias Grace 5 (review by Lissette)
Based on Margaret Atwood's 1996 novel, this is a true-crime drama based on the life of an improvised Irish-Canadian immigrant who is found guilty of the murder of her employer and is sentenced to life in prison in the mid 1800s.
Outlander 3.5 (review by Lissette)
Story of a married World War II nurse who in 1945 finds herself transported back to the Scotland of 1743, where she encounters a dashing Highland warrior and becomes embroiled in the Jacobite risings.
Everything I like in a series: a period piece, fighting, and time travel 🙂
Anne with an "E" 3.5 (review by Lissette)
Who hasn't heard of Anne of Green Gables? This re-imagining of her story about the coming of age of a young orphan girl looking for acceptance and love is inspiring.
.
.
—————————————————————————————————————————————————————
"Binge-worthy" – for me it means addictive and also (usually) great for putting me to sleep. It's sometimes mindless entertainment but there's often something about it that will keep you watching….
Dexter 4.7 (review by Frank) /5 Lissette's score
Dexter, the serial killer who only kills bad guys.
Ok, the story line and acting can be weak at times. But great suspense and action, plus you get to see Dexter hunting down pedophiles, rapists, and other serial killers.
This series is pure escapism and classifies as binge-worthy for me. Call me weird, but it's great to fall asleep to…
Blacklist 4.5 (review by Frank) /4 Lissette's score
The Blacklist is the new "Dexter". Starring James Spader as Red Reddington, a high profile criminal who turns himself in to the FBI to help them catch a never-ending list of dangerous criminals and terrorists.
Spader is great in the role as the suave, sophisticated Reddington. The level of the show dips after season 4 (after one of the characters was killed off. I won't tell you who).
Lissette has a lot of shows she binges on: GOSSIP GIRL,GILMORE GIRLS,HOUSE and all the STAR TREK series.
.
.
—————————————————————————————————————————————————————
There are some series we just don't like. Here they are.
Frank:
Safe. Michael C Hall (the same guy who plays Dexter) as a father who's daughter has gone missing. Besides a British accent that's distracting, the story is convoluted and gets more unbelievable the more you watch. Disappointing.
Gypsy. Stars Naomi Watts as a New York therapist who can't draw a line between her personal/professional life. The series starts out great but gets bogged down in a back and forth relationship. It's a mess. Watts is unlikeable in this character and in the end I just didn't care enough to keep watching.
Designated Survivor. Keifer Sutherland becomes president after a terrorist attack kills the President and most of the Cabinet. I generally love political dramas and in real life Sutherland's character would be a great president – but the storyline is weak and it just feels like a made for TV series.
Others: Lilyhammer, Grace and Frankie, Weeds, House of Cards
Lissette:
3%, Bo Jack Horseman, Black lightening, Designated Survivor, Hinterland, Jane the Virgin, Haters Back Off, Marco Polo,Peaky Blinders ,Santa Clarita's Diet,Shooter,Timeless, Brooklyn 99.
.
.
—————————————————————————————————————————————————————
The series above we didn't like. These ones we just can't get into. And it includes "Breaking Bad", the series everyone raves about. We've tried watching it about 4 times, getting about 5 episodes into it. And we always end up switching to something else. What are we missing??
Update: We tried Breaking Bad again and it took us about 6 episodes to get into it. Ended up enjoying it. The series that we've actually really come to like is Better Call Saul, a spin-off from Breaking Bad which we think is even better.
Here is a complete list of series we just haven't been able to "get into" (this is Lissette's list. I'm usually asleep)
ATYPICAL, CABLE GIRLS, CALIFORNICATION, CASE, COLLATERAL, CONTINUUM, DEAR WHITE PEOPLE, DEEP WATER, DIRK GENTLY'S HOLISTIC DETECTIVE AGENCY,GRIMM, GIRL BOSS, HOUSE OF CARDS, HUNG, JACK TAYLOR, The L word, ONE DAY AT A TIME, PARANOID, REIGN, THE RETURN,TOUCH,TIMELESS,UNBREAKABLE KIMMY SCHMIDT.
.
.
.
—————————————————————————————————————————————————————
So that's it. There are always new series on Netflix including some of Netflix's Originals. We'll add series to this list as we watch them going forward. If you have comments/feedback/recommendations please leave them in the comments section below.
*One pet peeve of Netflix: it is location-dependent. In some places you can't get certain shows. What we see on Netflix in Europe won't always be the same as what you'll get in the United States. Since we are always travelling there are some shows we've probably missed out on. But we do our best 🙂
Do you have any of your own favorites? Or objections to any that we have up there? Always enjoy suggestions…