Last weekend we took a walking food tour with Fitz & Follwell. They specialize in bike tours of Montreal but also have a couple of highly recommended food tours. I've mentioned it before – I get irked by non-Montreal bloggers who come here and write as if there's nothing more to Montreal than poutine, smoked meat, and bagels. It is this generalization that prompted us to take the tour. We wanted to see firsthand how tourists are exposed to Montreal's culinary traditions.
Fitz & Follwell's tours are from a historical perspective and are focused on the culinary heritage of immigrants that settled on St. Laurent boulevard, otherwise known as "The Main". They have two food tours: Segment 1 of the "Flavours of The Main tour" starts in Chinatown and works its way through the former Jewish quarter as well as "Little Portugal". Segment 2 covers Mile-End, Little Italy, and the Jean Talon Market. With Lissette being vegetarian, F&F recommended that we take the 2nd segment of the tour (note: both segments are about 3 hours long and can be done as one, extended 6 hour tour).
---
---
Quick summary: We met up at Fitz & Follwell's bike store on Mont-Royal. This is the starting point for segment 2 of the tour. Melissa was our guide, there were 11 of us on the tour. We walked up St.Laurent, Melissa pointing out a few restaurants on the way (Aux Vivres and Robin des Bois) before stopping at Saraphin, a Portuguese-owned bakery on the corner of St-Laurent and St. Joseph. There we were treated to some Pasteis de Natas (custard cups with a flaky crust). The tour continued, taking a little detour up an alley (Montreal has some very pretty alleys) before coming out on Fairmount street. There we had two stops: the first at Wilensky, where we were treated to a bologna/salami sandwich (no vegetarian options here) and an "egg cream soda" drink. The 2nd stop was at Fairmount bagel, where we all had a bagel. Fairmount has a rich Jewish heritage. We continued our walk north through the neighborhood, turned right on St. Viateur (which is another pretty street which has developed tremendously in the last 5 years) and walked a block to St. Laurent. There we took a city bus. 10 minutes later we were in Little Italy. Melissa pointed out Milano's, a large, Italian owned grocery store (I know it having lived in the neighborhood previously – lots of great food imported from Italy). We sat down at Café Italia, an institution in Little Italy and were served coffees. After a 20 minute break we walked down Dante street, stopping first at Dante "hardware" store (they're actually known more for their beautiful cooking ware) then at Alati Caserta, an Italian bakery. We were served Cannoli, a Sicilian pastry. Following this, we continued to the Jean-Talon market which is very close by. We briefly cut through part of the market before being taken to the le Marché Des Saveurs du Quebec, a large store that supplies a large variety of products made in Quebec: cheeses, wines, beers, jams, maple syrup, and smoked meats and fish. We finished the tour with a sampling of Quebec cheeses and apple cider.
Above and Below: Wilensky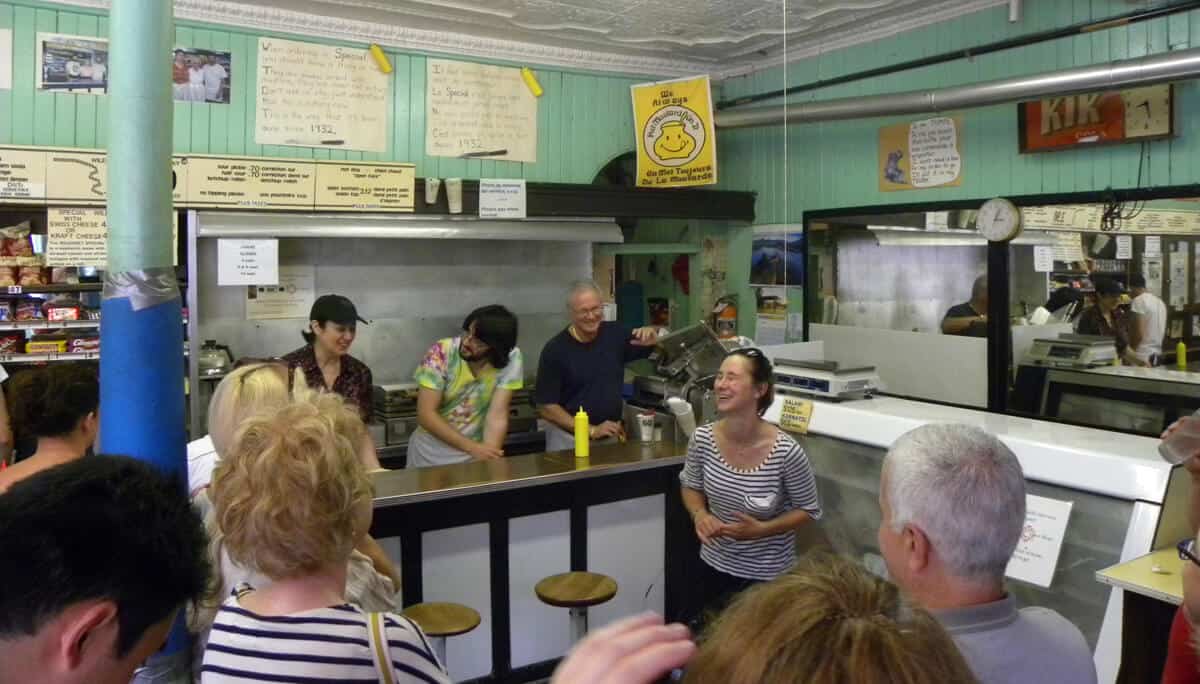 Below: Fairmount bagel
---
---
Below: Milano's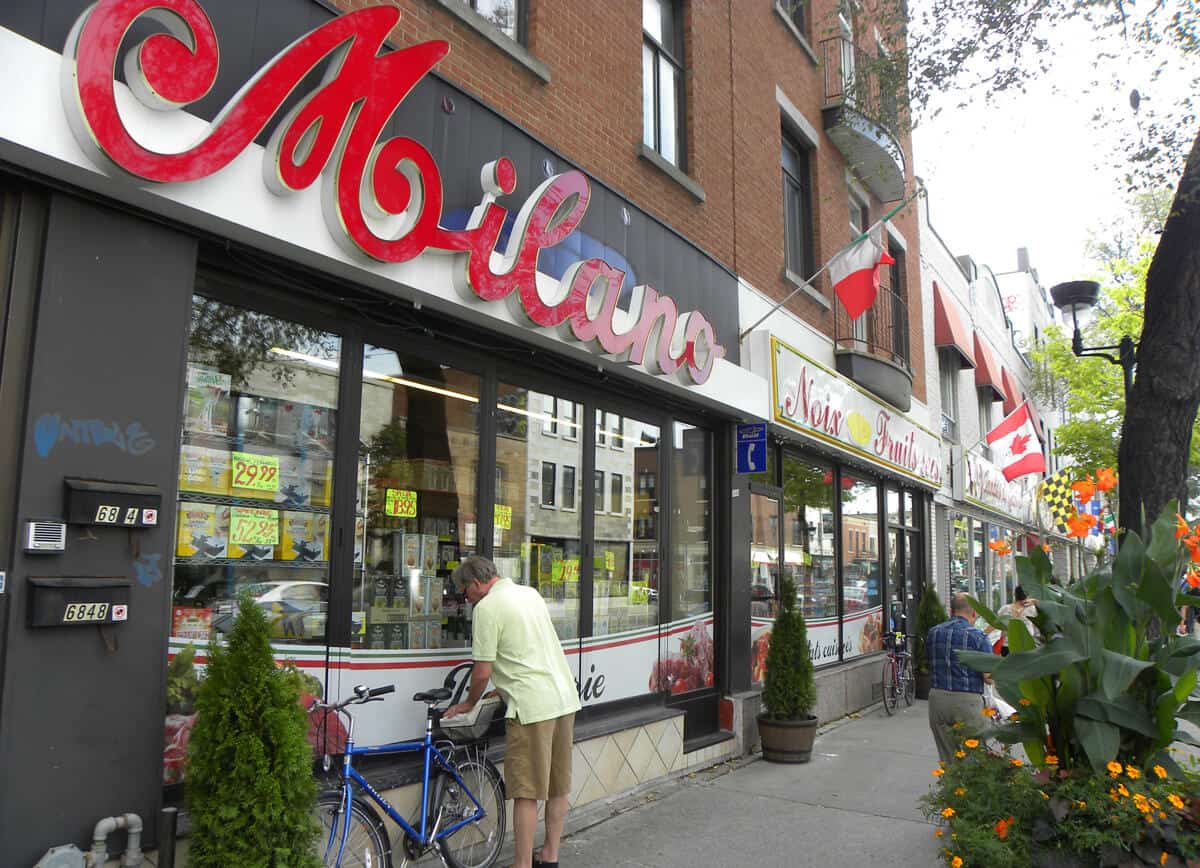 Below: Café Italia

Below: Pretty restaurants in Little Italy
---
---

Below: Alati Caserta
Below: Jean-Talon Market

Below: Marché Des Saveurs du Quebec

Critique: Overall we give Segment 2 of the Flavours of the Main tour a 7 out of 10.
---
---
The strongest aspect of the tour was Melissa. We thought she was a great guide; a lot of enthusiasm, very knowledgeable, very good rapport with both customers and merchants. The mission of the tour was to link Montreal's history, immigrants, and food. It did an excellent job achieving that. We really liked some of the stops on the tour. The coffee at Café Italia was fantastic, one of the best we've ever had. The cheese and apple cider at Marché Des Saveurs were very good. We're going to come back on our own to both of these places. I can attest to Milano's and Quinqualerie Dante which are both excellent destinations for imported food/cookware.
The weaknesses of the tour is the itinerary. It is very ambitious, covering a long strip, and therefore misses a bit in its coverage. For instance, it was a shame that the Fairmount, St.Viateur, and Parc area couldn't be covered in greater detail (I would recommend to tourists taking the tour that they come back to this neighborhood for further exploration). Likewise, it would have been good to take 5 minutes to explore the various food and vegetable stalls at the Jean Talon market. Since this is the ending point of the tour, I definitely recommend that further time be spent here.
As far as the generalization that Montreal is all about poutine, smoked meat, and bagels; well, I read that Segment 1 serves up poutine and smoked meat. Segment 2 serves up the bagel.<sigh>. So Fitz & Follwell doesn't do anything to dispel the generalization. With all the fantastic food in this city it is a shame that so much energy is spent vaunting these culinary coronary delights.
Would I take the tour solely for the food? No. But the tour is a great history lesson on Montreal, its communities and their food. I think it is a fun and insightful activity for tourists new to Montreal. As a Montrealer, the tour also introduces you to some interesting spots you may not have known about beforehand.
---
---
Other food tours
Local Food Tours. They have a food tour in the same price range as F&F ($65/person) concentrating on the Jean-Talon market and Little Italy. There's a bit of an overlap in the spots covered but some of the sampling promised sounds very good (sausages, Breton crepe with salmon and goat cheese. Yum). My impression is that their tour is focused more on food than history. They do say however that it is not suitable for vegans, vegetarians, or those on a gluten-free diet. Local Montreal also has a beer tour that sounds interesting – we might try that out sometime soon.
If you have more money to spend and want something high end, I've heard excellent reviews of Round Table tours. They have for example a Vegan tour and a Iberian Montreal tour. Tours range from $ 70 to $255/person depending on the tour.
Have you been on a food tour in Montreal? What did you think of it?
Ps. If you find our blog helpful, please consider using our links to book your flights, hotels, tours, and car rentals. Have a look at our Travel Resources page.