The Hutsadin Elephant Foundation
There are many reasons to love elephants. They're majestic, powerful beasts that we draw parallels to because of their deep family bonds, their soulfulness, as well as their playfulness. Watching a baby elephant running around, it's tongue hanging out, is pure joy. It's like watching a puppy. Except that puppies don't weight 1.5 tons and won't crush you as they're rushing down that path eager to jump in a puddle of mud. We also love elephants because, like us, they are all very different. Physically they can be big, short, fat, tall; personality-wise they can be affectionate, independent, or playful. And their moods and personalities can change on a dime. They can be moody, temperamental and stubborn. And dangerous. Sometimes we forget that these wonderful beast are also wild animals.
We experienced all of the above last Friday.
5 minutes from Hua Hin is the Hutsadin Elephant Foundation. Unlike the Elephant Nature Park near Chiang Mai, it falls under the radar; Hutsadin doesn't get international funding, doesn't receive endorsements from famous actors, and gets very little (if any) attention from bloggers. What it does do is care for old or abandoned elephants who have been abused or left for dead. It does this through the work of some very dedicated volunteers, private donations, as well as tours and shows aimed at visitors. The last part won't appeal to the purists. But, as I say, not everyone has the luxury of being Elephant Nature Park and Hutsadin has the same noble intentions with much less resources. I'm writing this post in order to spread the word about Hutsadin. I will also reach out to some bigger bloggers in the hope that they do the same. We hope it will eventually result in greater funding and support for this foundation.
---
---
Our unforgettable 'Mahout experience'
.
The Mahout Experience is available, upon demand, 3 times a week (Monday, Wednesdays, and Fridays) between 9 am and 12 noon. It involves meeting, feeding and washing all the elephants as well as going for a walk with one of them (not riding them). It is centered around the elephant experience, not the human, and is a great way to experience what elephants and their handlers go through on a daily basis. Rates: 1000 Baht per person which includes a free t-shirt and a vegetarian lunch.
Note: this blog received no compensation or freebies for this post. We wrote it because we believe elephant conservation is a noble cause.
Elephant Prayer
We actually got more than we bargained with on this day. Both positively and negatively.
We were greeted a little after 9am by one of the volunteers, Will. Passionate and energetic, he would later respond the most impressively when things didn't quite go according to script. I'll get to that later in the post.
A few minutes into our information session with Will we were beckoned by another volunteer to the temple located within the foundation's main building. This is where we where we first saw Song Kran, the foundation's one and only baby elephant:
We were told – and Will was adamant that there was no training of any sort involved – that Song Kran had started following her mahout around during his morning prayers and would mimic his prayers.
We followed them both outside and saw them praying at another shrine. We went back in as they continued their rounds.
.
Information Session
– The Foundation currently has 6 elephants including 1 baby (Song Kran above), 4 females varying in age between their mid 20's and mid-50's, and one male in his mid-60s.
– The foundation has to buy elephants from their owners. Song Kran for example cost them 1 million baht (about 30,000 USD). Even if elephants are injured or require medication that the owners can't afford, they are assets and won't be given to the foundation to care for. They have to be bought.
– Elephants live roughly the same number of years as adults and their age cycle is similar to that of humans (ie. a 6 year old is still regarded as a baby just as an 83 year old is considered elderly).
– Pregnancy lasts roughly 22 months (almost 2 years) in elephants. Female elephants will usually start reproducing at around 12-14 years of age and the interval between calves can be around 5 years.
– Male elephants leave their mother, and the herd, when they hit adolescence. They form 'bachelor groups' and, usually around the age of 30, will begin breeding with females and will temporarily rejoin herds when looking for a mate.
– Asian male elephants get into 'musth', a period when they are highly sexual and aggressive, starting at around 20 years of age. Musth can last 1-2 months (depending on the age of the elephant) and elephants in captivity must be chained to a tree for the safety of everyone around them. Musth usually fades in frequency and intensity when elephants hit their mid -50's.
– Boon Mee is Hutsadin's only male elephant and he was in musth during our visit. In his mid-60's, he hadn't been through musth for 5 years.
A very good site for those looking to learn more about elephant behaviour
– very important – Taxi drivers in Hua Hin will try to take you to the nearby Elephant Village because they are given a commission by the owners. This is not a foundation and they don't own or care for the elephants. They rent them from the owners for tourist purposes. Don't go there. Just look on Trip Advisor – most tourists are appalled by how the elephants there are treated.
---
---
.
Meeting the Elephants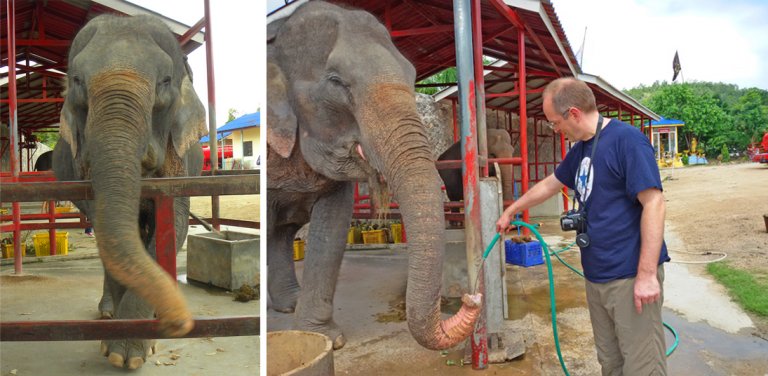 Rham Rhouy is a female in her mid-80's. She's huge and it's a bit intimidating standing next to her. It's hard to imagine that only a short time ago she had been tied to a tree and left to die. She had lost weight and didn't eat. The foundation bought her and changed her diet. Turns out that the only thing wrong with her were her teeth which had eroded to the point that she could no longer chew her food. She's gained back her weight and is now full of energy.
————–
Tong Kam was rescued by the foundation in 2011 through a generous donation. She is in her early 40s. She doesn't like people riding her and because of this she' s always been used in forestry work (which is much harder for an elephant than a working in the tourist industry). When she was rescued she had a work related injury. In the past she was shy of people – she's no longer shy and is incredibly gentle. She's now a lovable fatty and ended up being our favorite elephant at the foundation.
————–
Pheung Wan is an elephant recently obtained by the foundation (although they are still trying to collect enough money to buy her). The owner let them have her early because of a back leg injury which requires care and medication. She's always been a tourist elephant and doesn't like having the seat on her back taken off. Which is why it's almost always on. She's used to people and, like Tong Kam, is friendly. We spent a long time feeding her watermelons and pineapples.
————–
Lia Tong is a 20-something year old female who previously worked in the tourism industry. Here's a photo of big Lia Tong.
————–
Boon Mee is the only male elephant and is usually a sweet and gentle giant. So much so that earlier this year poachers broke onto the grounds of the foundation and cut off his tusks. He's recovered fine however and was in musth when we visited. This means being tied up far from the other elephants.
.
---
---
.
The Elephant walk that didn't go according to plan
We had an eventful walk with 6 year old Song Kran. Everything was going well; she seemed relaxed and walked step-in-step with her mahout, rubbed herself against a tree, even laid out on the grass. But then she suddenly got very agitated and ran off into the trees, her tail in the air. Her mahout called out to her but Song Kran didn't listen. We could see her running around back and forth amongst the trees, barking. At least 20 minutes was spent following her, trying to get her to come back…and nothing worked until big Lia Tong came up from the camp, her mahout on her back. Lia Tong cut off the baby elephant, even bellowed at her (which is a very impressive thing to hear from up close). Song Kran was corralled back to camp but it didn't end there…more bellowing ensued among the elephants. We would later see Will leading Song Kran by the ear back to her enclosure and were impressed by his calmness and control of the situation.
We'll admit it was a bit scary seeing an elephant running around out of control. We just wanted to make sure we had room to get out of its way. In the end all was fine. As one of the volunteers pointed out, it's good to be reminded from time to time that elephants are wild animals. What could have triggered the way she acted? It could have been a snake. Nobody knows.

.
.
Elephant show and lunch
Our tour concluded with a 10 minute elephant show. It should actually be called "the Song Kran show" because Song Kran, now back to normal, went into a routine that included playing a harmonica, putting a basketball through a basket, kicking a soccer ball, and breaking out into a funky dance which had everyone laughing. The purists wouldn't approve and it probably doesn't belong in an elephant foundation. But you could see that Song Kran revelled in the attention and the crowd, most who had shown up just to see the show, loved it. I would imagine that it, along with elephant rides on Pheung Wan and Lia Tong, brings in most of the foundation's revenues.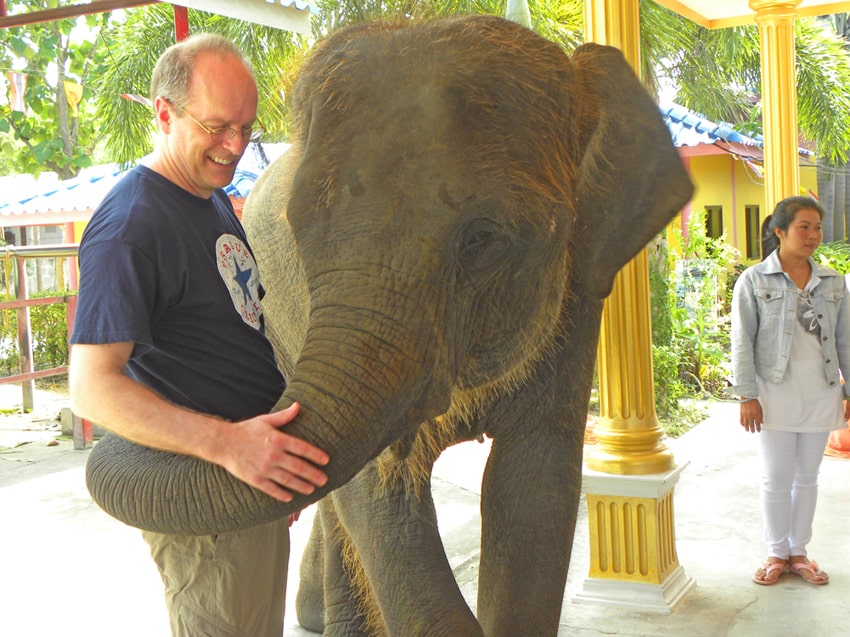 We had a wonderful vegetarian lunch, given our t-shirts, and took the taxi back to Hua Hin. A very enjoyable morning.
.
Conclusion: We were very impressed by the volunteers and staff as well as the facilities. People may criticize some of the activities they offer to raise money. In an ideal world they wouldn't have elephant rides or elephant shows. But the bottom line is that all money goes into saving, caring, and feeding elephants. As animal lovers these are objectives we'll always support.
---
---
Note: I've received a lot of negative comments below on how Hutsadin carries on it's operations. I would urge you to read this Tripadvisor review and the reply by the foundation.
For more information check out Hutsadin's website or facebook page.
.
Ps. If you find our blog helpful, please consider using our links to book your flights, hotels, tours, and car rentals. Have a look at our Travel Resources page.