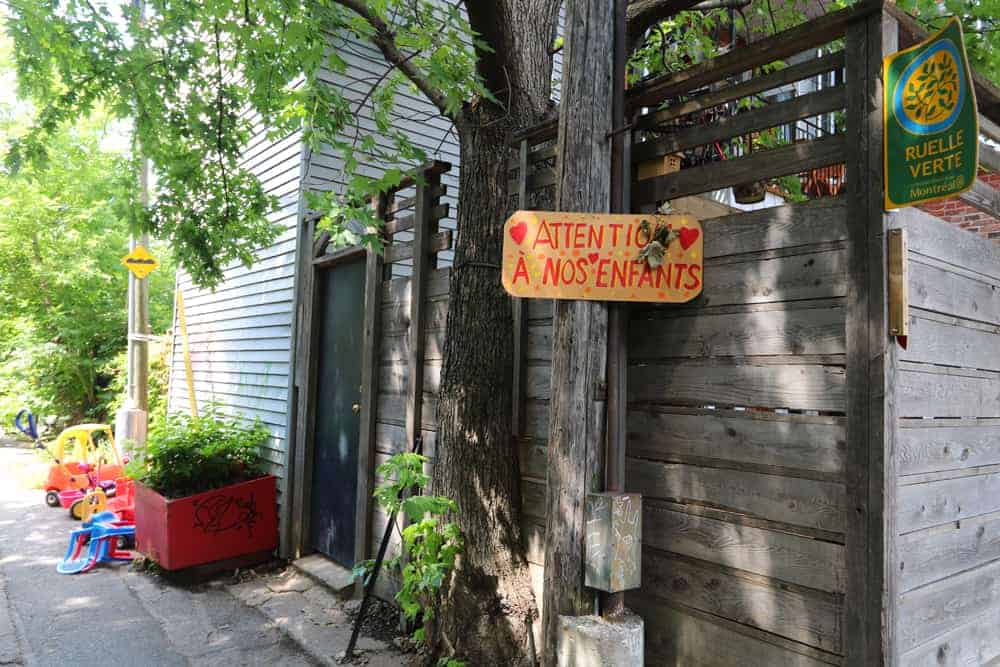 The best Green Alleys on the Plateau Mont-Royal
Montreal's Plateau Mont-Royal neighborhood is the most densely populated borough in Canada, with over a 100,000 people living in an 8.1 square kilometre area. It is attractive, liveable, and trendy, a neighbourhood of historical three-storey buildings, swirling staircases, and tree lined streets.
But stepping off its streets to the alleys behind brings you to a whole other world. Over the last 15 years the alleys of Montreal (but particularly those of the Plateau Mont-Royal) have become an oasis from the city. Neighbors have worked together (encouraged by the city) to form committees to beautify their back alleys. You'll now find tons of "Green Alleys" ("Allées Vertes") all over Montreal. Walk through these alleys and you'll see lush greenery from trees and colourful flowers (both seasonal and potted plants). People have created works of art, have painted murals, have set up community library boxes, picnic tables, and hammocks. In some cases they've even set up treehouses or playhouses for kids. They've beautified their living space while also bringing nature back.
We lived on the Plateau for over 20 years and saw the first emergence of Green Alleys. Coming back to Montreal after 6 years away, we've been amazed by how many green alleys there are now.
This post shows off some highlights of the many Green Alleys we visited this summer. I also cover the very best Green Alleys on the Plateau Mont-Royal.
---
---
The interactive map below shows most of Montreal's Green Alleys. At latest count they number 346, although that number is growing fast. Use the + for further detail. We used this map and visited most of the Green Alleys on the Plateau Mont-Royal (where you'll find the highest concentration of Green Alleys).
---
---
The Best Green Alleys?
Of all of the Plateau Mont-Royal's green alleys, there were 4 that stood out for us.
1. The Alley between rue Chabot and rue Cartier, just above Laurier East
There's a real community spirit about this alley. It's modest compared to other alleys and mostly green – but it's lush, well-cared for, and kid-friendly.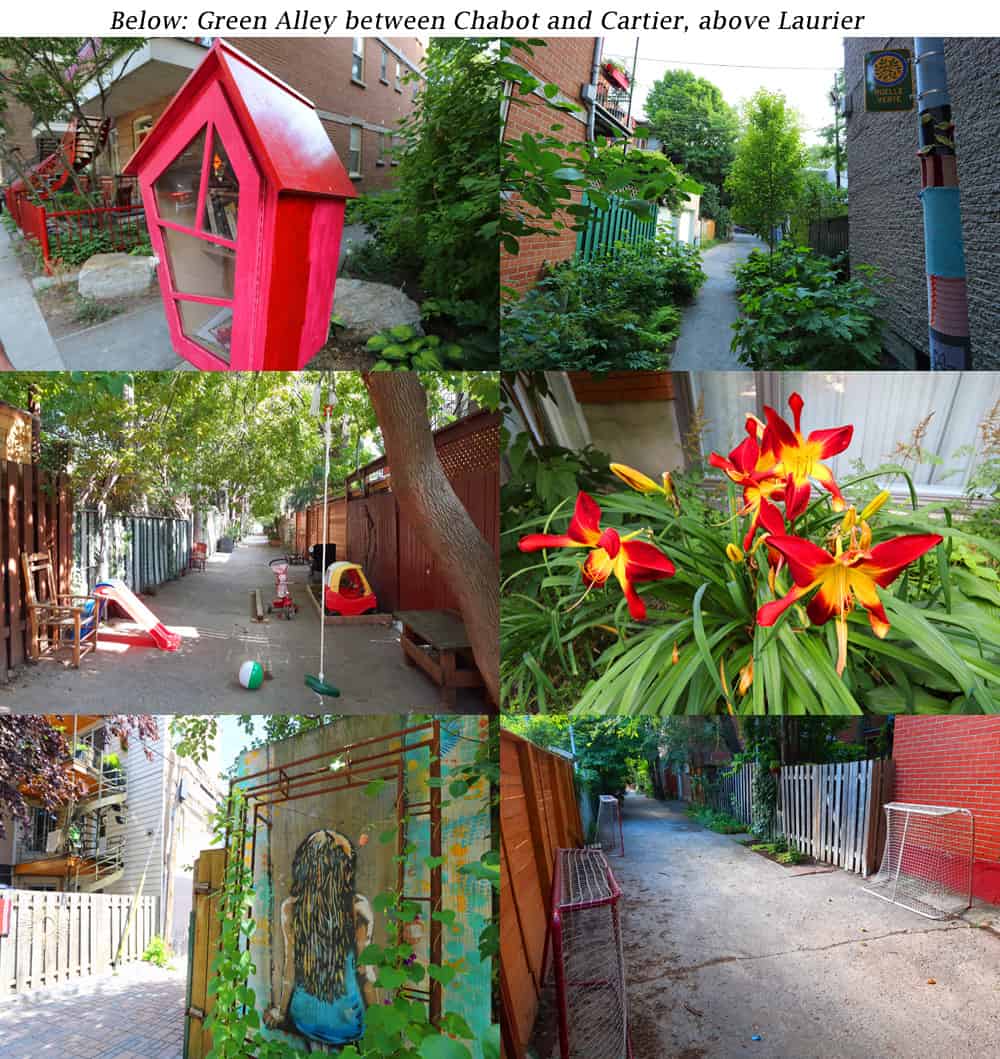 2. The Alley between rue Cartier and rue Papineau, just above Laurier East
Right across from 1) above. This is a very narrow alley, the narrowest of any alley we visited. And we didn't expect much being that the alley falls behind busy (and ugly) rue Papineau. But you could almost swear that you are somewhere in the country and not 50m from one of Montreal's busiest thoroughfares. It's rustic, but colourful and there's a lot of care in this little alley. Maybe my favorite.
---
---
3. The Green Alley between rue Brebeuf and rue Chambord, just above Rachel
It's almost the opposite of the alley I mention above. This wide alley is in an affluent area of the Plateau, just across the way from Lafontaine Park. And at first glance it's nothing special, a wide cement alley.
But of all the alleys, this Green Alley has the most beautiful flowers and even on this day we saw a few people from the neighborhood watering and pruning the flowers. There was a lot of pride. If you like flowers then this might be your favorite alley. You also get to see the backyards of some beautiful homes.
4. Rue Demers
The strangest of the Green Alleys. Rue Demers is technically a "rue" (a street) but a very short block of that street has been converted into an alley. That short block has received the most love of any Green Alley and it's all the work of one man. You'll see the man at the bottom of this collage. He goes by the name of Santiago and came out while we were exploring the gardens he's built up. He's very happy to talk to people curious about his work. You'll see a windmill, fountain, a library, and different other works of art on top of lush greenery and flowers.
The Alley on Rue Demers is always voted at the top of Montreal's Green Alleys.
If you're a tourist the Green Alleys won't make it on the top of things to see in Montreal. But it's a completely different side to the city that you would never expect to see…but that might give you a different appreciation of Montreal.
---
---

Ps. If you find our blog helpful, please consider using our links to book your flights, hotels, tours, and car rentals. Have a look at our Travel Resources page.