The best of Restaurant Week in Split (Croatia)
Restaurant Week is a bi-annual event, not only in Split but in all of Croatia. For this one week, some of the fanciest restaurants in the country offer a 3-course meal for 100 kuna (that's about $20 Canadian, or $16 USD) per person. It's a great concept intended to make fine dining available to the local population while also promoting restaurants that would usually only attract well-heeled tourists.
Restaurant Week this Autumn was held the week of October 13 – 22. There were 9 restaurants taking part in Restaurant Week here in Split. We ended up eating at 4 of them. Restaurant Week introduced us to restaurants we otherwise would never have tried.
Lots of photos of restaurants and food in this post – and a summary of recommendations/tips/thoughts on Restaurant Week at the bottom of this post.
.
Hotel Park, restaurant "Split 1921"
Hotel Park is a 5 Star hotel, Split's oldest hotel and an institution in town. It was to be our first Restaurant Week experience. We had reserved the previous day and when we walked in they recognized us immediately and called us by name without even referring to the reservation list. Wow.
The special Restaurant Week menu had a meat option, a fish option, and a vegetarian option (in fact all the restaurants we visited had options in all these categories).
The menu at Hotel Park
Menu 1 (meat menu)
Entrée – Potato rolls stuffed with Swiss chard and smoked cheese, covered in Hollandaise sauce
Main – Dalmatian pasticada (stew) with pumpkin puree and black truffles
Dessert – Dalmatian Rozada
Menu 2 (fish menu)
Entrée – Fish soup with gnocchi and broccoli
Main – Gregada of Squid (fish stew) with orzo and potatoes
Dessert – Banana cake
Menu 3 (vegetarian menu)
Entrée – Cooked avocado with 7 types of cheese
Main – Marinated ravioli with artichoke, capers, sundried tomatoes, black olives and parmesan.
Dessert – Chocolate tart with dried apricots
We chose menus 2 and 3. Some photos.
Hotel Park can be summed up as a "fine dining experience". Service was top notch, white glove treatment. Courses were nicely spaced out, we were never rushed. It reminded Lissette and I of the fancy company Christmas parties we would attend when we lived in Montreal. We had a glass of wine, a bottle of sparkling water, and 2 coffees with our meal – the total bill came to 360 kuna (about $72 CAD or $57 US).
---
---
Augubio Congo
This top-ranked restaurant is located in what used to be a villa within the palace walls (it's just a few steps away from the Peristyle). It has a cosy, warm atmosphere.
The menu at Augubio Congo was a bit different from other menus in that you can mix between meat, fish and vegetarian options.
Starters
1. Sweet potatoes, ginger soup (gluten free)
2. Black truffle soup
3. Adriatic shrimp and parmesan salad
Mains
1. Home made gnocchi with spinach and feta cheese
2. Smoked Adriatic mussels risotto (gluten free)
3. Duck breast with caramelized red onion and accetto reduction
Dessert
1. New York Cheesecake
2. Chocolate Congo Cake
3. Keyline Pie (glutten free)
We decided to both have the Adriatic shrimps for starters, Lissette had the smoked mussels and I had the Duck breast for mains, and she had the Congo cake while I had the Cheesecake for dessert. Photos.
The food was fantastic and the portions generous. We would for sure come back here for a special occasion. Everything, including 2 glasses of wine and sparkling water, came out to 299 kunas (about $60 CAD or $48 US).
.
---
---
Para di šoto
Another high end restaurant within the palace walls. We were warmly greeted, in fact the service was excellent throughout our meal.
Menu 1 (meat menu)
Entrée – Goose liver pate with pine nuts paste
Main – Pork loin in pancetta wrap on pea cream
Dessert – Cheesecake with strawberries
Menu 2 (fish menu)
Entrée – Gratinated scallops
Main – Sea Bass with Dalmatian herbs in baby potatoes in a paperwrap
Dessert – lavender and honey semifreddo
Menu 3 (vegetarian menu)
Entrée – tomato cream soup with basil pesto
Main – yellow risotto with toasted pine nuts and almond flakes
Dessert – Panna cotta with red berries dressing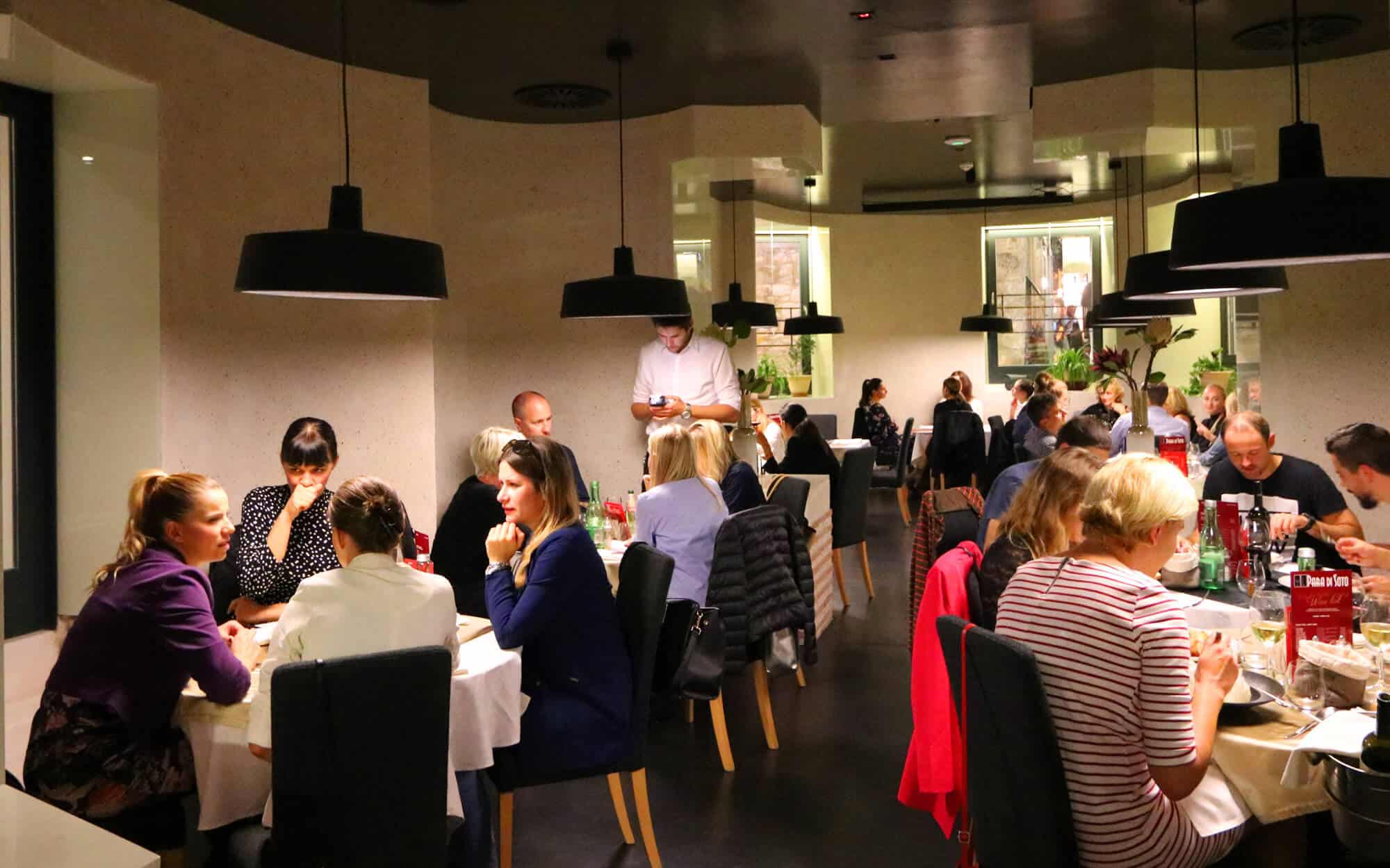 Para di šoto is one of those restaurants where the portions are small (like many high end restaurants) BUT come with great taste. I'll admit I'm not a huge fan of these restaurants. But although portions were small we in fact didn't come home hungry. Maybe the size was deceiving. And the food was very, very good. For all the people out there who enjoy an "amuse bouche" (and I know many) you'll love this restaurant.
Para di šoto is part of Hotel Slavija
.
.—
---
---
We went to a 4th restaurant. It was a disappointment. Menus were only in Croatian, service was gruff, food was unremarkable. I don't think they made much of an effort.I decided not to review it here. The goal with this post is to highlight the best restaurant experiences.
Changed my mind about naming the 4th restaurant after we gave it another chance. Everything was bad. It was Uje Oil Bar.

.
Summary


How we chose the restaurants we visited: I went on the official Restaurant Week website to see what restaurants were included. We chose the higher end restaurants, the ones the we most likely wouldn't ordinarily visit if paying full price (ie. restaurants where we felt we would get the highest value for our 100 kuna).
The 3 restaurants up above featured great food and put thought and effort in their Restaurant Week menus. All impressed in different ways and we felt that we came away from each with a 'food experience'. Besides that, what we really enjoyed was the meat/fish/vegetarian options available at each restaurant. There was something available for everyone.
Restaurant Week is a great concept. Whether you're a local or a tourist, or especially if you're a foodie, we really recommend having at least one Restaurant Week experience when in Croatia (which happens 1 week in the spring and 1 week in the autumn).
Have you experienced Restaurant Week in Croatia?
---
---
Ps. If you find our blog helpful, please consider using our links to book your flights, hotels, tours, and car rentals. Have a look at our Travel Resources page.