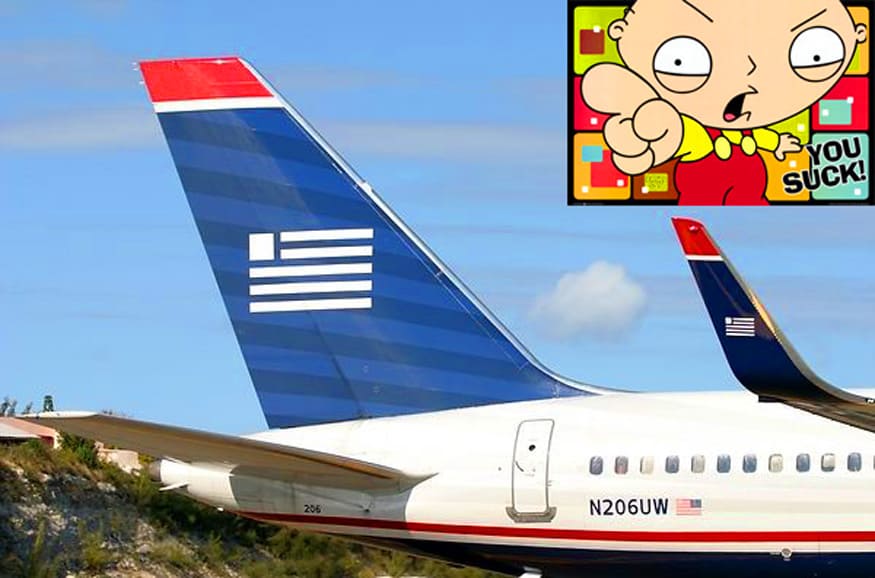 Why I'll never fly US Airways again
Update: US Airways no longer exists. What a surprise.
I make it a point to try to never connect through the US when going somewhere. There are just too many headaches involved with all the checking and re-checking of baggage and all the various levels of security. It's stressful. And when I do have to go through the US, I usually try to fly with Continental. Barring our one flight that was cancelled with them I've had good experiences flying Continental.
So when we planned our trip to Costa Rica I looked at airlines that fly directly to San Jose from Montreal. Air Canada was an option but they don't actually fly direct (their flights connect through Houston). Air Transat flies direct to Liberia (in Northern Costa Rica) and San Jose but have very limited flights that didn't match our dates. So I looked at US airlines. And I saw that US Airways had both the best fare and itinerary:
Dec 23, 2011
Montreal 7:15 am departure – Charlotte, NC 10:21 am arrival
Charlotte, NC 11:20 am departure – San Jose, Costa Rica 2:34 pm arrival
The connection time was tight so I actually called USAir and was assured that we could make it. The agent told me there should be no problem. So I booked the flight. This was in October.
Here is how December 23rd actually went:
Arrived 5 am at airport. Checked in, paid for checked in bags (I had never seen this before). Passed through Homeland security, went through the usual security screenings. All ok so far.
Around 6:45 am we are told that the flight will be delayed because of snow (there had been light snow overnight).
We actually boarded the flight around 7:45. Then sat there, not moving for about half an hour.
8:15 we move from our parking space. The pilot advises us that the plane has to be de-iced but that it shouldn't take long. I'm looking at my watch wondering how we'll make our Charlotte connection, hoping they built in that extra 30 minutes or so that airlines usually pad their schedules with.
By 9:15 we've barely moved, the plane still in line for de-icing. "We're not making our connection" I told Lissette. "Might as well relax because it'll be a long day".
About 5 minutes later the pilot gets on the speaker: "I'm afraid we'll have to go back to the gate for re-fueling". Passengers start murmuring, clear discontent in the cabin.
9:30 ish. We arrive back at the gate from where we had embarked almost 2 hours before. Now back at the gate, the pilot gets on the speaker again: "Because of weather conditions, passengers connecting to San Jose… (here he lists a few more destinations) will be asked to disembark. Your flights have been cancelled. We would ask you to pick up your luggage at carrousel 2". I looked at Lissette not believing my ears.
We disembarked the plane, had to go through Canadian immigration. Isn't it great when immigration asks you where you are coming from and you can say "Nowhere. We sat on the tarmac for 2 hours". We went to the luggage carrousel.
We waited and waited and waited along with about 40 passengers. I guess the other passengers had stayed on the plane.
It was around 11 am when the carrousel actually came to life. Our bags were of course the last to come out. During our long wait USAir advised us that we should go back to check-in for re-scheduling of flights.
We were back at check-in around 11:30, about 6 ½ hours after our initial check-in. USAir did not have a special line for those whose flights had been cancelled, we had to get in line with passengers going to other destinations. This created conflict because the ticketing agents took a long time going over other flight options with those of us that had been cancelled – passengers trying to catch their flights were getting upset. It was a mess.
It was about 12:00 when we got to the ticketing agent. There were no other USAir flights offered that day, they would have to switch us to other airlines. Our best option was to fly Montreal – Toronto, connecting there to fly Toronto – Houston (all with Air Canada). The next day (December 24) we would fly Houston – San Jose with Continental. I knew the answer but thought I would ask anyway:
Me: "Is USAir going to pick up our hotel stay in Houston?".
Ticketing agent: "No sir, the flight had to be cancelled because of weather conditions"
Me: "The flight wasn't really cancelled, other passengers stayed on that flight to Charlotte. Only the passengers who wouldn't have made their connections had their flights cancelled".
Ticketing agent: "You've all had your flights cancelled because of weather conditions".
There was no arguing that kind of logic. We were directed to go to Air Canada for check-in.
I've complained in the past about Air Canada. After our experience with the disorganization and the un-friendliness of USAir I gained a new appreciation for Air Canada. Instead of 2 surly check-in agents, Air Canada had 5 friendly agents at this kiosque. Thank your Air Canada. We checked our bags and headed to the gate.
It was 1pm by the time we went through the gate and through security. Our Air Canada flight took off with no delays at 2pm and we arrived in Toronto a little past 3pm.
The joys of connecting through the US. We had to pick up our luggage. Then we had to wait in line to re-check baggage, then we went through Homeland security (for the 2nd time that day), then through security screening (for the 3rd time that day). It all took over an hour and we just made it for our connecting flight to Houston. Anyone remember the old days when you were "in transit" and your luggage automatically went from one plane to another and where you got out at one gate and went to your connecting flight at another? Forget that when you have to connect through the US. I hate it, I feel that I lose 6 months of my life whenever I go through all that stress.
No problems with the Air Canada flight to Houston. We arrived around 8 pm, exhausted. Picked up our luggage and checked in to the Marriott hotel, which is easily accessible underground from the airport.
Checked-in our rooms by 9pm, ordered a big steak and beer from room service. Asleep by midnight. The next day we checked in with Continental and arrived in San Jose, a full 24 hours after originally scheduled to arrive.
————
I'm not in the airline industry but it's pretty obvious what happened here. At a certain point USAir realized that the plane wouldn't arrive in Charlotte in time to make connecting flights. They cancelled anyone connecting for those flights under the guise of "weather conditions", a cheaper and easier option rather than having to put all those passengers up for the night in a hotel.
I had a similar experience flying to Europe in 2010 with Air France. I had flown into Paris and had a connecting flight to Germany cancelled because of the volcanic storm they had that summer. The difference is that Air France did the honorable thing and paid for an overnight hotel. It's not about the money though, it's about taking proper care of passengers and not feeding them a bunch of lame excuses.
In writing this post I read a news article stating that USAir scored worst among US airlines in a 2007 customer service survey. I guess I shouldn't be surprised by my experience. The latest news (Feb 2013) is that they're merging with American Airlines. Doesn't matter, I have no intention of flying any airline remotely associated with US Airways in the future.
Ps. If you enjoy our blog, please consider using our links to book your flights, hotels, tours, and car rentals. Have a look at our Travel Resources page.