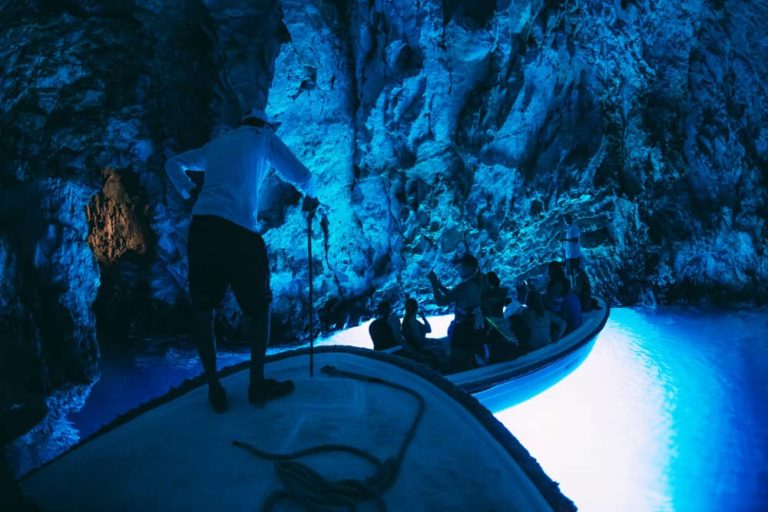 Taking a tour of the Blue Cave is one of the most popular activities in Split. The cave is famous, a natural wonder with the most incredible blue light (caused by sun streaming into the cave from a crack in the cave roof).
But when taking a "Blue Cave Tour" there is much more to it than just visiting the Blue Cave. Most companies include other highlights in the area and usually include some swimming, snorkelling and a visit to some of Central Dalmatia's most beautiful and remote beaches. Beaches that you wouldn't be able to visit on your own. If you do it with a reputable company you'll end up with a fantastic and varied full-day tour.
There are a lot of companies selling Blue Cave Tours, including booths representing various companies along the Riva in Split. But I don't recommend you do that – they're more expensive (those booths charge a 15% booking fee) and they don't have the best itineraries.
I recommend the tour organized by Zentravel.hr. They were suggested to us by our Airbnb owner (they also get great Trip Advisor reviews). Their "Blue Cave Tour" includes the Blue Cave as well as a visit to Hvar town (another "must see" highlight in the area), swimming and snorkelling in the Blue Lagoon, a visit to beautiful Stiniva beach (on Vis), and an excursion to the Paklenski Islands. Best of all they're cheaper than what you'll find walking around Split's waterfront.
---
---
Here is what you can expect from a Blue Cave Tour

Getting to the Blue Cave
Most tours to the Blue Cave leave by speed boat from Split's waterfront. In the case of Zen Travel, their speedboats take 1 hr and 15 minutes which is one of the fastest. They leave Split at 7:30 am. Expect to have an exciting boat ride and to be bouncing off the waves (the tour is not recommended if you have spinal injuries or are pregnant). You might even see dolphins which often accompany the boats. The Blue Cave is situated on the island of Biševo, one of the remotest and furthest of the Croatian islands (the closest big island is Vis).
Visiting the Blue Cave
Once you get to Biševo (just before 9 am), you'll be transferred to small wooden boats. Because the Blue Cave is quite small (24 m long, about 10 to 12 m deep, and around 15 m high) motorboats can't enter the cave.
Morning is the best time to visit the Blue Cave because the light comes in at an angle that really highlights the blue of the cave.
3 boats at a time are allowed to enter the cave and they stay up to 15 minutes. You'll be amazed by the light – it is spectacular, an iridescent blue caused by sunlight reflecting off the sea bottom. It bathes the whole cave in shades of blue.
---
---
Stiniva Beach
Stiniva Beach is one of the more dramatic beaches in Central Dalmatia. Although small, it was voted as the best beach in Europe in 2016. If you've ever been to Krabi (or Maya Beach on Ko Phi Phi Leh) in Thailand it might seem familiar because Stiniva is surrounded by huge limestone cliffs and has the same turquoise-colored water.
The tour makes a short 15 minute visit to Stivina. It is meant only to show off the beach. In reality Stiniva has gotten very popular over the last 10 years (just like the above-mentioned Maya beach)…it's worth a visit but it's not the place to go swimming. Most tours take you somewhere else for that.
Blue Lagoon on Budikovac Island
Just off the island of Vis is the small island of Budikovac. The highlight is the Blue Lagoon, a shallow lagoon formed between 3 tiny islands. The water is shallow and the water clear – you can see the sea floor below and go snorkelling (where you'll experience lots of water life).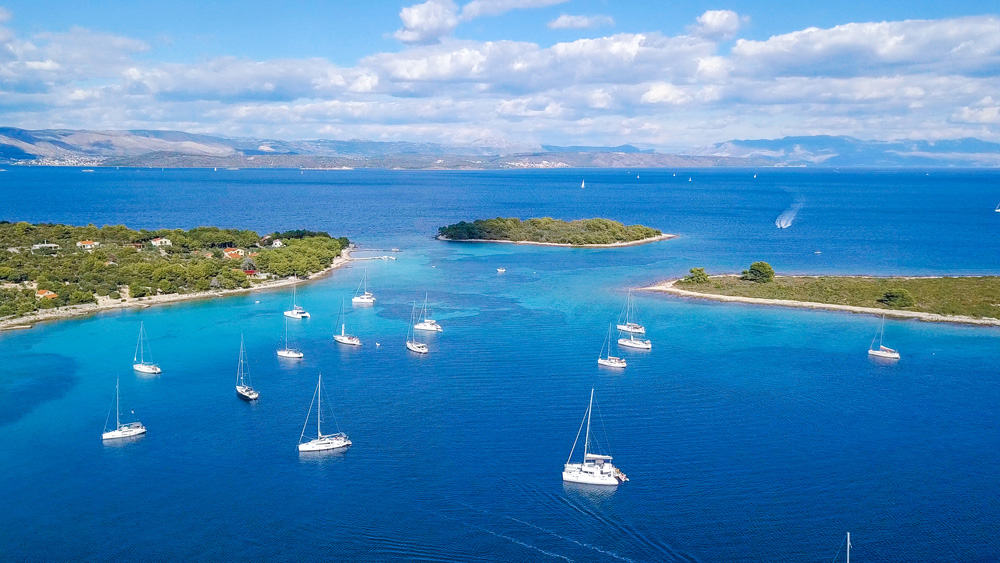 Most tours stay here 1-2 hours (the tour with Zen Travel stays 1 hour, only because they include a 2nd beach destination after).
---
---
Paklenski Islands
The Paklenski Islands are just off the coast from Hvar town. They're beautiful, peaceful islands that are part of the Hvar Riviera – 20 islands covering 10 kilometres where you'll find deserted lagoons, azure sea and many hidden beaches. Here you have a chance to swim, snorkel, lie on the beach and have lunch (there's a beach bar and restaurant).

Hvar Town (island of Hvar)
I've previously written about Hvar town – it's the most popular stop in the Croatian islands. When we previously came here it was by ferry from Split. Zen Tours includes it in their Blue Cave Tour and they leave you 2 hours to explore the town.
Hvar town was a Venetian naval base. Overlooking town is a huge fortress (walking up is a must). In town you'll find the largest square in Dalmatia as well as several churches and monasteries. It's a beautiful place…it's also very hip and happening with many bars and restaurants.
By the time you have to get back into the boat it'll be 4:30. From Hvar it's an hour back to Split. You'll get back by 5:30. That's the end of the tour.
See Zen Travel's full Blue Cave itinerary.
---
---
Is it worth taking a Blue Cave Tour?
During the year we lived in Croatia we travelled to many of the islands: Brac, Hvar, Vis, Korcula…but it took a lot of planning and often meant overnight stays on the islands because of the ferry schedules.
Taking a tour you get to see it all, including places not accessible by ferry. Unless you rent your own boat, it's the only way to do it. So taking a tour is definitely worth it.
Last Thoughts
Croatia has some of the most incredible coastal geography in the world. Even my other favorite place (South Africa) doesn't have the turquoise waters you'll see in Croatia. So make sure you explore the Blue Cave and the Croatia islands…but also make sure to travel along the coast (which you can do on your own). I'm linking a few destinations that you really can't miss when exploring Croatia.
Have you visited the Blue Cave?
---
---
A visit to Omiš: Croatia's Adventure Capital
Why you HAVE to visit Makarska
Driving Spectacular Mt. Biokovo
PS. Looking to book flights, hotels, tours, or rent a car? Have a look at our Travel Resources page.