Looking back at 2014 (a.k.a our year in photos)
2014 was like two very different years in one as we went from conventional life in Montreal (the first 6 months) to living a life on the road.
I don't usually like to post personal photos or stories on the blog. This is an exception. Year end posts are about what we did in the year, how
far we came in fulfilling what we hoped for, and remembering how we felt about the places we visited as well as where we are in life. The main goal when setting up this website was to document our travels. This post documents 2014; it wasn't always easy but it was an exciting year that marked new beginnings. We hope to read this post many years from now and re-live some of the moments and emotions we had this year.
.
Here is a look back at our 2014.
The first half of the year
The first six months of 2014 were difficult. Lissette had some major dental work done which would drag on until the day we left Montreal in July. Work was stressful, winter never seemed to end…looking back it was one of the tougher periods we've had to go through.
Mexico
I had a little break in early March when I visited my mom for a week in Mexico. I met up with her in Puebla where we spent 3 days. We then went on to Oaxaca further south. Both towns are beautiful and Oaxaca gets a lot of attention from bloggers – but I have to say that we both preferred Puebla. Just a gorgeous city, you might think yourself somewhere in Europe.
This was my 2nd time visiting her in Mexico and it was great. I've become a huge fan of Mexico. Some photos from the trip below:
Above: Crap! We've had lots of flights out of Montreal cancelled due to bad weather over the years. Thought this one would be one of those. Ended up being fine though.
.
Above; Views of Puebla from inside the Amparo museum. "Huh, this is Mexico?" – yup, very surprised by what a cosmopolitan city Puebla is.
.
Above: Some of the beautiful buildings and colours of Puebla.
.
Below: Near Puebla is Cholula, home of the Great Pyramid of Cholula. That's me below, on the pyramid, looking up at the tiny church of Nuestra Señora de los Remedios.
Below: Oaxaca. Beautiful churches, great food. Much more of 'traditional Mexico' than Puebla. Lots to see in the area. That's my mom in the photos below.
Close to Oaxaca is the spectacular archaeological site of Monte Alban, one of the top 5 archaeological sites in Mexico. You have to see it if in the area.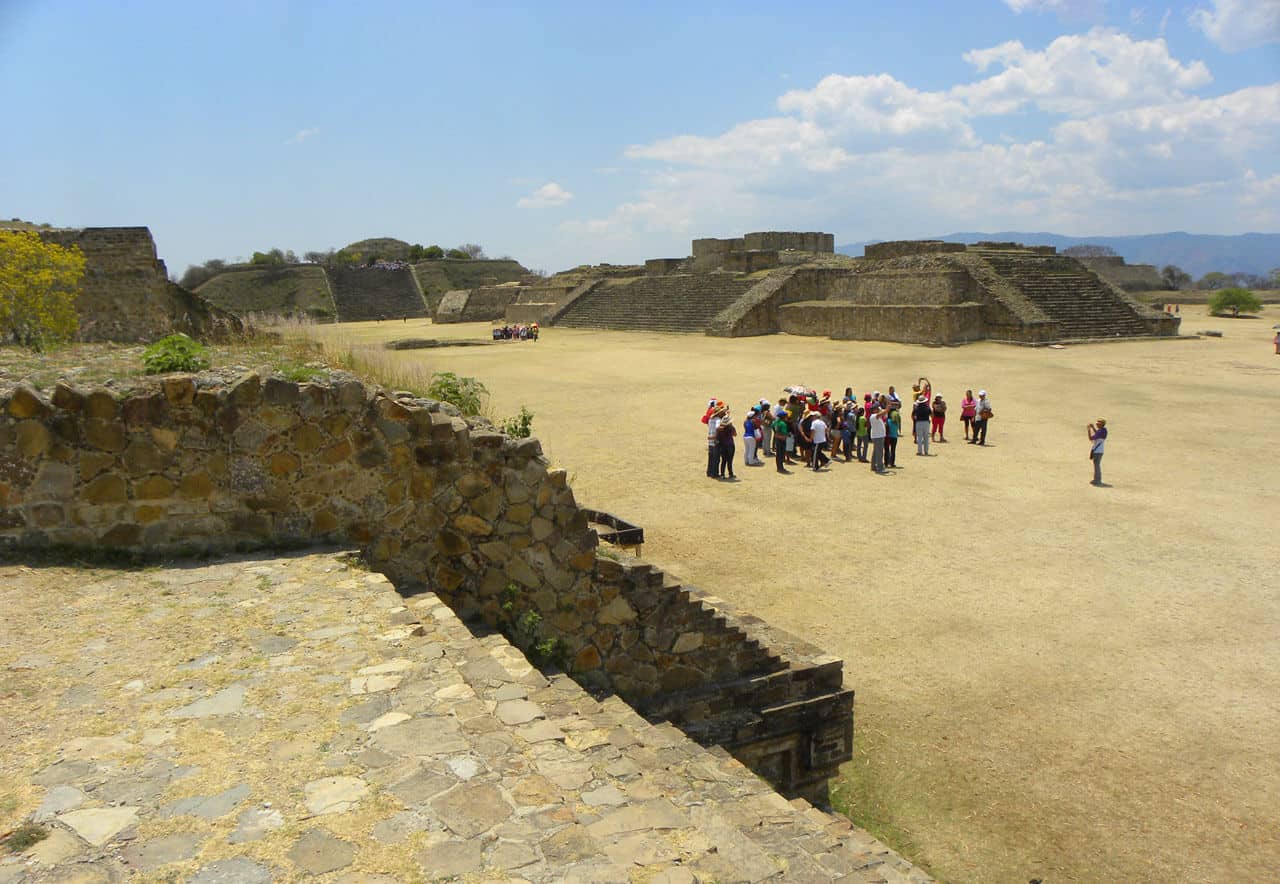 .
Changes in Montreal
Mexico was great and seeing my mom always fun. But getting back to Montreal meant changes.
For years I've dreamed of having the opportunity to travel and work overseas. That opportunity became a possibility in April.But it would mean a huge upheaval in both our personal and professional lives.
Lissette has her own career and we weren't sure that her employer would be too happy about her working from overseas. Then there were the never-ending dental appointments. Lissette had just undergone 3 dental implants (plus a root canal) and we didn't know if we could get away by mid-summer. Any complications would botch our chances. Then there was the condo we owned. What would we do with it? We decided to rent it out.
Every weekend for a month was spent renovating and painting. We put the condo on the rental market in mid-April.
The most stressful period was waiting for the condo to be rented. Between that, Lissette's job, and the dental work we still weren't sure if our plans would pan out. In the meantime I worked on all the other aspects of organizing a life without a home; setting up all our bills online, getting new computers, opening bank accounts as a backup, updating our wills, looking into travel insurance, getting new passports. Boring and tedious but all necessary.
May 21st was a day we will never forget. A prospective tenant came, loved our place, and signed the lease on the same day. Nice people. We opened up a bottle of champagne to celebrate. It was our happiest day of the year to that point. It was the first step in our plans being realized. But it also meant we were committed to being out of the condo by July 1st without knowing if all the other aspects of our plan would work out.
We started organizing for real; arranging our mail to be forwarded to a PO box, getting renter's home insurance, organizing all utilities to be switched over to the tenant's name. We started packing, slowly and meticulously going through all of our belongings. We went to the optometrists, updated our prescriptions, got new glasses. Went to a travel clinic for vaccinations – 6 weeks worth of appointments. During this time Lissette was still getting work done on her teeth.
Then we got the good news; Lissette could continue working from overseas. Things were starting to fall into place.
The dental work was the last impediment and it kept dragging on. Seeing that we would be delayed I arranged an Airnbn rental for 10 days for dates in late June/early July . I booked our flight to Prague for July the 8th, not sure but hoping that all would be settled by then.
On June 26 I moved all our stuff out of our apartment and into a storage locker. All we had left were our backpacks containing what we would bring on our travels and enough essentials (sleeping bags, plates, glasses etc) for the last few days in our apartment.
On June 28 we left the apartment where I've lived since 1999. It was sad but at the same time exciting.

We stayed in the Airbnb apartment for 10 days, finishing up our vaccinations and Lissette's dental appointments.
Tuesday July 8 was a special day. We checked out of the Airbnb apartment and headed to the airport with our 2 backpacks and 2 pieces of hand luggage containing our computers. We left everything in Montreal behind. It's a day we'll never forget.
Above: The plane taking us to Prague.
.
.
The 2nd half of the year
1) Europe
Our first week in Prague was exciting and exhilarating. We felt that a huge weight had been lifted from our shoulders. All the 'stuff' from the previous 6 months was in the past, the condo was in good hands. I heard other travellers say that its the obligations back home that are the biggest headache. So true. The more you have, the more you have to untangle and sort.
I wrote this post 5 days after our arrival in Prague. It seems so long ago now but I still remember all the emotions we went through being in our first apartment overseas.
We were quiet the first 10 days and didn't stray too far. Over the next few weeks however we ventured downtown to explore.
Below: Some photos of Prague.
Our first major excursion outside of Prague was to the small town of Český Krumlov. We explored it over a long weekend in late July. Although we liked Prague, it was still a big city for us at this point. Český Krumlov is a small castle town and was the first spot we fell in love with.
Below: Český Krumlov
We kept busy in August. The 2nd weekend of August we went to the town of Kutná Hora. Although it is best known for the Sedlec Ossuary (bone chapel) situated just outside the town, we actually preferred Kutná Hora itself which has a real small town feel and some fabulous historical sights.
Below: Kutná Hora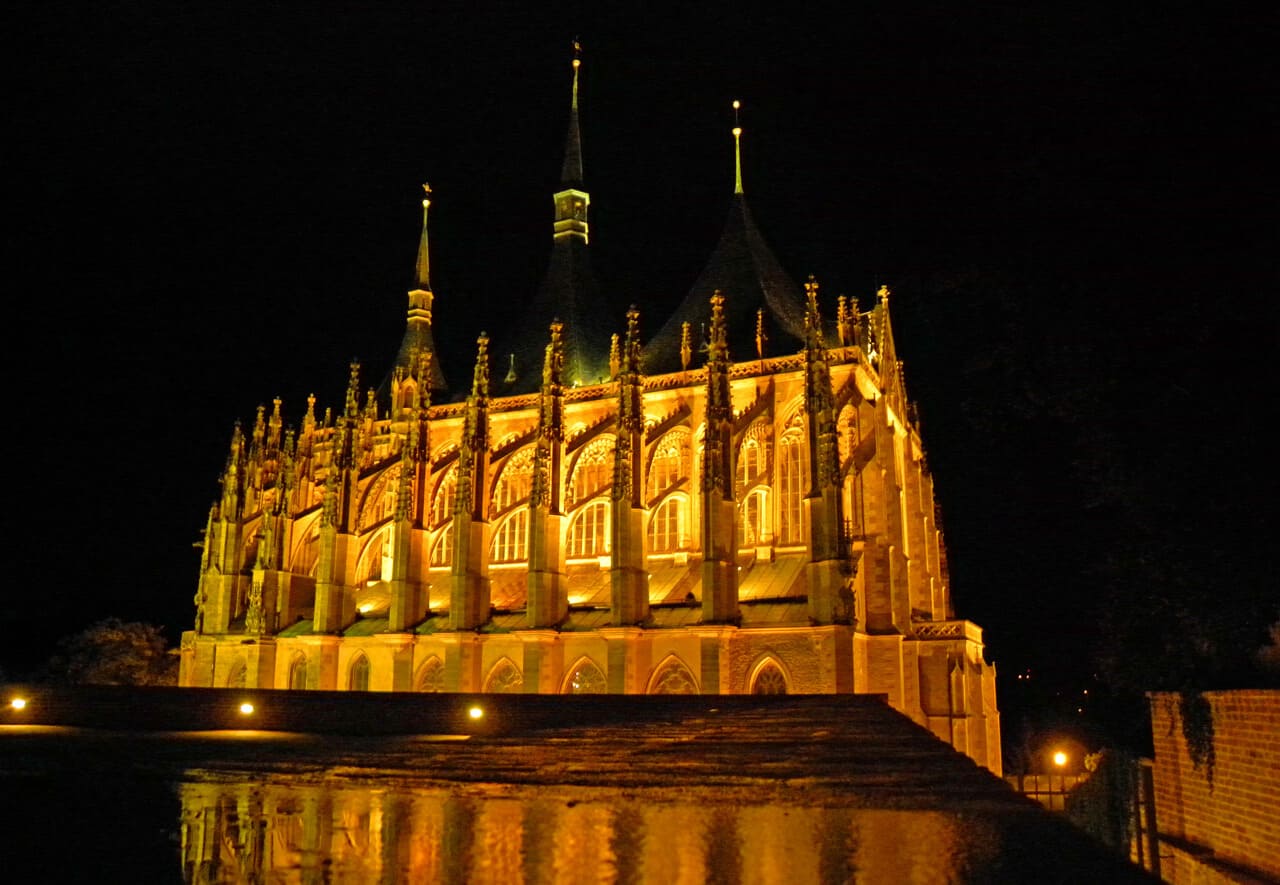 Then, the last week of August, we decided to take a long weekend in Dresden, Germany. Dresden is an easy 2 1/2 hour train ride from Prague. Just a gorgeous, gorgeous little city. We were amazed by the architectural beauty. We've always enjoyed Germany and Dresden is one of our favorite cities.
Below: Dresden
There was a definite autumn feel in the air in Prague in September. Truth be told, the weather for most of our 3 months was cool and rainy. But Prague in September of 2014 felt more like Montreal in late October. Having prepared for European summer and winter in SE Asia, we found ourselves quite badly equipped for the weather.
It was however almost perfect walking weather and although it rained a lot it always seemed to clear up for the weekends. September was all about exploring more of Prague and we just came to love the city more as our time wound down.
Below: More photos of Prague. You can almost see autumn in the air…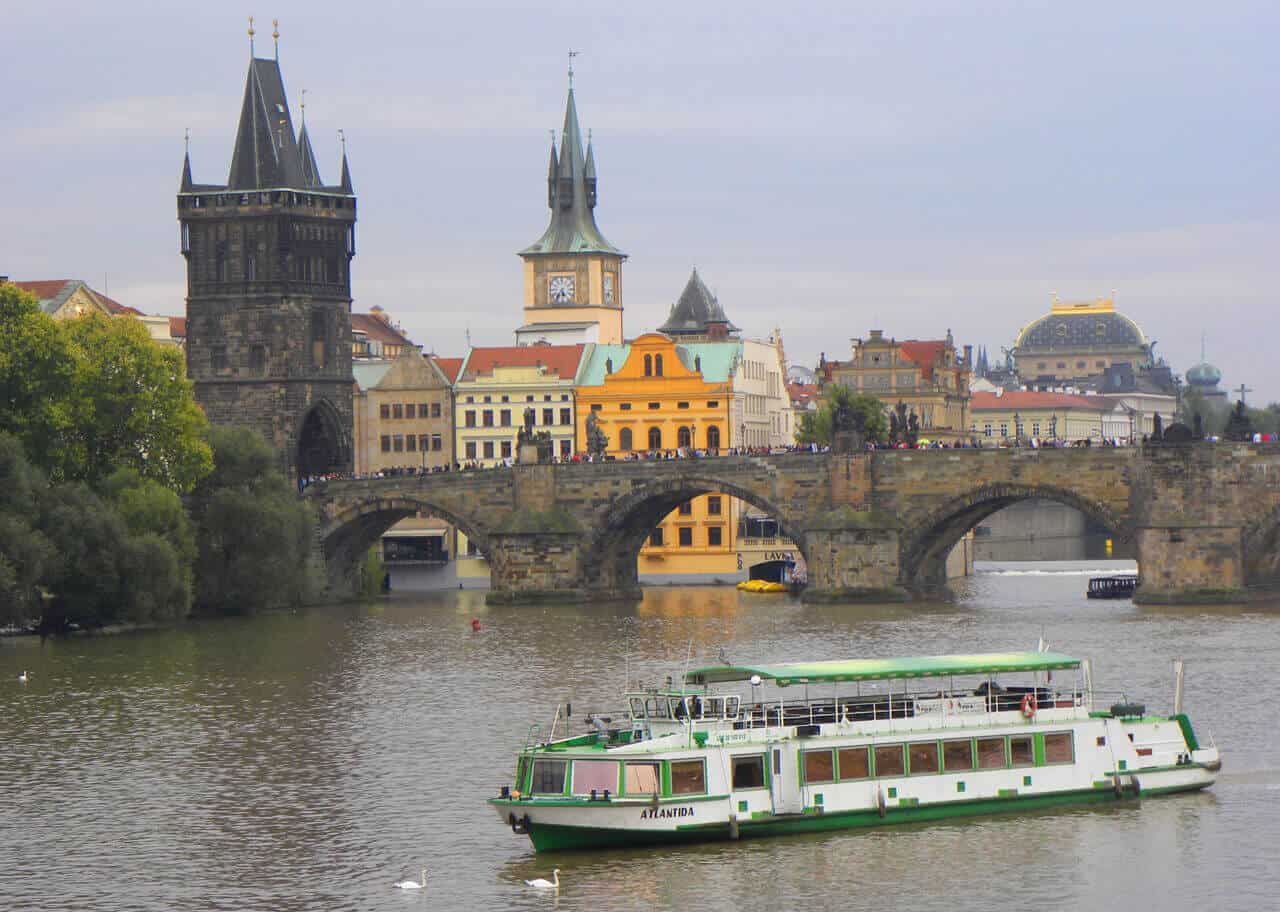 We were sad to leave Prague in late September. But also looking forward to being back in Thailand.
.
On September 29th we departed, flying Prague-Frankfurt-Bangkok with Lufthansa.
2) Thailand
We arrived in Bangkok on September 30th.
It's funny. We had looked forward to coming back to Thailand since our last trip back in 2008. This was my 5th time here. But something wasn't right. We felt almost deflated from the moment we set foot in Bangkok.
We always love the people and the food in Thailand. And we'd seen some of the downsides of SE Asia before; the dirtiness, pollution, the lack of order. It had seemed almost 'exotic'. But travelling here on a 3 week trip where we explored the best of Thailand was one thing – living day-to-day in Bangkok was something else. We told ourselves that we would give Bangkok a chance and get to know the city.
Below: a few images from Bangkok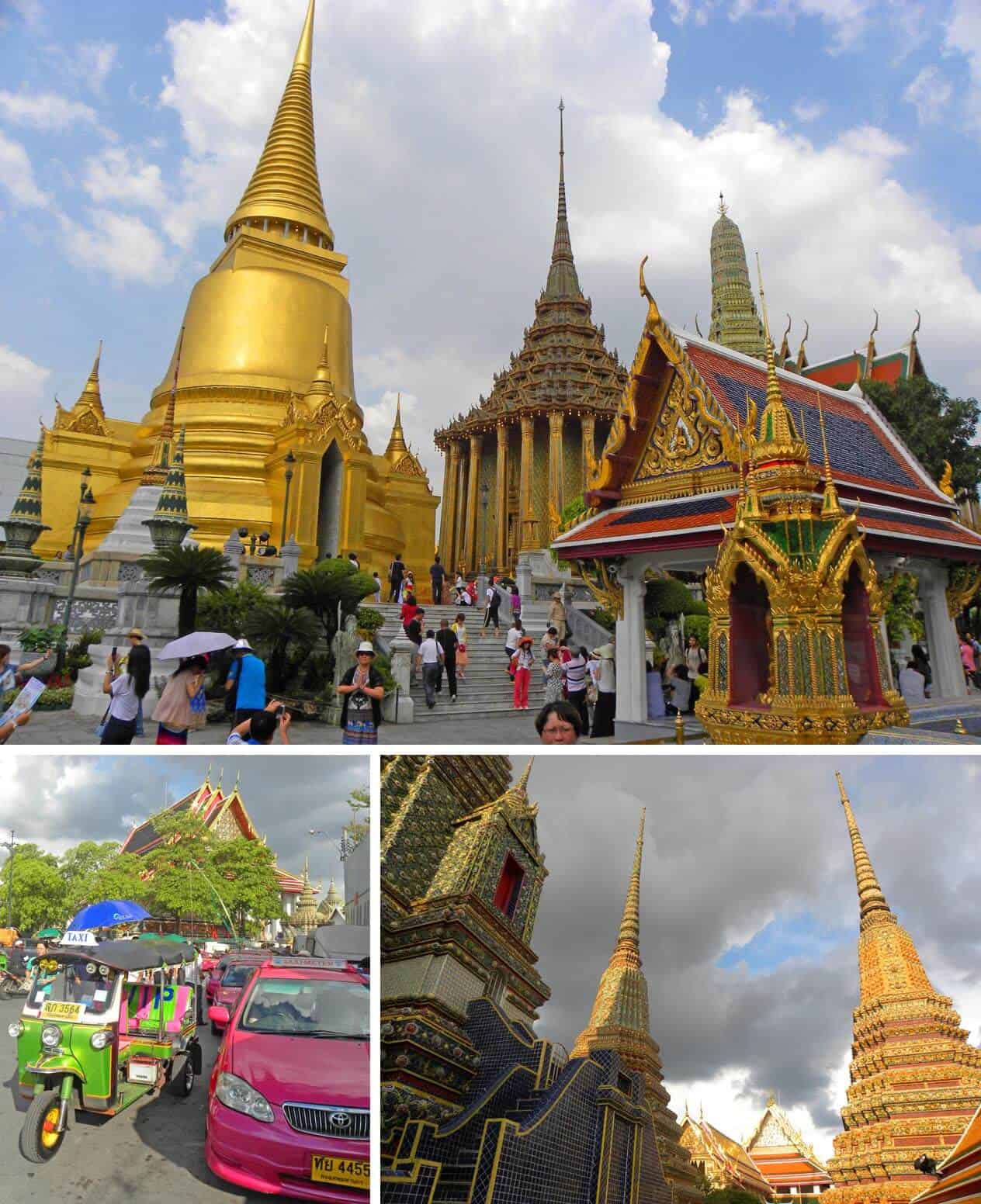 We tried, we really, really tried to like the city. But we hated the ordeal that was walking anywhere. In Prague we walked day and night, all the time. You can't walk in Bangkok. You can't even cross the street in Bangkok. It's dirty. You go out and it doesn't take long to feel a layer of city-grime on your skin. And you sweat all the time. No, we didn't like Bangkok (as we described here). Not only didn't we like the city, it was actually more expensive than Prague. Who would have thought that a city in SE Asia was more expensive than a city in Central Europe? But it's true.
.
On a recommendation, we decided that we'd explore Hua Hin which was only a couple of hours away down the coast.
We booked an apartment on Airbnb for 5 weeks and on October 24th, after 3 weeks in Bangkok, headed to Hua Hin.
.
Hua Hin was a welcome relief after Bangkok. We had a fantastic condo overlooking the green hills behind the town. The geographic setting was beautiful and the town has a large expat population and all the good stuff that comes with that; nice bars, good restaurants, even an online food delivery service. There's a nice, albeit touristy, night market in town. It was a huge step up from Bangkok.
Below: photos from Hua Hin


Again, though, we found a lot of things we didn't like. Although a smaller town, it was hard to get around in by foot or public transport. You need your own wheels. It was dirty. A few times a week I would walk to the market and pick up supplies, often dodging rats and cockroaches. People reading this are probably exclaiming "WTF!?". I wrote a summary of what I thought of Hua Hin here.
During this time I didn't write much and I had a few readers email me asking what was up. Truth is that we were getting a bit disillusioned by our first two months in Thailand. We saw the highlights but didn't really feel motivated ("another temple. yawn.."). This is in direct contrast to our stay in Europe where I was excitedly posting a couple of times a week.
.
What would be our next base ? I am pretty flexible with where I can work from but we were committed to stay in Thailand until the end of March. Chiang Mai was an option, it is a popular place among expats. But I've heard stories of increased traffic and pollution. We had tired of that. I had heard good things about Nong Khai and my mom had been there many years ago and vouched for it. I read up on it and saw that the cost of living was cheap. I decided it would be our next base.
But before going there we went to Cambodia for a week in late November, both for a vacation and as a necessary visa-run.
.
Siem Reap and the temples of Angkor Wat were amazing. We loved what we saw during that one week in Cambodia. We relaxed, did a lot of walking, and overall just had a really nice vacation experience. A highlight of any trip to SE Asia.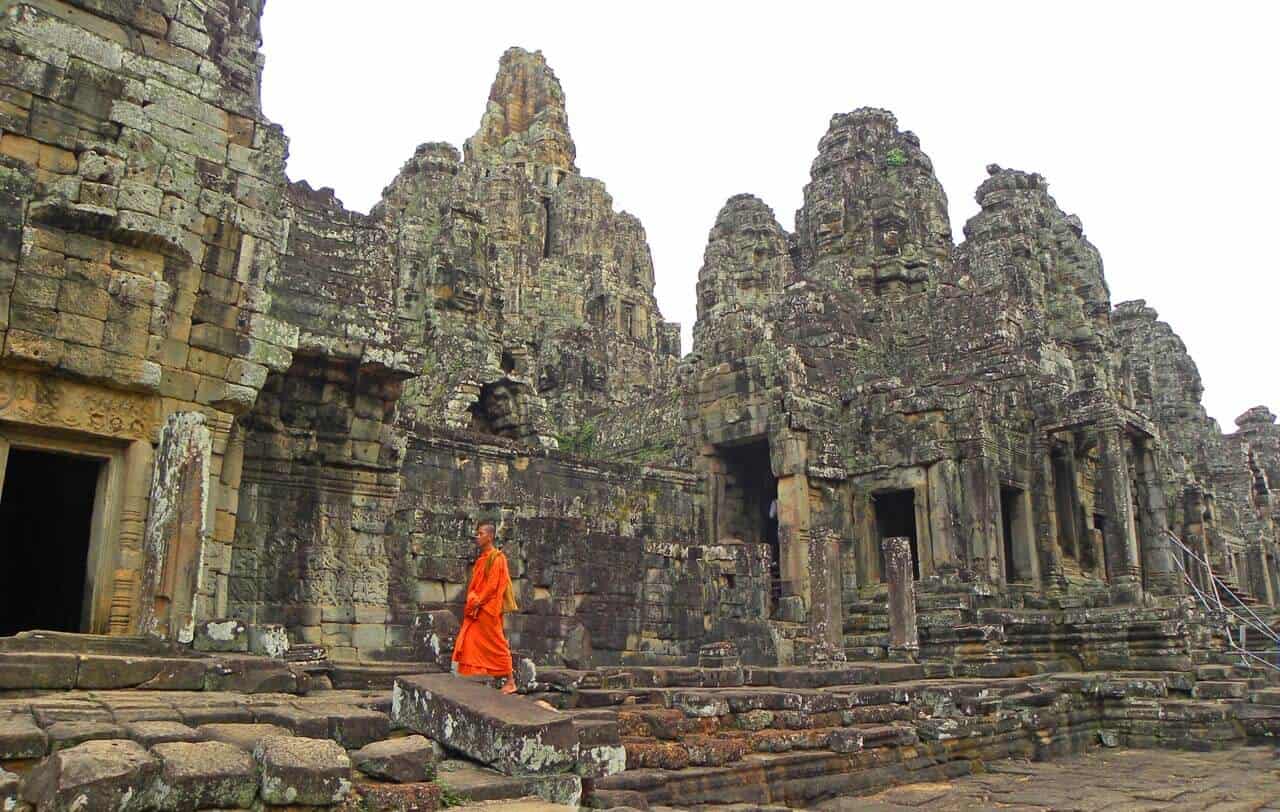 We flew back Siem Reap – Bangkok on December 5th, stayed overnight at the airport hotel, then flew Bangkok – Udon Thani the next morning. From Udon Thani it was a 45 minute drive to Nong Khai.
Below: Bangkok – Udon Thani with Nok Air
Nong Khai has been exactly what we needed since arriving in Thailand. It is a small clean town with a fabulous promenade where you can walk almost endlessly while enjoying views over the Mekong river and Laos on the opposite bank. It has a small but prominent expat community and you can find small restaurants, coffee shops, bars, even a bakery. We have a Tesco store 10 minutes away. It's a very mixed town with a lot of Lao and Vietnamese influence. Every morning we wake up to blue skies, temperatures in the mid-20's, and a beautiful little cooling breeze off the river. Bottom line for us is that it's laid back, quiet, clean, and friendly. We spent a quiet Christmas and New Year's here and didn't long to be anywhere else.
We don't know what the future holds – but if we come back to Thailand we'll continue using Nong Khai as our base.
Below: Some photos from Nong Khai. Don't we look happy?

I'll be writing about Nong Khai in much more detail in the near future.
———————–
So that's our year. Congratulations if you've gotten through all of the above.
Challenges and Experiences. I received an email over the holidays suggesting that travelling as we do must bring daily "challenges and experiences". It made me think. Experiences – definitely. You're always learning as you go, everything is always different wherever you are. But experiences are what make travel fun. Challenges – actually no. Our biggest challenges were before we left and many of them still call out to us everyday; the challenges of work, of having to organize our lives around bills, taxes, and home ownership, the challenge of having to deal with people from a distance. As many travellers will attest, not everyone is happy when you enjoy certain privileges. I'm sure they'll be a post on that in the future. But no real travel challenges. Travel is the easy part.
———————–
Hopes and Dreams for 2015. We'll be in Thailand until late March. From now until then we'll make an excursion into Laos and will also explore more of Issan province. We'll be back in Europe in early April and will most likely have a short stint in Prague before going to Croatia. Croatia is a place we've never been and that I've heard great things about. We'll be back in Montreal during the summer…from there on our plans are up in the air and will be determined by a few things outside our control. But our goal, and our dream, is to continue travelling. When you've experienced a year as we have you can't imagine stopping. 2015 promises to be another interesting year.
.
Thank you for Reading!


.
.
.