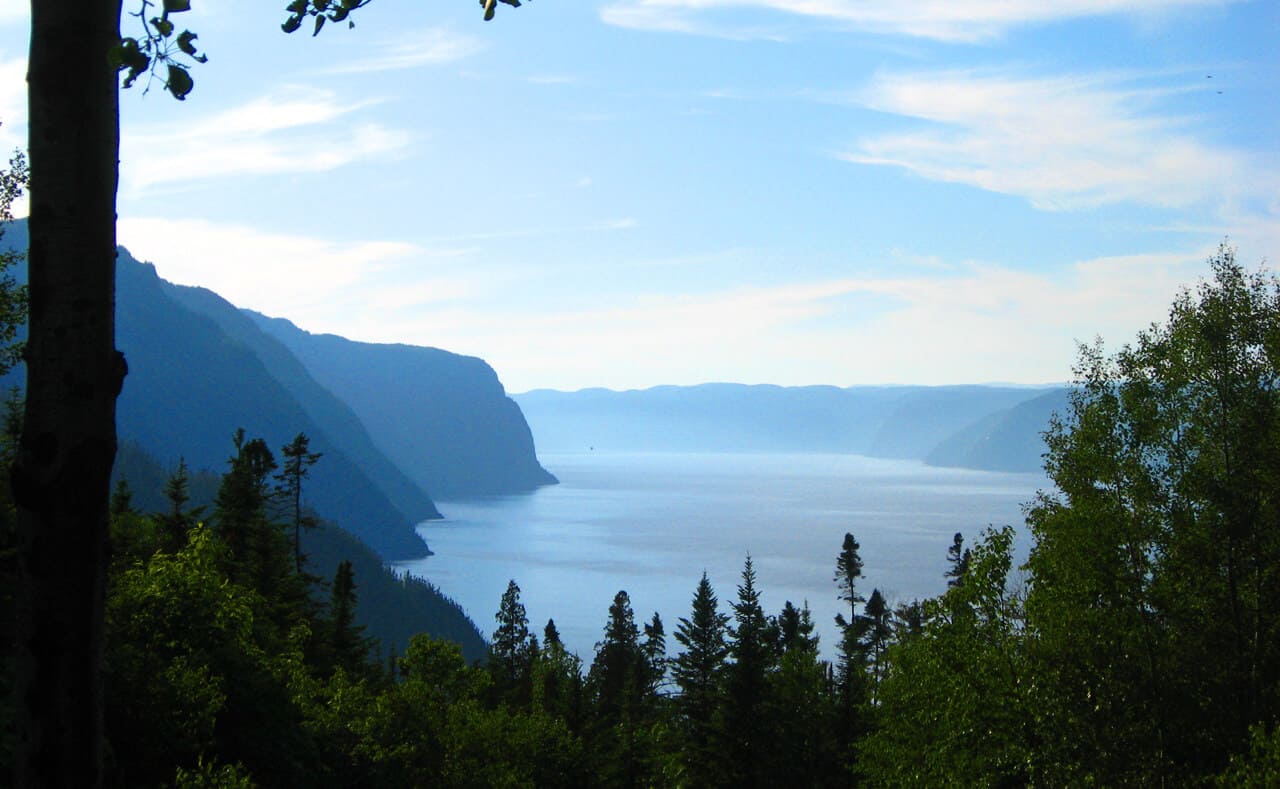 Road Trip to Quebec's North Coast
After our almost disastrous family road trip to the Gaspe the previous year, Lissette and I decided to take our own road trip without Benjamin or the bikes. This time we were going to discover the North Coast of the St. Lawrence, including the fjord of the Saguenay river (Wikipedia: a fjord is a long, narrow inlet with steep sides or cliffs, created in a valley carved by glacial activity).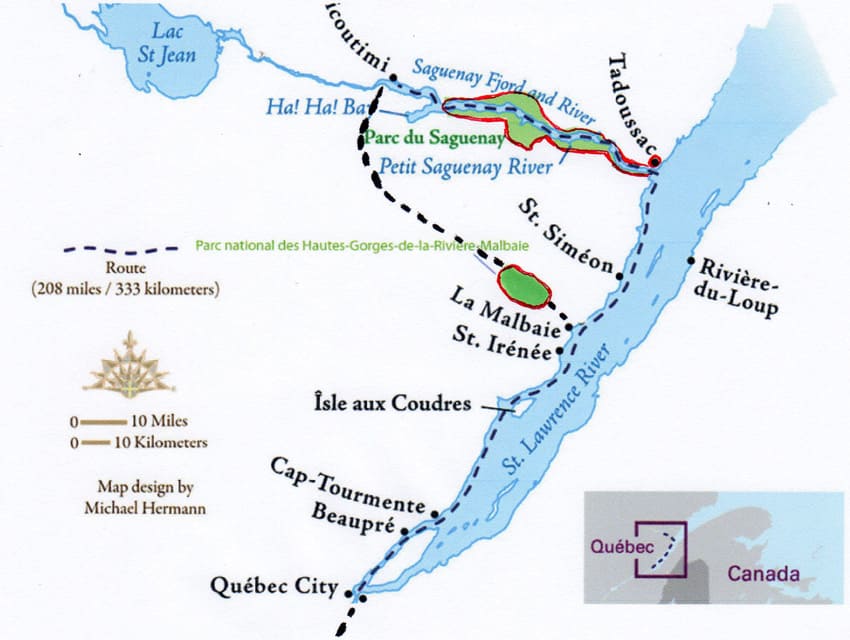 ---
---

Tadoussac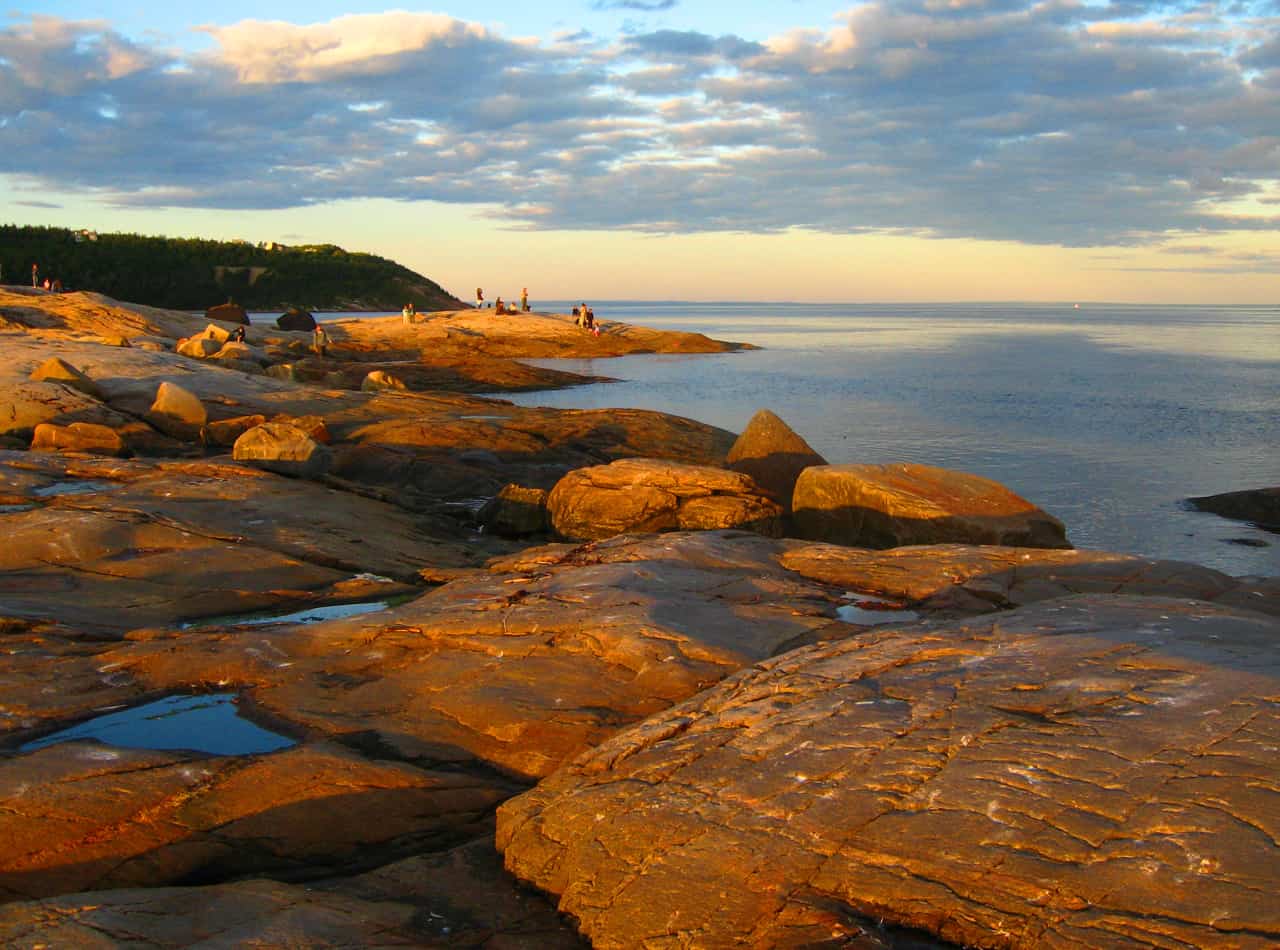 Our first stop was Tadoussac. Tadoussac is a small town on the coast of the St. Lawrence, about 3 hours north of Quebec city. The Saguenay river flows into the St. Lawrence, the combination making it the perfect feeding ground for the different whale species that come here every year. It is not just a beautiful spot, it is a very comfortable place for tourists with it's bohemian cafes, nice terraces, and small B&B's. It has a small town feel yet has an international flavour (being very popular with Europeans) – but the best thing is that it hasn't been ruined by tourism the way a place like Percé has. Tadoussac is actually our favorite town in the whole province.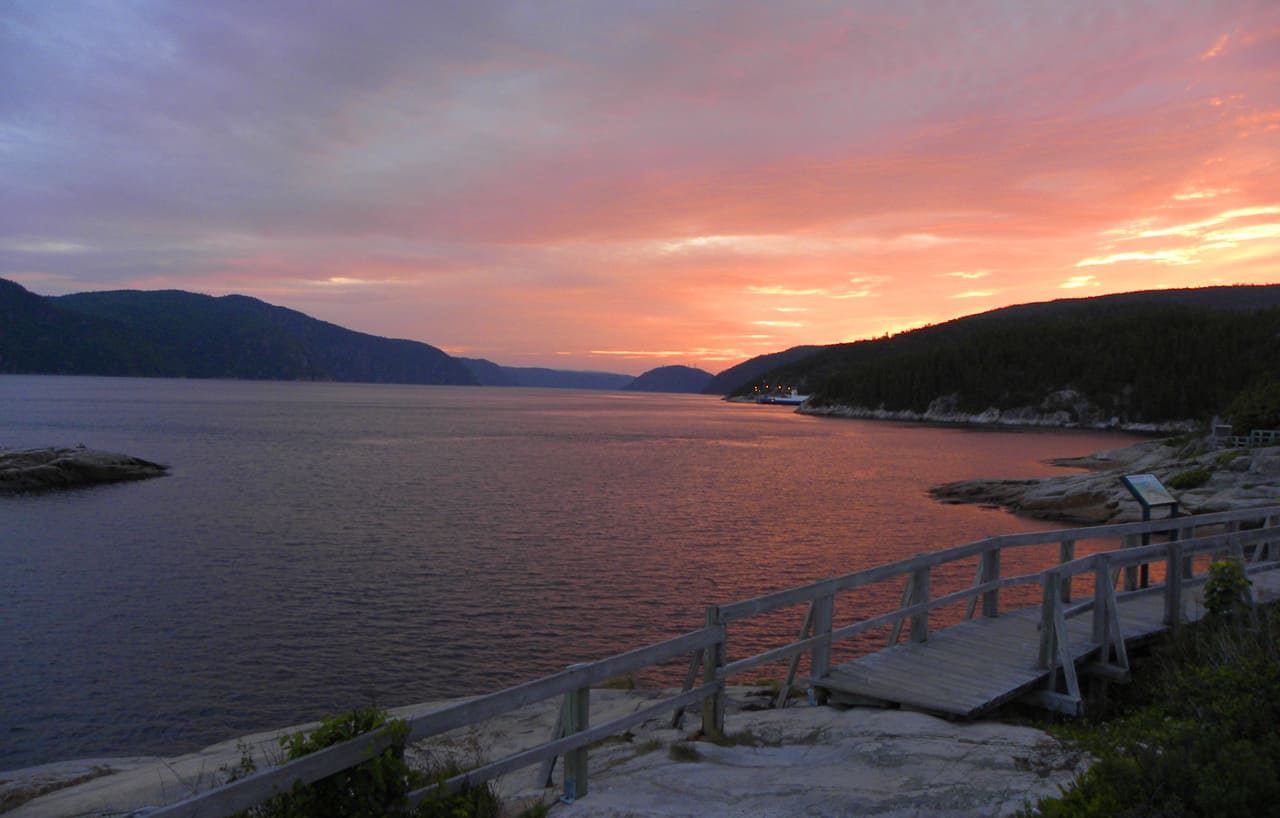 We stayed at the Hotel Tadoussac: old and expensive but refined with a spot that can't be beat. Best place to spoil yourself inTadoussac.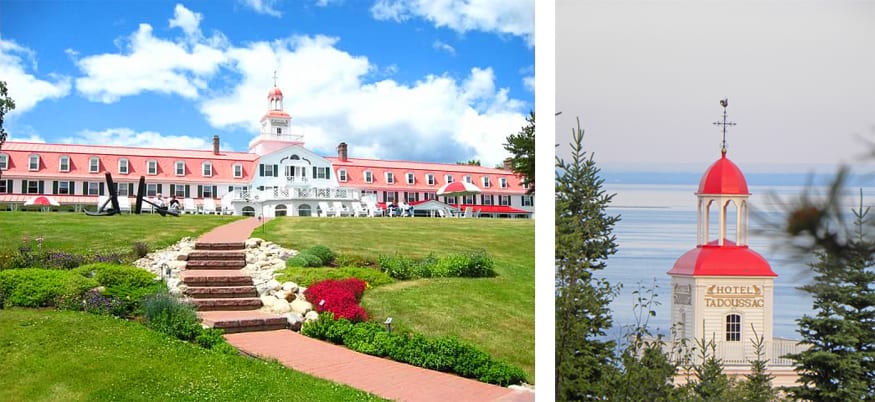 Essential tours while in Tadoussac: See the whales. You can take a big boat (the tours are usually 3 hours) or, if you're really adventurous, on a small zodiac.
.
---
---
After 3 days in Tadoussac we drove up the Saguenay river to the Parc national du Fjord-du-Saguenay for a couple of days of hikes and camping. This is a beautiful area – with few tourists – where you can hike and enjoy some great views over the fjord.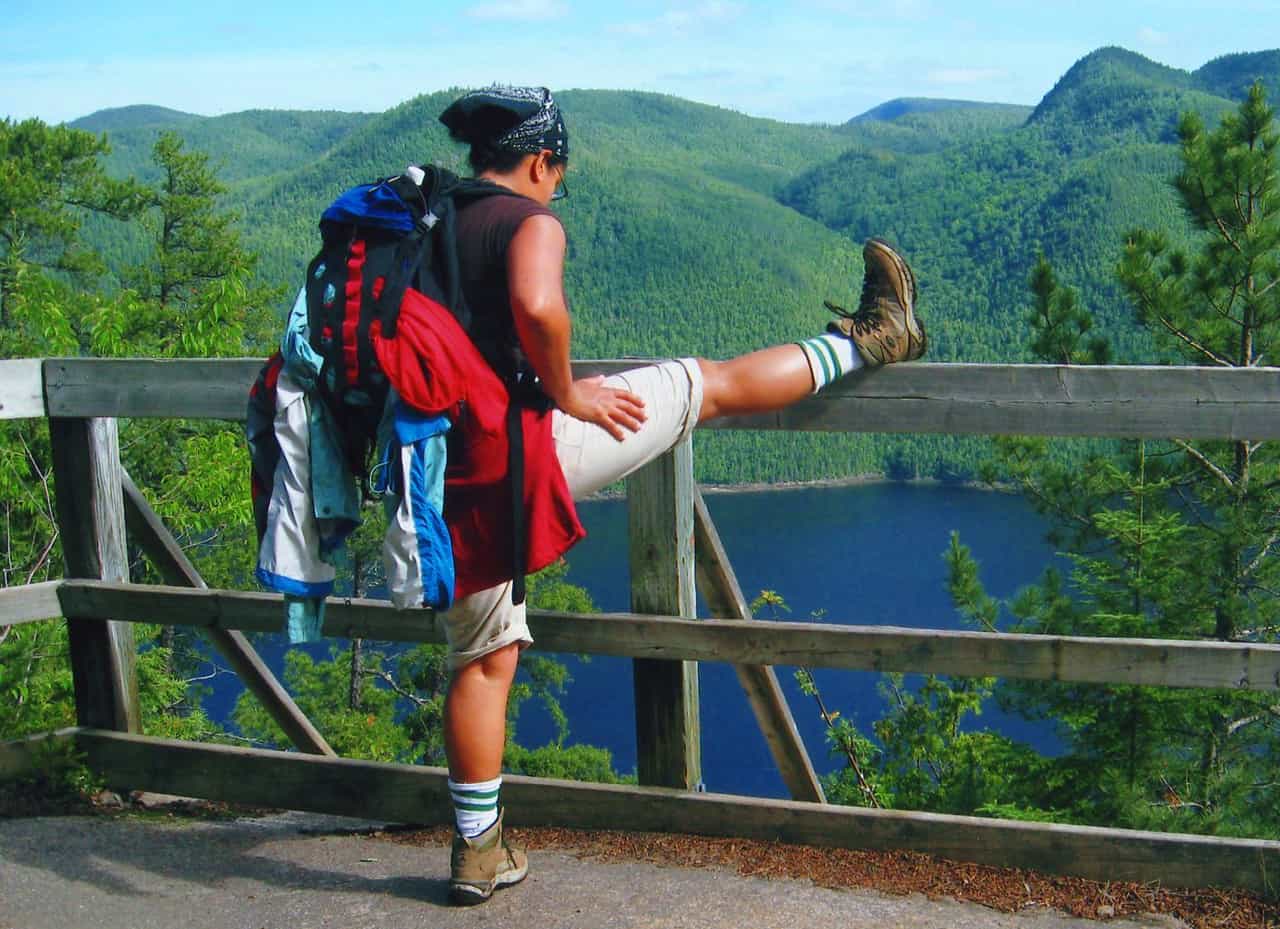 Baie Eternite sector – they have a 4 hour return hike to Cap Trinite. The first half hour was quite spectacular with the views like the above. If pressed for time, I recommend you do the first half hour of the hike (mostly uphill) and then come back down.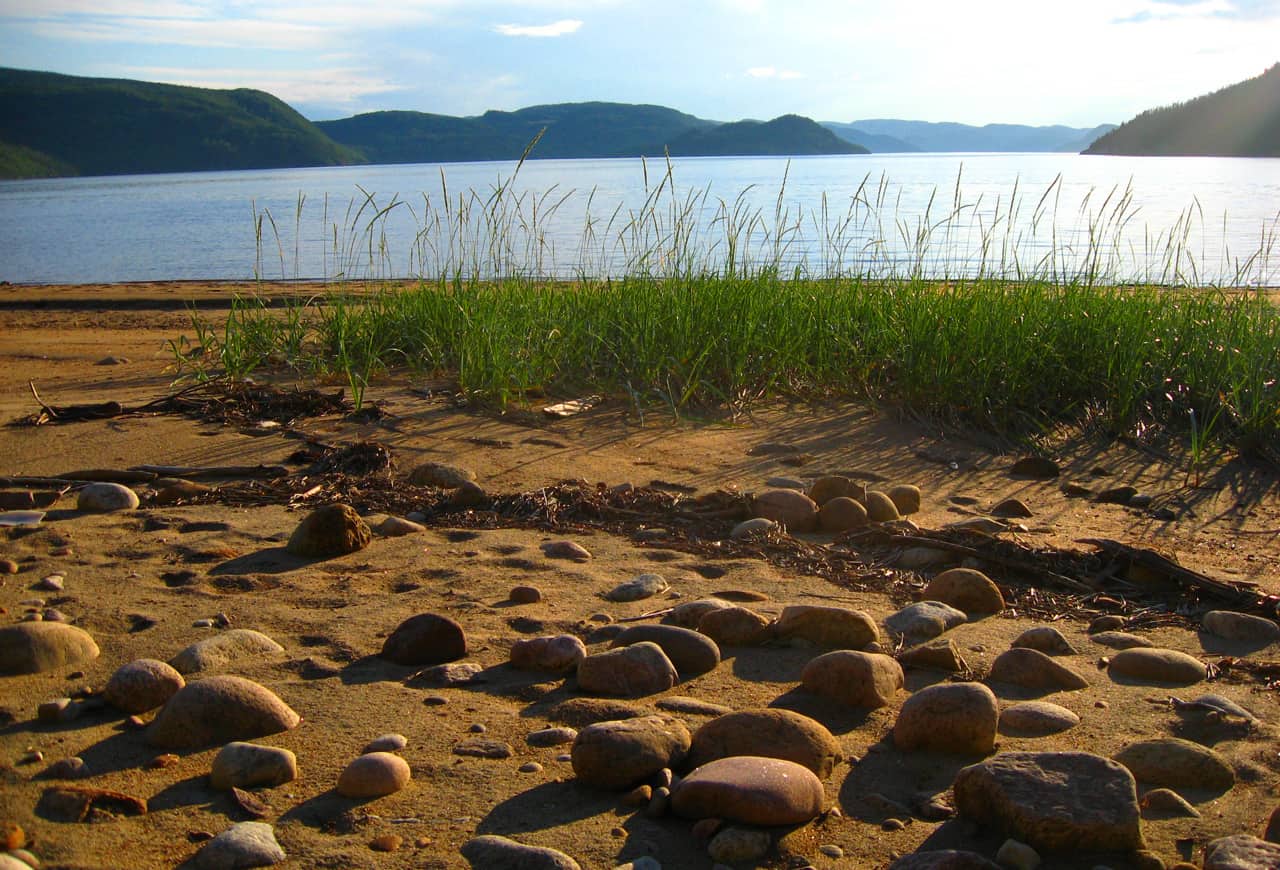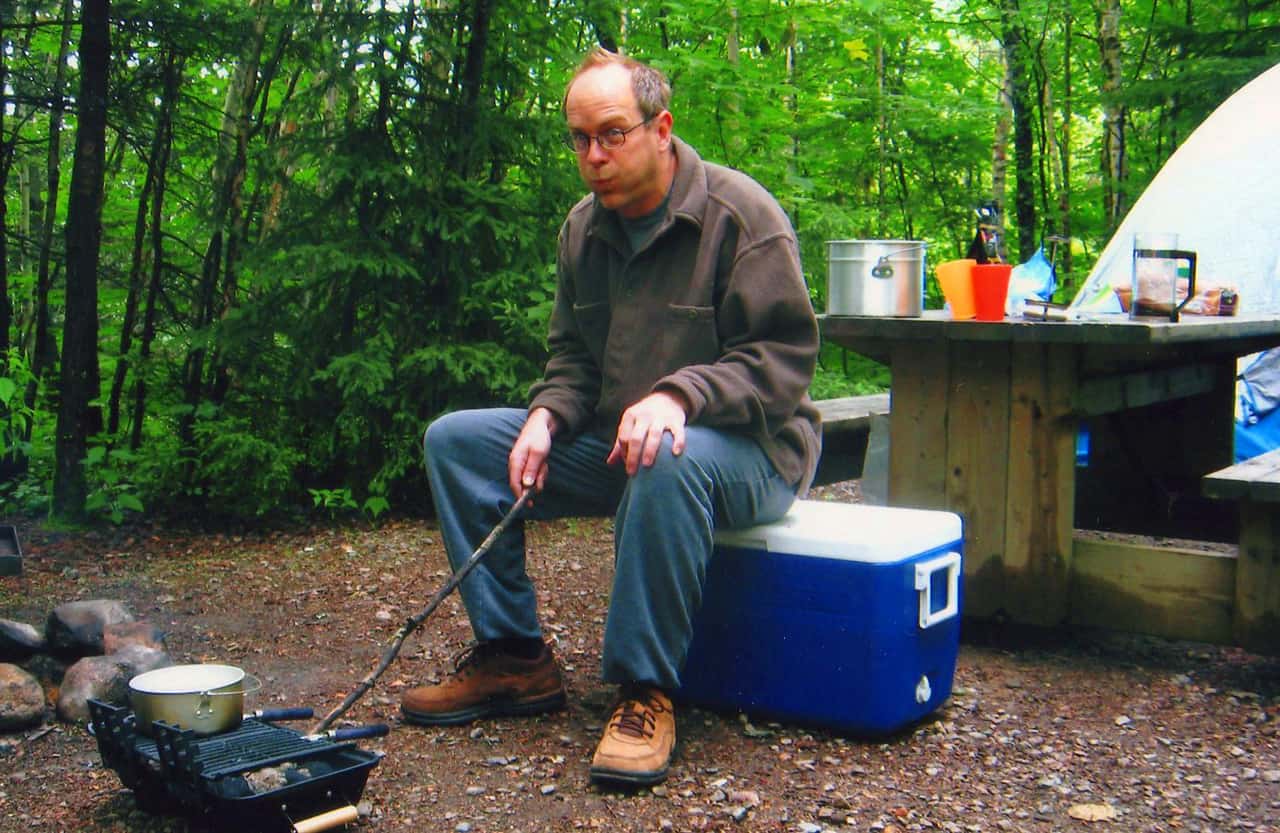 However, the best view of the Saguenay fjord was actually outside the official park. We were driving around when we came to a very pretty little town called L'Anse Saint-Jean. They had a lookout (which you can drive to, no hiking) where we were presented with this view: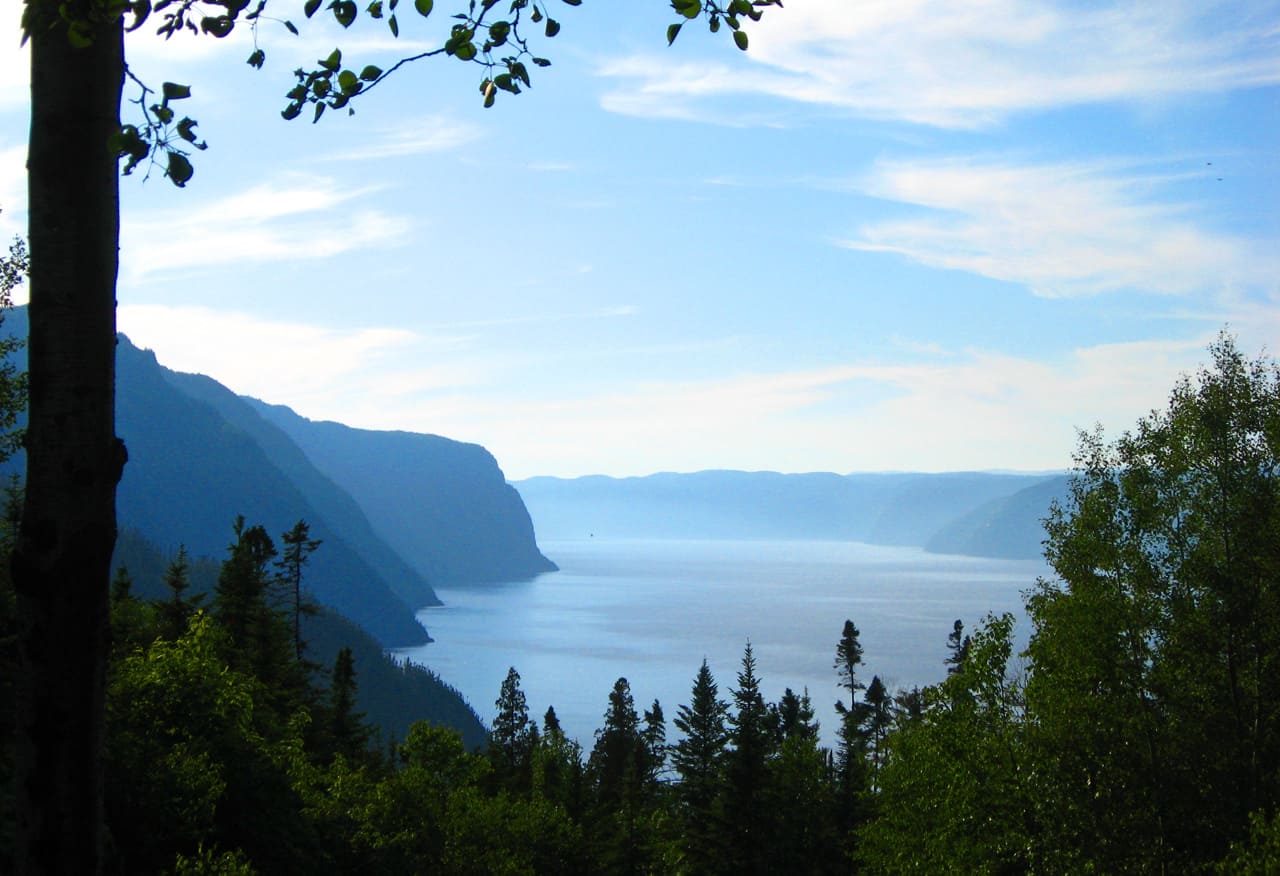 ---
---
This park has one of the best hikes in the whole province of Quebec. The geography in the park is stunning.
There were a couple of things that took away from our enjoyment of the park though.
Firstly, unlike other Quebec parks, this park (which is the newest of the provincial parks) forbids the use of your car – once you get to the park they tell you that you have to park your car in the campground, which is close to the entrance of the park. Transport between the entrance of the park and the Le Draveur Services Center (which is 8 km away) is provided by a shuttle bus that passes every 15 minutes. This might seem reasonable enough, but the service starts at 8 am and finishes at 7:30. So you are basically stuck at your tent between 7:30 pm and 8 am unless you want to walk.
For example: On our first day there we wanted to take a cruise down the Malbaie river. The problem is that you can't buy your tickets at the campground, you have to catch the shuttle bus to the Le Draveur Services Center where you can buy the tickets. Which we did. But then we had to wait 2 hours for the boat. Had we been able to drive the car we could have explored other areas of the park in the meantime.
A few photos of our boat cruise: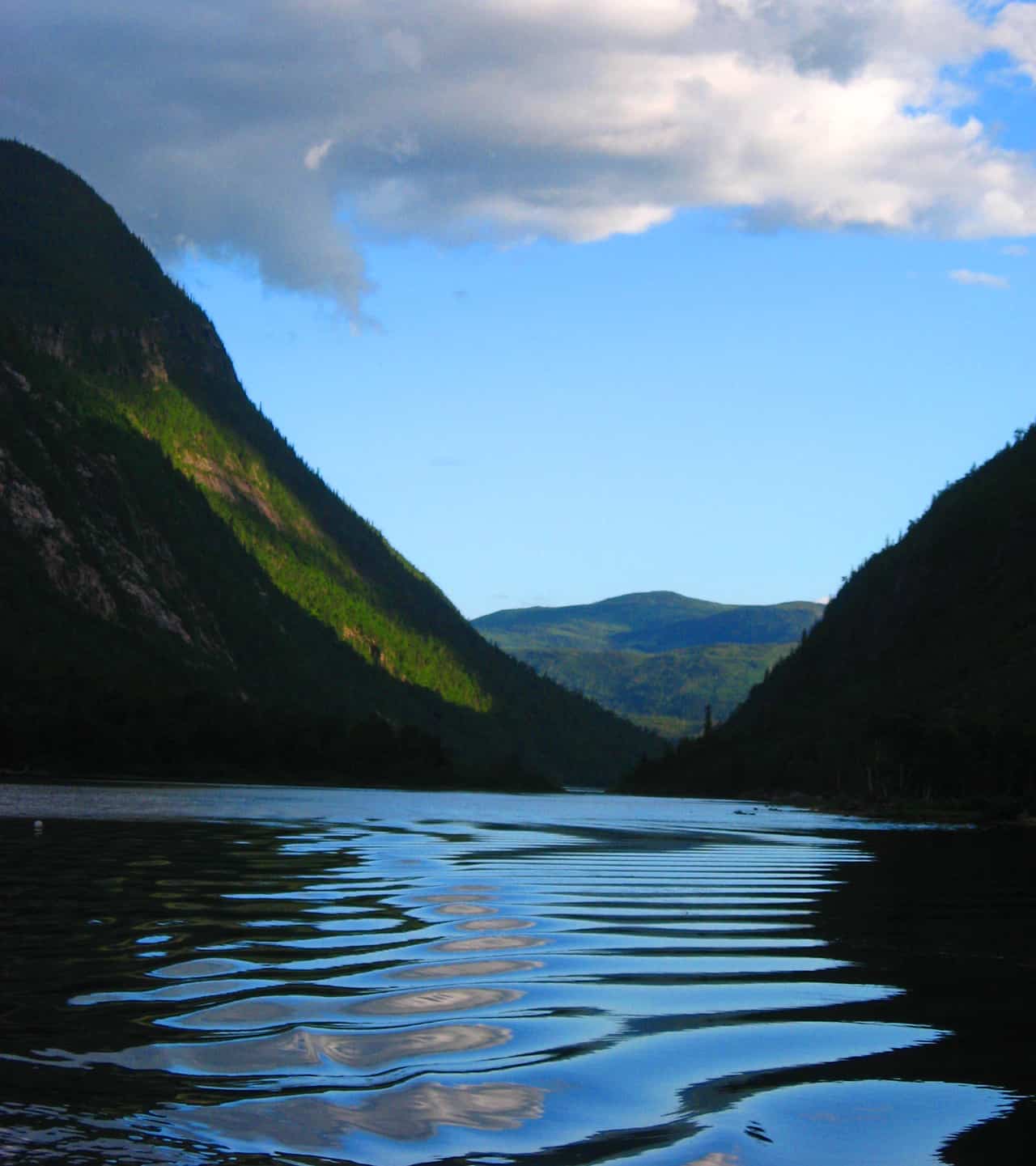 ---
---
Despite everything, it was a scenic boat cruise.
Ok, here is another thing which soured up our trip to this park. Some people won't like that I say this but I think I can be honest: Quebeckers can be very insular and racist, especially the small-town types. They can be real hicks. I think I am justified in saying that – I was born and raised in a small town in rural Quebec. It doesn't mean they are all like that or that Quebeckers have the monopoly on hicks. There are hicks wherever you go. But when you step out of Montreal, depending on where you go, you can at times feel like you've stepped back 50 years mentality-wise.
My barometer is Lissette and how people react to her. After meeting great people in Tadoussac (and no incidents in Parc national du fjord du Saguenay) we came here where people were suddenly staring at her like she was an Al-Quaeda terrorist. We waited for our cruise at the Le Draveur Services Center, strolling outside where they had an outdoor café when suddenly everything got quiet. We felt about 50 pairs of eyes on us. It was really bizarre and the first time that it's ever happened to us. I looked around and I regarded the crowd. All white Quebeckers. Not one ethnic person in the crowd. Maybe it was because of the bandana that she wears in her hair? I don't know, but the looks she was getting weren't friendly. We were pretty deep in rural Quebec and I have a feeling people here wouldn't know the difference between a Latina and an Arab (or a Sikh for that matter). It wasn't very pleasant and as a native Quebecker showing Lissette the province I was embarrassed.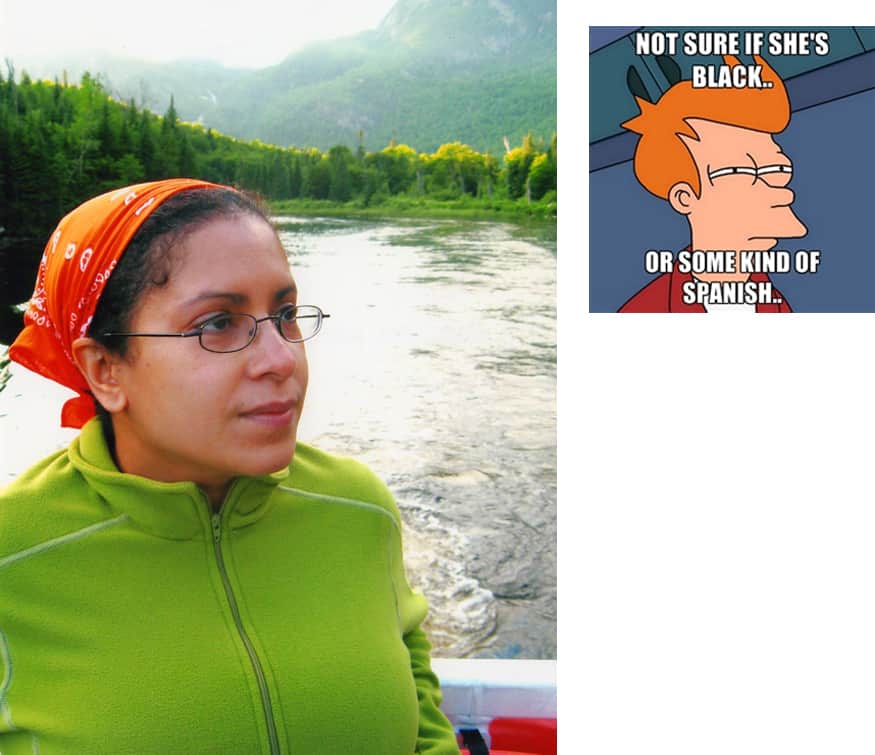 ---
---
.
The 5 hour Acropole des Draveurs hike is one of the most scenic in all of Quebec. Being a pretty difficult hike, I did this one alone. The sun came up on a beautiful day and I got out of the tent at 6am and decided to walk the 7 km or so to where the trail starts (again, since the bus service only starts at 8am).
I finally got to the trailhead and started the 9km hike (that's fog coming off the river):

For the most part however the trail is not very scenic, the views blocked by trees. And then you suddenly get to the top.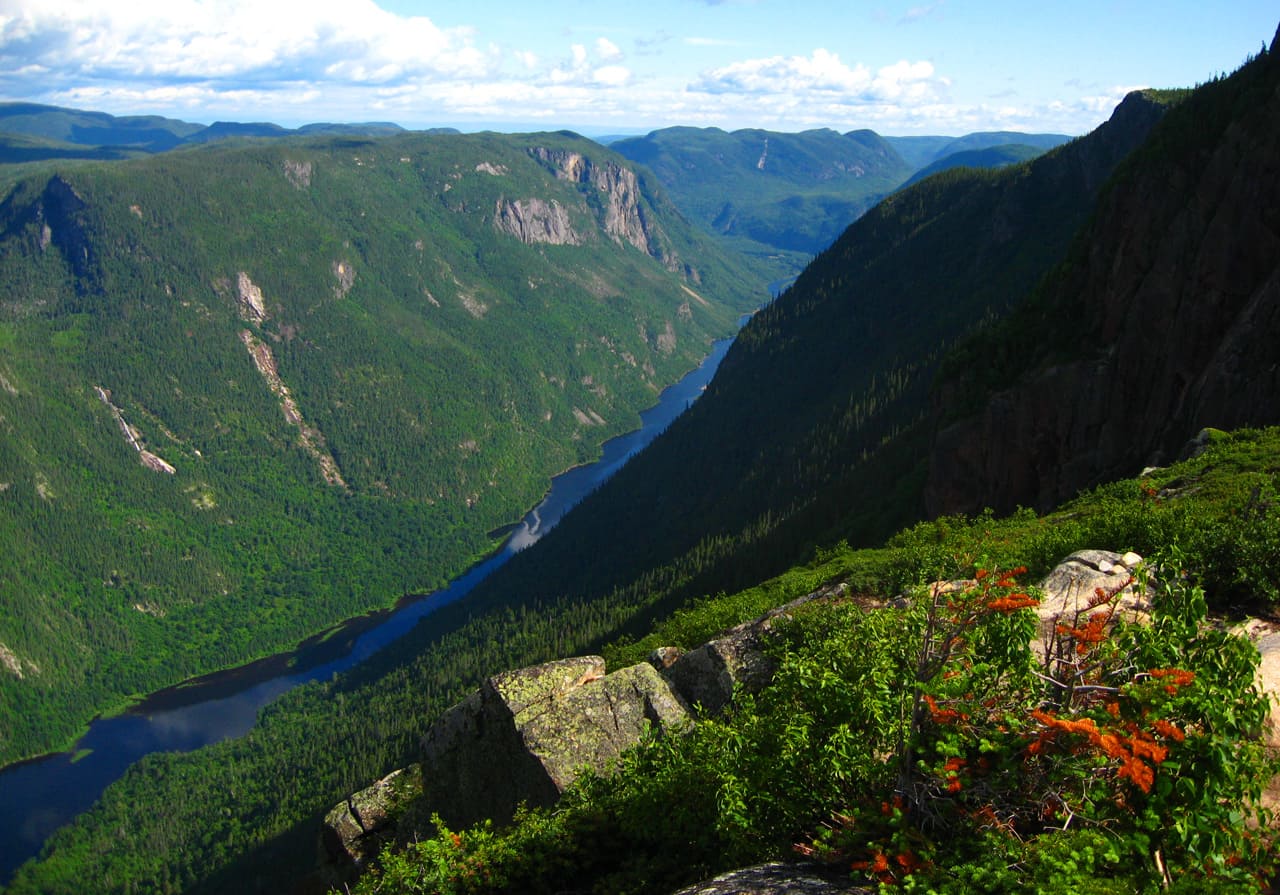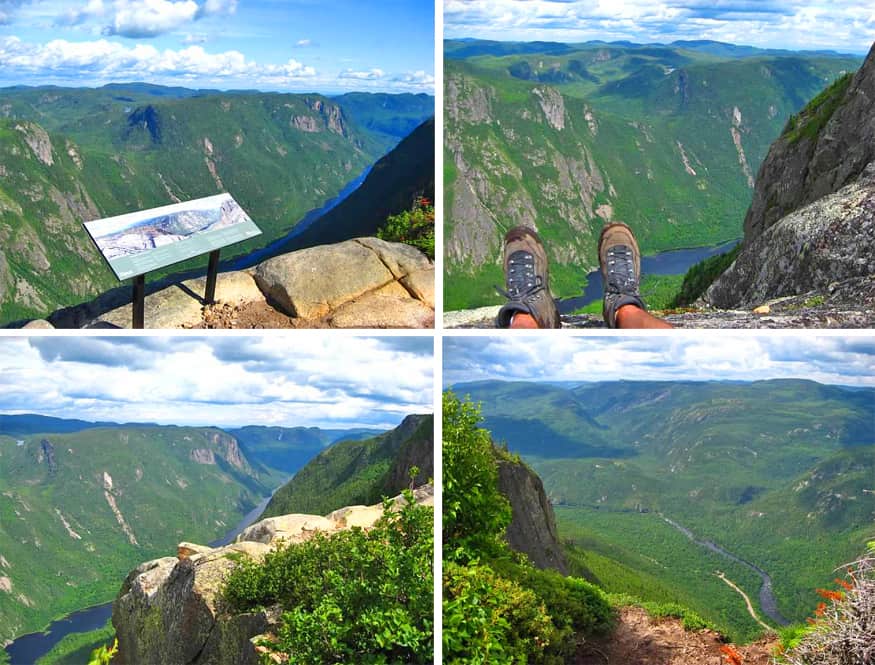 Just a beautiful spot and I could have stayed all day.
By the time I came down and took the shuttle back to the campground, it was 11. Lissette was awake and we decided to move on. We had paid for 3 nights of camping but decided that we didn't want to be trapped in our tents. I'm all for the environment – but if you want to attract tourists to a national park you have to make it accessible. Bad job on this one SEPAQ!
I definitely think you should visit Parc des Hautes Gorges de la Riviere Malbaie for the Acropole des Draveurs hike, but if you do I recommend that you visit it as a day trip. Unless you're an experienced camper and have everything you need with you, skip the camping in the park. The facilities in this park aren't very good and without a car everything is made complicated.
We thought of going straight home but had enjoyed Tadoussac so much that we headed back there. Stayed 2 more nights at the Hotel Tadoussac to finish our vacation.
Have you been to this region? If so, what were your highlights?
---
---
Ps. If you find our blog helpful, please consider using our links to book your flights, hotels, tours, and car rentals. Have a look at our Travel Resources page.