The BIG Guide to South Africa
Warning. This is a BIG Guide. I start by covering each region, from Cape Town heading westwards to Mpumalanga. I cover all the highlights, region by region, in great detail. I also have sections giving you general information, accommodation, transportation, cuisine, security and safety, as well as historical tidbits, trivia, and tips. Between all that there are lots of photos and lots of personal recommendations on tours and hotels.
I hope this guide helps you with everything you ever needed to know about travelling to South Africa.
PLACES TO SEE
I've broken this section up among 6 regions, covering the South Africa that 99.9% of visitors come to see. They are:
1) Cape Town
2) The rest of the Western Cape, specifically the Garden Route and Little Karoo (I also touch upon the Swartberg Pass and Prince Albert)
3) Eastern Cape Province (and the Transkei)
4) Kwazula-Natal Province (which includes Durban)
5) Gauteng Province (including Johannesburg and Pretoria) and
6) Mpumalanga Province (including the popular Kruger National Park and Blyde River Canyon).
1. Cape Town (and surrounding area)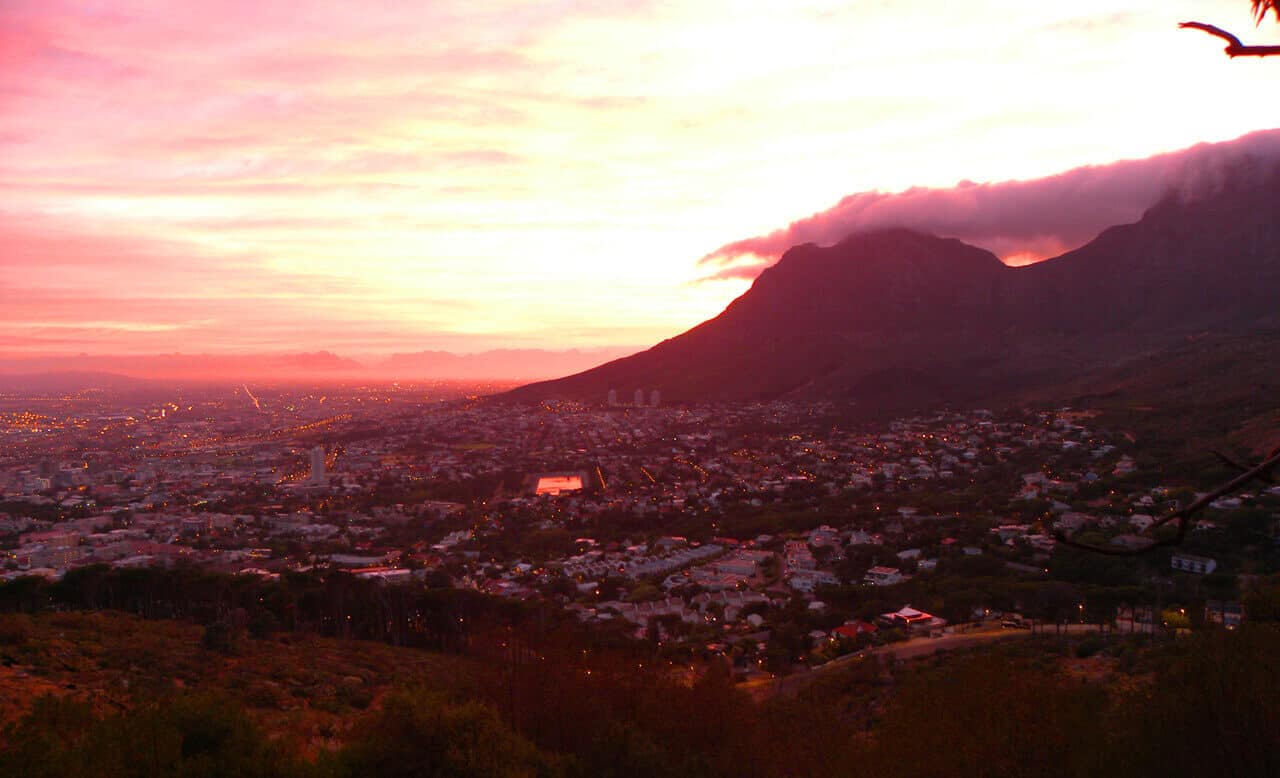 Increasingly, Cape Town is the first destination of visitors to South Africa. As the country's oldest city (1652), and with one of the world's most iconic and spectacular physical settings at the foot of Table Mountain and the northern end of the beautiful Cape Peninsula, this multicultural, cosmopolitan "Mother City" of 4,6 million is at the centre of the nation's rich, multi-stranded history and heritage, offering a wealth of culinary experiences, unique shopping and – not least – a palette of activities and adventures second to none.
It is renowned for its vast tracts of nature parks and reserves, where its Mediterranean climate nurtures the Cape Floral kingdom – the smallest but richest, most diverse of all the earth's botanical biomes – as well as one of the world's most beautiful (and some say one of the best) wine producing areas anywhere. There are over 200 different vineyards and cellars centered around Stellenbosch, Franschoek and Paarl – literally within a stone's-throw of the city.
The city's suburbs include many unique, often stunning attractions; Groot and Klein Constantia, the Kirstenbosch Botanical Gardens (undoubtedly one of the most beautiful in the world) Hout Bay and Chapman's Peak Drive. The suburbs line both the cold Atlantic and warm Indian Ocean coasts which terminate at the end of the African Continent at the Cape of Good Hope and Cape Point – the merging point of the two mighty oceans.
For extreme sport fans there are few cities that offer such a variety and mix of attractions within the city limits, and so close to each other; from mountain hiking, climbing and abseiling to surfing the wild Atlantic rollers, or swimming with the sharks.
The city prides itself as being the fashion and culinary leader of the country, with a wealth of restaurants catering to all budgets and tastes, and a trepidant nightlife – from the somewhat 'touristy' Waterfront, to Green Point, Long and Kloof Streets in the city centre, student-life enclaves like Rondebosch, or the bohemian tinged Waterkant Village. Further afield Camps Bay offers a more laid-back approach to wining and dining.
Highlights
1. The Hop On, Hop Off Bus
A fascinating introduction and orientation to the city is the Hop On Hop Off Bus. It has 4 routes that you can take over 2 days, including one to the vineyards of Groot Constantia. I tell everyone who wants to listen that you HAVE to take the Hop-on, Hop-off in Cape Town – it is a city perfectly suited to it and the 4 routes take you to all the major city attractions as well as to some of the highlights along the coast. Plus it's inexpensive. You can pre-buy the standard 4 routes here (it's good for 48 hours), or purchase the bus and Cable car combo here.
2. Discover the Downtown Core
A promenade through the city centre, the Gardens (where the National Library, several museums as well as the Houses of Parliament are located), the Waterfront and the Castle. You should also visit the incredibly colourful Bo Kaap neighborhood.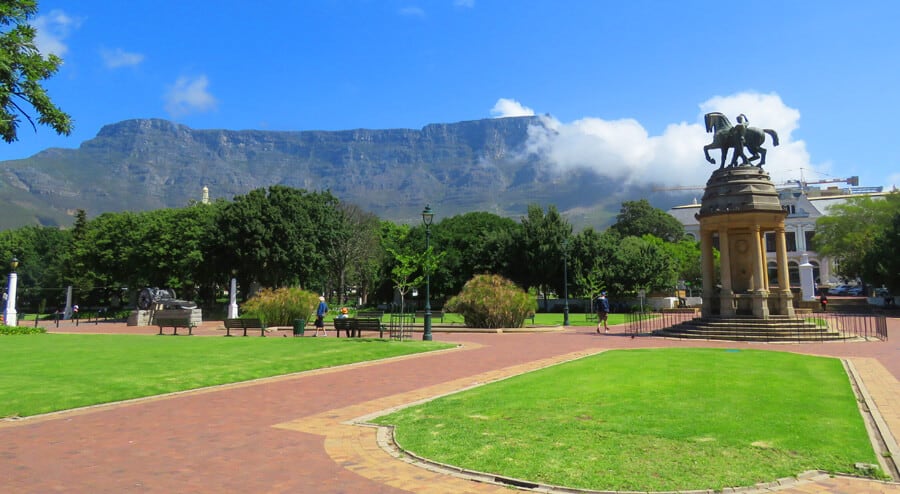 3. Table Mountain
A cable car trip to the top of Table Mountain – and a hike once there. You can even hike down. Table Mountain National Park stretches from Signal Hill in the city to Cape Point in the south (60 odd kilometers) with numerous access points for walks at Tokai, Cecilia Forest, Constantia Nek, Rhodes Memorial and Silvermine. Be sure to bring along a map, good walking shoes and lots of water. Get the Cable Car ticket/Hop-On Hop-Off Bus combo, it'll save you a lot of time.
4. Cape Point
A visit to Cape Point – leave along the False Bay coast, return along the Atlantic coast (or vise versa). This tour takes you there. It also takes you to see the Penguins at Boulders Beach (see further below).
5. Hike (it's actually more of a walk) up Lion's Head
An easy hike, it takes about 45 minutes to get to the top and has 360 views over Cape Town and Table Mountain. Here's why it's an essential hike in Cape Town.
6. Visit Robben Island
The infamous prison in Table Bay where Nelson Mandela spent 18 years. South Africa's version of "Alcatraz". All about Robben Island.
7. The Vineyards
It is worth renting a car or taking a tour to the vineyards at Stellenbosch and/or Franschhoek. We spent a weekend in Stellenbosch. It was a highlight of our stay in the region.
Accommodation recommendations in Stellenbosch: We stayed at De Hoek Manor which was expensive but excellent. Other recommendations: The Stellenbosch Hotel and the Eendracht Hotel (both less expensive than De Hoek but also excellent).
8. Kirstenbosch Botanical Gardens
One of the most beautiful botanical gardens in the world with an incredible setting on the side of Table Mountain. The most spectacular botanical gardens we've seen anywhere. It's covered by the Hop-On, Hop-Off bus so it's easy to get to.
9. Cape Town's incredible coastline
Visit Camps Bay or go to the beach at Clifton. The whole coastline is gorgeous.
10. Hike up Table Mountain
There are many hikes from easy to difficult. See here and here for a couple of options. Either way you'll never forget the incredible vistas along the way.
11. Paraglide from Lions Head or Signal Hill
There's nothing like flying over the city, landing by the shore. One of the most spectacular experiences you can have. I did it. Have a look here.
12. Swim with the Great White Sharks
Gansbaai, 2 hours down the coast, is the place to go swimming (in a cage) with the Great Whites. Recommended tour (they'll pick you up at your Cape Town hotel)
13. Swim with the Great White Sharks
See the hundreds of African Jackass penguins at Boulders Beach. This is usually included with any tour of Cape Point (#4 above).
14. Weekend concert at Kirstenbosch
Every weekend during the summer they have concerts at the botanical gardens. Bring a bottle of wine and a picnic and listen to some of South Africa's best music groups perform live.
Practical Information – Cape Town
Accommodation recommendations: If you've got BIG bucks, Camps Bay is the place to stay. 51 on Camps Bay is great value for its location. But you have to book really early. The Bay Atlantic Guest House is equally popular. We really liked the Oranjezicht area of town (safe, trendy, and gorgeous location at the base of the mountain) and there are are some good value places there like Esperanza Guest House, Glory Guest House, and Abbey Manor Luxury Guesthouse (this is expensive. It's for a special stay). Prices in Cape Town are generally very high.
Getting Around: Uber is the best way to get. It's where we first started using it, only because that's what everyone else does in South Africa.
---
---
2. The Garden Route and Little Karoo
A few hours' drive east out of Cape Town will bring you to two different – and very distinct – regions in South Africa's Western Cape. The Garden Route lines the coast and is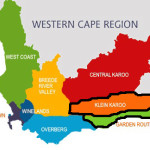 characterized by magnificent white sand beaches and dunes on one side and the impressive Outeniqua and Tsitsikamma Mountains on the other. With a mild yet sunny climate, it is one of the most popular regions for tourists coming to South Africa. Across the mountain ranges, in the interior, is the Klein (Little) Karoo ; a semi-desert of open spaces, mountains, wine lands, and ostrich farms. Although not covering a large area, there are many points of interest for the traveller coming to this region.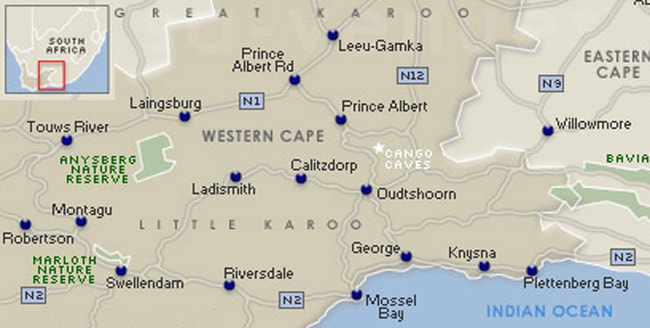 The Garden Route
The stretch between George and Plettenberg Bay contain most of the highlights of the Garden Route. But before getting there (assuming you are coming from Cape Town) you should explore a few highlights along the way:
Swellendam, although not technically on the Garden route, is the country's 3rd oldest town located in an incredible geographic location at the base of the 1.600 meter Langeberg mountains. Rural and agricultural South Africa at its best, this charming town is worth a stop. Those with more time can hike in the Marloth Nature Reserve, enjoying waterfalls and fantastic views.
Heading east, Mossel Bay has beautiful beaches and the Bartholomeu Dias Museum complex celebrating the first European landing on South African soil on this spot in 1488.

George, built inland from coast, is the regional center for the Garden Route and has the only major commercial airport in the entire region. The town is home to the impressive Outeniqua Transport (railway) museum as well as a very nice indigenous botanical garden. The town is also centrally located, a perfect base for visiting both the Garden Route as well as the highlights of the Little Karoo: Oudtshoorn, the ostrich farms, and the Cango Caves, all a short drive away via a marvelous mountain pass (the Little Karoo will be covered further below). George is also known for its famous golf courses as well as nearby beaches.
Where we stayed in George: Edenwood Guesthouse. A beautiful property on the edge of town looking up at the mountains. Very tranquil and we spent a lot of time relaxing and playing with the 4 dogs and 4 cats. Recommended (unless you have allergies). A couple of other recommendations: Inn Victori Guesthouse & Surfcamps and On the Beach (which is on beautiful Wilderness Beach).
Just outside of George is Wilderness and its vast beach, alongside a series of lakes. This is the 'Lake District' – most of the area being a large bird reserve offering tremendous bird watching sites as well as walks through the marshes and into the nearby hills and mountains.
Approaching Knysna, Sedgefield lies at the mouth of the huge Swaartvlei lagoon and is renowned for its fantastic, largely empty beach (pictured below) as well as the coastal Goukamma National Park stretching eastwards towards Buffalo (Buffels) Bay.
Knysna is considered to be the 'center' of the Garden Route, an attractive town situated on a huge lagoon protected from the sea by the Knysna Heads (as the high sandstone cliffs are called). The town offers a wonderful selection of shops, art galleries, restaurants and perhaps the only lively nightlife scene on the Garden Route. Across the lagoon from the town is the Featherbed Natural Reserve – an intact hunk of original coastal bush worth a visit for its wildlife and the spectacular views over the Heads.
Where we stayed: Russel Hotel, centrally located, right in town – nothing fancy but comfortable, great people, and really good breakfasts. Or, a fancier option is Azure House. It has a pool and great views of the lagoon.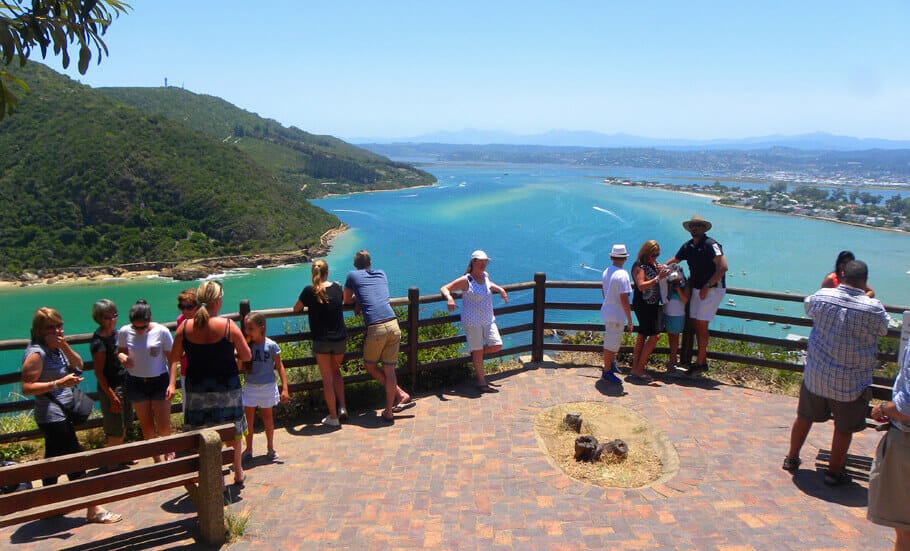 Forests, and various tourist attractions (visit the Garden of Eden for a look and walk through intact indigenous forest) dominate the route to Plettenberg Bay, a chic, upscale resort town overlooking the imposing Robberg Nature Reserve – an incredibly gorgeous and rocky peninsula with fine sand beaches. The town offers a wealth of activities and is a perfect place to pass a few days (providing the wallet can stand the strain!). The area has some of the loveliest beaches in the country; Beacon Isle, Lookout and Keurbooms, all of which will convince you that South African beaches are amongst the most beautiful and best in the world. Plettenberg Bay is the last real town on the Garden Route.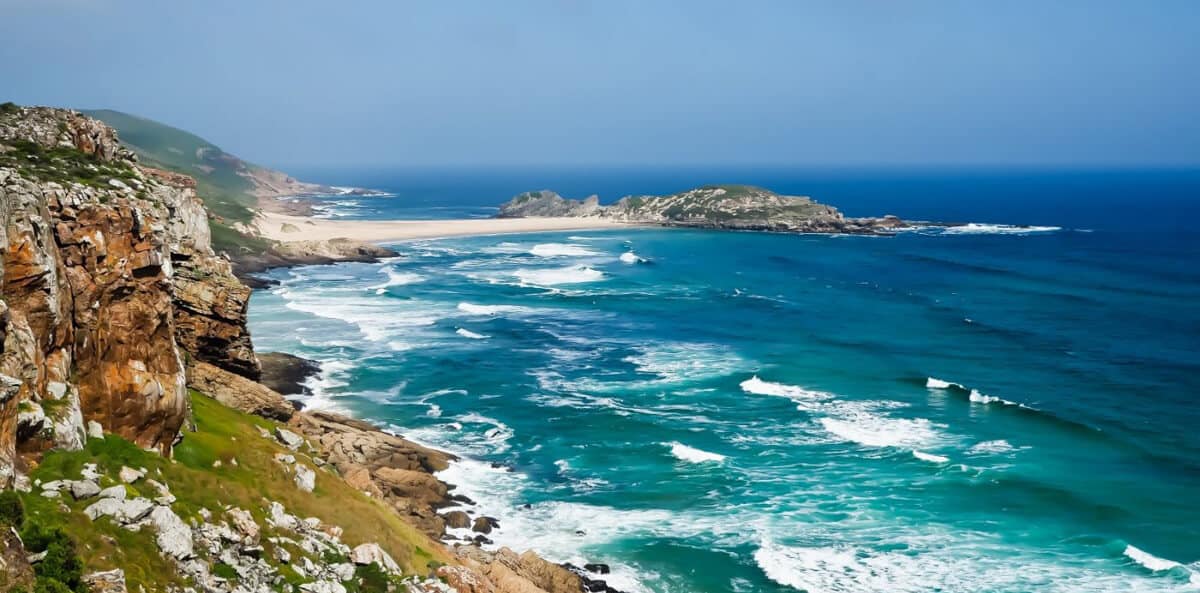 Eastwards through beautiful countryside lies The Crags (named from the sheer rock faces of the Tsitsikamma Mountains). This area has several wildlife attractions: Birds of Eden (the largest free-flight aviary in the world), Elephant Sanctuary (an orphanage for baby and larger elephants that helps reintroduce them back into the wild) and Monkeyland Primate Sanctuary. All are well worth a visit for their up-close contact with animals and the wonderful work they accomplish.
The last stop on the Garden Route is the bridge at Bloukrans River. The bridge is one of the longest and highest concrete arch bridges in the world and has the worlds' highest bungee jump (214 meters). Bloukrans river also marks the boundary between Western Cape Province and Eastern Cape Province (to be covered in another post).
The Little Karoo
Tired of beaches? The Little Karoo is in close proximity to the Garden Route, a short hop over the coastal mountains. There the geography and climate are very different; the Little Karoo is a semi-desert, marked by tufted grassland, dry-country fynbos, rocky, colourful 'koppies' and outcrops, infinite vistas, continual sunny days, torrid dry summers – and often bitterly cold (and even snowy) winters.

Oudtshoorn is the largest town in the Klein Karoo, a big farming, market and regional centre only 50 kms from George over the Outeniqua Pass. Visitors should plan on a minimum 2 day stay here. An attractive town with a great architectural heritage remaining from its boom days, it is still the 'ostrich capital' of the world. Many of its old ornate 'feather palaces' built by the immensely rich 'ostrich barons' are now beautiful B+Bs and boutique hotels. Ostrich farms are only one of the town's many unique attractions.
Where we stayed in Oudtshoorn: Yamkela Guesthouse. Very comfortable room, has a swimming pool, great breakfast, and the friendliest hosts (Una and Charl) that we've ever had the pleasure of meeting. Recommend 100%. If you want to do something really special, stay at the Buffelsdrift Game Lodge.
Just 30 kms to the north, in the foothills of the Swartberg range are the stalactite, stalagmite dripping Cango Caves, amongst the largest (and definitely most colourful) cave complexes found anywhere. From vast halls and caverns to narrow crawl spaces, different tours (60 or 90 minute) are offered. A definite 'must see'. It is one of South Africa's most visited attractions, pre-booking is essential.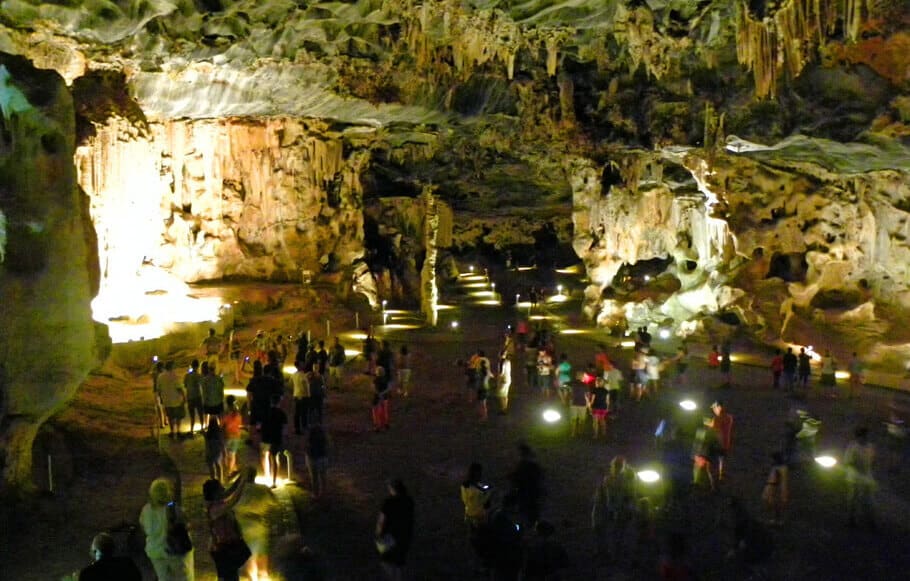 After visiting the Cango Caves, continue along the road (it soon changes to gravel) taking it up and over the 27 kms, 1.580 meter high Swartberg Pass. This pass is one of the great road trips of the country. (The Swartberg Mts are an UNESCO World Heritage Site). On the other side (in the "Groot" ie. Great Karoo) is the charming picturesque desert hamlet and oasis of Prince Albert where lunch, tea and scones will top out this fantastic trip.
Where we stayed: The Swartberg Hotel. Big beautiful hotel that belongs in another era. Incredibly comfortable, fantastic breakfast. The place to stay in town.
Part of the pleasure in the Little Karoo is to drive the R-62 through rugged, twisted mountains ranges, koppies and rolling countryside. Check out Calizsdorp, 45 kms down the R-62 from Oudsthoorn; a small country village and a lush green oasis in sharp contrast to the surrounding area. It the dried-fruit centre of the country (apricots, dates, prunes, raisins, figs etc) as well as the most easterly of South Africa's wine producing areas. Its claim to fame is partly its sweet-white wines (Hannepoort – very much an acquired taste) but more importantly its wonderful Ports that are often rated internationally as the best anywhere – even ahead of Portugal's Douro ports! Further west is Robertson (famous for the Robertson Winery). This is a pretty town with cool shady streets and many picturesque cafés. Close by, Montagu with its historic architecture and numerous B+Bs and restaurants, makes a good overnight stop. Just outside town are the Avalon hot springs . You can also take a 'Tractor-Trailer" trip up to the summit of the 1.600 meter high Langeberg Mountains. The town is built next to the Cogmans' Kloof Pass in the coastal mountains, allowing travellers to join the N-2 at Swellendam – incidentally the first town mentioned in this post and the gateway to the Garden Route/Little Karoo region when coming from Cape Town.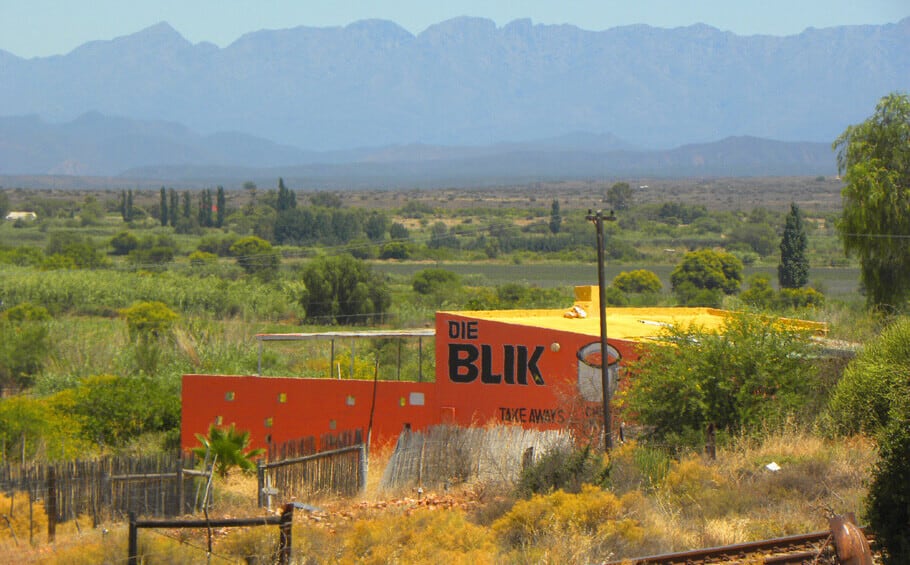 Practical Information – Garden Route and Little Karoo
Car Rental. A car is the best way to get around South Africa. I don't drive much but I felt very comfortable driving in South Africa where the roads are good and the traffic sparse (outside of the major cities). We use Rentalcars.com, they dig up the best prices from all the car rental companies.
Hop-On Hop-Off Bus from Cape Town to Johannesburg. If you don't want to drive. the famous Bazbus can get you anywhere in South Africa. This ticket is good for a year and lets you get on or off the bus anywhere between Cape Town and Johannesburg. There's a bus every day in each direction and the bus stops in over 40 cities and towns along the way. The best and cheapest no-worry way of getting around.
Organized Tour: This 6 Day Tour which includes the Addo Safari (see the next section on the Eastern Cape) covers all the highlights of the Garden Route (but not the inland Karoo). The most inexpensive and hassle-free way to explore the region.
For more, have a look at our post covering a 2 week road trip through the Garden Route and Karoo. Best road trip we've done.
3. Eastern Cape Province (and the Transkei)
Leaving the Garden Route eastward brings you to one of the largest, and most off-the-beaten-path regions of South Africa – the Eastern Cape Province. Stretching almost a 1,000 km between the Bloukrans River and the northern province of Kwa-Zulu Natal, this province has a mix of climatic regions (from dry desert in the Great Karoo to green, agricultural lands in the northeast) and is characterized by a wild and rugged coastline. It includes the traditional homeland of the Xhosa, the 2nd largest tribe in South Africa, called the Transkei. Eastern Cape province is also referred to as 'Adventure Province'; a popular region for surfing, sand-surfing, swimming, hiking, horseback riding, paragliding, and biking – as well as authentic cultural activities.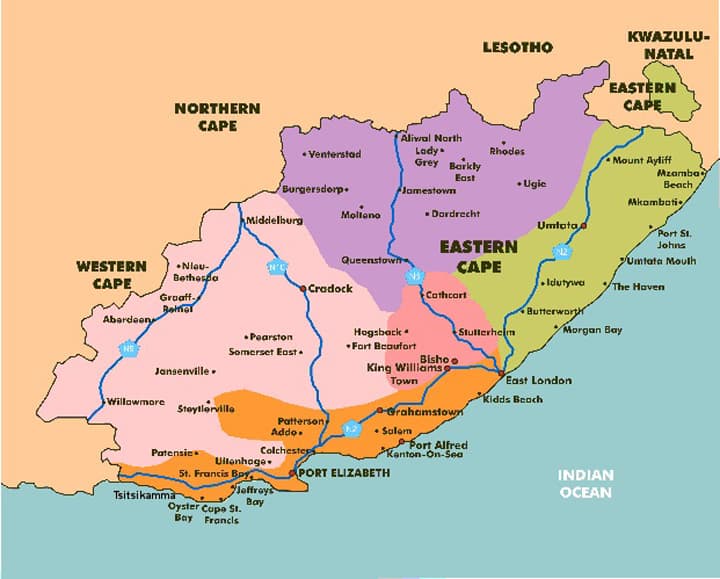 Jeffreys Bay


Coming from The Garden Coast, one of the first stops for visitors is Jeffreys Bay, a resort town famous for water sports, especially surfing (It was recently voted as the 2nd best spot for surfing in the world!). This whole stretch of coast, from Jeffreys Bay to Cape St. Francis, is famous for its year-round surfing conditions. Scared of the great whites? You can do some Sandboarding.



Port Elizabeth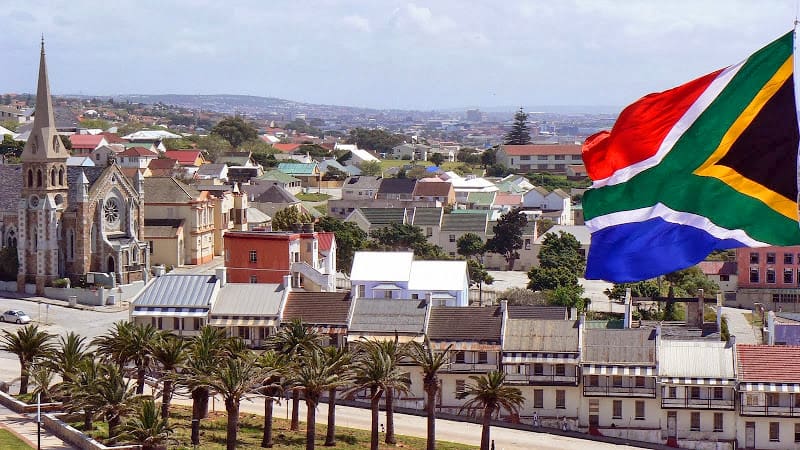 From Jeffreys Bay, it's a 70 kms drive northwards to Port Elizabeth, the province's largest city and a major port and industrial centre. Although usually of limited interest for most visitors, it does have a good selection of attractions which make it a worthwhile stopover. The 'Heritage Trail' in the city centre covers major attractions; the Donkin Reserve, Terrace Houses, the nearby Horse Memorial, the restored Wool Exchange, old Feather Exchange building, Public Library, City Hall and Portuguese (Prestor John) memorial. The 52 meter high Campanile, built in 1923 to commemorate the Settlers' arrival, provides an excellent panorama over the centre, the port as well as nearby beaches. The Boardwalk Casino and Entertainment World in Summerstrand (Port Elizabeth's seaside suburb) offers gaming and a variety of entertainment, shopping and restaurant options, and all, just across the road from some of the city's best beaches – Hobie and Summerstrand. Recommended: A walking Tour of Port Elizabeth.
Accommodation. A few recommendations: Beachwalk Bed and Breakfast, The Blue Lotus Guest House, Beachway B&B. All are right on the beach and all are good value.

Addo Elephant National Park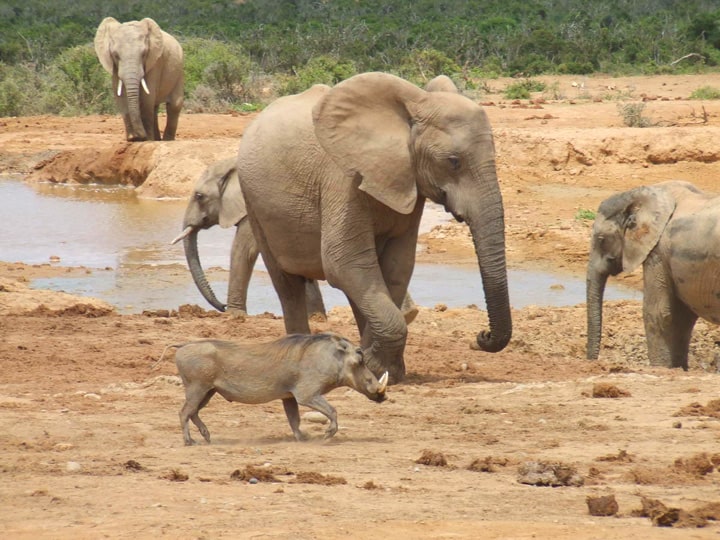 The major attraction in the area,70 kms north of the Port Elizabeth, is the (now much expanded) Addo Elephant National Park, home to the most southerly elephant herds on the continent. Due to its endemic 'elephant food' bushes, the reserve supports a very high density of elephants and a wide variety of other South African game too. The NP provides a full range of accommodations, shops and restaurants. If you are not visiting any other National Parks further north make sure to visit Addo! It's best to get to Addo on your own wheels (see at the bottom of this post), otherwise you can do this Full-Day tour of Addo from Port Elizabeth.
Grahamstown, the 1820 'frontier' city of the English settlers, is about 130 kms east of Port Elizabeth, the half-way point to East London. The town is a major educational centre, having several of the finest schools in the country (including famous Rhodes University). The town makes for a great stopover for its architecture, beautiful Cathedral (and 40 plus other churches), Botanical Garden, and the fascinating Observatory Museum.
Continuing on, East London is Eastern Cape Province's 2nd largest city and the country's only river port. It is also a popular resort town. It, or Grahamstown, can be used as overnight stopovers – but if you're in a rush continue on, the best of Eastern Cape province is yet to come!
.

The Wild Coast

Running from East London all the way to the KwaZulu-Natal (KZN) border is the homeland of the Xhosa tribe (the Transkei) – as well as the Wild Coast; spectacular, rugged, and often inaccessible. The towns and attractions along the coast can only be reached along small side roads (often gravel) off the N-2. Be prepared for some slow, arduous – but incredibly beautiful and interesting driving. The entire "Wild Coast' is very much "off-the-beaten-path" but offers a huge selection of activities centered on beach; surfing and water sports, quad trails, paragliding and biking. However, it is the hiking and horse-trekking in the area that is phenomenal – and it is often the only way to get from one coastal point to another without heading back inland and then down to the coast again.
From south to north, some suggestions for coastal points: Kei Mouth, Mazeppa Bay, The Haven (and Divesa Nature Reserve), Coffee Bay and "Hole -in-the-Wall" (just south of Coffee Bay), wild , wacky, weird Port-St-Johns (the largest coastal town), and Port Edward (on the KZN border – and from where there is a coastal road to Durban).
The Transkei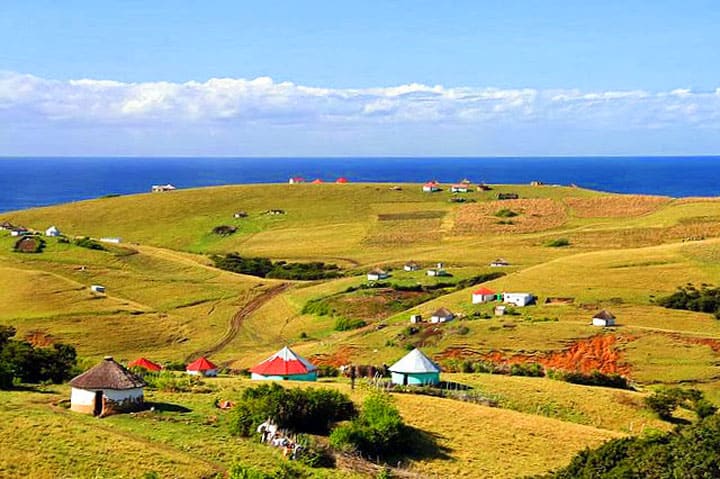 The interior of the Transkei is characterized by green, rural, communal (unfenced) agricultural land of beautiful rolling – often eroded – hills, and villages. It is one of the most traditional, but poorest and undeveloped regions of the country. The main (N-2) road is always thronged with traffic, people and roaming animals. The towns along the N-2 are poor and scruffy, holding little interest for the visitor – Umtata (now Mthatha), the 'capital' and largest town being a possible exception. BEFORE you stop reading this section though: the Transkei, its culture and traditions, are one of the touchstones of South Africa itself. If you have the time and interest, it's possible to see and learn of the great many tribal rituals including beer brewing, courting, dancing etc. A unique 5-day 'cultural' hike, along the Wild Coast, from Port-St-Johns to Coffee Bay, is available. Doing it will immerse you in the best of the geography and culture of the Wild Coast/Transkei.
4. Kwazula-Natal Province (including Durban)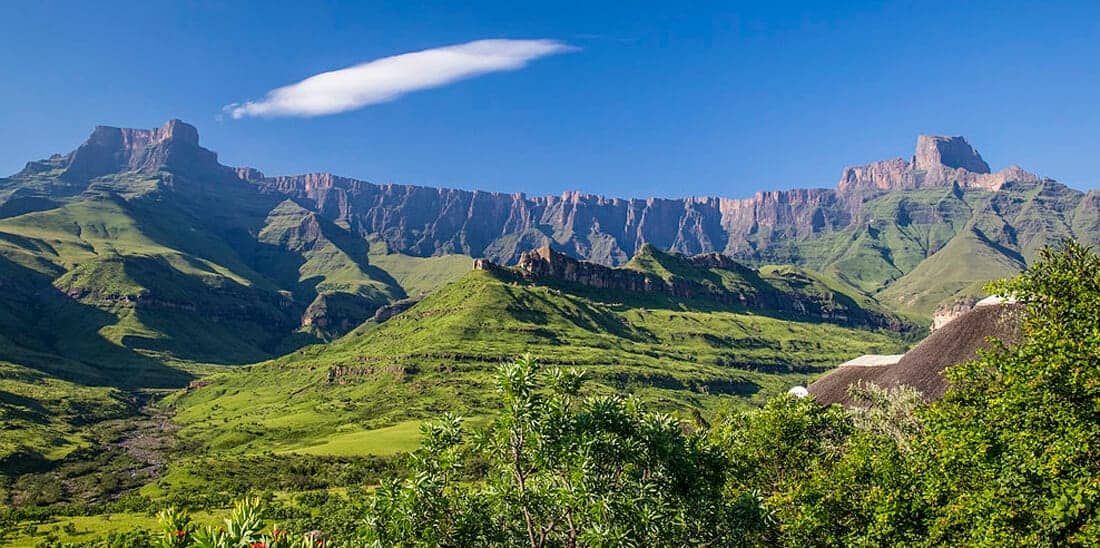 Coming north from the Eastern Cape Province brings you to Kwazulu-Natal Province (KZN). Most foreign visitors will be surprised to hear that this is the most visited province in the country, renowned for its beautiful beaches, tropical climate, and year-round sunshine – as well as its varied and beautiful landscapes. In KZN you can spend a day on the beach, swim with sharks, hike mountains (the beautiful Drakensberg) and gorges (the Oribi Gorge), visit the most densely inhabited habitat for hippos and crocodiles in the world (in the Greater Lake St-Lucia Wetland Park) and see white and black rhinos (in the Hluhluwe-Umfolozi National Parks). For cultural experiences, discover the country's 3rd largest city (Durban) or immerse yourself in Zulu culture. There's tons to see and do in Kwazulu-Natal.
I'll cover KZN from South to North, continuing from the Wild Coast/Transkei where we last left off.




The South Coast
(The Hibiscus Coast)
The South Coast, covering 150 km from the Eastern Cape Province border up to Durban, has one absolute 'must see' highlight: the Oribi Gorge Nature Reserve. Arrange to spend at least one day here (the park has various accommodation options) and hike the beautiful and incredibly dramatic gorge. This Full Day tour from Durban covers both the Oribi Gorge and neaby Lake Eland.
The rest of the South Coast is made up of a string of beach resort communities and can be compared to the Costa del Sol or Miami Beach – a long stretch of beaches where you can swim and surf and enjoy the nightlife. With Durban being an easy train trip away, many travelers choose to stay in the cheaper accommodation options that line this coast; Amazimtoti and Kingsburgh are especially recommended for their wonderful beaches and easy accessibility to Durban.
Durban
Durban, the country's 3rd largest city with 4 million people, is home to most of the nation's Indian community. It's also a major holiday destination, especially among South Africans from nearby Johannesburg and Pretoria. Besides the beaches, the city has several highlights: City Centre with its classic English colonial architecture; City Hall, Farewell Square, Playhouse Theatre, Old Railway station (now Tourist Info Central), Indian (Victoria) Market the largest Indian market in the world outside of India, the Ushaka Marine and Seaworld with the largest, best aquarium in the Southern Hemisphere (and 4th largest in the world) with South Africa's marine life from both coasts. Ocean walks along the sea bottom, diving with the sharks – this is probably Durban's top attraction and a definite 'must-see'. Walk along Marine Park/Golden Mile, the 6 kms long Durban beachfront promenade. It's worth seeing the Minipark and the Fitzsimons Snake park, also make sure to take a walk out onto one of the several jetties off the beach to get terrific views of the city. Recommended: This 9 hour city tour of Durban.
Around the city: the Botanical Gardens are the oldest on the continent and one of the finest tropical gardens in the southern Hemisphere. The Umgeni Bird Park, 8 km from the city center, has over 800 birds, many being rare species. The KwaZulu-Natal Shark Board at Umhlanga Rocks is 15 km north of Durban and is another highlight in this area (Full coverage of that below).
Accommodation. Most visitors will use Durban as a base in Kwazulu-Natal. A few recommended hotels: the ONOMO Hotel Durban (great location, clean, comfortable, good value), Blue Waters Hotel (large modern complex right on the beach, good value), Curiocity Backpackers Durban (budget option – very well located, besides dorms they also have private rooms).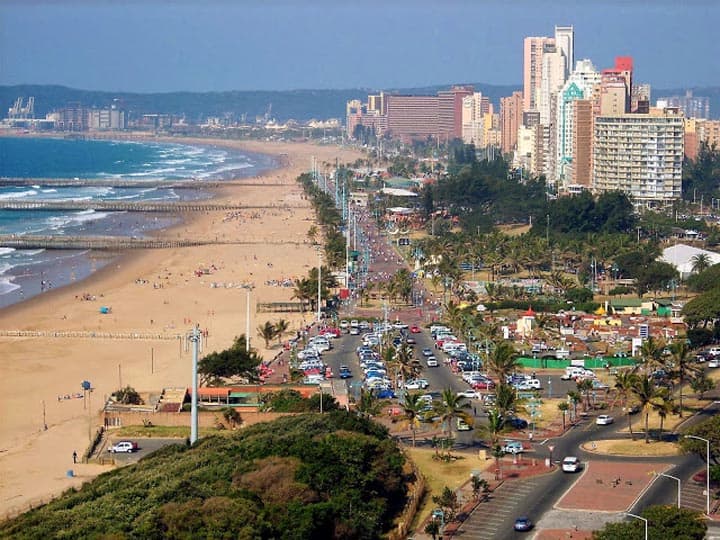 The North Coast

(The Dolphin Coast )
Starting at Umhlanga Rocks and stretching 80 kms north from Durban to the Tugela River Mouth, the north coast is known as the Dolphin Coast, due to frequent sightings of bottlenose dolphins who ride the waves of the Indian Ocean in large frolicking schools. A beautiful stretch of coastline, it is far less developed than the south coast. Inland are fields of sugarcane, interspersed by attractive coastal towns buried in tropical vegetation and flowers.
Umhlanga Rocks is a lovely and lively town with beach walkways, nature trails and tropical park-like surroundings, making it a great base from which to visit Durban. It is also the site of The KwaZulu-Natal Shark Board – Umhlanga Rocks. The KZN Sharks Board maintains shark protection at 38 localities (through the use of nets) and is the only institute of its kind in the world, offering safe bathing to tourists while also conducting research into shark life. A boat trip out to the nets is an experience you will not experience anywhere else in the world!
Some of the pretty towns along the coast are worth a visit if driving through this area; Ballito, Shakas' Rock, Salt Rock, Sheffield Beach. All are quiet, upscale, pretty towns with lovely beaches and a very laidback, relaxed lifestyle. A little further, Tugela Mouth marks the northern boundary of the North Coast – this spot has been the sight of many battles over the years and you'll see the ruins of Fort Pearson (dating back to the Anglo-Zulu War) on the south bank of the river.
Shakaland, a traditional Zulu village built for the historical film Shaka Zulu (itself a 'must-see' for anyone visiting South Africa) is run as a cultural centre/hotel and has unique accommodation and traditional meals. For those interested in cultural experiences, it is a great spot to learn more about the Zulu culture, traditions, medicines, tools and arms (assegaai, spears) making.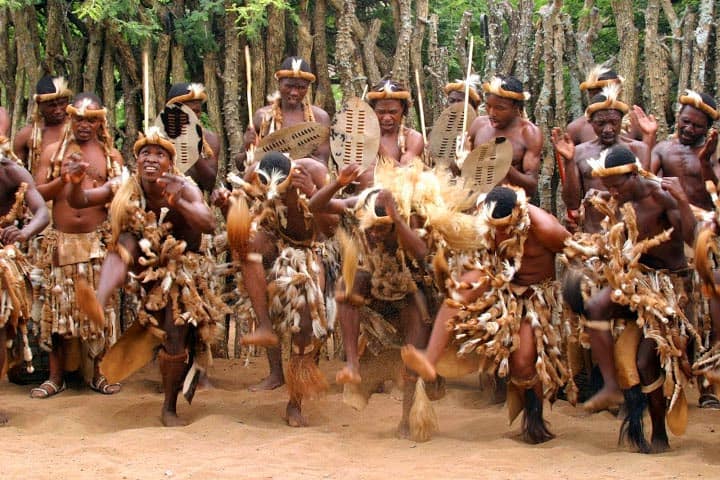 Far North of Kwazulu- Natal
North of the Tugela Mouth you are in historical traditional Zulu territory. Farming slowly changes from sugarcane to more pastoral (cattle) and maize growing. Zulu villages are generally spread widely over the countryside, being more a collection of various family compounds than villages as such – although many of the towns are of great historical significance to the Zulu nation they offer little to the average tourist. However, there are two "must-see" attractions are located in northern KZN, both very close to each other;
The Greater Lake St-Lucia Wetland Park– the largest natural freshwater lake, wetland area and marine park in the country is also a World Heritage Site. The village of St-Lucia is situated at the entrance to the National Park and has restaurants, hotels, and nightlife. But the environment is wild – It is common to see hippos wandering down the village streets at night, or to see them walking down the beach at the mouth of the lake after sunset. The lake itself, over 60 kms long, is the most densely inhabited locale for crocodile and hippos in the world. The entire area abounds with bird life – including the rare Fishing Eagle. This unique, wild natural attraction offers a wealth of 'natural' sports including horse riding along pristine white beaches and through the reserve.
The Hluhluwe-Umfolozi National Parks are renowned for their populations of Black and White Rhinos (both of which are rapidly disappearing worldwide). The parks have a huge variety of other wildlife including lions, leopards, elephant, and large herds of various antelope and buck. They lie in the middle of beautiful countryside, dominated by high rolling hills, low acacia forest and fever trees. As with all National Parks in South Africa, accommodations range from simple camp sites to chalets.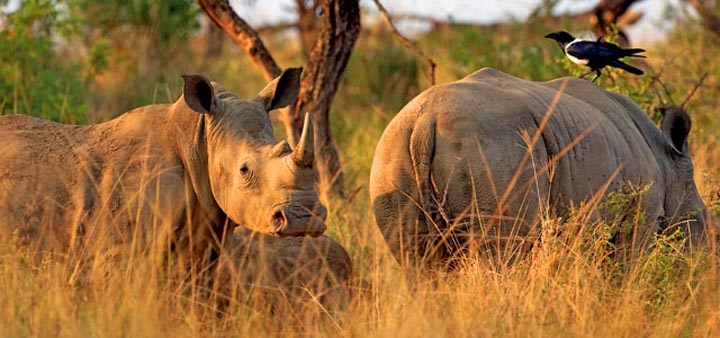 Drakensberg Mountains
These iconic mountains form the border of Kwazulu-Natal and Lesotho. The highest, most impressive and spectacular ramparts of the Drakensberg are to be found at the Amphitheatre, and Mont-aux-Sources in the KZN Royal National Park, at Cathedral Peak , Champagne Castle and Cathkin Peak, situated further south in the central reaches of the mountain range, and at Giants' Castle, in the KZN Drakensberg Park, in the southern section of the range. The highest peaks top the 3.400 meter level – the highest in Africa (with one exception – Kilamanjaro!). All the resorts, whether in the National Parks or otherwise, offer a full range of hiking, horseback riding, paragliding – even helicopter tours. Some of the most stunning, beautiful and intoxicating hikes, walks and climbs are here in the Drakensberg. Recommended: This Full Day tour from Durban.
If you have the time, before leaving the Zulu motherland, take a trip across the Valley of a Thousand Hills. It is an oddly unique landscape with deep ravines, thick forests, sugarcane fields and hundreds upon hundreds of Zulu villages and houses spread over the hillsides. The route from MooiRivier (on the Durban-Johannesburg motorway) through Greytown to Stanger cuts through the middle of the Thousand Hills and provides an excellent overview of the area.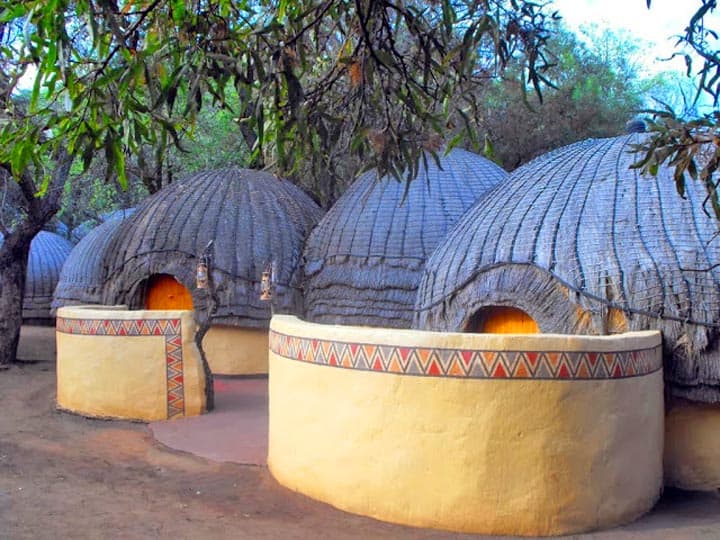 KwaZulu-Natal provides the visitor with just about everything they could ever wish for. This province is essential to any trip to South Africa.
5. Gauteng Province (including Johannesburg and Pretoria)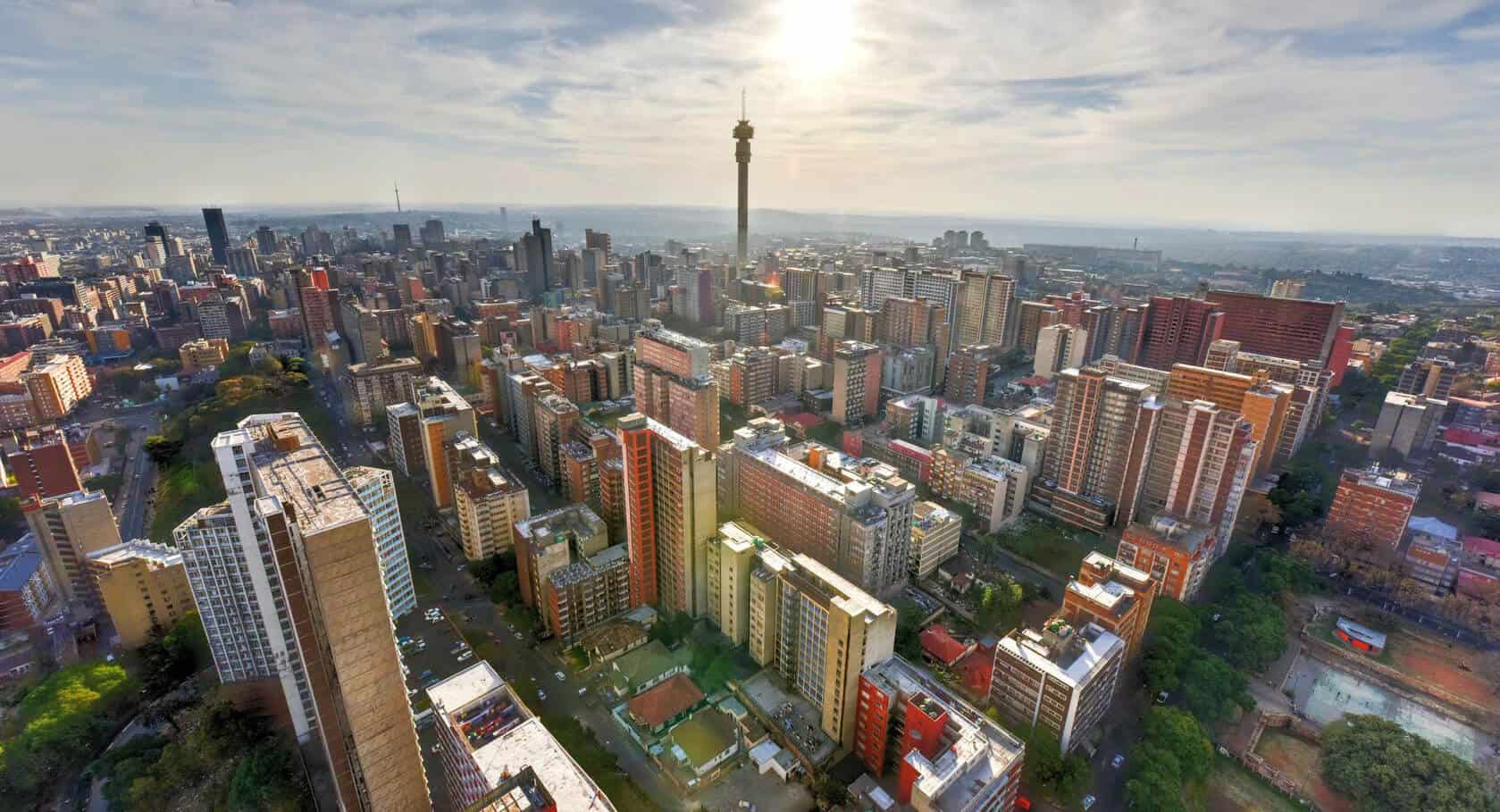 Ask most travellers and they'll tell you that they'd rather avoid Johannesburg if at all possible. Gauteng Province, in which both Johannesburg and Pretoria are located, is the smallest but most urban and populous province in South Africa. It is also the province that the average traveller will spent the least amount of time in. But ask anyone who's actually been there and taken the time to explore and they'll tell you that Joburg (which gets most of the bad rap) has some fascinating cultural and historical highlights that are essential to understanding South Africa's past and present. They'll also tell you that they actually had a surprisingly good time visiting both Johannesburg and Pretoria!

This post covers 'must see' highlights around Gauteng Province.
JOHANNESBURG

(also known as Joburg or Jozi)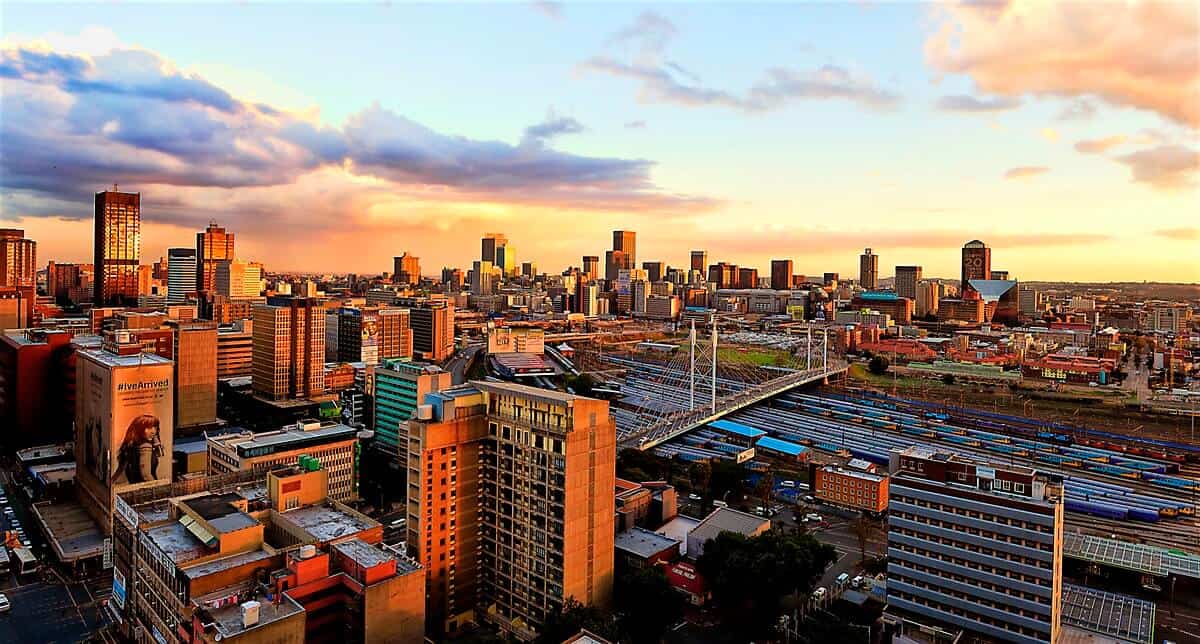 The capital of Gauteng province, it is the youngest (1886) and largest city in South Africa. Johannesburg is big, bold, brash and brazen. It is also in the midst of a huge revitalization as investments pour into the city center. You'll see a mix of architecture; gleaming skyscrapers contrasting with Indian bazaars and African traditional markets. There is an exciting blend of ethnic and cultural art and activities, all reflected in the markets, shops, bazaars, theatres and open-air arenas of the city. Johannesburg is 'the West' but it's also African to its core, a hybrid mix of everything that makes the country so unique. Many say Johannesburg is the only real South African city because it's the only city that has every tribal, ethnic, cultural and religious group of the country living there – that alone makes it a place worth seeing!
Must see/must do activities in and around Johannesburg;
01 |

Hop-On, Hop-Off Bus (Red Bus)
New to Joburg, the Red Bus is a "must-do" probably more so than in any other city. The expansive, vast areas and distances of Johannesburg often make it a bit difficult to get around and to see the sights. This bus makes it easy. It covers the entire downtown area, its art galleries, and museums. All the attractions below, unless stated otherwise, are stops along the bus route. If you're staying in the suburbs and coming into the city, the Red Bus terminus is at the Gautrain (high speed train) at Park Station – very convenient! You can book a 1 or 2 day J'burg Hop On Hop Off Bus Tour here.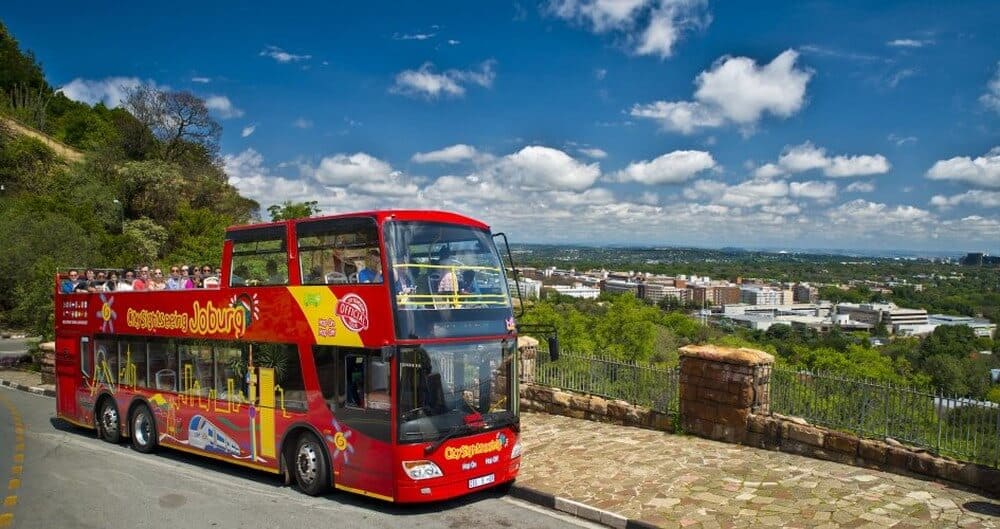 02 | Apartheid Museum

Powerful, evocative museum about apartheid and the movement that ended it all. The museum does this through 22 permanent exhibitions, presenting it in an unbiased, informative and enlightening manner – the most relevant museum in South Africa and the first place most tourists visit in Johannesburg. This 5 hr tour combines the Apartheid Museum with Soweto township.



03 | Gold Reef City

Gold Reef City (GRC) is built on the site of the old Crown Gold Mines – the richest gold mines ever discovered in the world – with authentic old mine buildings and houses, a theme park, and casino. But the highlight of a visit here is to go down into the goldmine. You can even see the gold being poured afterwards. Located right next to the Apartheid museum.



04 | Carlton Observation Deck
The Top of Africa observation deck on the 50th floor of the Carlton Centre skyscraper provides unbelievable views of Johannesburg, Pretoria and all of Gauteng. For years it was the dominant skyscraper of the southern hemisphere.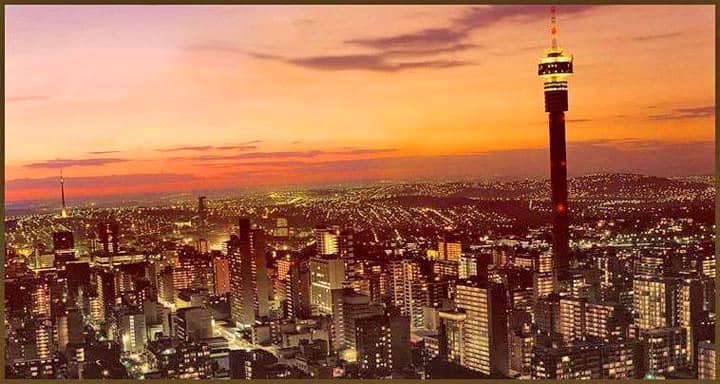 05 | Johannesburg Art Gallery (JAG)
The most important museum of fine art in Africa, it contains remarkable works by Picasso, Pissarro, Rodin and Degas (among others). It also contains the best of South African art.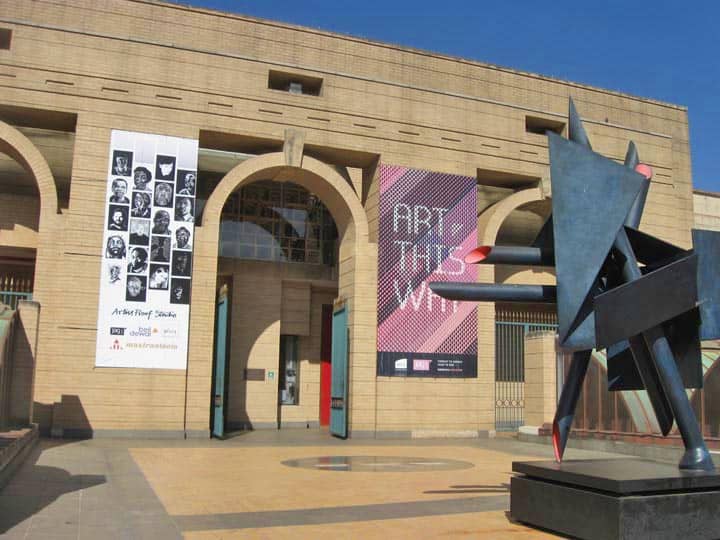 06 | Soweto
Soweto is a popular Gauteng destination, partly due to the high profile role it played in South Africa's freedom struggle, but also because of the unique cultural experiences it offers. Even "adventure tourism" has become a trademark here, with bungee jumping and "Soweto Swings" being practised at the famous Orlando Cooling Towers. Aside from 'must-do' township tours, visitors to Soweto can participate in other cultural experiences, like the Credo Mutwa Cultural Village. Soweto tours can be arranged from Gold Reef City (where the Red Bus stops) or as a separate tour – many are offered and you can ask to be picked up at your hotel. See here for the Hop On Hop off bus which includes a Soweto tour.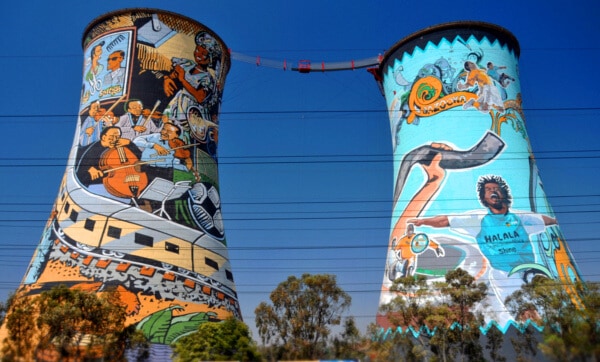 07 | The Cradle of Humankind

Make sure you don't miss this attraction. The 'complex', 50 kms northwest of Johannesburg, lies in a 47.000 hectare protected area and consists of 3 major sites (documented with state of the art interactive displays) of some of the most ancient habitats of Man; 1) The Sterkfontein Caves, a famous site where over 1000 hominid fossils have been unearthed. These caves are the oldest origin of humankind and are covered in an hour-long guided tour. 2) Maropeng A Afrika, an ultra-modern centre focuses on the evolution and development of our ancestors over the past few million years. There is an underground boat ride retracing the various stages of the creation of the earth. 3) The Wonder Caves, the 3rd largest cavern in South Africa is filled with stalactites and stalagmites.
The whole complex is Unesco World Heritage Site and is offered as a day tour with pickup from your hotel (it also includes the caves).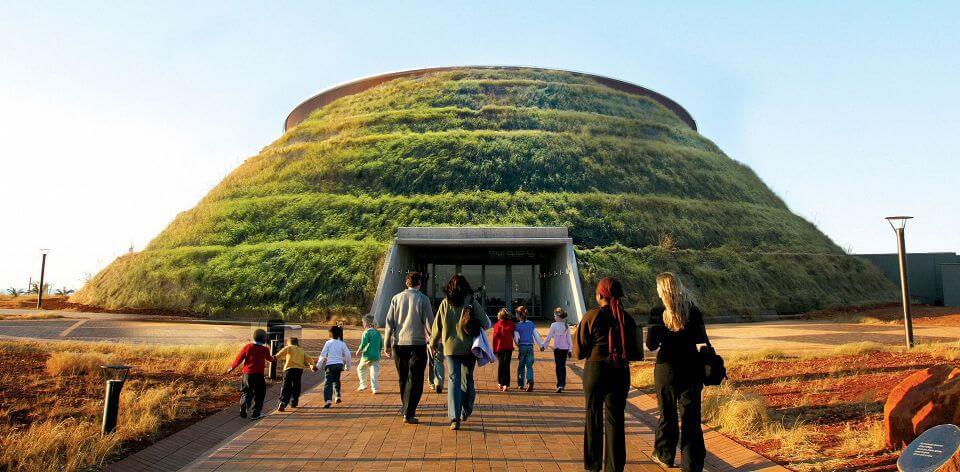 PRETORIA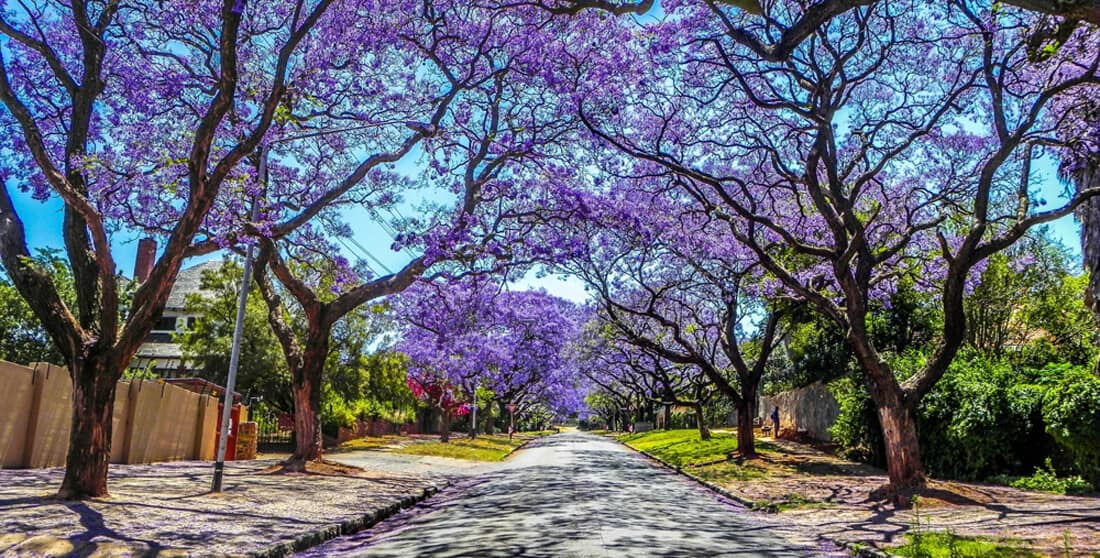 The capital of South Africa, it is a city dominated by government bodies, foreign diplomatic corps and increasingly hi-tech and other leading edge industries. Pretoria is as quiet and laidback as Johannesburg is not… it is famous for its colourful gardens and flower street trees – especially beautiful in spring (mid October being the best time) when 70.000 odd jacaranda trees bury its avenues in mauve. Despite it being next door to Joburg, it is totally and pleasantly different. Most sights, highlighting much of the country's history, are within easy walking distance each other (this half-day tour will take you to most of the sights listed below).
Must see/must do activities in and around Pretoria;
01 | Church Square

The historic center of town, with the imposing Justice and Reserve Bank buildings facing the iconic Paul Kruger statue.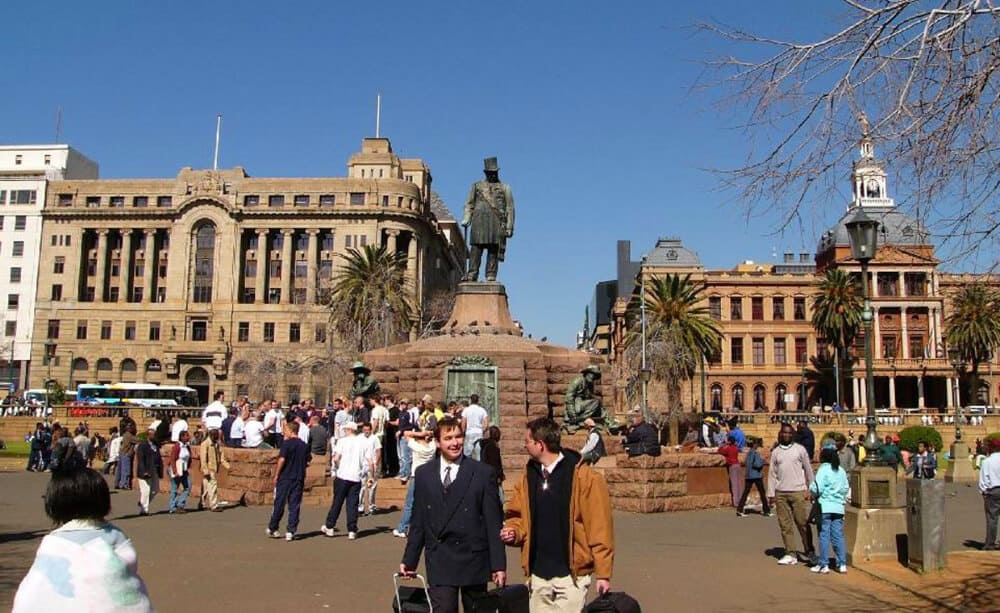 02 | Paul Kruger House
The last Transvaal Presidents' home, now a museum. A touching witness to the simplicity of his ways, life, his vision (the Kruger National Park amongst others) and his tragic life and death after the Boer War.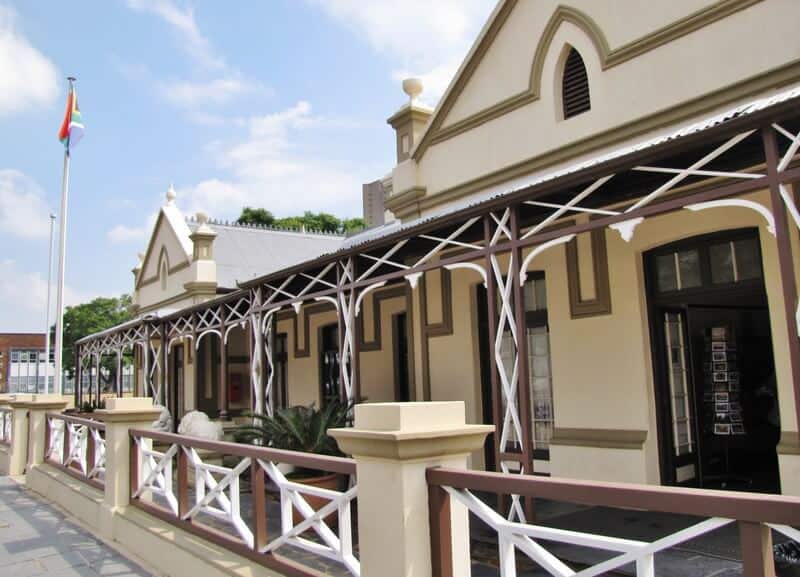 03 | Burgers Park

A lovely oasis in the city, facing Melrose House. It was in this Victorian mansion that the Vereeniging Peace treaty was signed in 1902, ending the war between Britain and the Boer Republics. After a visit, take a leisurely tea or lunch at the house or in Burgers Park.


04 | National Zoological Gardens

A few blocks north of Church Sq on the edge of downtown; one of the first of the 'new' zoos, with minimal cages, fences or bars. The river Apies runs through the middle of the 85 hectare facility, funicular, free-flight aviaries, wonderful African and Great Ape collection. Night camping for the kids, night tours for all.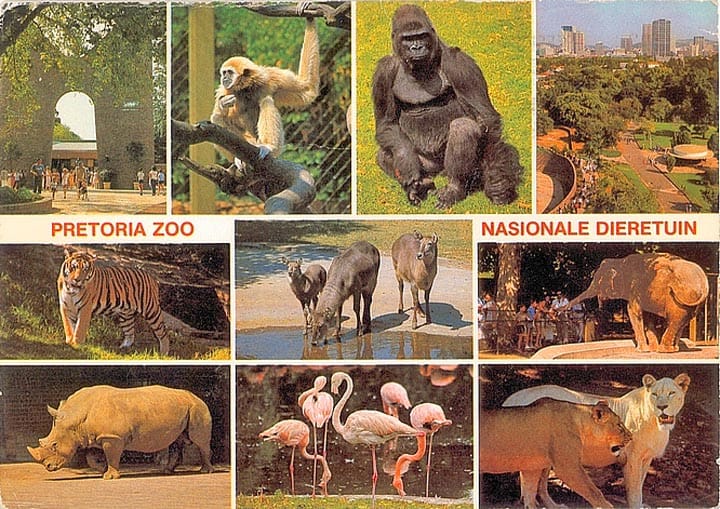 05 | Union Buildings
The iconic, beautiful, classic gem of Empire-era architect Sir Herbert Baker and the seat of South Africa's Government. Located at the highest point in the city on a beautifully landscaped, steep hill overlooking the centre. About 2 kms from Church Square.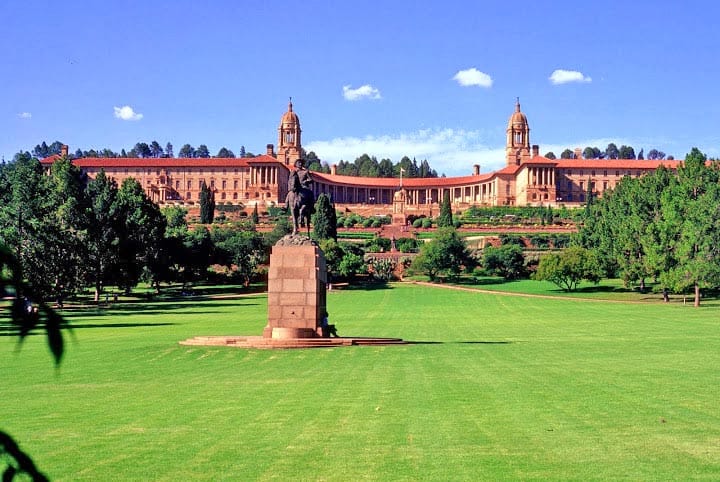 06 | Voortrekker Monument
One of the most massive monuments anywhere, erected in 1938 to celebrate the Great Trek when Afrikaners fled British persecution in the Cape to found their free and independent republics (the Orange Free State and the Transvaal) as well as their ultimate battle victory against the Zulus at Blood River in 1838. Everything about the monument is huge.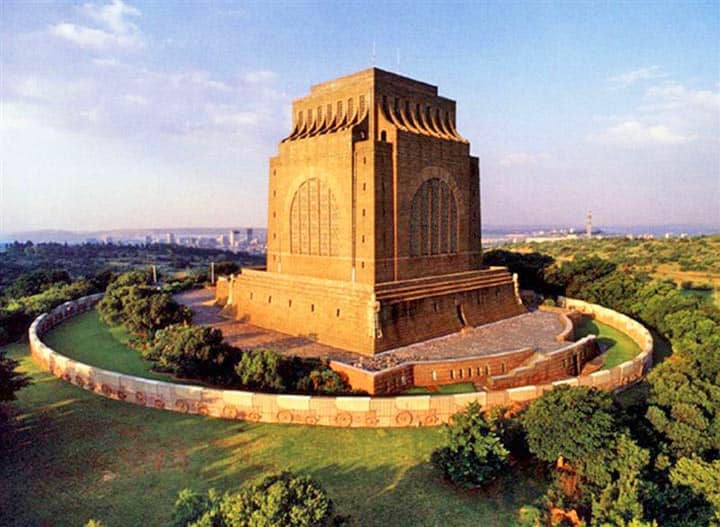 07 | Cullinan
Just 40 kms east of Pretoria, this pretty diamond-mining town shot to fame when the Cullinan Diamond (the largest stone ever discovered) was found in the early years of the 20th century. It is still being mined today. Tours of the town (and its miners houses, facilities etc), the mine itself, as well as the diamond museum make for a really interesting and different outing. This is a "Must-Do" for anyone who will not be visiting Kimberley. This Full-Day tour includes Cullinan as well as the highlights of Pretoria.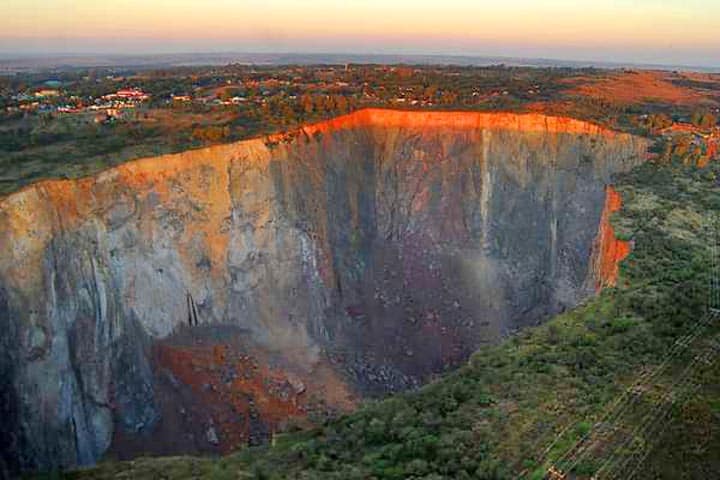 08 | Visit the Ndebele
The Ndebele, their painted houses, highly Colorful ornate costumes and unique culture, are world famous. Their bead work is simply out of this world. An important tribe, their 'homeland' lies north and west of Pretoria. A 'Must See', especially if you are not going to visit or get close to any other traditional (Zulu and Xhosa) tribal lands. Day trips – and longer – are easy to arrange from Pretoria.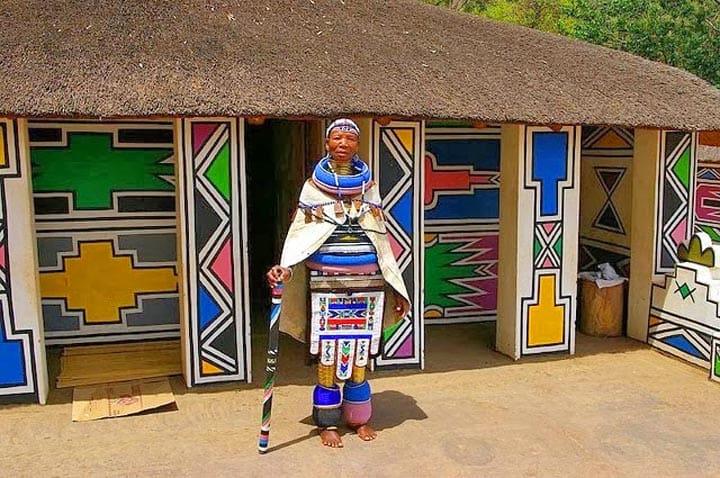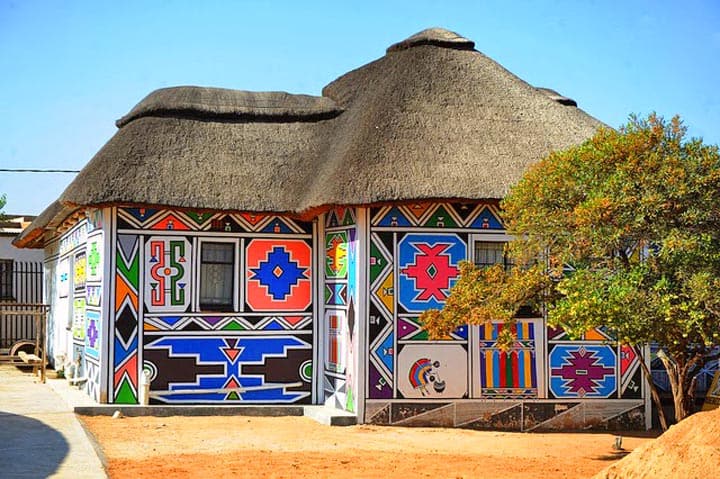 The above covers the major sights of interest to travellers visiting the Johannesburg/Pretoria area. Surprisingly, while mostly urban, Gauteng Province has a huge undeveloped area (Highveld) and there are a huge number of parks and nature reserves, like Emmarentia Dam or Walter Sisulu National Botanical Garden that are worth a visit given the time.
Practical Information – Gauteng Province

Accommodation. Many visitors like to stay in Sandton, an affluent Suburb of Johannesburg. It is the financial district of South Africa, has one of Africa's largest malls (Sandton City) and has many facilities that appeals to tourists. A few recommended hotels: Sandown Guest House, Faircity Quatermain Hotel. A Splurge is the Michelangelo Hotel, a good Budget hotel is the Marion Lodge.
Hop-On Hop-Off Bus from Cape Town to Johannesburg. If you don't want to drive. the famous Bazbus can get you anywhere in South Africa. This ticket is good for a year and lets you get on or off the bus anywhere between Cape Town and Johannesburg. There's a bus every day in each direction and the bus stops in over 40 cities and towns along the way. The best and cheapest no-worry way of discovering South Africa.
6. Mpumalanga Province (including the popular Kruger NP and Blyde River Canyon)
East of Gauteng lies Mpumalanga, 80.000 sq kms of well watered highveld, the dramatic Eastern Escarpment (Panorama Route), and the hot, dusty, flat Lowveld – largely occupied by the huge Kruger National Park. It is bounded on the north across the Oliphant's River by Limpopo province, on its east by Mozambique (which borders the Kruger National Park) & to the south by Kwa-Zulu Natal. It has become one of the country's main tourist destinations, easily accessible by road (it is strongly recommended to have or hire a car to visit the region). From Gauteng the 450 kms odd to the Kruger National Park (KNP) is an easy drive by motorway M-4 / N-4, giving plenty of time to arrive by mid-afternoon. The region is also well served by air – to Phalaborwa (for the northern section of the NP), Hoedspruit (central section) or Nelspruit (the provincial capital; south of the NP) Cars can be rent at all these airports. Many private game-reserves surrounding the KNP have their own landing strips for small chartered aircraft.
Driving east from Pretoria, the M-4 / N-4 , crosses the rich Highveld – a major maize and cash crops producing area. The region is also a large coal mining area and the landscape is dotted with huge thermal power-stations built right alongside the colleries.
— Witbank a major centre for coal mining and its export (via Richards Bay KZN) has developed into a large, bustling industrial and farming town. Winston Churchill hid in a colliery near Witbank during the Second Boer War after his escape from Pretoria….
— Middelburg is the modern agricultural & industrial centre for the surrounding western area of the province. It is known as the Stainless Steel Capital of Africa, being home to a large stainless steel plant (Columbus Stainless) It is also a major centre for the Ndebele people. If you have not visited any of the colourful Ndebele villages and their people in the Pretoria area, a stop here is well warranted – at the Botshabelo Historical Village and craft market, and Traditional Ndebele Village north of the town.

— For the most interesting route to the KNP, turn off the N-4 at Belfast, taking the R-540 through Dullstroom to Lydenburg , Ohrigstad and the R-36 down into the Lowveld. The drive between Belfast and Dullstroom at around 2.100 metres is the highest altitude Highveld in the country.
—Dullstroom – a pretty village, is South Africa's premier trout and fly-fishing centre, a perfect stop off point for a good trout lunch. The town has the highest railway station in South Africa at 2,077 m, as well as the highest point in the province at 2,332 m. Dullstroom in winter is one of the coldest towns in the country – and the only place where beech and elm trees grow in S. Africa !
Continue on the R-540 and then the R-36 road down to the Lowveld, through the Abel Erasmus Pass and tunnel, ignoring all the turnoffs and other distractions… Pilgrims Rest, Blyde River Canyon etc (you will visit them soon enough – but in the interim, the goal is the Lowveld and the Kruger National Park)… or the private game reserves around it. From Hoedspruit continue south along the R-40 to whichever KNP entry gate, or private reserve you have chosen . (see below)
The Kruger National Park is one of the largest game reserves in Africa – if not the world. It covers an area of 20.000 sq kms (larger than Gauteng – and 2/3rds the size of Belgium). About half the NP lies in the northern province of Limpopo, the southern half in Mpumalanga. It is 360 kms in length, 65 kilometres in width. The HQ are at its main centre and camp, Skukuza. The NP was first protected by the Boer Government in 1898, becoming South Africa's first NP in 1926. It's now part of the Great Limpopo Transfrontier Park that links Kruger National Park, the Gonarezhou National Park (Zimbabwe), and the Limpopo National Park in Mozambique. The park is part of the Kruger to Canyons Biosphere, designated by UNESCO as an International Man and Biosphere Reserve.
The entire park is located in the Lowveld – low altitude, flattish land characterized by sandy open bush and grassland as well as acacia, thorn trees, Mopani, sycamore fig and marula trees and other open and dense forest and bush. The southern area of the park, between the Oliphant's and Krokodil Rivers has the highest rainfall, which decreases moving north.
The climate is generally very humid and hot in summer – often in excess of 35 C, but it's milder during the dry winter period, when overnights frosts can occur, although the days are still warm, usually into the mid-20s … The dry winter (May – October) season is peak game spotting period, the bush being thinner and waterpoints less numerous and further apart (having said that though, a visit any time of year is usually more than well rewarded by the animal life you'll see!). The climate is almost the opposite to that of the Highveld, from which you would have just driven down – and which at over 1.000 metres above the Lowveld is easily seen from the NP.
NB: – Parts of the Lowveld, including the KNP are classed as a Malaria zone. But it is also an overwhelmingly dry area and NOT a mosquito-infested swamp and the malaria risk in the park is low. Personally I have never taken any anti-malaria drugs or treatments for/on my visits there. That has been entirely my decision. It is recommended that you follow your own doctors' & medical services advise as to what treatment and/or drug is applicable for the area. Most anti-malaria treatments have to be started before arriving in the Lowveld – or even the country!
The park has 9 main gates that allow entrance to different areas and camps in the park. See details of camps, their location, accommodations, facilities, tariffs etc here. The rest camps have a wide range of accommodations – camping to luxury lodge, bush camps, even overnight hides. Most camps have supply shops, restaurants and some petrol facilities; all are beautifully appointed and operated. The park can be visited alone by car, with guides, by bush walks and on 4×4 trails.
Reservations are essential, and its highly recommended to do research ahead of time as to the choice of area, camps, type of accommodation and locations you prefer. Maps, game sightings are provided by the camp each morning. You are totally free to explore and discover the network of roads, viewing platforms and 'vleis' or 'pans' (waterholes) at your leisure. There is far too much detail to go into here but invest a good bit of time and effort in discovering and familiarizing yourself with what the KNP and its region offers to suit your specific and preferred interests.
The KNP is bordered by literally dozens of private game reserves, many of which have opened their fences with the KNP, thus enlarging the NP and increasing the animals access to the area as well. These private reserves offer visitors an African experience without compare – in total luxury. They are ideally setup (scouts, inter-team information, animal locations etc) to see the maximum amount of game in the most limited period of time – something tourists who visit the KNP themselves will not necessarily have.
---
Kruger National Park is a great place to visit on a multi-day tour.
---
Whichever way you choose to visit and see the KNP, it is bound to be one of the highlights of your South African trip. It is one of the largest, wildest, untamed areas in the world, a place where raw nature governs the show, where Africa is at its prehistoric best – and where we can never be anything more than rather insignificant spectators to Nature's laws, wonder and glory. Enjoy!
** Private game reserves surround most of the National Game Parks, like Kruger, effectively extending the area of the National Park itself. All of them have a few to several lodges and are a perfect way to see the maximum amount and variety of game in a limited period of time as well as live the 'real' African bush life in total comfort and luxury. Accommodations are often in elevated safari tents with all modern conveniences, scattered around a central 'boma', bar and social area. A stay includes safaris, breakfast, sunset "sundowner" drinks and snacks at a waterhole and top-notch gourmet meals centered on South African cuisine and game dishes. But they're not cheap – generally in the region of about R 5.000 (approx $ 500) per person per day. Many private reserves also offer a selection of various 'fun' add-ons; dawn hot-balloon rides, bush treks by foot, on horse (and even on elephants!) Usually a stay of 2 full days will suffice for all but the most ardent wild game fans.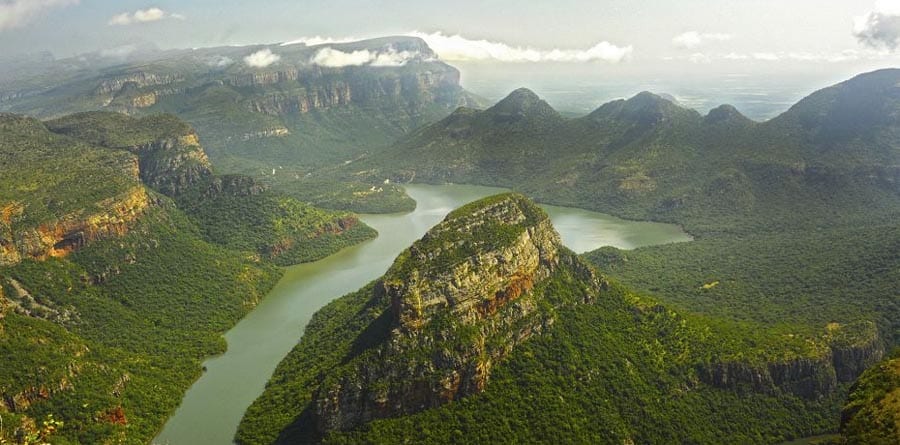 The PANORAMA ROUTE (Eastern Escarpment)
Upon leaving the KNP (or private reserve) take the same route back towards Hoedspruit (Hoo-d-spraytt) and back up the escarpment and Abel Erasmus Pass to the turnoff for Blyde River Canyon. Alternatively, if you have stayed further south in the KRP drive toward Hazyview on the R-40, and then up the escarpment to Graskop. From Graskop take the drive directly through to Blyde River Canyon. This trip, from the KNP, up, along and through the Panorama Route ends up in Pilgrims' Rest for the night, & can easily be done in 1 day. But its recommended to spend the first night at Blyde River Canyon, the next night in Pilgrims' Rest.
Blyde River Canyon is one of the 5 largest canyons – and the largest "green' canyon – in the world. It is 28 kms long, averages 800 metres deep and its greatest denivelation is over 1.300 metres. It is famous for the "Three Rondavels", huge rock outcrops that look like African huts. The canyon is in a 29.000 hectare nature reserve that offers wonderful panoramas and vistas over the canyon, the gorge and parts of the lowveld 1.000 metres below .
Recommended accommodation near the canyon: Thaba Tsweni Lodge & Safaris (right next to Berlin Falls. See below), Bambuu Lakeside Lodge (gorgeous, good price, between Blyde and Kruger NP)
On the R-532 back towards Graskop are Bourke's Potholes – a strange natural result of swirling water erosion and eddies at the confluence of the Treur and Blyde Rivers. The site is interspersed with waterfalls, rivers and rapids, connected by a series of metal bridges above them – and the 'potholes' Visitor interpretation centre. A great place to walk around or have a picnic.
Nearby, a few kms south, is a circular turnoff (R-534) to God's Window, right on the edge of the escarpment, with a fantastic view the 1,000 meters down over forested land onto the Lowveld ! This is the Eastern Escarpment, the southern end of the huge African Rift Valley that stretches north through East Africa to Somalia, the Red Sea and the Dead Sea. A little further along the same road is The Pinnacle (God's Finger) a huge rock outcrop overlooking the Lowveld too. To the right and below the viewing area you can see the topmost of eight waterfalls that drop more than 450m into the valley belo .
The entire area is 'Waterfall Territory". Just across the road from God's Window and the Pinnacle, off the R-532, are the 92 metre Lisbon Falls and 45 metre Berlin Falls while just south of Graskop on the Sabie road (still the R-532) are Marie Shires Falls, the Forest Falls and the Mac-Mac Falls & Pools. At Sabie, are the Sabie Falls and off the main route, Bridal Veil Falls, Horse-shoe Falls and Lone Creek Falls.
From the town of Sabie continue on the R-37 up the Long Tom Pass to Lyndenburg. From Lyndenburg follow the R-36 north, turning off to the right on the R-533 to Pilgrims' Rest – (suggested overnight stop). Pilgrims Rest, an old alluvial and gold mining village dating back to the late 19th Century is a national monument, totally preserved with its original "wood and iron" houses, bars, hotels etc . It makes a wonderful and fascinating historic base from which to explore and discover the entire Panorama Route. Visits of the old mining facilities as well as gold panning are amongst the rather unique attractions of the town.
From Pilgrims' Rest, drive to Graskop and then to Sabie from where you follow the R-537 to White River and onto Nelspruit – whether you are returning to Gauteng or continuing down to KZN directly, or through Swaziland.
Nelspruit (Nel-spraytt) is the capital city of Mpumalanga and considered to be South Africa's largest "Tropical City". It's a very attractive, dynamic centre with flamboyants, flame and other flowering trees lining its streets. Set amongst lush forest covered hills, it is a major centre for citrus and tropical fruits (mangos, bananas, avocados, guava, macadamia nuts). Visit the huge Halls fruit farm just outside town. Only 330 kms from Johannesburg it is on the main road (N-4) and rail line between Gauteng and Maputo (Mozambique) and a major export point.
It has the world-class Lowveld National Botanical Gardens, specialized in Lowveld tropical and sub-tropical plants and trees, and is the site of the world's first 'man-made' rain forest – a simulated, tropical African rainforest, representing the rapidly disappearing tropical rain forests of Central and West Africa. The Gardens are crossed by 2 rivers and have the largest waterfalls in the region.
35 kms from town just off the N-4 road to Johannesburg are the famous Sudwala Caves and Dinosaur Park.
SOUTH AFRICA TRAVEL INFORMATION (from A – Z)
1) General Information
2) Accommodation
3) Transportation
4) Cuisine
5) Security and Safety
6) Historical Tidbits, Trivia, and Tips
7) Places to see

1. General Information
This fascinating and fantastic country has a tourist promotion slogan calling upon the visitor to "See South Africa – See the Whole World in One Country". Surprisingly, the claim comes pretty close to reality! The population of 50 million plus consists of 11 major black tribes (the Zulu and Xhosa being the largest, accounting for over half of the black population), 2 white African 'tribes' (Afrikaans and English), a large Indian contingent (split pretty equally between Hindu and Muslim groups) and over 6 million 'coloured' (mulattos) originating from the mixing of the original Dutch settlers, their Malay (Indonesian) slaves brought to the Cape, and the indigenous Hottentots.
Its a miracle that not only does the country somehow hang together, but also seems to have its act together too, thriving pretty well in its new, assumed status as the "Rainbow Nation" – and this despite the fact that, given the nation's history, racial, ethnic and religious makeup, it could be an almost perfect recipe for a Bosnian, Middle-east or other such similar national 'meltdown'. Instead it has managed to 'reconcile' its tragic past away and now leads the continent – and much of the world – with an enlightened constitution, laws and legal guarantees and a very open and 'liberal' approach to human rights.
In South Africa, as in so many similar "emerging" countries (Brasil, Argentina etc) 'first-world' comforts, infrastructure and facilties cohabit to varying degrees of discomfort with 'third-world' problems and inegalities. The past weighs less and less on modern generations, while many of the problems that continue to dominate the country are common to the developing world in general. A big difference is the people's pride and spirit of hope that pervades the country. The inherent upbeat nature, warmth, friendliness and happy approach of the inhabitants makes any visitor fell quickly at ease and at home.
Their nation is one of the most beautiful, diverse and captivating anywhere, the wonderful rich cultural base enhanced by the wide range of climates, spectacular scenery and stunning physical landscapes – mountains, plains, forests, deserts with undoubtedly amongst the most beautiful and emptiest beaches in the world. To top it all, the country has vast resources of just about every mineral known and the richest, most varied botanical and floral kingdoms on earth, all alongside an incredible diversity of animal and bird life, amongst the richest, best-protected and managed wildlife on the continent, if not the world.
South Africa offers the visitor pretty much anything and everything he could possible wish to see and experience. Indeed, it's the whole world in one country – or about the closest to it!
2. Accommodation
Prices below are indicated in South African Rand.
As can be expected, accommodations in South Africa cater to all budgets and tastes, from international 5-star luxury hotels, and game lodges (see below **) to boutique hotels, classy – and more simple – B & Bs, self-catering apartments and farm 'stays' in rural areas. Most can be reserved on the internet. Among local chains in the middle budget range (R750- R900 per night) are Protea Hotels and the Town Lodge and City Lodge group. Often, in off-season the same R900 room can be had for as little as R350 or so. In resort and holiday areas, tariffs can change drastically overnight too; a school holiday week can more than double rates (which then drop as rapidly once the families leave).
Warning: In South Africa (no-one knows why…) hotel tariffs are often quoted on a 'per person' basis rather than on a 'per room' basis. An easy oversight can double your costs. However, increasingly hotels are changing to quoting tariffs on a 'per room' basis – just be sure to check before booking! Booking.com is the go to hotel bookings website.
South African backpacker hostels are numerous, inexpensive, and of a high standard. Many are also in unique and special locations (like this one at Victoria Bay, near George) Most offer a range of accommodation options from dormitory style digs to private rooms and showers. Expect to pay around R150 – R200 for basic facilities, about R400 – R500 for a room.
A very different and rather unique experience for interested parties is to stay in a 'township guesthouse'. They offer a wide range of accommodation options, as well as providing a far more intimate and up-front opportunity to get to know the locals better. The guest house should be 'star' graded by the TGCSA (Tourism Grading Council of South Africa). Many are really top-notch, even luxurious, and generally moderately priced. A great many are individually listed on the web, but with a little work (and TripAdvisor help) its not that hard to find the real gems.
Township accommodations in Cape Town
Township accommodations in Johannesburg/Soweto area

Hotel tariffs invariably include breakfast, a great deal which will keep you going all day! South African breakfasts kill most breakfasts dead; a full range of fruits, fruit juices, porridge, any type of egg dishes made to order, accompanied by traditional South African fare like boerewors sausages, bredie, and lamb. South African breakfasts won't leave you hungry.
ALL the national Parks and wild animal reserves have accommodations, ranging to 1-bedroom to multiple-bedroom bungalows. They are simple but spotless, have all modcons – usually huge verandahs on which to take sundowners, and a braai which is cleaned and resupplied with wood every day. For something more unique: National Parks have 'rondhavels' (literally 'round hovels' – which are like the African huts, for 2 or more people, with bathroom etc). They are often the cheapest accommodation in the National Parks, cheaper than bungalows or chalets.
Some of the camps are a lot better located (views, waterholes etc) than others so you have to check around before booking. Advance bookings are pretty much always a must.
The National Parks always have a restaurant (often surprisingly very good) as well as a shop, bookstore etc for sun screens, hats, aspirins etc as well as all the basic supplies – milk, bread etc .
Accommodation in Kruger National Park
Accommodation in Tsitsikamma National Park
** Private game reserves surround most of the National Game Parks, like Kruger, effectively extending the area of the National Park itself. All of them have a few to several lodges and are a perfect way to see the maximum amount and variety of game in a limited period of time as well as live the 'real' African bush life in total comfort and luxury. Accommodations are often in elevated safari tents with all modern conveniences, scattered around a central 'boma', bar and social area. A stay includes safaris, breakfast, sunset "sundowner" drinks and snacks at a waterhole and top-notch gourmet meals centred on South African cuisine and game dishes. But they're not cheap – generally in the region of about R 5.000 (approx $ 500) per person per day. Many private reserves also offer a selection of various 'fun' add-ons; dawn hot-balloon rides, bush treks by foot, on horse (and even on elephants!) Usually a stay of 2 full days will suffice for all but the most ardent wildgame fans.
3. TRANSPORTATION – Getting Around
South Africa has an excellent infrastructure network – road, rail and air – offering a full range of travel alternatives.
Air
One of the best ways to cover the vast distances of the country, especially if time is limited. For example: many people, after visiting the Johannesburg/Pretoria area, take a flight the 1,300 kms to George to visit the Garden Route. Fares from Johannesburg to George can be had for around $120 or so, one way (but shop around). Options: South African Airlines, South African Express, Airlink, British Airlines (Comair).
Great low-cost alternatives are Mango or one of the best, and definitely the 'coolest' airline in the world; Kulula.
Below: We use CheapOair to find the cheapest and most flexible flights


Car rental
With its excellent, fast and easy road network, renting a car in South Africa is a great way to get off the beaten path. Cars can be rented (and then dropped off) literally anywhere. All major international agencies are represented here as well as several reliable local franchises. Costs are comparable to N.American/European rates. We use RentalCars.com to search for the best rates.
Bus
Several companies run national services between all major centres. Many lines offer double-decker luxury service. Translux and Intercape have wide coverage and also offer routes into neighbouring countries as well. Also: Citiliner, and Greyhound.
*** A unique, very flexible, convenient and fun is Baz Bus – a hop-on, hop-off service that is perfect for backpackers. Their 20 seater, semi-luxury mini-buses pick you up and drop you off at hostels around the country (no lugging bags around at midnight in a strange town…). Simply buy a ticket to your final destination and you can stop off anywhere along the way for as long as you want (ie. no time limit). A great way to meet locals and other travellers. This ticket is good for a year and lets you get on or off the bus anywhere between Cape Town and Johannesburg. There's a bus every day in each direction and the bus stops in over 40 cities and towns along the way. The best and cheapest no-worry way of getting around.
Rail
South Africa has one of the few viable passenger rail services left in the southern Hemisphere. Shosholoza Meyl long-distance passenger trains covers routes to most major cities. Its not luxurious or fast, but it's comfortable, clean, safe, and cheap, offering a relaxed and unique way to the country. There is an upmarket service that runs between Johannesburg and Cape Town and Durban every week called Premier Classe. Trains are air-conditioned, offer single-berth coupés, two-berth coupés and family compartments. Fares include bedding and meals.

Commuter rail services: In Johannesburg there is the high-speed Gautrain linking Johannesburg City Centre, Sandton and Pretoria to the airport. It's fast, efficient and safe, a perfect way to travel between Joburg and the airport in less than 15 minutes. In Cape Town, use the excellent suburban service to get out to the winelands in Stellenbosch and Paarl, or take the beautiful trip down to Simonstown where the train runs along the rocky seafront from Muizenberg on. Similarly, Durban has a good network of local trains linking the city centre with outlying suburbs and towns as far out as Kelso (80 kms) or Stanger (75 kms).
Tuk-Tuks
Tuk-Tuks: Within the city, the easiest and best alternative transport is offered by "tuk-tuks" South African style; more comfort, less polluting, noisy etc … great for short trips, but for anything over 1 kilometre they cost pretty much the same as taxis. But they are a lot more fun !
4. CUISINE
South African cuisine is locally focused but also really international. Menus often consist of the usual and familiar items; steaks, pizza, pasta, hamburgers etc, but look for game dishes (always ostrich, often warthog, kudu or springbok filets or medallions), and of course traditional Cape Malay cuisine (usually a spicy mix of Indian, Indonesian and Dutch cuisine with unique ingredients like Waterblommetjies…) South African Indian cuisine is a direct reflection of India with the hottest curries and spices. Traditional tribal or bantu cuisine is ever more popular and available, and a 'must taste' on everyone's dining list. Fresh fish is good, plentiful and popular especially in the coastal cities. And don't forget the local wines and good, varied local beers as the perfect accompaniment to any dish. The country has a wealth of its own home-grown, often unique (as well as the usual international) fast food chains; try Nando's for its peri-peri chicken, King Pie (and others) for a variety of meatpies, or the myriad of cafés, like Dulce, Brazil or News Café for great coffees, eats and pastries. Reasonably priced, local chains cover the country – steakhouses include the Spur chain; fish and seafood, the Ocean Basket or Cape Town Fish Market franchises . "Real" restaurants include the spectrum of Italian, French, German, Greek and Latino cuisine through to Turkish, Syrian and Thai. You can find almost everything. South Africans are amongst the most ardent BBQ (known as 'braaivleis' or simply as a 'braai') addicts in the world as many a waistline bears witness to. Be sure to taste a 'braai' – it's very different to the 'usual BBQ' , including ingredients like boerewors, bredie, and potjieskos and often game meat. All to be discovered with a great deal of pleasure (and probable indigestion!).
5. SECURITY & SAFETY
The one subject that always but always come up about South Africa is the Security and Safety issue in the country. South Africa has had an extremely bad press – often well warranted – but at times also overly negative, overblown and downright misleading. Locals often don't help the situation; one seldom stops hearing about "friends of friends" who have been mugged, robbed or assaulted – but seldom do you meet anyone personally who has. But irrespective of heresay, the fact remains; South Africa has a serious crime problem – and a poor reputation – that is of great concern to a great many visitors.
The good news is that In recent years murder rates, car-jackings and other violent and armed crimes have declined considerably. The murder rate has declined from 67 per 100,000 people in 1994–95 to 34 in 2008–09, a reduction of 50%. The annual crime statistics released in 2011 show a continuing downward trend in all serious crimes except rape, which went up by 2.1%. We can all argue about the 'official statistics' but South Africans generally concede that things are a lot better – or not as bad – as they were. That alone is progress.
As an interesting point of comparison, and to put things into perspective, Acapulco has a murder rate of 128 per 100.000 (4 times the South African average), New Orleans 58 (almost double the SA level); Detroit 48,5; Baltimore 31,4. Johannesburg has a murder rate below these cities and is 50th on the world's murder list at 30,5 per 100,000. The notorious Colombian cities that have reportedly seen a big drop in their crime and murder stats are still way higher that their South African counterparts… Cali 77,9 ; Medellin 70,3 ; or Central America's Guatemala City at 74,5! List of cities by murder rate.
Statistics are one thing – real crimes another. Visitors to South Africa are often surprised, even 'shocked' to see the level of security measures used in the country. Most buildings, homes and properties – in areas rich and poor, black and white, are ensconced in security walls, barbed wire and electric fencing (often submerged in creepers and vegetation to soften the effect). Many new – and older – residential developments are in gated communities with security guards, and almost every home will have its own system of security alarms as well. But in reality the situation is little different to the gated-communities that now dominate the USA and elsewhere.
South Africa's crime problems are a result of the country's huge income inequalities, high unemployment, under-education and poor social conditions. Recently it was reported that South Africa had overtaken Brazil as the country with the widest income inequalities in the world – hardly a title anyone would want to keep! As in Argentina or Brazil – probably the closest comparative cases – the first-world attributes of so much of South Africa are badly tarnished by the country's 3rd world side.
Rape is a serious problem too, involving a highly disproportionate number of adolescents and children. This is often blamed on a widely and commonly held belief by many that the cure for Aids (and prevention of) lies with having sex with a virgin. Lenient prison sentences, which are only now being stiffened, usually resulted in a mere 2 year average sentence for rape and have done little to improve the situation or the outrage of this most serious of the nation's crimes.
Car-Jackings, while having declined considerably in recent years as well, invariably involve very expensive cars, primarily in very expensive, high-priced residential areas.
Visitors should note that a huge percentage of all crime – as in the US, Europe or elsewhere – is concentrated in the low-income and poor areas of any city. It is here that murder, robberies and most of all rapes are the worst .
Without being paranoid, visitors to South Africa should basically practice exactly the same caution and wariness that they would do anywhere, with some local tips for good order. Firstly, statistically, they are a lot less likely than locals to be the victims of a crime. They are basically as unlikely – or as likely – to experience a crime as they are back home. And if they unfortunately are a victim, its generally a case of pickpocket, camera or purse theft rather than anything more serious. So keep everything battened down as you would do visiting anywhere.
As in the US and Europe, it's often easy to know and 'feel' when an area is not comfortable or safe. Go with your feelings and intuitions. The tips listed below are all common-sense for everyone, they apply especially to woman travelling alone so here goes :
— Don't go it alone if you can avoid it – especially where there are few or no other people – like a quiet, dark street at night. If you have to walk back to your place at night get someone to accompany or escort you back or order a taxi – which are highly reliable and safe.
— Don't drive in quiet, unknown, dingy or dark parts of the city especially at night. Instead, take taxis. Most nightlife areas in the major cities are well known, defined and safe (Waterfront in Cape Town, Melrose or Sandton in Johannesburg). Stay in those areas.
— Stay at secure places, as almost all places are. Most hotels, accommodations – even hostels – will have good security, often with doormen, key card entry, walls, gates, and/or fences. Check things out when you arrive – if you are not satisfied, or the area isn't to your taste, don't stay there. Try and always get a room or reception safe in which to leave your valuables.
— Learn about the local area and potential dangers, if any, at the place you are visiting. Take a little time to find out from your hotel, guesthouse or hostel staff about what actions to take , places to avoid or not, where you can walk to – and where you cannot. They'll know well the situation in the local area.
— If you visit a township (and you must !) go with a guide, preferably privately or on an organised tour. Townships are generally pretty safe, lively, throbbing with African life and spirit. But certain sections can also be dangerous. Your guide will know the scene – and you will be greeted with open arms by the locals.
— It is perfectly safe to drive anywhere in the country. I would not dream of driving in Peru, Bolivia or even northern Mexico let alone Brazil, but driving in South Africa is a pleasure and the finest way to see the country. The road system is extensive, excellent and safe. In fact it's a lot more fun than driving 'back home' . Signposts are good, and on major roads services and petrol stops efficient, clean (and safe) with full toilet and restaurant facilities. On the road practice the same caution you would back home – avoid picking up hitch-hikers, no matter what. Keep the doors locked and windows up especially in 'questionable' areas. Avoid seedy, rundown areas when you come into a city, especially at night – and hide your valuables and lock the car at any stops.
— When parking, use secure paid parking, or alternatively street or public parking manned by identified 'parking attendants' who will help find you a place, and look after the car while you are away, in exchange for a few Rand when you get back.
— Panhandlers can at times be persistent, rarely aggressive . But often it's easier to help them out than not, just to be hassle-free… So keep a few Rand separately and easily accessible for such situations. After all they have so little and we have so much ..no matter how you look at it. Do NOT haul out a bulging wallet or purse and start fiddling through it for a few coins.
— Public transport , particularly in the Cape Town area is generally very safe during rush and daylight hours. If you have to use trains or buses after the evening rush-hour do so with a couple of others, not alone – or take a mini-bus, rikksi or taxi. As everywhere, keep your guard up for pickpockets, bag snatchers etc at all times on public transport or in public and crowded places. Most of the other large cities (Johannesburg, Durban etc) are so extensive and spread-out, distances so vast, that public transport is of little value. In these cities stick to the mini-buses (if you can understand the routes..) or to the rikksis and taxis .
— If you go on safari, listen to your guide! Many safari 'bakkies' are totally open and safe – but that means taking and listening to a few important rules. Don't ever get out of the vehicle unless you have explicit permission to do so. Don't stand up, either no matter what you want to see or photograph – a very important fact as many predatory animals have poor eyesight but know and are comfortable with the 'silhouette'. Break the silhouette and the animal often takes fright – or attacks.
— If you do your own drives through the numerous National Parks, never get out or leave the car except at designated spots (game viewing platforms etc) And do NOT feed the baboons – at Cape Point or anywhere else in the country. Besides that feeding them is 'bad' for the animals, baboons are dangerous, incredibly powerful and strong, temperamental and can be extremely viscous. Keep as far away from them as you can – very difficult at times – and don't encourage or entice them. Believe it or not – the bush can be and often is, a lot more dangerous than the cities!
— Above all, don't let safety concerns keep you away from South Africa. That would be a real Crime !!!
6. Historical Tidbits, Trivia, and Tips
A visit to South Africa is magic, familiar, enlightening, uplifting, stimulating, adventurous, and awesome. At times it can also be banal, unfamiliar, heart-wrenching and even disconcerting or disappointing. But it is always and continually a terrific emotional experience, a crazy mixed up bag of everything that makes up life on the 'edge'. The place is a bazaar of fabulous sights, authentic experiences, cultural treasures, extreme adventures, urban vibe, a wild and natural paradise – and, not least – of fascinating history crammed with little known sagas and events second to none anywhere. So many of the developments and tragedies of this country, despite their importance, won't be found in our "western' history books. Things you may not know about South Africa:
– the Zulu nation fought and held off the British Empire and its power for close to 40 years in the mid-1800s. A rather humbling experience for the Brits, who could never recognize the "worlds' mightiest fighting machine" for what it was. Even after being finally beaten, the Zulu refused to serve as labour in the sugar plantations, forcing the British to import 'indentured' labour from India – thus initiating the large Indian community in KwaZulu-Natal.
– towards the end of the 19th Century, the British invaded the Boer Transvaal republic in an attempted takeover of its vast, newly discovered gold reserves, leading to the Boer War. Once again the entire British Empire and 250.000 British and Colonial troops were kept on the run for 4 years by 60.000 Boers on horseback… another very humiliating experience. The Brits won after initiating their own version of, yes, concentration camps! Interned Boer women, children and their servants, under terrible conditions, were left to suffer the very efficient ravages of malnutrition, cholera and typhus. The Boer War was Britain's own 'Vietnam' and is often cited as the 'beginning of the end' of the British Empire. At the time, it marked the psyche of Britain like no other war before. Almost every British, Canadian, Australian and NZ town and city has a prominent memorial to the Boer War.
Postscript: Just 8 years after Peace was made, Britain handed South Africa – and Boers – their Independence.
– the largest man-made 'hole' in the world – dug entirely by hand – is the "Big Hole" in Kimberley. Mined between 1860 and 1914. It produced 2.622 kilograms (14,6 million carats) of diamonds. The hole has a surface area of 17 hectares, a 1,6 kilometer perimeter, and is 240 meters in depth (with over 50 meters of accumulated water at the bottom.) Kimberley is also reputed to be the first city in the world illuminated by electric streetlights.
– Johannesburg, with over 6 million trees, has the largest "urban forest" in the world.
– Afrikaans, derived from old Dutch (with healthy inputs from other Bantu languages) is the only European language "born and bred" on the African Continent. Today, despite the political turmoil once surrounding its use, it is one of the most widely spoken languages in the country, being the mother-tongue of the 6 million 'coloureds' (mulattos) as well as approximately 70% of the 5 million whites.
– Everywhere one will hear languages other than English (which is only the 5th most widely spoken language in the country – after Zulu, Xhosa, Afrikaans and Sotho). But English is used as the lingua franca throughout the country and all signs, publicity etc are usually in English – often alongside another of the languages. Most South Africans are multilingual, often in several languages. Most speak Afrikaans and English and increasingly the white and coloureds are learning Xhosa, Zulu or another bantu language depending upon where they live in the country.
– In addition to the broad accent in which it is spoken, South African English has been heavily influenced by Afrikaans, as well as the Bantu languages. Some common words and expressions – "Ja" (Yes), "Bakkie" (pickup truck); "Koppie" (hill, usually rocky); "lekker' (nice, sweet); "Oke" (a guy, type); "robot" (traffic-light); "Takkies" (running, tennis shoes); "Tsotsi" (delinquant); "Mealies" (maize, sweetcorn); "Howzit" (greeting used for all occasions) "Izit" (for sure, true, of course); "'Braavleis" or "braai" (BBQ).
– South African service (petrol) stations still have attendants (Hooray!), several of whom will usually greet you, fill the tank, check the oil, water and tires, clean the windows – and expect a small tip on top of the bill. Usually a few rand is more than enough and well appreciated.
– In smaller towns, resort centers and many cities there are also parking attendants, usually well identified, who will help find a place and then look after the car while you are away. Payments are not fixed but should roughly reflect the time used. Usually 3 to 5 Rand is greeted with profuse gratitude!

This guide was done with the collaboration of Tony Plowman; my ex-boss, good friend, and a proud South African. Tony has contributed an extraordinary wealth of information on his country.
Ps. If you find our blog helpful, please consider using our links to book your flights, hotels, tours, and car rentals. Have a look at our Travel Resources page.