Travel Guide to Gauteng Province (including Johannesburg and Pretoria)
Gauteng Province
Gauteng is the smallest (16.500 sq kms) but most populous of South Africa's provinces, with 24% of the country's population (13 Million). It is the economic powerhouse of the country with close to 40 % of the national economic output (and an amazing 15% of the entire African continents' GDP). Gauteng, in Sesotho means the "place of gold", on which the province's wealth was founded – and where it is still mined at the deepest underground mines in the world (almost 4.000 metres).
The province has the highest per-capita income in the country, the most important educational and health centres, the largest residential university (the University of Pretoria), and the largest correspondence university in the world (University of South Africa (Unisa)). Most of South Africa's R&D takes place here, and its home to most of the nation's biotechnology companies. Leading research institutions – the CSIR (Council for Scientific and Industrial Research), ARC (Agricultural Research Council and Onderstepoort Veterinary Institute are based here .
Although the province is highly urbanised and industrialised, it contains large areas of wild Highveld grassland and wetlands of international importance, such as Blesbokspruit near Springs. It's home to the Cradle of Humankind, one of South Africa's 8 Unesco World Heritage sites. The region of Sterkfontein, Kromdraai and environs has one of the world's richest concentrations of hominid fossils, evidence of human evolution over the past 3,5-million years. (See further below for lot more info & details) http://www.maropeng.co.za/content/page/about http://www.gauteng.net/cradleofhumankind
---
---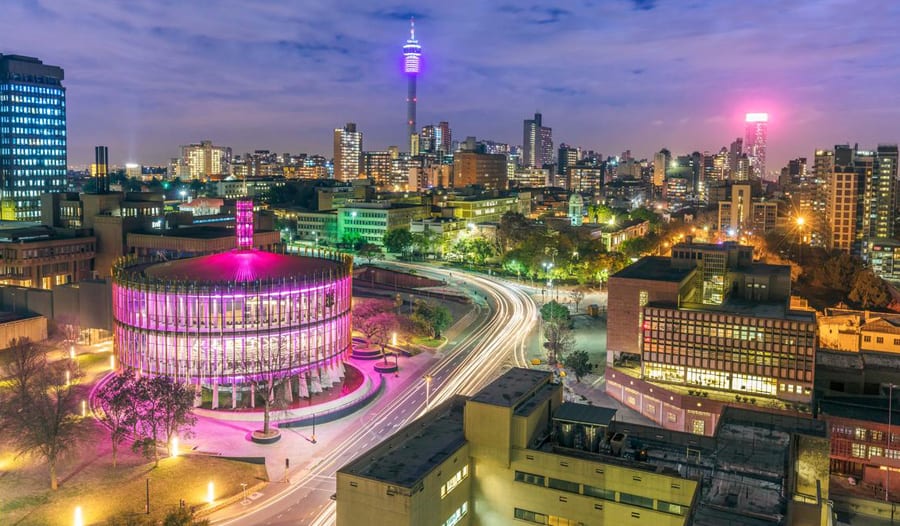 JOHANNESBURG the capital of Gauteng province (Pretoria, also in Gauteng, is capital of the country), is also known as Joburg or Jozi. It is the youngest (1886) – and largest – city in South Africa and one of fastest growing ever. Johannesburg is big, bold, brash and brazen – and loves its own superlatives – one proudly claims that Joburg is the largest city in the world not on a river, lake or sea. It's also one of the last places on anyone's "to see" list which is really a great pity. As is the case with so many other 'poor image' cities – Cartagena, Bogota, Rio, Mexico City etc – the image and its myth seldom reflect reality. Despite its reputation , Johannesburg and Gauteng are impressive, captivating and fascinating places … so here goes ! (Are those groans I hear already??)
Johannesburg's growth has been phenomenal – from an unpopulated Highveld grassland in 1886 to a world city of almost 10 million (metropolitan) in just 130 odd years. The city's central municipality covers over 1 645 sq.kms (its metropolitan area much more) while Sydney's central municipality (by comparison) covers 1 500 sq kms. The two major cities anchoring Gauteng – Joburg and Pretoria – could hardly be more different, each offering its own attractions. Both house numerous important museums, theatres, playhouses, concert halls, stadiums, libraries and galleries. As the wealthiest part of the country, Gauteng has the finest shopping and entertainment options available.
While mine-dumps and mine headgear remain symbols of its rich past, Joburg's modern architecture sits comfortably alongside 19th-century architecture, gleaming skyscrapers contrasting with Indian bazaars and African traditional markets. Although the downtown central business district decayed badly in the 1990's (like so many US cities) it is now in the midst of a huge, much needed revitalization as investments pour into the city centre. There is an exciting blend of ethnic and cultural art and activities, all reflected in the markets, shops, bazaars, theatres and open-air arenas of the city. Johannesburg is 'the West' but it's also African to its core, a hybrid mix of everything that makes the country and Continent so unique. Many say Johannesburg is the only real South African city, because it's the only city that has every tribal, ethnic, cultural and religious group of the country living there – that alone makes it a place worth seeing!
---
---
And don't forget the sprawl of its leafy – no, forested – northern suburbs There are over 6 million trees in Johannesburg , making it the largest 'urban forest' on earth. The northern suburbs (cities in their own right) draw visitors to a fantastic range of different ambiances, attractions and lifestyles. Trendy neighbourhoods like Parktown and Norwood with their cafe/restaurant-lined avenues, the main street of Greenside , cool Melville, fashionable Rosebank or Melrose, or the sprawling shops, malls, parks and vibrant streets and sidewalk society of Sandton, all combine to make the city a great place to be, and see. Many of these neighborhoods are on the Gautrain route and are safe, easy and quick to get to. http://join.gautrain.co.za/map.aspx
Surprisingly Gauteng still has a huge undeveloped area (Highveld) and there are a huge number of parks and nature reserves, like Emmarentia Dam or Walter Sisulu National Botanical Garden, that are well worth a visit. Gauteng is essentially one big city, with 97% of its population living in its urban areas. Johannesburg, extends south to the important industrial, coal-mining towns of Vereeniging /Vanderbiljpark and onto the water sport mecca of the Vaal River, west to the popular Cradle of Humankind (Sterkfontein Caves) . The Joburg urban area extends uninterrupted for over 100 kms through Roodepoort and Krugersdorp to the west, and to Germiston, Springs, Boksburg , Benoni on the east. More: http://www.joburg.org.za/http://www.gauteng.net/attractions/entry/johannesburg_art_gallery/
SOWETO is a popular Gauteng destination, partly due to the high profile role it played in South Africa's freedom struggle – but also, because of the unique cultural experiences it offers. Even "adventure tourism" has become a trademark here, with bungee jumping and "Soweto Swings" being practised inside – and out – of the famous Orlando Cooling Towers. Aside from 'must-do' township tours, visitors to Soweto can participate in other cultural experiences, like the Credo Mutwa Cultural Village (see below).
On the outskirts of the bustling megopolis, the cityscapes give way to Highveld grasslands stretching out to Gauteng's borders. The entire conurbation has one of the healthiest and most stimulating climates in the world. The province lies between about 1.400 and 1.800 metres altitude, with hot summers marked by heavy afternoon rain and thunderstorms, and dry, sunny winters which often exceed 20 C by day but can on occasion drop below zero at night. There is no humidity to talk of – and the sunshine hours are amongst the highest in the world, in excess of 3.200 hours a year .
---
---
Johannesburg Nightlife :
Despite its negative press, Johannesburg has the most vibrant, eclectic, varied and best nightlife and restaurant scene anywhere on the Continent. And (believe it or not) it's overwhelmingly safe and fun too. The city has many distinct nightlife, entertainment and restaurant areas.
Downtown, just across the Nelson Mandela Bridge:
— Newtown which includes the Market Theatre and Sophiatown (the most "African" entertainment in the area). Once considered to be unsafe and marginal, the entire area has taken on a new lease of life the last few years with many new bars, lounges and restos adding to its buzz. You still have to keep your wits about you, but the area is now the safest it's ever been.
— Just west of the city centre is 'trendy' terrific , mellow Melville (centred on 7th Street). The area is an eclectic mix of (beautiful) old homes and commercial digs. More info at : http://www.sa-venues.com/attractionsga/melville.php
Further north, easily reached by Gautrain, are the increasingly upscale commercial and nightlife hubs;
— Rosebank – between downtown Johannesburg and its northern centre – Sandton – is a lot more than a vibrant, buzzing cafe, bar and nightlife centre – check it out anytime – but especially at night. http://showme.co.za/events-entertainment/nightclubs-and-lounges-in-rosebank-jozi/ http://www.rosebankinfo.co.za/ http://www.sa-venues.com/maps/gauteng/rosebank.php
— Melrose, famous for its sidewalk cafes restaurants, and energized night – and day – life (centred on Melrose Arch and Square) is just up the road from Rosebank. Explore the area, it's fun anytime! http://www.sa-venues.com/attractionsga/melrose-arch.php http://showme.co.za/lifestyle/melrose-arch-melrose-north-johannesburg/ http://showme.co.za/events-entertainment/clubs-bars-and-lounges-sandton-city-johannesburg/
— Sandton – a huge city in its own right and the centre of the northern suburbs, is also a terrific nightlife area. Despite the high-class, high-rent neighbourhood, there is a huge choice of restos, bars and lounges at normal, standard prices.
These neighbourhoods are all different, invariably lively, safe and secure, friendly and fun – and easy to get to (by Gautrain, taxi or car). All have plentiful secure car parks, are beautifully landscaped with trees, gardens, fountains and the like , and offer a very wide range of almost everything you could desire. More stuff at: http://www.48hourvisit.com/two-days-in-johannesburg-weekend-edition.html
And don't forget the nightlife of Soweto which offers the real – and several different – African version(s) of what eating, drinking, dancing and nightlife should be. And be sure to taste a genuine African 'beer' at a local 'shabeen'… http://www.moafrikatours.com/tour/Soweto-Night-Tour http://www.sowetobackpackers.com/things-to-do.html
---
---
MUST-DO's
Johannesburg :-
— Hop-On, Hop-Off Bus – A "must-do" probably more so than in any other city. The expansive, vast areas and distances of Johannesburg often make it a bit difficult to get around, and to see the sights. This bus makes it easy. It covers the entire downtown area, its art galleries, museums and attractions (see below) stopping at top-sites – Constitution Hill, Apartheid Museum and Gold Reef City (GRC). It can also be combined with a Soweto tour (which leaves from GRC) to make a full day of it. http://www.citysightseeing.co.za/Soweto.php
Also – the Hop-On, Hop-Off bus terminus is at the Gautrain (high speed train) at Park Station, which means you are easily, safely whisked back to Melrose, Rosebank, Sandton or Pretoria – or wherever in Gauteng you are staying. (And if you buy your tickets online (R120) you save R30 and you get R150 of vouchers to use at Gold Reef City). http://www.goldreefcity.co.za/whatson/Events/Pages/RedBus.aspx
If you 'do' the hop-on, hop-off' bus the following sites all become a lot easier and more interesting to see and visit. Two day tickets are also available.
— Apartheid Museum – one of Joburg's must do's. Great museums make one think, wonder , provoke discussion and debate. In this, the Apartheid Museum is very successful. It is right next to Gold Reef City too. The two visits are essential – and easily combined – despite opposing interest factors. http://www.apartheidmuseum.org/
— Gold Reef City (GRC) built on the site of the old Crown Gold Mines (the richest ever discovered in the world) with authentic old mine buildings and houses, a theme-park, casino etc But the highlight of a visit here (and absolutely nowhere else!) is to go down into the goldmine, and see the gold being poured afterwards . http://www.goldreefcity.co.za/theme_park/Pages/StoryofGold.aspx http://ekalatours.com/gold-mine-tours.php
— Carlton Observation Deck – The Top of Africa observation deck on the 50th floor of the Carlton Centre skyscraper provides unbelievable views of Johannesburg, Pretoria and all of Gauteng. For years it was the dominant skyscraper of the southern hemisphere. http://www.gauteng.net/attractions/entry/carlton_centre/
— Johannesburg Art Gallery (JAG) – Most important museum of fine art in Africa, contains remarkable works by Picasso, Pissarro, Rodin and Degas among others. Needless to say, native artists and masters from South Africa as well. http://www.gauteng.net/attractions/entry/johannesburg_art_gallery/. .
— Soweto – there are several companies offering visits and tours of Soweto – and there is a lot to see. Most will pick you up and drop off at your hotel or hostel. If possible choose a tour with guide – again preferably private, but don't rule out group visits or the hop-on, hop-off bus from GRC (ticket combo with city tour). There's so much to see and visit in Soweto it's wise to do your own research and choose your sites well ahead of time. These may help: http://www.sa-venues.com/attractionsga/soweto.php http://www.citysightseeing.co.za/Soweto.php http://www.sowetotour.co.za/soweto-tour.html http://www.sowetoguidedtours.co.za/ http://www.southafrica.net/sat/content/en/gb/what-to-do/our-people-and-culture/culture/a-soweto-township-tour/ http://www.sowetobackpackers.com/things-to-do.html
While in Soweto, try and visit the Credo Mutwa Cultural "Village" – really a museum-cum-outdoor exhibition of sculptures – even buildings – by African artist and traditional healer Credo Mutwa. http://www.gauteng.net/attractions/entry/credo_mutwa_cultural_village
---
---
The Cradle of Humankind is one of the big surprises and most interesting of Gautengs attractions – even for the most disinterested of individuals! The 'complex', 50 kms northwest of Johannesburg, lies in a 47.000 hectare protected area, and consists of 3 major sites (with state of the art interactive displays) in one of the most ancient habitats of Man. We all know that Man originated in Africa before moving north and colonizing the world…Well, this is where he got prepared for his future and packed his bags! http://www.maropeng.co.za/content/page/about http://www.gauteng.net/cradleofhumankind
—- STERKFONTEIN CAVES: The most famous site where over 1000 hominid fossils have been unearthed. Meet one of our ancestors (Mrs Ples), the first Australopithecus skull discovered here. Fossils here are testimony to the origins of humankind. A section of the caves is visited on an hour long guided tour. The caves will take you back to the oldest origin of humankind.
—- MAROPENG A AFRIKA
This ultra-modern centre focuses on the evolution and development of our ancestors over the past few million years. All the Fossils, stone tools etc are in interactive displays which will leave you exhilarated about the past, present and future. There is an underground boat ride retracing the various stages of the creation of our earth.
—- WONDER CAVES
This is the 3rd largest cavern in South Africa, located in a Rhino & Lion Park. The cave volume is 46 000 cubic square metres, filled with stalactites and stalagmites – 85% of which are still growing. The visit descends down 87 steps and then a further 18 metres by lift. The entire complex is an Unesco World Heritage Site.
Transport/Tours to "The Cradle": Most hotels and hostels in the city – especially in the northern suburbs of Johannesburg – arrange tours to "the Cradle". They usually take 8 – 9 hours including travel time (about 1 hour each way) with pickup and drop-off at the hotel. There are more specialized, more 'scientific' tours available, as well as others more centred on the various kids and family side of the sites. Do check around for a tour that suits you best. http://www.palaeotours.com/full-day-tour.php http://www.enjoythejourney.co.za/Services/DayTours/CradleofHumankind.aspx http://ekalatours.com/cradle-of-humankind.php
---
---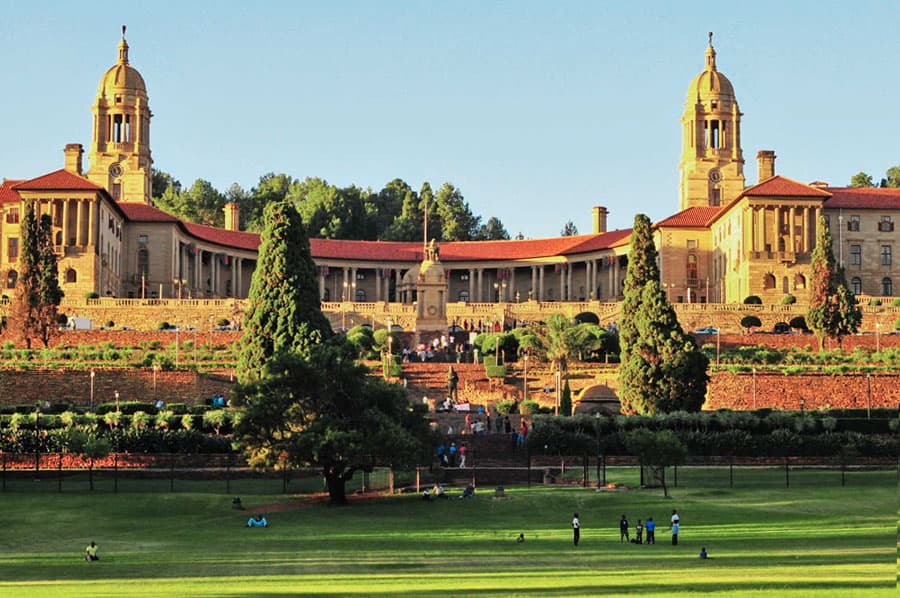 Above: Pretoria
To the north is PRETORIA the capital of South Africa, whose southern suburbs are merging with Joburg's northern sprawl. The city is dominated by government bodies, departments and services, foreign diplomatic corps and increasingly hi-tech and other leading edge industries. Pretoria is as quiet and laidback as Johannesburg is not… it is famous for its colourful gardens and flower street trees – especially beautiful in spring when 70.000 odd jacaranda trees bury its avenues in mauve. Pretoria extends north west towards the Magaliesberg and east towards the diamond mining town of Cullinan, with its history, rolling savannah and a numerous teeming game reserves.
Pretoria makes for a very worthwhile visit. Despite it being next door to Joburg, it is totally and pleasantly different. Most sights are within easy walking distance each other. A lot of the country's History is in Pretoria – and a lot is still being made. While in the downtown area, head for :
— Church Square, the historic centre of town, with the imposing Justice and Reserve Bank buildings facing the iconic Paul Kruger statue. A few blocks west, just off Church Street is :
— Paul Kruger House, the last Transvaal Presidents' home, now a museum. A touching witness to the simplicity of his ways, life, his vision (the Kruger NP, amongst others) and his tragic life and end after the Boer War. http://www.sa-venues.com/attractionsga/kruger-house.htm
—Burgers Park, a lovely oasis in the city, facing Melrose House. It was in this Victorian mansion that the Vereeniging Peace treaty was signed in 1902, ending the war between Britain and the Boer Republics. After a visit, take a leisurely tea or lunch at the house – or in Burgers Park. http://www.sa-venues.com/attractionsga/melrose-house.htm
— National Zoological Gardens, Boom St a few blocks north of Church Sq on the edge of downtown; one of the first of the 'new' zoos, with minimal cages, fences or bars. The river Apies runs through the middle of the 85 hectare facility, funicular , free-flight aviaries , wonderful African and Great Ape collection – Night camping for the kids, night visits for all, etc see details at : http://www.nzg.ac.za/
— Union Buildings, the iconic, beautiful, classic gem of Empire-era architect Sir Herbert Baker, and seat of SA's Government. Located at the highest point in the city, on a beautifully landscaped, steep hill overlooking the centre. About 2 kms from Church Sq – if the walk is a bit long, take any bus to Silverton, Mayerspark or Colbyn from Church Square and get off at the stop on Church Street (at the park below the Union Buildings). http://www.thepresidency.gov.za/pebble.asp?relid=187 http://www.visitpretoria.co.za/history/union-buildings
— Voortrekker Monument – one of the most massive monuments anywhere, erected in 1938 to celebrate the Great Trek, when Afrikaners fled British persecution in the Cape to found their free and independent republics; the Orange Free State and the Transvaal – as well as their ultimate battle victory against the Zulus at Bood River in 1838. Everything about the monument is huge, symbolic – even astronomic. On the 16th of December each year (the date of the Blood River victory) a shaft of sunlight illuminates the interior and the words "Ons Vir Jou, Suid Afrika" (We for You, South Africa"). A viewpoint at the top (by stairs) provides a wonderful 'infinity' vista of Pretoria, the surrounding hills and Highveld. Below the parking is a museum of the Trekkers, covering their homes, farms, photos, clothes and lives. http://www.visitpretoria.co.za/history/voortrekker-monument and http://www.gauteng.net/attractions/entry/voortrekker_monument/
The monument, a few kilometres out of town, is easily reached by car, bus, or even train. From Pretoria centre, it can be reached from Kruger Street via the Valhala bus. Alight at the entrance to the monument (ask the driver) and walk for 10 minutes. The Metrorail Fontein Train Station (on the main Pretoria-Johannesburg commuter line) is also close by.
---
---
Cullinan: Just 40 kms – and 40 minutes – east of Pretoria, this quaint, pretty diamond-mining town shot to fame when the Cullinan Diamond (the largest stone ever discovered) was found in the early years of 20th century. It is still being mined today. Tours of the town (and its miners houses, facilities etc), the mine itself, as well as the diamond museum make for a really interesting and different outing. This is a "Must-Do" for anyone who will not be visiting Kimberley. http://www.sa-venues.com/attractionsga/cullinan.php
It's an easy drive by car directly from the city on the R-513, or by the M-4 motorway, getting off on the R-515 exit to Cullinan. Without a car it's pretty hard – or expensive – to get there. "Diamond Tour" excursions from Pretoria are always an option, but tend to be quite pricey. Every couple of weekends there is a 'steam-train' trip from Pretoria to Cullinan – a novel, reasonable way to get there, see the place, and come back. http://www.cullinan.za.net/index.php/friends-of-the-rail-steamtrain-to-cullinan-timetable-2012 http://www.friendsoftherail.com/joomla/index.php/train-trips/information-for-passengers/67-by-steam-train-to-cullinan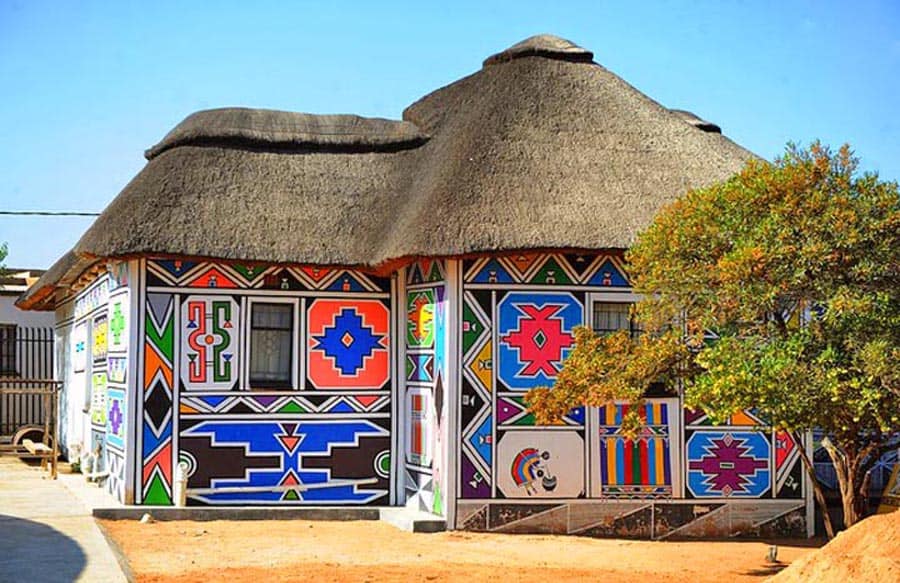 — The Ndebele , their painted houses, highly Colorful ornate costumes and unique culture, are world famous. Their bead work is simply out of this world. An important tribe, their 'homeland' lies north and west of Pretoria. A "Must' See" – especially if you are not going to visit or get close to any other traditional (Zulu and Xhosa ) tribal lands. Day trips – and longer – are easy to arrange from Pretoria. http://web.up.ac.za/sitefiles/file/44/1066/2018/8136/Ndebele%20Tour.pdf http://www.southafrica.net/trade/en/articles/entry/article-southafrica.net-mapoch-ndebele-cultural-village#.UoUyfpSEiUk
---
---
Getting Around Gauteng

:
With the arrival of the high-speed Gautrain in 2010, the entire public transportation scene in Gauteng has been given a new-life. Train and rail transport has improved considerably. The Gautrain provides a frequent, rapid, safe and comfortable way to commute within this vast agglomeration, running down the entire 'backbone' of Gauteng, the Airport, and is the way to get places from Pretoria in the north to Park (almost Joburg's centre) in the south. The Metrorail (suburban electric) trains have been improved tremendously as well – the Pretoria-Johannesburg lines now include 'Business Class Expresses' and the network has been expanded to many outlying areas. Check routes, timetables, tariffs at: http://www.gobookee.org/metrorail-gauteng-timetables/ http://www.metrorail.co.za/maps/GAU_RailMap.pdf
High speed, high capacity buses too have made considerably advances in the last few years . There is a confusing myriad of different bus lines, companies and routes. The best option would be to check with your hostel or hotel as to the local setup, services and options.
And of course there are the faithful taxis and 'tuk-tuks' to fall back on as well – but beware – and be aware – of the distances … taxi meters run up rapidly in Gauteng!
THE TOP TOURS TO EXPERIENCE IN GAUTENG