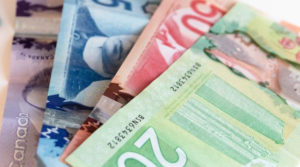 One of the best things we did when we settled overseas was to start doing our currency transfers through Wise. It doesn't matter if you use Wise or another company (like Revolut) – you HAVE to avoid the extortive rates charged by banks. It's the most important, most basic thing travellers or expats should do.
Banks count on people not being familiar with current exchange rates. And most people aren't. When's the last time you checked Reuters to see the USD/Euro spot rate? That's how banks get away padding exchange rates (building margins up and above the spot rate – ie. the 'real' market rate).
Most banks don't even have online calculators. So if you're making a currency transfer (like I used to with our Canadian bank) you'll start the online process not even knowing the rate the bank will give you. You'll eventually arrive at a page where they quote you a rate and give you a minute to confirm your acceptance. Why do they do that at this point in the process and not at the very beginning? They do it because they know most people will just accept the bank's posted rate, no questions asked.
Little differences on exchange rates may not seem like much. But they add up. The difference between most banks and companies specializing in currency exchange are usually in the 3% to 4% range. So if you're transferring $20,000 a year from abroad for example, you'll save about $800 switching away from a bank. That's a month's rent in Spain (where we now live).
As I say, switching away from a bank to a company like Wise or Revolut is the most important and basic thing you should do to save money as a traveller or expat.
That's not to say you don't need a bank account at a major bank. You do. We have bank accounts in both Canada and Spain. You need a major institution with a banking license, a bank that takes care of deposits, loans, investments, mortgages etc.
Just don't use them for Wire Transfers.
But optimal financial management isn't just about banks and currency transfers. There are different companies and apps that you can use to streamline your money management. We explore some of those below.
---
---
Specialized options in Currency Exchange
Wise and Revolut aren't your only options in the currency exchange game. There are lots of companies available, all with different specializations. If you reside in a developed country, you likely have well over 50 licensed brokers to use for currency exchange. Figuring out which to use is a headache.
There are apps like Currencies Direct, Spartan FX, and Torfx that tend to be popular with businesses and investors (even though anyone can use them). There's HiFX and FlashFX. What's the difference between these companies? Well, some provide services over the phone and require a £/$1,000 minimum transfer, whilst others are purely app-based and encourage small transactions.
Some companies specialize in different currencies. World First, for example, specializes in Asian currencies (it's the company to use if trading the Japanese Yen). FinGlobal Forex specializes in South African transfers.
The problem with all the above is that people end up dealing with different companies for different purposes and end up having tons of apps on their phone. It makes keeping track of money complicated and creates more room for error.
---
---
The Solution: Covering all your needs with 3 apps
The solution is to categorize companies and apps into different use cases and to have as few categories as possible. You don't need apps that overlap.
Moneytransfercomparison has been comparing money transfer apps since 2014. They tell you which apps excel in each category.
For most people that means 1) a bank/app for managing money back home, 2) an app for day-to-day spending, 3) an app that's good for larger currency transfers.
App 1: A credible domestic bank
First and foremost, we all need a bank in our home country that is licensed. Being licensed means that your deposits are insured up to a certain amount*.
*In Canada for example, deposits in licensed banks are insured up to $100,000 by the Canada Deposit Insurance Corporation (CDIC). So your money (up to that amount) is protected.
You should never have thousands of dollars sitting in your Wise or Revolut account. Besides not having the same banking requirements (and deposit protection), they also just don't have the same level of service that a bricks-and-mortar bank offers.
Obviously though, if you're a traveller or expat, you'll need to access your bank without going into a branch. That's where you need a bank app (all banks these days offer bank apps that you can download onto your phone).
An alternative to a bricks-and-mortar bank is an online bank (often called a challenger bank). A few examples are Starling and N26. Being online banks, their apps are more efficient than traditional banks and you can perform all your banking functions with much more speed and convenience. Plus, if using these online banks to send money abroad, they offer better exchange rates than traditional banks.
App 2: Multi-currency wallet for everyday spending
This second app is essential to the traveller who's hopping around in different countries.
Companies like Revolut and Wise allow you to open virtual accounts in different currencies. It means you can store dollars, pounds, euros, baht, krones, and many other currencies in one central hub – something you can't do with a traditional bank.
How it works: You transfer your home currency into a virtual account (in Baht for example). From there, using a borderless card (Wise offers a debit card that can be used in over 200 countries) or through Google Pay, you can pay a coffee in a Thai cafe using your phone without worrying about exchange rates – just like home. You can also withdraw money at a local ATM, again without worrying about exchange rates.
App 3: A specialist for large transfers
If you're looking to buy a property overseas, you need a company specializing in larger and more sophisticated currency transfers. Imagine, for example, that you need to pay $200,000 USD over the course of 6 months (say you're buying a plot of land and need periodic transfers to finance construction/renovation projects). An FX specialist will provide much better service* than a company like Wise or Revolut and can also offer forward or options contracts so that you can hedge your cash outlay from currency fluctuations.
*Most company will offer a free, dedicated advisor to speak to you over the phone.
Some companies that provide this service: Currencies Direct, Moneycorp, Global Reach, Currency Solutions, OFX, Halo Financial, World First, and World Remit.
Optional App 4: Single-currency specialists
I've touched on it above. Sometimes you need specialist companies when dealing with "exotic" currencies. Different companies focus on different regions – they can save you substantial amounts if dealing in large international money transfers to obscure countries.