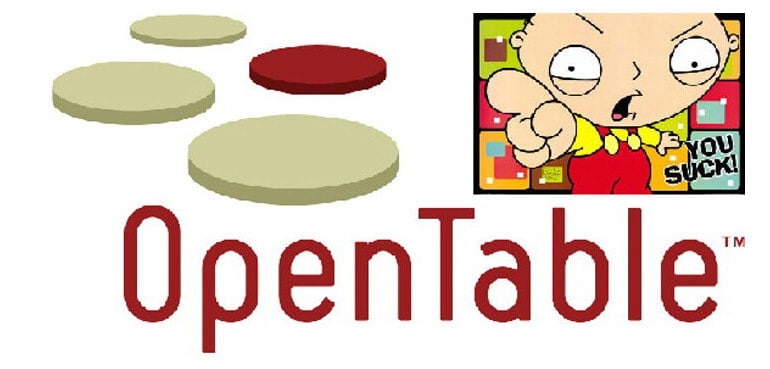 Why OpenTable Sucks
May 4th was Lissette's birthday. A week previous, I had reserved a table at our favorite restaurant through their website which uses the Opentable.com reservation service. At that time I had no idea what Opentable.com was (more on that in a minute).
Our restaurant experience was very disappointing; service terrible, food plain, we didn't even get the table that I had requested. We left after the main course, deciding not to waste money on dessert and coffee. We had been to Pyrus Bistro (the name of the restaurant) regularly for special occasions so we were familiar with the food. Something was terribly wrong that night.
Above: How to handle poor restaurant service
The next day I received an email from Opentable asking about our experience at Pyrus Bistro and asking if I could write a review. So I wrote a negative, but polite, review detailing our experience.
---
---
A week later, out of curiosity, I checked to see if my review had been posted. It hadn't. I waited a few more days. Still nothing. So I wrote to Opentable.com, asking them why my review had not been posted. 2 days later they still haven't replied (they're supposed to reply within 24 hours). I smelled an odor, namely that universally refered to as the smell of Bullshit.
I decided to find out more about Opentable.com.
The company is a public company, started in 1999 in San Francisco, which has partnered with approximately 16,000 restaurants (mostly in the US but also internationally). It is the most widely used Online reservation system in the world. How do they make their money? They charge the restaurants for each reservation made through their website. In return, Opentable markets the restaurants that use their system through reviews (like mine, or should I say unlike mine?) and through point rewards for diners that regularly use Opentable. In other words, their clients are the restaurants – not you and me – and they have a mutual interest in positively marketing their partner restaurants so that the public a) wants to go to those restaurants and b) uses the Opentable online service to reserve your meals at those restaurants.
In other words, Opentable doesn't like negative reviews like mine. Did my review just simply fall through the cracks and not get posted? Maybe. But I very much doubt it. I'll bet most people write a review then forget about it, not bothering to check if it has ever been posted. I'll bet I'm in the minority of people who both a) check to see if it's been posted and b) actually writes the company to ask why it hasn't been posted. And that makes me upset. Why? Because it's the typical corporate manipulation that we've become accustomed to and why people don't trust big business.
People, don't allow yourself to be treated like sheep. Next time you click on a restaurant website and you see the Opentable reservation system pop up, just note the restaurant's telephone number and reserve by phone instead. Booking online just takes money out of the restaurant's pocket. Screw you Opentable.
PS. Update: Opentable wrote me back May 31, stating that my review was "in the queue". It was posted a few days later, almost a full month after posting my review.
Related: How Opentable operates
Related: How Smartwings also sucks
---
---