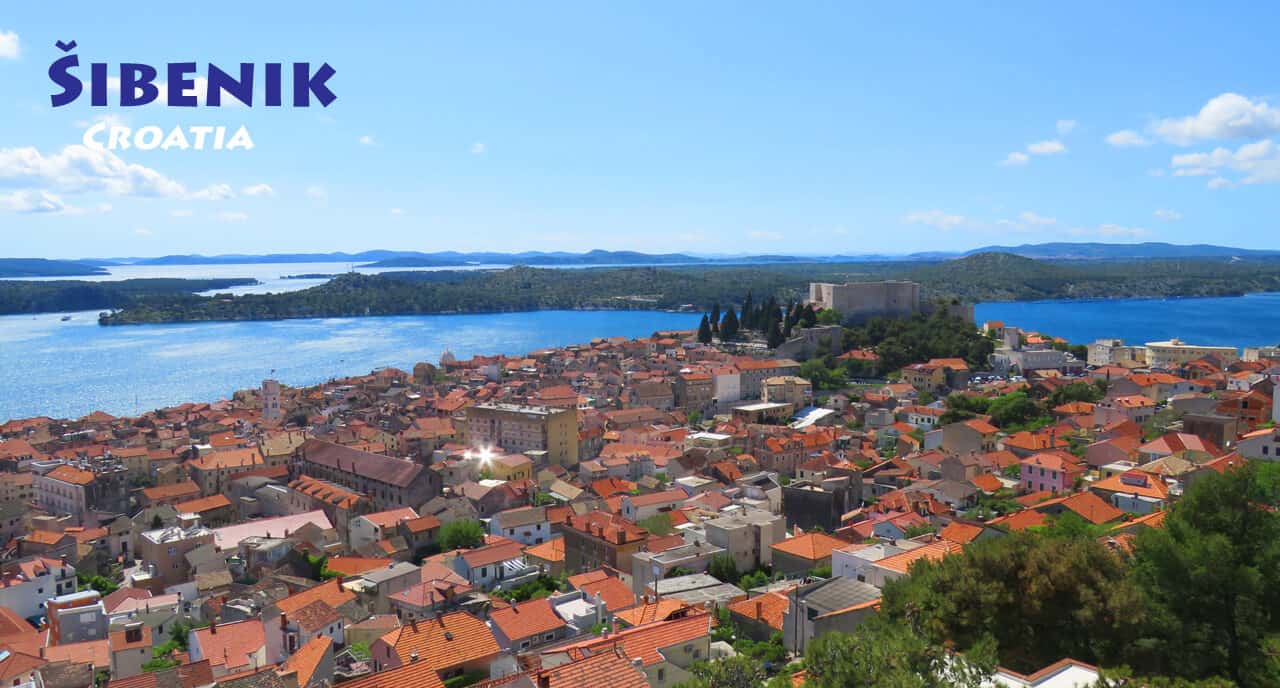 Why you should Visit Šibenik
Šibenik is not one of those places that people mention when listing 'must see' destinations in Croatia. Maybe it's why we didn't expect much – and also why we came away quite impressed by our visit to this Central Dalmatian city. In fact, while Šibenik doesn't quite rank up there with Split or Dubrovnik, I think it is just as impressive as the much more popular towns of Trogir and Zadar.
What makes Šibenik impressive? I'll cover that here – but I'll also cover why it could also be even more impressive.
.

1. The Cathedral and one of the most beautiful squares in Croatia
Šibenik is mostly known for its Cathedral, the Cathedral of St. James (Katedrala Sv Jakova). It's a UNESCO World Heritage site built by the Venetians in the 15th (and 16th century because it took more than 100 years to complete) and is made entirely out of stone. In fact it is the only European cathedral constructed using only stone. The exterior of the cathedral is magnificent and the centerpiece of one of the most beautiful squares we've seen in Croatia. Across the square lies City Hall, a 16th century Renaissance building that looks like it was transplanted from Venice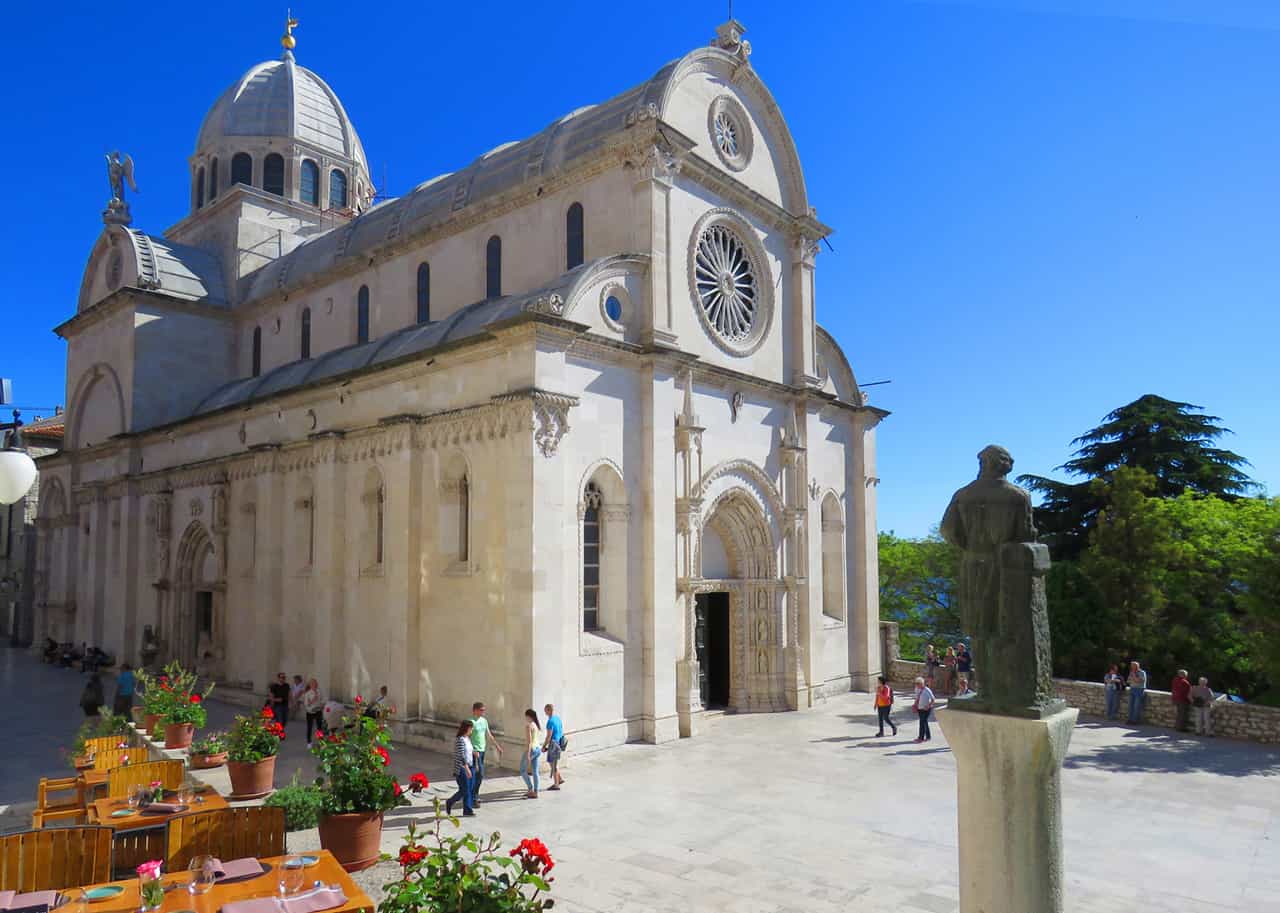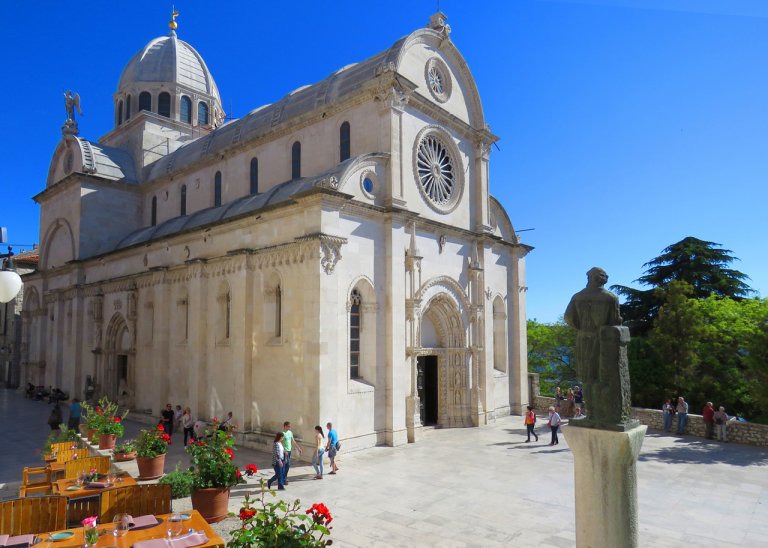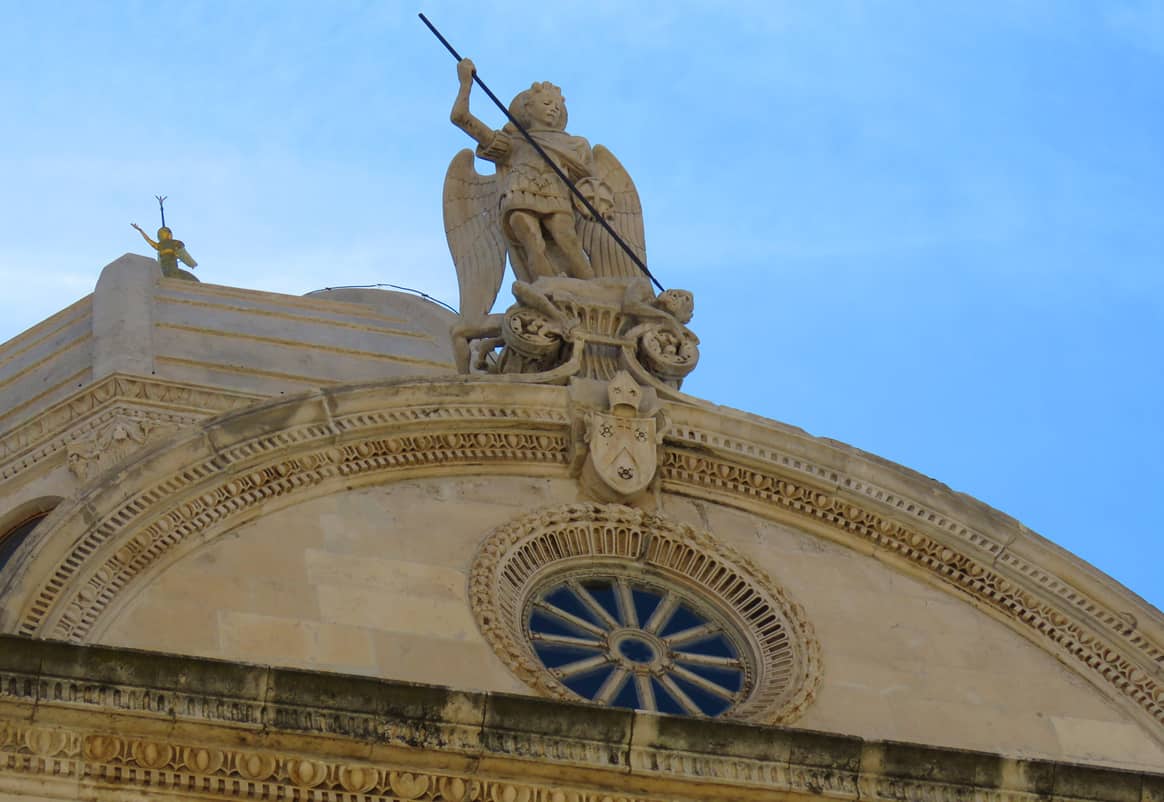 .
---
---
2. Fortresses
Šibenik has 4 fortresses – 3 in town (all with great views) and 1 a few kilometers out protecting the channel to the city. Two of the fortresses have been renovated, the other two are not.
.
St Michael's Fortress is the fortress you'll see highlighted in most of those postcard photos of Šibenik . It is the most accessible of all the fortresses (a 10 minute walk up from the main square) and the most popular with visitors. It is totally renovated, has views looking straight down into town, and includes a large theatre for concerts.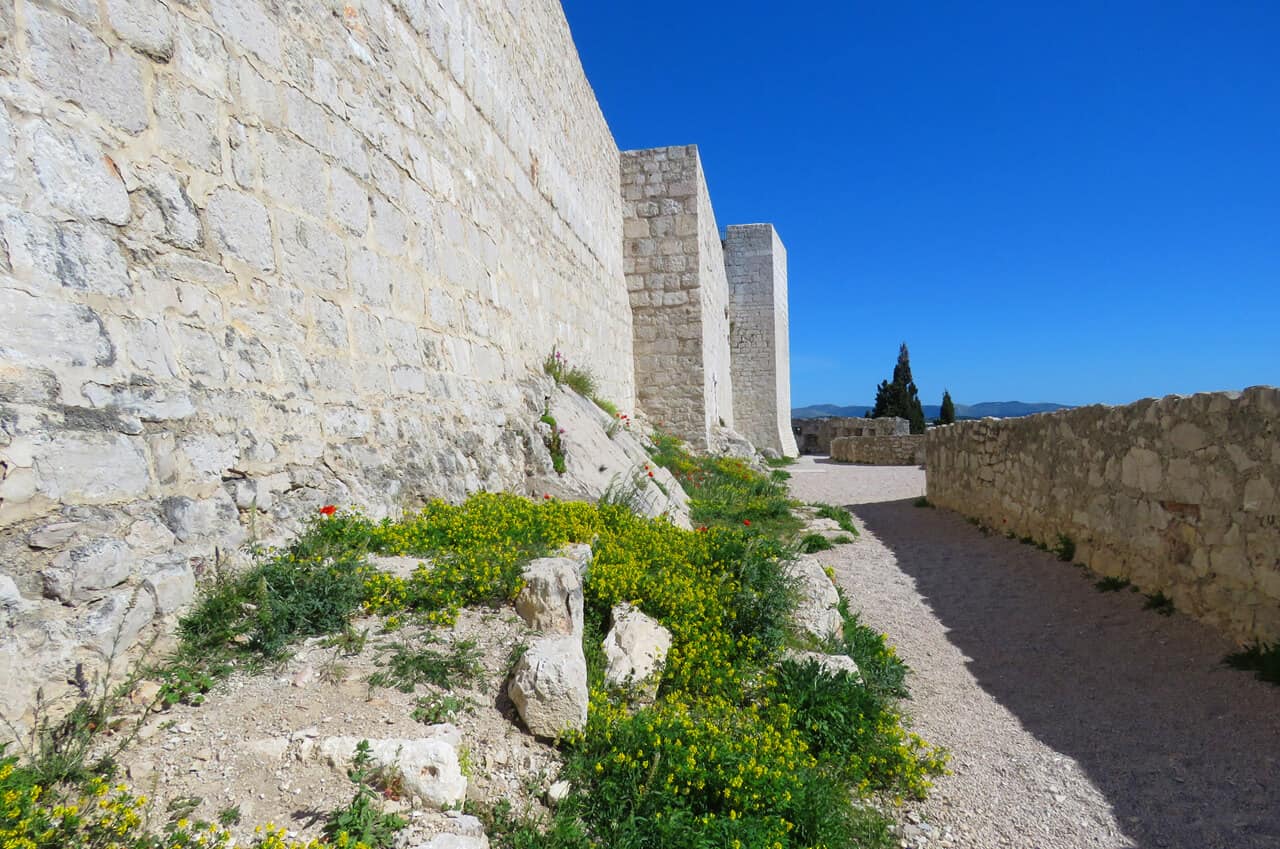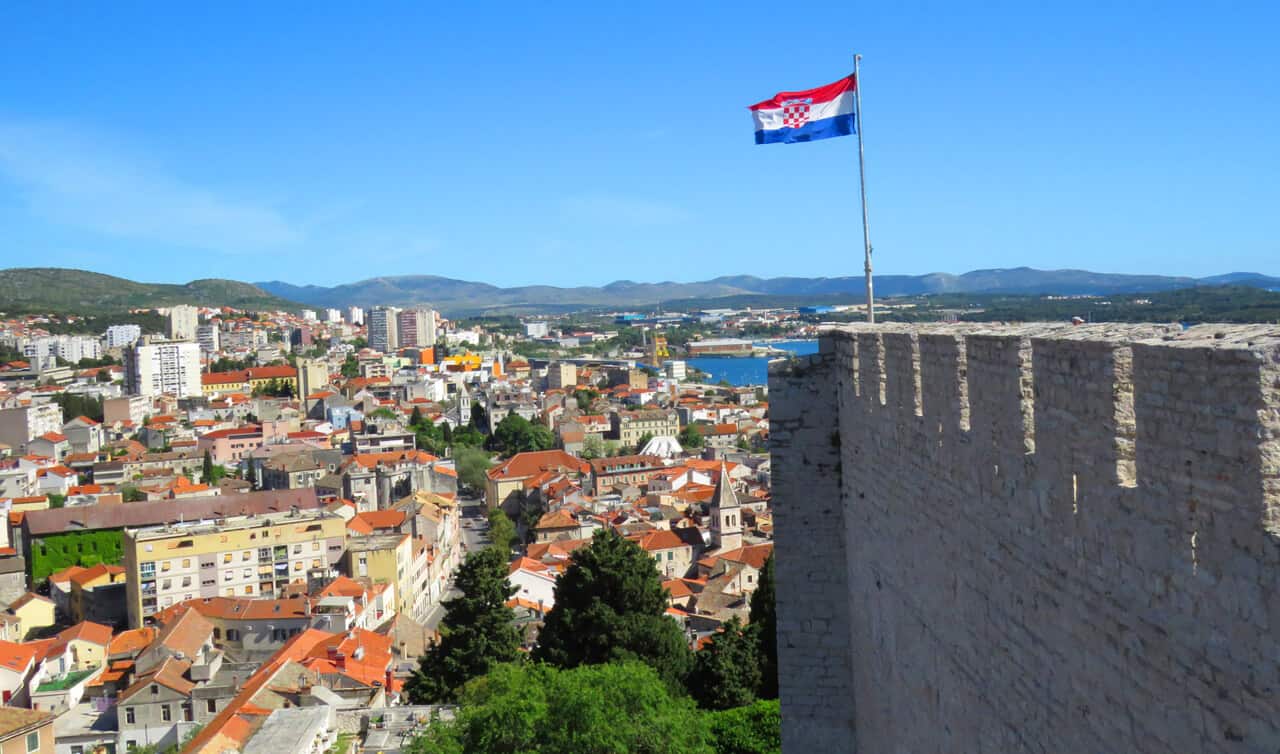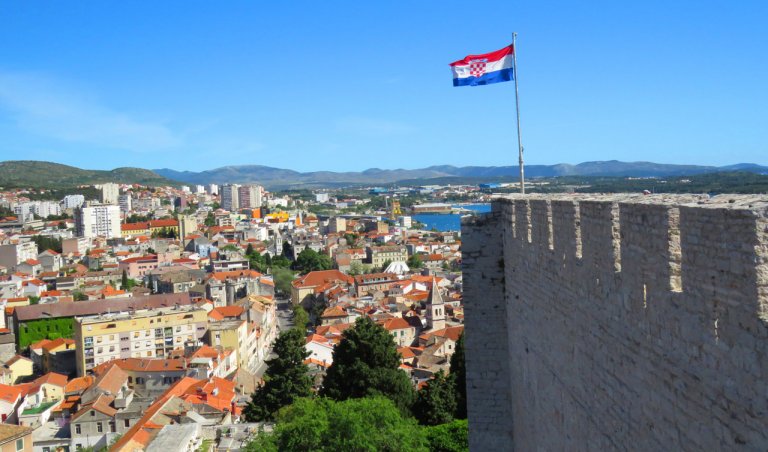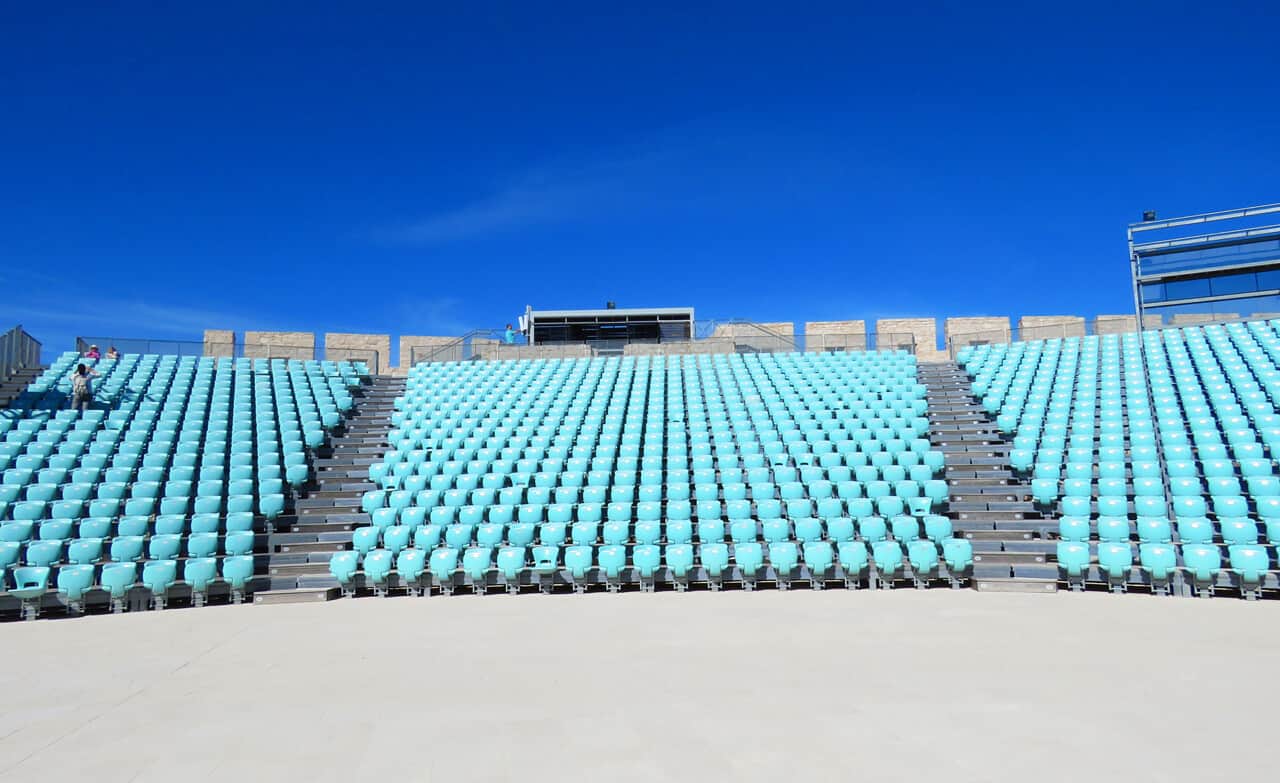 ---
---
Barone Fortress (also known as Šubićevac) is the second renovated fortress in Šibenik. There's not much to it actually, it is too renovated and manicured for my taste. BUT it has fantastic views of Šibenik. Barone and St Micheal's fortress are included on the ticket you buy at either ticket office (50 kuna per person).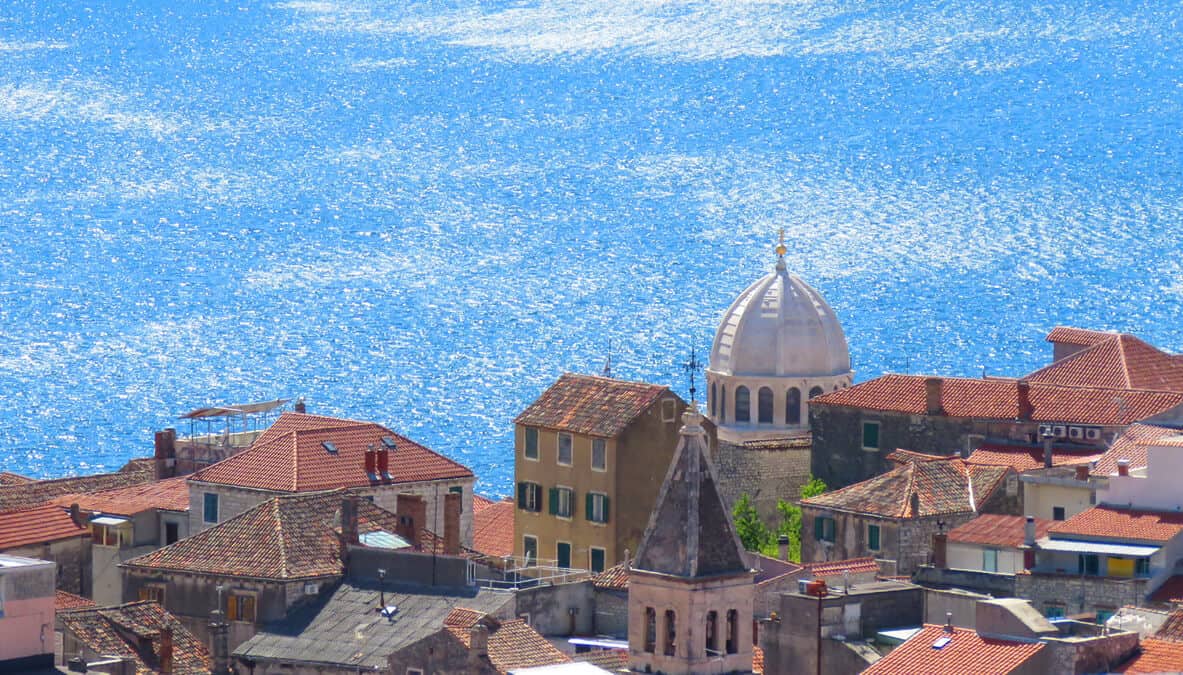 St John Fortress is the highest of the fortresses in the city. It is a 5 minute walk from Barone fortress, but unlike Barone it's been left neglected. People come here to walk their dogs or have a picnic in the ruins…and the views are fantastic. Free entrance, actually signs will tell you that you enter at your own risk.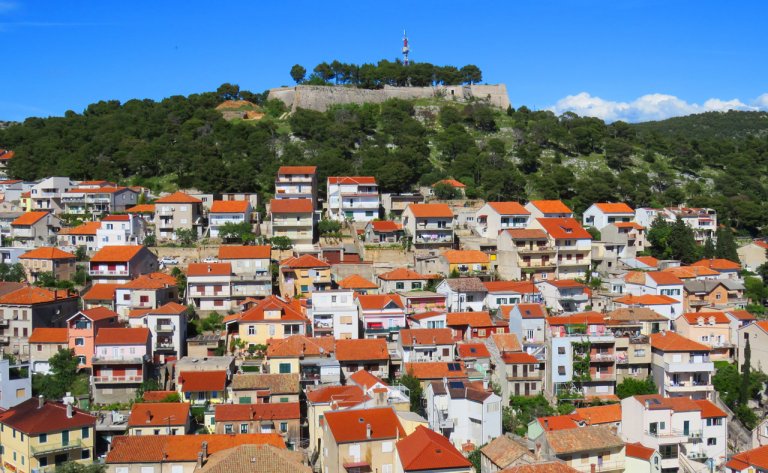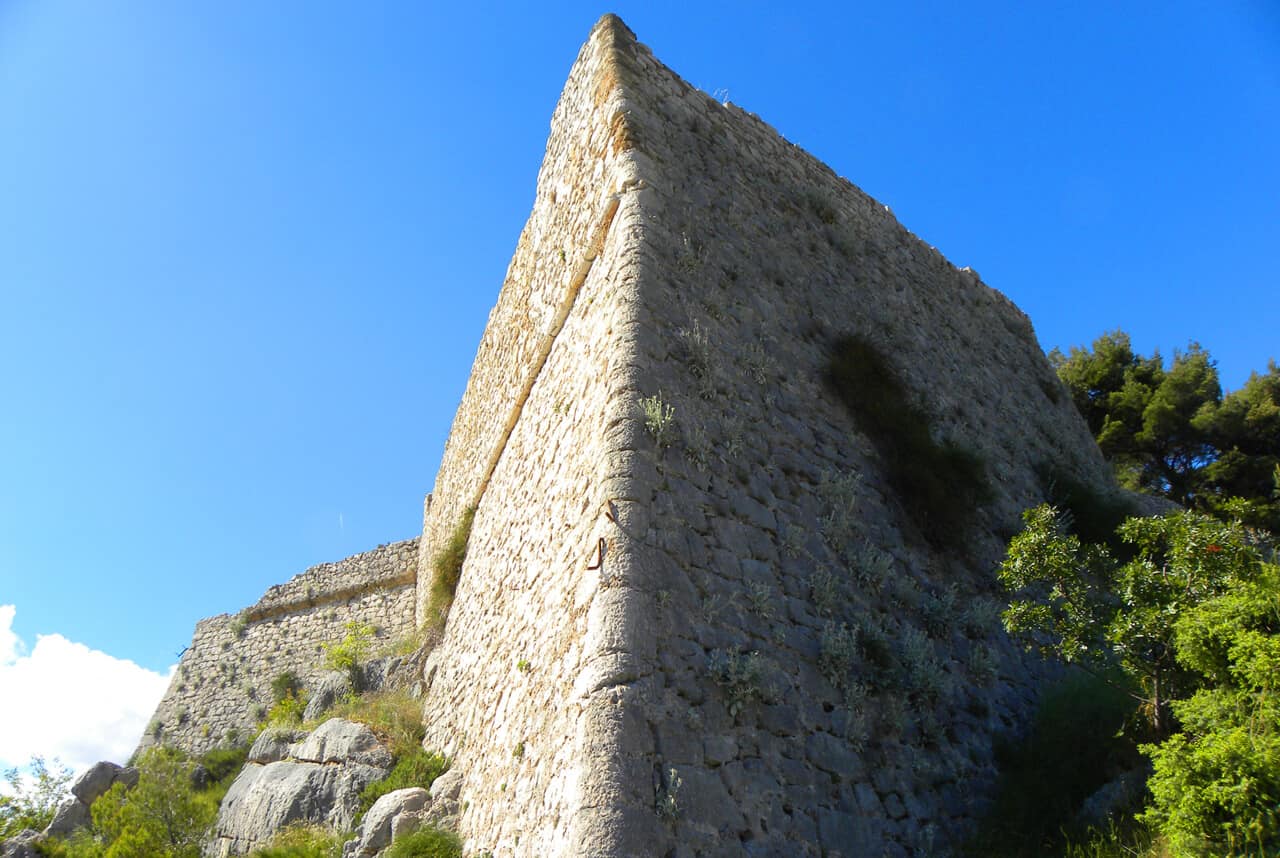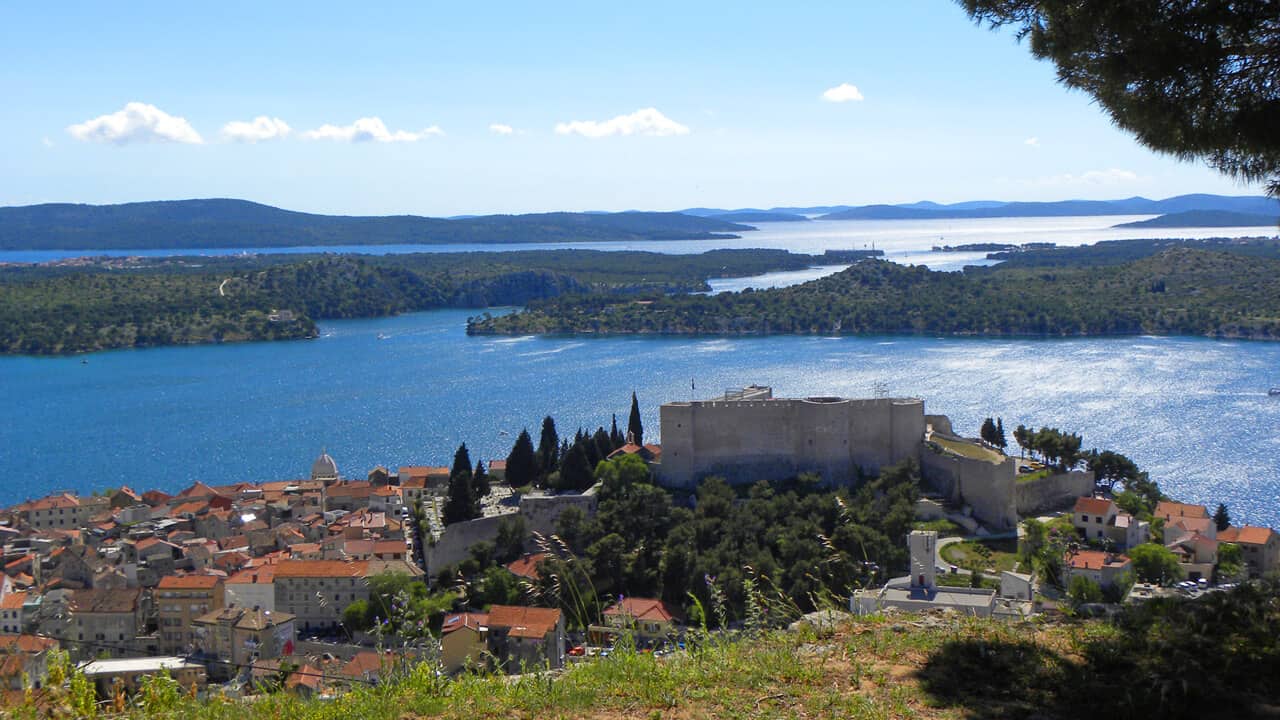 ---
---
The 4th of the fortresses is St Nicholas' Fortress. It is located a few kilometers outside of Šibenik at the mouth of the channel that accesses the city from the sea. It is a massive fortress with huge walls. You can drive up to it and actually walk to the fortress over some rocks when the sea is at low tide. Unfortunately you can no longer enter the fortress in this manner. As I later found out writing to the Šibenik tourist office, the only entrance to the fort (now) is by the sea entrance. That makes no sense.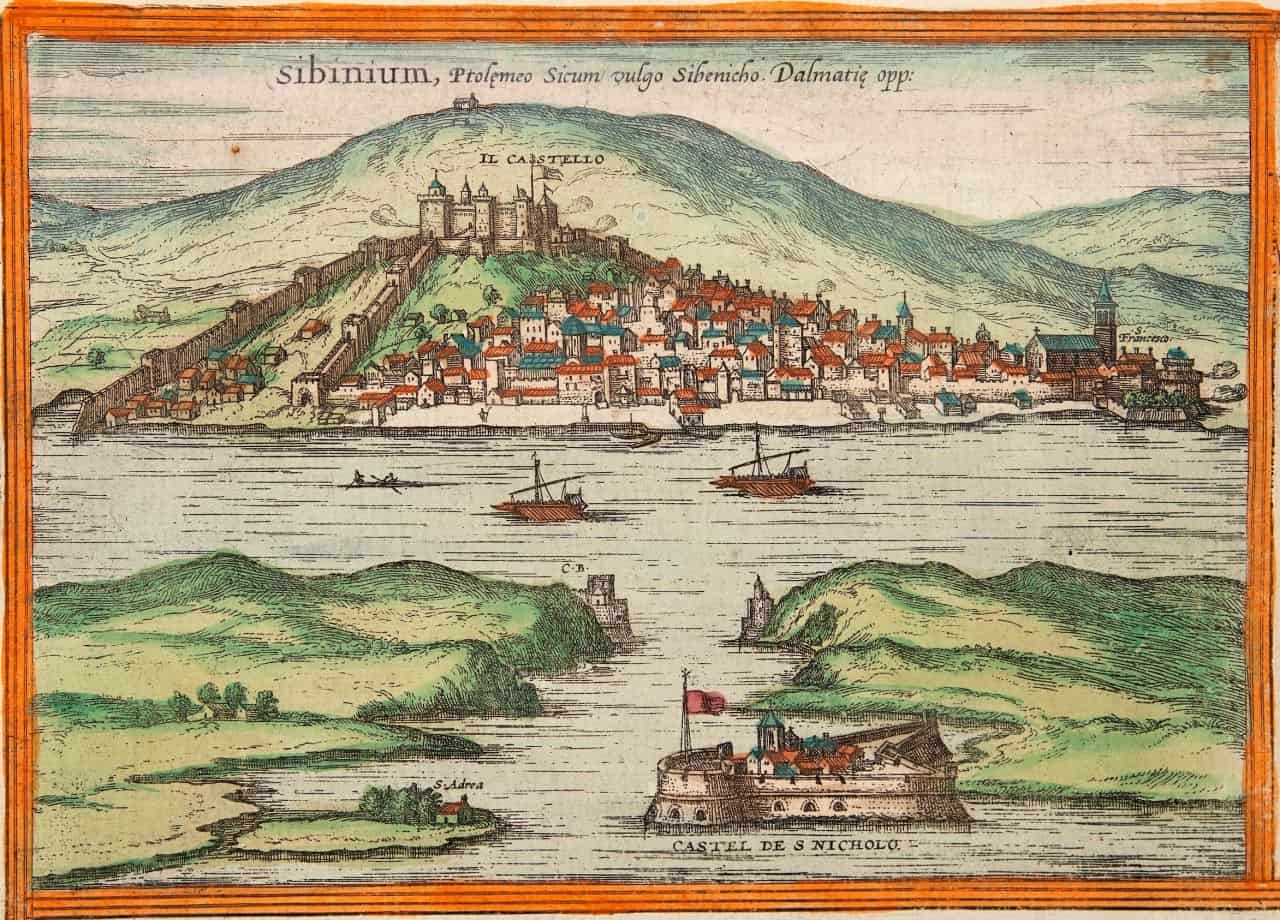 Below: images of the (largely abandoned) fortress today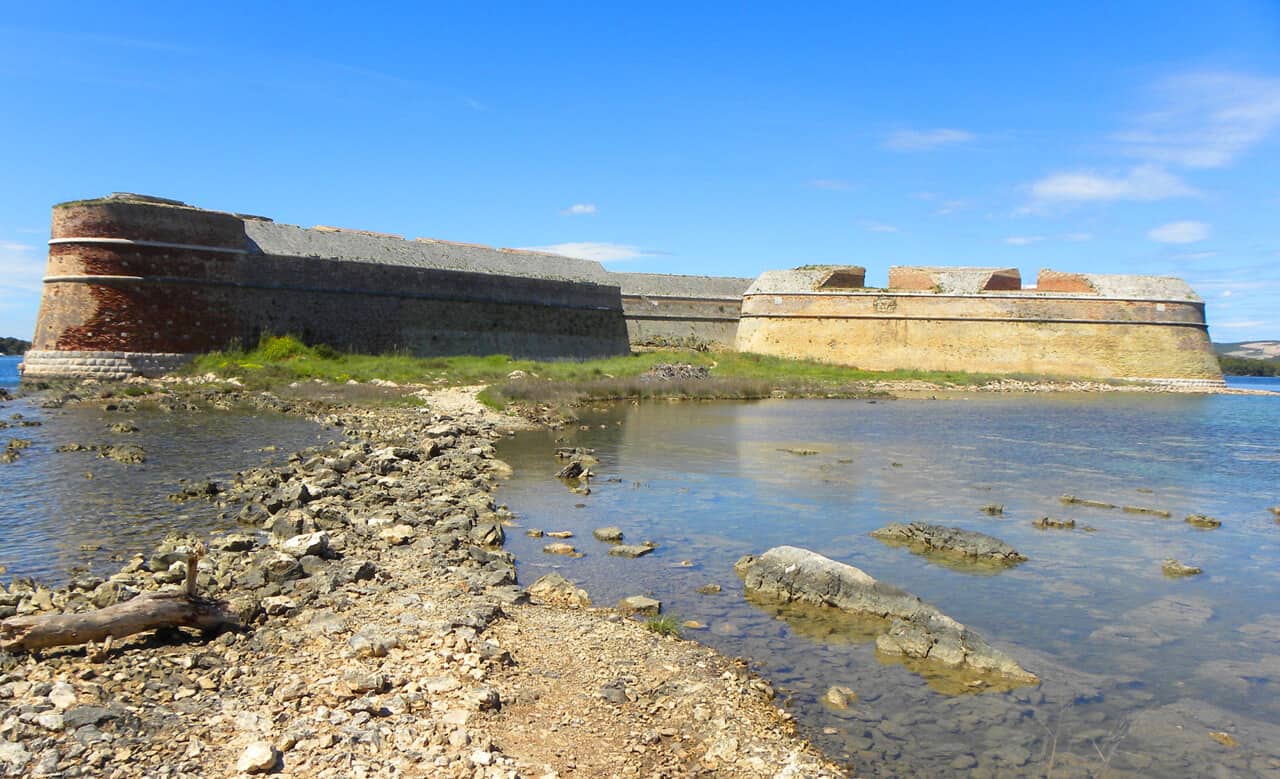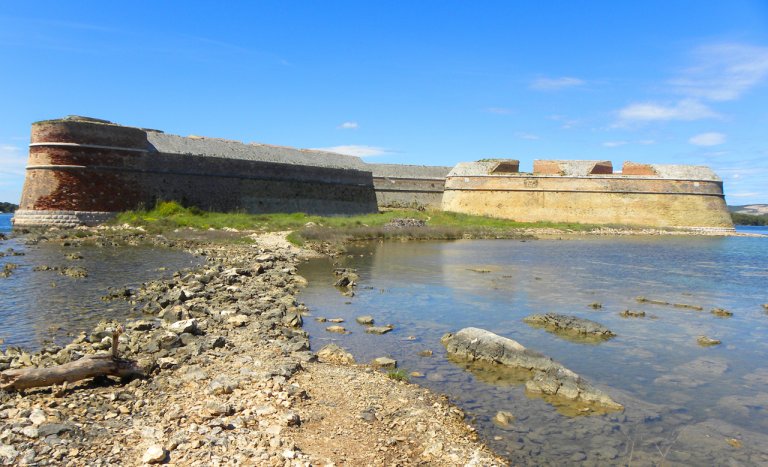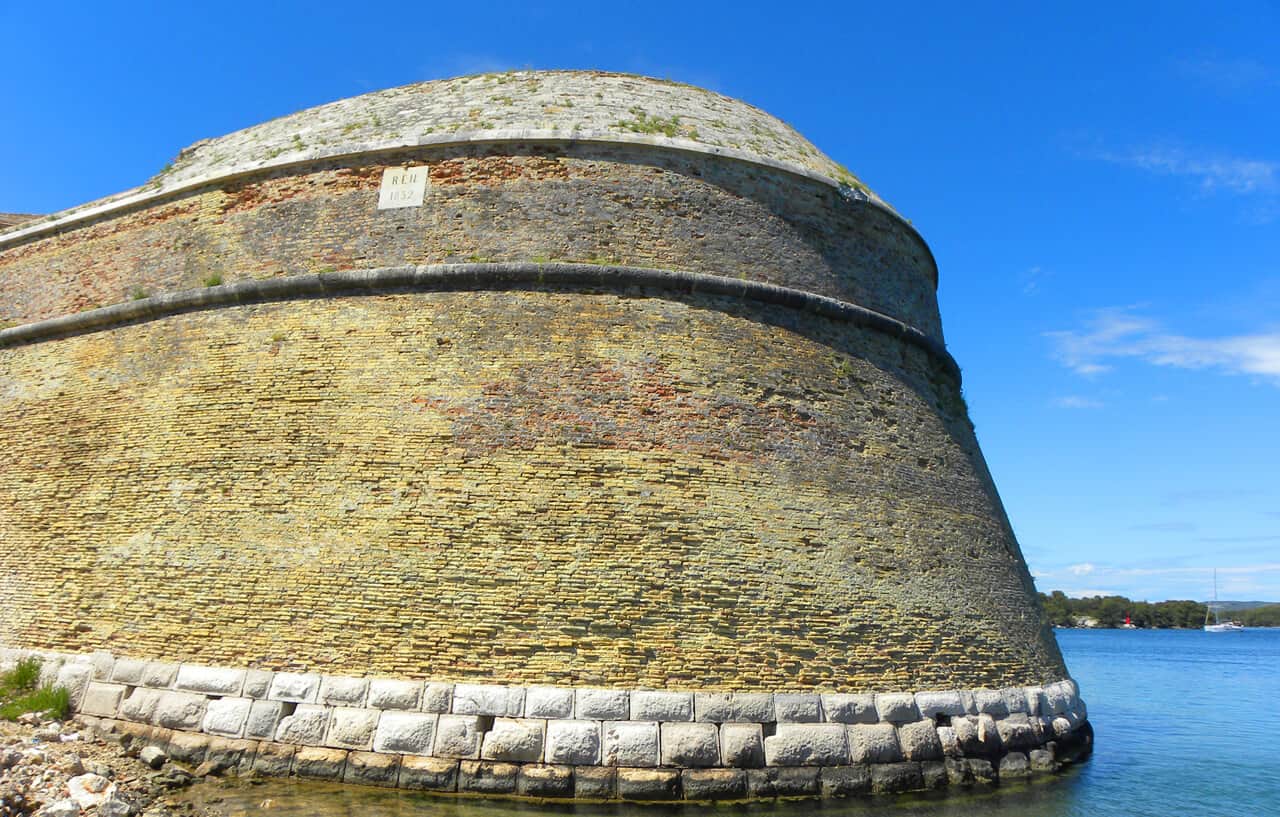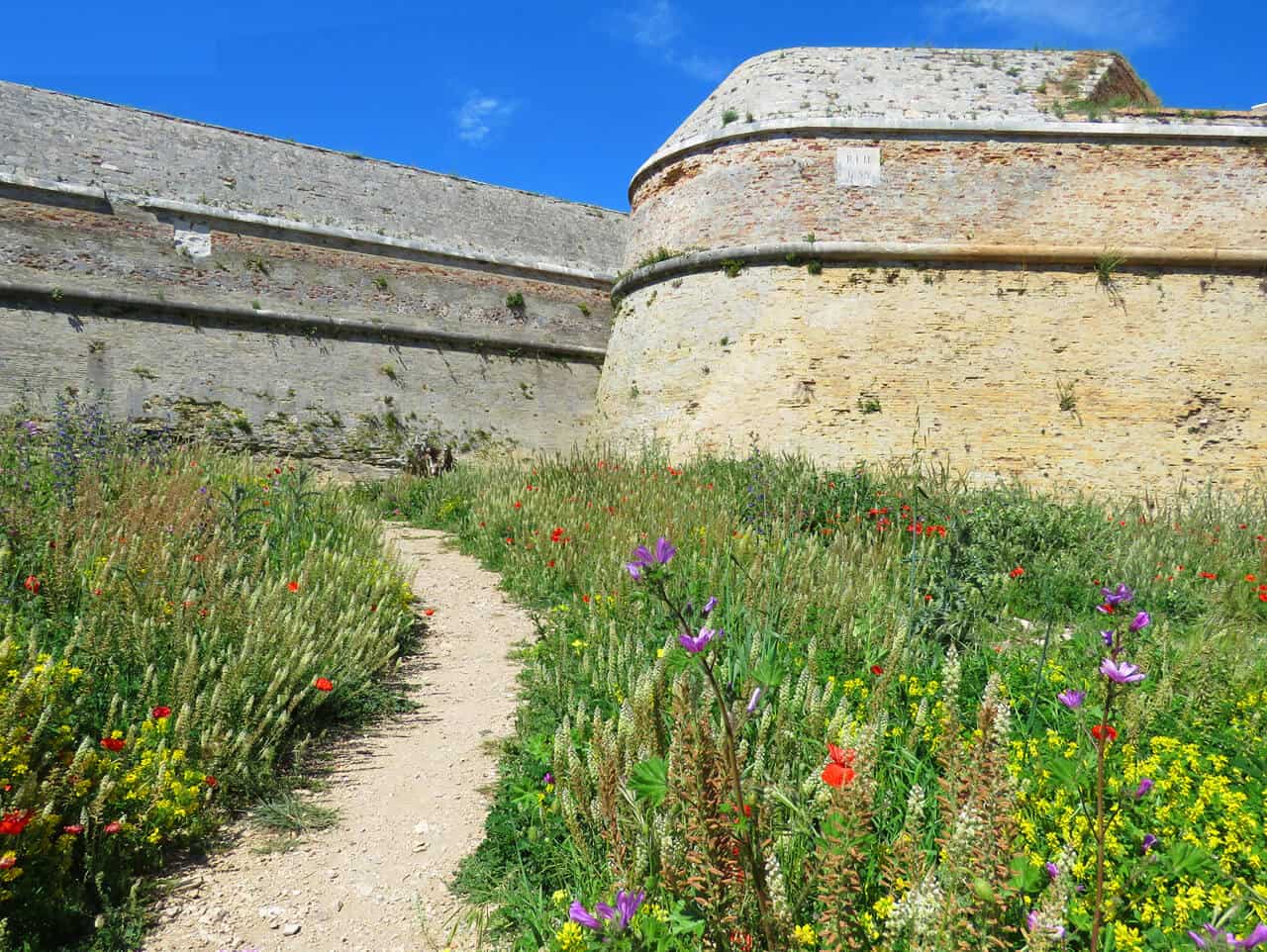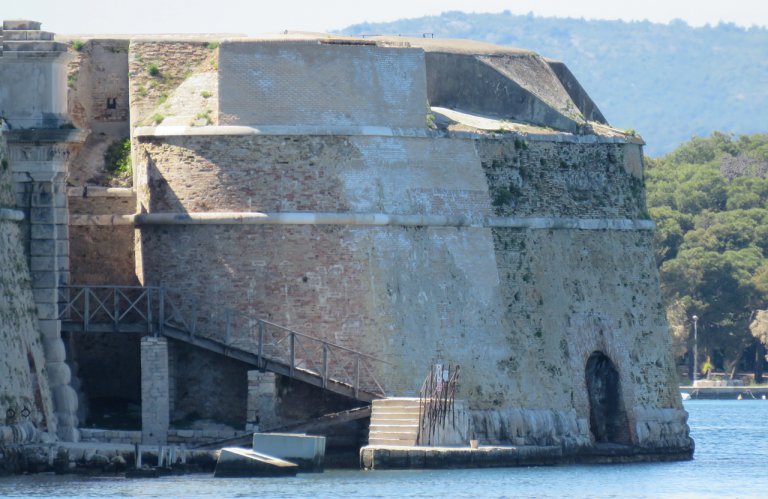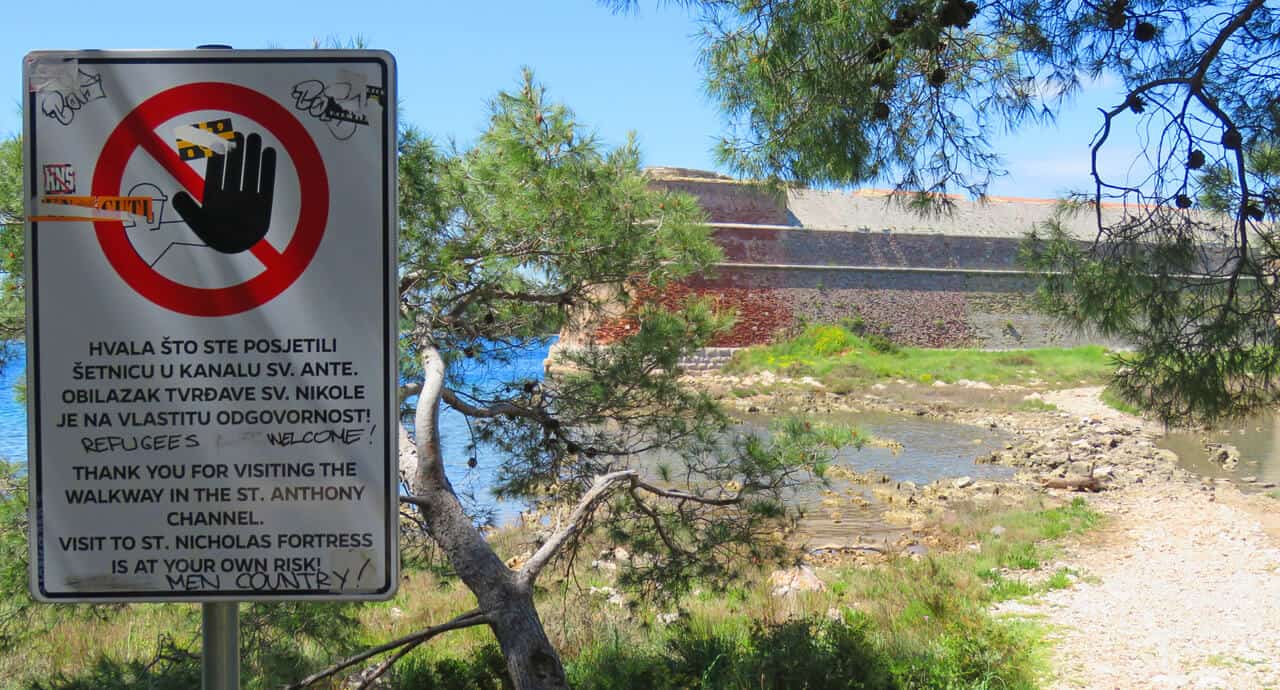 Related: Castles and Fortresses that you may have never heard of
---
---
Note the last photo above. It's the prelude to my rant.
While we were trying to get into St. Nicolas fortress we met a German guy (the only other tourist) who told us that he had been a couple of years ago and that the fortress had been open. He couldn't understand why it wouldn't be open anymore. Which led to a conversation about the lack of development in Croatia. Imagine if this amazing fortress was in Germany or France – it would be a major tourist attraction. The authorities would have restored it to its former glory. There would be a museum on the premises. They'd be a small restaurant looking out over the channel to the sea. Instead, this huge, glorious fortress is basically being allowed to fall into ruin. You see this all over Croatia. I don't even think it's just about restoration – I actually think the Croatians do restoration badly (just look at St. Michael's fortress or Barone fortress where stone has been replaced by concrete. Same all over Dubrovnik). Sometimes it's just about care and getting rid of debris. In the last little while we've been to the fantastic fortresses of Klis and Knin which are open to the public. But go there and you'll find rooms full of metal pipes and other stuff left over by workmen. Museums in the castle may or may not be open (the one at Klis was closed for some reason, the most likely being that the guy running the place was too lazy to open it). And the marketing effort to promote these castles is zero. People will say "well, Croatia doesn't have the kind of money that Germany or France does to restore its castles". But as I say, it's not necessarily about restoring them: it's about getting rid of the debris left over by the workers, cleaning up the dog shit and cigarette butts left over by locals, having someone responsible administrating the place. Croatia has SO many amazing castles or ruins that we've visited: Klis, Knin, the fortresses of Šibenik, the Starigrad in Omis….there are many others that we are just learning about. Even in Split, there is Gripe fortress which houses the Maritime museum (otherwise the rest of the fort is just a parking lot and a place where dogs poop). All I'm saying is that the authorities could do a much better job when it comes to its old fortresses and there is SO much potential. When you see fortresses like the above being neglected it just makes me sad.
.
.
---
---
3. Detail and beauty in Šibenik
I've ranted a bit about the fortresses. But where the authorities have done a great job in Šibenik it is in restoring the beauty of its many statues, plaques, and magnificent buildings. Šibenik's buildings sure seem to have a lot of detail: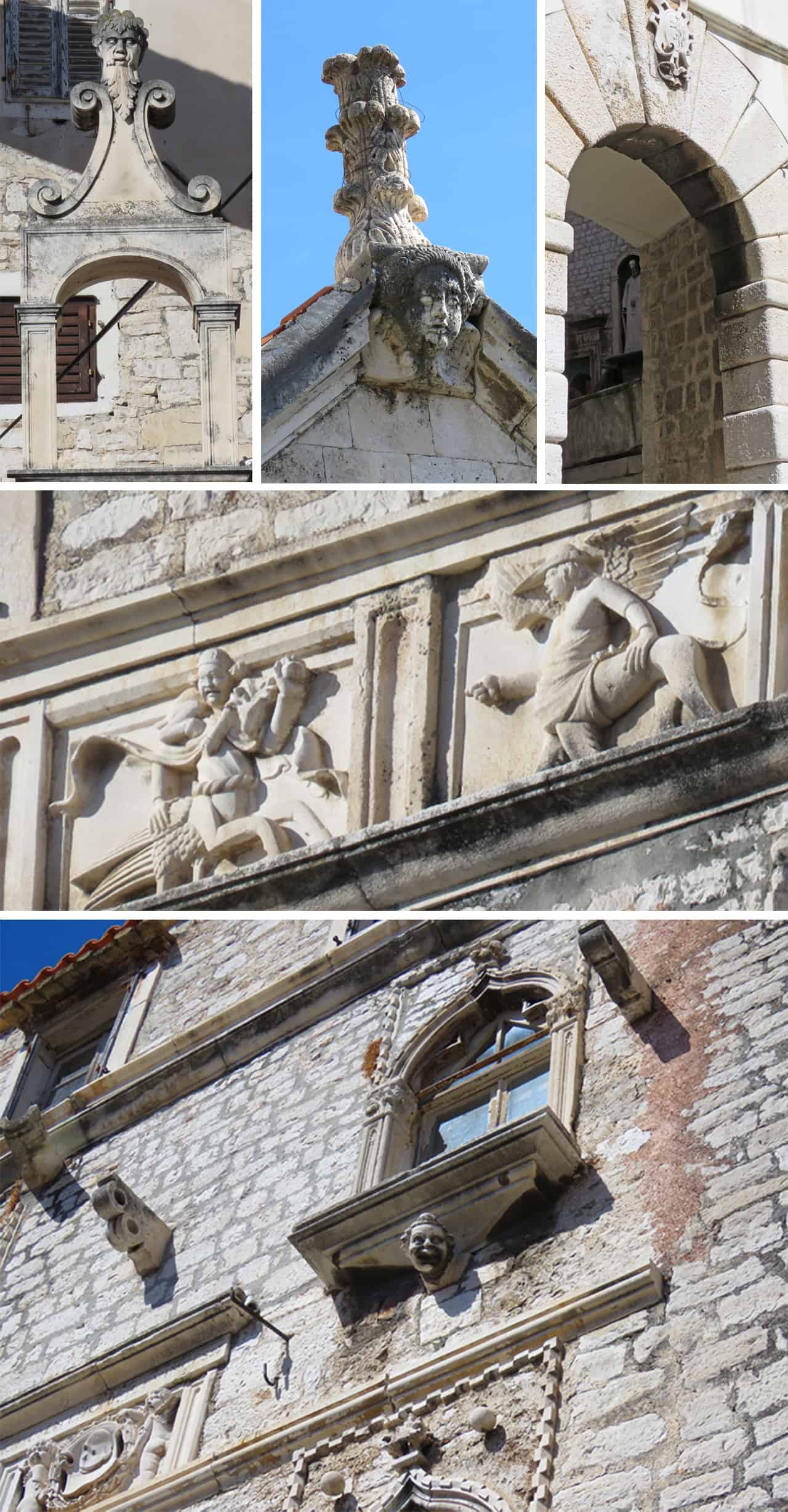 ---
---
More images walking the streets of the old town…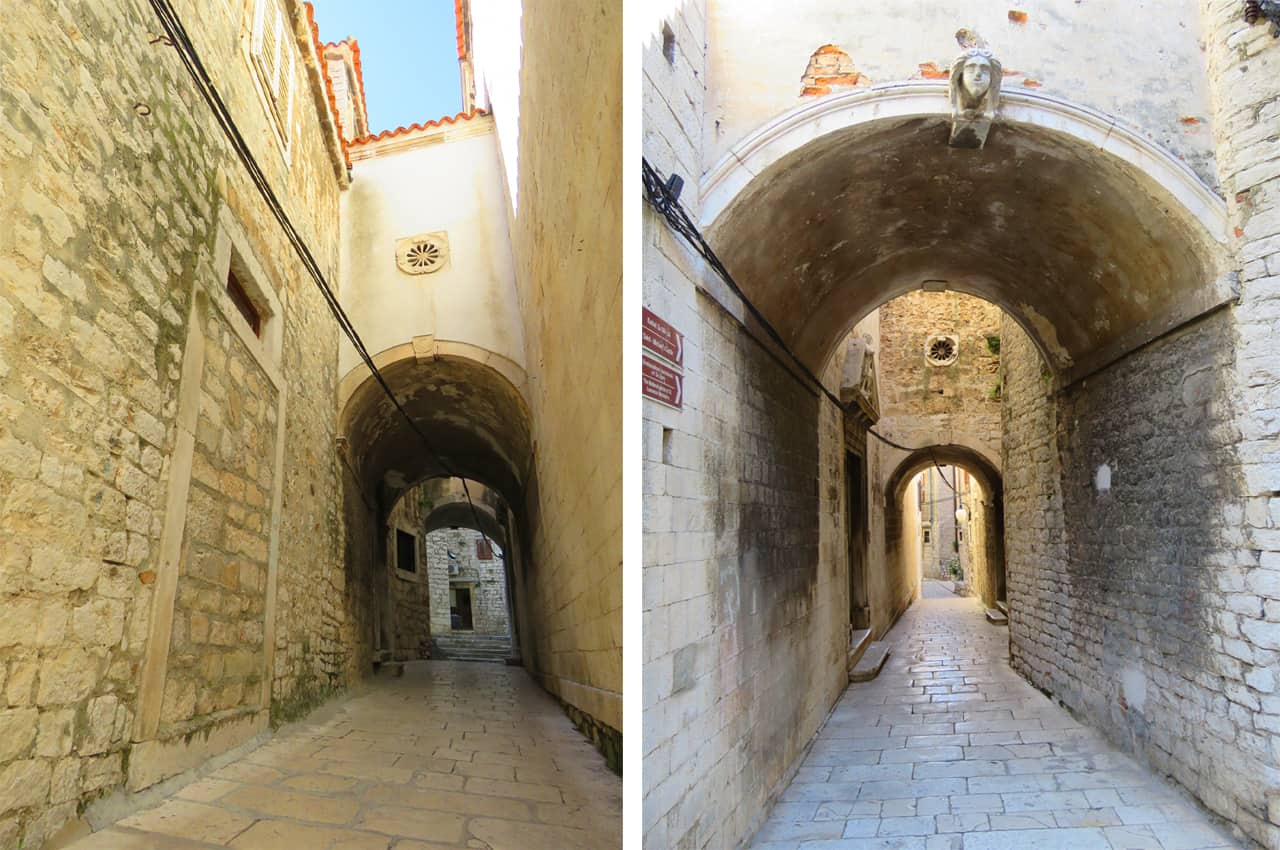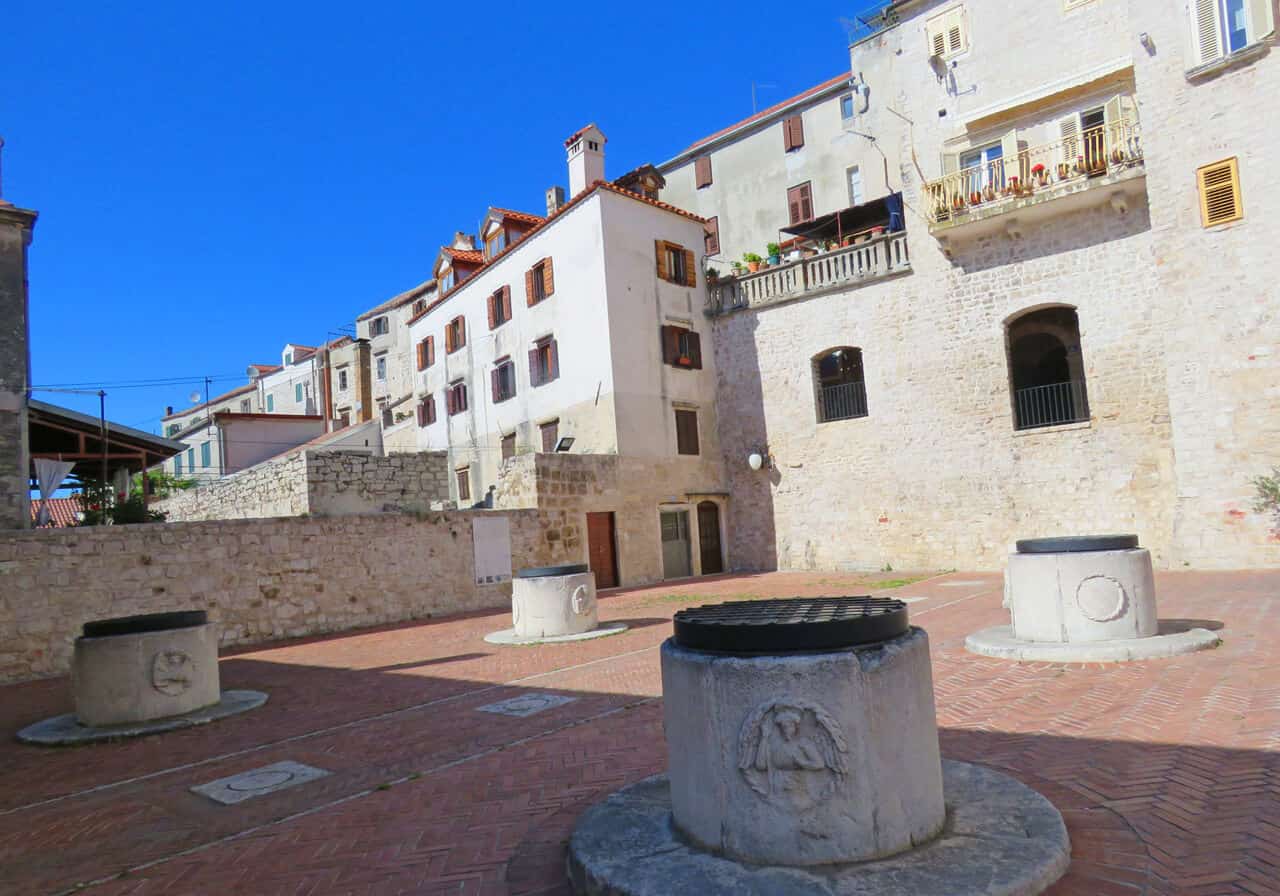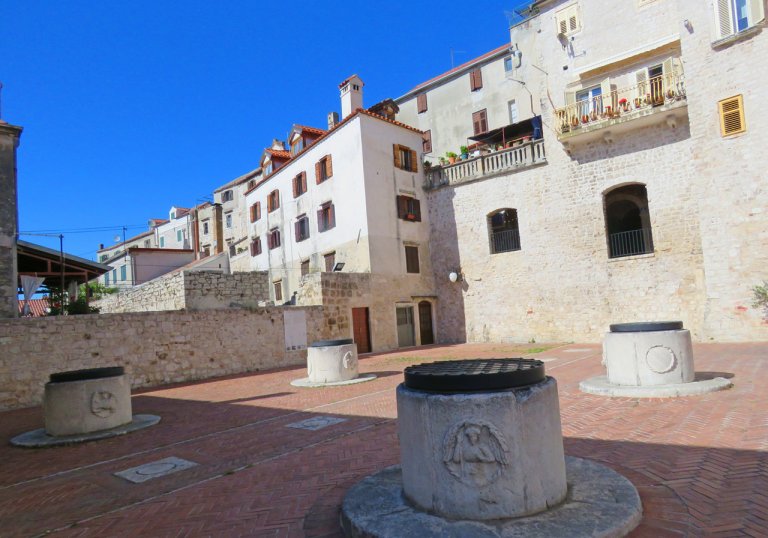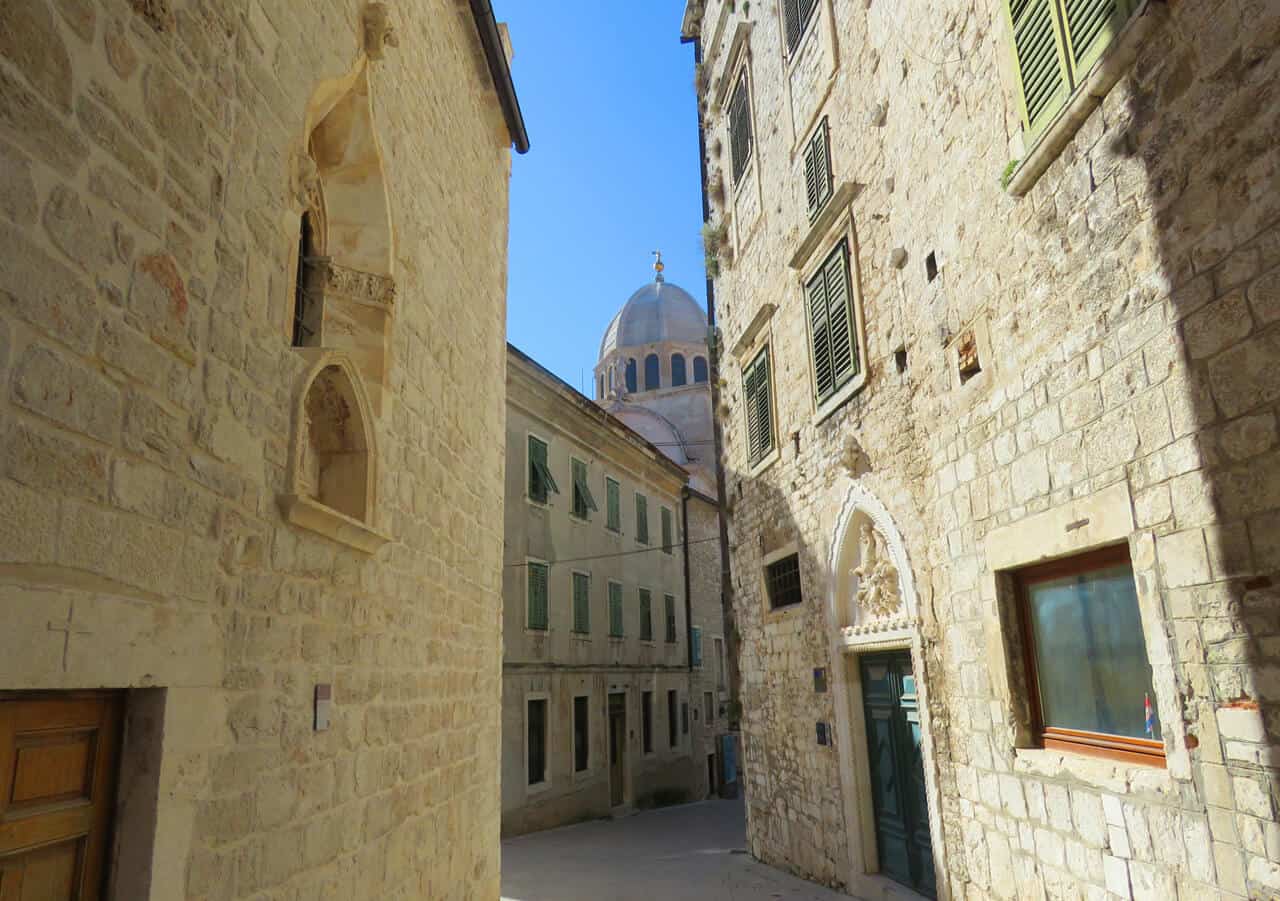 As I wrote at the top: Šibenik is not a place listed as a 'must-see' for visitors and we didn't expect much. We came away surprised and very impressed by our visit. Besides the Cathedral, the fortresses, and the beauty found in the streets, we also enjoyed the geography of the old town with its hills, steps and many viewpoints. We've already decided that we'd be back, maybe spend a weekend and take in a concert at St Michael's Fortress (they hold summer music concerts there which I'm told are very popular).
---
---
Practical Information

– Bus. Šibenik has frequent connections by bus. It takes about an hour to get there from Split. The bus station is right next to the old town.
– Car Rental. We rented a car and found parking right next to the bus station. We always use Rentalcars.com when renting a car. Warning for drivers: bad signage and some very narrow backstreets in Šibenik (if you get lost as I did. Was a bit of a nightmare). If you don't know Šibenik, I think best just to park the car somewhere and explore the city on foot.
– Visiting the fortresses. You can walk up to St. Michael from the old town. Barone and St. John's are a bit further out (a 15 minute walk) – but you can drive to Barone (up a very narrow lane), park, and explore both fortresses.
– Accommodation. A few recommendations: Apartment Luka, Studio Vicencin Place, Apartments Laurus. All in the town center, all reasonably priced.
– Organized Tours of Šibenik (the last one below includes Šibenik and Krka NP – recommended).
PS. Looking to book flights, hotels, tours, or rent a car? Have a look at our Travel Resources page.