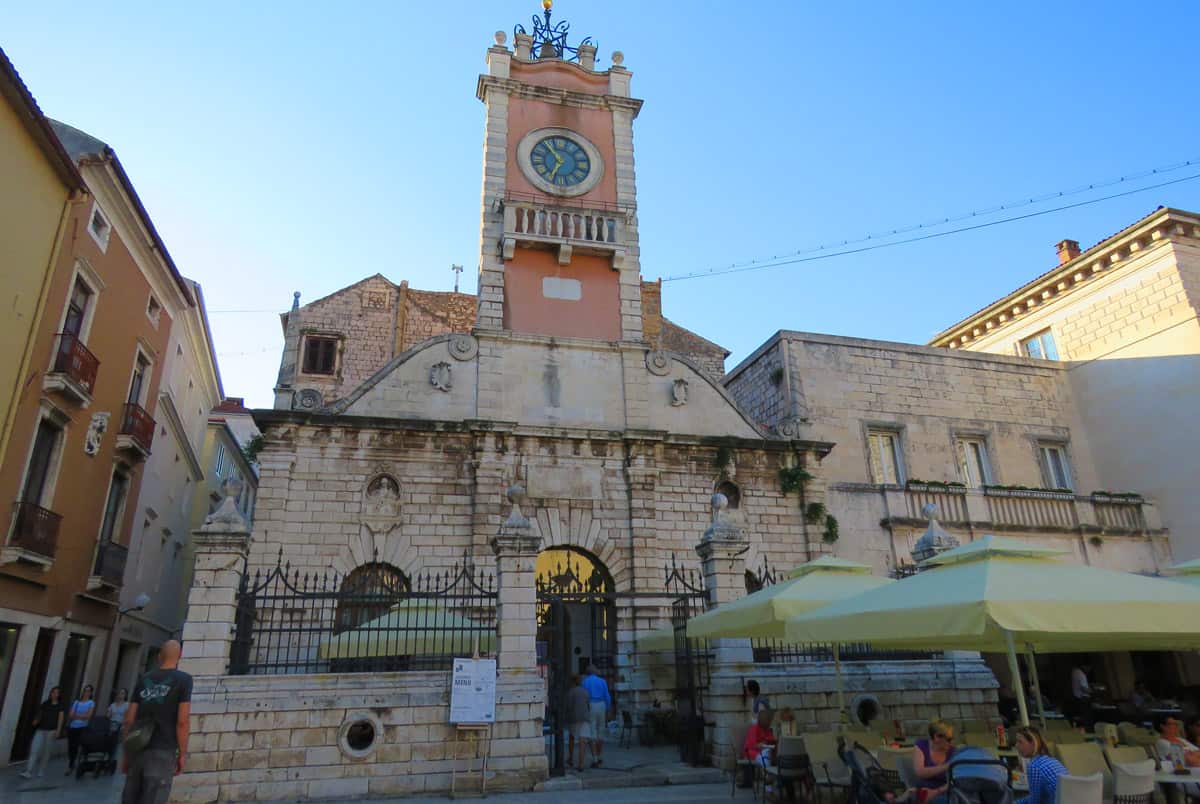 Why go to Zadar? Here's why it's worth a (short) visit
We liked Zadar and are happy we saw it. Were we blown away? No. I'll explain why.
Zadar was the first stop in our 2 week trek north and it didn't get off on good start. The bus station is slightly outside the center and requires taking a taxi into the old town. The taxi driver quoted us 90 Kunas "50 for you and 40 for your bags" which seemed a bit high (although we did have a lot of bags). I didn't like it. Would he charge us more of we were fat or less if we were skinny? He came down to 80, then 70 (about $12 CAD). He wouldn't go lower. I said ok. We got in the car, navigated a few streets, and literally 5 minutes later stopped in front of one of the gates to the Old town. "You have to walk, cannot take taxi into old town". Spanky, usually the quiet one, piped up "That's a rip off, how can you charge that much for such a short ride. And you can't even bring us to the apartment?!?". Sometimes it's better when the woman talks. His shoulders dropped and he had a shamed look on his face.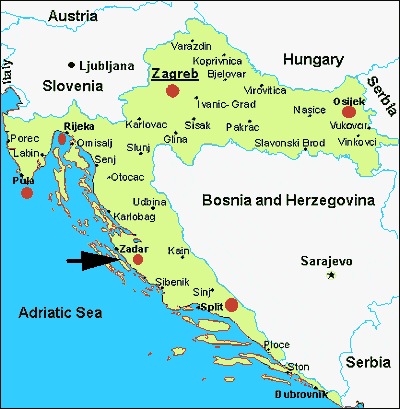 ---
---
Some bloggers have vaunted Zadar as a 'must see' destination on the north Dalmatian coast. They'll tell you the highlights are the Sea Organ and the Greeting to the Sun. These are a couple of modern installations created by a local architect which, although kind of cool, is hardly reason to visit Zadar. The real attraction of Zadar is a history dating back over 3000 years. You'll see Roman artifacts and a whole bunch of churches and historic buildings, some dating back to the 9th century. There is a beautiful main street that reminded us of the Stradun in Dubrovnik. Add to that a picturesque location at the end of a peninsula with nice views over the Adriatic, especially at sunset. There are good reasons to like Zadar. Some photos below.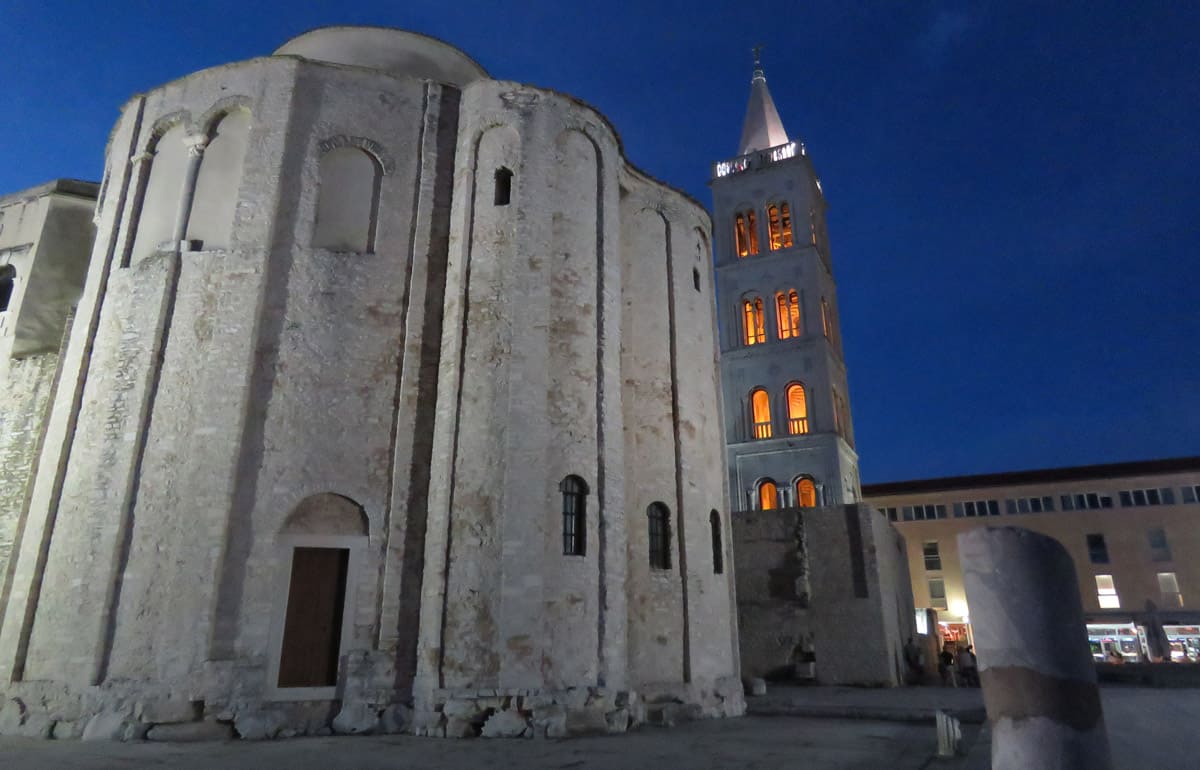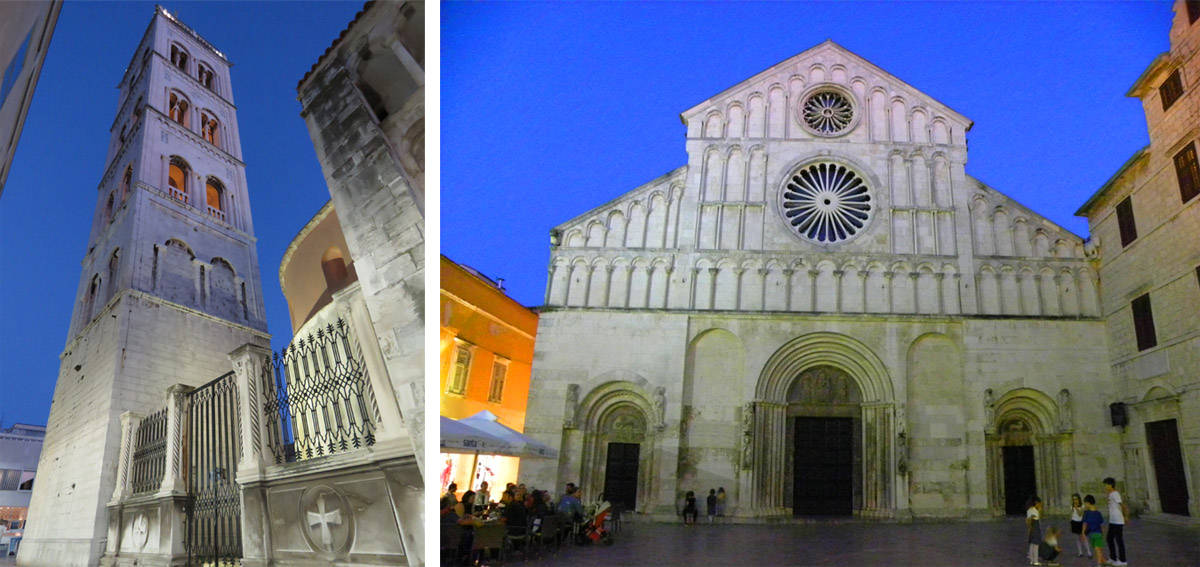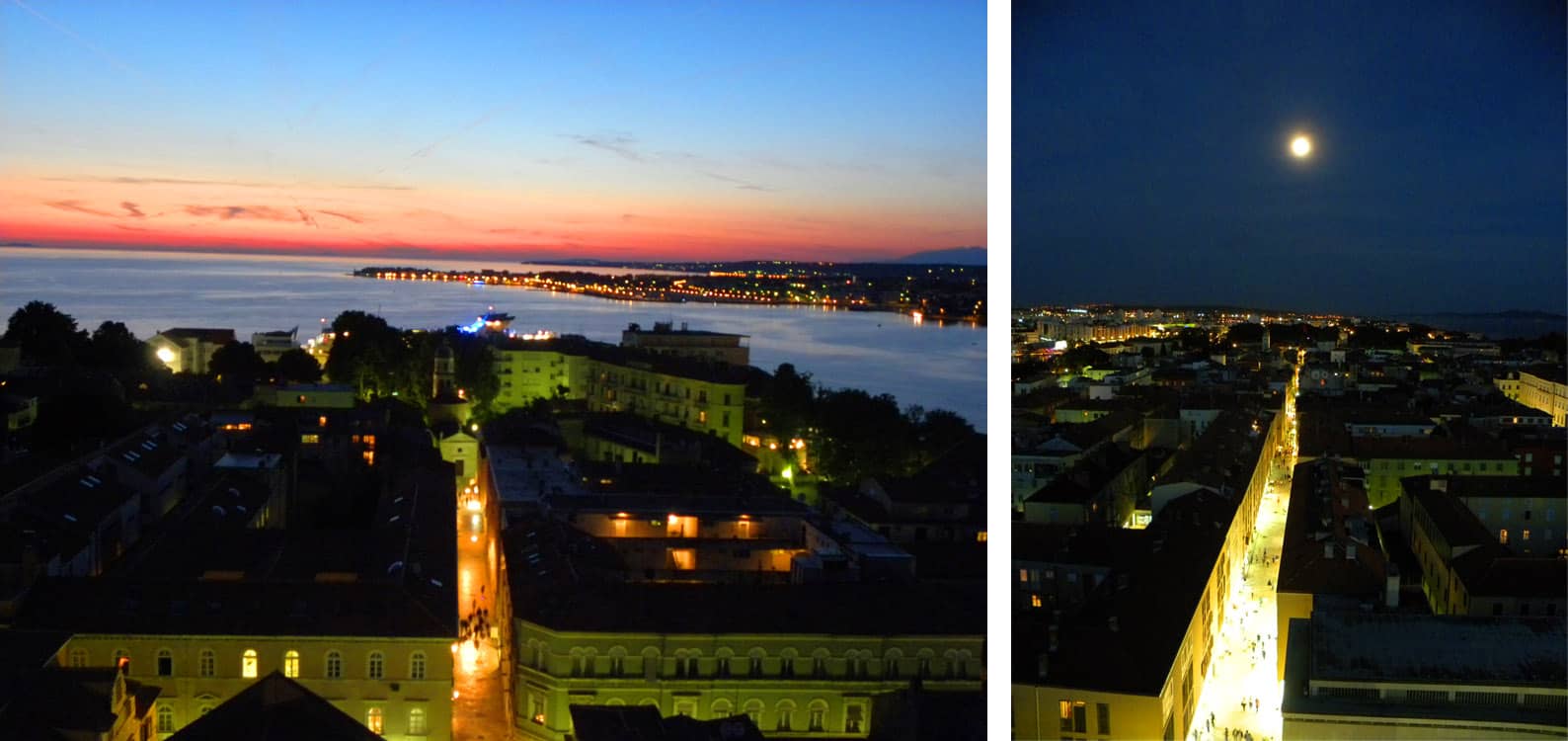 .

---
---

.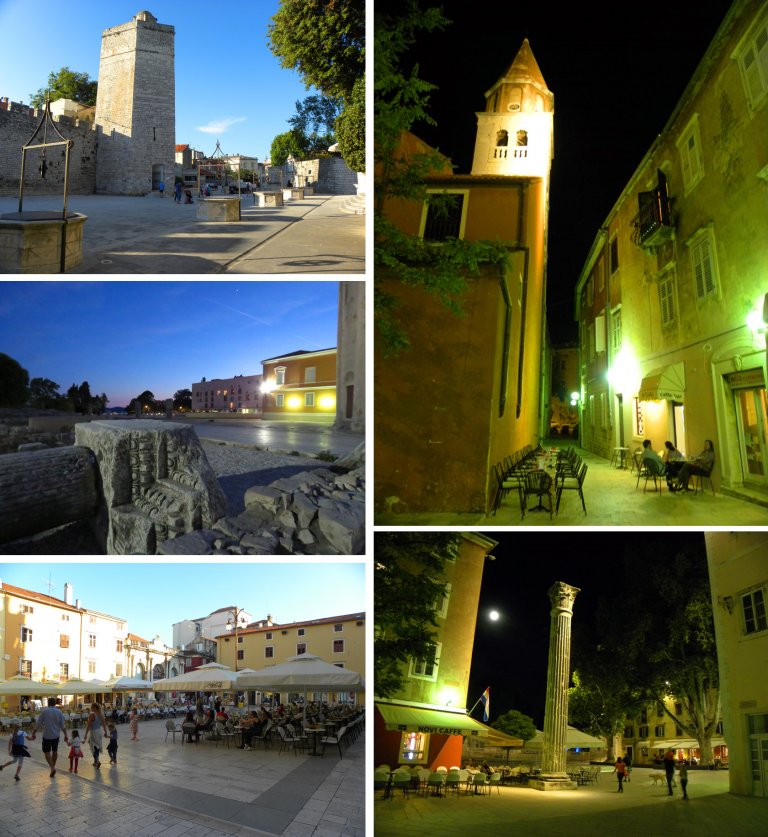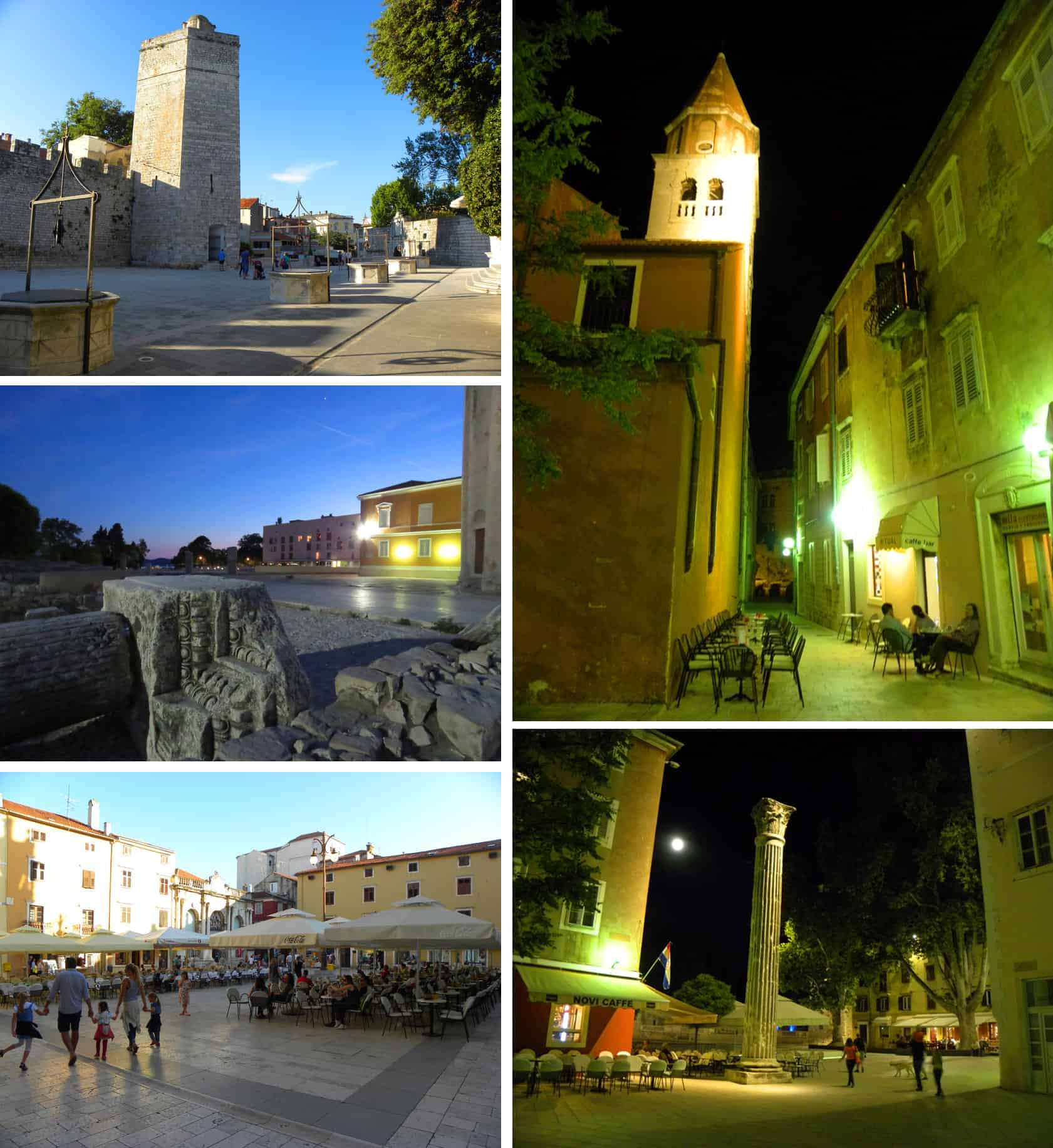 The negatives? Like Split, Zadar is a 'living' city. Locals live within the old town walls. But unlike Split, they haven't done a good job integrating the modern with the old. Within feet of the Roman Forum you'll see ugly 1950s style apartment buildings. You can walk around the old town and suddenly find yourself at a dead end in front of a crappy looking apartment complex. You might think yourself lost. But nope, just another ugly building within steps of a church built over a thousand years ago. Climb the towers and you might be disappointed by the collage of old and not-so-new. It just makes you wonder: What were they thinking when they allowed some of this development?
We spent 2 full days in Zadar which is enough (Zadar is a pretty small place). You should also consider Šibenik which isn't far away (we actually preferred Šibenik to Zadar. You might disagree).
---
---
Below: A few more photos around Zadar.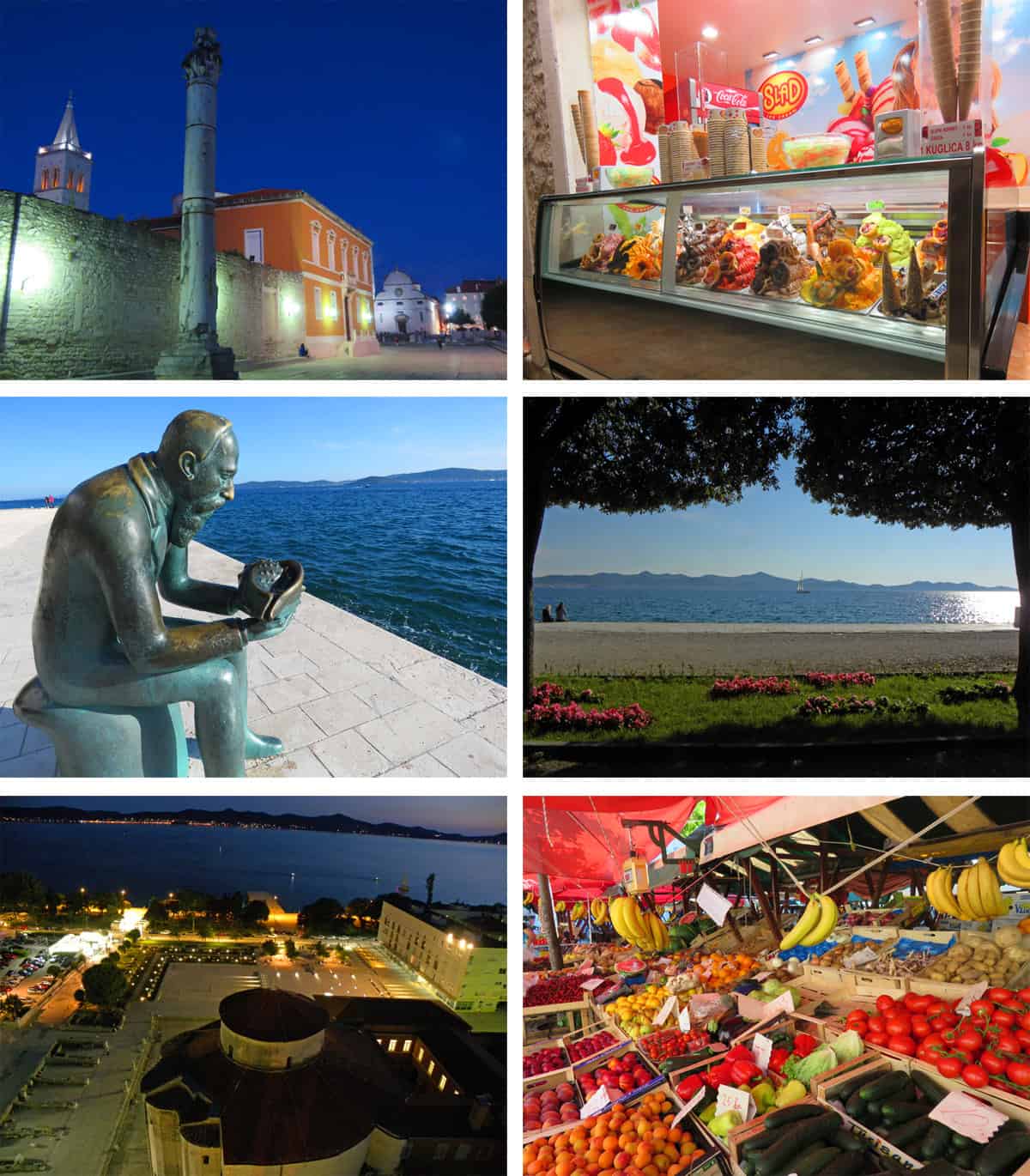 Practical Information
– Zadar is about midpoint between Split and Zagreb (a bit over 3 hours by bus from each). The bus station is about 5 minutes by taxi from the old town. Taxi to old town should cost 40 Kuna according to the owner of the Airbnb apartment we stayed.
– Airbnb. We stayed in one of the nicest Airbnb apartments that we've encountered to date. Recommend highly. If you haven't signed up for Airbnb use our link and save $35 US on your first booking.
–Hotels. A few that were recommended to us: Teatro Verdi Boutique Hotel and Bastion Heritage Hotel – Relais & Châteaux. Both are a bit rich for our blood but they're the only hotels right in the center (the other choices are apartments). .
– Must-do Tours: There are some interesting Day trips available from Zadar. A must see is Plitvice National Park. This tour takes you there for a day trip. If you're a hiker, you can't beat this tour to Paklenica National Park (it's a flat fee for up to 4 people). It's one of Croatia's best hikes.
Have you been to Zadar?
---
---

Ps. If you find our blog helpful, please consider using our links to book your flights, hotels, tours, and car rentals. Have a look at our Travel Resources page.