My 2 years as a child Expat in Zambia
I was 8 years old when we moved to Africa. For a kid born and raised in rural Quebec, it was the most extreme change in environment imaginable.
We had always been different from everyone else in our little town. My dad's family had emigrated to Quebec from Germany when he was very young. He went back to Germany for university studies and met my mom. A year later they came back to Quebec and had me. From the beginning I stuck out like a sore thumb with my white hair and the funny German clothing my mom made me wear. How many little kids in Quebec run around in leather lederhosen or German knitted sweaters?

One day my parents told me that we would be moving to Zambia, something to do with my dad's job. I had no idea where that was and wasn't happy – when you're a kid the last thing you want to do is leave your friends and everything that you're used to. I was especially unhappy when I started have to take English lessons from our next door neighbor. I still remember sitting there, close to tears, while my friends were outside playing street hockey.
---
---
.
In 1974 we left Quebec and arrived in Zambia's capital (and largest city), Lusaka. Zambia, previously North Rhodesia, had gained independence from the UK in 1964. Dependent on copper mined in the north of the country, it was a stable country in a rough neighborhood; across the border to the south Mugabe was fighting the white government of Southern Rhodesia (which would become Zimbabwe after independence in 1980). To the north were Zaire and Uganda, to the west Angola, and to the east Mozambique. All were embroiled in civil wars in the mid-70s.
It's almost 40 years ago now and some of my memories and timelines are fuzzy. But others are as clear as if they had happened yesterday. Here are a few recollections and observances of an 8 year old:
• We lived in the Ridgeway hotel for a few weeks before moving into a pretty little house on the outskirts of downtown. When we arrived the walls had blood all over them. We were told it was chicken blood, meant to rid the house of spirits. The house was fenced in for security (which, as we would find out, was always a problem), the fence behind the house separating it from a large, abandoned field of 6 foot high grass. It was dry, beige-coloured grass, home to all kinds of animals and snakes (some of which would introduce themselves to us within our 2 years there). We also had 2 servants working for us, Simon who took care of the gardens and Paul who did the cooking and cleaning.
• It was summertime in Zambia when we arrived so school was out. One of the first things my parents did was to get me an English tutor. He was an older Welsh gentleman named Tommy Thomas – 5 times a week he would pick me up in his old Renault and bring me to his house, a ranch-style house shaded by a huge tree. He was a kind older man who put up with my moods; full and complete immersion into English was the hardest part of the move for me and I sometimes got frustrated. We would break up the lessons by playing badminton in the backyard or sometimes, on a special occasion, at the school where he had a key to the gym. I wish I could have met him again later in life and thanked him for having been such a nice, patient teacher.
• A necessity in Zambia was getting dogs for security. My father picked out a couple of Mastiffs within a few weeks of moving into the house. It didn't go well. On the first day one of the dogs spotted a neighbor walking a small dog in the street. He clawed his way under the fence and tore the small dog apart like a ragdoll. I never met the Mastiffs – by the time I came home from tutoring the dogs were back at the pound.
---
---
• A few weeks later we adopted 2 other dogs; a female German Sheppard named Snoopy and a male Dashhound named Fritz. Snoopy was an atypical German Sheppard, a quiet and affectionate dog. Fritz was more excitable but that was usually limited to when he would try to mount Snoopy. They were just about the worst guard dogs possible.
•I adapted to not having friends or tv (something that I very quickly forgot about and never missed). We listened to a lot of radio (mostly international news) and records. I remember a lot of Beatles music being played.
• I spent a lot of time in the backyard making bows and arrows out of wire and branches, and wandering into the high-grassed fields behind the property for exploration (learning that dry African grass is sharp and cuts the skin). I remember finding a turtle and building a mud house for it. I also remember the day he ran away and how my dad had found it a few blocks away on his way to work (tip: if you're a turtle and want to run away, don't do it along the side of the road). I eventually met some black neighborhood kids and remember entire days spent playing soccer in the yard with them.
• It was warm, but never felt hot in Zambia because it was a dry heat. In the summertime everything became lush and green and I remember the huge trees that lined the major avenues. The things I'll always remember about Zambia are the red earth, the smells (flowers, the earth after a rainfall, the cooking fires), and the most amazing sunsets I've ever seen.
• I learned early what it's like being robbed. Twice in 2 years we came home to an open door and our belongings strewn all over the floor. Even as a boy I felt the violation that comes with that. Being robbed was something that every expat in Lusaka went through at least once.
• I remember when we were told to keep the dogs indoors. This was the day when pickup trucks would go through the city, shooting and killing stray dogs (rabies control). Rabies was a major problem in Zambia and I remember being scared by the stories of rabid, crazed dogs and jackals frothing at the mouth.
---
---
• When the summer was over I started at Lusaka Boy's School, a private Catholic school run by white administrators. 95% of the students were black, the remaining 5% the children of expats from a variety of countries. My most vivid memories are of the white teachers who looked for almost any excuse to either whack you with a ruler or bend you over a knee for a slap on the butt. I remember math class where the teacher would go down the line, asking addition/subtraction questions. Anyone getting the wrong response would have to put their hand, palm down, on the desk. The teacher would then give the back of the hand a strong whack with the 3-foot long wood ruler he wielded.
• We added a 3rd dog, a baby Zimbabwean Ridgeback that I named Simba ("Lion" in Swahili). Fritz didn't like another male dog in the house and pretty soon we had almost daily dogfights, most initiated by Fritz. Tip on breaking up a dog fight: keep a bucket of water or a hose handy – nothing snaps a dog out of a fight than suddenly being drenched in cold water. Simba grew quickly and the fights stopped when Fritz came to the realization that he kept coming out of the fights a loser.
• We were always checking the dogs for blood-sucking ticks. It sounds gross today, but I remember it was fun pulling them off and squishing them.
• One day a large Cobra came up to the house and tried to get into the kitchen. I remember Paul, the cook, killing it with a machete. One has to watch out for snakes in Zambia, many of which are poisonous. They even have Spitting Cobras which can spit venom into your eye from over a meter away.
• Flying ants! For a few days after the rains started in November, the skies would be filled with flying ants. Totally harmless, but it was like a perpetual cloud of flying bugs. The Zambians loved it – they would collect the ants and cook them, either boiling them in a stew or flying them.
---
---
• A staple food in Zambia is Nshima, a dumpling-like concoction made out of maize (corn) flour known as mealie-meal. It goes with everything, the equivalent to rice in Asia or potatoes in North America. Zambians would eat by hand, squishing Nshima into their hand and dunking it into a stew or mixing with protein dishes (supposedly delicious with flying ants). I remember loving nshima, finding them similar to my mom's German dumplings.
• The President, Kenneth Kaunda, was liked and respected by Zambians. Driving around the city, you would see many posters of his beaming face.
• There are a lot of roundabouts in Lusaka, something you rarely ever see in North America.
• I remember the women wearing colourful wraps (called a Chitenge). Whether rich or poor, Zambian women would always dress very colourfully.
• The Ridgeway Hotel was where expats went on weekends for drinking and socializing around the pool. On weekends we would sometimes have fancy suppers there and they would show a movie in the dining room (I remember seeing 'Airport 75' there – that was the one where the 747 got hit by a small plane, killing the pilots. Charlton Heston had to rappel into the plane from an army jet and maneuver the plane down. Great movie). It was after one of these suppers that we came home to find that we had been robbed.
• We had trips during our stay, visiting Victoria Falls in the south, going on a safari in Kenya, taking a beach holiday in Mauritius. We also drove to Malawi and camped, pitching a tent on a quiet spot on Lake Malawi.
Things got increasingly dicey in Zambia during our 2nd year as the civil war in Southern Rhodesia heated up. Rebels would cross the border and fighting started to erupt in Zambia itself. The excursions started to increase in frequency and proximity. With security becoming more of an issue and the economy drying up (the price of copper had tumbled) expats started leaving the country. I remember the day we suddenly had to say good bye to the dogs and leave for the airport. It seemed that we had left as suddenly as when we had arrived.
---
---
After coming back from Zambia, we moved to Vancouver where I shuttled back and forth to a private school on Vancouver Island. A year later, then 11, we hitch-hiked across Canada, camping in National Parks or in apple orchards on our way to Ottawa. During my time in Ottawa we moved 5 times. With each experience the moves became easier, the adjustment less. When I was 19 I came to Montreal for university.
I actually went back to Zambia in 1987 to spend Christmas with my mom (she had gone back to Africa). I was 21 and it was just over 10 years after we had left. It was funny to see many of the same places I had seen as a child and it struck me how perceptions change. The house and property for example were nowhere as large as I had remembered. Lusaka's security problems had gotten worse; walking around the city at night was unsafe and I remember the house my mom lived in had gates within the house; a gate separating the bedrooms from the living room and kitchen. Zambia had gotten poorer over 10 years. Funny enough it was Zimbabwe, right across the border, that was the new rising star in Africa (its fortunes would change quickly as well over the next few years…)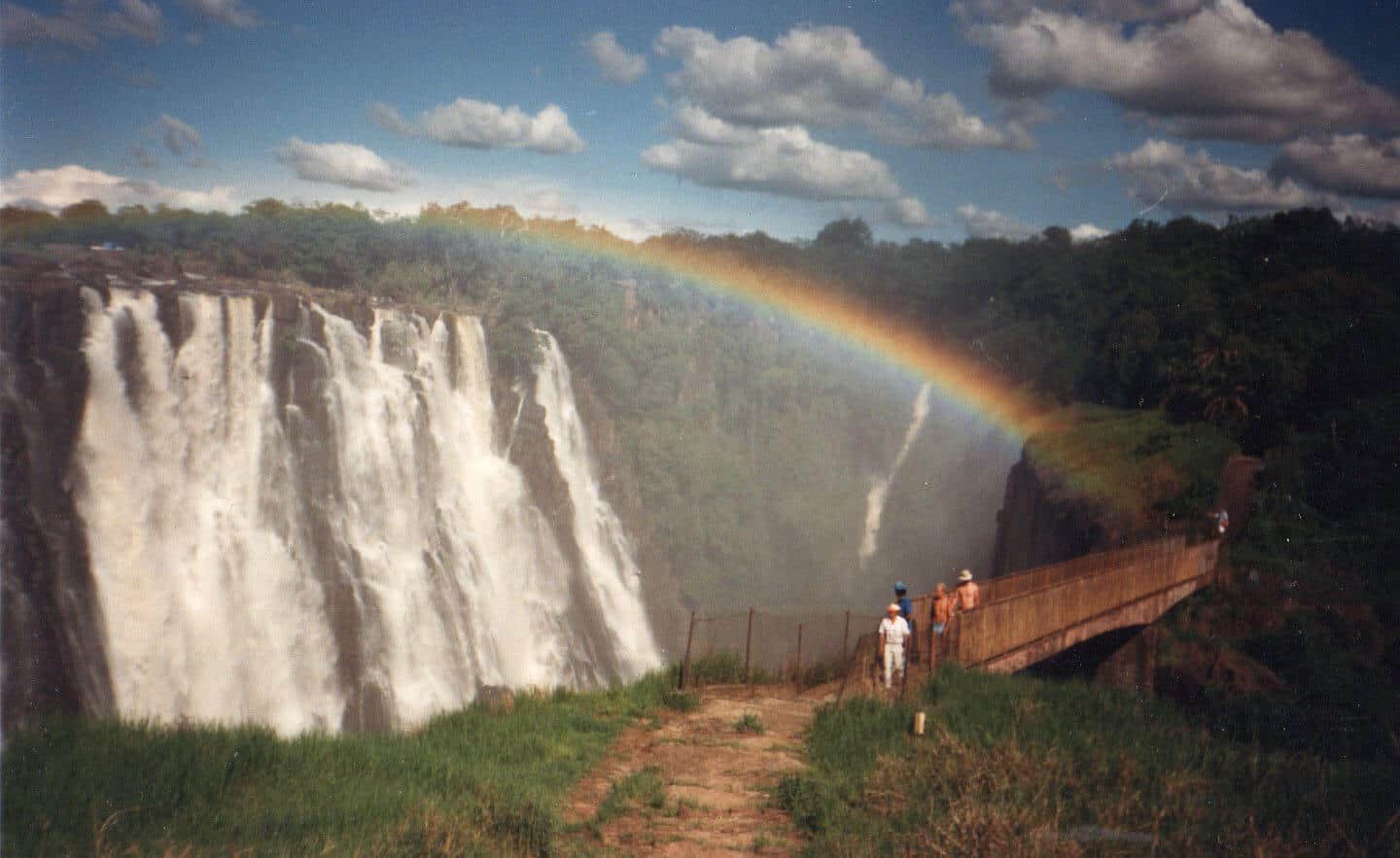 I've had a 'normal', stable life since graduating from university. But it has never changed me below the surface. I've always fought the urge to pick up and leave everything. My wanderlust was usually kept in check by the annual or semi-annual trips I would take but at times even that wasn't enough. I've always found stability boring.
I didn't like being uprooted as a kid. I don't think any kid wants to be. I think you only appreciate such an experience as you get older. Moving to a different culture, learning a new language, and being totally out of your element differentiates you from 99% of people you know or will ever meet. I'm happy today that my life was opened up in this way and that I've had these experiences. But in another way I sometimes wonder if that's a good thing. I look at people around me, some of those my childhood friends, and realize that we don't have many of the same interests, priorities, or outlook on life. Most of them have stable lives, have invested in large homes, have 2 cars, 3 kids, and the same partner they've always had. They've done the same thing professionally since they left college or university. They enjoy yearly golf trips to Florida or more 'exotic' trips to all-inclusives in the Dominican Republic or Mexico. Most of my childhood friends still get together and have family get-togethers, their kids becoming friends. Are they content? I don't know. It's not me, but I've often wished in the past that this was my reality and that I wasn't different. On the other hand, I also think of all the things I've just listed and, in all honesty, I can't see myself living that life. And then I think of my friends and what they must think of me. Maybe pity?

I'm very interested to hear what you have to say to this post. Have any of you been raised in a foreign country? Has it changed you? Do you think we travellers are a selfish, restless bunch unhappy in our own skins? Finally, have you been to Zambia recently? I'd like to go back again one day with Lissette.
---
---
Ps. If you enjoy our blog, please consider using our links to book your flights, hotels, tours, and car rentals. Have a look at our Travel Resources page.