Views from a plane window
I love views from plane windows. Where else do you get an opportunity to see the world from that vantage point and see the beauty of the earth from the sky? I still get excited seeing changes in geography, suddenly seeing snow-capped mountains rising from a green plain or seeing the different shades of water in the Caribbean. Even clouds can be exciting.
After the success of our first post dedicated to views from plane windows, we decided to do a follow up post and invited fellow bloggers to contribute submissions. The photos below are absolutely amazing:
.
Ocean in Malaysian Borneo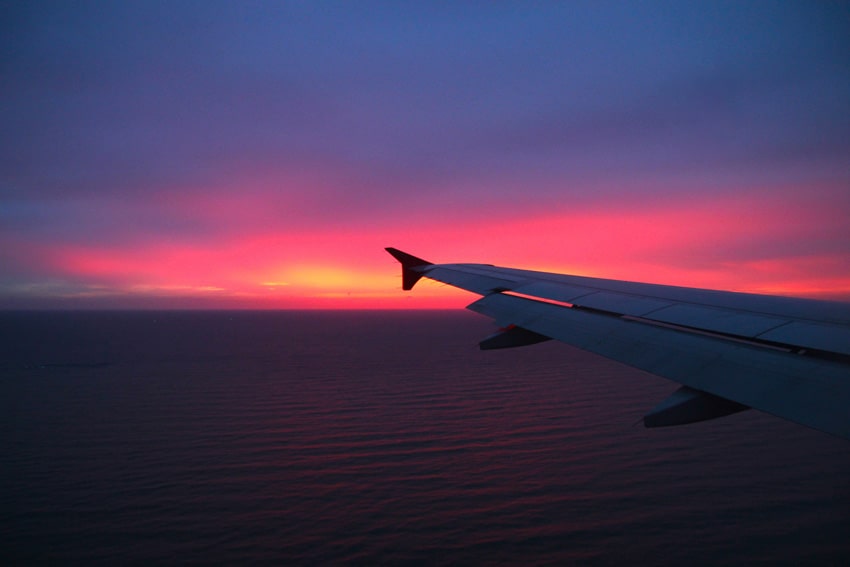 "I snapped this photograph while landing over the shimmering ocean in Kota Kinabalu, Malaysia. I happened to look out the window at exactly the right time, as the sky glowed with hues of pink, orange, and deep indigo. This fleeting moment of wild color was absolutely surreal" – Kay at The Kay Days.
.
.
.
Take off in Phuket
"I was leaving Phuket and heading back to Hong Kong on Air Asia but caught a good one in the sky of the coast line!" – Arnette at Round the World Girl.
.
.
Views over the Peruvian Andes
"Earlier this year, a series of serendipitous events led to my spending three months in the Sacred Valley of Peru. This was my view out the window of the plane from Lima to Cusco; my first peek at the Peruvian Andes – a place that would come to feel like home in more ways than one. My three months in Peru were magical; so magical in fact, that a few months later I decided to return to Peru to establish a home base. This was a very exciting move for me, since I've been essentially traveling full-time since 2007, and signifies a shift in lifestyle. I'll never stop traveling, but it's really nice to have a place to come "home" to" – Nora at The Professional Hobo.
.
---
---
.
Sunrise over the Himalayan Mountains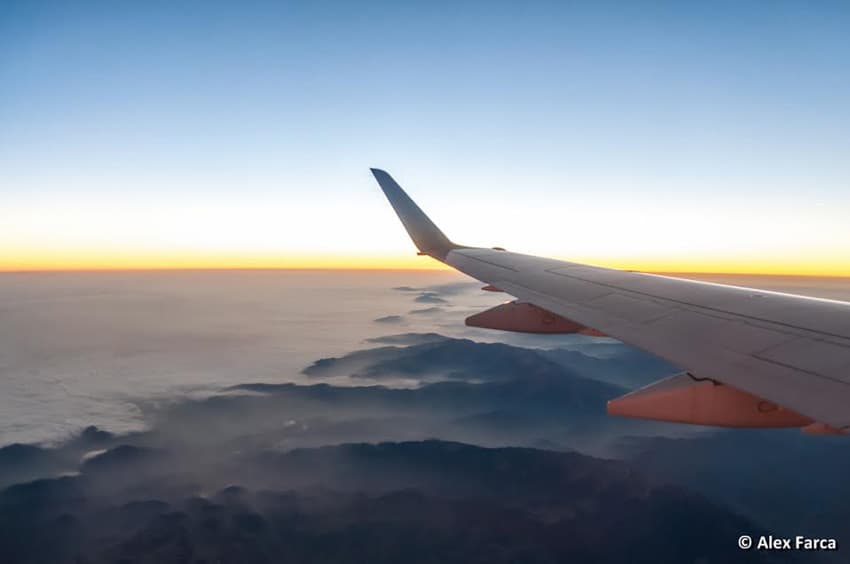 "Flying over the Himalayan mountains on my way to China. It was very early in the morning when the sun started to rise and bring this light over the white heads of the mountains" – Alexandru from LumeaMare.
.
.
Views over Shark Bay, Australia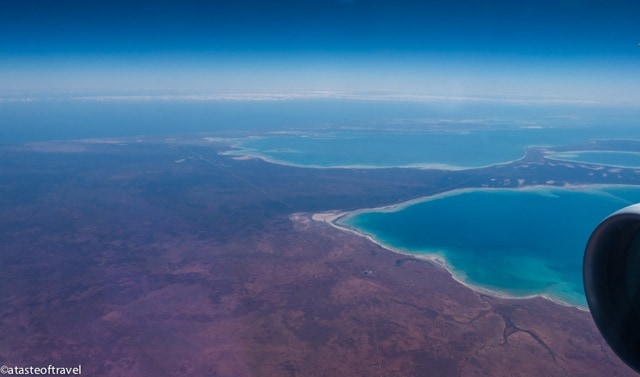 "Flying back to Australia a couple of weeks ago we, crossed the Western Australian coast near Shark Bay. The blue water looks so inviting against the treeless, brown landscape but don't let it fool you…swimming is not recommended in these waters! " – Jenny at A Taste of Travel.
.
.
.
---
---
Somewhere over Myanmar
"After seven and a half months of living in Beijing, when I had the opportunity to take a trip to Myanmar I was beyond excited. As we were landing I realised that it really was a different world when compared to the hustle and bustle (and pollution) of Beijing. I couldn't wait to land and go exploring, and the trip was well worth it. Myanmar is now one of my favourite countries" – Stacey at Onetravelsfar.
.
.
Volcano
"The Holuhraun volcanic eruption in Iceland from the window of a small Cessna" – Matthew from The Expert Vagabond.
.
.
.


Views of the Italian Alps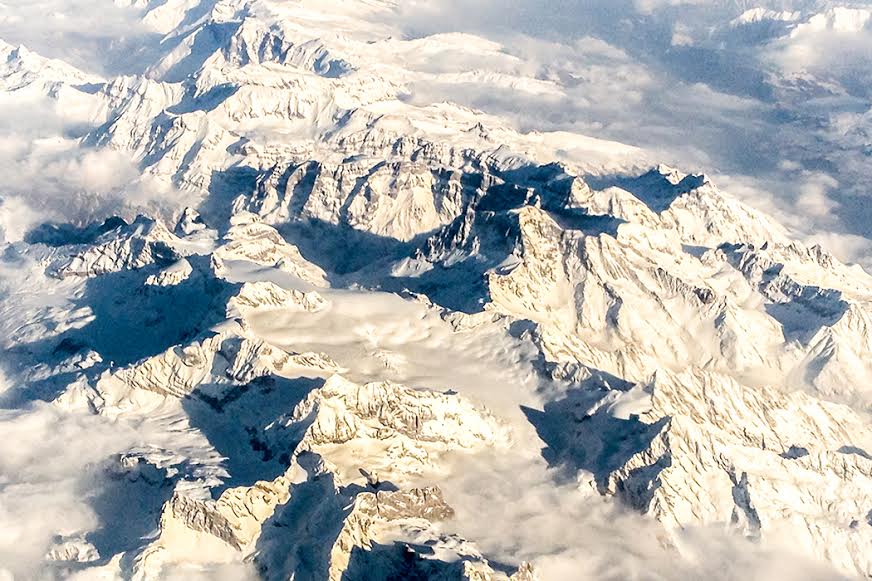 "This is an amazing view of the Italian Alps taken with an iPhone. Flying from Germany towards Italy, on a bright sunny winter day" – Gianni and Ivana at Nomad is Beautiful.
.
.
Sunrise over New York City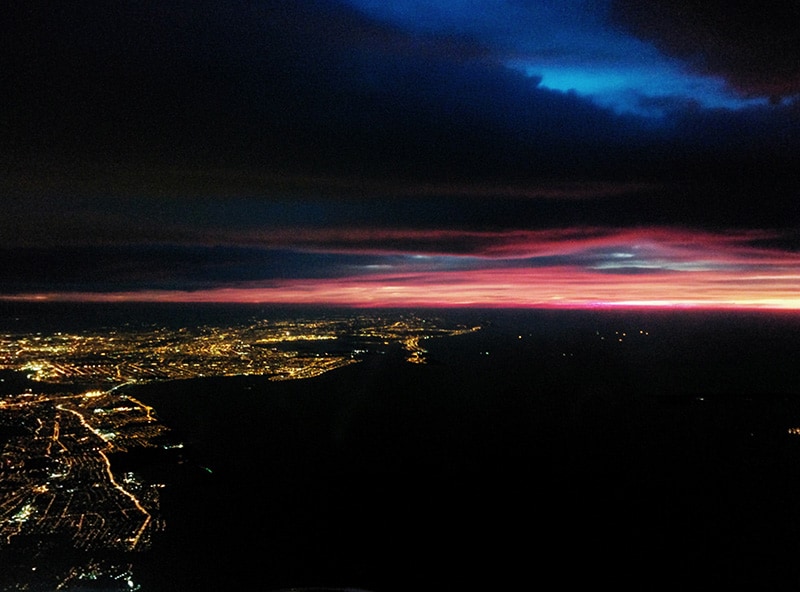 "Flying out of Newark Liberty International Airport en route to Orlando at the unsociable hour of 6am offered a celestial view over NYC quite unlike anything we've seen before' – Charli and Ben at the Wanderlusters.
.
---
---
.
Laguna Madre, Mexico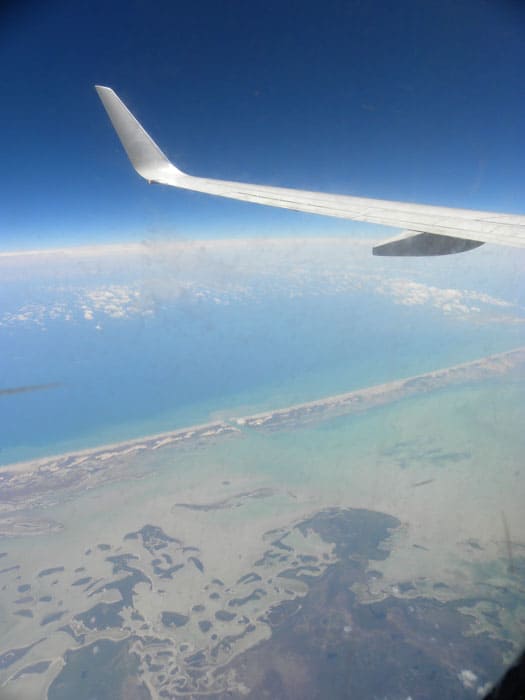 This is one of my own photos. I've flown from Montreal to Mexico City a few times and each time found the terrain along the NE coast of Mexico to be curious. It is the Laguna Madre, a series of very shallow hypersaline lagoons separated from the Gulf of Mexico by a number of barrier islands. A bizarre, arid landscape.
.
.
View of Piton de Neiges, Reunion Island
"This is the view of Piton de Neiges (or snow peak – though there's rarely any snow on it), the highest peak (3,071m) on Reunion Island in the Indian Ocean, taken from a microlight aircraft. In fact, it's the highest mountain in the Indian Ocean. Reunion Island is a department of France; French is the official language and the euro is the currency. With its dramatic landscapes and 200-odd micro-climates, Reunion is a fantastic destination for adventure-seekers and nature lovers" – Keith at the Velvet Escape.
.
---
---
.
The African Coast
"This pic is on my flight to Lamu, Kenya. Lamu is an ancient Islamic stone town that grew wealthy trading Zanzibar's riches in the Middle Ages. Famous for its intricately-carved wooden doors adorning the entrance of merchant houses, there are no cars- just boats and donkey taxis. I went there while living in Kenya in search of authentic Africa (although my company warned me not to go with the active Somali pirate warning) this little puddle-jumper left the engines on while we boarded and signs inside the cockpit asked passengers to extinguish cigarettes when the oxygen masks deploy" – Brad from My Wanderlist.
A sampling of some of our favorite plane views from 7 years of full-time travel


.
---
---
.
Johor Bahru, Malaysia

"Two years ago, when I went to Singapore, one of my blog readers took me out on a treat: to be a pilot for one day in neighboring Johor Bahru, Malaysia. The flight lasted only 45 minutes but I had the time of my life learning how to manipulate that little plane. The view here was taken from 1,500 ft up in the Johor Bahru airspace" – Aleah of Solitary Wanderer.
.
.
Amazing Sunset
"Beautiful sunset on my flight to Poland. It was the first time that I've seen the big ball fade out and melting below the horizon. I've only seen until now the big ball of fire disappearing into the sea rim" – Alexandru from LumeaMare.
.
.
On the way to Taipei
"It was 4 30 am when we left Dubai and up in the sky it's as if the sunrise sped up and we were suddenly in another time zone. On the way to Taipei..flying with Emirates (whose tagline is Hello Tomorrow). It was literally a hello tomorrow" – Jan at Travel Life Arts.
.
---
---
.
Landing in New Delhi, India
"New Delhi has recently gained the title of "most polluted capital city in the world". So, as you can imagine, landing in the Indian capital doesn't always offer glorious views. This was one of those rare days. Just after the rain had washed down all the smoke and dust, we landed in a Delhi as green as it gets these days. With views or not, the excitement of arriving in a place as happening as India is unavoidable. But, let's face it, with a pretty sight outside the window, it all feels even better!" – Zara and Ashray from Backpack ME.
.
.
Approach to Ko Samui, Thailand
"This photo was taken as my family and I approached Koh Samui after 8 or so days in Cambodia. We (me, spouse, two daughters) were looking forward to spending time on one of Thailand's famous island beaches after a week of exploring the temples, ruins, rivers and jungles near Siem Reap" – Jennifer from The Vacation Gals.
.
---
---
Ps. If you find our blog helpful, please consider using our links to book your flights, hotels, tours, and car rentals. Have a look at our Travel Resources page.