48 Hours in Granada
There are 3 "must see" destinations in Andalusia (in our opinion): Seville, Cordoba…and Granada.
Of those Granada has what is disputably the most famous attraction in Spain: The Alhambra.
But there's more to see in Granada than the Alhambra and I'll cover that in this post. As the title suggests, give yourself at least 48 hours to explore Granada. There's lot to see.
I also include hotel and restaurant recommendations at the bottom of the post.
Day 1 in Granada
Visit the Alhambra
The Alhambra was the last stronghold of a Great Muslim empire that at one point included most of Spain and Portugal. Like other Moorish sites (such the Real Alcazar in Seville) it is characterized by lavish architecture and sumptuous gardens. In 1492 the Moorish sultan surrendered the city to the Catholic monarchs (Ferdinand II of Aragon and Isabella I of Castile) who took up residence here. It was in the Alhambra's Hall of the Ambassadors that Christopher Colombus signed a contract with the monarchs (in April of 1492) that would lead him to his discovery of the Americas.
---
---
If you plan it properly, count on spending most of the day at the Alhambra. It is a large site with lots to see. The highlights: the Nasrid palaces (the palaces where the Moorish kings held meetings and where their families lived), the Alcazaba (the huge fortress part of the Alhambra that looms over the city), and the Generalife gardens (the summer palace of the Moorish rulers).
I have a detailed post on the Alhambra here. Plan ahead and book your tickets in advance…you don't want to miss the Alhambra when in Granada.
Note: book using the official website. Googling "Alhambra tickets" I've seen other websites come up featuring much higher prices. So use the official website.
If you prefer to take a guided tour.
The Alhambra is not just a fantastic site just by itself: it also gives you incredible and unique views of Granada from almost every part of the complex and well as from the Generalife gardens. Spectacular.
---
---
Highlights of the Center
You can walk from the Alhambra and be in the center of Granada within 15 minutes. It is an attractive area with lots of pretty squares and buildings as well as spectacular churches. You might not able to see all of the below on what's left of your day 1 itinerary but they'll be some time left on day 2 to knock them off your list.
Plaza Bib Rambla – located in the heart of central Granada, highlighted by a fountain at its center. Beautiful square.
Catedral de Granada – The city's main Cathedral, built in 1518 over the mosque of the previous Moorish rulers. It took 200 years to build and is an architectural mix of renaissance, baroque and Gothic style (which reminded us of Malaga Cathedral). Usually open until 6:15 pm.
Royal Chapel of Granada – the chapel was built in the early 1500's and is the burial place of Queen Isabella I and King Ferdinand (referred to as "the Catholic Monarchs", the most famous of Spanish monarchs). Gorgeous architecture (but no photos allowed).
Plaza de la Romanilla – a pretty plaza lined with palm trees within steps of the cathedral. A good place for a drink and snack
Basilica of San Juan de Dios – the most gorgeous religious building in Granada in my opinion. Its beauty will smack you in the face. The thing is that most people have never heard of this basilica so you may find yourself there by yourself. More on the Basilica of San Juan de Dios.
Alcaiceria – it's a watered-down version of a Moroccan souk. But for many it's a good place to pick up typical Moroccan souvenirs: leather, lamps, tiles, clothes, oils. You can even have Moroccan tea or food.
---
---
Day 2 in Granada
Explore the Albaicin
This neighbourhood was where the Moorish population lived. Built up on a hill, it is a labyrinth of whitewashed buildings, steep steps, pretty plazas and amazing viewpoints. The neighbourhood was named a UNESCO World Heritage Site.
Located among the little plazas are lots of little tapas places. One of them is Placeta de San Miguel Bajo – this little square was our favorite and we enjoyed sitting here and having tapas during our week in Granada.
---
---
I mentioned viewpoints: the most famous is Mirador de San Nicolas. It's a happening place with lots of people singing and playing with tambourins. Continue further up to the Mirador de San Cristobal which you might have to yourself.
---
---
Explore the Sacromonte
Sacromonte is another popular area for visitors. It is known for its Roma community, for flamenco, caves houses (troglodyte houses) and for various miradors with amazing views.
While the Albaicin is a large, sprawling neighbourhood, the Sacromonte is compact and steep with most houses being built into the walls of a cliff. The main street is Camino del Sacromonte while is full of caves and restaurants. Higher up is the Cave museum of Sacromonte which is a museum with 11 cave houses.
---
---
Sacromonte is the place to go for a flamenco show which are held in zabras ("gypsy" or "Roma" caves). A few recommendations: Cueva la Rocio, Zambra Maria la Canastera and Cuevas Los Tarantos.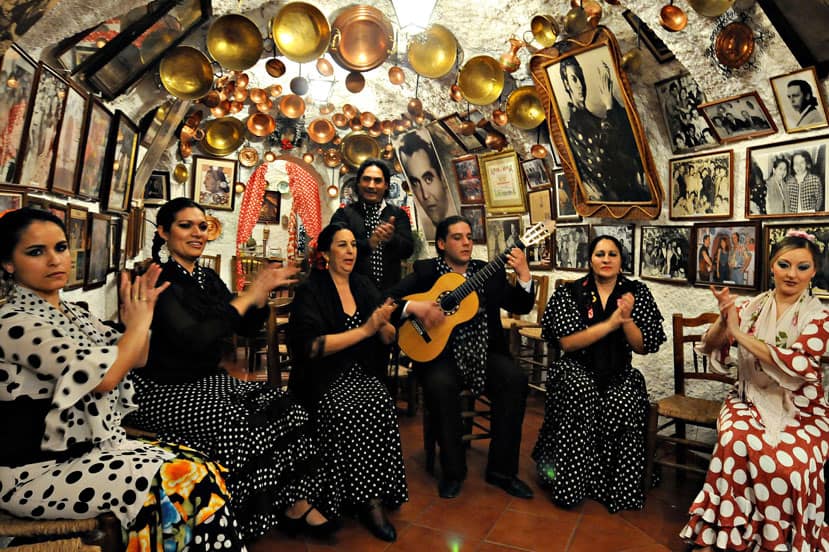 Viewpoints: Mirador de Sacromonte, the views at the Cave Museum, Mirador de San Miguel Alto (the highest point in Granada)
A guided tour of the best viewpoints in the Albaicin & Sacromonte
Another highlight if you still have some time remaining…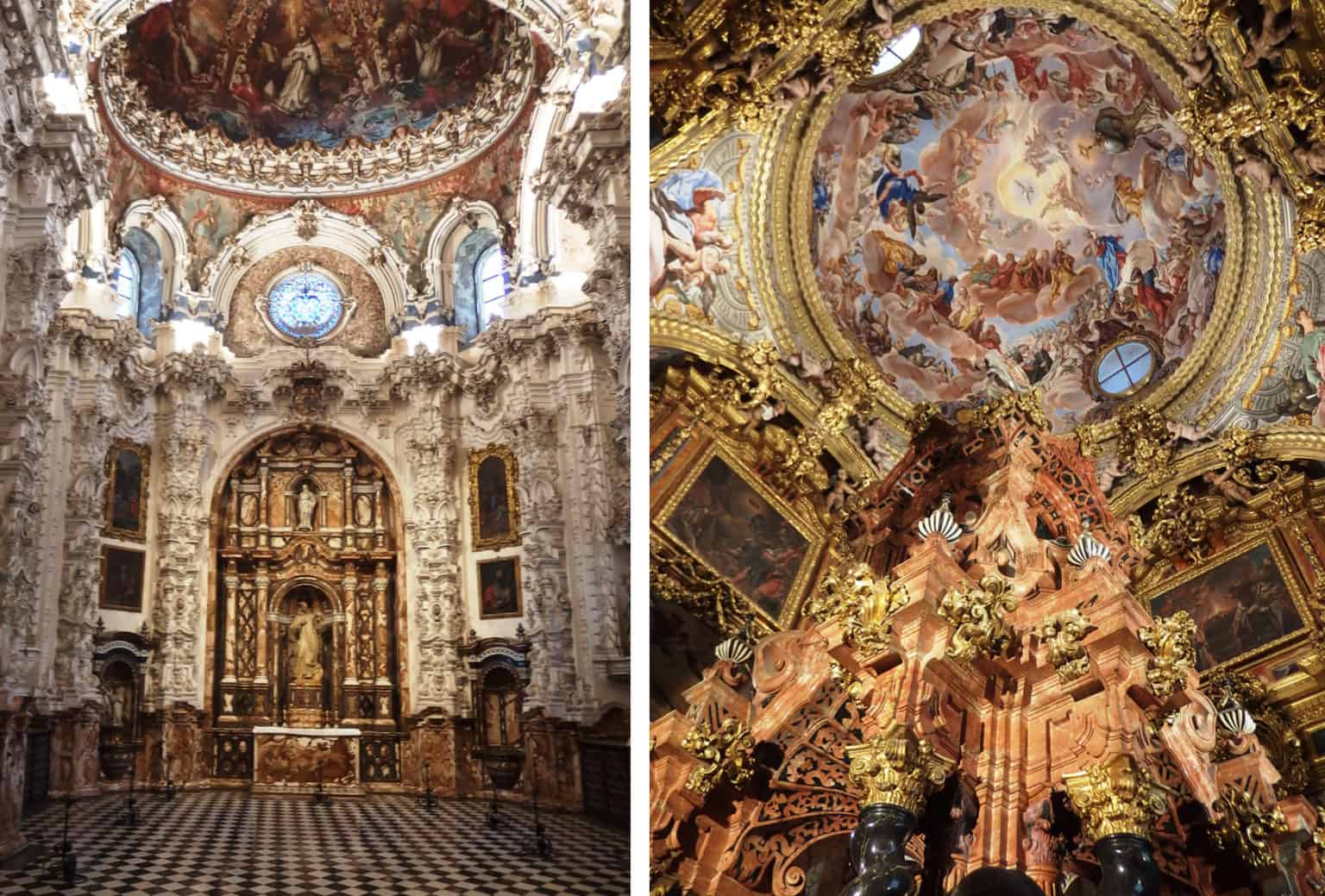 Note: La Cartuja Monastery – it's about 3 km from Granada. We haven't been yet but have been told by a few people that it is extraordinary. If you have time left over from all the above you can try to fit it in (you can walk there in about 20 minutes from Mirador de San Cristobal at the top of the Albaicin district).
There's lots to see in Granada but the above are the highlights.
---
---
Practical Information
How to get to Granada
Bus: The fastest way. We came from Malaga which took about 90 minutes, Cost 12 Euros. See Alsa bus schedule.
Train: Granada isn't on the high speed lines which is why I recommend taking the bus from Malaga. If coming from Madrid, the train will get you to Granada in 3 ½ to 4 hrs. See schedules on Renfe.
Where to Stay
We really recommend staying in the Center (we stayed in the Albaicin which I don't recommend)
Budget: Hotel Macià Granada Five Senses Rooms & Suites, BiBo Suites Gran Vía (they often have specials), Abadía Hotel…if looking for an apartment Apartamento Centro (fully equipped 2-bedroom apartment).
Mid range: Palacete 1620, Premium Suites, Only adults (rooms include private kitchen). Sercotel Granada Suites.
Fancy: Parador de Granada. Located on the grounds of the Alhambra, it's one of Spain's most popular Paradors.
---
---
Where to Eat
$ d'Sano. Inexpensive café/restaurant with excellent breakfasts.
$$ Bistro Del Mundo Granada. Good breakfast/brunch options. Near Basilica of San Juan de Dios.
$$ La Cuchara de Carmela. Traditional dishes, cozy. Near the center.
$$ Restaurante Vegano Hicuri. Excellent vegan food in the center.
Higher end restaurants with great views
$$$ Restaurante Mirador de Morayma. Not far from Mirador de San Nicolas. Incredible views, excellent food. Reserve ahead and book a table with a view.
$$$$ Carmen de San Miguel. Closet to the above with similar great views and good food.
$$$$ Carmen de San Miguel. Upmarket, another restaurant with incredible views. Located just below the Alhambra.