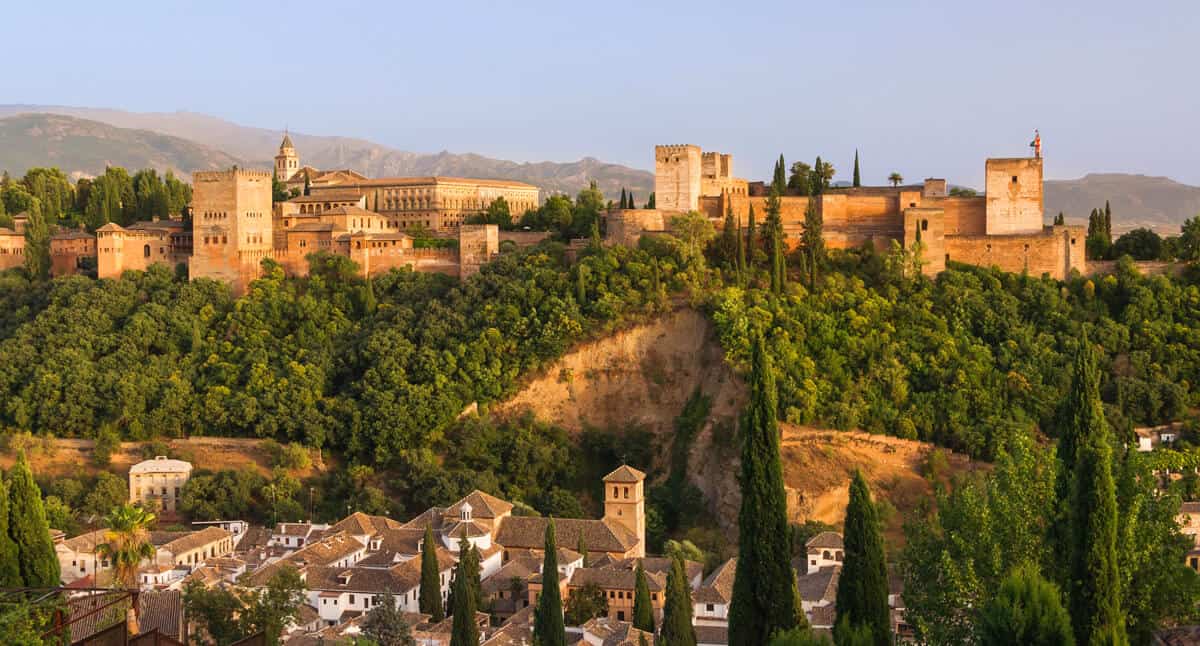 7 things to See and Do when visiting Granada Spain.

One of Spain's most prized treasures, Granada is of home to the Alhambra, a UNESCO World Heritage Site that Moorish poets called "a pearl set in emeralds ". While the majestic palace may be the reason you are visiting Granada the city has so much more to offer the inquisitive visitor.
With a history dating back to before Caesar's army conquered the Iberian Peninsula and the Catholic Monarchies expelled the Moors back to Africa, Granada is known primarily for the eight centuries of Islamic rule and the legacy the Moors left in their wake.
Today Granada is a vibrant city that personifies Andalucia with its sun-filled days, flamenco-inspired nights and a young student population that ensures the city keeps pace with all the latest trends and fashions.
7 things to See and Do in Granada
1 – Visit the Alhambra
No visit to Granada would be complete without seeing the incredibly beautiful Alhambra Palace. Built as a royal residence for Mohammed ben Al-Hamar on the ruins of an old Roman fort, the Alhambra is a wonder of design and aesthetics.
No matter where you look you are treated to intricate patterns and artistic Arabic calligraphy that recites verses from the Qur'an. Water in all its forms was treasured by the Moors who considered it as being the purest form of life and in the Alhambra it is everywhere you look, either cascading, within decorative pools, or playfully drip-dropping to mask secret conversations.
When the Christian armies captured the Alhambra in 1492 it sparked a "Golden Age" for Spain and is the final resting place of Isabella and Ferdinand, the Royal Monarchs credited with creating the Spain we have today.
The Nasrid palaces themselves, remain the talking point of all Alhambra visitors. The impeccably detailed decor of these Palaces give evidence of their previous grand residents, the Sultans of Granada. The stunning architecture runs throughout each bedroom chamber down to every courtyard.
If you plan on visiting the Alhambra you may need to book months in advance, as tickets to the Alhambra Palace are limited and sell fast. If you can, visit early in the morning to avoid the crowds. You can book tickets here. Or, if you want a guided tour, you can book this recommended tour.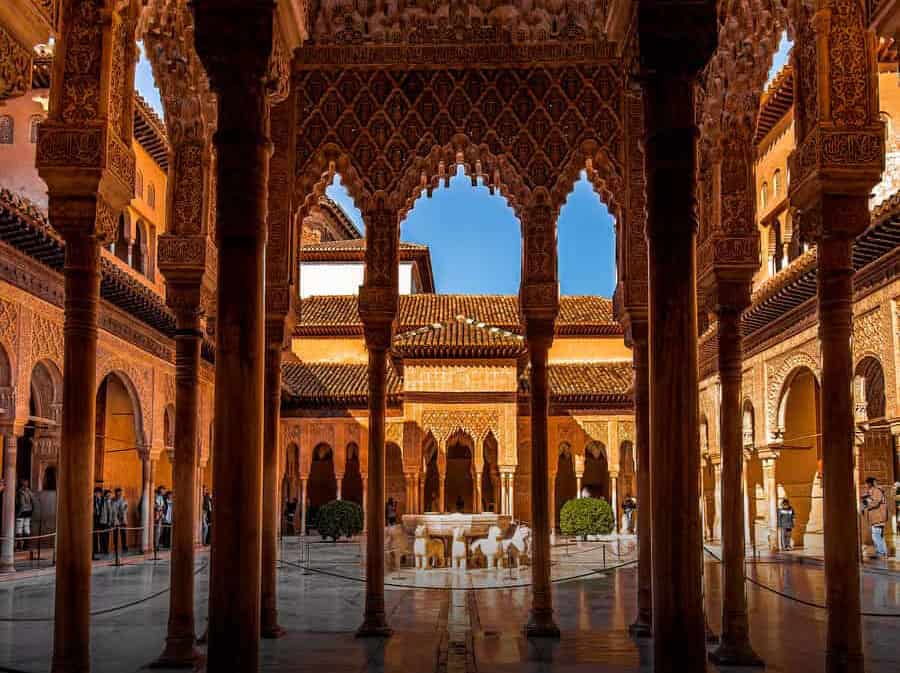 ---
---

2) Walk the 'labyrinth' of Albayzín
Declared a UNESCO a World Heritage Site in 1984, the Albayzín is a labyrinth of alleyways full of pretty flowery patios and ornate mosaic tiles on tall Medina -style white houses. Home to the city's Muslim population following the Reconquista, the Albayzín is where you can really feel Granada's Arab past. These picturesque walkways are worth getting lost in.

3) Purchase unique gifts in Alcaiceria
If you are looking for that perfect gift or just something to remind you of your visit to Granada stroll along what was once Granada's Great Bazaar where merchants would sell exotic spices and silks from the Orient. Today you can also experience authentic Moroccan food and drink at is best. Having burnt down in 1843, what remains is one main street with a few smaller alleyways full of leather shops, unique lamps, clothes, scents and oils. While it may not be the souk it once was, it is still the best place to find unusual Arabic-inspired items.
---
---
4) Experience Flamenco in a Sacromonte 'cave'
While known primarily for its Islamic past the Moors are not the only people to have left their mark on Granada. Following the expulsion of the Moors, influential Gypsies arrived in Granada and carved out dwellings in the hillside opposite the Alhambra bringing with them a distinctive style of music and dance that today we call flamenco. If you want to witness flamenco in its purest form, visit the area of Sacromonte at night and enjoy a show in one of the many clubs that now occupy the caves where people once lived (or you can pre-book a tour here).
5) Become captivated at Mirador de San Nicolás
For that must have selfie or the perfect photo of the Alhambra, head on up to the square of San Nicolás for a view that President Bill Clinton called "the most beautiful sunset in the world." Make sure you get there well before sunset as other tourists will have the same idea as you. The moonlit Granada Palace is vision that you won't forget in a while.
---
---
6) Become a Tapas connoisseur
Tapas are of course synonymous with Spain and Andalucia in particular where bars offer a tiny morsel of food with each drink. Whether it is fried calamari, ensalada Rusa or just plain sliced jamón, you cannot go wrong bar hopping in Granada. Try and avoid the obvious tourist traps and go off-piste and live like a local by hitting the bars just outside the city centre. If you're looking to get decent bite to eat on an evening remember that some bars won't even open until 7.30pm! If you are very hungry, you may prefer a plate of something more substantial such as delicious manchego cheese and jamon iberico. Some bars just off the high street become filled with the Spanish locals around 8pm. This is of course is a good sign, but the tip is to head there before things get going. You can even take a tapas tour.
7) Enjoy the Sierra Nevada
Granada is one of the few places in the world where you can actually ski in the morning and be on the beach for lunch. Home to the most southerly ski resort in Europe the Sierra Nevada Ski Station season is open from November until May with slopes that cater to all levels of ability. Located just 30 minutes from Granada, it is easy to combine a cultural trip with a skiing holiday. Even non-skiers can enjoy the Nevada resort's many other activities, such as the unparalleled snow experience of tobogganing on inflatable rings. The breathtaking scenery is something out of a bond movie and will get you some spectacular photos for your family album.
---
---
Accommodation in Granada
High-end Hotels: Alhambra Palace. Fantastic hotel just outside the Alhambra with great views of the city. Room Mate Leo. Beautiful, stylish hotel in the city Center.
Mid-Range Hotels: Hotel Santa Isabel La Real. Charming hotel in the old town. Palacio de Santa Inés. Stylish hotel in historic building with great views.
Budget: Hostal Verona.
Apartments: Alhambra Slowhomes. Beautiful apartments, great location, good price. Siloe Plaza, a bit higher-end but good value and great location.
Getting to Granada
The city of Granada is located in the autonomous community of Andalucía in the south-eastern part of Spain and is easily accessible by planes, trains, buses and automobiles.
By air: Granada-Jaén airport or Granada airport GRX, is located 17 kilometres from the city centre. Whilst it does not have too many international flights, it is well connected to other cities in Spain. You will find plenty of taxis waiting outside the terminal, but can save money by taking advantage of Granada's excellent bus system that operates a route between the airport and the city centre.
By train: Despite Spain having one of the best rail networks in Europe, Granada is not currently a part of the high-speed network. It is, however, possible to get to Granada by rail from Madrid and Seville. If you're visiting from Malaga or anywhere else on the Costa del Sol, there is no train. In that case the best way is by bus (below).
By bus: You can get to Granada from anywhere in Spain by bus and there is a regular service several times a day from Malaga. Getting from Malaga to Granada on the bus may be a long journey, but it is incredibly good value for money. Upon arrival, the bus station in Granada is located away from the centre which means you can either take a taxi or use public transport in order to visit the city's main attractions. Many tour companies operate day trips to Granada from the resorts along the Costa del Sol.
By Taxi: You can take a private taxi transfer to Granada for less money than you would think. This is much more direct than the buses coming from coastal towns, such as Nerja, as some buses have to travel via La Herradura adding another hour to the journey. It is recommended to book in advance & agree the taxi fare first so as not to rely on a 'metered' journey.
Driving: Granada is easy to get to by car, taking advantage of Spain's extensive motorway network. If you are driving from Malaga the journey should take 1.5 hours. Driving in the city centre is restricted in certain area's which means you may be better off parking away from the centre and public transport to get around. Have a look at prices on Rentalcars.com.
This Guide is contributed by Nicola Griffin. Originally from the UK, she moved to Spain's Costa del Sol. She loves it. She has much more on the Costa del Sol on her website.
Ps. If you find our blog helpful, please consider using our links to book your flights, hotels, tours, and car rentals. Have a look at our Travel Resources page.