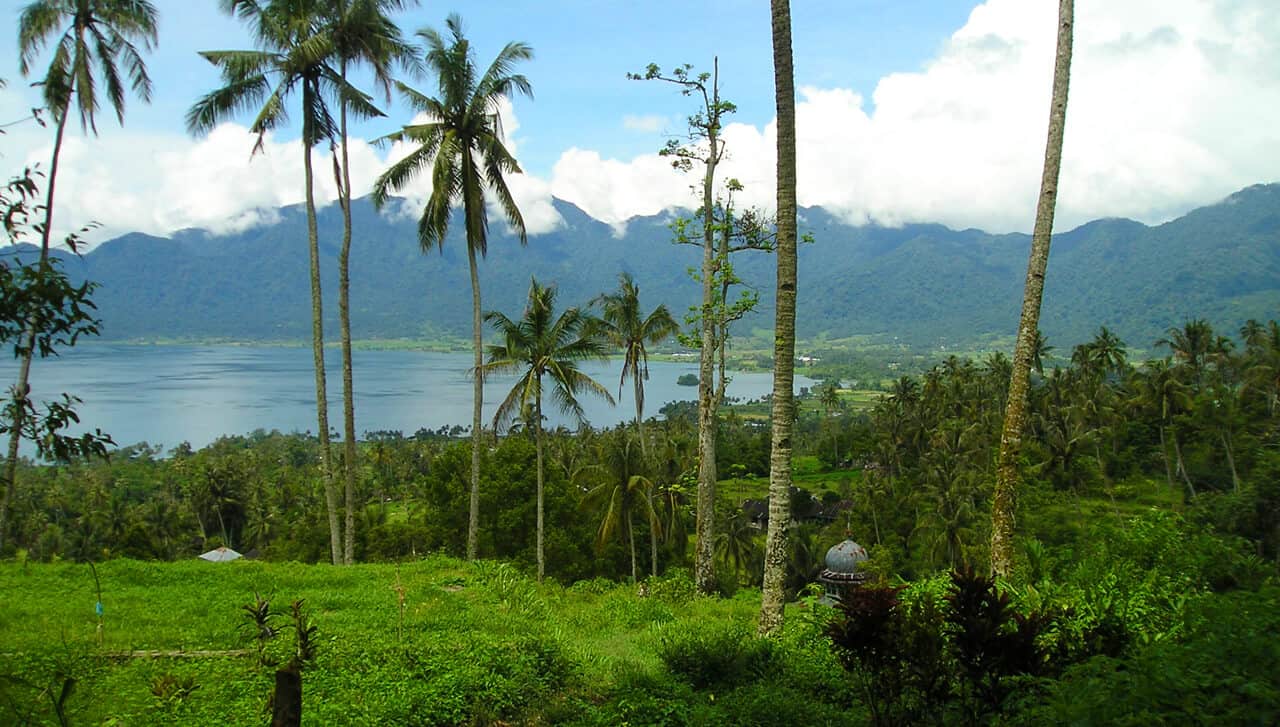 A Visit to Lake Maninjau and Bukittingi, West Sumatra.
I never really took to West Sumatra for reasons I will soon explain. The highlight, geographically, is Lake Maninjau. Like Lake Toba it is a large crater lake and is quite stunning.
It is a great place to practice your photography, relax, and do a bit of hiking.
Related: Why you should visit beautiful Lake Toba, Sumatra
Photos of Lake Maninjau. Isn't it a beautiful spot?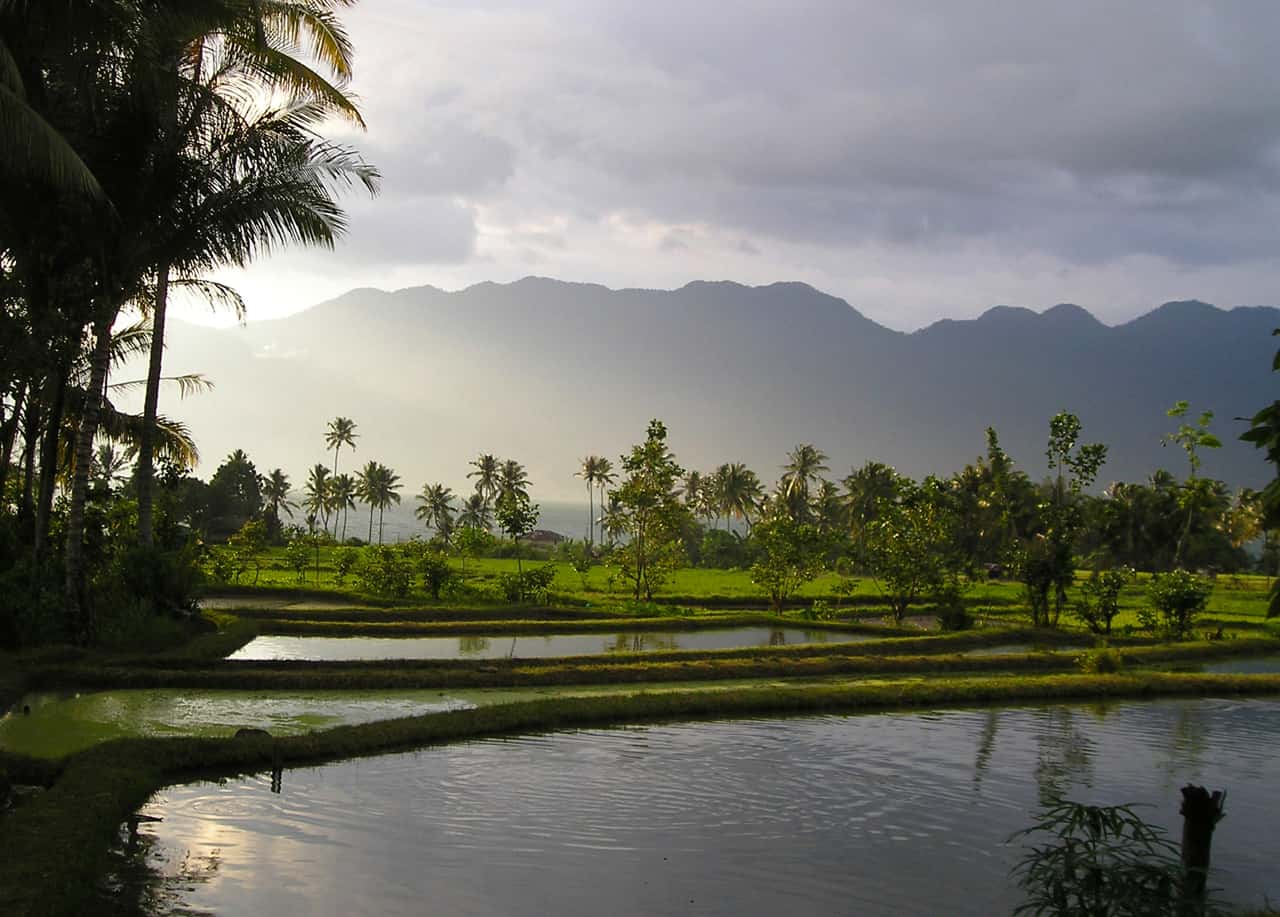 ---
---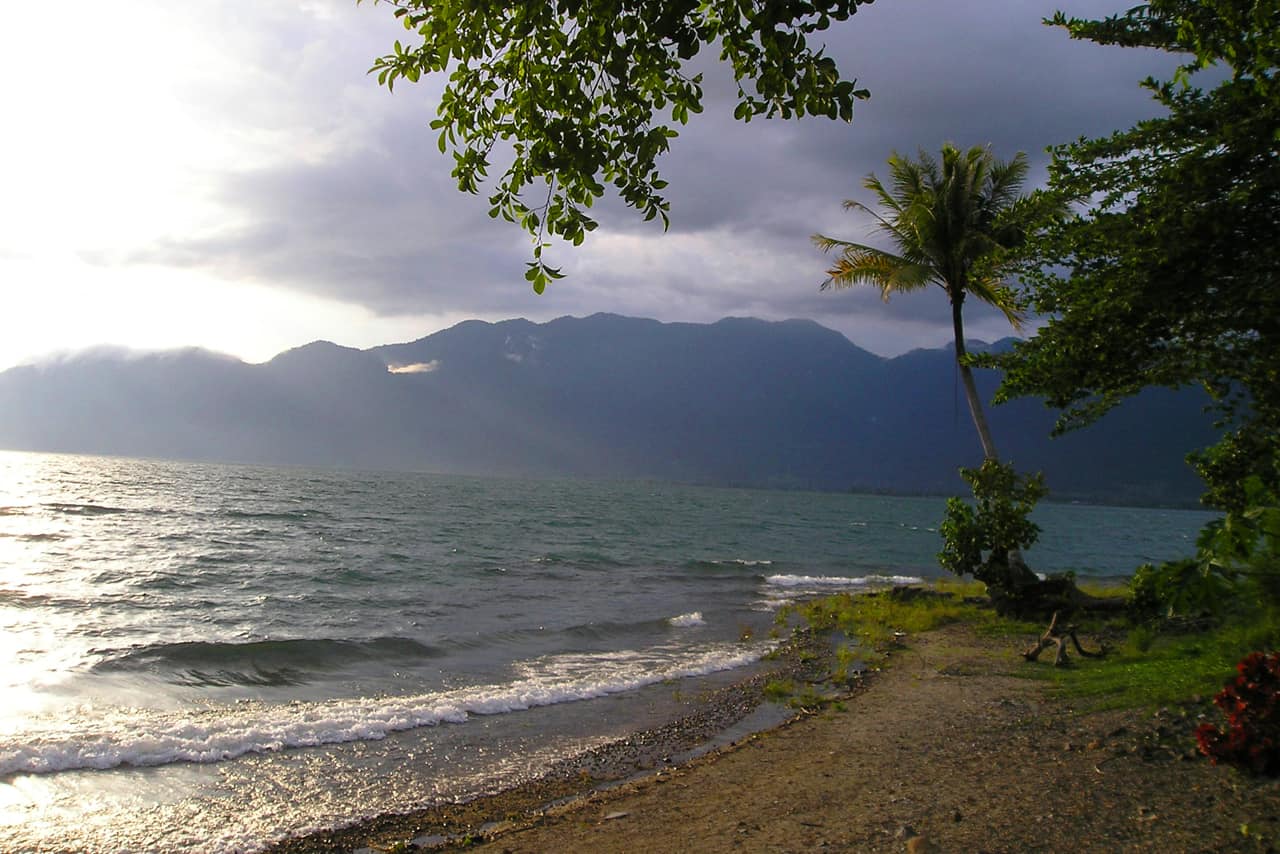 The lake was created approximately 52,000 years ago when a volcano erupted. Like Lake Toba what was left was a lake – this one being 16 km long and 7 km wide. It is within a caldera, ringed by the slopes of the remnants on the ancient volcano.
The Hike
We spent two nights along the shore of Lake Maninjau and met a few travellers below, including a couple of Germans (the guy in the white shirt below with his girlfriend in the blue shirt). They would be my partners the next day when we hiked up the lip of the crater.
---
---
I mention the hike because when we reached the top of the lip (a few minutes after the above photo of me was taken) we happened upon a little village where some kind of festival was going on. I don't know what was going on but the village was bustling with people and especially bustling with little kids with pellet guns.
It would have been nice to know what was going on but we didn't have a chance because a couple of kids started to shoot their pellet guns at us which seemed like a goddamn funny thing to these villagers. I didn't get hit but the German guy did and he wasn't happy one bit. His face got red and he started yelling and made like he wanted to go after one of the kids. I was worried we'd have a lynching on our hands. Instead we beat it to the main road where we took a bus back down to the bottom of the crater.
On the bus I saw a little boy, couldn't have been more than 5, sitting with his grandmother. In his hands was another one of those bloody pellet guns. Jeez, I don't get it – didn't they learn that you can lose an eye? I still don't know what was going on, although they could have been celebrating the end of Ramadan (which had been going on during our visit to Sumatra).
.
The Beach
The next day I decided to take a little sun on the beach next to our bungalow.
I took off my shirt, laid down, and started reading. There was nobody in sight, Lake Maninjau is really quiet. About 10 minutes later a family; 2 men, a woman, and a couple of kids, came and laid down a picnic about 30 feet away. I could feel them staring.
The men yelled over a few questions "Hello! Where you from?". I smiled and responded "Canada" and went back to reading.
A couple more questions which I didn't hear from that distance, I just waved back, going back to my book.
It wasn't more than 2 minutes later that the two guys came over, signalling that they wanted to have their picture taken with me. I relented. They took turns lying next to me, snapping away while I got increasingly more uncomfortable. What the hell? They finally went back to their family.
I decided to put my shirt back on. But would they leave me alone? Nope, they kept on looking and smiling over, one guy yelling over another question I ignored. I finally couldn't take it anymore. I packed up my stuff and went back to the room.
My mom; "I though you were going to read at the beach?".
I, red-faced, told her the story: "This place is deserted and I can't get a minute of peace. I feel like I'm some kind of circus animal."
---
---
.
Dogs
Looking back I should have had a thicker skin. I had travelled through Asia but this was the most "off the beaten path" kind of place I had been and I was just getting turned off by the people. In addition to the two stories above, I also saw a dog getting run over right in front of my eyes. That marked me. I know Muslims don't like dogs, but the car made no effort to either avoid or slow down, either before or after hitting the dog.
I actually saw quite a lot of dead dogs in the street. I think it was kind of a sport. As a dog lover it hardened my attitude towards the people. One last story; one morning, over breakfast, I saw the kid of the owner of our guesthouse torturing a little puppy. I lost it – I went over and said "NO!" to the boy and took away the dog. If he was my son I would have kicked his ass. Again, I guess I should have been thick-skinned and more forgiving of local culture, but it went against all my sensibilities. All these things happened during 2 days in Lake Maninjau. One more day and I would have gone Rambo on them.
.
Bukittingi and the Minangkabau
We also spent a couple of days in Bukittingi, a pleasant town close to Lake Maninjau. The highlights here is the volcano in the background and the calling to prayer from the local mosque. I found the wailing chant of the azan (as they call the chant) mystical and beautiful and we enjoyed watching the sun set to the sounds from the minaret (we enjoyed it less when it re-started at 6 in the morning..). We went to the local market and did some souvenir shopping, seeing some of the most interesting artifacts that I've ever come across on my travels (I bought a sword and scabbard decorated in buffalo teeth. I've never seen anything like it anywhere).
A recommended cultural attraction in the Bukittingi area is a visit to the Palaces of the Minangkabau people. They are incredibly adorned buildings with roofs extending out like buffalo horns (see photos below).
.
More details on the Minangkabau
West Sumatra was a culture shock. But I always say that we learn from our experiences. Indonesia is a place that I definitely want to go back to, there are so many islands, cultures, and incredible geography on this archipelago. Next time I'll be better prepared and thicker-skinned.
---
---

Ever been somewhere where you felt overwhelmed by culture shock?

Ps. If you enjoy our blog, please consider using our links to book your flights, hotels, tours, and car rentals. Have a look at our Travel Resources page.