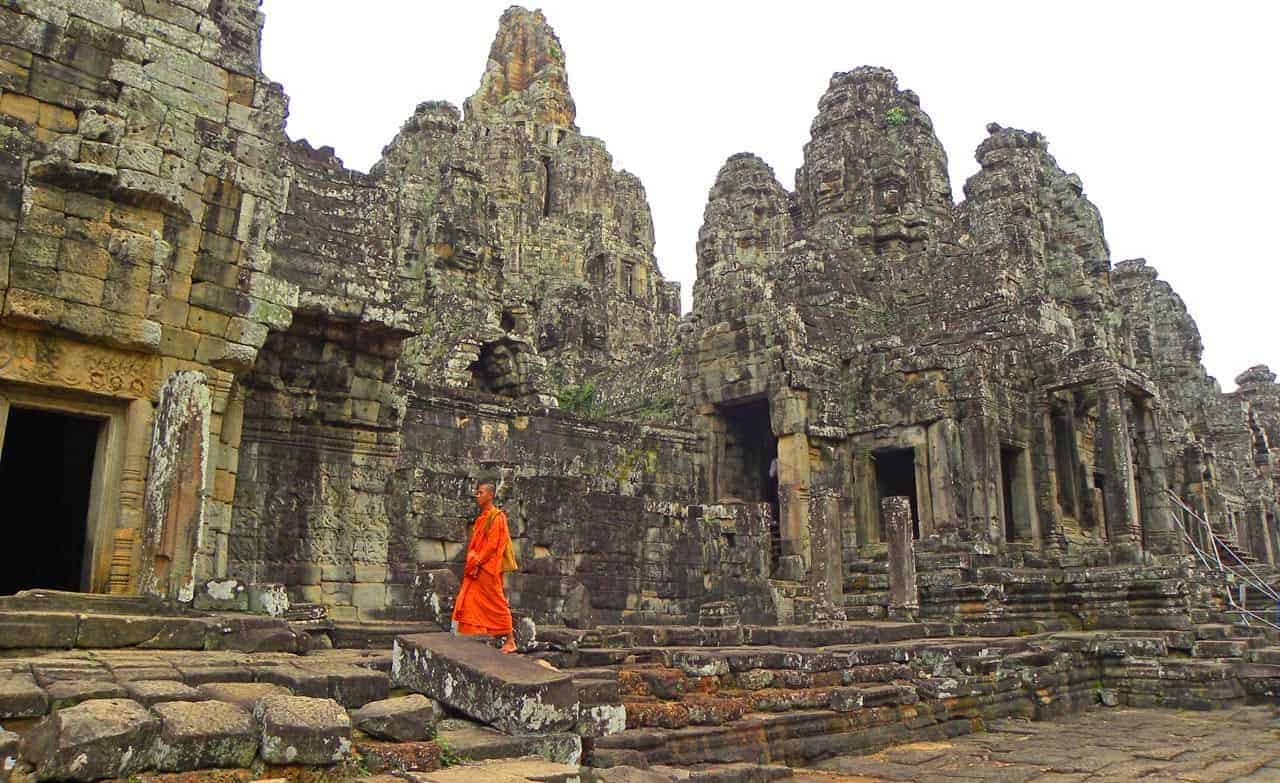 10 Temples you have to see in Angkor Archaeological Park
When people say they are 'visiting Angkor Wat' they really mean that they will be visiting Angkor Archaeological Park; a large area just outside Siem Reap (Cambodia) which consists of more than a thousand different temples. Angkor Wat is the largest religious monument ever built, anywhere in the world, and is world-famous. But that doesn't mean that it is the most visually impressive temple in Angkor Archaeological Park. That distinction actually goes to another temple (which I'll disclose below).
This is a long post with about a million photos (most crappy. We didn't have good weather). But read it and you'll know all the practicalities you need to visit Angkor Archaeological Park, the different circuits offered, and the top temples that you absolutely can't miss.
.
.Map of the Angkor Temples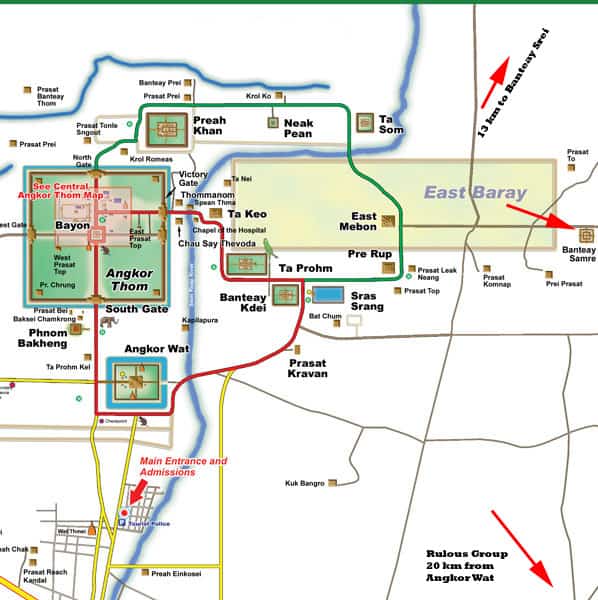 The most impressive temples can be covered over 3 full days of exploration. Most people do it by following the itineraries highlighted in the map above, namely: The Small Circuit (drawn in burgundy) on Day 1, The Grand Circuit (an extension of the red circuit drawn in green) on Day 2, and outlying temples (such as Banteay Srei, Banteay Samre, and the temples of the Ruluos Group) on Day 3 (I've pointed out where they are with the red arrows).
Accommodation in Siem Reap
We stayed at the Hotel Indochine D'angkor. It is excellent and inexpensive, a smallish hotel with a pool and good onsite restaurant. They can also arrange a tour for you. Highly recommended.
Flying in/Getting around
We flew from Bangkok to Siem Reap (airport code REP) with Air Asia. We book all our plane, train, bus and private transfers using 12Go Asia.

Remember: if you're going to Cambodia, you need to get the online Cambodia visa for tourism. Unlike the visa on arrival, you can get this visa before departure. Once you land in Cambodia, you won't need to wait in line at the visa desk.
---
---
.

Practicalities of Angkor Archaeological Park
Angkor Archaeological Park is very well organized. The Main Entrance is a 10 minute drive from downtown Siem Reap. On your first day you'll have to stop off here and buy yourself a pass. They take photos of you and stick it on the pass. Cost: 1 day: $20 USD, 3 days: $40 USD, 6 days: $60 USD. Make sure you keep your tickets handy because you will be asked to produce them at every temple you go.
Within the park there are a few places with bathrooms. They are administered by the park and are very clean. There is also a strip of restaurants in the middle of the park which are a little pricey (they're geared towards the tourists) but of good quality.
Getting around the temples: We saw tourists ride bikes to the different temples, even saw some walk the route. That's crazy. The best way to visit the ruins is by tuk tuk; hire a tuk tuk driver in downtown Siem Reap or from your hotel. We paid $75 to our driver for 3 full days of touring (ie. $25 day). You'll see a lot of tourists, most Asian, visit the temples in large buses or minivans – a good tuk tuk driver will know the schedule and itinerary of these larger tours and will avoid them. Believe me, you don't want to be stuck in a small temple with 50 Chinese tourists who just got out of a large bus. Hire a Tuk Tuk.
.
---
---
.
History of Angkor – and temple basics
– The Angkor temples were built between 790 AD – 1300 AD. The temples of Ruluos group were the first to be built. Many of the most impressive temples (including most of Angkor Wat, Bayon, Ta Prohm) were built later, during the reign of Jayavarman VII (between 1181 AD and 1220 AD).
– Most of the influence in the building of the Khmer temples came from India. The majority of the temples are dedicated to the Hindu gods Shiva and Vishnu. This may come as a surprise for visitors coming from Thailand where the temples have a very different style.
– The Angkor temples were built of brick (earliest temples), sandstone (heavy but suited to elaborate engraving) and laterite (used for blocks, ideal for foundations).
– Khmer temples were built solely for the gods, not as a 'meeting place' for the faithful. All the visible buildings at Angkor are religious monuments, any dwellings have long disappeared.
– Inscriptions on temples are written in Sanskrit or Khmer and are either in the form of poems addressed to the Hindu gods or Buddha or are like an inventory, listing the goods (like land, animals, or cult objects) belonging to the gods.
– Generally speaking you'll see two types of temples at Angkor. 1) Large temple-mountains which are pillared upwards in different levels and surrounded by a moat. The temple is an image of the universe, with the gods at the top of Mount Meru, surrounded by the premordial ocean. Angkor Wat, Bapuon, Pre Rup and Bakong are examples of Temple mountains. 2) 'flat' Khmer temples, most from the Jayavarman VII reign around 1200 AD which, although dominated by temple towers, have more elaborate galleries and antechambers. Bayon, Banteay Srei, Banteay Samre, Chau Say Tevoda are examples of 'flat' temples.
– Temple terminology. Apsaras = female spirits of the clouds and waters. You'll see them on bas-reliefs all over the temples. Bas-reliefs = sculpture in which shapes are carved so that they are only slightly higher than the flat background. Banteay = citadel or fortress. The temples with Banteay preceeding the name signify walled temples. Lintel = the horizontal block placed over a doorway. Often heavily decorated at Angkor. Naga = serpant, usually a King Cobra, protrayed in sculptures and bas-reliefs. Pediment = triangular upper part above a door frame. Like lintels, often very ornate. Throw any of the above words around and you'll be Mr. cool archaeology guy!
– the enemies of the Khmer kingdom were the Chams in what is now Central Vietnam and, during the late 13th century, the Siamese kingdom based in Ayutthaya. Angkor's power weakened in the late 1300s and many of the elite moved to the Phnom Penh. Eventually the Siamese sacked Angkor in 1431, marking the end of the empire.
I highly recommend you buy 'Ancient Angkor' by Micheal Freeman & Claude Jacques. There are touts trying to sell it everywhere you go. I paid $20 USD for it. Really worth it though.
---
---
Day 1 – The Small Circuit
.
The 'Small' circuit is a misnomer. It is 'small' because it covers the least territory; with a tuk-tuk you won't have a chance to rest more than 5 minutes between temples on this route. You'll be visiting the largest, most popular temples and will do a lot of walking under the hot sun. Be prepared, it's actually the most physically tiring day of the itinerary.
.
Angkor Wat
Highlights
* The world's largest religious monument
* Completely realized microcosm of the Hindu universe, culminating in the five peaks of Mount Meru
* Archeological masterpiece, rich in detail, perfect example of classical Khmer construction
* 600 m of narrative bas-relief and nearly 2000 apsaras

(Ancient Angkor ranking) – several hours to explore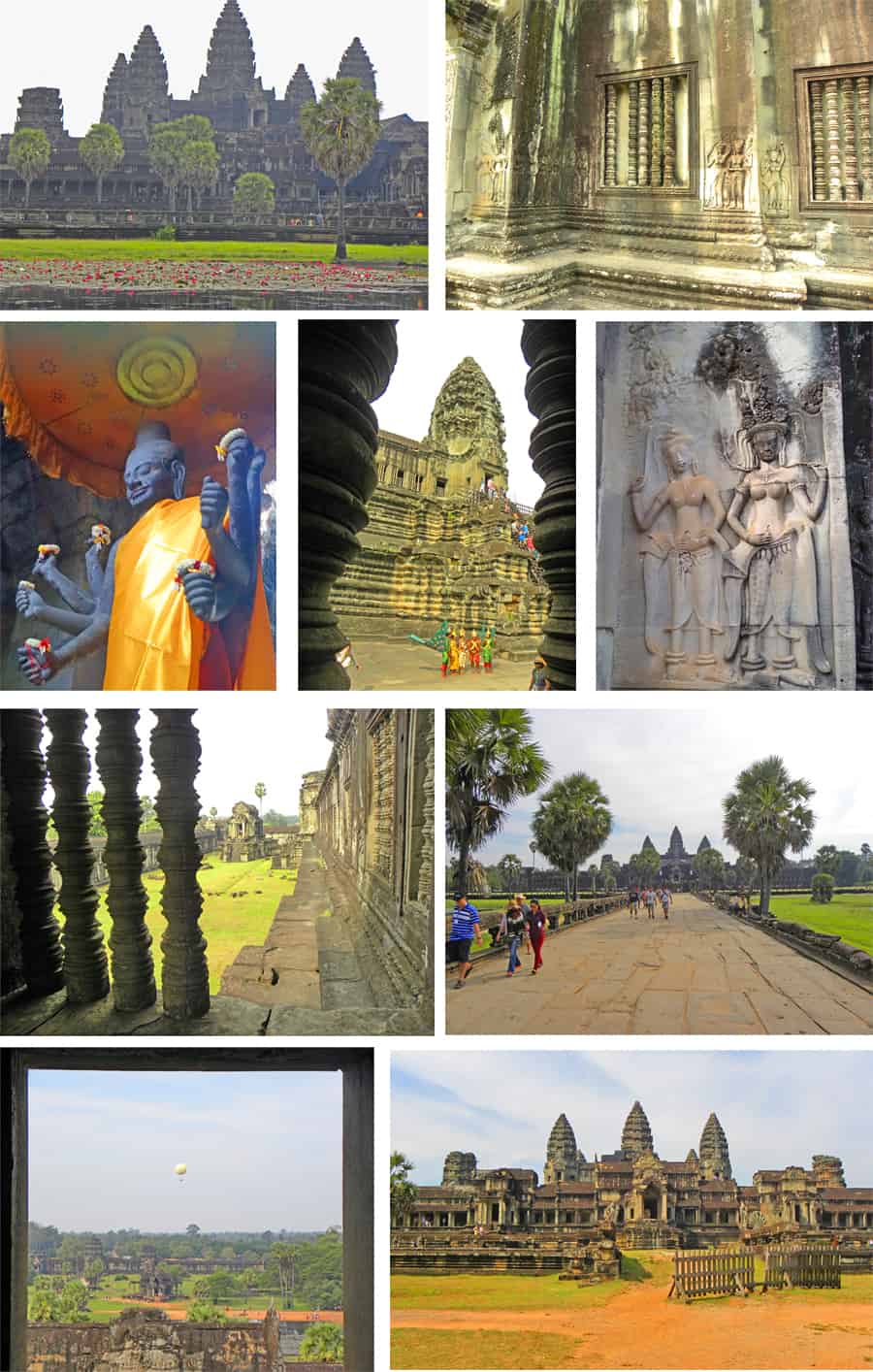 Our impressions: Huge, the setting fantastical, the detail in the impressions and bas-reliefs are incredible.
Disappointment: We arrived at around 9 am and the lighting was all wrong for photography. Experts recommend you come very early, at sunrise and/or in the late afternoon to sunset hour at Angkor. We had planned to come back on the afternoon of the 3rd day but got rained out. We hope to be back one day, it is worth it.
.
.
Ta Prohm
Highlights
* Trees entwined among ruins (temple made famous by 'Tomb Raider')
* Many hidden corners
* Romantic atmosphere with opportunities to explore

(Ancient Angkor ranking) – at least 1 hour to explore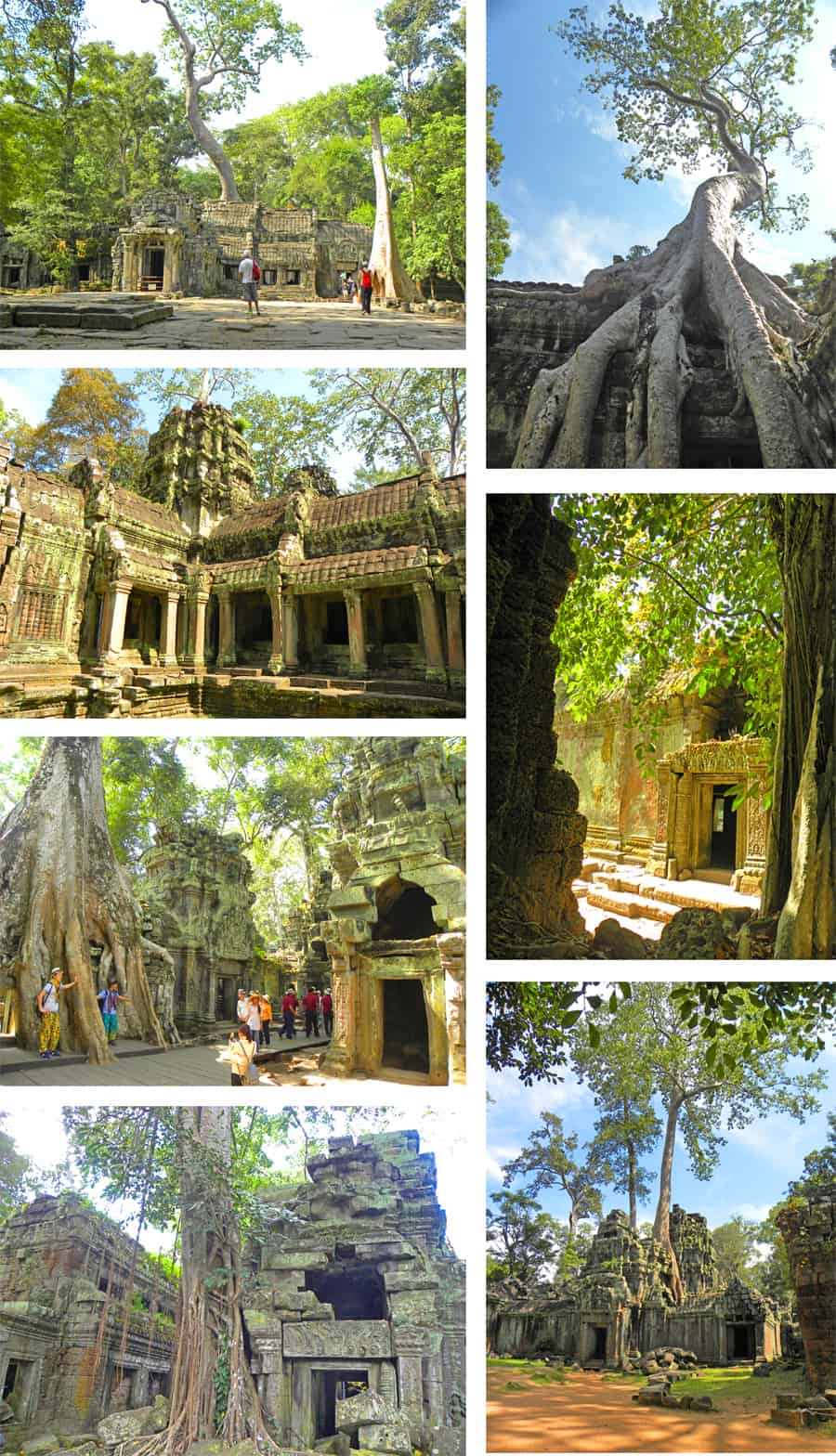 Our impressions: the trees among ruins fantastical and we could see why it would have been used as a setting for Tomb Raider. The movie (with Angelina Jolie) has made these ruins the favorite of tourists. Saying it nicely, you won't be alone 😉 . Would it be our favorite temple? No. But its in the top 5.
.
.
Banteay Kdei
Highlights
* Ruined state appears much as discovered
* Impressive bas-reliefs featuring apsaras

(Ancient Angkor ranking) – 30 minutes to 1 hour to explore
Our impressions: Much quieter temple, a jumble of ruins with some surprisingly elaborate bas-reliefs and a mix of stone varieties that result in the different colours above. Not a highlight but should be part of the itinerary if you are here 3 days or more.
.
---
---
.
Chou Say Thevoda
Highlights
* Compact temple in the style of Angkor Wat

(Ancient Angkor ranking) – about 15 minutes to explore
Our impressions: A small temple but has some intricate bas-reliefs. Like Banteay Kdei, not a highlight but worth a visit if here 3 days or more.
.
.
Baphuon, at Angkor Thom
Highlights
* State temple in the 11th century
* Temple-Mountain style, 5-tiered pyramid
* View from the summit

(Ancient Angkor ranking) – 1 hour to explore
Our impressions: The Southern gate of Angkor Thom features Baphuon and Bayon (to be covered below) within a few hundred yards of each other. Both are spectacular in different ways. Baphuon is massive and you can't help but be impressed just walking around it. We weren't really blown away by either the views from the top or the degree of artistic impression. But its massiveness can't help but impress. We think it warrants more than the one star given by the authors and, because of its proximity to Bayon, it must be on your itinerary.
.
---
---
.
Bayon, at Angkor Thom
Highlights
* Complex of face-towers
* Narrative bas-reliefs of daily life and Khmer history
* State temple of Jayavarman VII and symbolic center of the universe and empire

(Ancient Angkor ranking) – 2 hours to explore
Our impressions: We say Bayon from a distance and our jaws dropped. It looks like a stone city with ancient-day highrises springing from its depths. Coming up to it, we heard an American (who had just left the temple) say to his guide "Wow, I found that much more impressive than Angkor Wat". He's right. The faces on the towers are breath-taking, the bas-reliefs on the tableaus are works of art. It is like the Lost City. Amazing. Like Angkor Wat, we would come here a 2nd time in the late afternoon just to see a different light on the towers. This IS the most amazing temple in the Angkor Wat Archaeological Park.
.
---
---
.
Day 2 – The Grand Circuit
.
The Grand Circuit covers more territory but makes for an easy day of sightseeing – the crowds thin out at these temples, the temples themselves are not as vast, and you get a chance to rest a bit more due to the slightly increased distance between temples.
.
Prasat Prean Khan
Highlights
* Atmosphere similar to Ta Prohm, on a larger scale
* Buddhist university and city
* Entrance causeways with boundary stones and nagas held by gods and asuras
* Unique round-columned, two-storied building

(Ancient Angkor ranking) – at least 1 hour to explore
Our impressionsPrasat Prean Khan is often compared to the more famous Ta Prohm because of it's remote jungle setting. You could think you had just arrived on the set of an Indiana Jones movie. It doesn't have the expansive tree roots of Ta Prohm but the setting is, in our opinion, more spectacular and easier to enjoy because of less human traffic. The entrances over moats are stupendous and awe the visitor from the start. Moss grows over everything, we've nicknamed this "the Mossy Temple". Its in our Top 5 of Temples right in front of Ta Prohm.
.
.
Neak Pean
Highlights
* Unique island temple
* Sculpted fountainheads

(Ancient Angkor ranking) – 30 to 45 minutes to explore
Our impressions: None. I guess walking over the long bridge to the small island is interesting to some. But we don't think you need to include this temple in your itinerary.
.
---
---
.
Prasat Ta Som
Highlights
* Face-towers on the outer enclosure
* Compact, atmospheric inner enclosure

(Ancient Angkor ranking) – 30 to 45 minutes to explore
Our impressions: This is actually a very impressive small temple. We love the stone faces on the outer enclosure and it is a mini-Prasat Prean Khan with it's jungle-like setting. Falls within our top 10 temples.
.
.
East Mebon
Highlights
* Lintels of the towers
* Elephant sculptures
* Rural setting among ricefields

(Ancient Angkor ranking) – 30 to 45 minutes to explore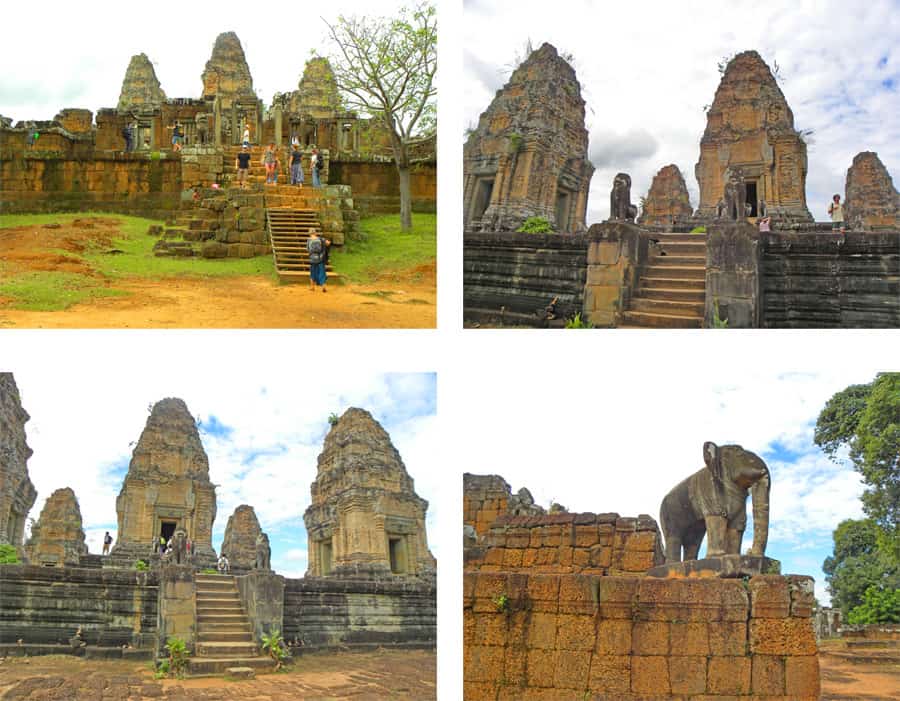 Our impressions: Although it looks like a mountain-temple I am told it's not. Nevertheless, fits in the same mold as Baphuon (covered above) , Pre Rup (below), and Bakong (further below). The elephant structures on the corners are unique. Not however as impressive as Pre Rup.
.
---
---
.
Pre Rup
Highlights
* Imposing brick towers dominate the surrounding plain
* Lintels of the towers
* Views from the upper terrace
* Harmony of colour between laterite, brick and sandstone

(Ancient Angkor ranking) – 30 minutes to 1 hour to explore
Our impressions:Imposing temple-mountain with large lion statues. Although not the most ornate of temples, very impressive views and you can't help but be awed by the sheer size of the structure. Our favorite of the temple-mountains (excluding Angkor Wat)
.
.
Prasat Kravan
Highlights
* Unique brick bas-reliefs
* Unusual layout of 5 brick towers in one row

(Ancient Angkor ranking) – 30 minutes
Our impressions: From the outside you wouldn't be impressed by this small temple. We didn't even photograph it. But look inside the sanctuary towers and you'll see some of the most impressive bas-reliefs anywhere.
.
---
---
.
Day 3 – Outlying Temples: Banteay Srei, Banteay Samre, and the Ruluos Group
You'll be doing quite a lot of driving to get to some of the outlying temples. For us it was totally worth it: seeing the countryside (above) andthe people was a highlight, as were the temples of Banteay Srei and Banteay Samre. Coming back towards Siem Reap and to the temples of the Rulous Group was less rewarding however. Here is our roundup of these more remote temples:
.
.
Banteay Srei
Highlights
* Exquisite decorative carving in pink sandstone
* Miniature proportions
* Peaceful, isolated, semi-wooded setting
* Extraordinary concentration of mythological narratives in pediments and lintels

(Ancient Angkor ranking) – at least 1 hour to explore
Our impressions: An hour here actually seems long because it is a very small temple. But it is gorgeous in its intricacy; the fine details carved in the sandstone, the bas-reliefs of apsaras, the carvings around the doorways. The temple also stands out because of the redness of the temple and the ground around it. We left Banteay Srei thinking it was one of our favorite temples. Until we go to Banteay Samre.
.
Banteay Samre
Highlights
* Excellently restored Angkor Wat style temple with a fine tower
* Remote, peaceful setting
* Compact inner enclosure

(Ancient Angkor ranking) – 45 min to 90 min to explore
Our impressions: This little known temple was our favorite temple in Angkor Wat Archaeological Park. When we arrived there was nobody else in sight. Birds chirped in the background. Multiple, ornate doorways, views through blinded windows through other windows, a symmetrical structure with an interior moat topped off by large central tower. Objectively it is probably not the most magnificent temple at Angkor Wat. But we left Banteay Samre feeling like we had finally sampled, and not just seen, what Angkor is all about.
.
---
---
.
The Ruluos Group
.
Bakong
Highlights
* First Khmer temple-mountain
* State temple of the capital

(Ancient Angkor ranking) – 45 min to 1 hour to explore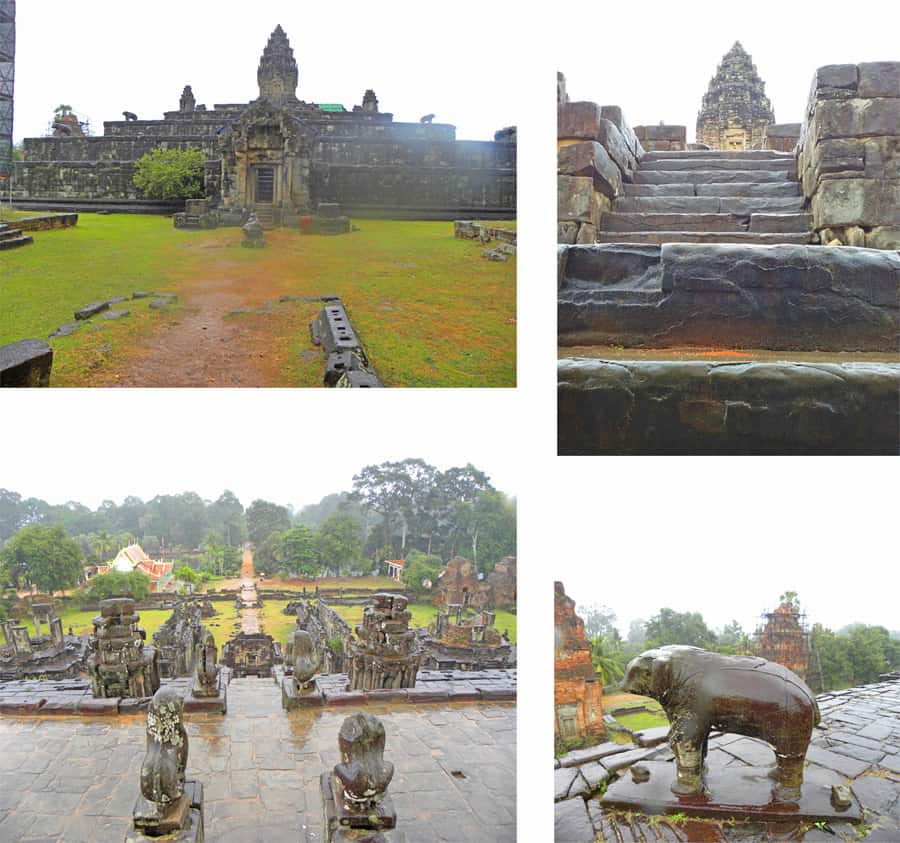 Our impressions: You traverse an immense moat to get to the temple which rises above you. Bakong is one of Angkor's first temples and it is impressive. But our opinion is that if you've seen Pre Rup then it is probably not worth going this far out of your way to see Bakong (which is very similar but slightly less imposing).
.
.
Preah Ko
Highlights
* First temple at Ruluos
* Lime mortar mouldings on towers

(Ancient Angkor ranking) – 45 min
Our impressions: It was raining cats and dogs by the time we got to Preah Ko. This is the oldest Angor temple. Again, is it worth coming all this way to see it? We think not.
.
.
Lolei
Highlights
* Lime mortar mouldings on towers

(Ancient Angkor ranking) – 15 min
Our impressions: The temple was under restoration when we arrived and we didn't see much to inspire. Unlike all the other temples we had visited, people lived around the ruins and there was a newer temple on the grounds. Overall there was not much to see.
---
---
Our Top 10
1. Bayon. See Baphun which is right next to it. If you are Siem Reap more than a day you should try to visit a 2nd time at a different time of day.
2. Angkor Wat. So vast it is worth a 2nd visit. Try to come early and late in the day for ideal lighting conditions.
3. Prasat Prean Khan, the "mossy temple". Under-rated, but one of our favorites.
4. Ta Prohm, the "tree temple". There are other tree temples but this one is the most impressive.
5. Banteay Samre. Our sentimental favorite. A mini-Angkor Wat without the crowds.
6. Banteay Srei. Just so different from any other temple you'll see with its pinkish-red sandstone.
7. Pre Rup. The most imposing of the temple-mountains.
8. Prasat Ta Som. A mini-Prasat Prean Khan with the added benefit of some very well defined temple faces.
9. East Mebon. Impressive, with unique elephant sculptures on the corners.
10. Banteay Kdei. For impressive bas-reliefs.
*Note: Ta Keo is mentioned on many lists. It was undergoing heavy restoration while we were there in December 2014, so much so that it is currently a construction zone.
.
Have you been to Angkor Archaeological Park? What is you favorite temple?
Ps. If you find our blog helpful, please consider using our links to book your flights, hotels, tours, and car rentals. Have a look at our Travel Resources page.