Cambodia is a place with tons of beauty. A few years back we spent 4 days in Angkor Archaeological Park, Cambodia's most famous attraction (and the only reason many people visit the country).
But there is much more to see in Cambodia, including National Parks, wildlife, waterfalls, mountains as well as beautiful beaches.
I'll cover all that in this post.
But first a few formalities that need to be handled prior to arriving in Cambodia.
Visa and other travel documents
To visit Cambodia, international travelers require a valid visa in addition to the necessary travel documents. Depending on the traveler's length of stay, visa requirements can vary slightly.
Travelers should familiarise themselves with Cambodia's entry requirements prior to booking flights or accommodations. It is recommended to obtain a visa before departing for Cambodia.
Most nationalities can apply for the Cambodia online visa, which saves you plenty of time and hassle (we bought our Visa on arrival. It was a major hassle).
The Cambodia online visa is a one-entry permit valid for 90 days from the date of issue, allowing one to enter the country for the purpose of tourism and stay there for up to 30 days.
Additionally, travelers should ensure that they bring their passports and that it has at least 6 months validity remaining.
Once you have a Visa and valid passport, you're set to enjoy Cambodia.
The Most Beautiful Places to Visit in Cambodia
1. Explore Angkor Wat – the world's largest religious monument
Cambodia is home to one of the most incredible sights in all of Southeast Asia – the temple of Angkor Wat. It is the world's largest religious monument, dedicated to the Indian gods Shiva and Vishnu. Angkor Wat is a temple-mountain, pillared upwards in different levels (looking like the skyline of a city) and surrounded by a moat.
Angkor Wat is the most famous of the temples of Angkor Archaeological Park. The park includes many more temples, some of which have been the setting for famous films like Indiana Jones and Tomb Raider. Lesser known Bayon, for example, was our favorite temple. All of the various temples are different and incredibly impressive. You can easily spend 3 days exploring Angkor Archaeological Park.
See here our post on the Top 10 Temples to see in Angkor Archaeological Park.
---
---
2. Bokor National Park – for history and nature
Cambodia's Bokor National Park one of two parks in Cambodia that is protected by the ASEAN Heritage Parks program. Located in the Damrei Mountains, most of this national park sits 1000 meters above sea level and affords great sunset views over the surrounding forest, mountains and the Gulf of Thailand.
One of the highlights of the park is Bokor Hill Station. The 'station' is comprised of colonial buildings built by the French in the 1920's, a luxurious getaway (at the time) from the heat and humidity of nearby Phnom Penh. Today some of the buildings have been restored and there are even a couple of luxury hotels situated here (the best being Le Bokor Palace).
With lush green mountains, immense rainforests and unique wildlife (Asian elephants, tigers, sun bears, macaques and more), Bokor National Park is a popular destination for hiking and the outdoors.
3. Phnom Tamao Wildlife Rescue Center – the place to see native wildlife
Located just outside Phnom Penh (Cambodia's capital) is this wildlife sanctuary. It makes for a great day trip.
The Phnom Tamao Wildlife Rescue Centre will give you the opportunity to see tigers, elephants, sun bears, gibbons and all kinds of birds and reptiles in their natural habitat. It is one of the best wildlife sanctuaries in Southeast Asia.
You can also learn about Cambodia's diverse wildlife as well as the conservation efforts that are underway at a local level to protect Cambodia's ecosystems while enjoying Cambodia's native wildlife.
---
---
4. The Cardamom Mountains – for mountain trekking
Along the southern border with Thailand, this part of Cambodia includes the country's highest mountains and Southeast Asia's largest surviving rainforest.
The Cardamom Mountains offer a stunning natural landscape of rolling hills, deep valleys, primeval forests and waterfalls. There are tons of things to do including jungle trekking, kayaking, mountain biking, and wildlife exploration.
Where to stay? There are some ecotourism villages and resorts which offer different levels of accommodation and experiences.
See this post for more on the Cardamom Mountains.
5. Kep Beach – for crystal-clear waters
Cambodia is home to many beautiful beaches. But few compare to Kep Beach.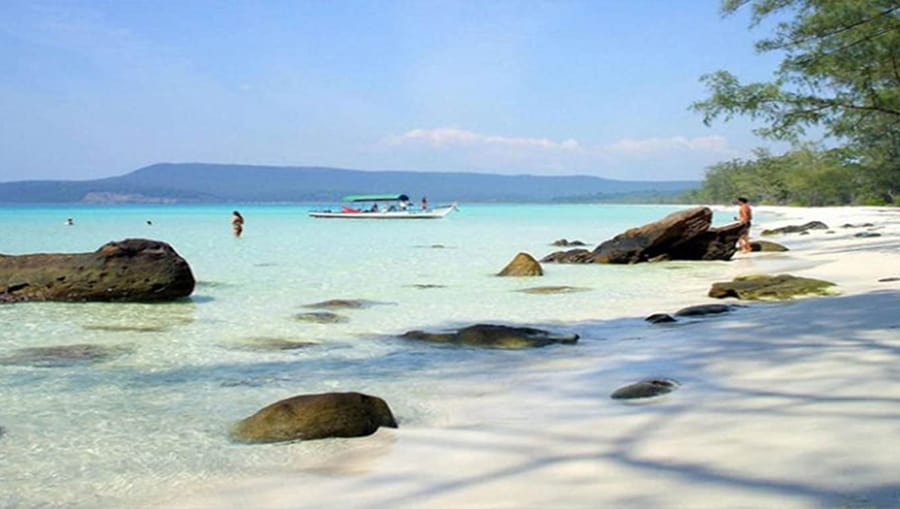 Located in the Prey Thom district of Cambodia's coastal province of Kampot, this beach sits nestled among rocky outcrops with sweeping white sand and crystal-clear waters. Kep, also known as Krong Kaeb, was a former French beach resort during French colonialism (it was at the center of what was known as the Khmer Riviera). Today it's a fun little town with a beachfront promenade full of little cafes, restaurants and markets.
Don't miss the bird sanctuary located on nearby Rabbit Island (Koh Tonsay).
---
---
6. Phnom Penh – one of Southeast Asia's most dynamic cities
Cambodia's capital city. Chances are that you'll have to pass through Phnom Penh if coming to Cambodia. But there's no reason to rush out – the city is worth exploring.
A cosmopolitan city with a vibrant cafe and restaurant scene, Phnom Penh also has some can't miss attractions:
– The Royal Palace (the residence of the King of Cambodia)
– Tuol Sleng Genocide Museum (a prison for political prisoners during the time of the Khmer Rouge. Essential for an understanding of the country's history).
– The Killing Fields, about 15km from Phnom Penh (A village where the Khmer Rouge set up labour camps and where they killed thousands. More)
– for a lighter experience, take a sunset cruise over the Mekong.

7. Prasat Preah Vihear – more temples (a UNESCO World Heritage Site)
Prasat Preah Vihear is a temple complex located atop the Dangrek Mountains, located on an escarpment with dizzying views across the Cambodian floodplains. It is a UNESCO World Heritage Site and has long been the subject of dispute between Cambodia and Thailand (the International Court of Justice ruled in Cambodia's favor in 2013).
Prasat Preah Vihear is best seen on a day trip from Siem Reap. Unlike Angkor Archaeological Park, few people make it out here making this an unforgettable experience.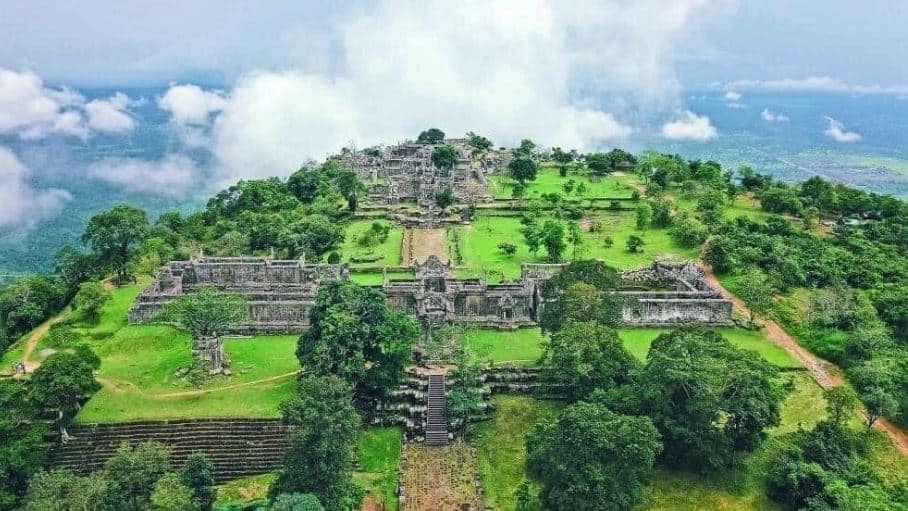 ---
---
8. Ratanakiri – off the beaten track adventures
In Northwest Cambodia, this region is popular with travellers looking for off the beaten track adventures. This is the 'outback', a region of red roads, lush forests, rivers, waterfalls and amazing wildlife.Visit the Veun Sai-Siem Pang National Park to see yellow-cheeked crested gibbons, hike in Virachey National Park, swim in Yeak Lom Crater Lake and visit the waterfalls of Kachanh and Ka Tieng. Go to Airavata Elephant Foundation to spend a day with elephants.
---
---
To Sum Up
There's lots to experience in Cambodia. It is a country that still relative undiscovered – there are many unique travel opportunities in Cambodia for the adventurous and intrepid traveller. It's a place to see.