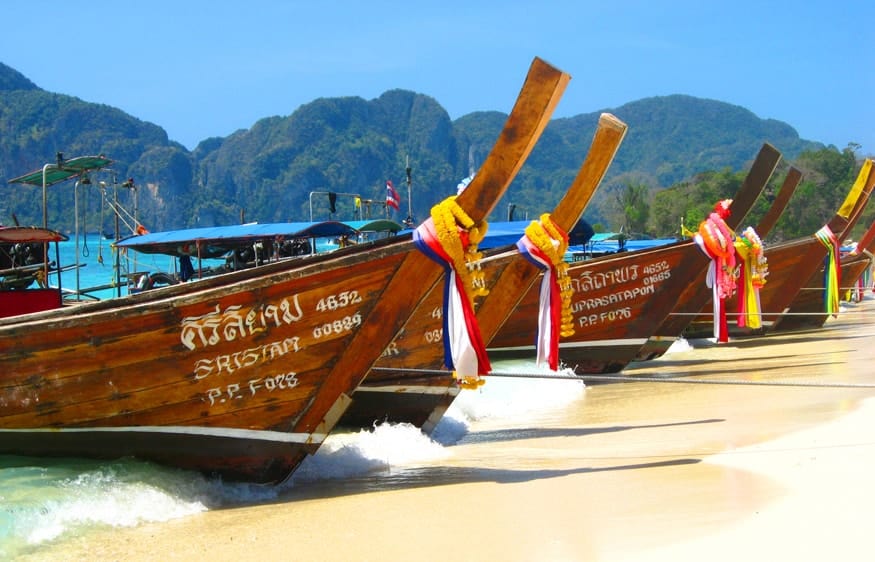 Bbqboy's Ultimate Guide to the Best of Thailand
Our Ultimate guide to Thailand recommends places we like as "adult" travellers. It's not meant for the 20-something party/backpacking crowd.
This guide covers cultural highlights, off-the-beaten-path beach destinations, trekking and nature spots, as well as beautiful and genuine towns that are some of our favorites in Thailand. I'm also not going to list 50 different destinations for you to visit – instead, I focus on about a dozen places with the goal of giving you a mix of "must-see" and unique experiences in Thailand. You'll see recommendations here that you won't see in any other guide.
This guide to Thailand is also not for those rushing through. It's targeted to those who want to discover the country at a slower place. We spent weeks (and in some cases months) in some of the places covered in this guide.
---
---
Best Places to Visit in Thailand

CENTRAL THAILAND
Bangkok
Most people's experience in Thailand will start in one of world's most exciting cities. Bangkok can be infuriating and I have a love/hate relationship with it. BUT – you have to experience Bangkok. I usually tell people to give it 3 days at the very least.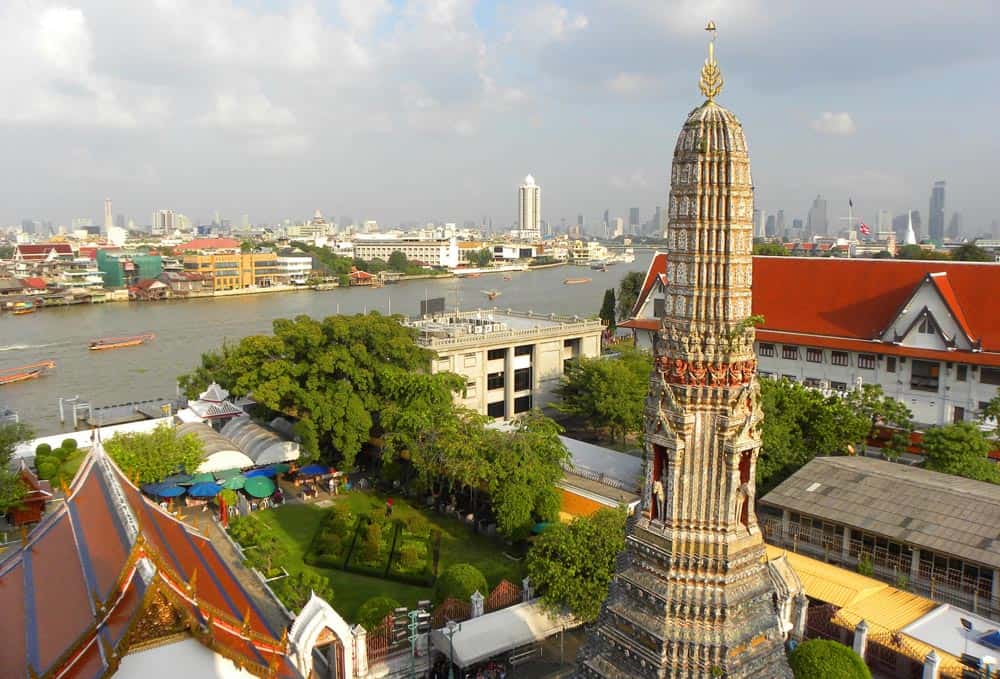 Essential, "must-see" highlights: the Grand Palace (more specifically Wat Phra Kaew), Wat Pho, Wat Arun. All are located very close to each other but you can easily spend the whole day visiting just these 3 sites. Note: if you're in a rush, this tour covers the Grand Palace, Wat Pho, and Wat Arun (excellent tour…but as I say, if you can do it leisurely on your own it's even better because the first 2 temples on that list have a LOT to see).
Essential experiences: boat ride on the river, night time drinks at a bar with views overlooking the city (the Lebua Hotel is a good option), a Thai massage, street food, a ride on the skytrain, and walking around Patpong at night.
Secondary highlights: Golden Mount (Wat Saket), Jim Thompson house for a taste of classic Thai culture/architecture, Lumpini Park (large park with a lake. Good for walks and views of Bangkok's highrises)

Accommodation in Bangkok. High end, with great location near river and skytrain: Shangri-La Hotel Bangkok and Tower Club at Lebua. Mid-priced (one of our favorites) right on the river: Ibis Bangkok Riverside. Right next to it, even more moderately priced, is the Naga Residence.
---
---
Ayutthaya
An essential day trip from Bangkok, Ayutthaya was the 2nd capital of Siam between 1350 – 1767 (the 1st was Sukhothai which I'll cover further below. The 3rd and current capital is Bangkok).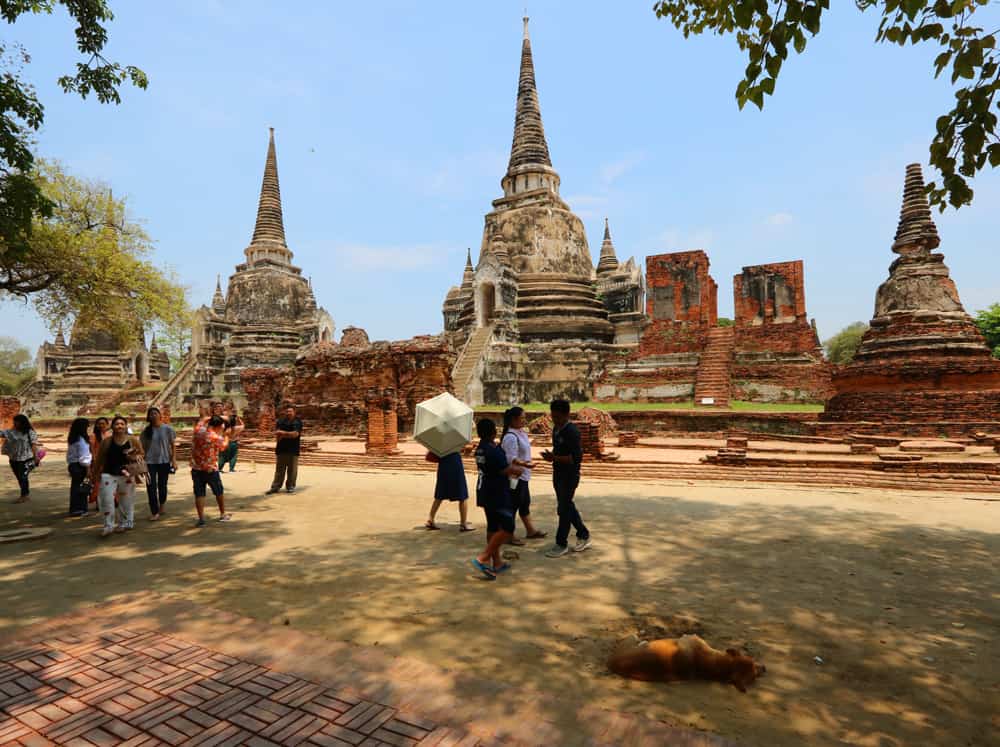 We've visited Ayutthaya a couple of times, visiting the first time on a day trip and coming back a few years later and staying a few nights. Based on that, I think a day trip is best (which you can either do by taking the train to Ayutthaya and hiring a tuk tuk, or by booking a tour from Bangkok).
---
Ko Samet (also written as "Ko Samed")
The closest beach destination to Bangkok. But this island is more than that – it's also a National Park. It's very much underrated, less developed (and less expensive) than many other Thai islands. I came here years ago and loved it: the beaches are great (white sand!), you can hike around the island, and at night the bars and restaurants set up little tables on the beach. Very romantic.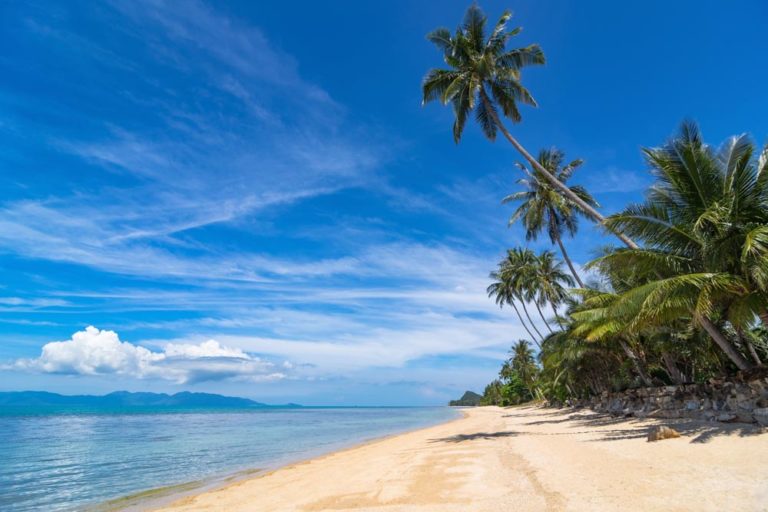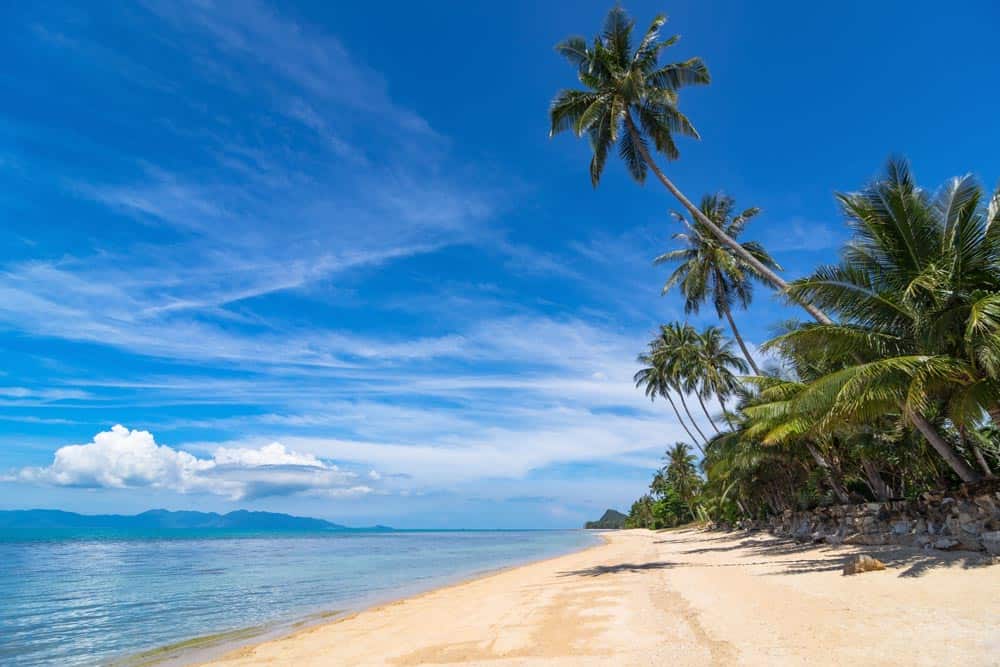 How to get there: take a bus or taxi from Bangkok to the town on Ban Phe. From there you take a ferry which brings you to the island in 20 minutes. You have to pay a small entry fee to visit the island (because of its National Park status).
If you're looking for a few days at the beach I really recommend Ko Samet.
Accommodation on Ko Samet: Samed Villa Resort (very nice, excellent value) or the slightly more upscale Larissa Samed resort. If you really want something fancy, go for the Le Vimarn Cottages & Spa.
---
---
Pattaya*
Hold on before you jump on me for recommending Pattaya.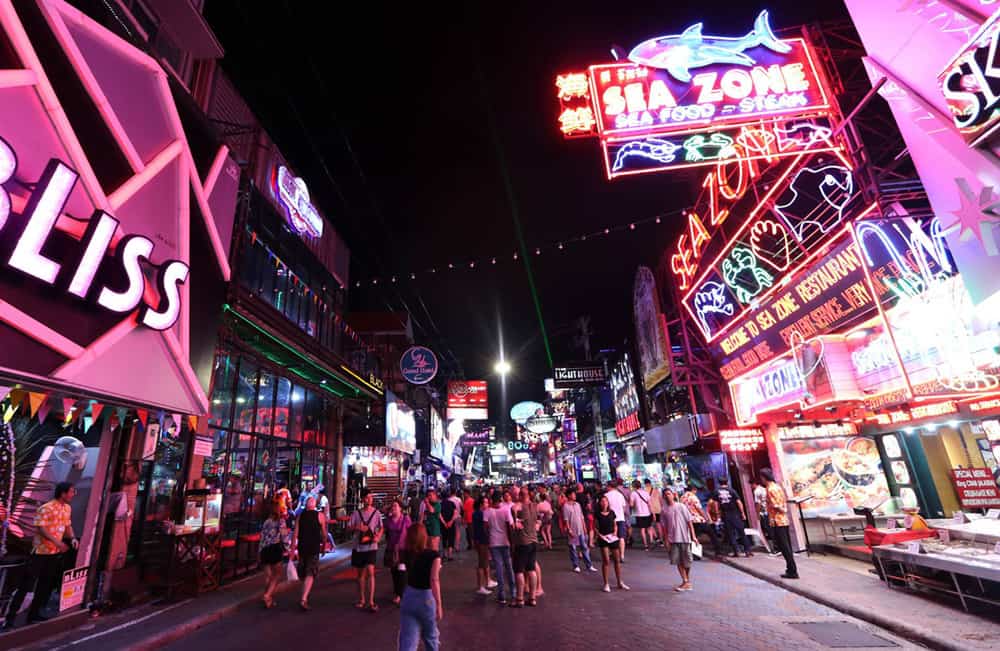 Pattaya has very little going for it. It's dirty, its beaches are disgusting, it's overbuilt with nothing to really see, it has hookers lining the main street and strip joints almost everywhere you look (Pattaya is known as Thailand's "Sex Capital"). It attracts lots of crappy tourists, it doesn't have the friendliest locals…. Really, Pattaya is pretty shitty.
BUT: we came here a couple of years ago for the Songkran festival and had an absolute great time (much better than Songkran in Bangkok). Its small streets and many, many bars just make for the perfect party place.
*So keep Pattaya in mind if you're in Thailand for Songkran (which is usually in mid-April of every year). Otherwise forget I ever mentioned Pattaya…
Accommodation in Pattaya. We find that in general hotels in Pattaya are over-priced and not great value for what you pay. There are some exception though. High end: Wave Hotel Pattaya, Grande Centre Point Pattaya, Hilton Pattaya. More economically priced (but not on the coast): DeeProm Pattaya Hotel (excellent value, great pool), The Classroom Hotel (both excellent value and location).
---
---
NORTHERN THAILAND
Northern Thailand is our favorite part of Thailand. There are mountains for trekking, historic towns and cities, many different hill tribes…and the most affordable pricing in Thailand.
Chiang Mai
Chiang Mai is Thailand's 2nd largest city and the gateway to the north. It is nothing like Bangkok though. In comparison it feels provincial: the air is cooler, streets cleaner and less crowded, the people friendlier. The Old City is located within city walls, containing approximately 300 temples. Not only that, but the temples are older and more spectacular than most of the temples in Bangkok (most of them were built in the 13th to 15th century when it, along with Sukhothai, became the predominant religious and cultural center in Northern Thailand).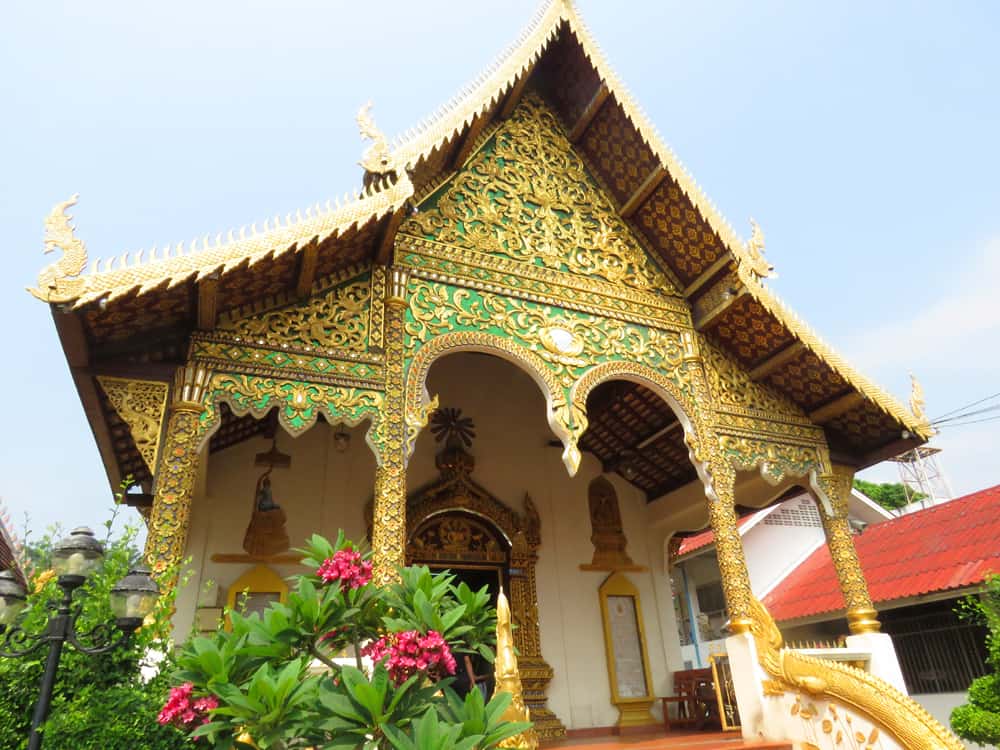 While visitors can explore the Old City on foot, the best way if you have limited time is to hire a tuk tuk driver to take you to the main temples: Wat Chedi Luang, Wat Chiang Man, Wat Phra Singh, Wat Sri Suphan. Add to that the many temples just outside the gates of the Old City: Wat Bupparam, Wat Suan Dok, Wat U-Mong and – the most famous temple in the area – Wat Phra That Doi Suthep, 30 min away on Mount Suthep (a high hill with views over Chiang Mai).
But besides temples, Chiang Mai is just a great place to "be", which is why it's home to many expats and nomadic travellers (including us. We spent a combined 2 months in Chiang Mai). It's inexpensive, has great food, has all the Western conveniences, night markets where you can buy anything under the sun, places where you can do (or watch) Thai boxing, yoga, or take cooking classes. Chiang Mai is great.

Accommodation: Simple and good value: Pha-Thai House (in the old town, Thai style, Pool, simple, inexpensive). Thongran's House (very nice rooms, right in the center). Something fancy: Tamarind Village. We stayed here many years ago on our 1st visit to Chiang Mai. Luxurious and romantic with the most comfortable beds. Just fantastic.
Note 1: If you want an elephant experience, Elephant Nature Park is the most famous place in Thailand to see elephants (we visited Elephant Nature Park back in 2008. Now every blogger in the whole wide world writes about ENP like they discovered the place).
Note 2: Want to do some Muay Thai training? We spent a month getting in shape in Chiang Mai. Post: Where to do Muay Thai training in Chiang Mai
---
---
Mae Hong Son
While Chiang Mai (and further north Chiang Rai) are known for hiking, the best hiking in my opinion is around Mae Hong Son (capital of the province of Mae Hong Son, right on the border with Myanmar).
Note: an inexpensive 35 minute flight is all it takes to get to Mae Hong Son from Chiang Mai. Alternatively, you can drive taking the popular Mae Hong Son loop which will take you through some of Thailand's best geography and through popular towns such as Pai and Mae Sariang.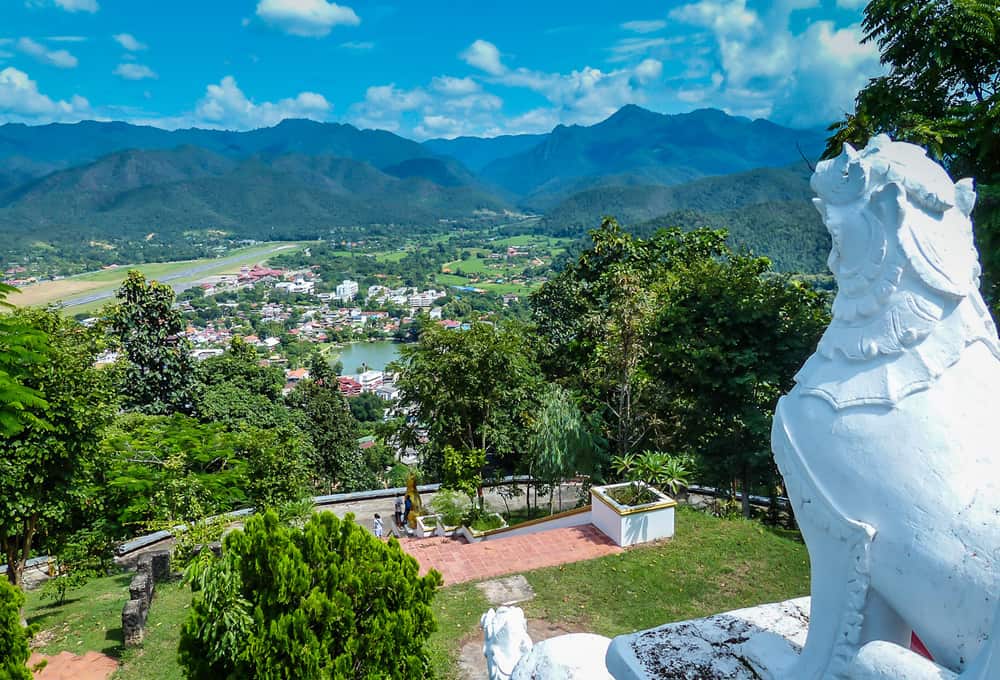 The town itself is lovely and serene, set on a lake dotted with temples. Around town are caves, waterfalls, hills and mountains. An easy (but steep 40 minute) hike from the center of town takes you to Wat Phra That Doi Kong Mu, a Burmese temple with extraordinary views of town and the surrounding mountains.
But the best hikes are organized through guesthouses or agencies in town. They'll take you high into the mountains where you'll met local tribes (starting with Black Hmong tribes who usually like to make their homes at the peak of mountains). From there you'll descend through mountains, bamboo forests, tropical forests and river gorges while stopping at various local villages. The geography is amazing.
So why Mae Hong Son? It's authentic and beautiful, with the "wild west" feel particular to border towns. The tribes you meet are the real thing, the people you hike with less likely to be the mass-market tourists you see in Chiang Mai. Some of my most memorable hikes anywhere were in Mae Hong Son. I love Mae Hong Son.
Accommodation: The fanciest place in Mae Hong Son is the Rimtarn Resort (don't worry, it's inexpensive. Your money goes a long way in Mae Hong Son). The very cosy Sarm Mork Guest House is an even cheaper option.
---
---
Sukhothai
Sukhothai was the 1st independent Kingdom of Siam (founded in 1238), the cradle of Thai civilization and a UNESCO World Heritage Site.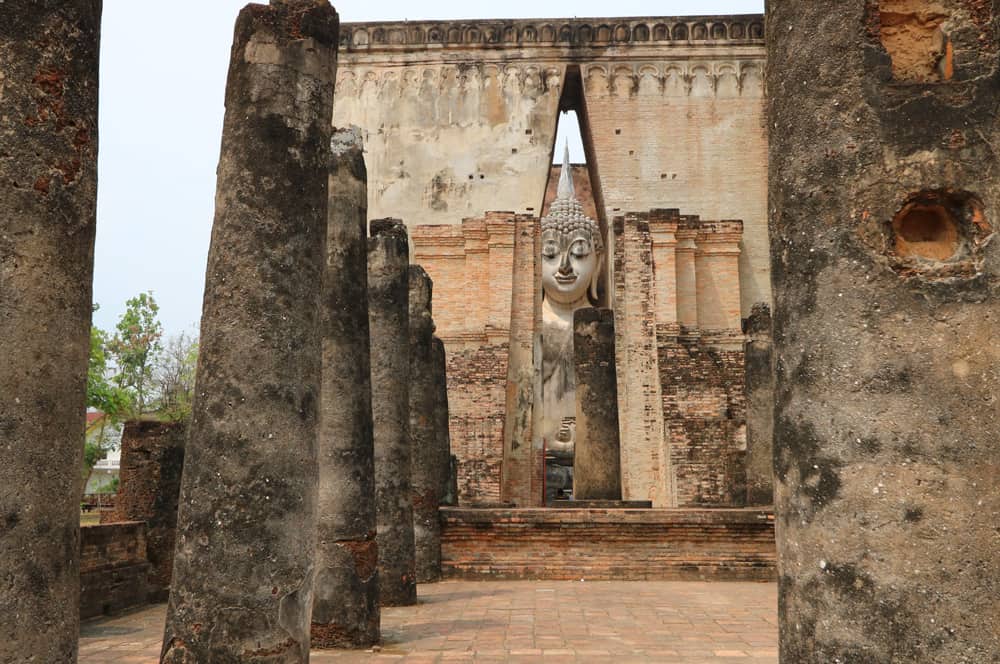 Sukhothai is spectacular and made even more special by its compactness. Sure, you can hire a guy with a Tuk tuk to take you around – but the best thing to do is to rent a bike (something you couldn't do in Ayutthaya). Doing this, you can easily see all the temples in the Sukhothai Historic Park in one day.

BUT you should book a 2nd day because an hour away Si Satchanalai Historical Park is also worth a visit. Just like Sukhothai, it is a UNESCO site…and just like Sukhothai you can rent a bike and ride between temples. Note: your guesthouse in Sukhothai can arrange to take you to Si Satchanalai.
Sukhothai is quite far from both Chiang Mai and Bangkok. Which is also the reason it doesn't get that many tourists. I write about how to get to Sukhothai here.
Accommodation: the Thai Thai Guesthouse is wonderful and really good value. Nice rooms, a pool, and you can rent a bike and ride it into the historic park which is only a few minutes away. They can also arrange transport to Si Satchanalai.
---
---
Nong Khai
Still in Northern Thailand (although a different region in northern Thailand), Nong Khai is very different. It is in Northern Isaan province, a flat region of Thailand known for rice growing. We lived in Nong Khai for 4 months a few years back and loved it.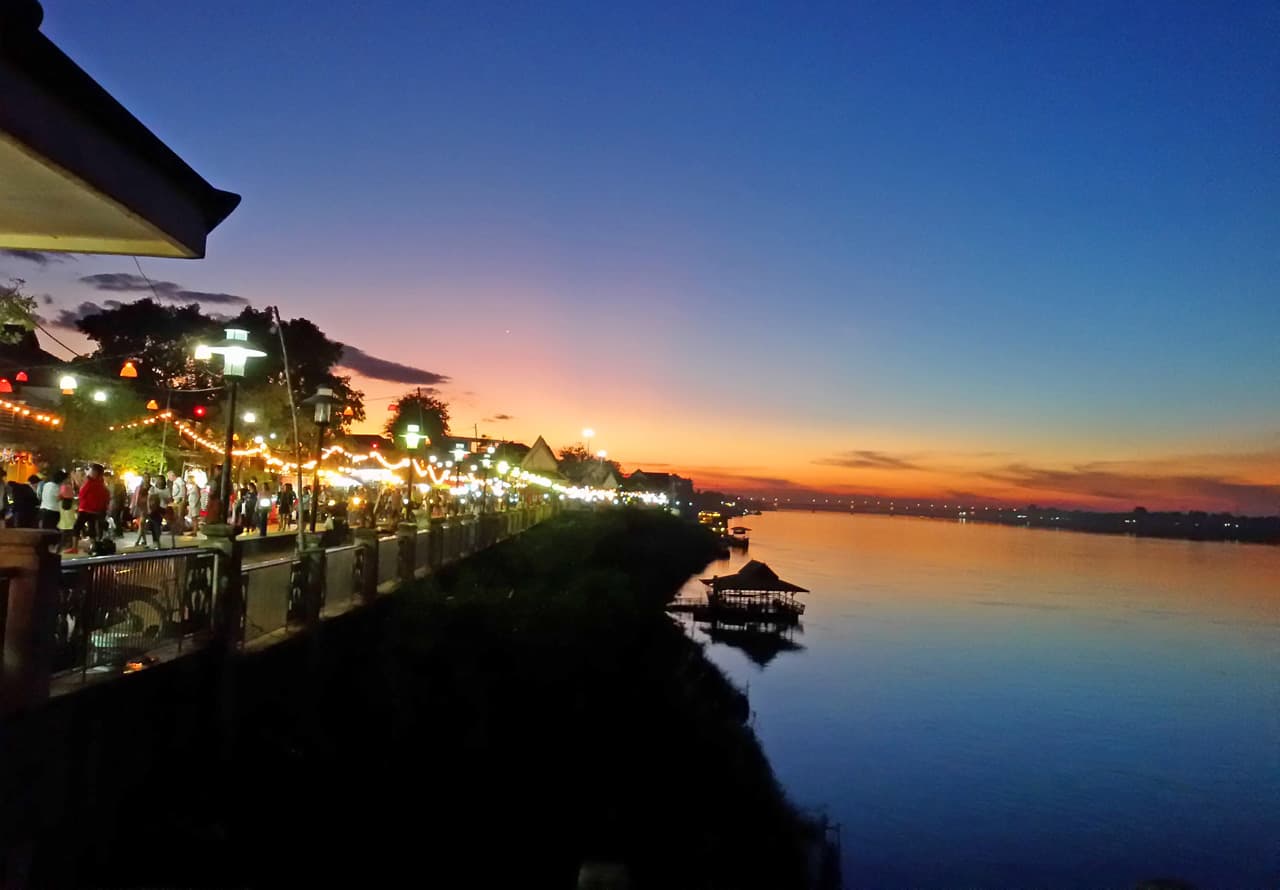 Besides being a pretty town with lots of temples and some bustling markets, what makes Nong Khai special is its location on the huge Mekong river. You can stroll down the promenade for kilometres, enjoying the views of the river and of Laos on the opposite bank. 90 minutes away is Vientiane, the Laotian capital (many travellers pass through Nong Khai on the way to Vientiane where they go to renew their Thai Visa – unfortunately most don't bother stopping to explore Nong Khai which is a shame).
Nong Khai is far from everywhere and you might not put it on your list of places to visit in Thailand. That's understandable. But if passing through, or if looking for a place to base yourself for a few months, you might fall in love with Nong Khai. It is attractive, has a small town feel, lots of different cultural influences (Vietnamese, Laotian, Chinese) and is also expat-friendly (it has a small but strong expat community). It also has the incredible Sala Keoku, the most popular tourist site in this region.
Lots of photos in this post and this post, but you should definitely have a look at our detailed guide if thinking of going to Nong Khai:
---
---
GULF COAST
Prachuap Khiri Khan
When recommending places on Thailand's Gulf Coast most people will recommend Hua Hin and/or the island of Ko Samui. We spent 5 weeks in Hua Hin a few years back and didn't like it. I've previously been to Ko Samui (which is full of tourists) and didn't like that either.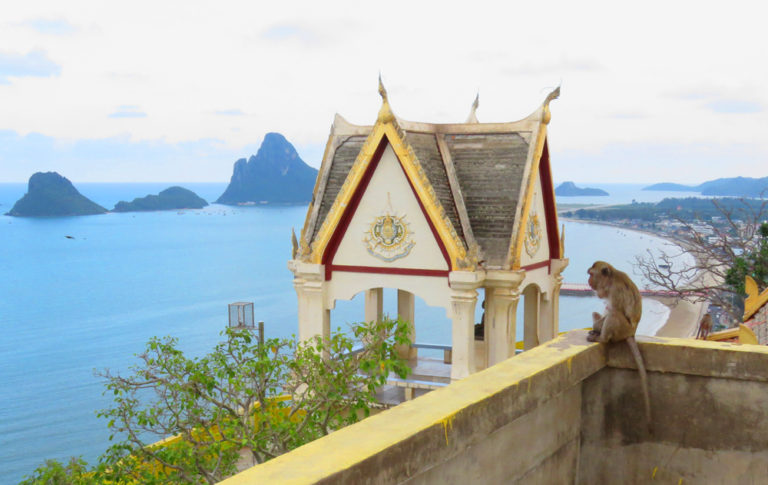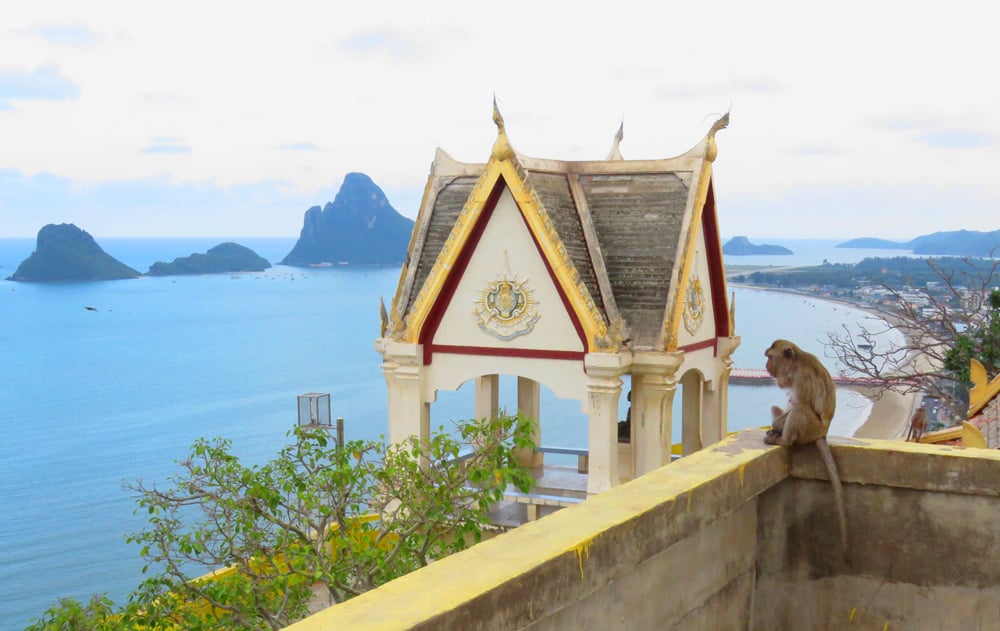 The town we really like is Prachuap Khiri Khan: a quiet place with stunning geography, crazy temples, beautiful beaches and a happening Saturday market. Nothing goes on in PKK (unless you like monkeys) and that's the way we like it. And compared to other places, and to the very expensive destinations further south, Prachuap Khiri Khan is a really good value destination.
Accommodation: the Prachuap Beach Hotel is excellent and inexpensive.
---
---
SOUTHERN THAILAND
Southern Thailand is the image that people think of when dreaming of a Thai holiday: white sands, clear blue seas, palm trees and amazing karst geography.
But Southern Thailand is also full of tourists, insane pricing, and scammers looking to screw you over. It's the region that's changed the most – and mostly for the worst – in recent years. Some places that I would have recommended in the past I won't anymore (Ko Phi Phi is the perfect example of a place that has been forever ruined. I cringe at the guides that still recommend Ko Phi Phi). Phuket is another place I enjoyed 20 years ago. Today it is overdeveloped and caters to resort-type tourists (it also maintains that dirty underbelly that you'll see prominently in Pattaya). You'll probably pass through Phuket while in this area (it's the gateway to the south) but you shouldn't spend too much time here.
There is, however, incredible natural beauty in the islands of the Andaman Sea and I have a couple of recommendations (and if you follow them you don't have to spend time in Phuket).
Railay Beach
One of the most beautiful places in the south with soaring limestone karsts. It is popular and expensive – but it's idyllic with its incredible geography, clear waters, and lush greenery. The thing is that, unlike Phi Phi, they've kept Railey pristine. It's not a mini-Phuket (which is a good thing). So I recommend a few days here. It won't be cheap but you'll be seeing some of the most incredible geography in Southern Thailand.
Note: fly to Krabi airport, not Phuket. Most of the resorts will have pick up service at the airport and will bring you to the resort by long tail boat.

Accommodation: These 3 resorts are within meters of each other on Railay Beach: Railay Bay Resort & Spa, Sand Sea Resort, Railay Village Resort.
---
---
Ko Yao Noi
Ko Yao Noi is almost the forgotten island in the Andaman Sea. It has the same geography as some of the other islands in the area plus it has tropical forests, rice fields, and water buffalos. Lissette and I rented a motorbike and over the course of a few days rode the dirt roads and discovered the island. Ko Yao Noi is what all these islands used to be like.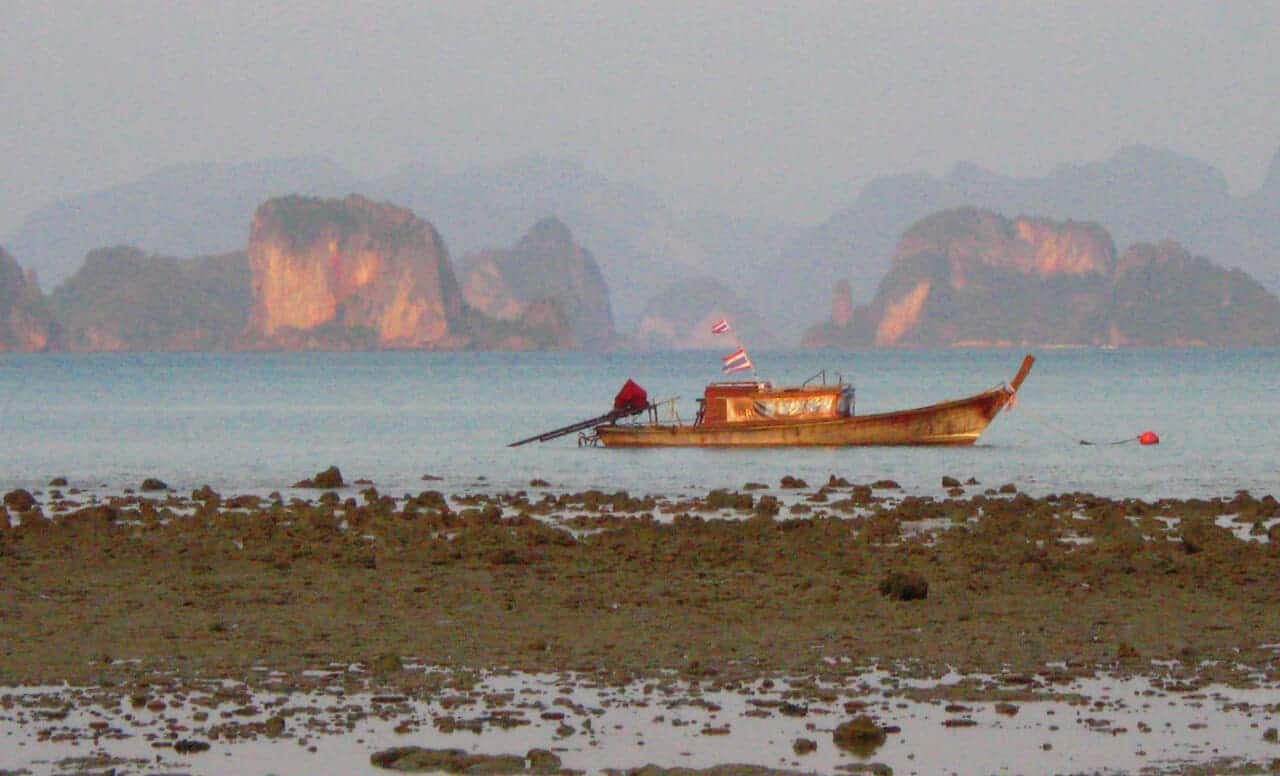 It's not a place for parties and your resort will most likely be along the coast somewhere secluded from other resorts. The beaches aren't the best, most are rocky. But the views of Phang Nga Bay are incredible…and the thing is that you can take a tour by longtail boat and discover tiny islands with emerald bays and white sand beaches. But what it has going for it is peacefulness and seclusion from other tourists.
There are some very, very exclusive resorts on Ko Yao Noi. But there are just as many rustic-type places such as the one we stayed at in the post above.
Accommodation: Fancy: Koyao Bay Pavilions, Niramaya Villa & Wellness. Both are beautiful upscale options. Rustic: Baan Tha Khao Bungalow, Mookdaman Bungalow.
Getting there: Ko Yao Noi is in the middle of the Andaman and just about equidistant from both Phuket and Railay. If you take my recommendation for Railay Beach (above), you can then take a ferry from there and arrive in Ko Yao Noi in 45 minutes. See here. From Ko Yao Noi, you can take the ferry to Phuket arriving at Bang Rong Pier in about 45 min depending on the boat type (Bang Rong Pier is in the north of Phuket island close to the airport).
There are lots of other beautiful islands in the South. People will argue with my above selections. But I stick with the above: they're both beautiful places but with very different characters. Having seen both you can leave Thailand knowing you've seen some of the most beautiful geography in the Andaman Sea.
---
---
Practical Tips and Information
I'll cover a few topics that I regularly get questions about from readers planning their 1st trip to Thailand.
Immigration
Thailand's immigration rules have become a lot more complicated over the last few years so I'll explain a few basics (I'm far from an expert but the below is all most tourists need to know).
1) Visitors from most Western countries* now get a 30 day visa-exemption upon arrival (when arriving by air).
* Australia, Austria, Belgium, Bahrain, Brunei, Canada, Czech Republic, Denmark, Estonia, Finland, France, Germany, Greece, Hong Kong, Hungary, Iceland, Indonesia, Ireland, Israel, Italy, Japan, Kuwait, Laos, Liechtenstein, Luxembourg, Macau, Malaysia, Monaco, Mongolia, Netherlands, New Zealand, Norway, Oman, Philippines, Poland, Portugal, Qatar, Russia, Singapore, Slovakia, Slovenia, Spain, South Africa, Sweden, Switzerland, Turkey, United Arab Emirates, United Kingdom, United States and Vietnam
But what if you need more than 30 days? You can go to an immigration office in most Thai cities and get an additional 30 days (it's easy as I wrote about here). So without going outside the country, you can get a total of 60 days.
2) If you know before coming to Thailand that you'll be staying more than 60 days, you can (and should) arrange for a 60 day Thai Visa. You just go to a Thai Consulate in another country before coming to Thailand (it doesn't have to be your home country. We once arranged for a 60 day visa at the Thai consulate in Prague even though we're Canadian citizens). Having done that, if you need more than 60 days, you can go to an immigration office in Thailand before your 60 days is over and apply for a 30 day extension. It's the same process as I've described for the 30 day visa exemption. You can therefore have a total of 90 days.
So I've described 1) 30 days visa exemption + 30 day extension = 60 days and 2) 60 Visa + 30 day extension = 90 days.
3) What if under: 1) you need more than 60 days and 2) you need more than 90 days? Then you have to leave the country and obtain a 60 day Visa outside Thailand. That's why a lot of people do Visa runs to neighbouring countries (Vientiane in Laos for example. Nong Khai is 90 minutes from Vientiane and so it was easy for us to do when we stayed 4 months in Nong Khai. And Vientiane is a nice place).
Things change quickly so always have a look at the official Thai Foreign affairs page.
---
---
Flying in / Getting Around
Flights in. Bangkok's airport is the beautiful Suvarnabhumi Airport (airport code: BKK), located 32km from the city center. Getting Around. Transport is great: there are some excellent budget airlines (Air Asia, Nok Air, Scoot, Bangkok Airlines), the train is very good, and there's lots of buses. You can get private drivers to take you places very cheaply (we had a private driver from Bangkok to Pattaya for example and it was very affordable). We book all plane, train, bus and private transport using 12Go Asia. They're the best booking site in Asia.

Scams in Thailand
Thailand is not dangerous and you won't have anyone physically endanger you…but there are some scams you have to watch out for. Don't be paranoid, but be aware (especially in Bangkok)
A big scam that I fell prey to is the Bangkok Gem scam. It's an embarrassing story I wrote about here. Simple rule: don't buy jewellery or gems of any kind.
Taxis (especially in Bangkok) will tell you their meter doesn't work or will straight out tell you they want a fixed fare. Say no. Only accept rides from taxis using their meter.
Tuk Tuks will try to bring you to a store (for many different reasons). Say no. And agree on a price before you get in a tuk tuk.
As with anywhere else, be suspicious of people being too friendly or asking too many questions.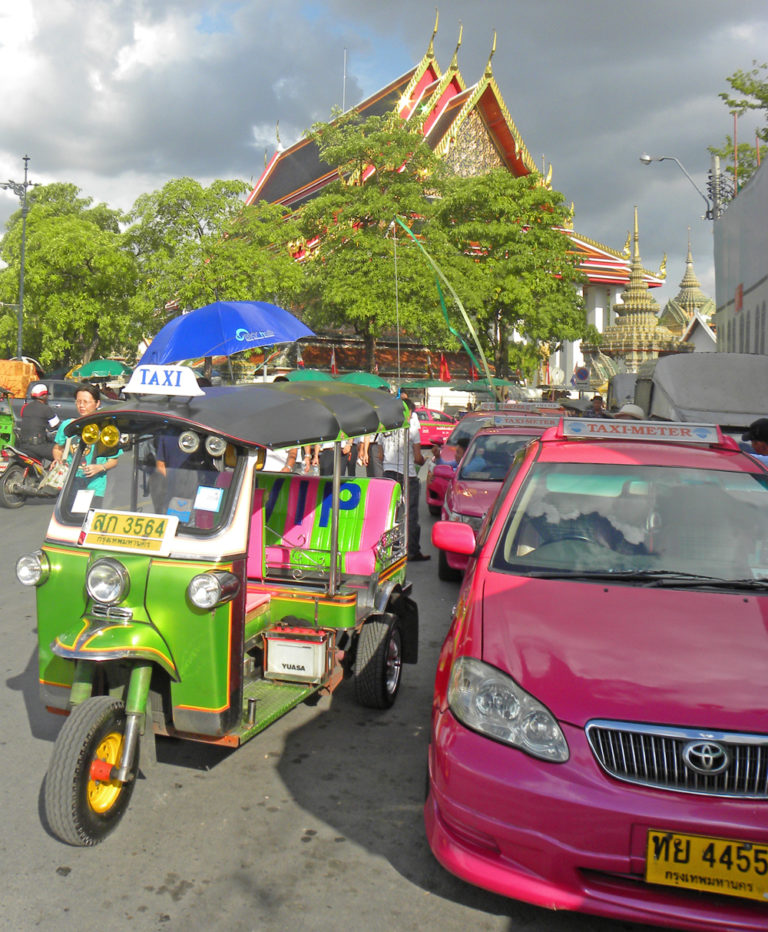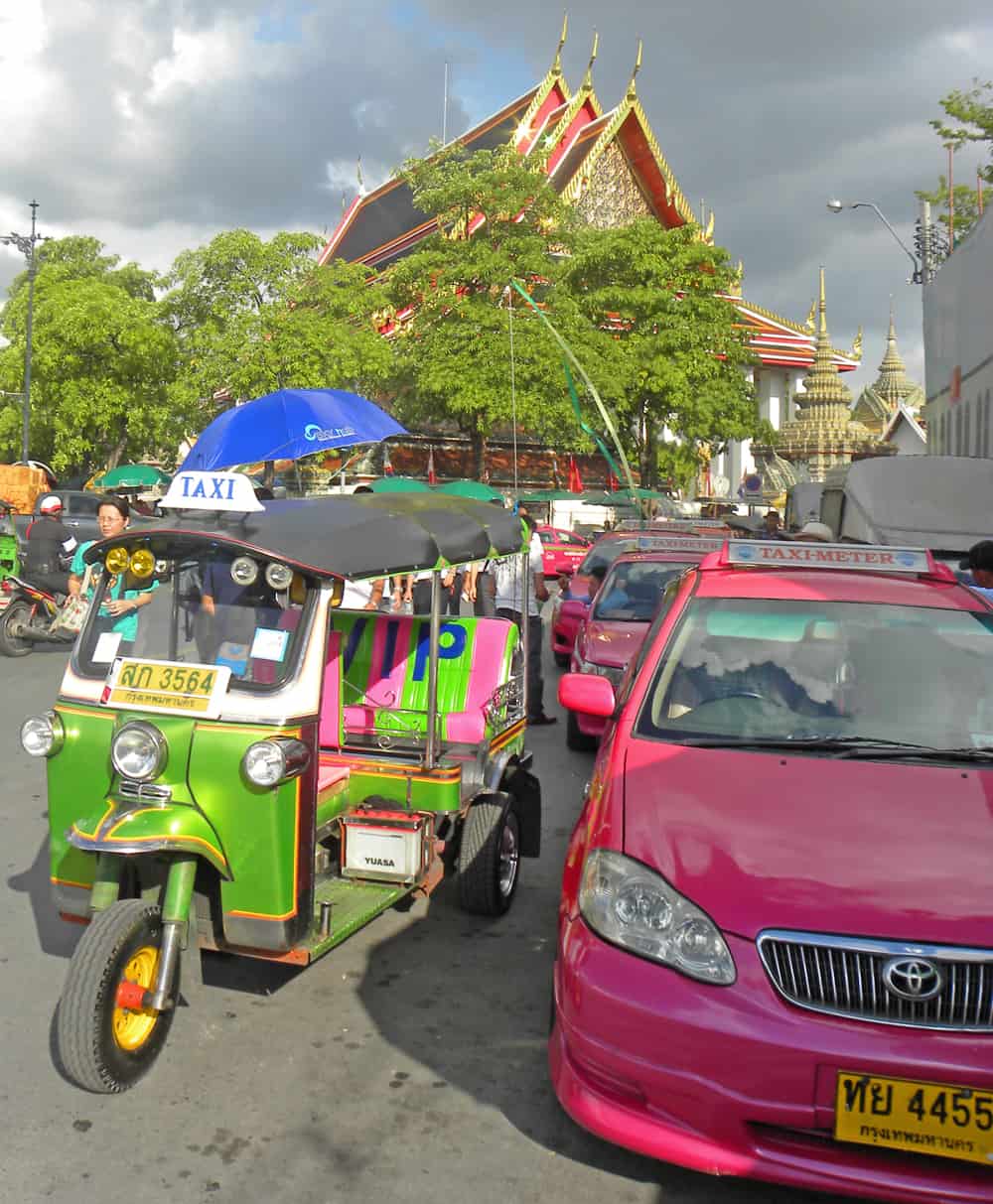 ---
---

Getting around cities
There are taxis, but even better is GRAB (they bought out UBER in SEA a few years back). So download the app. Tuk Tuks are fun but find out what the going rate is to where you are going otherwise you're sure to overpay. Songthaews are the cheapest way to get around and if you stay any amount of time you'll make it your primary mode of transport. It's basically a pickup truck with a roof that operates like a city bus with a fixed itinerary.
Food & Drink
Thai food is the best in the world in my opinion. The best Thai food blogger is Mark from Migrationology: have a look at his 100 Thai dishes to Eat.
There are 3 main Thai beers (Singha, Leo, and Chang) and everyone argues which is best (my vote is Leo). Have some Thai rum (they call it "Thai Whiskey"). The best is "SangSom" and Thais like to drink it with coke. One of my favorite things in the world is drinking SangSom with coke while watching live Muay Thai.
Ps. If you find our blog helpful, please consider using our links to book your flights, hotels, tours, and car rentals. Have a look at our Travel Resources page.
---
---