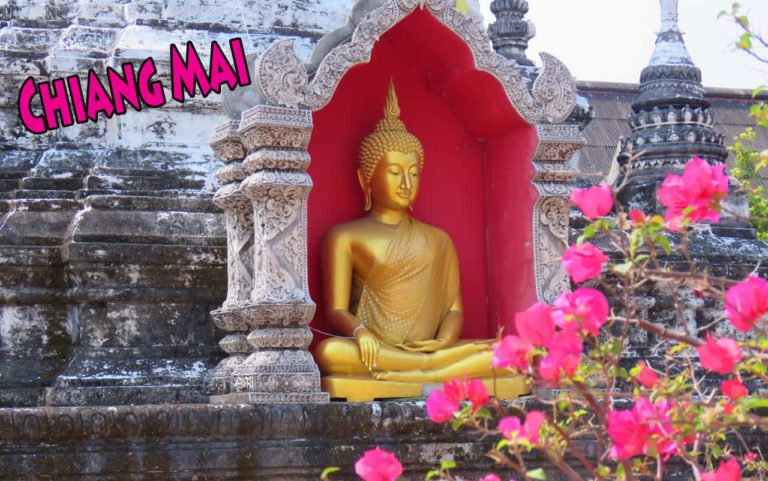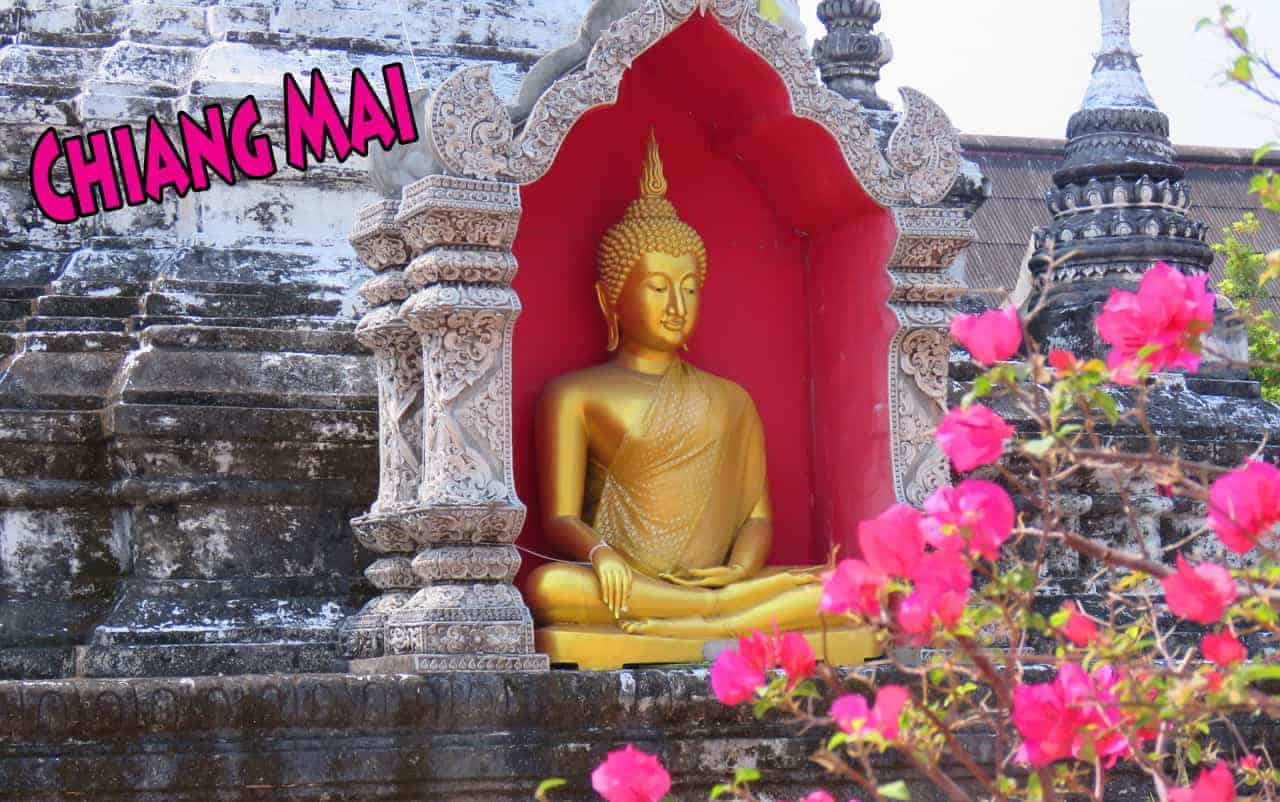 A Month in Chiang Mai.
Next week we'll be leaving Chiang Mai after having spent a month here. March isn't the best time of year in Chiang Mai but we chose to come here for the cost, the food…but mostly for the ease of living. Chiang Mai ended up being pretty damn close to perfect for all that. It's even exceeded expectations.
People will ask, what do you do for a month in Chiang Mai?
Note: I mention prices in Bahts below. As of the end of March 2018, 31 Bahts = 1 USD or 24 Bahts = 1 CAD
Here is what we did


.
1.Sightseeing (ie. visiting lots of temples). There are so many temples – over 300 in the Chiang Mai area – and many are really, really impressive. And some are unique, different than any other. If you're a tourist temple-hopping is probably what you will be doing a lot of. Over the course of a month we saw tons of them. The best temples in Chiang Mai.

---
---
.2. Muay Thai Training. Readers know that we've been going to gyms and trying to get/keep in shape. One of the things we've done here in Chiang Mai is go to a Muay Thai gym for some training. It has been fantastic. The last few weeks we've gone 3 times a week where we get 2 hours of training each time. I'll be writing about that soon as well. We're right now in the best shape we've been in a long time. I'd recommend it to anyone.
3. Eating lots of Thai food (Indian too) and drinking tons of coffee and fruit shakes. I've always said that Thai food is something I could eat every day. Stick me somewhere where I can only choose one kind of cuisine and it'll be Thai. We also love Indian food but once a week does it…until the next week when we get lured in again (it's fattening, not healthy, and it usually screws up our bellies. But it's addictive). I'll have a few recommendations at the end of this post. Besides the food, we buy fresh fruit shakes every day (25 Baht each) and get a couple of iced coffees (usually between 50-70 Baht).
---
---
4. Massages. We usually get foot massages at least once a week, usually after our Muay Thai workout. Usual cost 200 Baht/hr or 250 Baht/90 minutes at a nice place. Our favorite massage place is called Lila Thai massage where they have female ex-convicts giving you massages. But there is a massage parlor on every block in Chiang Mai so you'll never have a hard time finding a place.
.
5. Working out at the gym and lounging by the pool. As mentioned above, we spent our month at the Smith Residence. On the roof they have a small gym and pool and we've spent quite a lot of time up there when we're not out.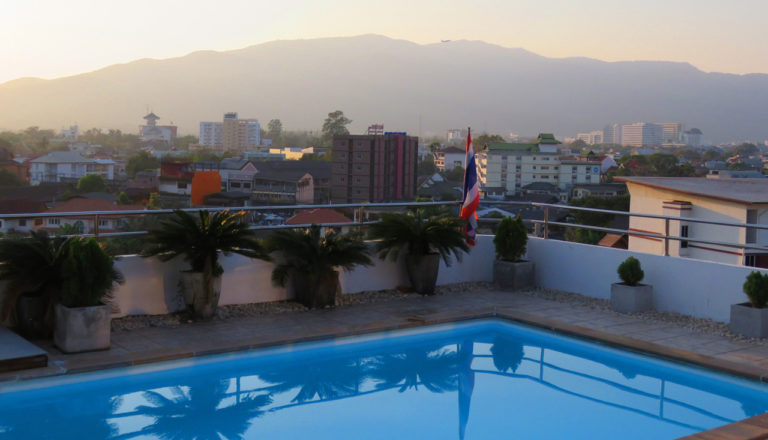 ---
---
.
6. Night markets. There seems to be a market everywhere you turn in Chiang Mai. The busiest is the Sunday night market through the center of the old town where they sell all kinds of handicrafts. It's huge and busy (too busy for me). But whether it's buying Muay Thai shorts, underwear, leather goods, silk shawls, skirts, coconut bowls, wooden statues, knock-off toys you'll find anything you want here. We go every week, have a look around, and usually sit down somewhere for a beer watching the crowds.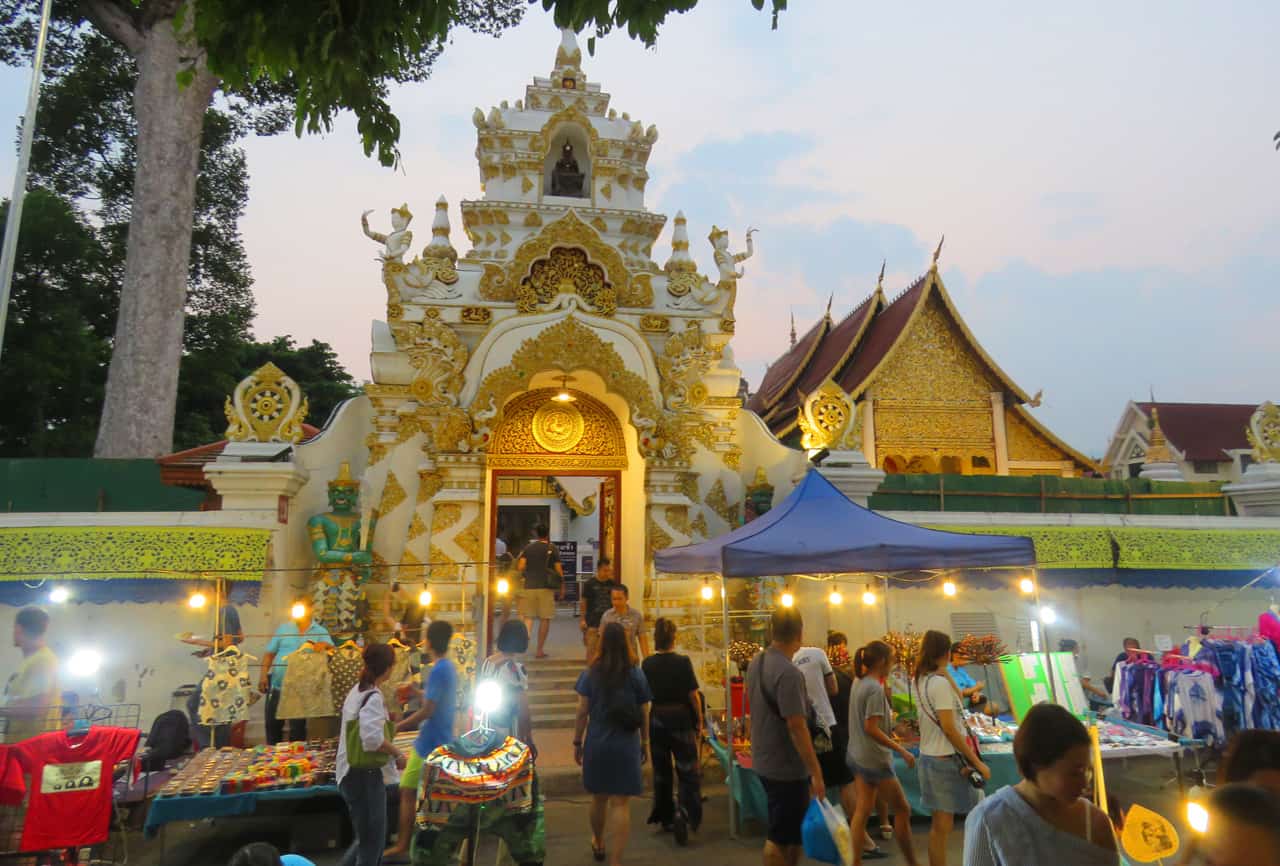 .
7. Go out to watch Muay Thai. I'm lucky that Lissette is a fan of martial arts. Back in Canada we would sometimes get pay-per-view and watch a boxing match on TV. Here in Thailand we enjoy going out for Muay Thai and have tried to do it once a week. We'll be back to Chiang Mai in late May and will write about the best spots to see Muay Thai in the city – we've already been to a few different places and our experiences have varied greatly.
---
---
Things we didn't do

.
1. Cook
2. Clean
3. Do Laundry
4. Grocery shopping*
The great thing about Chiang Mai is it doesn't really pay to do any of the above. We go to local restaurants where we'll pay on average 80 baht for a meal (each). Our rooms gets cleaned twice a week by the staff. There's a laundry lady downstairs who I bring our dirty clothes to twice a week (comes out to about 200 baht for a good-sized bag of dirty laundry). * Grocery shopping – I'm lying that we don't do any. We go once a week go the Airport Plaza to get some basics (a huge plastic container of water, crackers, cheese, health bars, milk, cereal, instant coffee, eggs). But that's it.
5. Yoga. Lissette hoped to do some yoga in Chiang Mai and there are tons of serious yoga places around (Wildrose yoga has been recommended by many). But there are only so many things we can do and we decided this time around that we wanted to get fit with Muay Thai. Maybe we'll do yoga if we're ever back in Chiang Mai.
Tips and Recommendations

1. Pick up a copy of the free "Sawasdee Chiang Mai Map". It's available at some cafés and hotels around the city. It's the best map I've seen, with illustrations and info of different sights for tourists.
2. My mother lived about 5 years in Chiang Mai and the first thing she told me was that we should try to avoid the main roads and instead walk the small sois (streets). It's the best piece of advice. In many places, there are no sidewalks to speak of in Chiang Mai and walking down a main street is like walking through an obstacle course. The sois might not have sidewalks either but traffic is light, they're kept clean and, most surprisingly, you can walk some of those small sois and feel like you're in a small village and not in the heart of a city.
3. Take a songthaew to get places. You can take it anywhere central and it will cost you 30 Baht each. We would take it whenever we went from one side of the old city to the other. They're all over the place (the red pickups) and they're always looking for customers.
---
---
4. Otherwise, take Uber. It's even cheaper than a songthaew. We always take it when going to the shopping center (Airport Plaza) or to the Muay Thai training and it usually costs 50 Baht for a 15 minute ride. And they are meticulously cared for in Chiang Mai (and always have AC). Forget about taking a Tuk Tuk (if you do you shouldn't pay more than 100Baht to anywhere) or a taxi.
5. Once a week we would go to the Airport Plaza shopping center. It's a good place to get a SIM card (lots of companies on the 3rd floor), pick up good sports clothes (they have a Nike factory outlet with good prices) and to pick up groceries (at Tops Supermarket). Some people think Thailand is 3rd world – well, come to its shopping centers and you'll find things from all over the world that might well put the shopping centers that you have at home to shame.
6. Do your sightseeing early in the day before the sun gets overpowering. Our routine in Thailand: get up early, have a light breakfast in the room, do sightseeing, go somewhere for lunch. In the afternoon Lissette works/I do stuff on the blog, in the late afternoon we either go to the gym or to Muay Thai. By 7pm we're usually ready for dinner somewhere in the neighborhood.
7. I mentioned a SIM card up top. You don't really need one in Chiang Mai – they have wifi everywhere.
.
---
---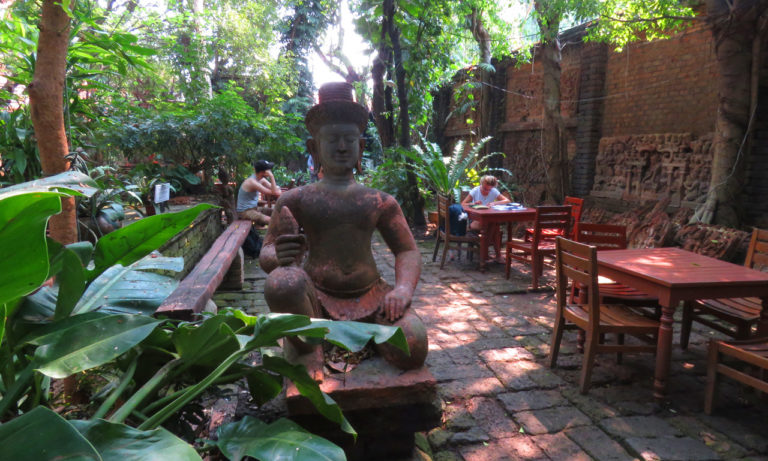 Some of our favorite cafés and restaurants
.
We stayed at the Smith Residence near Chiang Mai gate (the southern gate to the old city) so our favorites are all in this neighborhood:
Thai Food – la Petite
Indian food – The Grill of India
Best café for ambiance – Clay Studio Coffee in the Garden
Best café for fresh croissants, pastries and a really nice vibe – Baan Bakery
Best café for good coffee – Nu Nu Nini's Café
Best healthy food on Loi Kroh Road (where we go to do/see Muay Thai) – Alice's Restaurant

Practical Information
Accommodation: We stayed at the Smith Residence which is popular for long-term stays. I would not recommend it however if you're here for a few days or a week. There are better, much nicer options. Here are a few: Pha-Thai House. In the old town, Thai style, Pool, simple, inexpensive. Thongran's House. Very nice rooms, right in the center. Something fancy: Tamarind Village. We stayed here many years ago on our 1st visit to Chiang Mai. Luxurious and romantic with the most comfortable beds. Just fantastic.
Getting there. Lots of options (see below) depending where you are coming from. 12Go Asia has the best flight, train, and bus options in Asia and you can even book private transfers and taxis.
Organized Tours: there are so many activities in and around Chiang Mai I couldn't possibly list them all. But this being Thailand you get good value for your money.
.
---
---
Thoughts on Chiang Mai
.
One of our regular readers mentioned recently not really liking Chiang Mai very much. We've travelled through Chiang Mai before on short trips and I think I appreciate the city much more as a base (ie. for a longer term stay) than as a place to visit for a few days. As a tourist destination Chiang Mai has the temples which are very impressive. But there are only so many temples you can visit over a few days before your get temple-ed out. What we loved about Chiang Mai was the lifestyle you can have as a slow traveller or expat. I think it can be summed up very simply: in Chiang Mai everything is possible. Want to take yoga, muay thai, or cooking classes? Want exciting nightlife, watch professional Muay Thai matches, and drink/carouse with the Thai girls? Want to eat great food of all kinds? Want to meet other Expats? (you'll never be short on friends in CM). It's all possible, it's all affordable, and as long as you're nice and respectful you'll find the locals very friendly.
Now the negatives. People complain about the increased traffic, pollution, and the seasonal "smog" caused by the burning in Northern Thailand (which often starts in January and continues until the end of April). We lived through all the above through our stay in March. Looking at the horizon skies are often grey. Looking higher you can usually see blue skies. The grey/blue mix depends on the day, some days we can't even see the nearby mountain of Doi Suthep, on other days the sky is almost clear blue. So there is significant pollution in the air (an expat we spoke to said it was the equivalent of 6 cigarettes/day) and I know people avoid Chiang Mai this time of year. But we were prepared and sightseeing wasn't our priority. We came to Chiang Mai to "veg out" and it really was quite perfect for that. But ideally I would suggest people come outside of that Jan-Apr period.
So final thoughts? Chiang Mai is a fun place to spend time. Life is easy, cheap, and you can find/do almost anything you want. You'll never get bored in Chiang Mai. For us, it's ended up being a great place to spend a month.
---
---
Ps. If you find our blog helpful, please consider using our links to book your flights, hotels, tours, and car rentals. Have a look at our Travel Resources page.