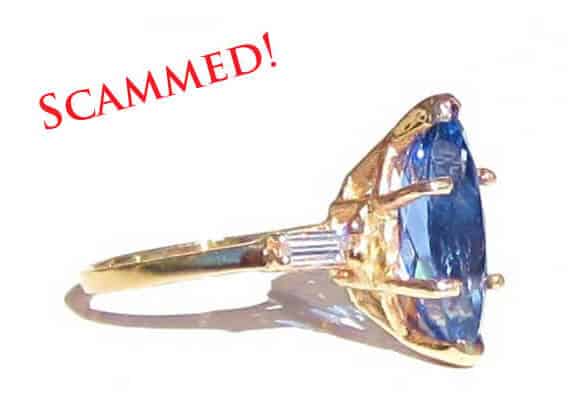 I never wanted to write about the Bangkok Gem scam. It's embarrassing. Only idiots fall for that, right? But there's something about Bangkok that brings the crazy and stupid out of people – and I was one of those.
I'm writing this post only because I watched Scam City a few weeks ago. The city they were highlighting was Bangkok. The episode was filmed in 2012 and it covers the Gem Scam which surprisingly, many years after I was scammed, is still going strong. Just like my encounter, the episode shows lots of tourists walking in and out of the gem shop (or "Export Center") in question. There are tons of warnings in travel books about the Gem Scam and most tourists who have done their research should never fall for it. Somehow they still do.
[Just as a little note in my defense before I tell this story: I knew nothing about the Gem Scam prior to going because I hadn't done any reading on Bangkok, or Thailand, for that matter. I was supposed to be going on vacation to the Philippines with a new girlfriend. Suddenly 3 days before our departure, her overly-possessive father freaks out and tells his daughter she can't go, that she risks getting kidnapped by Al Qaeda. She cries, tells me she has to cancel. Facing going alone, I relent and suggest that we go to Thailand instead. That's how I ended up going to Thailand basically clueless].
---
---
If you don't have time to see the Scam City episode, I'll give you a very quick summary of how the Gem Scam works:
1) You, as a tourist, show up at the either the Grand Palace or Wat Po to see the sights. A friendly Thai approaches you and asks you where you are going. You tell him "I'm going to see the Grand Palace/Wat Po". He tells you a variation of "Grand Palace/Wat Po closed today for construction/because monks are praying/because it's a national holiday" (fill in one of the reasons). He might tell you that it's closed for only a few hours for lunch.
2) Your new Thai friend then proposes that you take a tour on a tuk-tuk to a few nearby temples ("go see Standing Buddha Temple/Lucky Buddha Temple/ Lying Buddha temple. Vely good". He also slips in "and you go to Export Center, also vely good". He conveniently has a tuk-tuk driver a few feet away who nods and says he'll take you and that it won't cost much (they'll tell you 50 baht or so, which is under $2). You're hesitant at first, but since your plans for the day have been ruined or delayed you say "ok".
3) The driver drives you around the old city which is quite nice. Maybe 5 minutes later you arrive at the first temple. Very quiet, no other tourists. You walk around, take a few photos, then get back into the tuk-tuk.
4) He brings you to a 2nd temple. By this time you're enjoying yourself, feeling relaxed, and thinking that taking this tour was a great idea. You walk around the temple. Somewhere, somehow, you meet someone who makes conversation with you. The person is friendly and speaks English. In the episode above, he is a middle aged Thai. Somewhere in the conversation the subject of the Export Center is brought up, something along the likes of "Have you been to the Export Center? No? You have to go, it is a special sale by government to promote tourism. The sale is only today and tomorrow, you get 30% off on gems. You can buy at half the price and sell in your country for double the value!". He doesn't do a hard sell but you are convinced, you have dollar signs in your eyes ("Hey, I can make enough money selling gems to pay for this vacation!").
---
---
5) The Export Center was the last stop on your tour anyway. The taxi driver asks you "Export Center?" you say yes.
6) From then on it's easy. He takes you to a large gem store which he says is the "Export Center" (you can't tell anyway because you don't read Thai). You're a bit nervous at first but you see other foreigners in there so you relax, it's obviously popular. You speak to a salesperson, find out what is on special and what is good value ("Blue Sapphires, only $3,000 for ring, necklace, earrings). You say "ok". Gulp. You walk out of there with your gems looking forward to selling them at home for double the price.
7) A few weeks later you get home, take them to a few jewelry stores where they look at you like you're an idiot when they find out how much you paid for them. They examine them, tell you they are worth maybe $200. Your heart starts racing. You don't know whether to believe them.
8) You get a gemologist to appraise your gems and find out that they are indeed worth a fraction of what you have paid for them. Voila, you are a victim of the Gem Scam!
---
---
I saw the above mentioned episode and I wouldn't have fallen for it. Our scammers were even smoother than the above.
In many respects my story was almost the same: The Thai man at the Grand Palace told us that it was closed for lunch, that it would be open again in 2 hours. Plenty of time for a little tuk-tuk tour. But the big thing, the thing that totally conned me, was the English speaking man we met.
We were at the 2nd temple, the Lucky Buddha temple, when another tuk-tuk pulled up. In it was an American with a Thai friend (I thought they were a gay couple at the time, but that really doesn't have anything to do with the story). We somehow got to speaking with the American; mid-20's, from San Francisco. We compared travel notes, he told us the places he had been. He never even brought up the Export Center. I did. I asked him "This guy we met mentioned something about the Export Center. We're not interested, but what's that about?". That's when he started "Oh, the Export Center. Yeah, they sell gems at big discounts, I come here to visit once a year and I bring them back home to sell". He then proceeded to pull out a box from his bag and show us some gems "See, you have to buy blue Sapphires, they're famous here in Thailand and the best value back home".
I didn't get conned by a Thai, I got conned by a fellow tourist. I still can't believe he was in on the scheme. The crazy thing was that 3 weeks later, back in Montreal, I met up with another couple who had been conned the same way – by the same guy!
---
---
Our Bangkok adventures got even crazier. After purchasing the gems, the "Export Center" arranged a tour for us. The rest of the day we were taken for; 1) a canal ride, 2) Thai massage (the real one where they crack your bones, not the one that includes a happy ending), 3) a night out for a Thai show. I remarked to the girl giving us this tour that the Thai government certainly was generous in the way they treated their guests. I don't know how she kept a straight face.
So that's how the Gem scam works. Please don't comment telling me that I was an idiot and that I deserved it. I know. My only defense is that I was unprepared, as I mentioned above. It was also one of my first independent trips abroad, I would never fall for that today.
---
---
Ps. If you find our blog helpful, please consider using our links to book your flights, hotels, tours, and car rentals. Have a look at our Travel Resources page.