Why we love Nong Khai
We've been in Nong Khai a little bit over a month now. We love this town. I've previously written about Bangkok and Hua Hin and how they weren't for us. We were getting a bit disillusioned with our stay in Thailand. Until we arrived in Nong Khai.
I'll have a detailed post on Nong Khai within the next couple of months. I'll also have a couple of posts on the tourist highlights of Nong Khai, namely Wat Pho Chai and the Sala Kaew sculpture park. We haven't seen either yet. In the meantime please check out the many photos below – you'll be impressed.
.
Below: Life in Nong Khai revolves around the Mekong river. That's Laos on the other side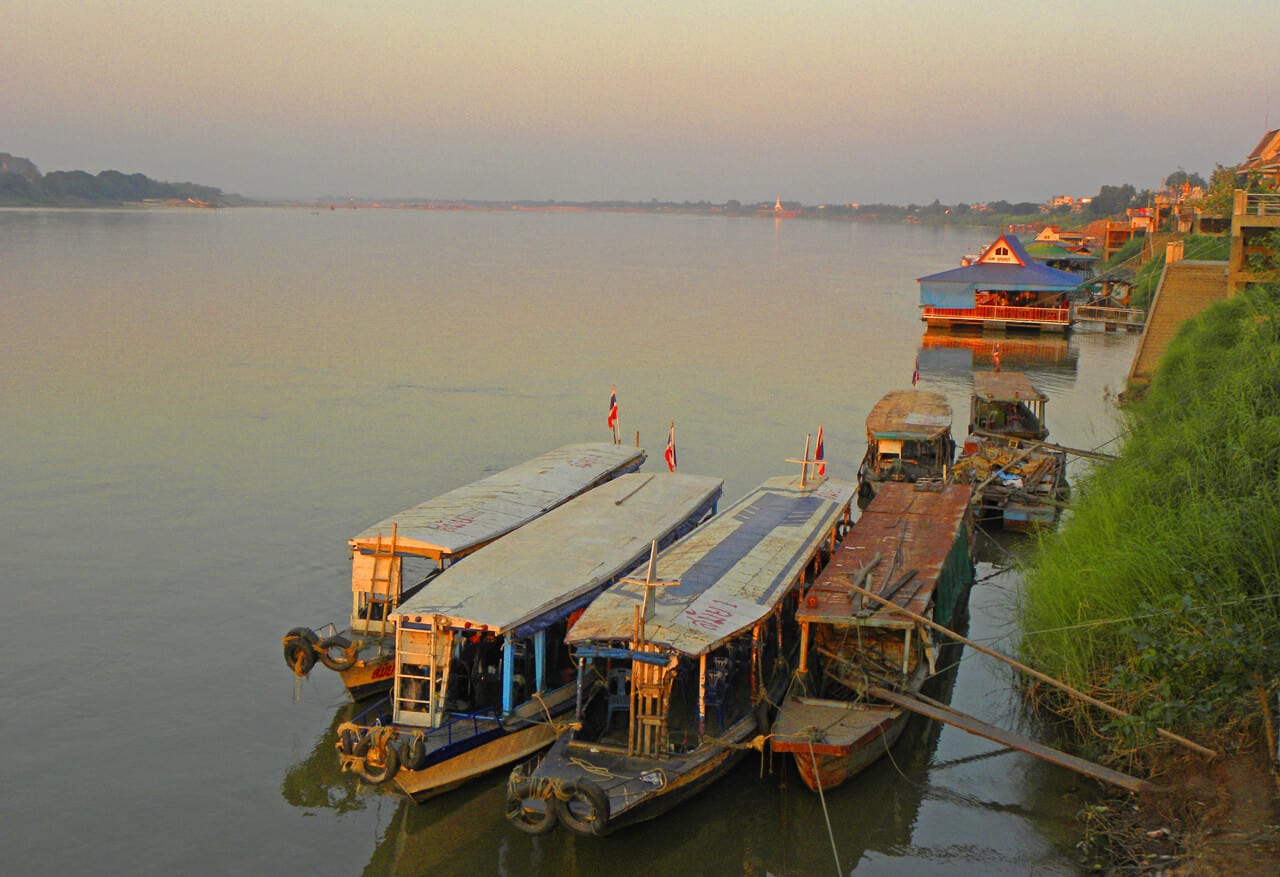 .
Below: The promenade that stretches down the river. Always quiet – except Saturday evenings.
.
Below: View of temple from our balcony.
.
Below: Colourful flags along the promenade. This spot is used for dancing on Saturday evenings.
.
Below: There is a constant stream of cargo boats crossing the river to Laos. Amazing how fully packed they are.
.
Nong Khai has the very popular Tha Sadet Market where you can buy almost anything. A few photos below:
.
Sunset along the promenade. They've set up things for the kids along this stretch.
.
Below: At the 'center' of the promenade is a huge naga where tourists (most Thai) love to have their photos taken.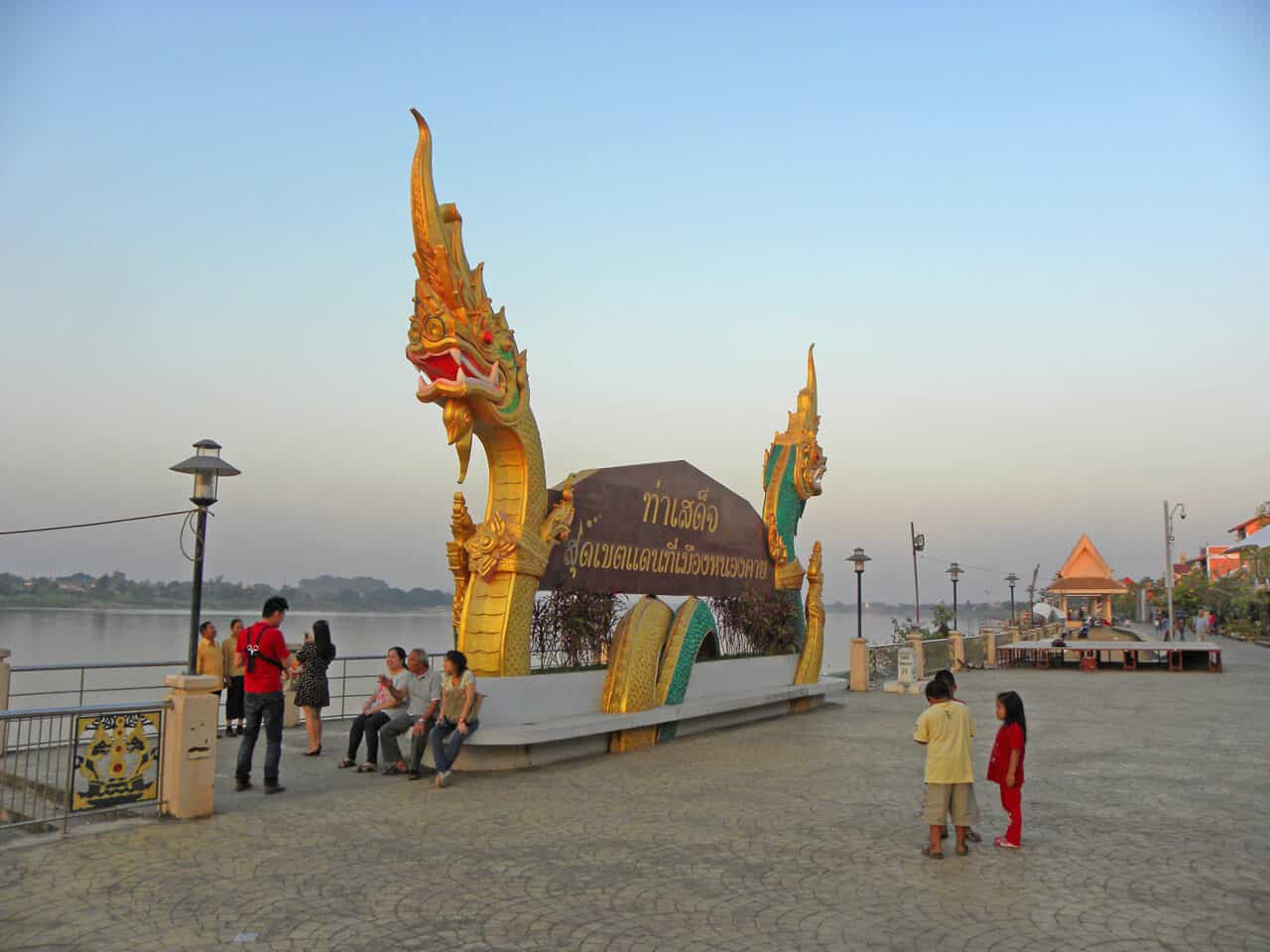 .
Below: Views down the river. See the white temple in the distance? The 2.3 km walk (photos below) is one of our favorites.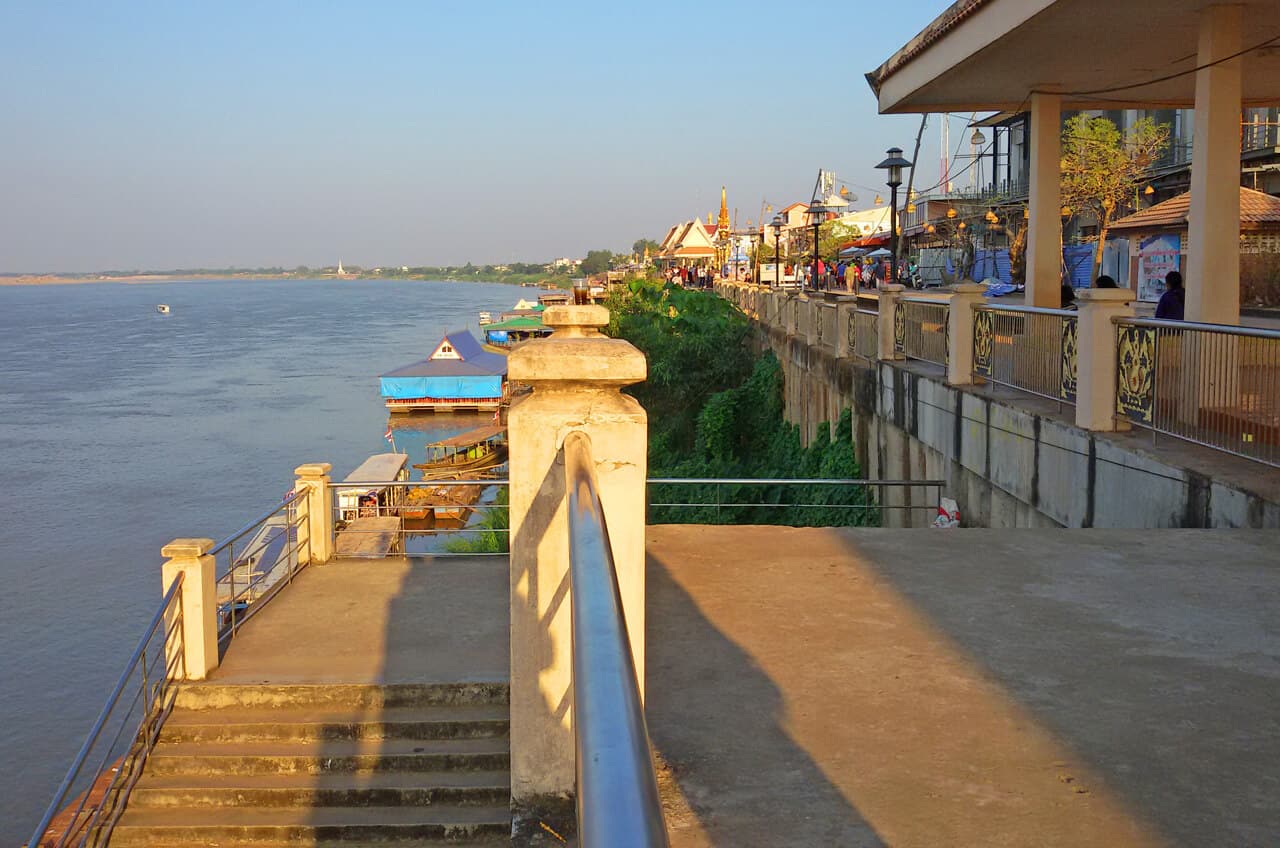 .
Below: Walking down the river towards Phra That Chedi, you'll see some pretty temples.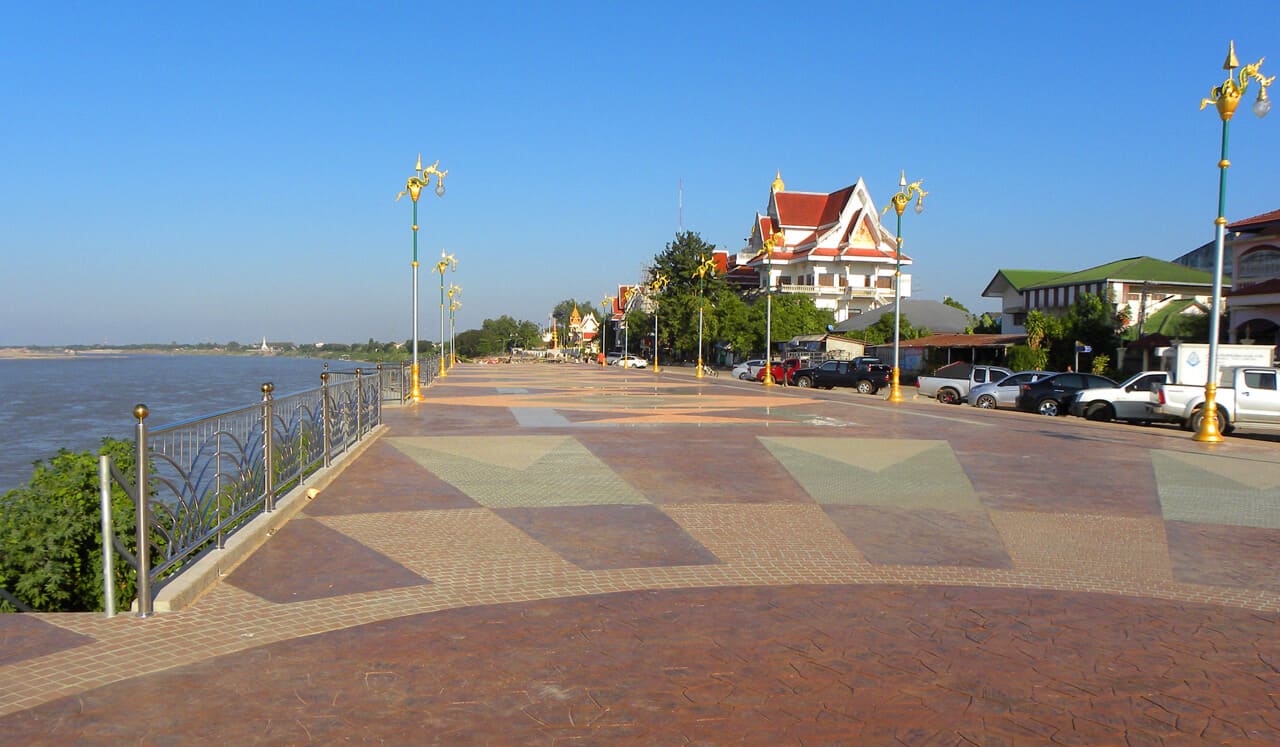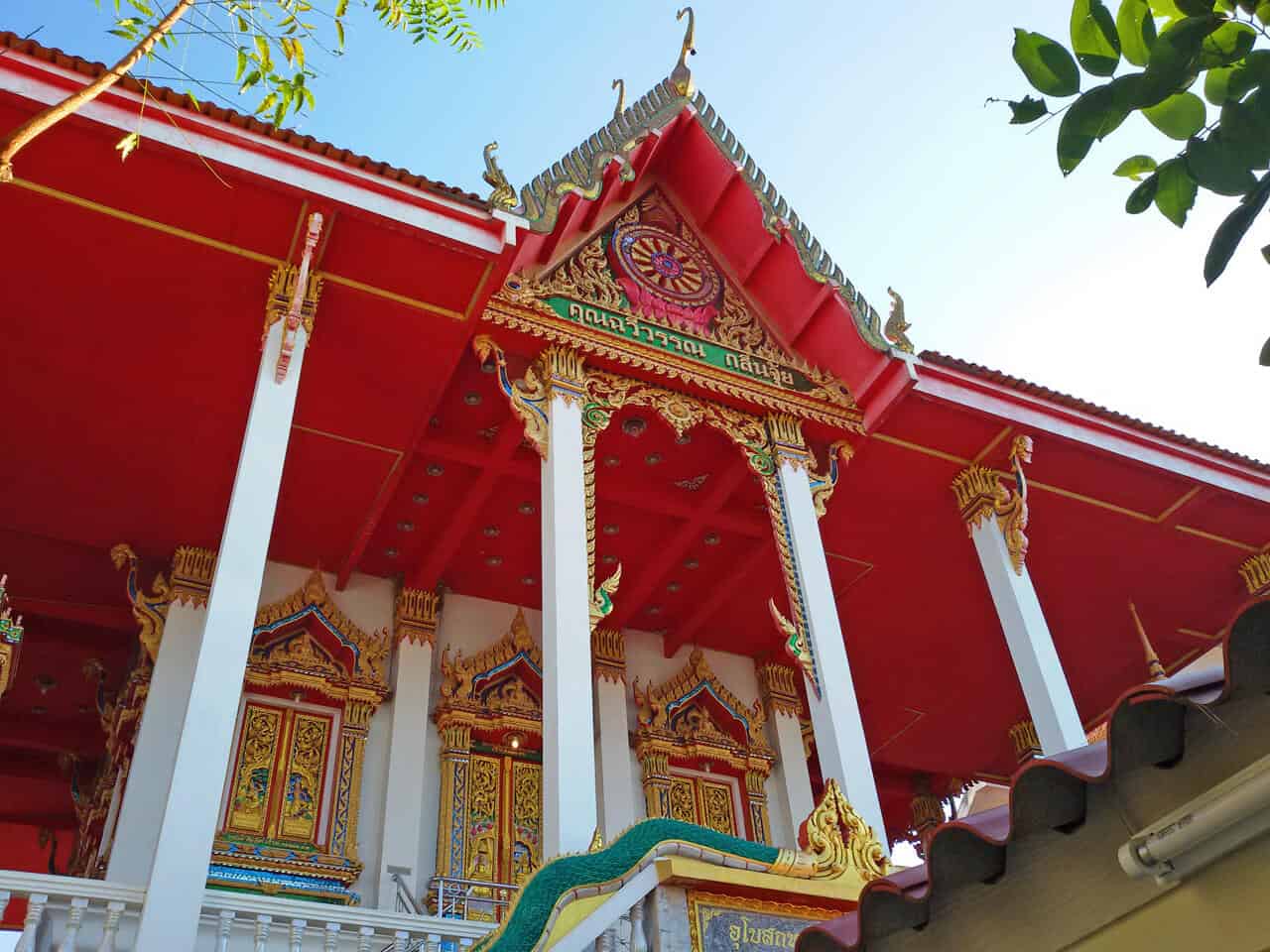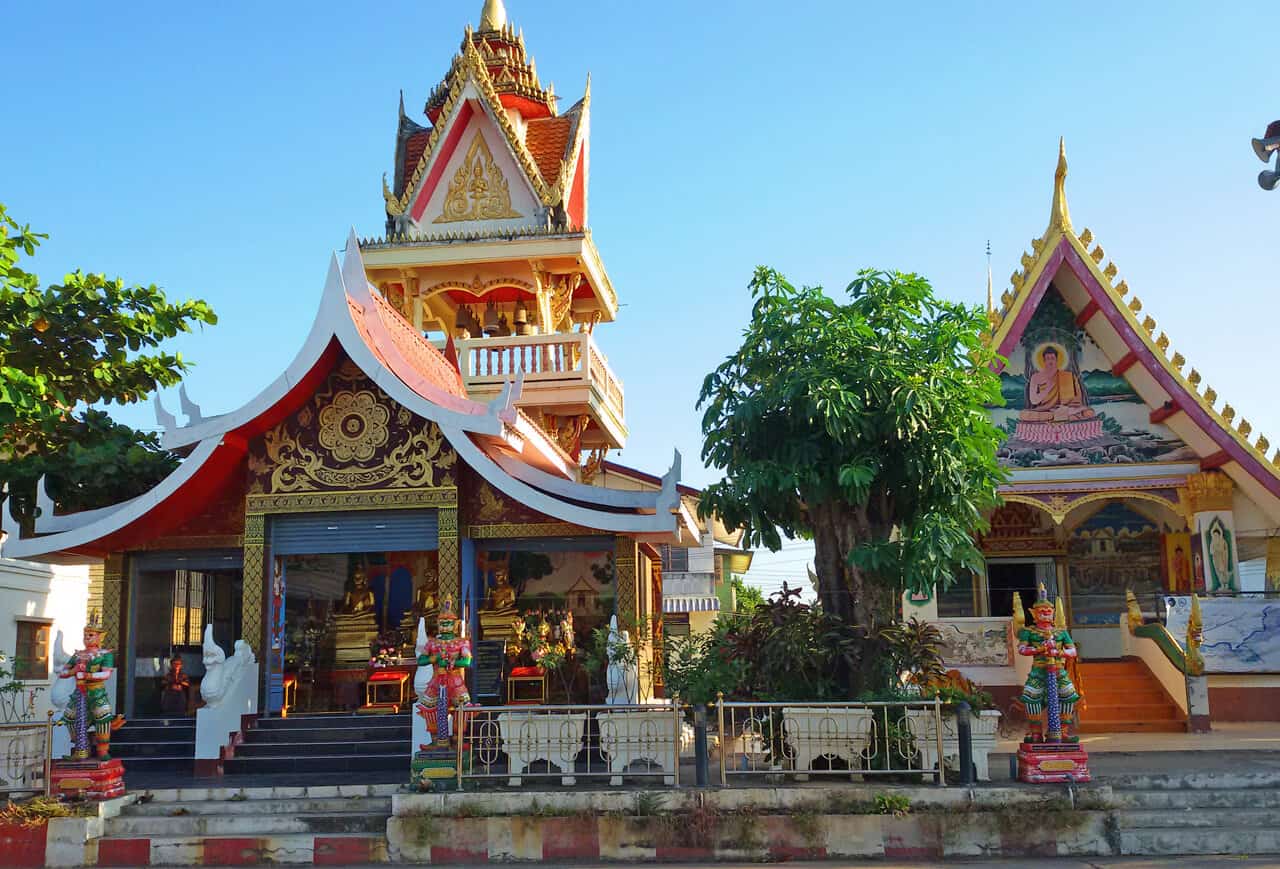 .
Below: Very pretty area around Phra That Chedi.
.
Below: The 'rock' in the river is actually what's left of an old chedi (it ended up there due to erosion)
.
Below: We were surprised to see these equipment machines – they line the whole promenade and locals come here to get their exercise.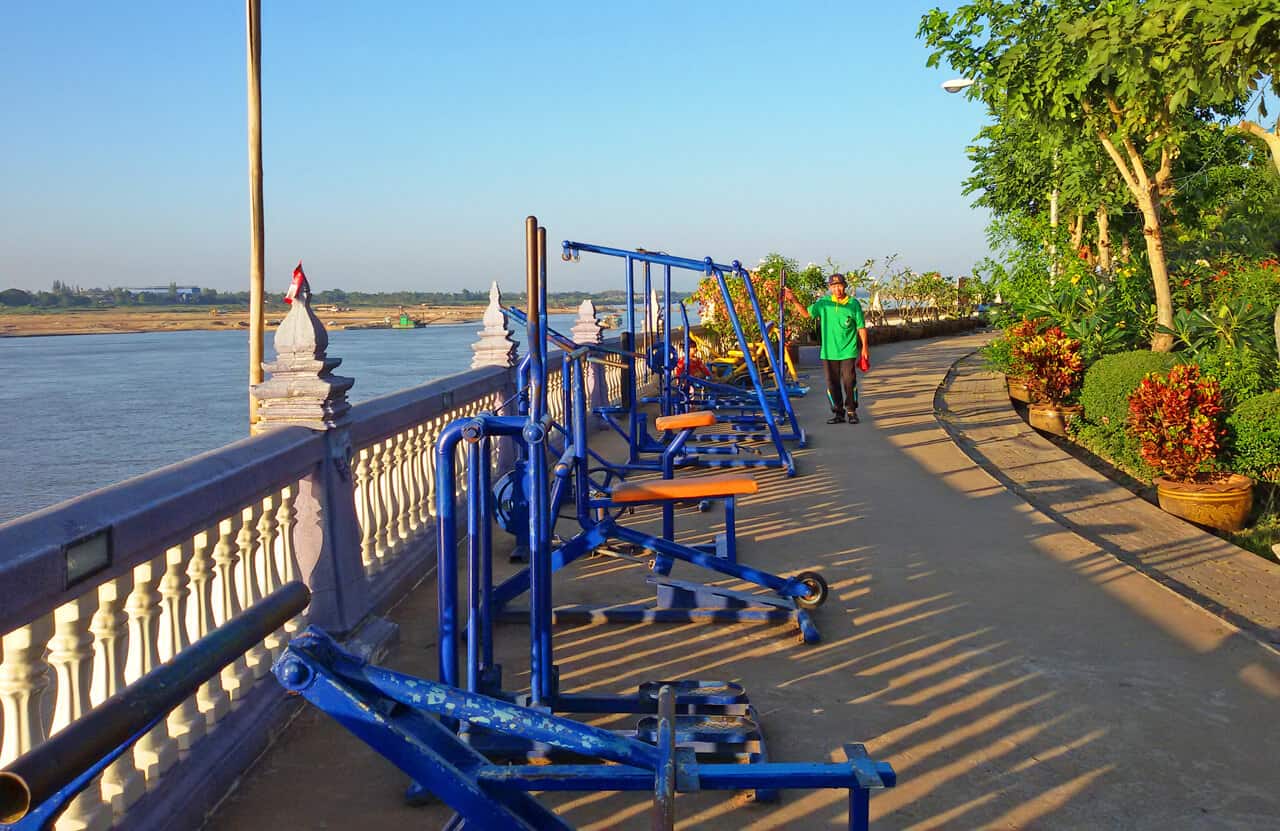 .
More views of the Mekong below.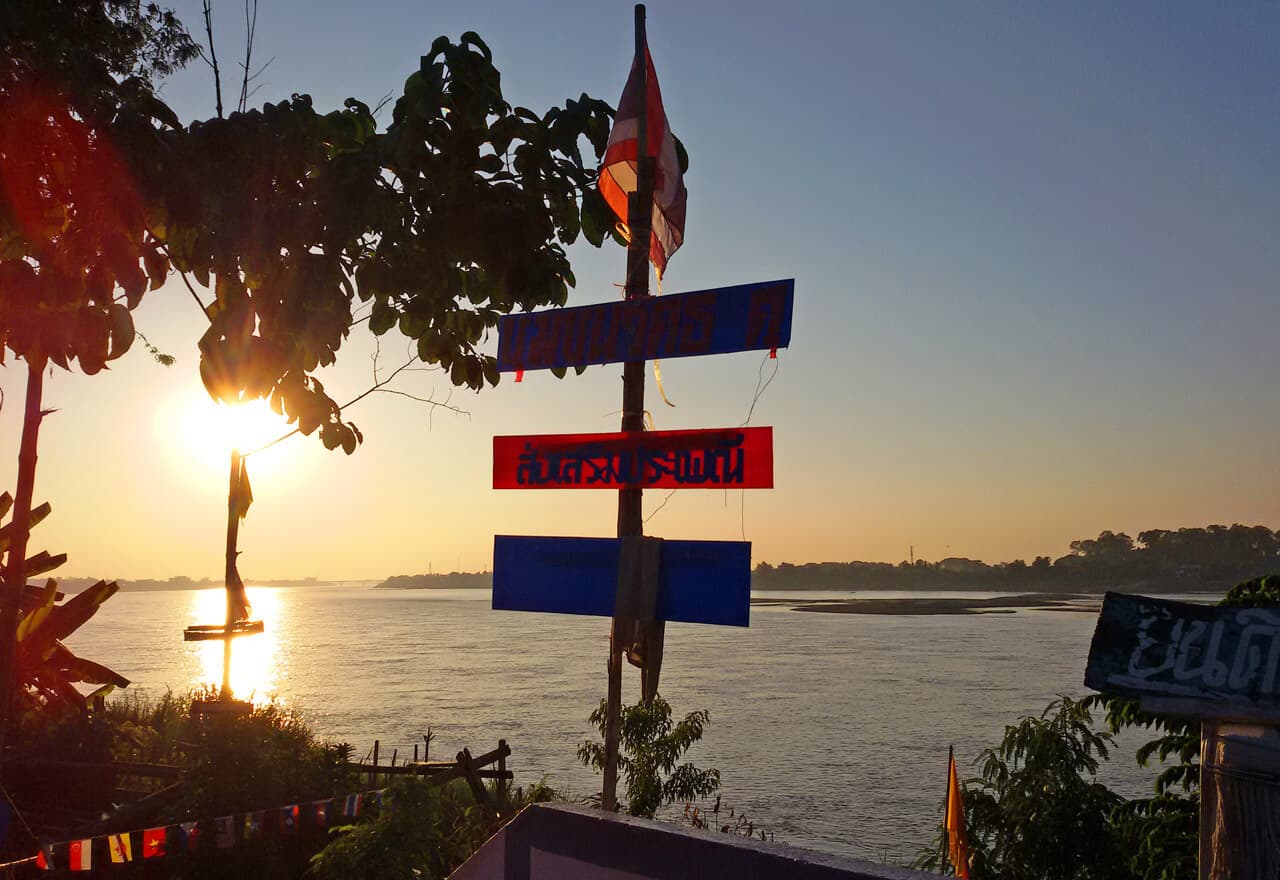 .
Below: As the sun sets, restaurants along the river set up tables along the promenade.
.
Below: Interesting looking building.
.
Below: Sunset in Nong Khai
.
Some friendly neighbors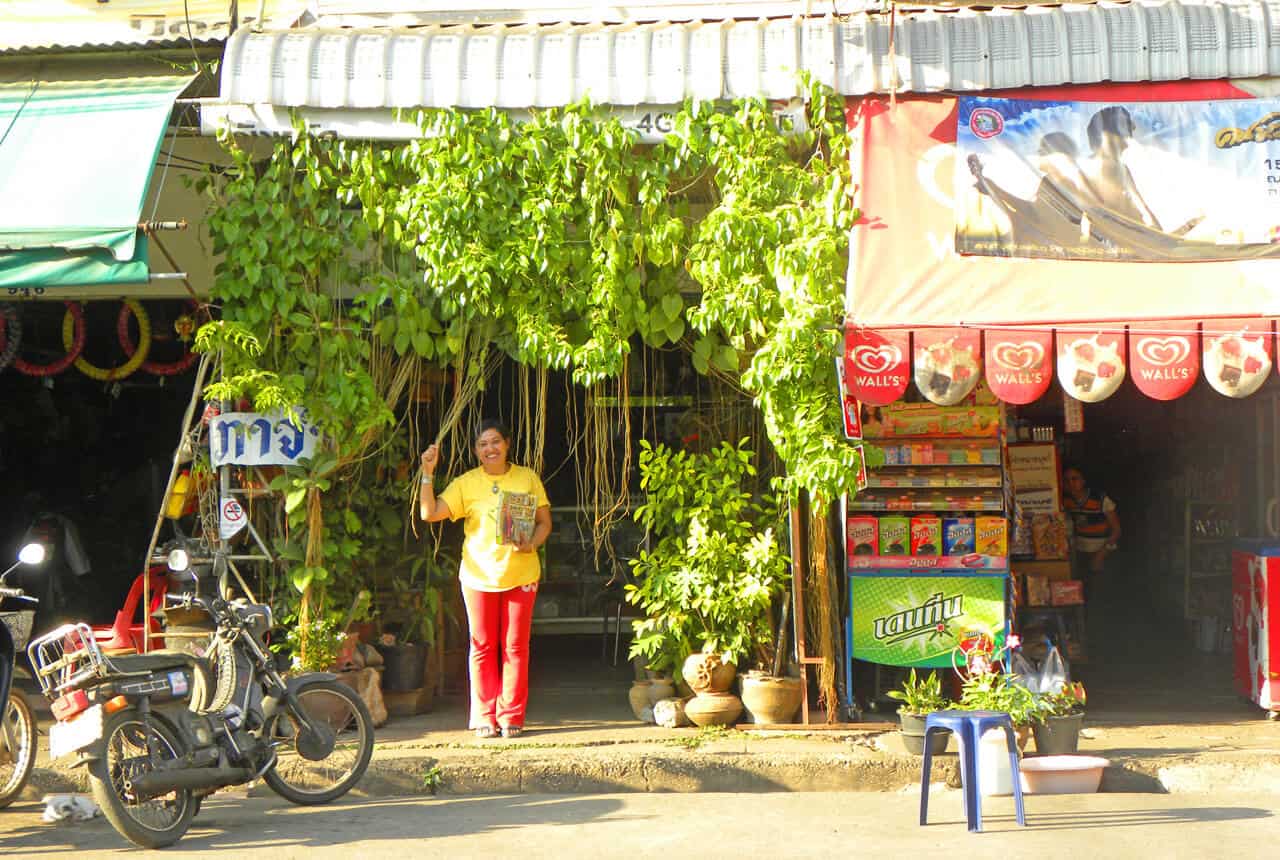 .
Below: More photos of the temple next to our apartment.
.
Below: Doll on a street corner (sounds kind of dirty eh?)
.
Bird on our balcony.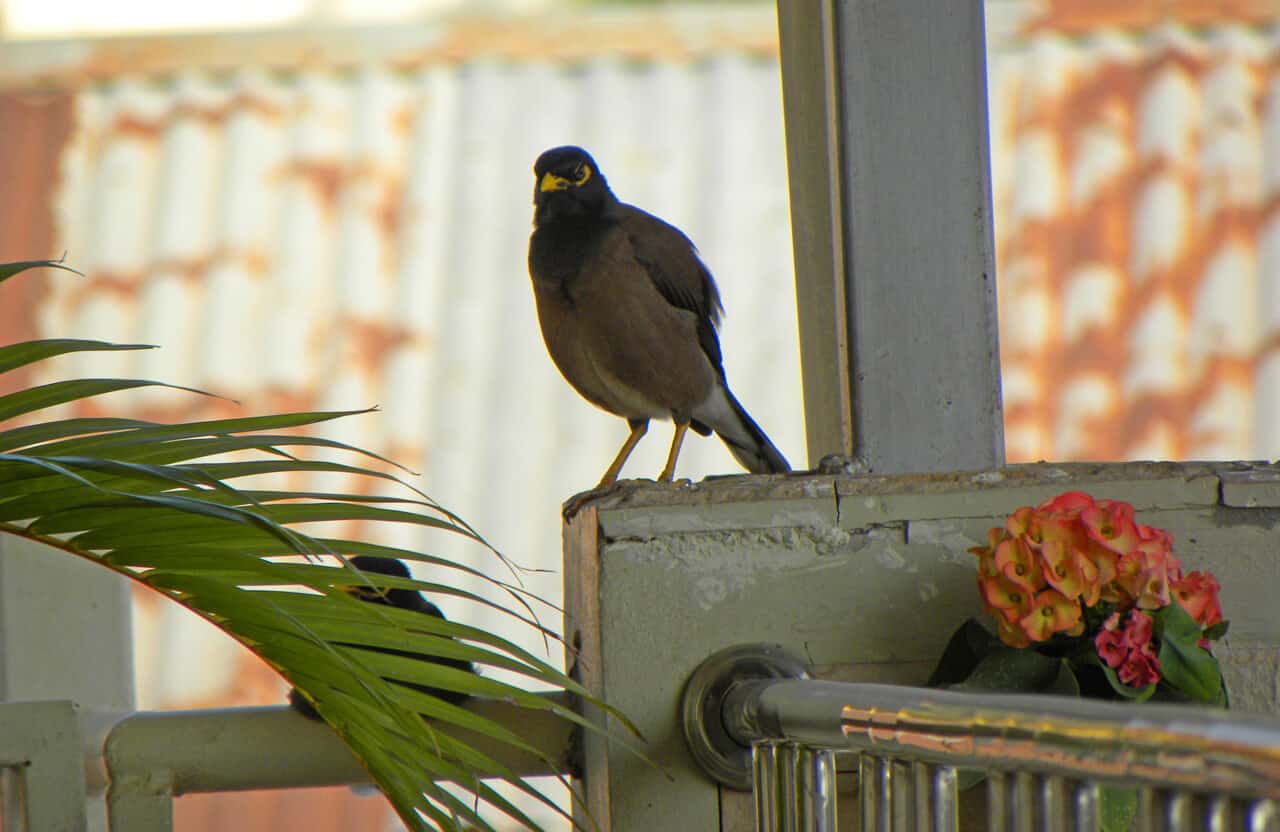 .
Colourful tuk tuk
More boats on the Mekong.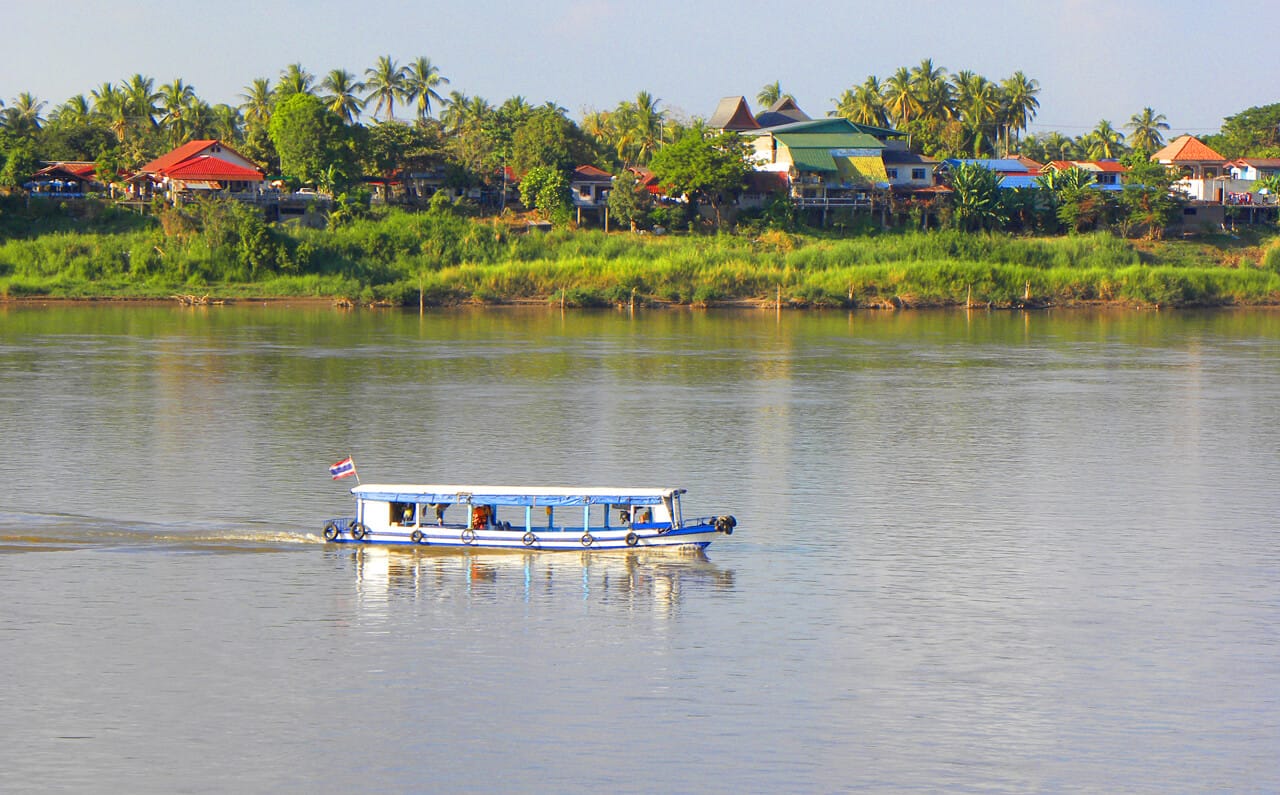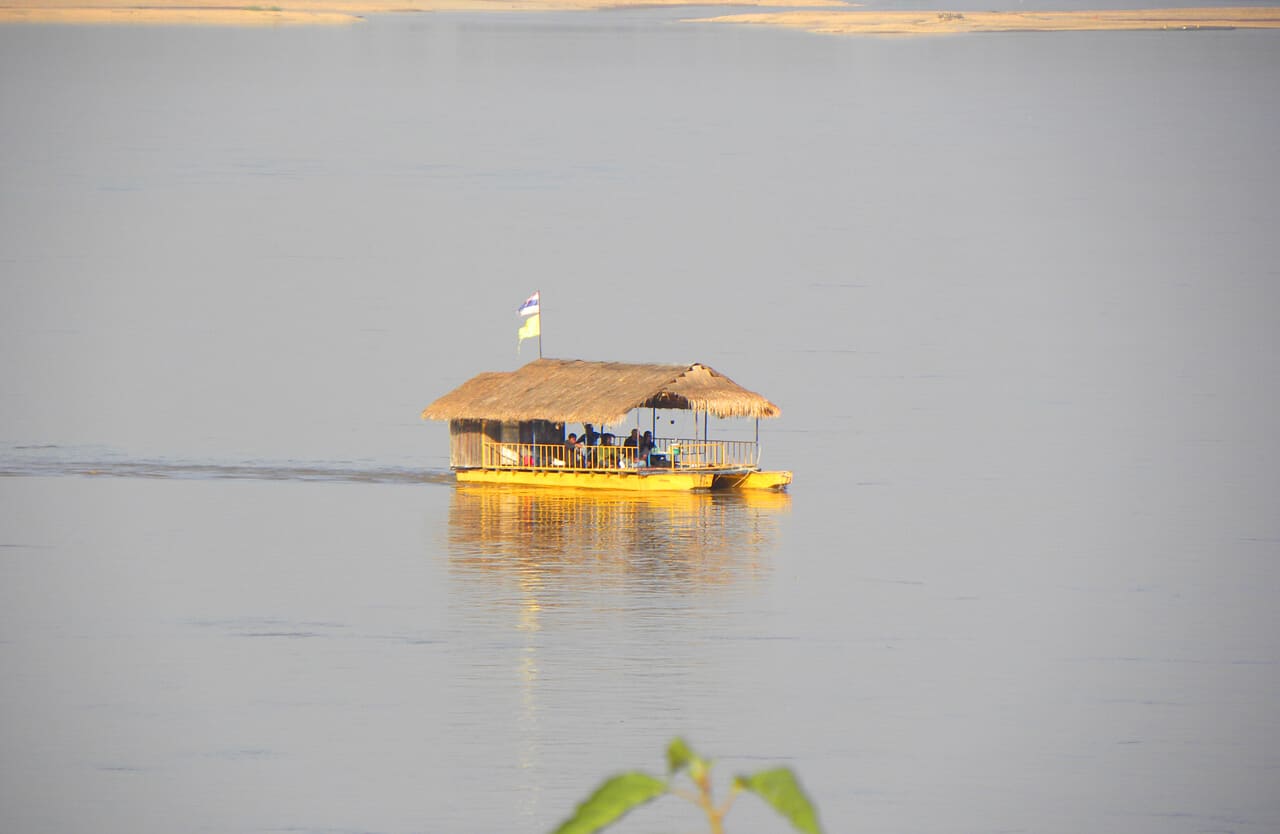 Saturday night is when the promenade gets busy with the weekly night market. Lots of food and things for sale.
.
One last sunset in beautiful Nong Khai:
.
.
Have you been to Nong Khai?
Like This Article? Pin it!
Ps. If you find our blog helpful, please consider using our links to book your flights, hotels, tours, and car rentals. Have a look at our Travel Resources page.