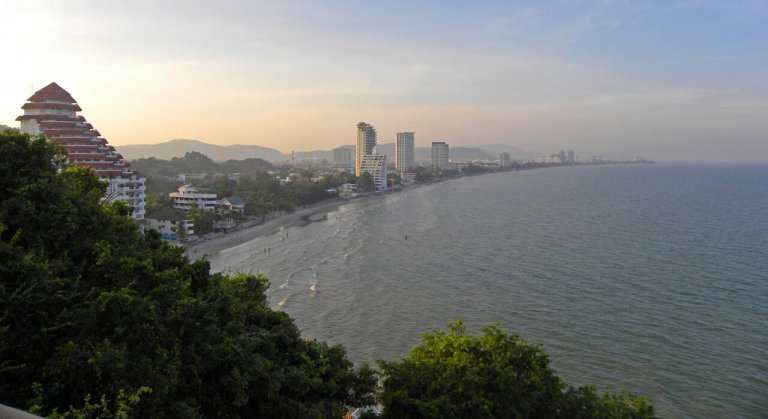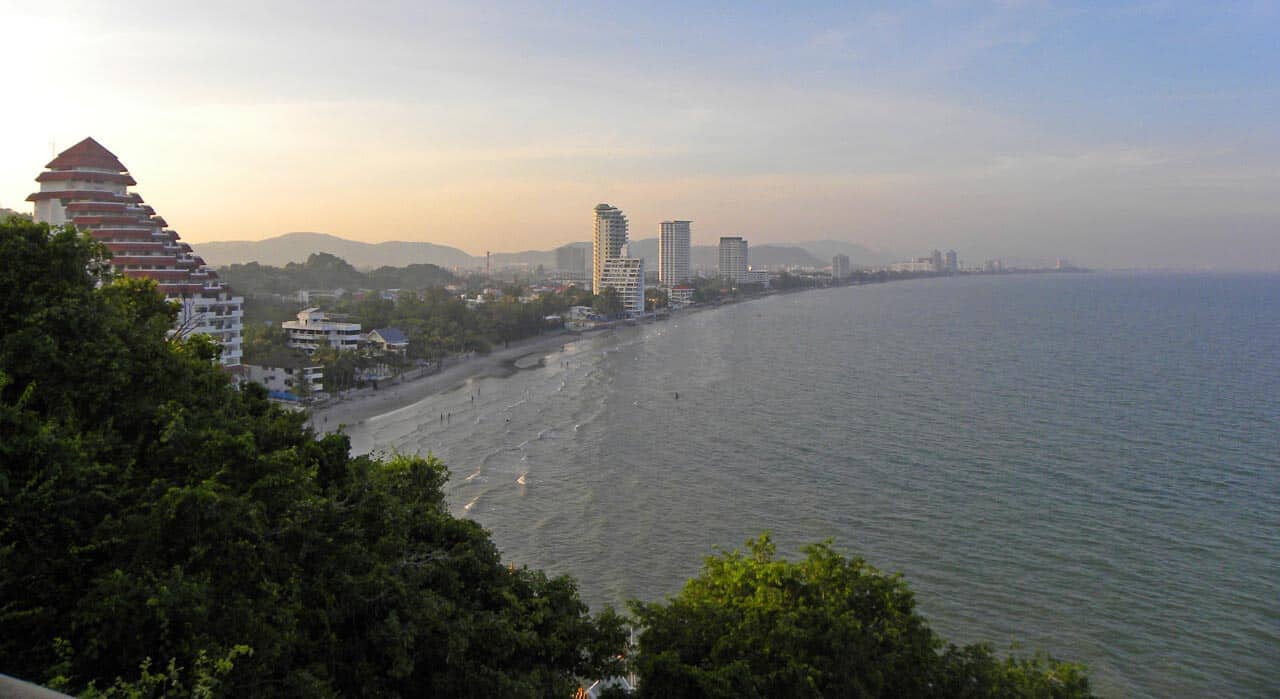 Things to consider before settling in Hua Hin

We really, really wanted to like Hua Hin after our stay in Bangkok. We stayed there for 5 weeks and I held off writing this post, hoping that something could warm us up to the place. Nothing did. Except for maybe the Airbnb apartment which we rented. It felt an oasis in an otherwise uninspiring beach town. In fact I thought about called this post "Ho Hum about Hua Hin" (rhythmic but I don't think it would be very SEO friendly).
For those not familiar with Hua Hin: it is a town approximately 3 hours south of Bangkok along the Gulf of Thailand. It is famous for being the location of the King of Thailand's summer palace and is a very popular place on weekends when Thai tourists stream in from Bangkok. Besides the beach (which stretches 5 km down the coast to the hill of Khao Takiab), Hua Hin has a lively night market, some great seafood restaurants, as well as some of the best golf courses in Thailand. It is a popular retirement spot for expats drawn to its many international restaurants (you can find cuisine from all over the world), warm and dry temperatures, and abundance of lively bars including girlie bars (which I've previously written about here). Expats can find good accommodation options (i.e. to Western standards) in condominium buildings stretching down the coast as well as all the imported food they could hope for in both boutique stores as well as some fancy malls (there's a Tesco Lotus). It really is a town perfectly set up for the expat.
---
---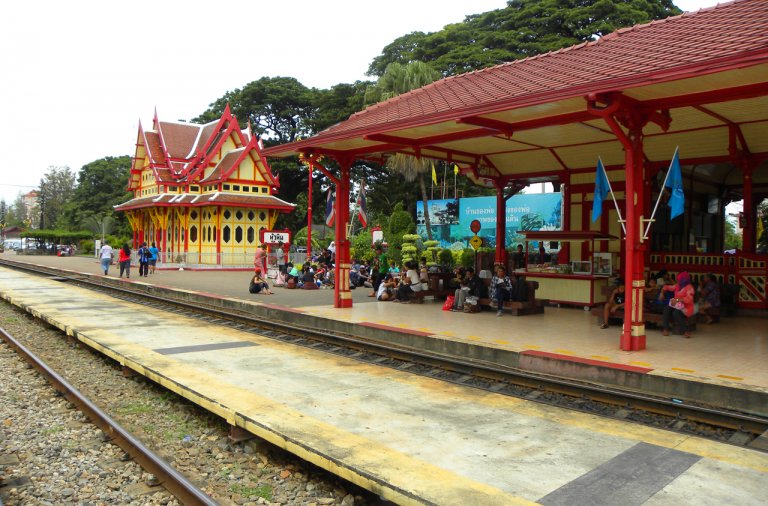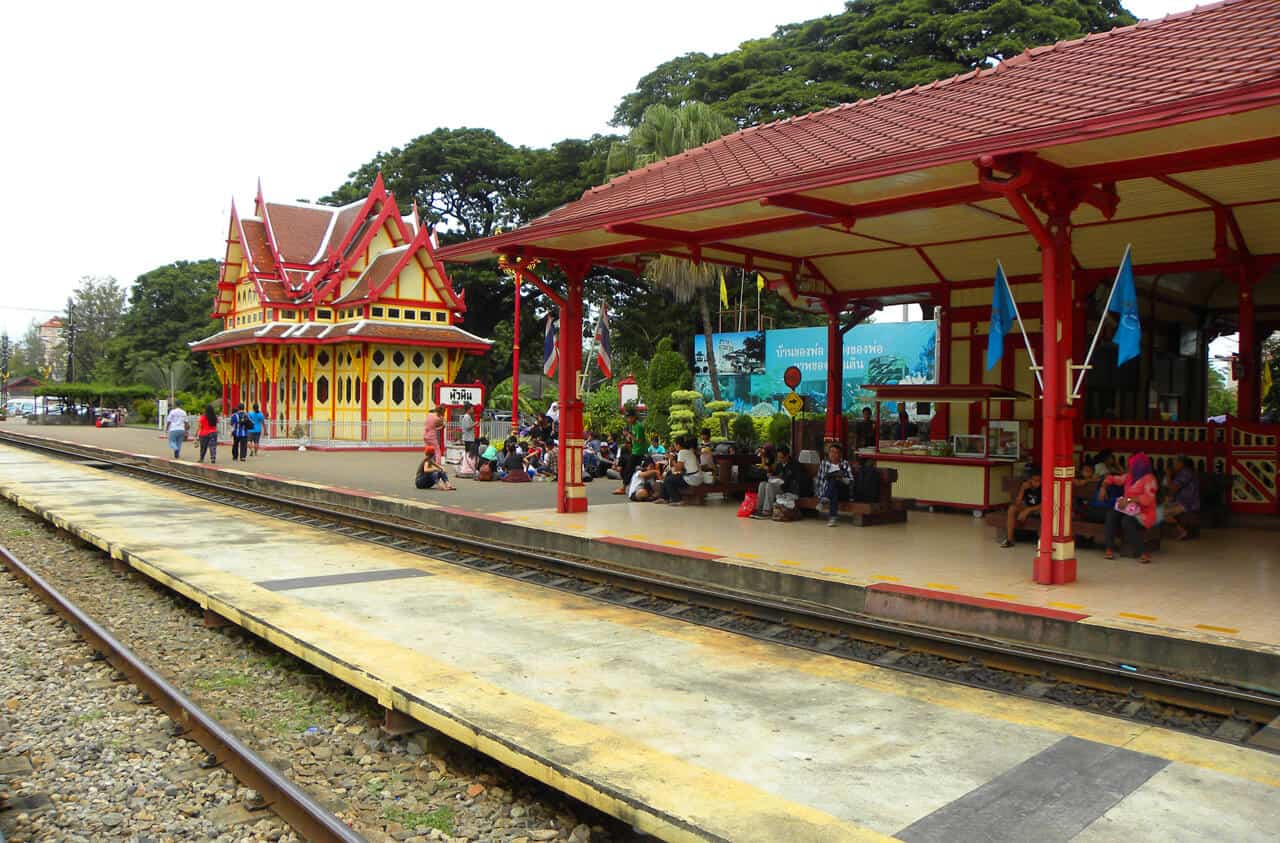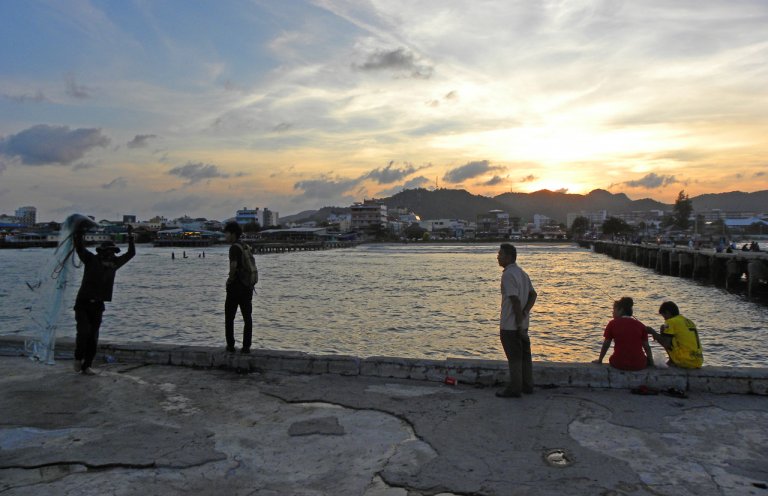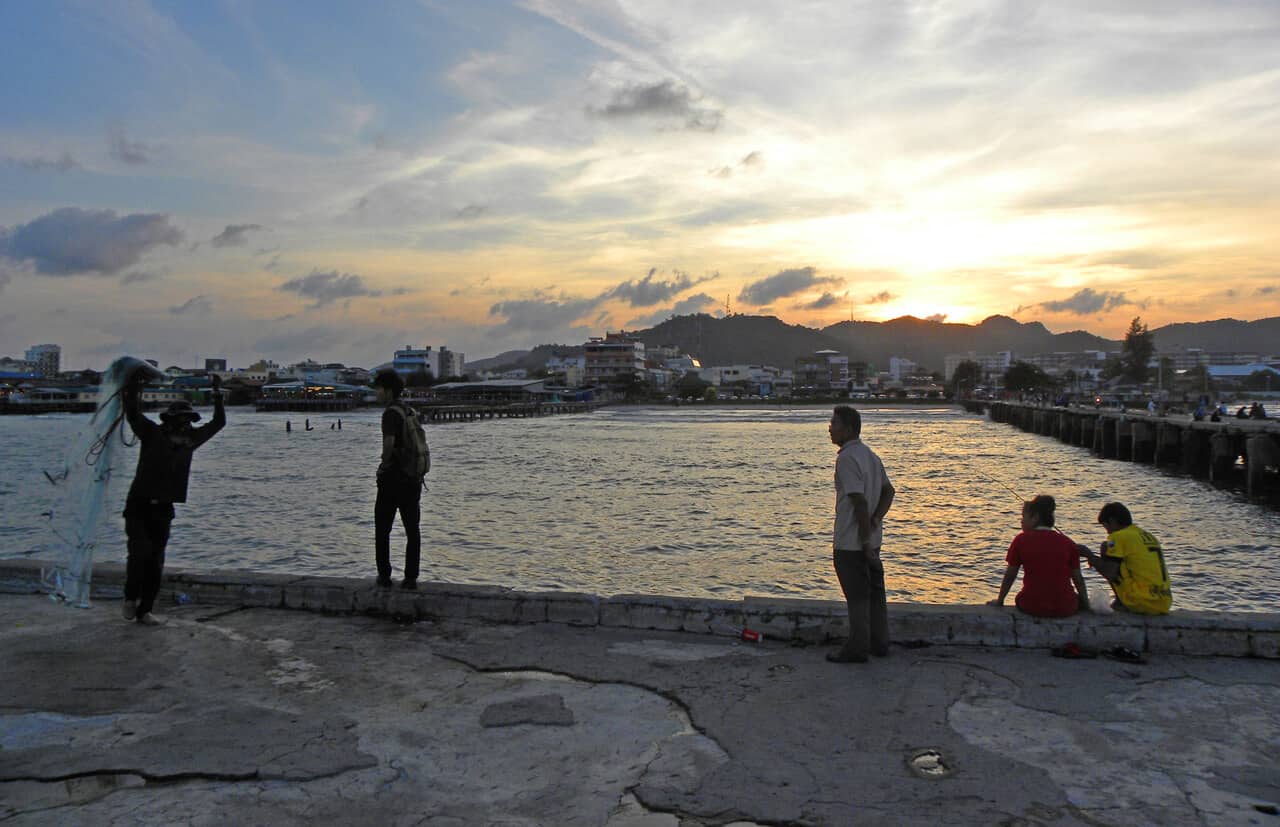 .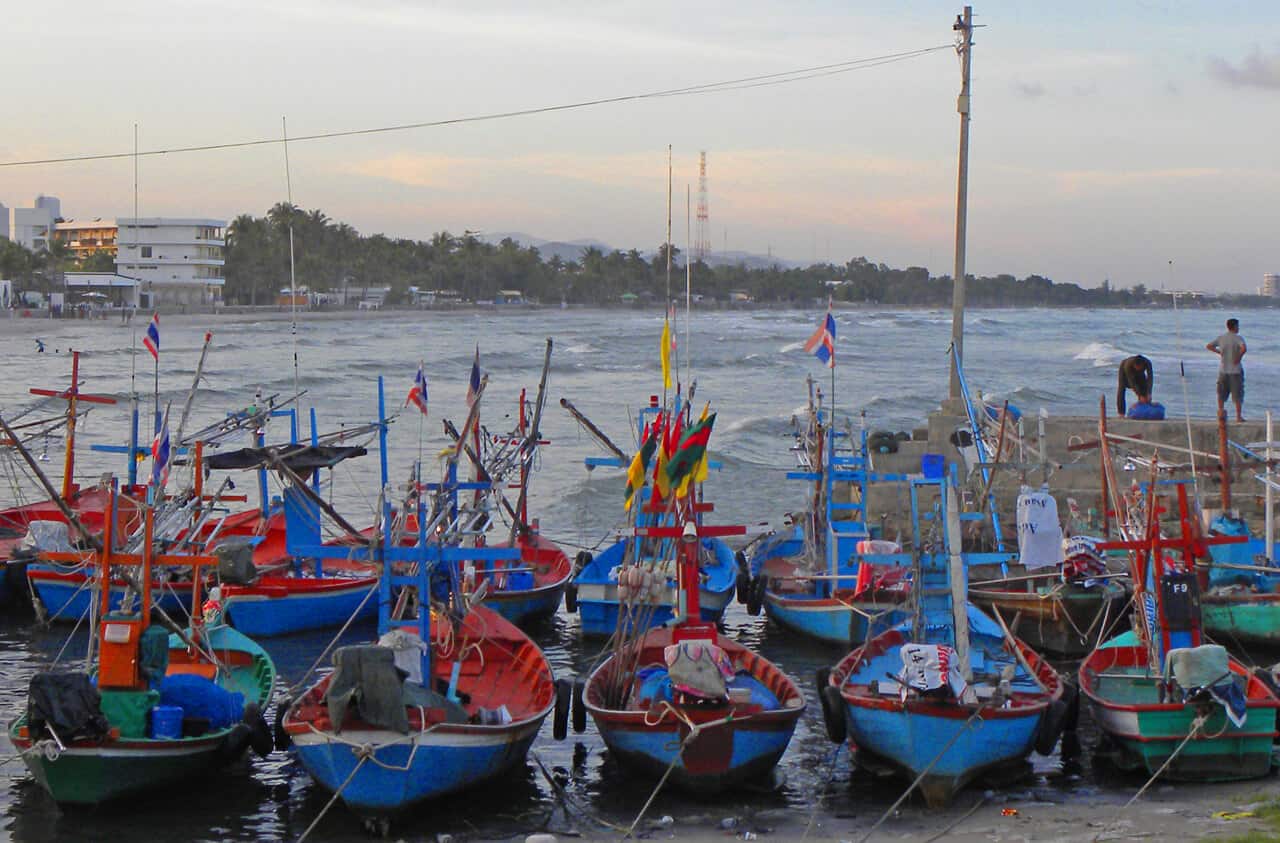 ---
---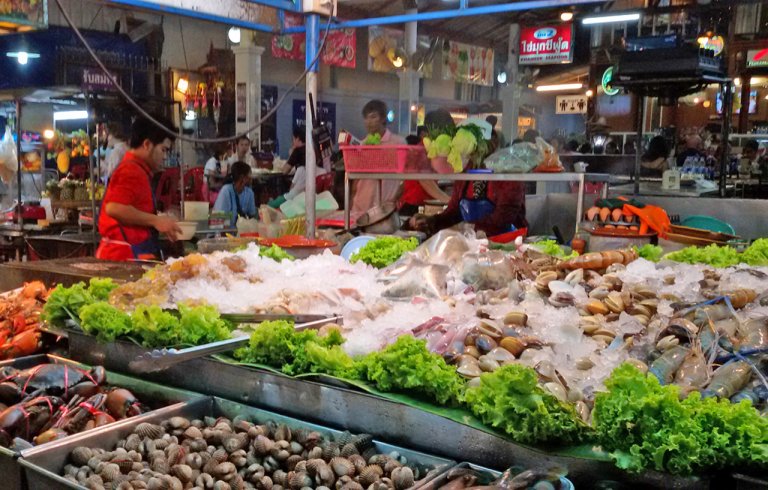 .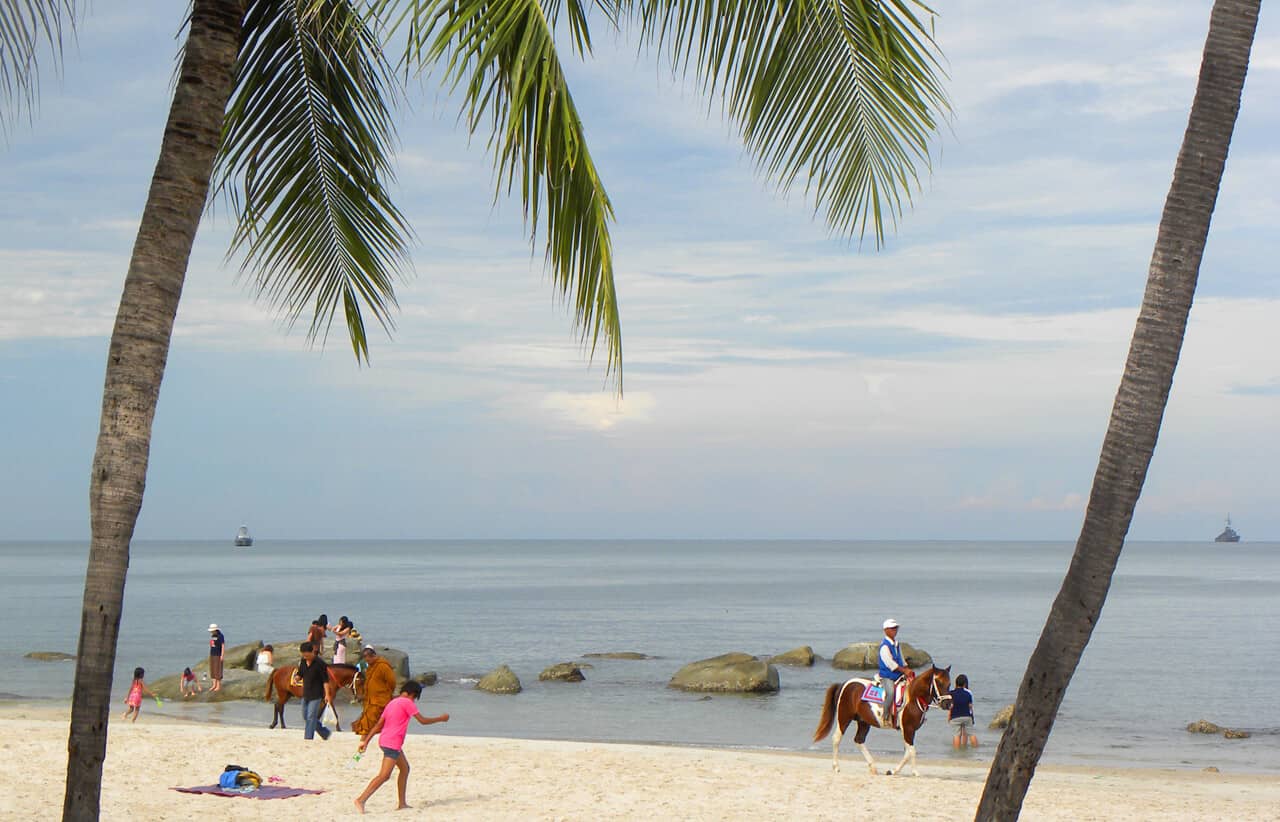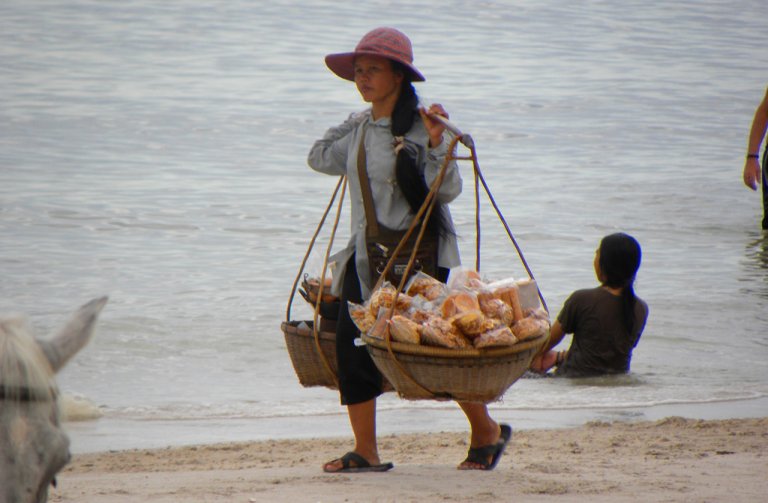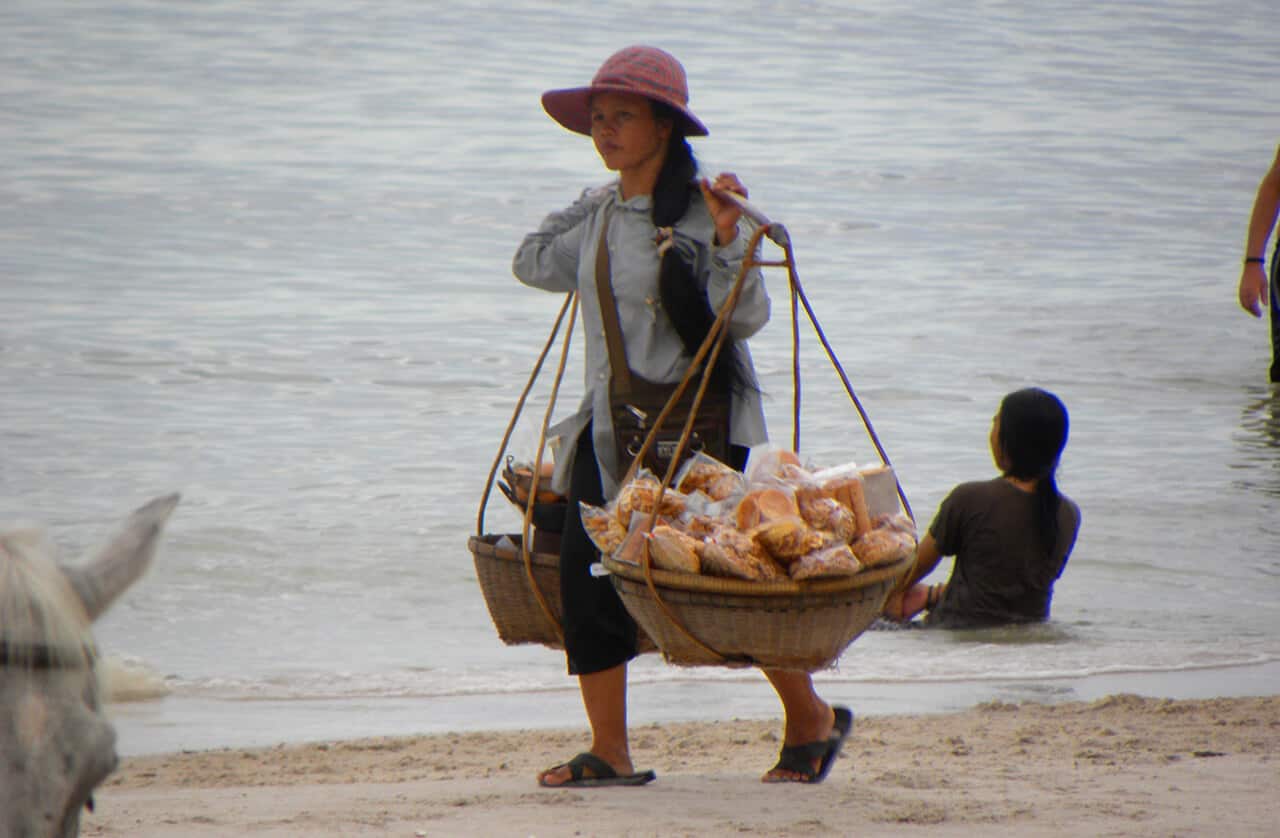 ---
---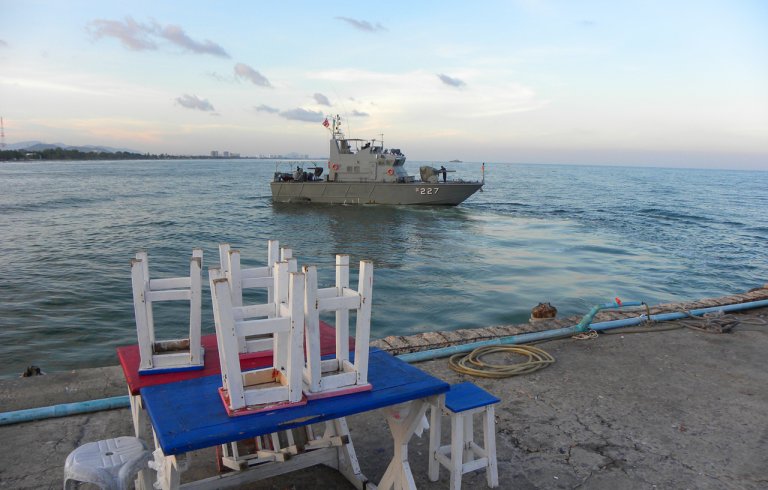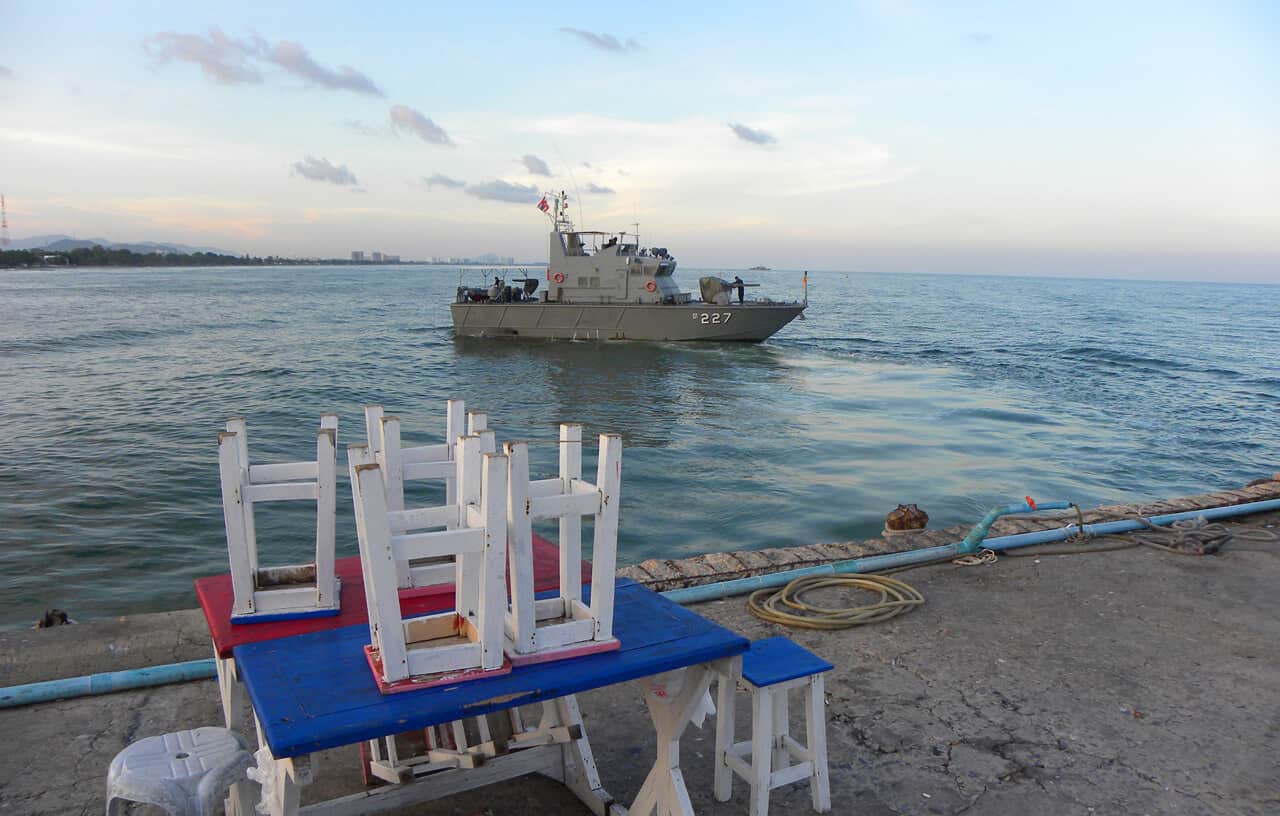 .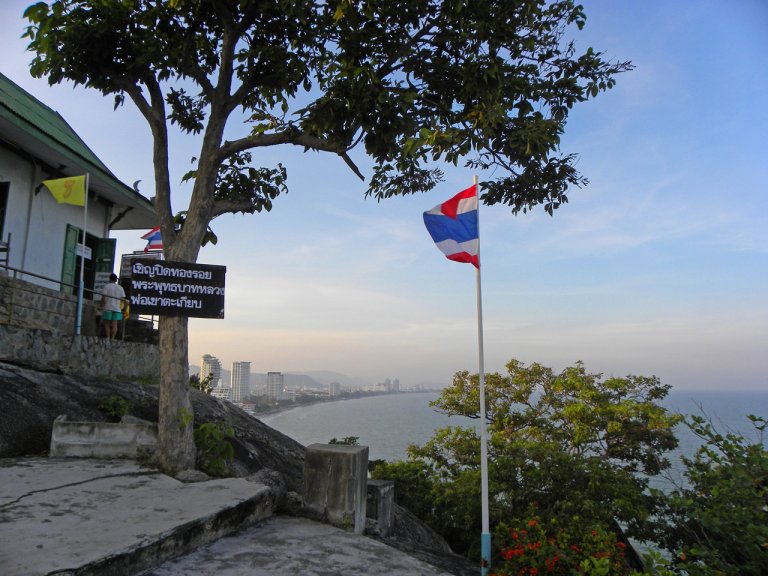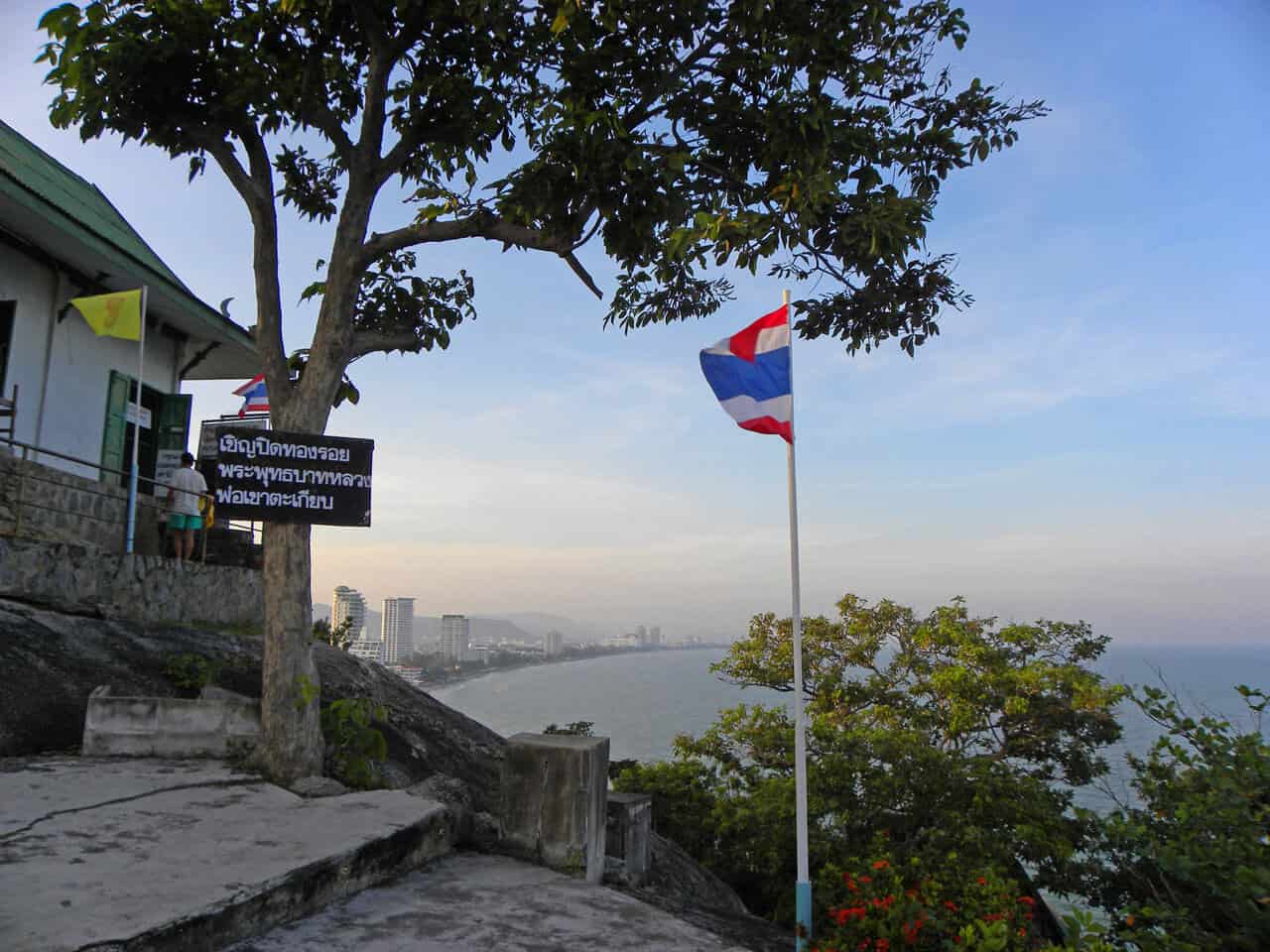 .
.
---
---
Reasons we didn't warm up to Hua Hin
– The town is built up along the highway from Bangkok heading south. This means a lot of traffic, noise, and pollution from trucks, buses, cars. It is not a quiet beach town. Central Hua Hin is the exception with a network of streets built up towards the beach and, on the other side, towards the train station. But it does mean that heading anywhere in Hua Hin requires going down Phetkasem road (otherwise known as Thailand Route 4, one of the four major highways in Thailand).
– For a 'beach' town you often would never know that you are along the beach. Naretdarmi Road lines the coast but you would never know it because private businesses have taken over these prime location and built their stores and restaurants on either side. See the two photos below – the coast is actually located about 30 feet behind those buildings on the right. You can walk that whole road and never see the beach. EXCEPT if you stay at the Hilton or Sofitel/Centara Grande which occupy prime real estate and where you have unimpeded access and views to the beach. Access to the beach for the public is via one small road which runs between these two hotels. A travesty actually and many say a perfect example of selling out to big business.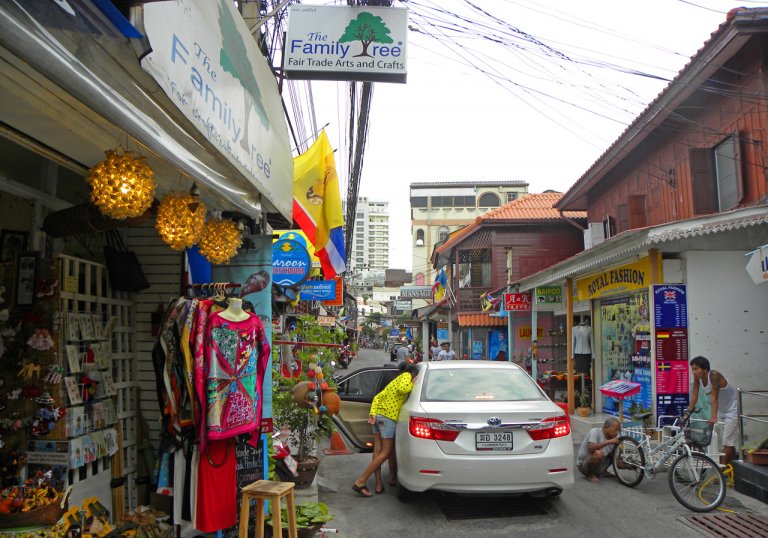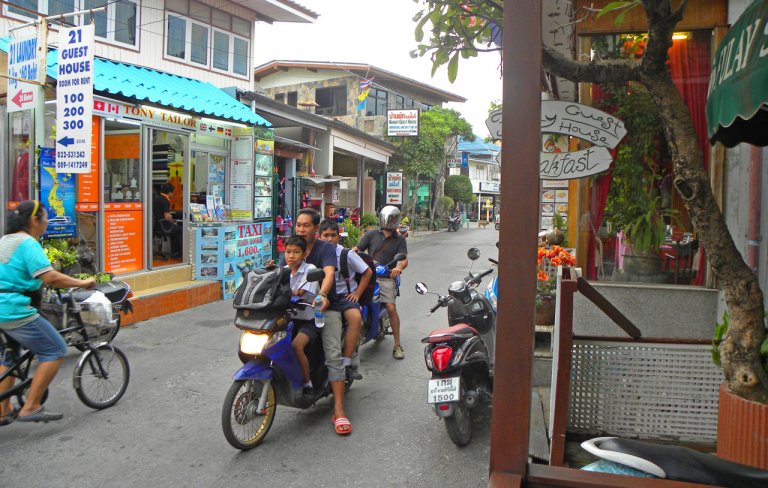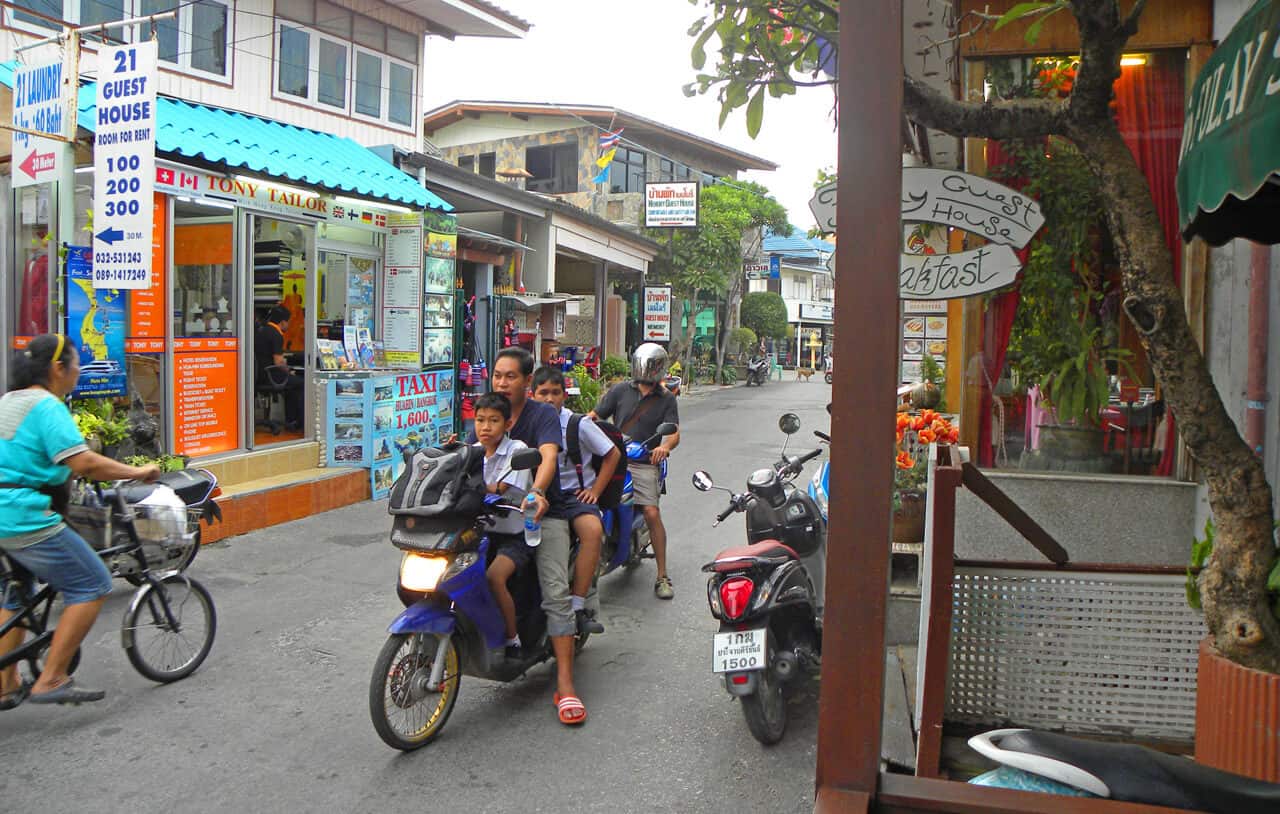 ---
---
– Look at the photos above again. Notice that there are no sidewalks? This is the main tourist street. If you walk through central Hua Hin you constantly have to give way to cars and motorcycles. Again, where's the central planning?
– One of the main activities is riding horses down the beach. There are also stray dogs on the beach. Horses and dogs poop. Residents complain about increased pollution from shipping. The beach is nice to look at but I wouldn't spread my towel on it.
– Cockroaches. I don't know if I've ever seen as many cockroaches per square meter as we saw in Hua Hin. We also saw a couple of cat-sized rats. Between the crappy or non-existent sidewalks, traffic, cockroaches and rats we didn't much enjoy wandering out at night in Hua Hin.
As you can see from the photos above, the geography stretching down this coast is gorgeous. It is the humanity, lack of planning, and dirtiness that has, for us, ruined Hua Hin. The expat may not face the above on a daily basis; as an expat I'd stay further down the coast in the vicinity of Takiab in a nice beach-side condo and venture out to play golf, meet the beer girls or pick up whatever groceries I need at the spiffy Tesco. I can see how Hua Hin would have its points. As a tourist I wouldn't come here. I don't get the attraction. Either way, Hua Hin is not a place that would bring us back.
From another blogging couple: A different opinion of Hua Hin.
---
---
.
Some resources on Hua Hin
Accommodation
I've previously written about accommodation in Bangkok and how expensive it is finding good quality furnished apartments for the 1-3 month traveller. Hua Hin was no different. We rented an Airbnb apartment and paid USD 1000 for 5 weeks (that comes to USD 800/month). If you sign up to Airbnb using this link you'll save $45 CAD (approx. $35 US) on your first stay.
If you want a hotel. A few places we were recommended: Centara Beach Resort (the fanciest place in Hua Hin. Honestly a bit rich for our blood) OR if you want to be down the beach and have a beach holiday, the super fabulous Resort de Paskani.
If you wander around town you'll see signs for rooms to rent. Most we saw were on Naretdarmi Road (ie the main tourist street). We can't vouch for the quality but it is an option worth exploring for those that just show up in Hua Hin looking for cheap accommodation.
Flights / overland transportation
Most people fly into Bangkok and either take the train or a private transfer to get to Hua Hin. We book all plane, train, bus and private transport using 12Go Asia. They're the best booking site for transport in Asia.

Eating
Many restaurants of all kinds in town, especially along Naretdarmi Road and at the night market. No specific recommendations, depends on your taste.
.
Have a different opinion on Hua Hin?
Ps. If you find our blog helpful, please consider using our links to book your flights, hotels, tours, and car rentals. Have a look at our Travel Resources page.