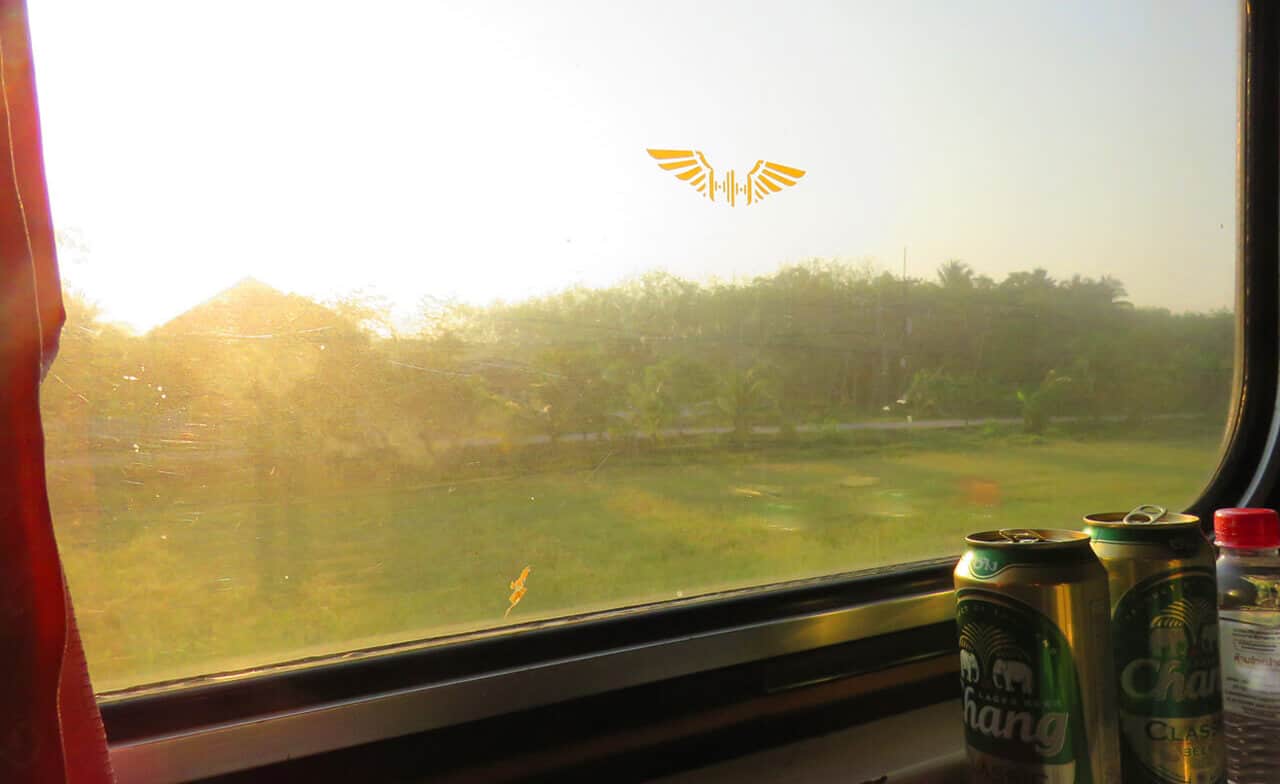 Getting to Hat Yai – our 1st class Sleeper train experience in Thailand
The trip from Prachuap Khiri Khan to Hat Yai was the last leg of our trip through Thailand (which would continue through Malaysia to Singapore). It was also our first experience taking a 1st class Sleeper train in Thailand.
This post might be of interest to anyone wondering what a 1st class Sleeper train experience in Thailand is like.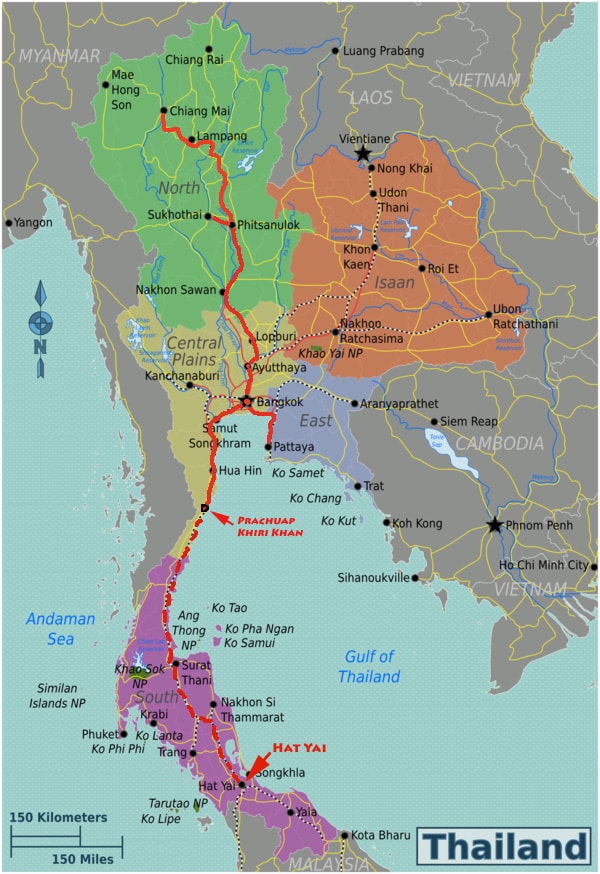 ---
---
Firstly, you can check schedules on the official Thai Railways website. There are usually 6 trains a day that do the trip down south. We took the Special Express Train 37 that leaves Bangkok at 15:10 (ie. 3:10 pm) and finishes at Sungai Kolok (at the Malaysian border close to the East coast) at 11:20 am the next day.
Note: we didn't start in Bangkok. We got on at Prachuap Khiri Khan and got off at Hat Yai, 60km from the Malaysian border on the West coast of the peninsula. Our itinerary called for departure at 20:36 (ie. 8:36pm) and arrival in Hat Yai at 7:20 am.
Note: Only "Express" and "Special Express" trains have 1st class Sleeper cabins. They usually have one 1st class Sleeper carriage that has 12 cabins, each consisting of a lower and upper berth. So if you're a couple you can get a cabin to share with your partner. If you're by yourself, you'll be sharing the cabin with someone of the same sex. 1st class Sleeper Cabins are the most comfortable option as well as the most expensive. See this post on the difference between 1st class and 2nd class carriages (not included are 3rd class carriages – which are 'sit only' carriages).
Buying your ticket. We pre-bought our tickets online using 12Go Asia. We were able to print our travel vouchers at our Prachuap Khiri Khan hotel. When travel day came we went to the station, traded the vouches for tickets, and just climbed on board the train. Easy.
The 1st Class Sleeper Ticket from Prachuap Khiri Khan to Hat Yai was the most expensive tickets we've bought on this trip: 1,361 Baht each, or about $42 USD.
This post covers everything you need to know about train travel in Thailand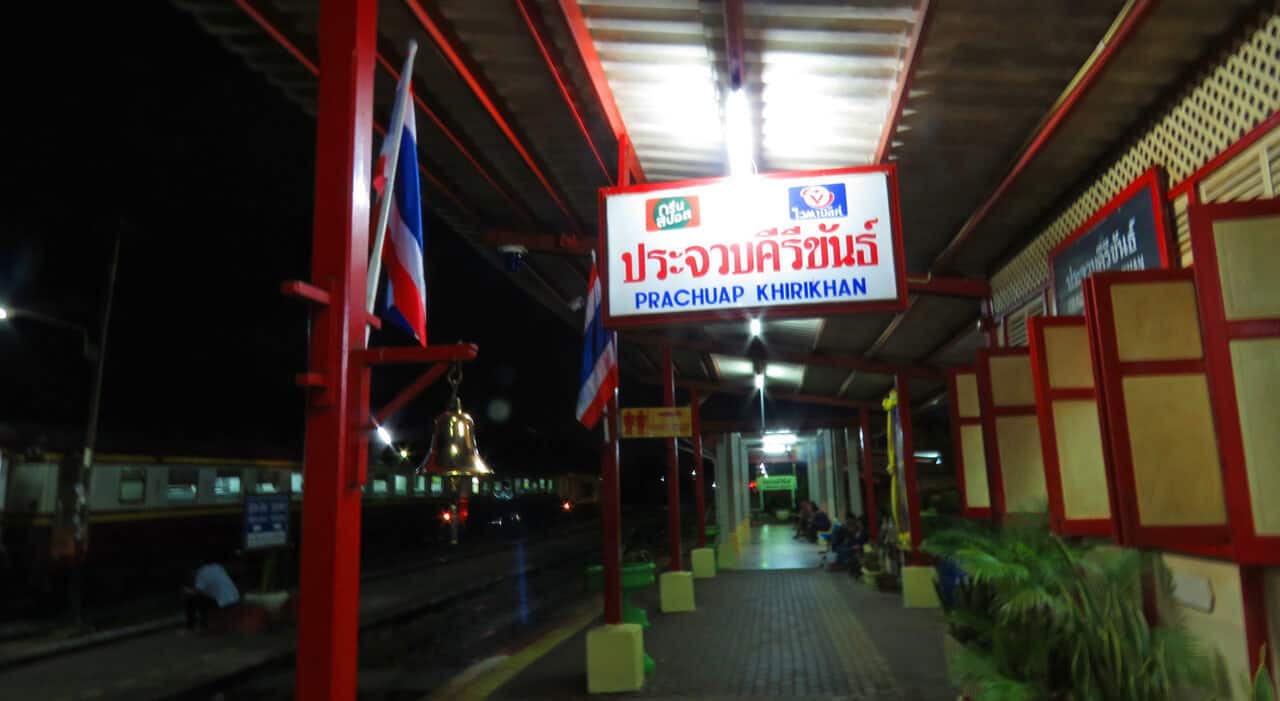 ---
---
So what was the actual experience like?
The train was scheduled to arrive in Prachuap Khiri Khan at 20:36. When we arrived I asked the station agent if the train was on schedule and was told that it would be an hour late (which I'm told is something that often happens).
An hour and 15 minutes later the long train pulled into the station. The 1st Class Sleeper carriage was carriage #12, the very last carriage on the train. It meant running down to the end of the train which was quite a long way…but attendants were expecting us and were waiting, helping us lift our suitcases onboard.
It was then that I realized that Lissette and I were not in the same cabin. She had seat 22 (the lower berth in one cabin), I had seat 24 (the lower berth in the cabin next to it). It ended up fine – Lissette had a Thai lady with her daughter in the bunk above her, I had a friendly Thai man above mine. As I mentioned earlier, if you can't get a cabin together they'll always match you up with a person of the same sex.
Being almost 10 pm, the seats had already been converted into beds. On both our beds were a plastic-wrapped blanket and pillow as well as a plastic water bottle.
The bed was very comfortable and the cabin had Air Conditioning and was cool (but not cold).
At the end of the carriage there were two bathroom compartments: one included a squat toilet, the other a Western toilet.
Restaurant: we had read that there is a restaurant carriage on board. But we didn't see any sign of it and there didn't appear to be any attendants anywhere we could ask. Lissette and I decided to go investigate but there was a man sleeping (an attendant) near the carriage door, effectively blocking access to the other carriages. We didn't want to wake him. We had packed beer and a few snacks so we ended up being ok with that for 12 hours.
(note: I was told the next morning that alcohol was not allowed on the train).
No attendants or food vendors were seen all night. It seemed strange to us because on previous train trips there was always a 'stewardess' walking around offering food or drinks.
With not much else to do, both of us got comfortable in our respective berths and eventually fell asleep.
NOTE: they don't turn off the lights in the cabins! (maybe they're afraid of something happening). You're much better off in the lower berth because the lights are situated on the ceiling. But either way you should bring something to cover your eyes.
---
---
We were already awake the next morning when attendants came to our cabin to tell us that we would be arriving in Hat Yai in 20 minutes.
It was about 8:30 when we arrived in Hat Yai, just a little over an hour later than the advertised 7:20.
---
---
So thoughts on our 1st class Sleeper Experience?
It got us from A to Z and the sleeping experience was fine. But Thai "1st class" was nothing special and after the good 2nd class service we received on day trains (see here) we expected a bit more in the way of services. Still, it was a good way to do this long trip and we arrived in Hat Yai rested. That, ultimately, is the goal of overnight train travel.
Hat Yai – and on a different side of Thailand
The great thing about travelling overland is seeing the gradual changes in geography and people. We woke up in the morning to scenery we hadn't see further up the coast. Everything seemed lusher and greener, with big-leaved banana trees and palms dominating the view. Where previously there were only Buddhist stupas and temples, here there were an equal number of mosques dotting the landscape.
Arriving in Hat Yai we felt and saw the mix. Many women wear headscarfs while many men wear a songkok (a Muslim cap). There's a more conservative feel in the air. In a way, it felt as if we had already crossed the border into Malaysia (60 away). You also won't see many Western tourists in Hat Yai – in fact I don't recall seeing any in our day there. You will however see many Malaysians who come here for shopping and entertainment.
Note: Since 2004, there's been an insurgency in the 3 southernmost provinces of Thailand by an Islamic separatist group (the Barisan Revolusi Nasional). The latest bombings happened in 2014 and wounded 8 people. Over the last 14 years it is estimated that 6,000 have been killed as a result of the insurgency.
---
---
.


Klonghae Floating Market
What to see in Hat Yai? It's not really known for its sightseeing highlights. But to get a feel for the culture and to see something unique, we went to the Klonghae Floating Market. A few photos: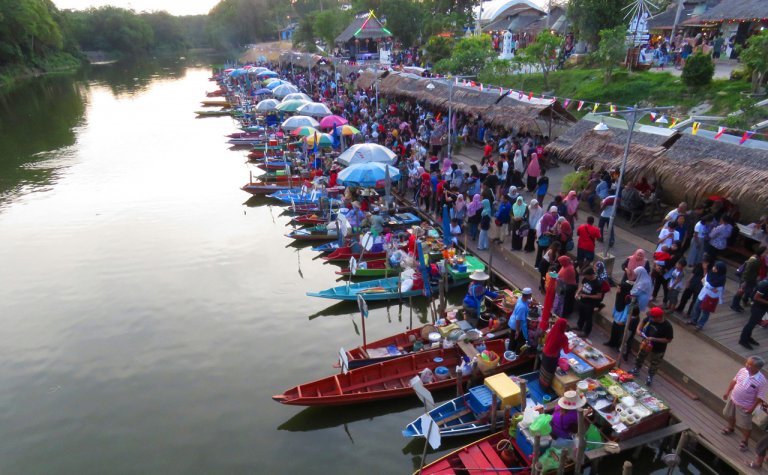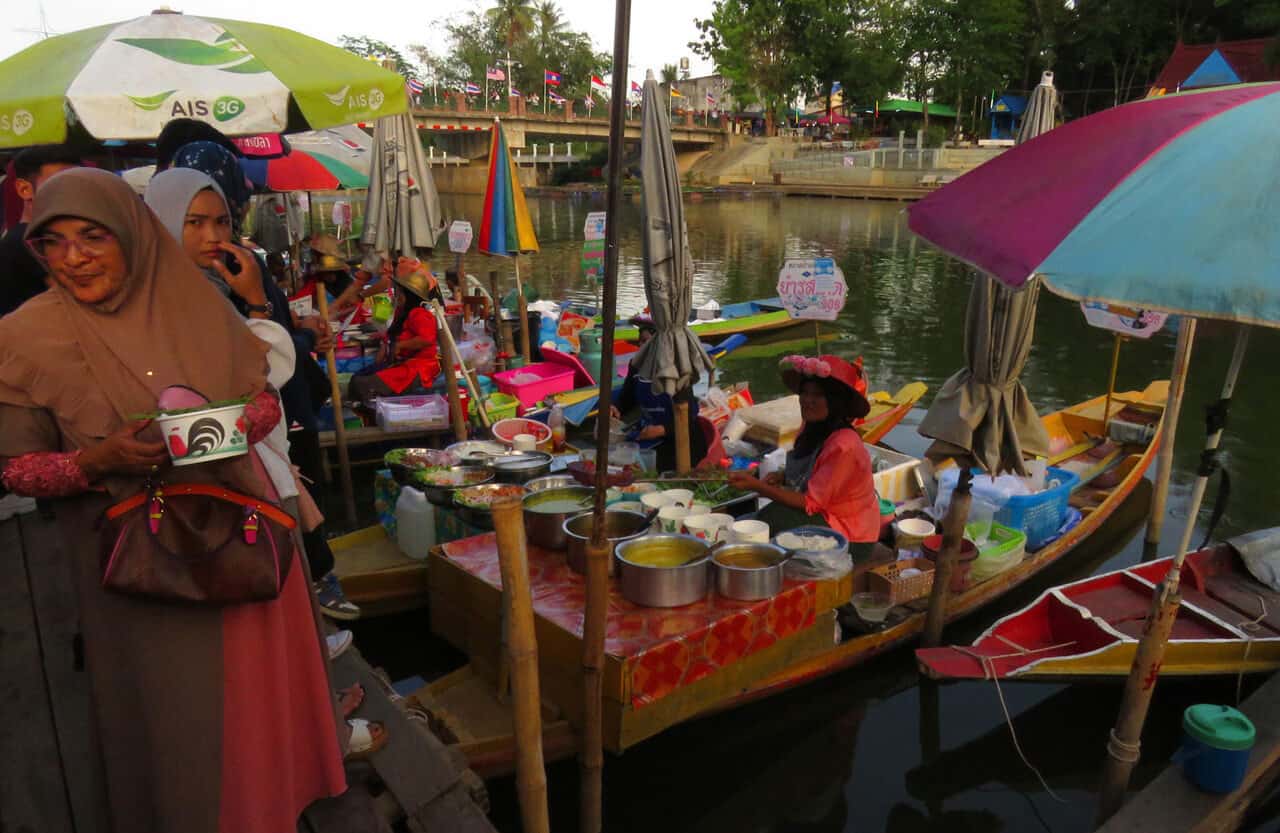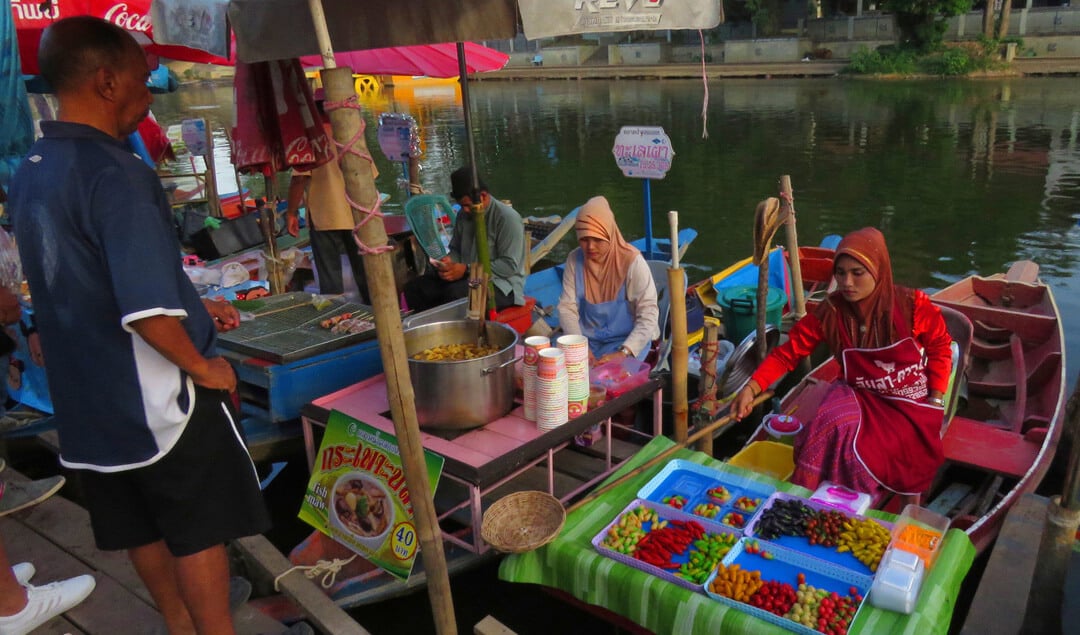 Accommodation in Hat Yai: The Hat Yai Greenview Hotel. No frills, basic modern hotel that is a bit faded. But the bed was comfortable, there was free coffee downstairs, and it's in the center and a 10 minute Tuk-Tuk ride from the train station. The room was 750 Baht (about $24 USD) and was fine.
Ps. If you find our blog helpful, please consider using our links to book your flights, hotels, tours, and car rentals. Have a look at our Travel Resources page.