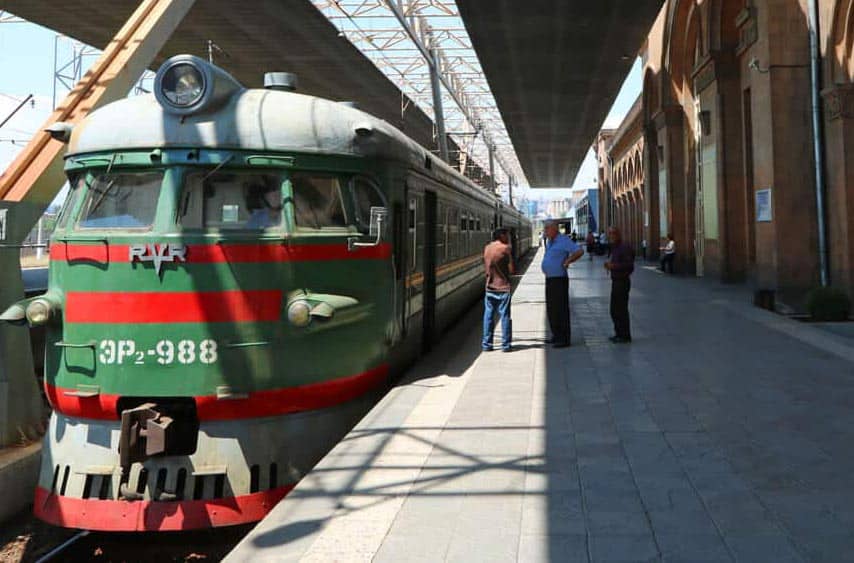 Our worst ever Train experiences
Readers know that we're big fans of train travel. Done right, it's the best way to see the world.
We've had a lot of great train trips but, as often is the case, it's the really bad ones that you tend to remember.
This post covers a few very memorably BAD train trips.
Let's start with the worst.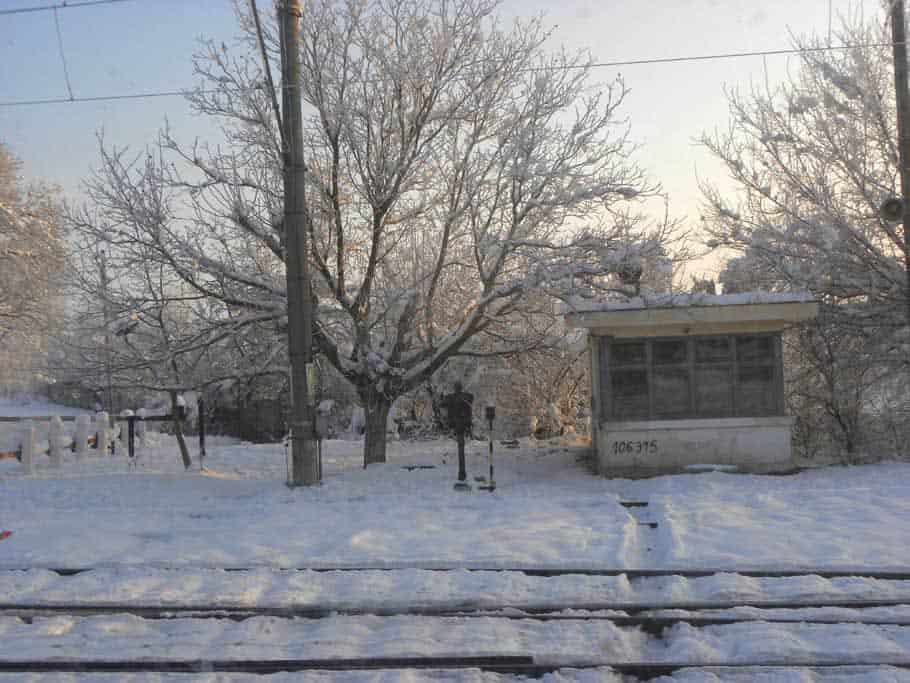 ---
---
Bucharest (Romania) to Budapest (Hungary)
This train ride was bad enough but made worse by the circumstances that made us conclude that "Romania is kind of crappy".
We had flown Cape Town – London – Bucharest, landing in Bucharest at 3pm. I had booked at the airport hotel and had requested airport pickup. Nobody was there to pick us up. Of course not. The next morning we took the taxi from the hotel to the train station for our 5:30 am train to Budapest. The taxi driver told me he had no change for my large bill. Of course. Getting on the train, a man presenting himself as the "train's conductor" helped us bring the luggage on board before asking us for a donation for poor children. Sure. When I went to give him 20 Lei (about $2 US) he looked at me as if I had just taken a shit on his hand. "20 Lei no good" said he. Pissed off, I waved him away. 10 minutes later another guy came on board. This one asking for donations for sick children. I told him we had already donated to the other guy.
"But he is no good, is fake" said he.
"Well, he gave me the same story you gave me" said I, refusing to give him donation.
Asking for donations for children at 5:30 in the morning? Right.
A few minutes later a guy with an official cap stepped on the train. His face was set in a permanent scowl. He probably hadn't smiled in 10 years. After having previously spent a month in Romania, we instantly felt more comfortable. His scowl and unfriendly attitude meant he actually worked in an official capacity. He stamped our tickets.
It was the longest train ride we had ever taken, the scheduled 14 hours ending up being 16 ½ hours by the time we arrived in Budapest. But the worst were the disgusting conditions – our 1st class tickets put us in a carriage with 2 toilets at either end. Both were filled to the top with piss and shit. I had gone in there thinking of taking a pee and seeing the contents spilling onto the floor with every movement of the train made me reconsider. Amazing how we can hold it in when we have to. Halfway through the trip a man with big plastic overalls, galoshes, and a big wire hanger came on board the train. I joked to Lissette that he's probably the "guy that cleans the toilets".
I was right.
Related: Budapest to Brasov on the night train (a much better experience)
---
---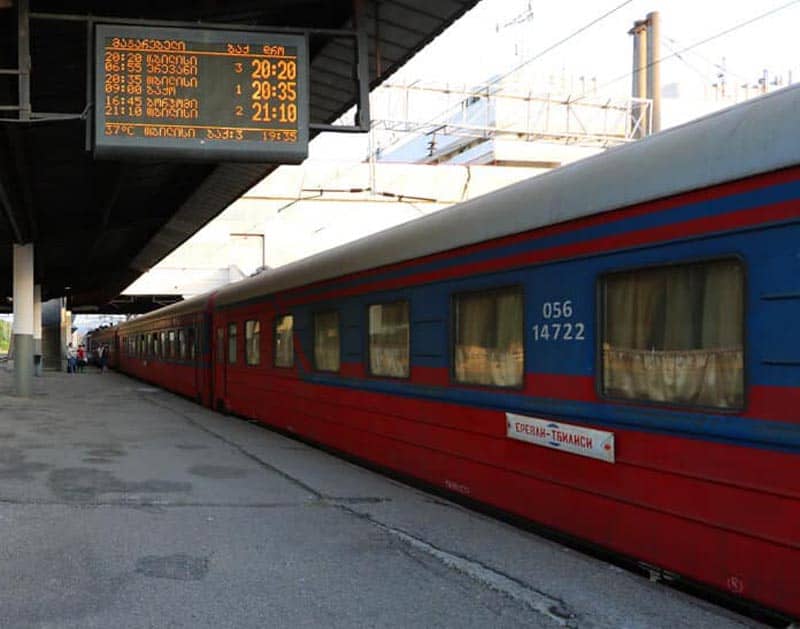 Tbilisi (Georgia) to Yerevan (Armenia)
It was the end of May and a particular hot day when we took the night train from Tbilisi to Yerevan. It was 37C (99F) according to the digital reading on the sign on the platform.
But no problem, I had splurged for a 1st class (2 person) compartment.
Except that there was no AC in the 1st class carriage. Even worse, the windows were sealed tight so even when the train started moving there was no breeze.
There was no wifi, no power sockets, the pillows given to us smelled. The compartment was dirty. There was no dining carriage on the train. The thick lady attendant who supervised the carriage looked over us like a warden in a gulag, strict and unsmiling in her tight uniform. She kept patrolling the aisle, eyeing passengers in the hopes that someone gave her a reason enough to pull out a whip.
But the worse was the heat. It was over 40C in the carriage (over 100F). For 10 hours we sweated. I took off my shirt. It was unbearable.
We were tired, headachy, and dehydrated by the time we arrived in Yerevan at 7 in the morning. There we were greeted to the worst Airbnb apartment we ever had.

Horrible journey. Full post on our Tbilisi to Yerevan train trip here.
---
---
Lviv to Kyiv (Ukraine)
Another sweatbox.
It was August and once on the platform we knew it would be a long journey. About half the passengers were soldiers heading east. The other half were civilians, most with missing teeth, dirty clothes, carrying plastic bags as luggage. It felt like we were on a refugee train.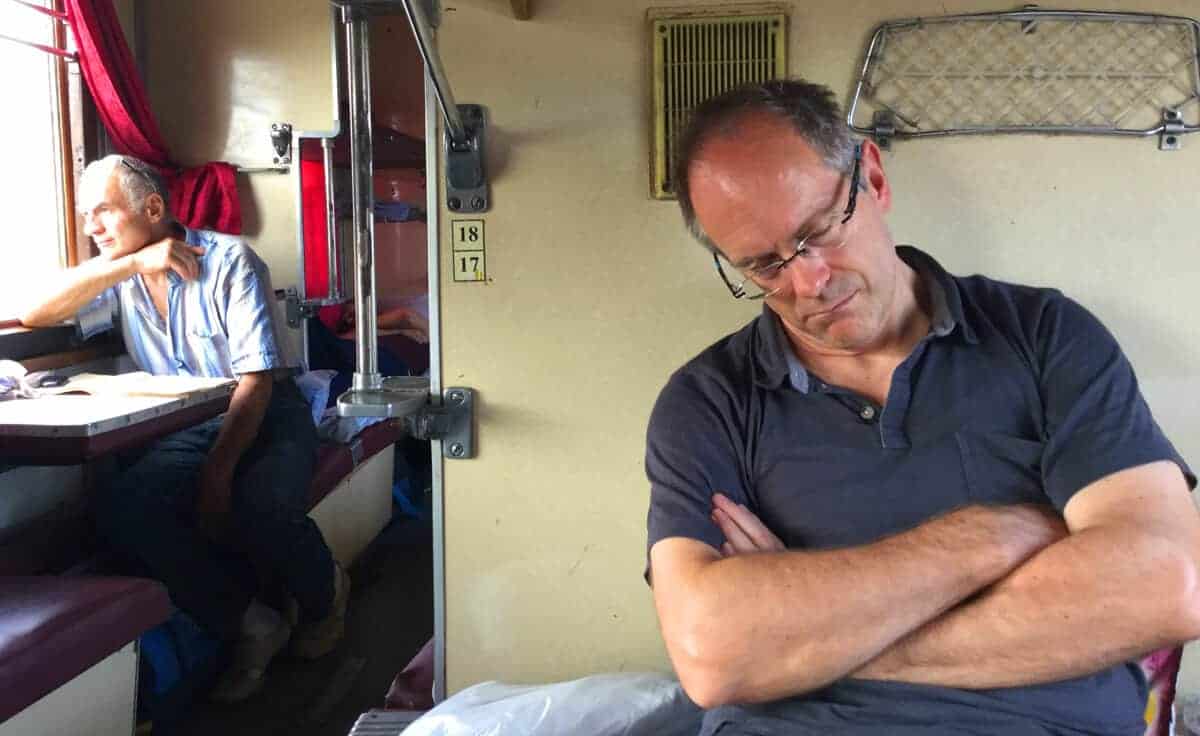 The train looked like it had been used for military transport before being converted to public use. We sat a couple on hard benches facing a couple of soldiers sitting across from us. Our carriage was full of soldiers drinking beer and playing cards. They stank of sweat and beer but were well behaved, mostly because of a strict sergeant who walked around keeping a close eye on his crew. We were lucky: across the aisle was a couple with a baby. Unlike most of the other passengers they looked normal. The woman spoke English and we spent most of the 8 hour train ride talking between us (I kept falling asleep though, just passing out in the heat of the carriage). We're still, 2 years later, friends with Eugenia on Facebook.
Interesting train ride but very uncomfortable.
---
---


Bar (Montenegro) to Belgrade (Serbia)
Maybe it was just the cumulative effect of too much travelling around the Balkans.
I had looked forward to the Bar to Belgrade train ride for a long time. It is supposed to be one of the world's most scenic train rides. And it is, the train ascending the mountains of Montenegro's interior and skirting high peaks and valleys.
But these are the Balkans and everyone smokes. You're not supposed to smoke in the carriages – but people would go to the space between carriages to chain-smoke. With the windows closed* the carriage would soon be filled with blue cigarette smoke.
* It was January. In any case, I had learned from our year living in the Balkans that people would rather die from smoke inhalation than be subjected to a draft of fresh air from a semi-open window. Nothing turns a tough Balkan man into a pussy quicker than a cold breeze.
I have no issues with smoke and a 11 hour train ride if it means enjoying wonderful scenery. But you would think that a train traversing some of the world's most beautiful geography would have clean windows so you could at least enjoy it. In fact, besides being dirty, part of our window was blocked out by graffiti that had been painted on the exterior of the window.
Unfortunately, while a great train journey in theory, the Bar to Belgrade route is plied by locals only looking to go from A to B in the cheapest possible way. It's not designed for tourists wanting to enjoy the wonderful surroundings. And that's a shame.
In our case, while I enjoyed some of the trip, Lissette hated it. Too long and too uncomfortable. And if we get lung cancer we have a pretty good idea where we got it.

Full post: Taking the famous Bar to Belgrade train. Is it worth it?
---
---
The above are the worst of the train trips we've taken over the last 5 ½ years of full time travel.
Related: A few more train stories
Getting to Ayutthaya, Thailand. Stories of train rides and drunk Germans…
Why Riding El Chepe through Copper Canyon (Mexico) is Amazing
Taking the train from Thessaloniki (Greece) to Sofia (Bulgaria)
Getting to Hat Yai – our 1st class Sleeper train experience in Thailand
So what's the worst train journey you've ever had?
Ps. If you find our blog helpful, please consider using our links to book your flights, hotels, tours, and car rentals. Have a look at our Travel Resources page.