Taking the famous Bar to Belgrade train
The train between Bar (Montenegro) and Belgrade (Serbia) is one of Europe's great train routes. Stretching 476 km, most of the 11 hour journey is spent crossing the huge mountain range (the Dinaric Alps) that separates the interior of the Balkan peninsula from the thin slice of Montenegro that lies on the coast. It passes through 3 countries: Montenegro, Serbia, as well as a tiny 9km slice of Bosnia and Herzegovina.
The train route was a pet project of former Yugoslav dictator Tito who wanted to connect the Yugoslav capital to the coast. It started in 1958 and was concluded in 1976. It is an incredible engineering feat, the route including 254 tunnels and 435 bridges (including Europe's highest railway bridge near Kolasin). As a passenger you'll be treated to some incredible views of mountains and river valleys. You'll also spend a lot of time in tunnels (I read somewhere that 115 km of the route is in tunnels. That's 25% of the journey!).
---
---
There are 2 daily trains in either direction. A morning train leaves both Bar and Belgrade 9am. An evening train leaves Bar at 7 pm and Belgrade at 9 pm. Obviously, if you're taking the train to enjoy the journey you should be taking it in the morning.
A short video. Not the quality I would have liked but had to work around some dirty windows…
---
---
What's the Bar to Belgrade train like?
The train is the typical Balkan/East European train ie. no frills. Covered by graffiti on the outside, windows have probably never been cleaned. The interior won't win any points for cleanliness either. Each carriage has toilets at either end which are basic (in our carriage the sinks didn't work and the door of one of the toilets didn't fully close). Another thing: if you have issues with cigarette smoke you'll hate this train. There are non-smoking signs in each carriage but people stand in between carriages – right next to the doors – chain smoking. It doesn't take long for the carriage to be filled with cigarette smoke.
It's a shame really, especially if you've taken the train to "experience" the journey. I had read somewhere that there was a 1st class compartment. But there was none on this train. The thing is that the condition of the train doesn't really allow you to fully appreciate the gloriousness of the setting (especially with the dirty windows). Most of the video I shot above was at the end of the carriage, standing by the toilet.
Curious about what you'll see along the way and how the journey breaks down? I made some notes.
---
---
Hour 1
Leave Bar at 9 am. See a bit of coast before going inland. Pass through Skadar Lake National Park which looks like a large bay dotted with islands and marshes and surrounded by granite hills. Beautiful.
Arrive 10 am in Podgorica which looks as inviting and depressing as I've heard it is. You can see huge, far away mountains in the distance. The train had been about 30% full leaving Bar but with all the people that got on in Podgorica it's now about 90% full.
Hour 2
Leave Podgorica around 10:15. Start going through mountains. Incredible scenery but about half the time is spent in tunnels. Incredible engineering feat. You go over an old railway bridge close to Kolasin which is the highest railway bridge in Europe. The views here are phenomenal.
Hour 3
Kolasin 11:25. Patchy Snow on the ground. High peaks in distance. At 12 arrive at Bijelo Polje close to border. Montenegrin customs come on the train and swipe (not stamp) our passports. Takes about 20 min.
Hour 4
We leave Bijelo Polje around 12:20, arrive at Serbian customs around 12:40 at Vrbnica. There's a beautiful monastery there, lots of snow and mountains.
---
---
Hour 5
It's about 1 pm when we leave the Serbian border. Large mountains, we're following a river gorge. Lots of snow and snow-covered trees. Dreamy. At 1:50 we reach Prijepolje.

Hour 6
More of the same. High snow-covered mountains. Too many stops, it seems we're going slower than ever.

Hour 7
Following a large river (the Lim river) that at some point widens to look like a lake. High mountains, lots of snow. Beautiful. 3pm arrive at Priboj, a large narrow city in valley.
Hours 8, 9
Pass through a sliver of Bosnian territory. More of the same geography. It starts getting foggy, dark, and some guy comes to speak to me. He's Montenegrin and studied in Albany NY. You always meet interesting people on long train rides.
Hour 9
The sun has set by the time (5pm) that we arrive in Užice. It's a big, modern looking city judging by the high rises in the dark.

Hours 10 and 11
The train goes faster after Užice. Terrain seems flat. There's nothing to see in the dark.
Finally. We arrive at Topčider train station outside Belgrade. With the Central Station closed because of the Waterfront project, they're using this as the end station for trains from Montenegro and Bulgaria. Yikes. This is really not a train station, it looks like an outhouse in the middle of the forest. There's nothing here except for a stray dog that comes to greet us as we get off the train. My Montenegrin friend tells me that we can take a bus to the city (#3A) but we have no Serbian Dinars. There's of course no ATM. We walk to the parking lot and find a couple of taxis. No problem, he's got a meter. Of course we get screwed, costs 27 Euros to get to Republic Square. He's got a meter on steroids. I should have done a better job planning.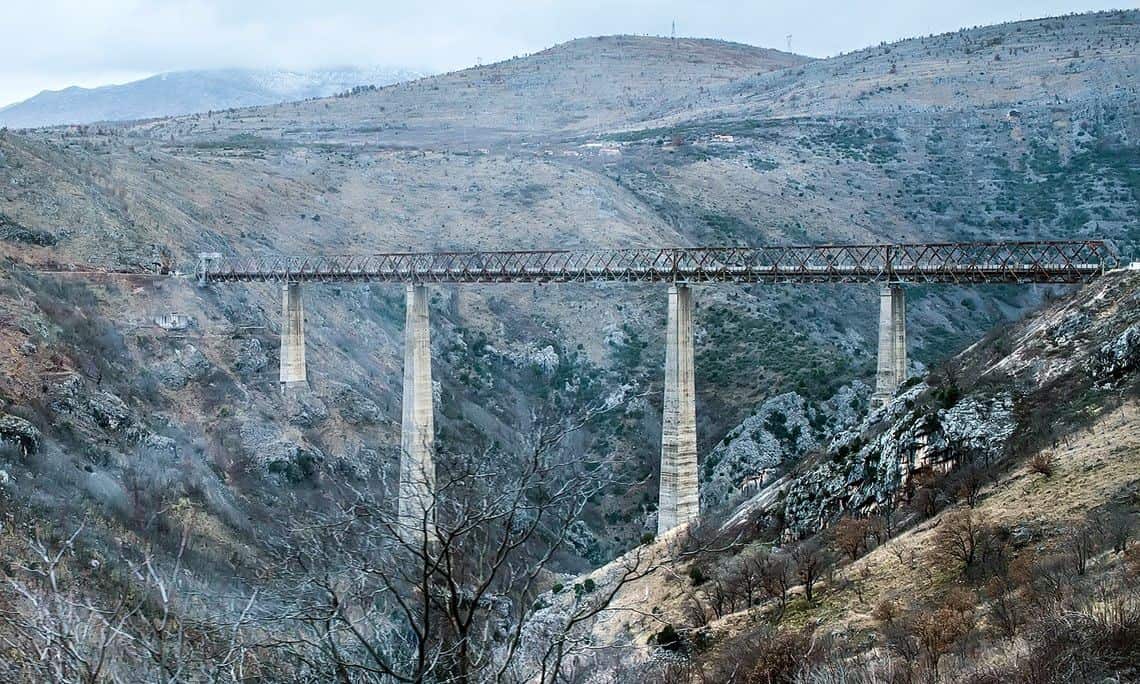 ---
---
So, is the journey worth it?
I enjoyed the views and most of the journey. You can't help but be incredibly impressed by the engineering feat of building this railroad. But I'm not convinced that the average traveller would appreciate an 11 hour trip considering the duration and the conditions of the train. I'm on the fence about recommending it. It's a shame because it could be a fantastic experience if the train and facilities were something along the lines of El Chepe in Mexico (if it was, it would be even more impressive than El Chepe). Still, I'm glad to have done it.
Lissette will tell you that the journey is absolutely NOT worth it. She hates dirty train rides with disgusting toilets. She hates being exposed to cigarette smoke for 11 hours. Her opinion is that no view is worth any of that. She says she'd rather spend 11 hours on a donkey.
So there it is.
---
---
Tips and recommendations
Tickets cost the equivalent of 24 Euros for the one-way trip. You can't buy it online. We arrived in Bar a day before our trip and bought tickets at the station in person.

They will give you assigned seating. But this is the Balkans, nobody follows it. So…if going from Bar to Belgrade sit on the left side. If going Belgrade to Bar sit on the right side.

From Bar trains leave every day at 9am and 7pm. From Belgrade (Topcider station) trains leave at 9am and 9pm.

If going to Belgrade, make sure you pre-arrange to have some Serbian Dinars for the bus from Topcider station to downtown. If you're going to take a taxi, it should come out to the equivalent of about 6 Euros to get to downtown Belgrade. Try to negotiate a fixed rate because they'll screw you with their jigged meter. In Bar (Montenegro) they use Euros and the going rate is 5 Euros to get from the train station to downtown.

Prepare yourself for the train ride by bringing some snacks, water, handy wipes…and toilet paper.
So what do you think? Would you do this train trip?
---
---
Ps. If you find our blog helpful, please consider using our links to book your flights, hotels, tours, and car rentals. Have a look at our Travel Resources page.