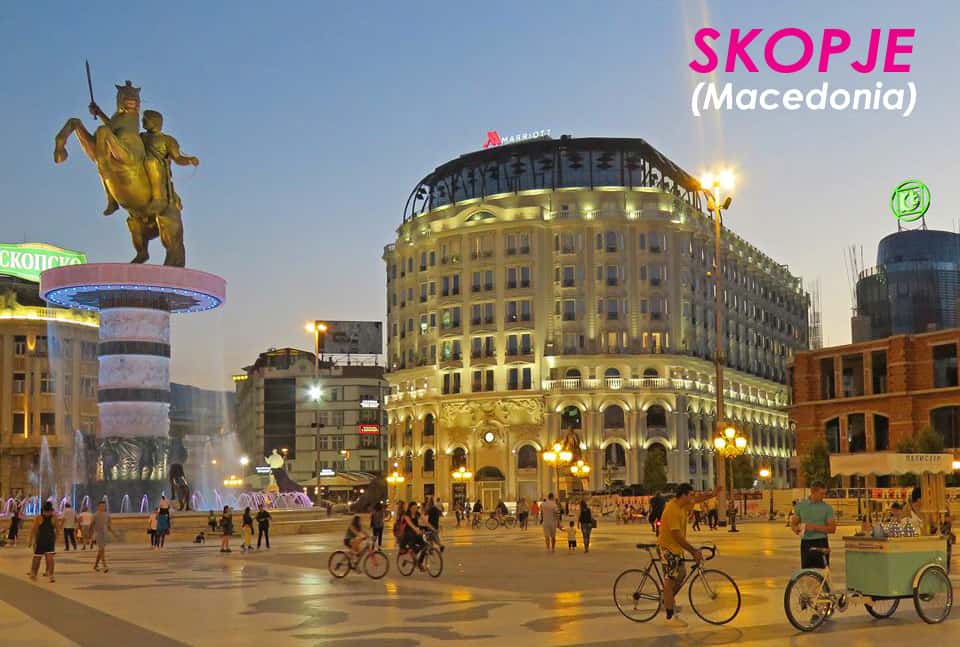 Why Skopje is one of the Strangest Places we've been
Skopje is not the most beautiful place we've visited. But it might just be the most interesting and weirdest place we've ever been. Everywhere we walked we had "WTF?" moments: "there's a pirate ship in the middle of the river! WTF?", "look, there's a London double decker bus! WTF?", "those colors all over the monuments! It's like the Cat in the Hat went crazy. WTF?". Crazy statues, over-the-top buildings, stunningly contrasting architectural styles, Christmas music playing over loudspeakers in the middle of July…It was just all very bizarre. We loved it.
Lots of photos in this post and they're basically all over the place. This post is a mess….but so is Skopje. You'll basically see Skopje as we saw it, walking around the relatively small city core day after day, going a little photo crazy. There's more to Skopje than just the weirdness though. We met really friendly people, had fantastic food (which was a real surprise) and saw very few tourists even in July. Having come from the Croatian coast it was a relief. Macedonia was also the most inexpensive place we've been in Europe by a long margin. I'll cover that too.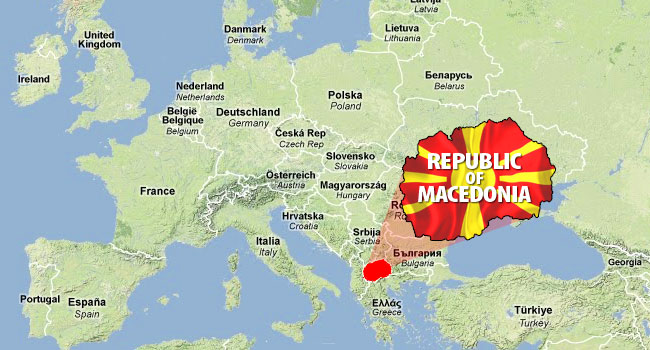 ---
---
.
The Weirdness starts – the Name Game
Note: This post dates back to 2016 and there have been a few changes since then. Macedonia is now "North Macedonia". And I'm sure the graffiti that you see in some of the photos below is no longer there.
Macedonia was part of the former Yugoslavia which included what are now Slovenia, Croatia, Serbia, Bosnia and Herzegovina, Kosovo and Montenegro. As part of Yugoslavia it was recognized as the Socialist Republic of Macedonia, one of 6 republics in the country. When Yugoslavia broke up in 1991 the 'Socialist" was dropped and the country simply named itself the "Republic of Macedonia". This immediately caused problems with Greece who's northernmost region is named "Macedonia". Still, today, Greece does not recognize the Republic of Macedonia. The United Nations lists Macedonia as the Former Yugoslav Republic Of Macedonia. The few Macedonians we talked to laughed at the ridiculousness of it all. Macedonia and Greece have also fought a war of words over the Macedonia flag (which was changed in 1995) and over historical figures that Macedonia has incorporated but that Greece considers part of their history and culture. Chief among those is Alexander the Great, one of history's most famous military commanders. You'll see his name adorning Skopje's airport and see monuments of him (and his father Philip II) in the city, including his monumental statue in the main square (Macedonia Square). Greeks claim him as their's because he was born within Greece's present day borders (in the aforementioned region of Macedonia) – Macedonians argue that they were part of the old Kingdom of Macedon (which included parts of Greece, Macedonia and Bulgaria) and that Greece shouldn't have exclusive proprietorship of his name.
The dispute with Greece continues. Ask a Macedonian where he goes on vacation though and he'll tell you the beaches of Northern Greece. He just won't have his passport recognized.
Update: As mentioned above, Macedonia is now officially "North Macedonia".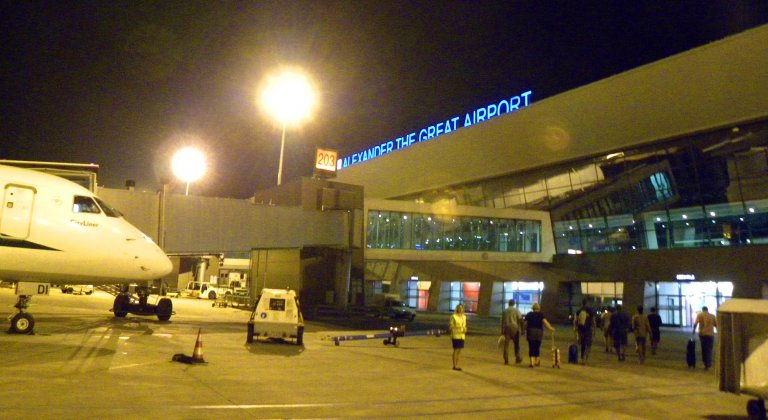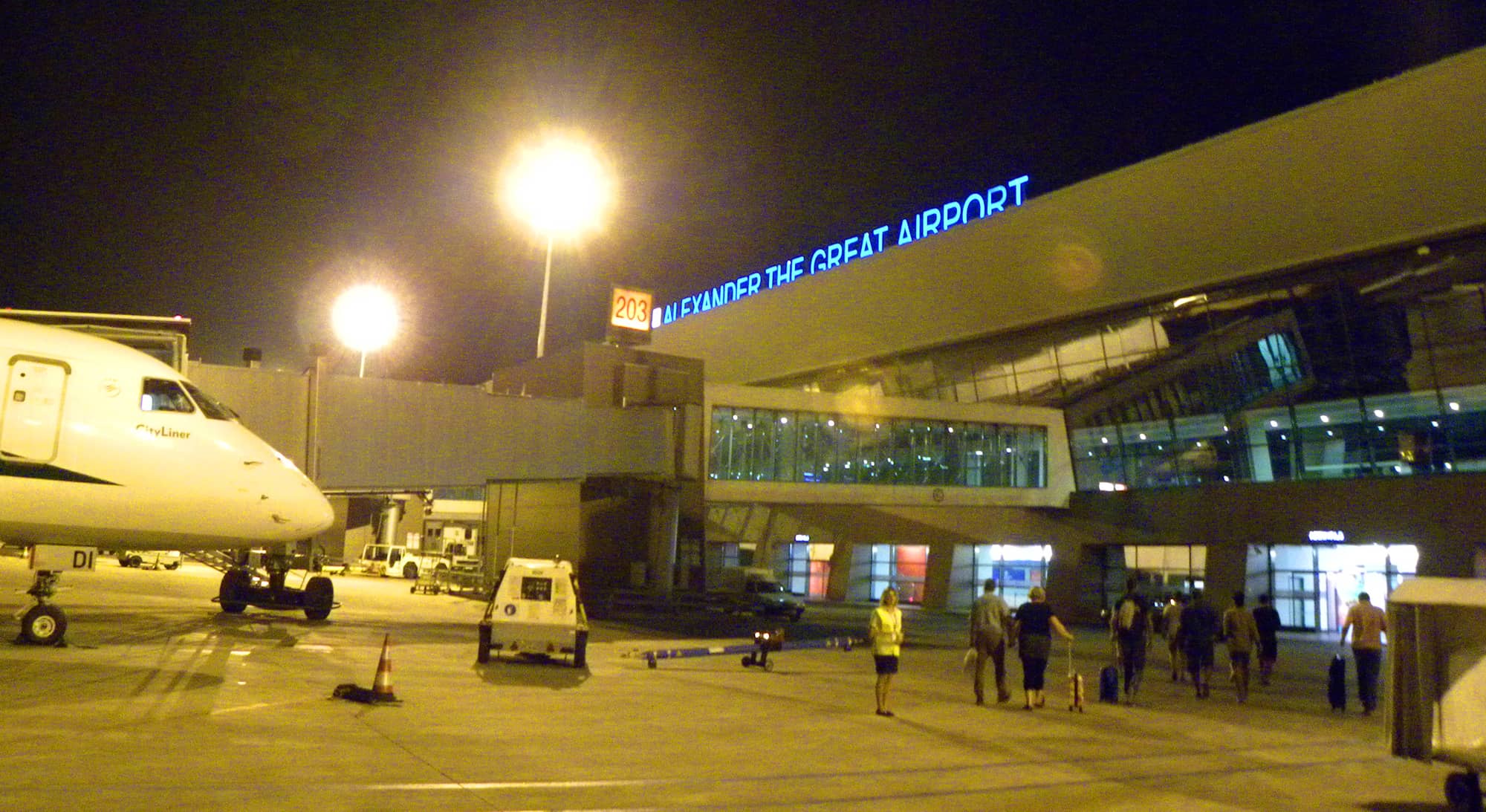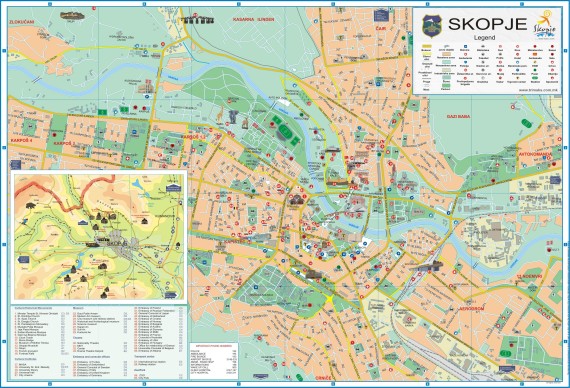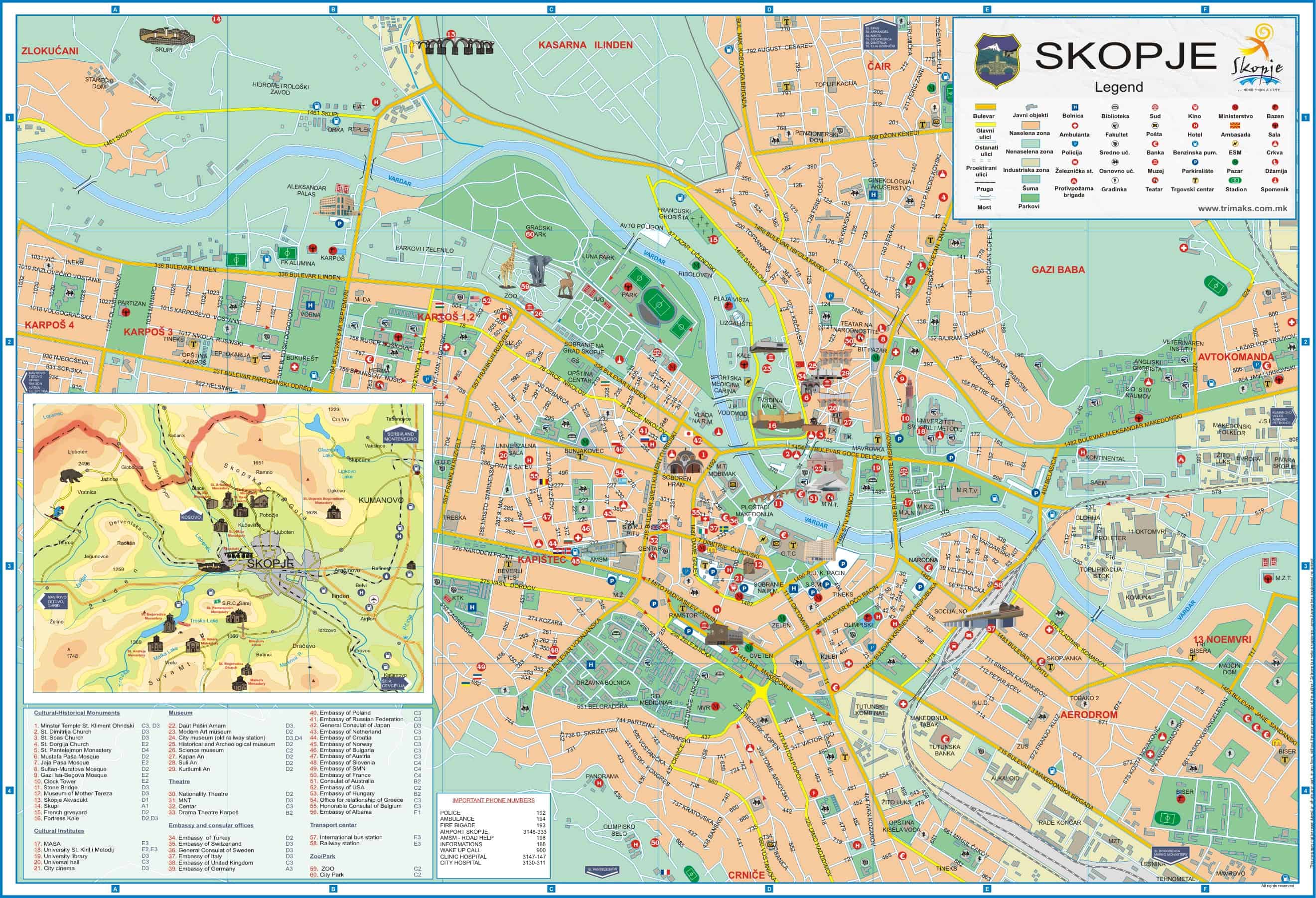 ---
---
Skopje and the "Skopje 2014" Plan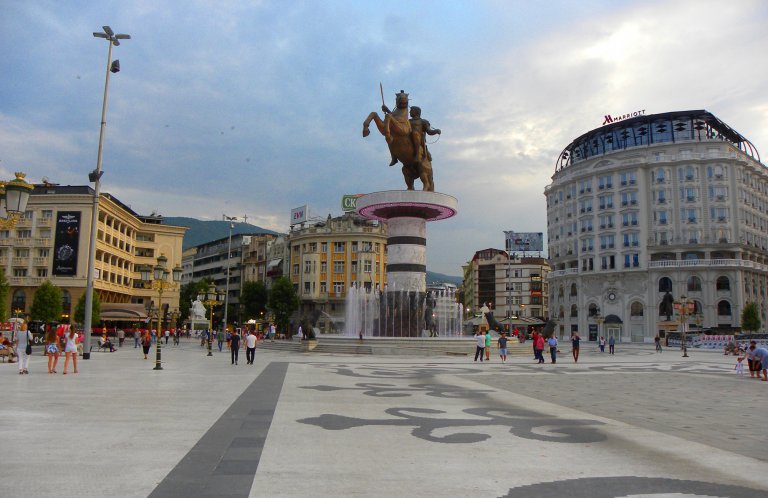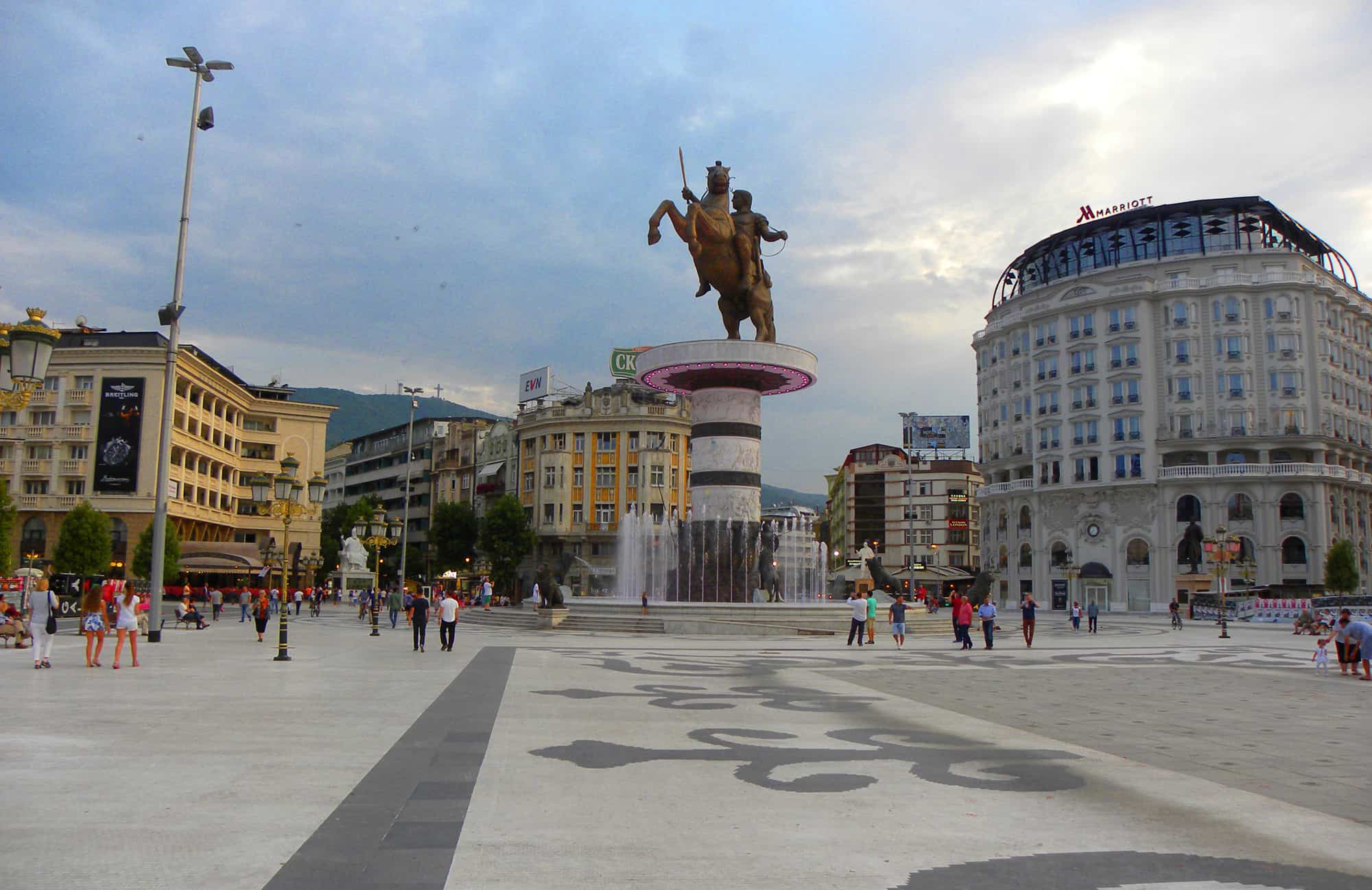 Above/Below: the 22 m high Alexander the Great statue in Macedonia Square, the centerpiece in the "Skopje 2014" plan to spruce up the city. Built in Italy, it cost 9 million Euros. Total cost of the Skopje 2014 renovations? Approximately 560 million Euros to date. They're not finished, much of the city is a construction zone. The expensive plans and allegations of corruption are part of the reason for the paint-bombing of monuments you see around the city (further below).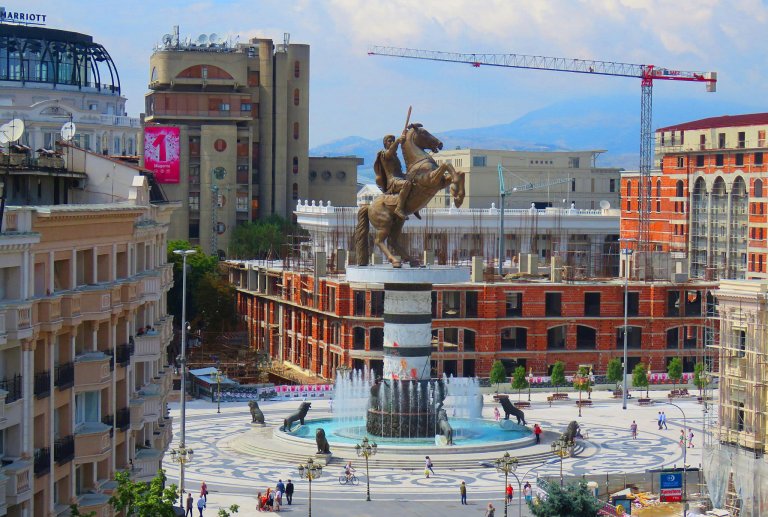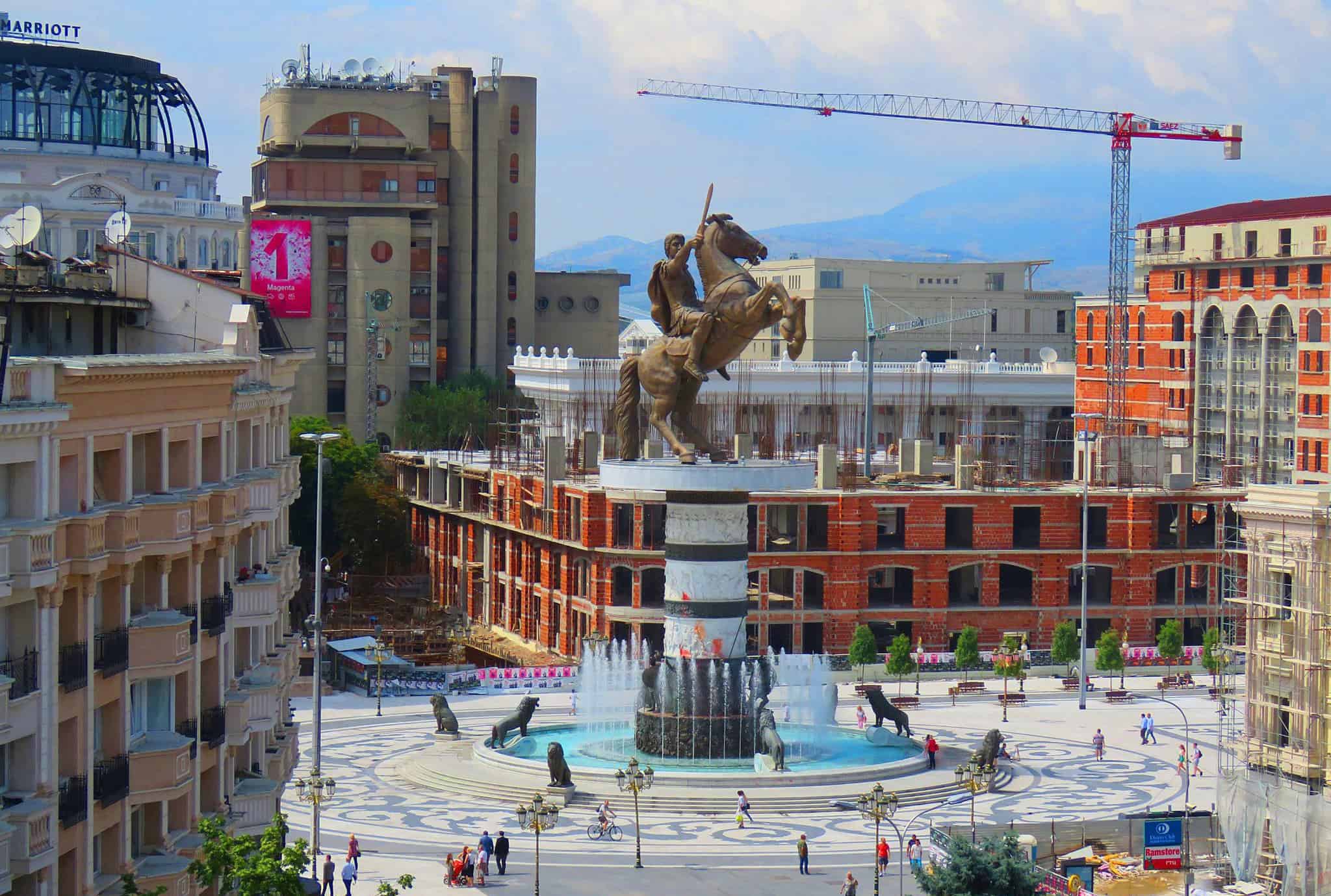 Below: 3 ships in the middle of the small Vardar river almost make you forget that Macedonia is a landlocked country. I think they look like Pirate ships. One of them is the fancy Hotel Senigallia – has to be one of the most unique hotel stay anywhere.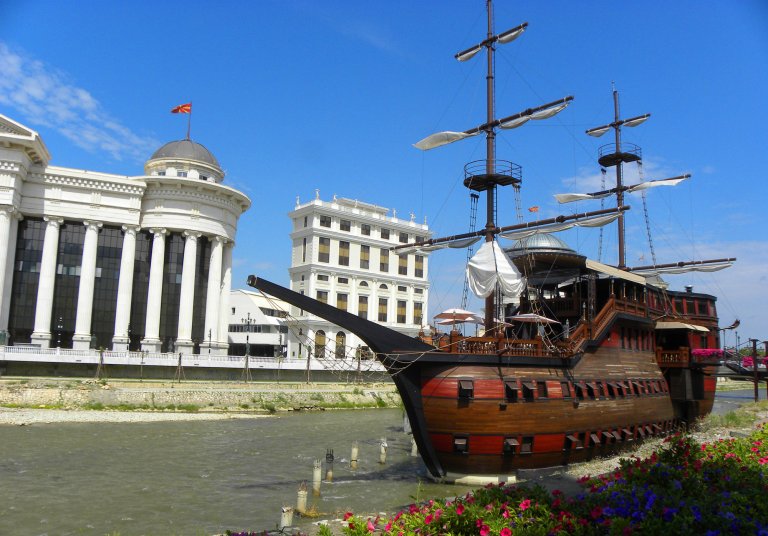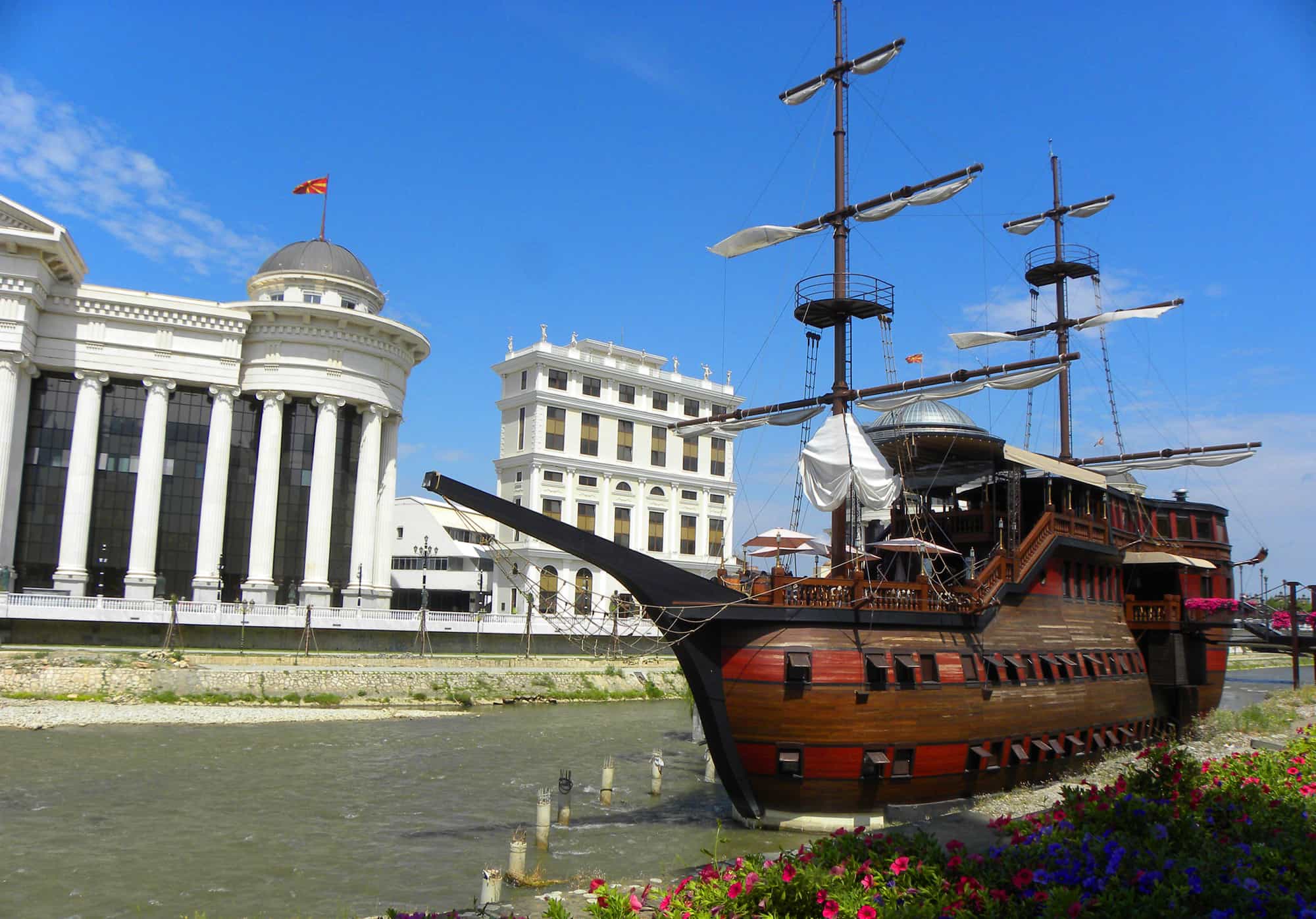 Below: London double decker buses. Today's buses are made in China though.
(note: many people have mentioned that the double deckers existed in Skopje prior to the 1963 earthquake. I found this photo dating back to 1954. A commenter brought some light on their history "according to the JSP (SkopjePublicTransfer) page, the first few were imported from England in 1953, AEC-wooden construction. Later in the 1956, a few more "Layland" double deckers (metal construction this time) were imported, from England too". Thanks Skopejanec ).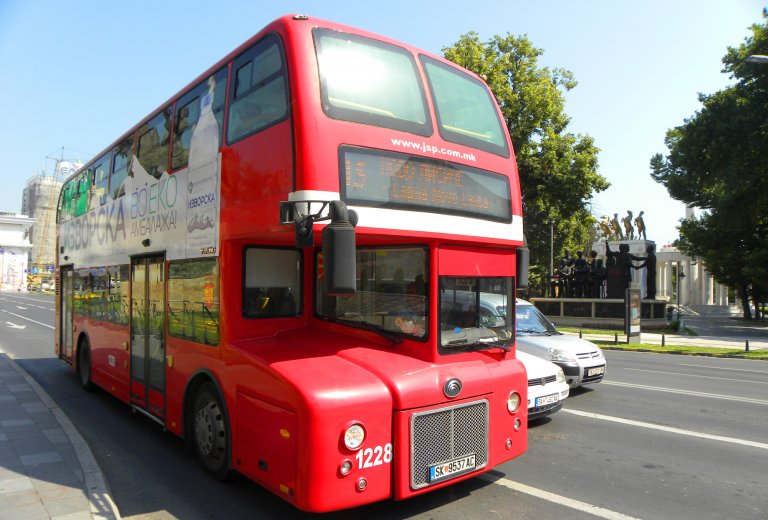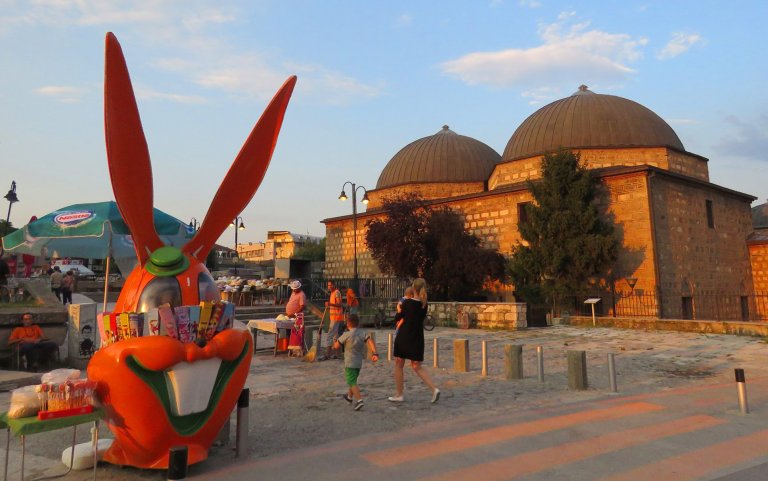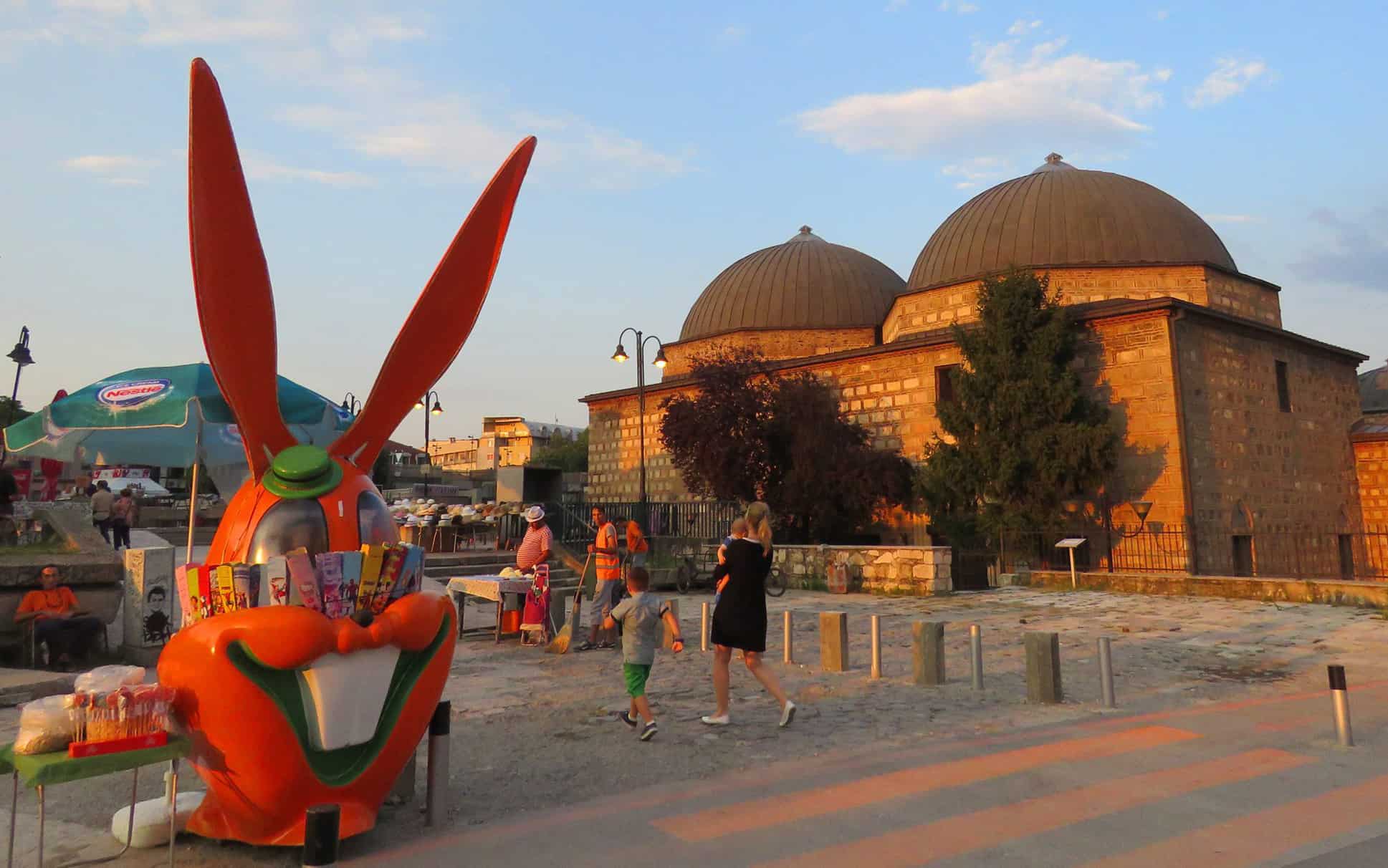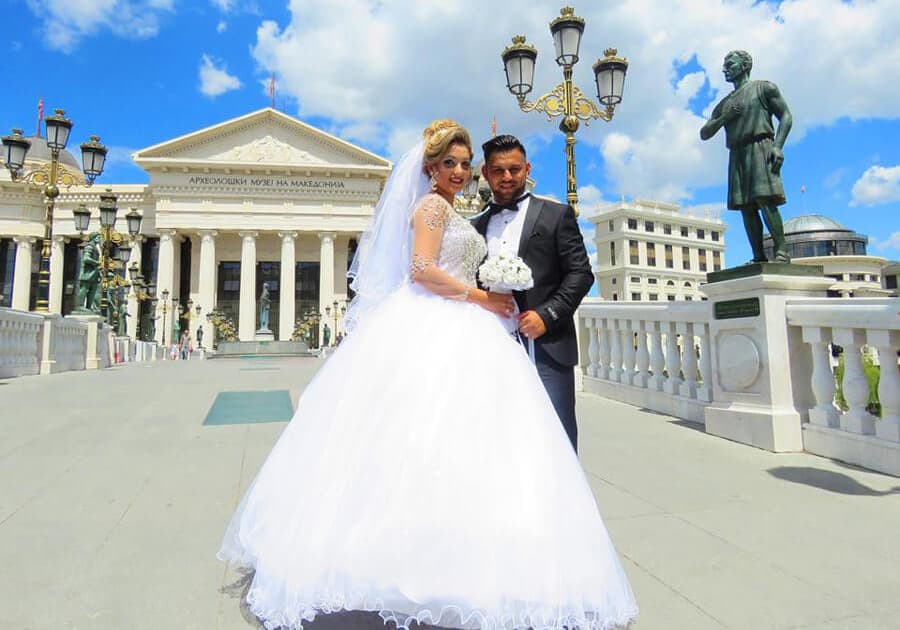 ---
---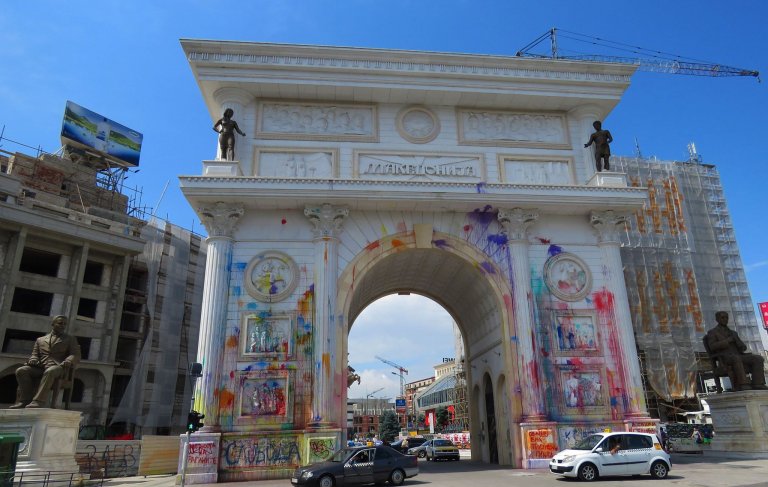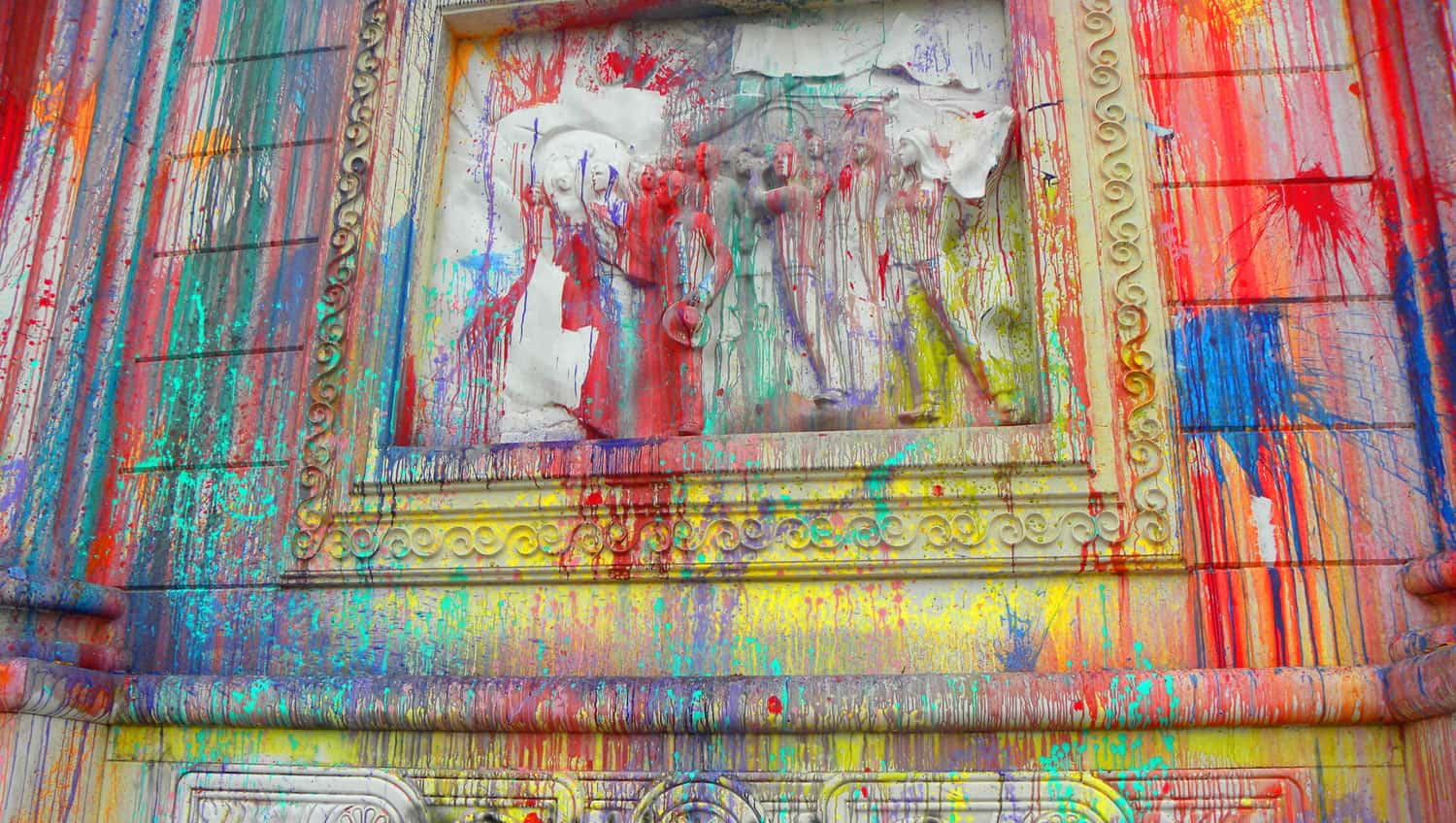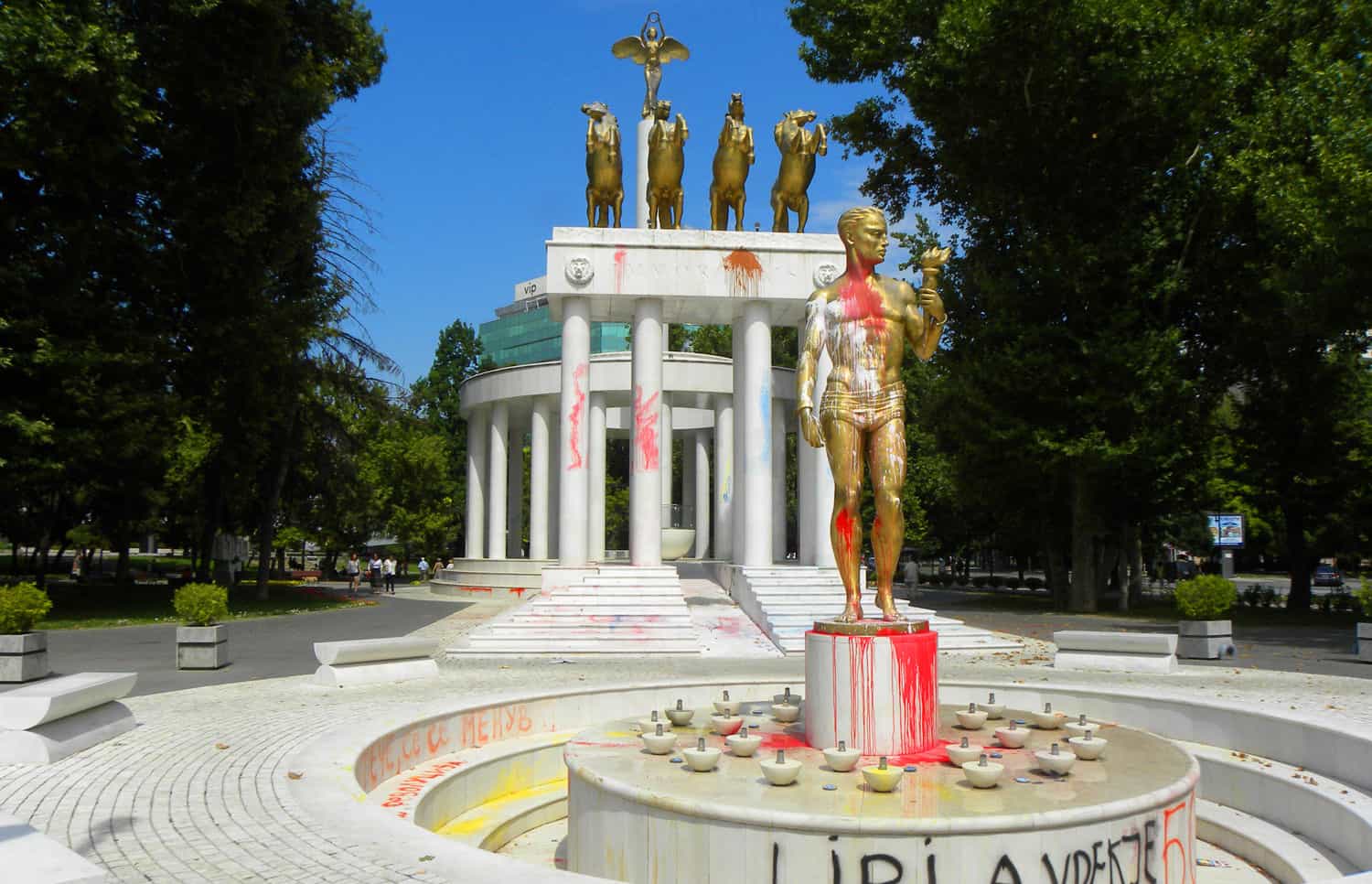 ---
---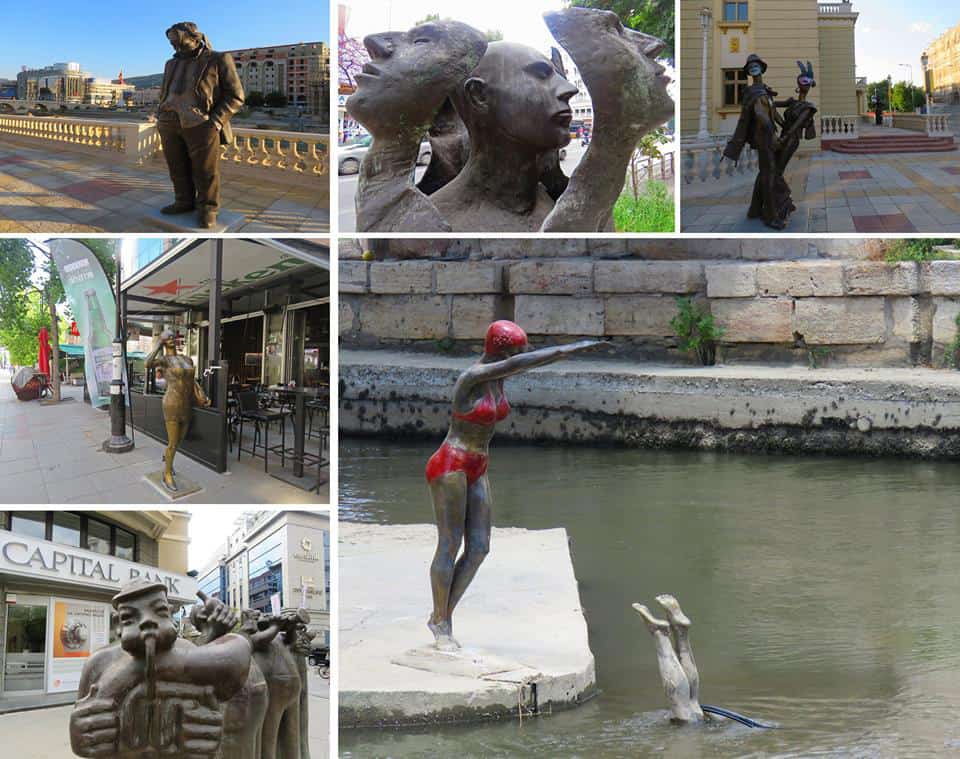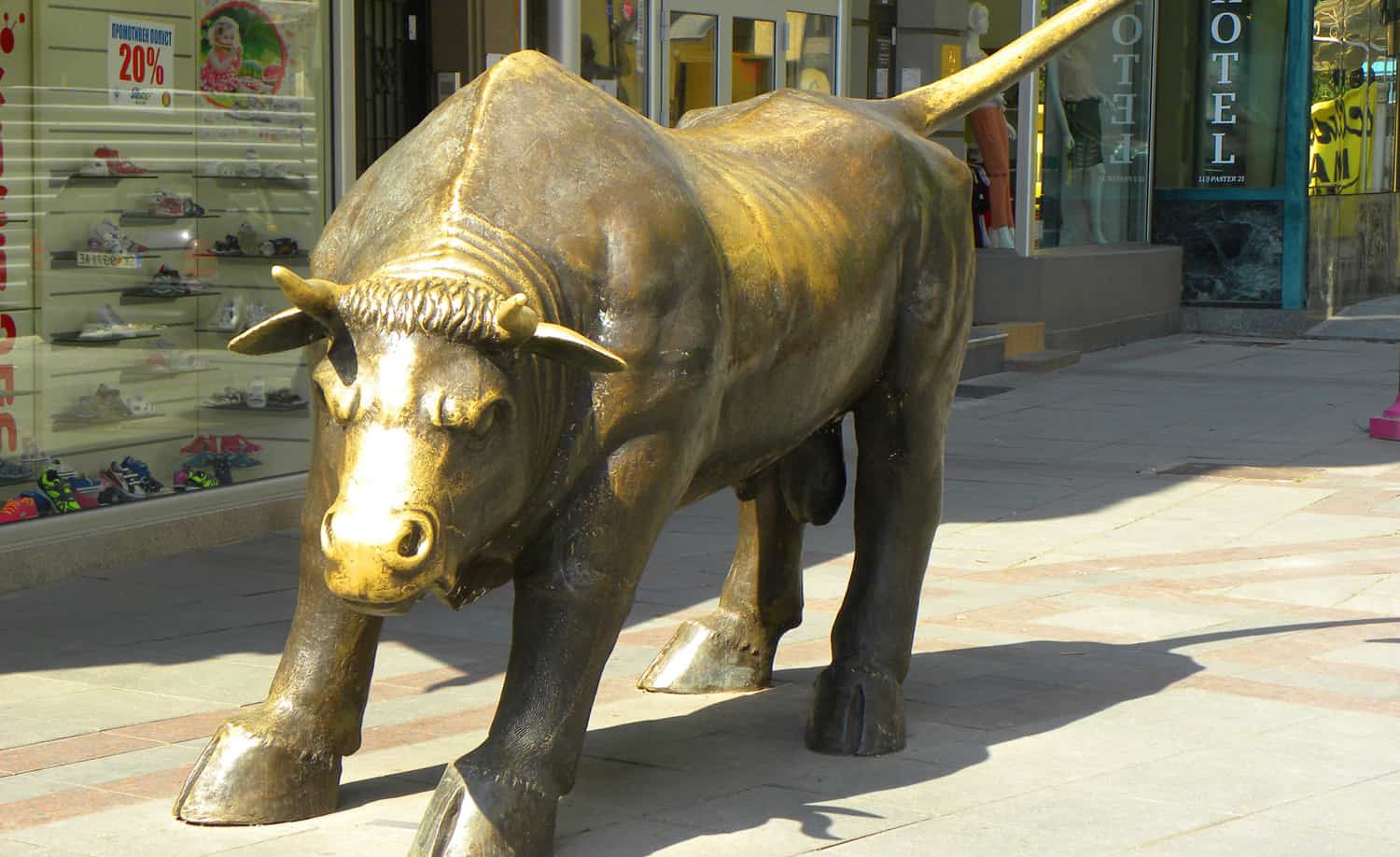 .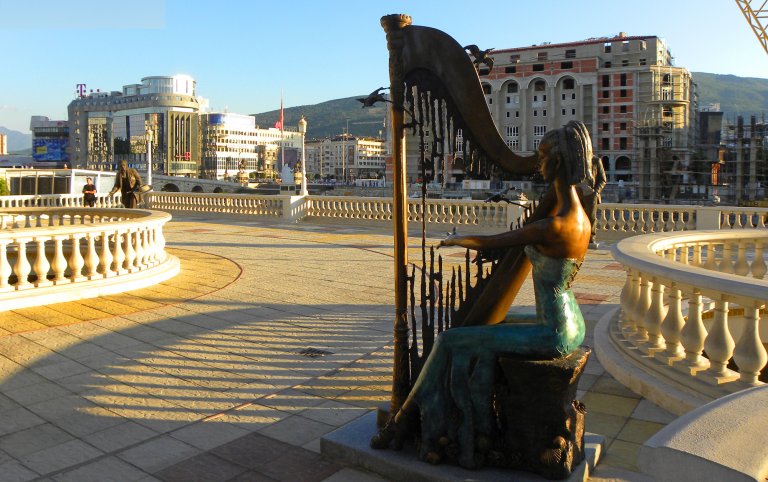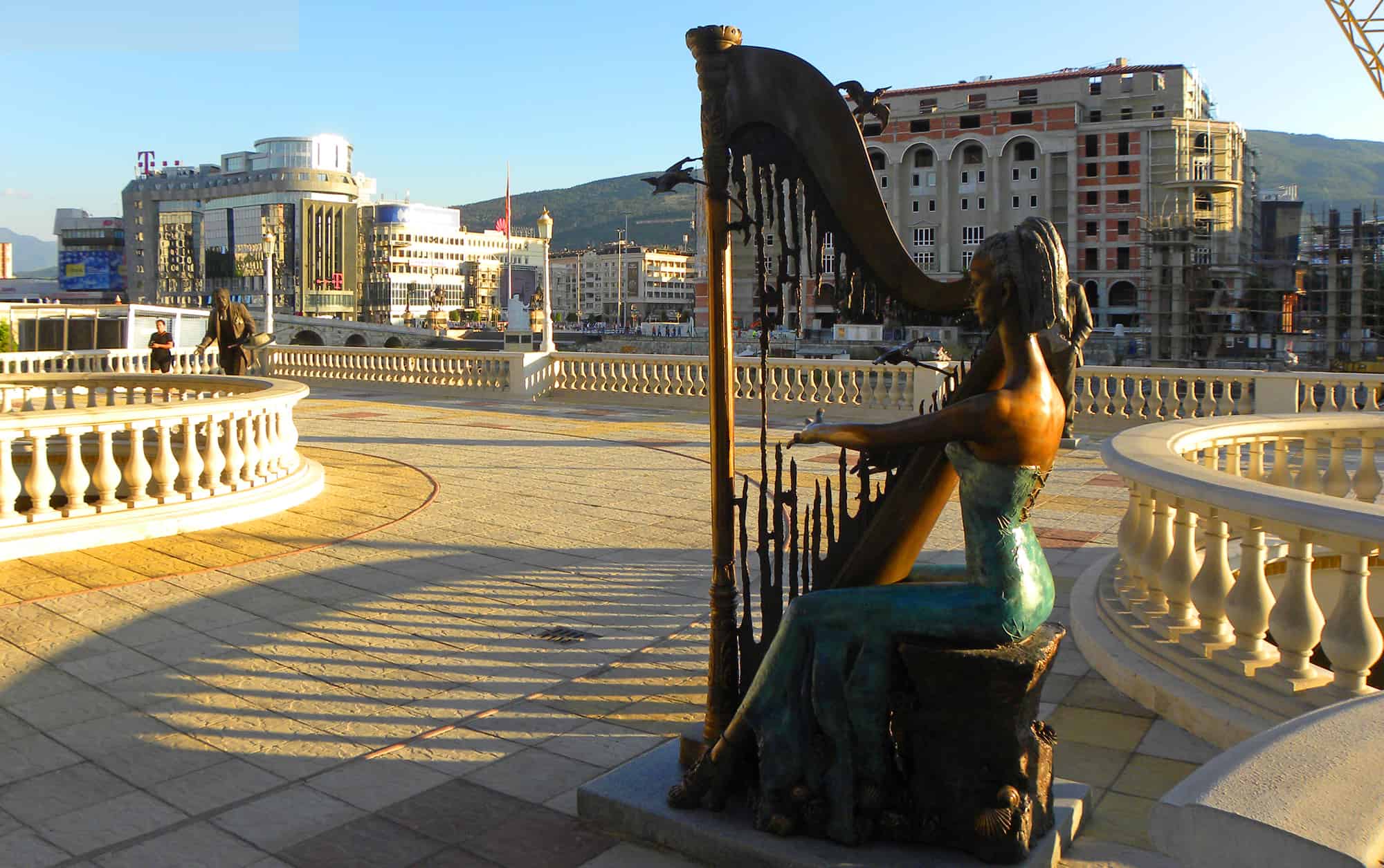 ---
---
Nighttime is when Skopje's Macedonia Square really comes alive, especially in the summer when you can get 40 C temps in the day. It's a very colorful square, the highlight being the Alexander the Great fountain – lights and fountain change in rhythm to classical music being played in the square.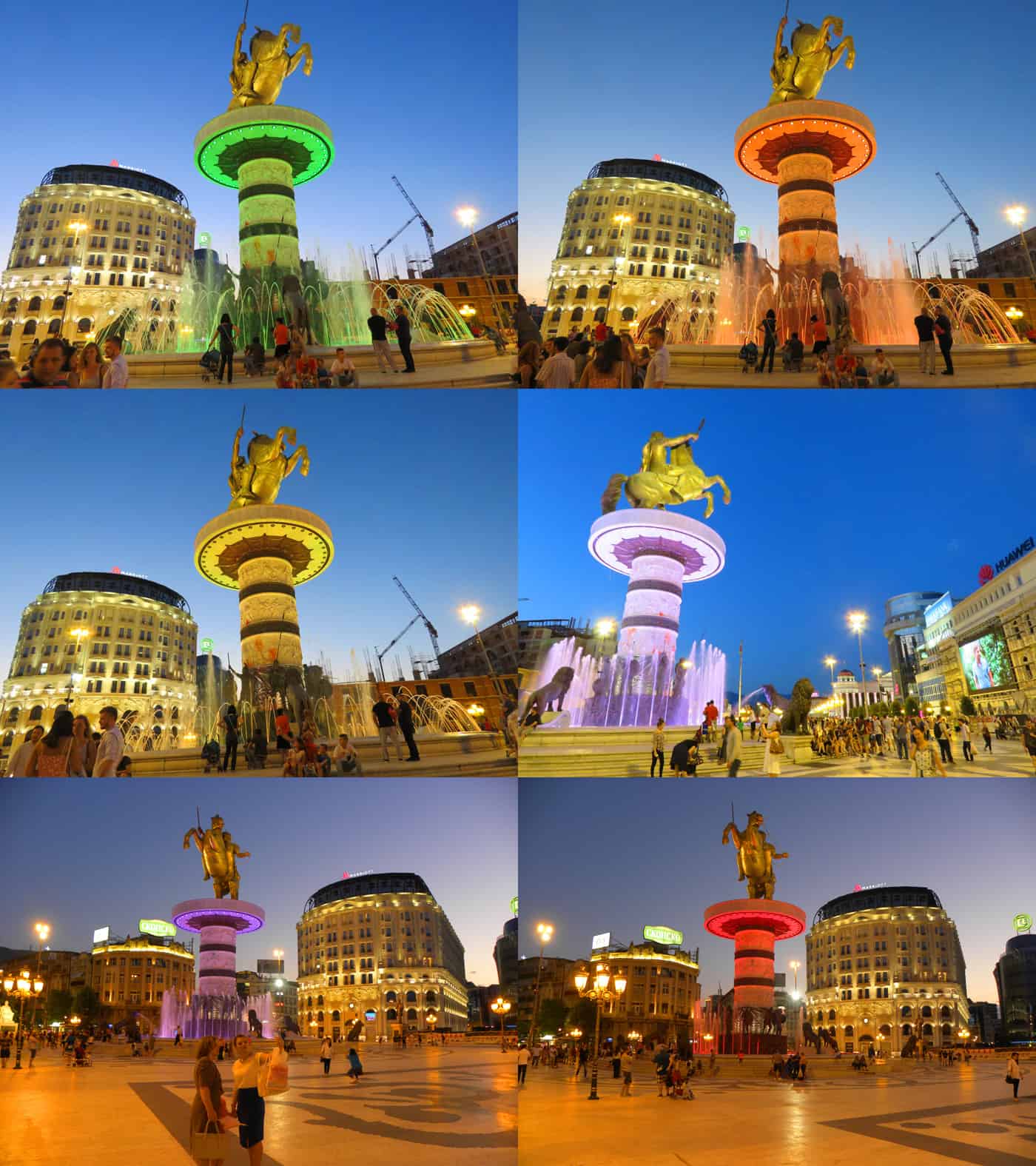 .
Turning around from above, you see the stone bridge leading to Skopje's old town. Skopje's old town is inhabited mostly by the city's Muslim population* and has a large bazaar, some mosques, and the large Kale fortress which overlooks the city. Very much in contrast to the reconstructed "new" part of town, the streets are cobblestoned and much of the buildings constructed in wood.
*Macedonia's population: 2 Million (2012). Approx 64% is ethnic Macedonian (Eastern Orthodox), 25% Albanian (Muslim), 3% Turk (Muslim), 3% Romani (ie. gypsies)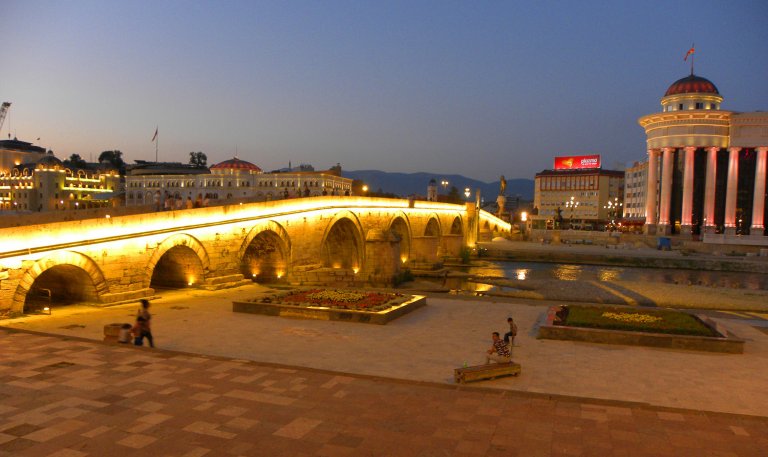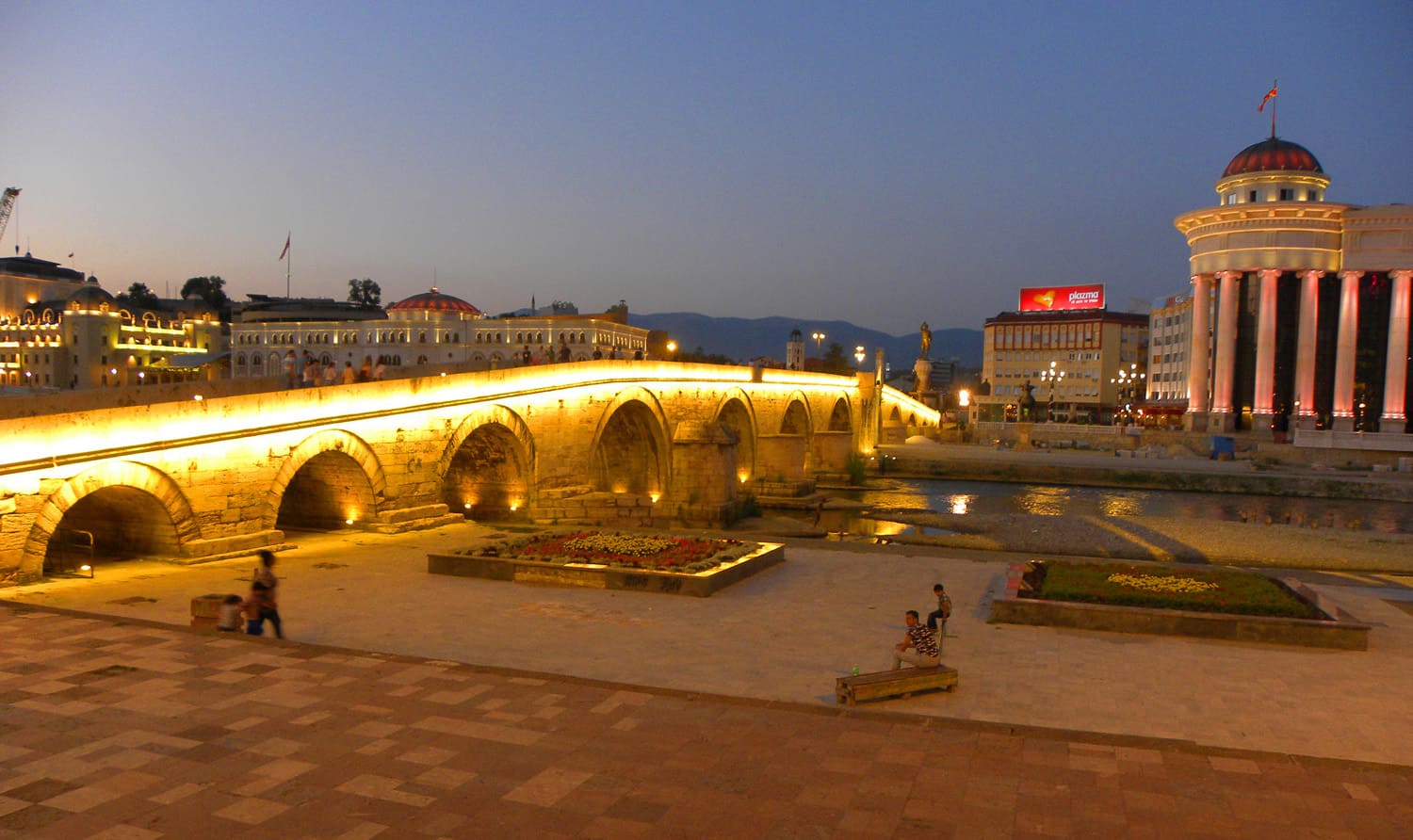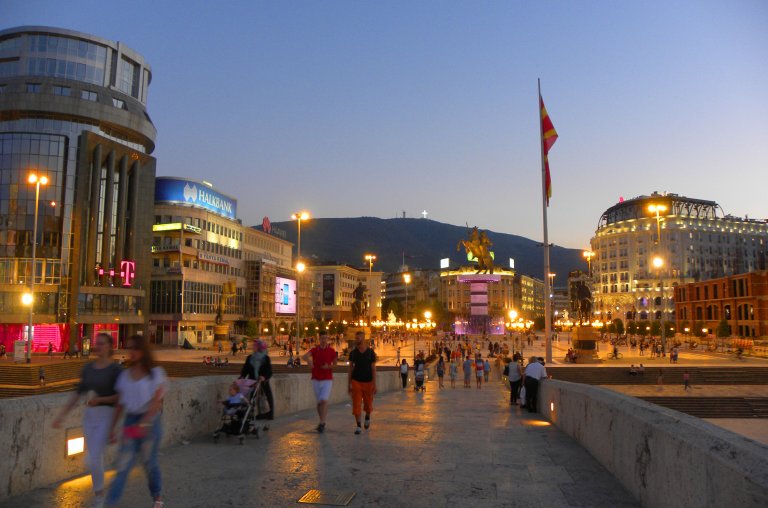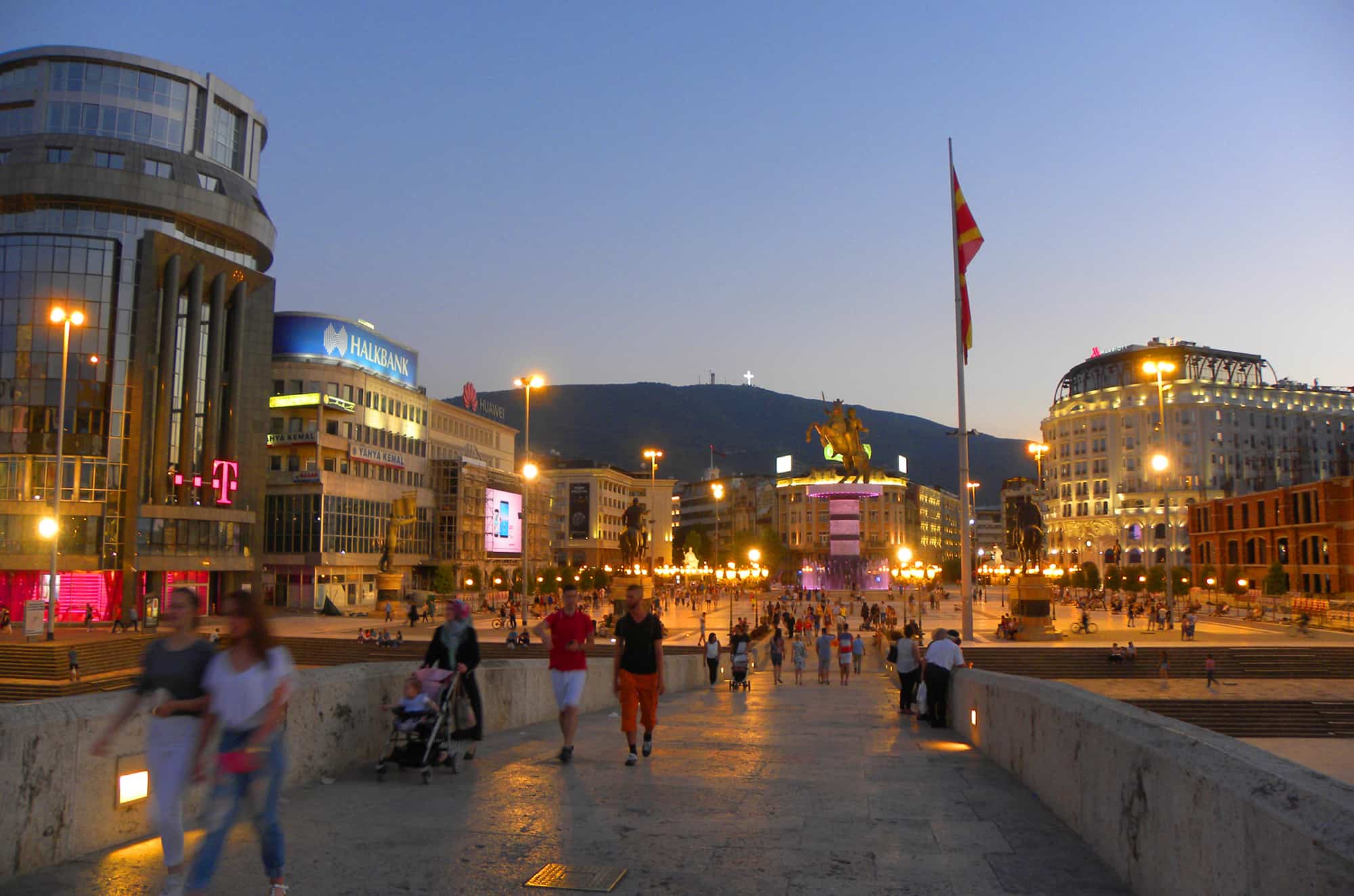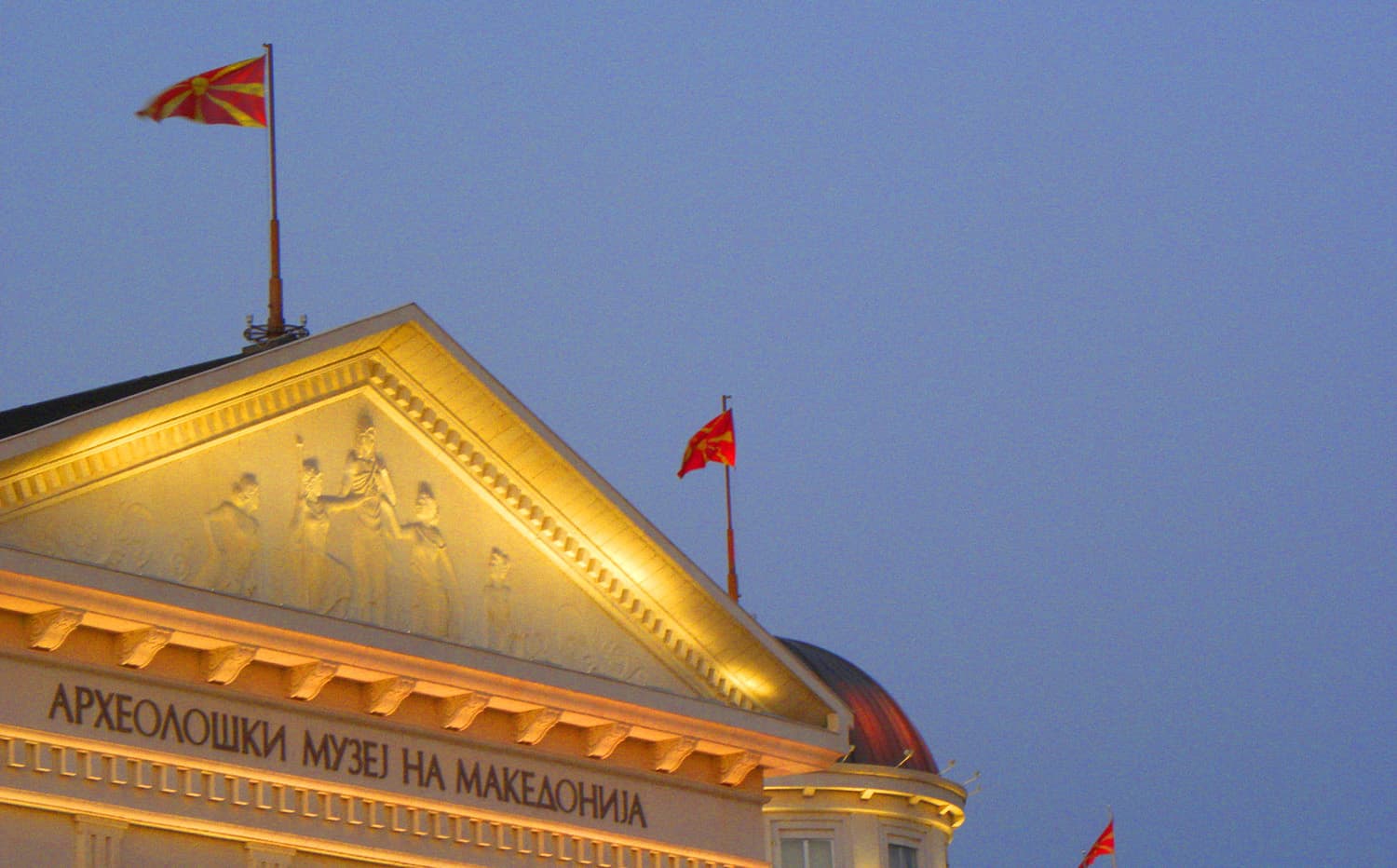 ---
---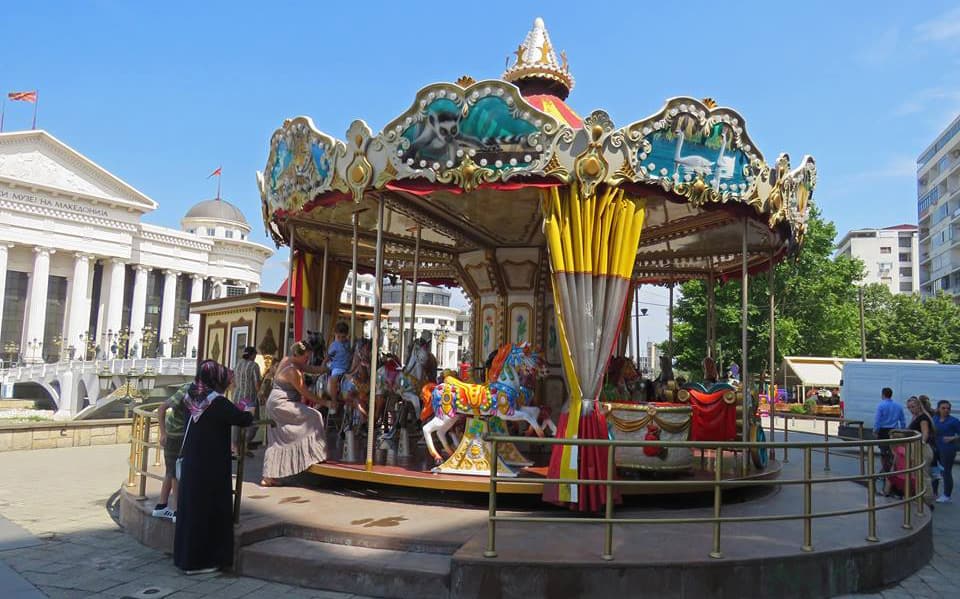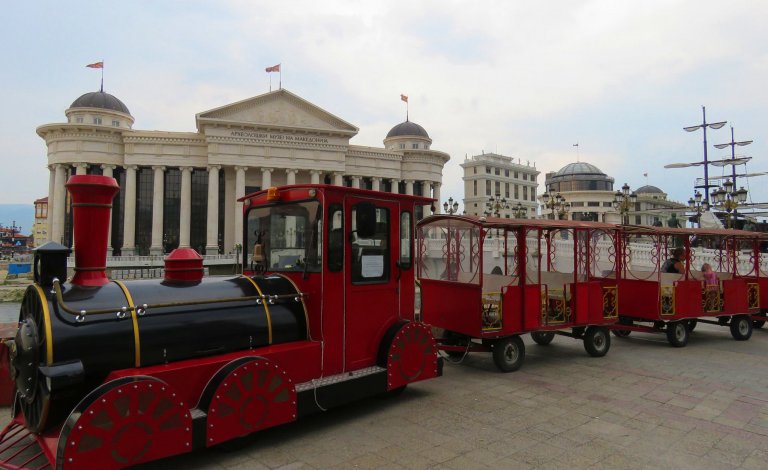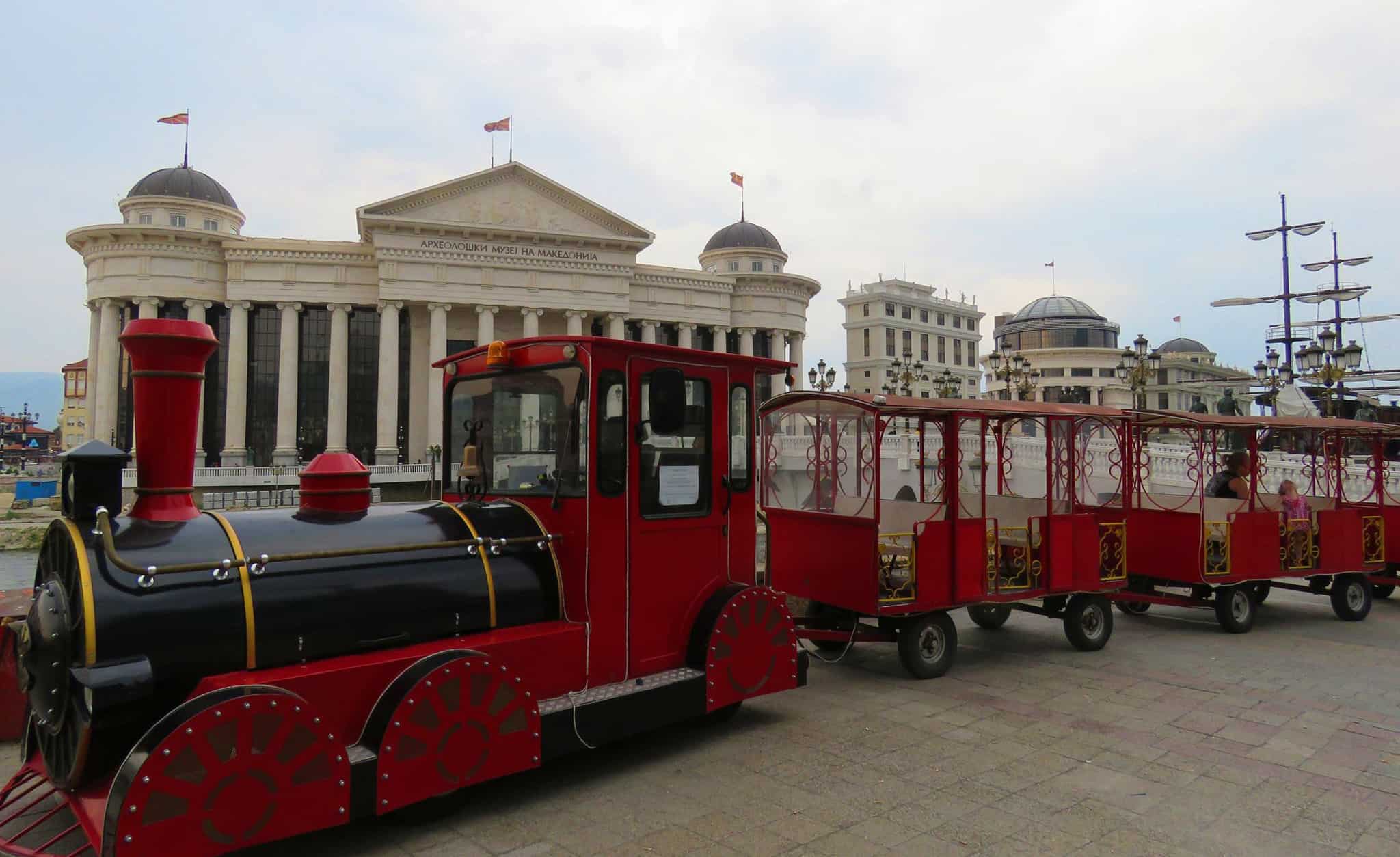 ---
---
.
"Highlights"
I put that in apostrophes because honestly there is not much in the way of tourist highlights. It's more the ensemble of everything than anything in particular that makes Skopje interesting. Having said that, here are a few things you might not want to skip.
1. Kale Fortress. You can walk the walls and see the views over the city. They're surprisingly not very impressive though. Like everything in Skopje, the fortress is undergoing renovations as I write this in 2016. Might be more interesting 3-5 years from now. Free entrance.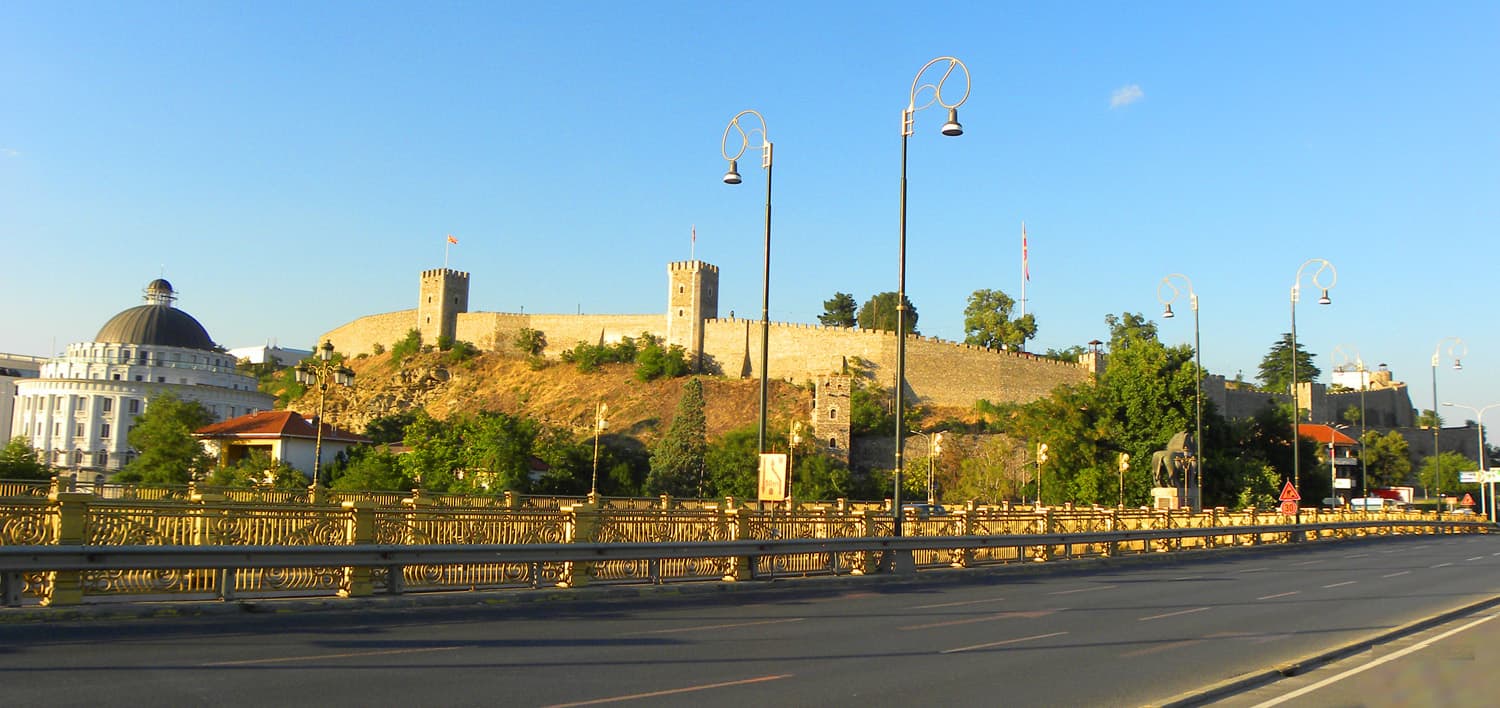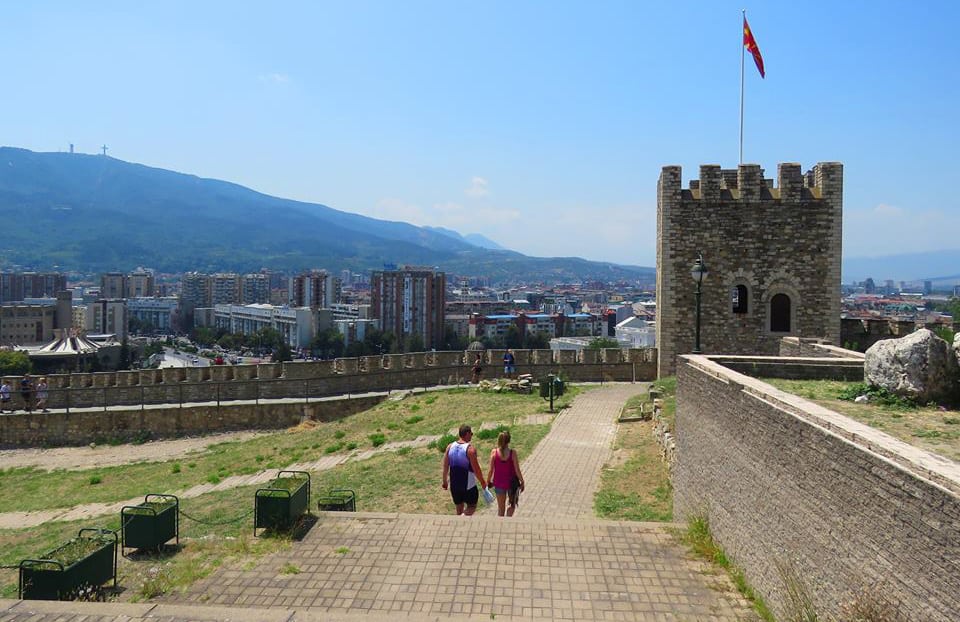 .
2. The Church of the Holy Savior. Plain except for an incredible iconostas made by 2 Macedonian brothers (and a 3rd artist from a neighboring village) in the 1820s. 10 m by 7 m, it took 5 years to carve. Really, it is breathtaking and in our opinion is the one must-see highlight in Skopje.
---
---
.
3. Memorial House of Mother Teresa. Most people don't know that she was born in Macedonia. You'll see photos of her from her childhood and with famous personalities. There's also furniture from the time as well as a chapel.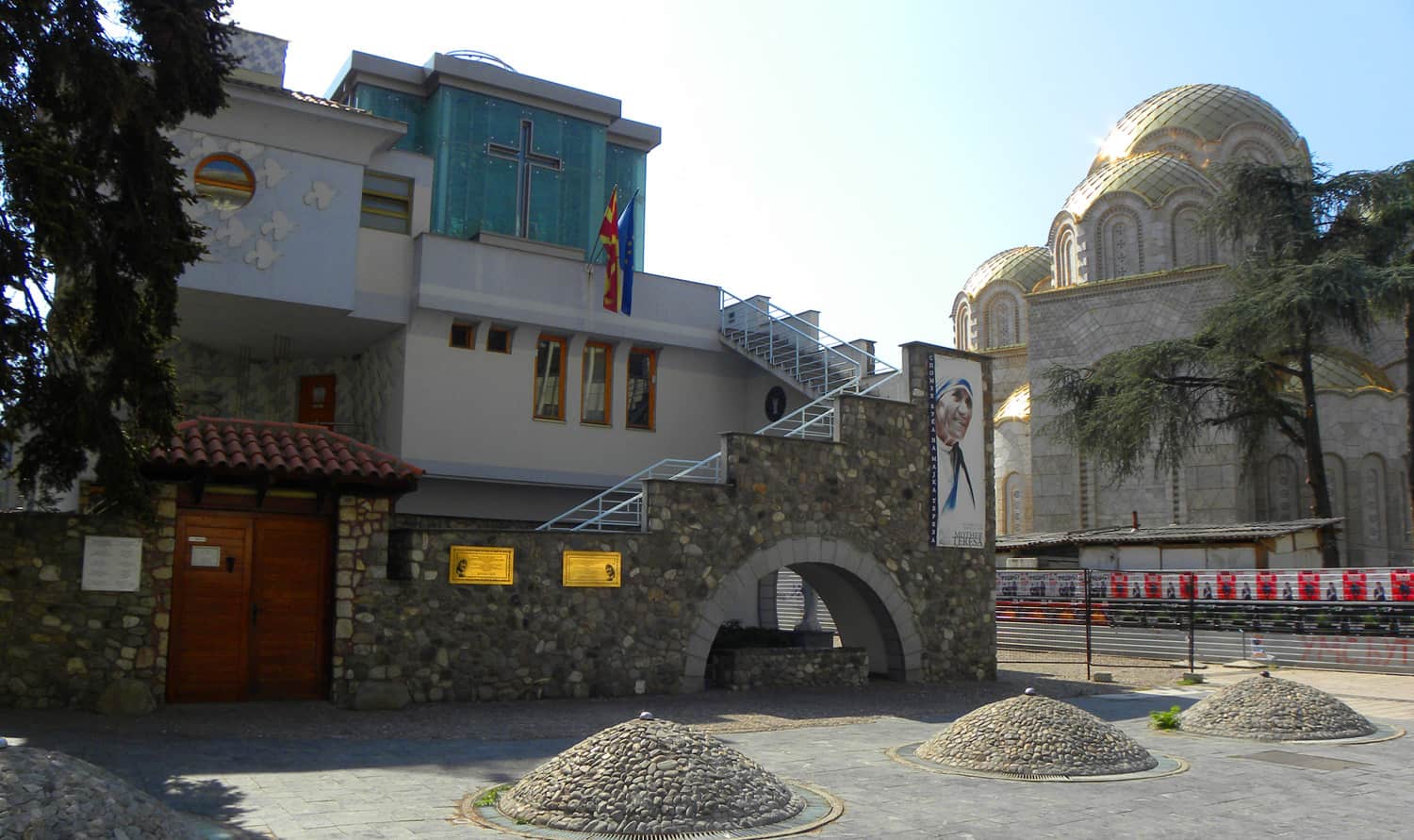 .
4. The Mustafa Pasha Mosque. Built in 1492 by Mustafa Pasha who was ruler of Skopje while under Ottoman rule (which lasted 520 years from 1392 to 1912).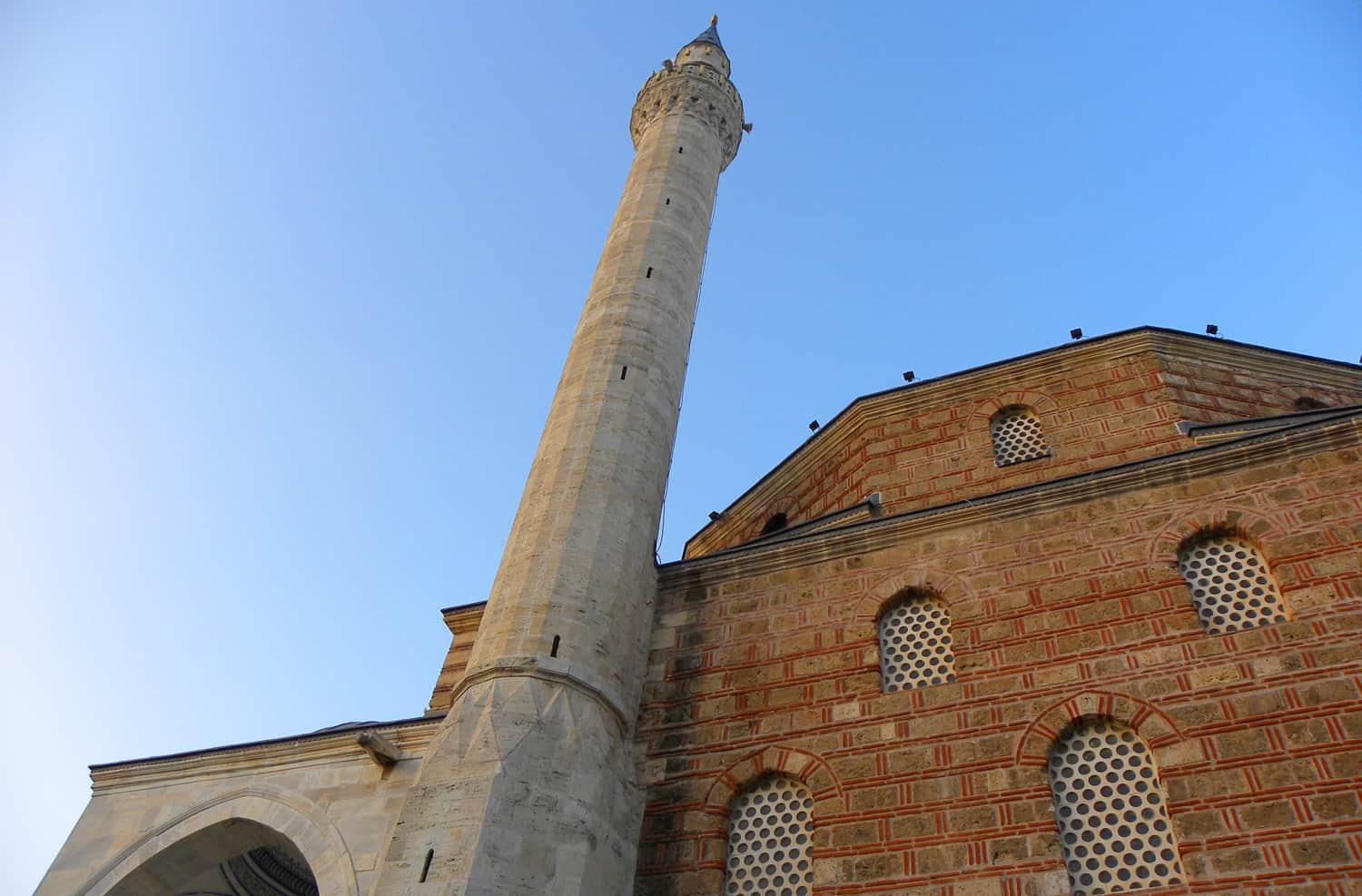 .
But for highlight was just walking around, seeing the old and new and just shaking our heads at the multitudes of statues.


.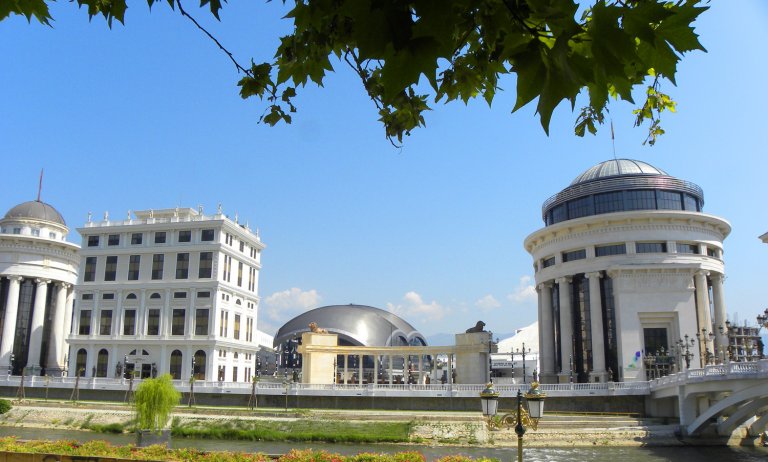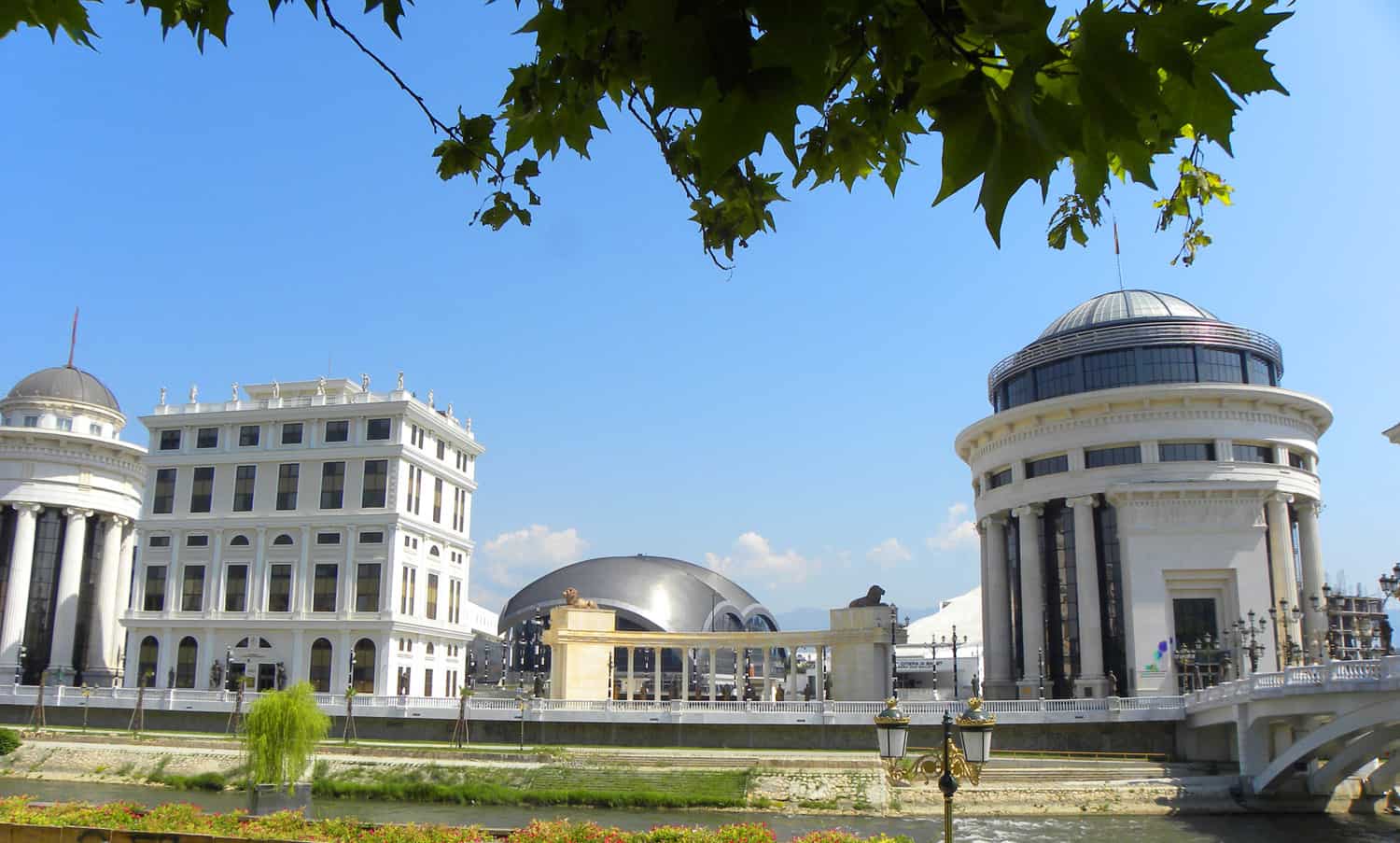 ---
---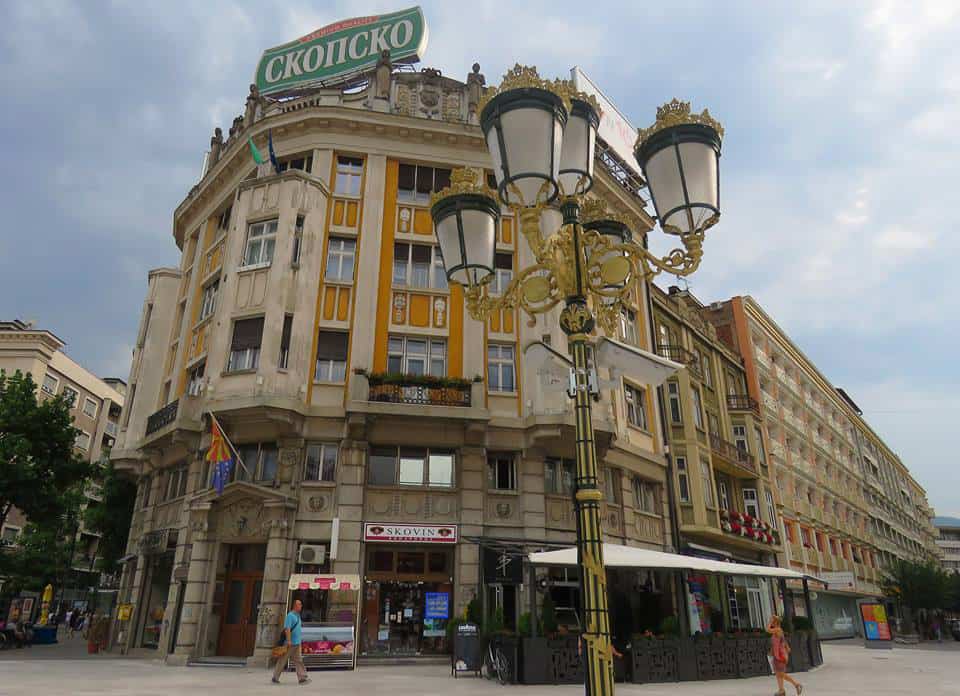 .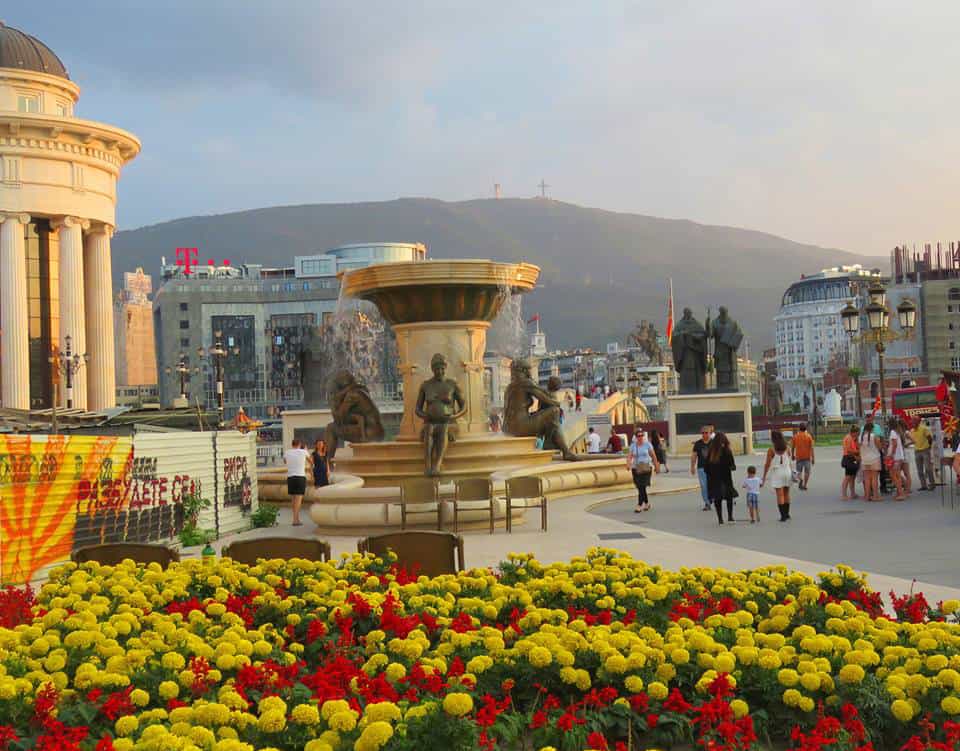 .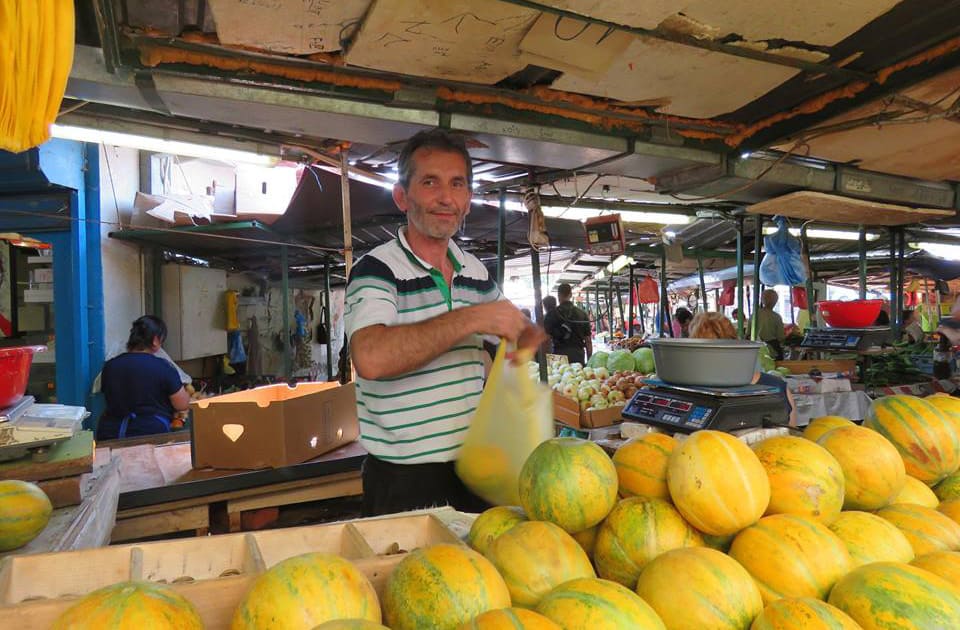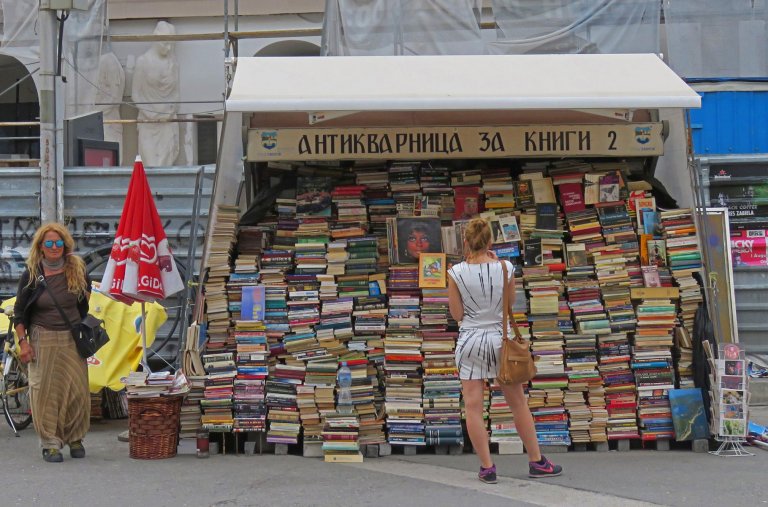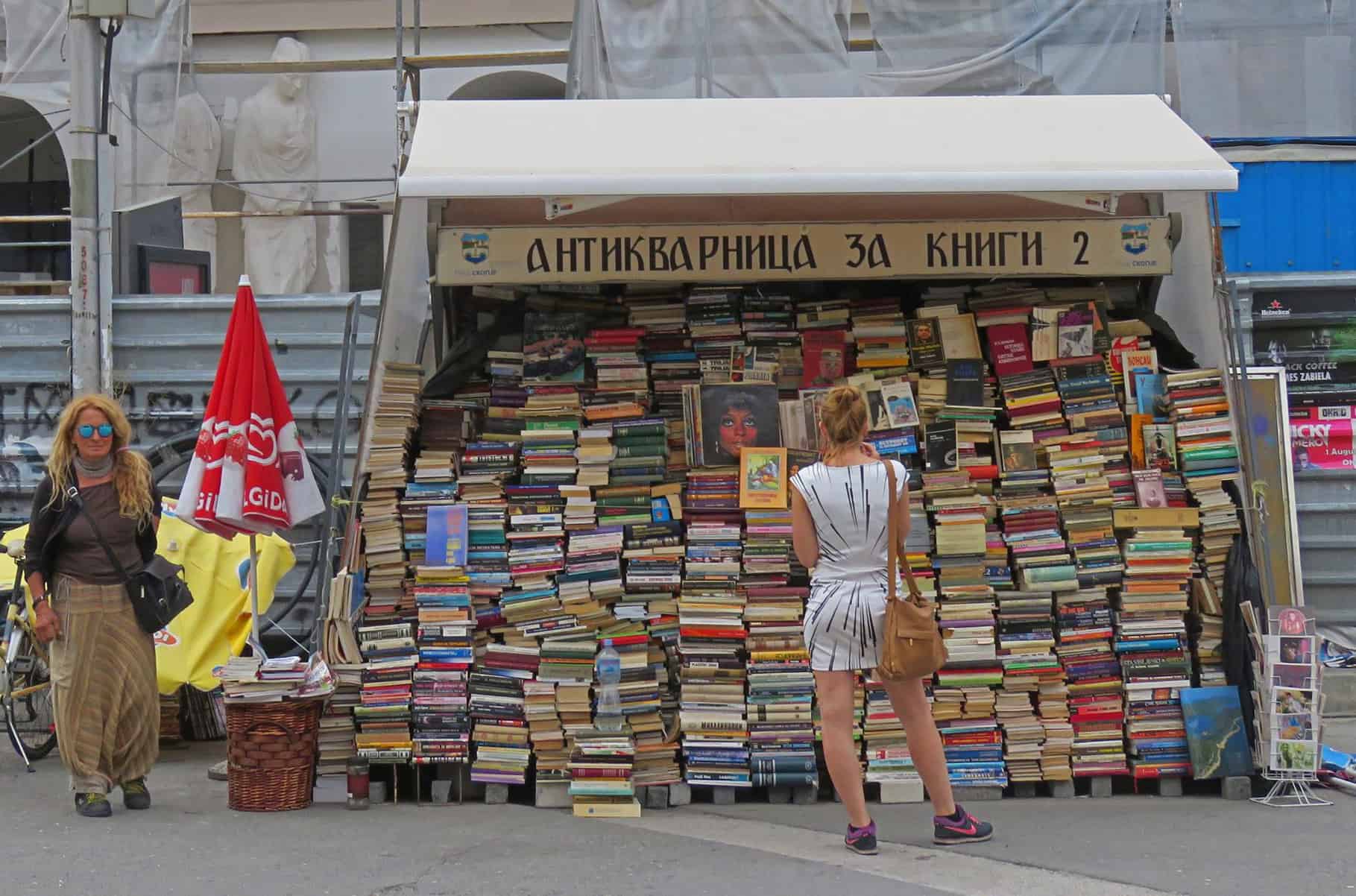 ---
---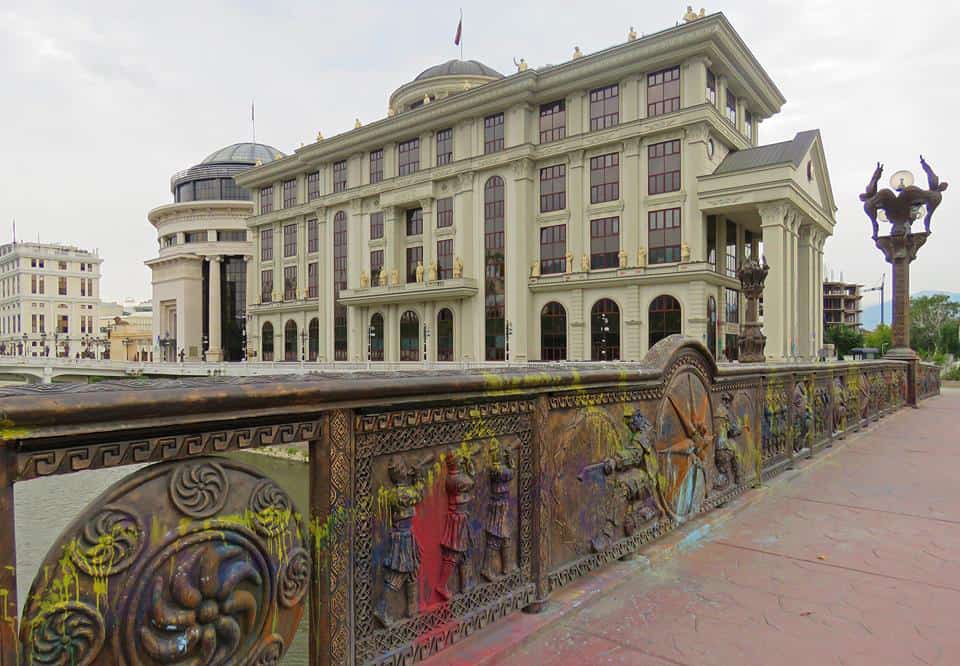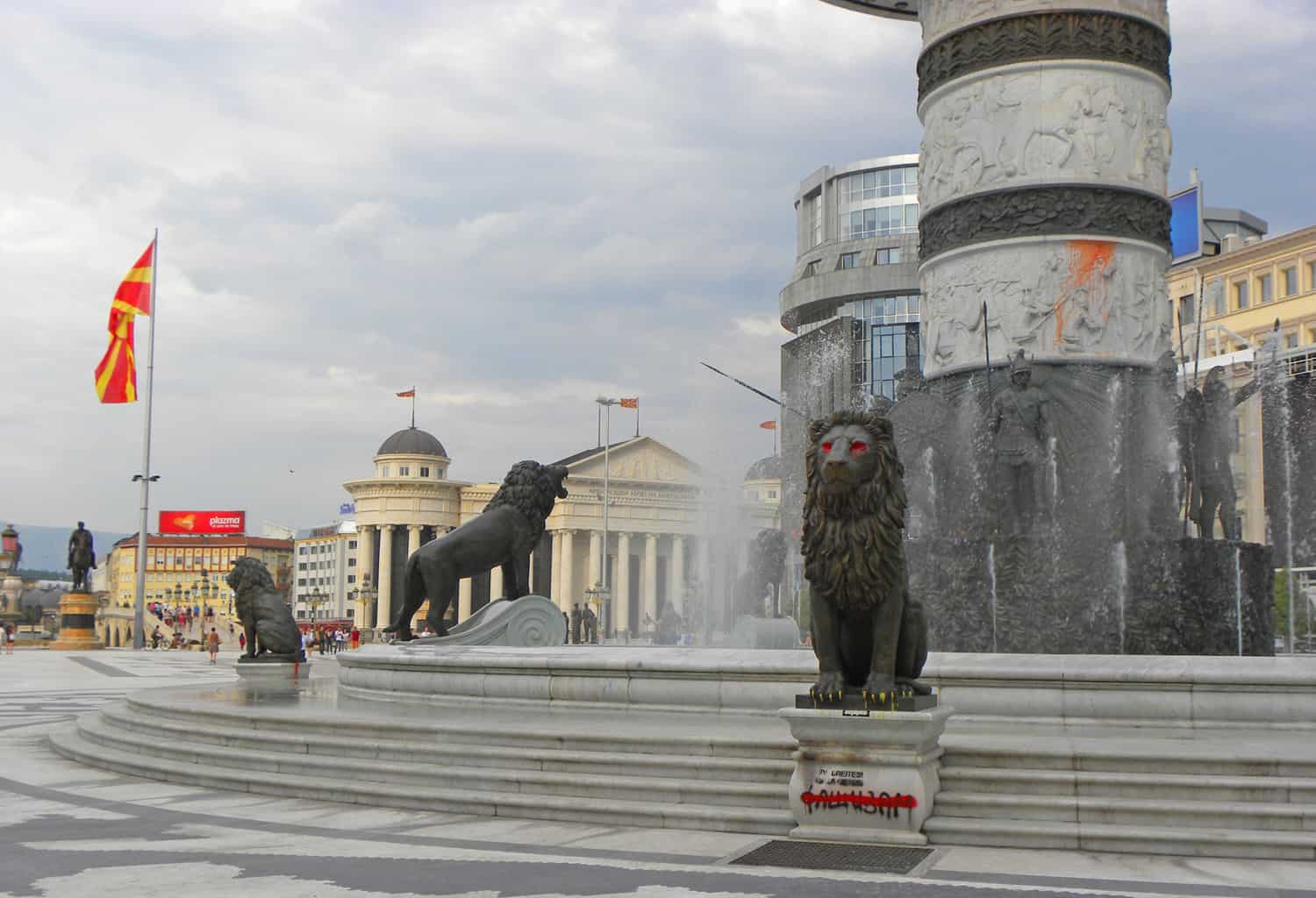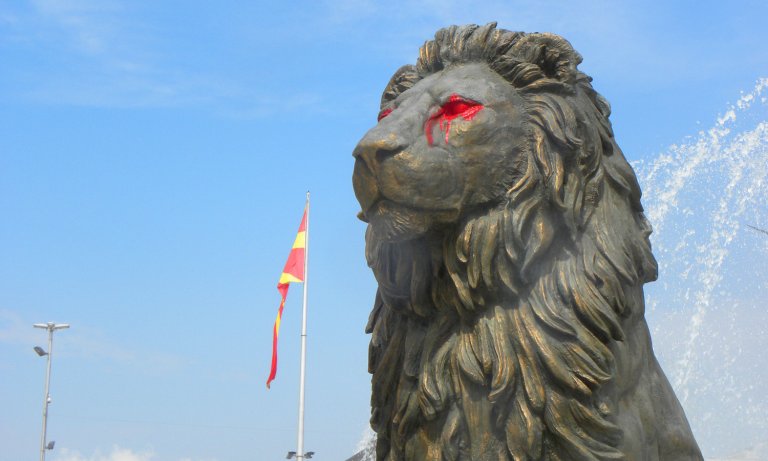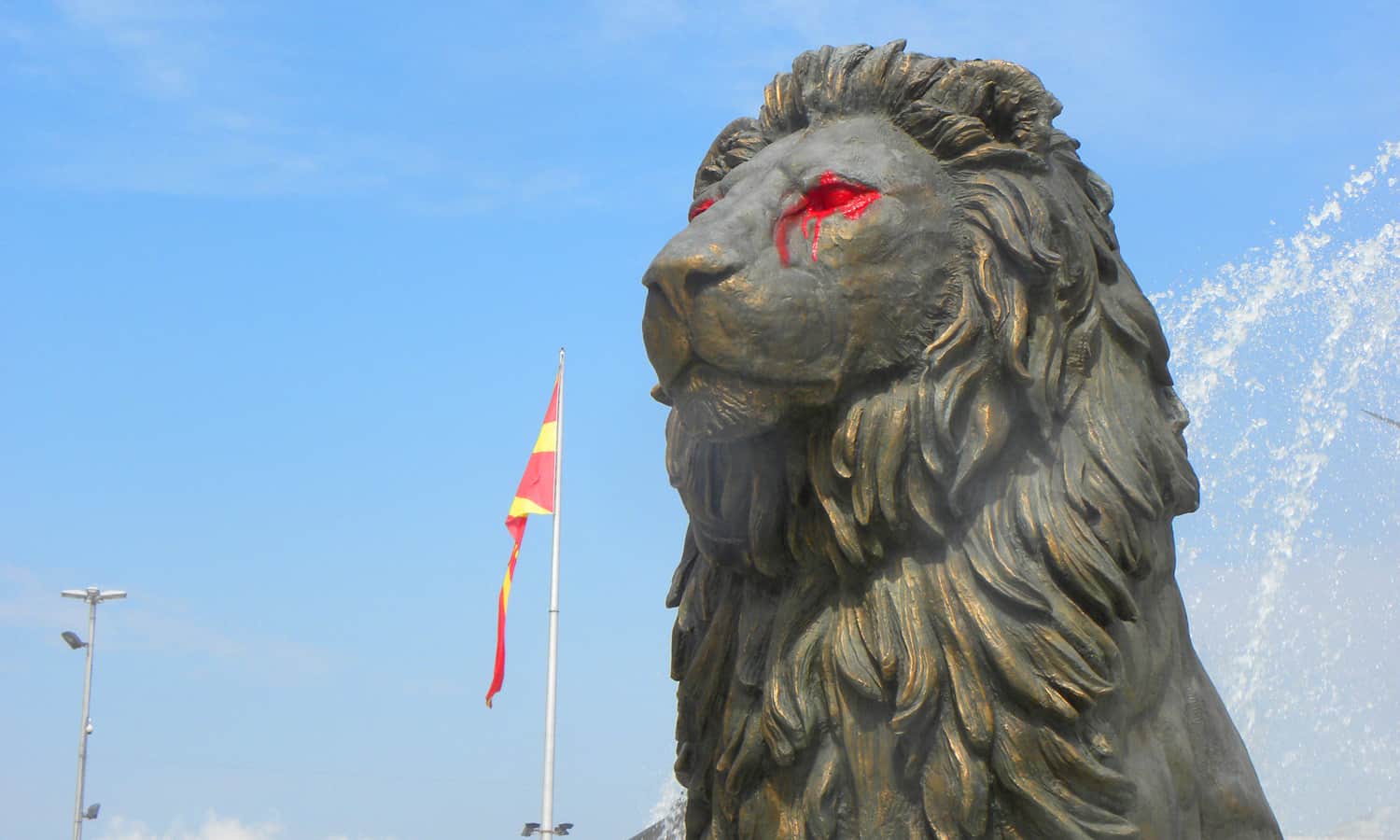 ---
---
And a lot more statues…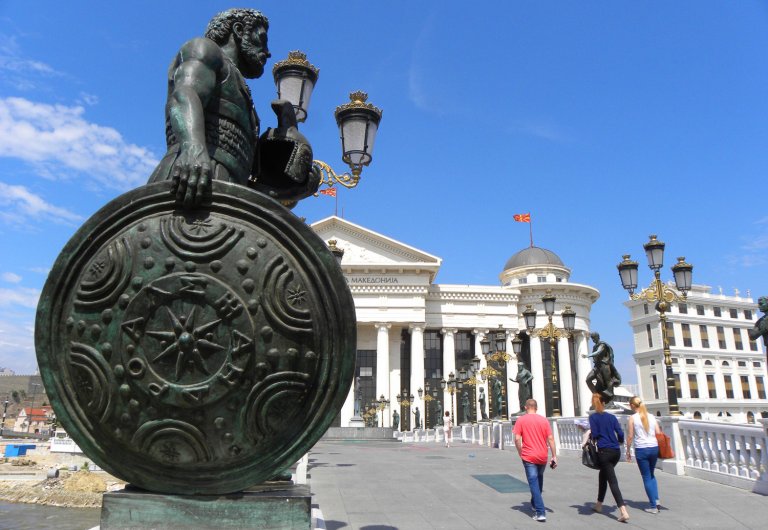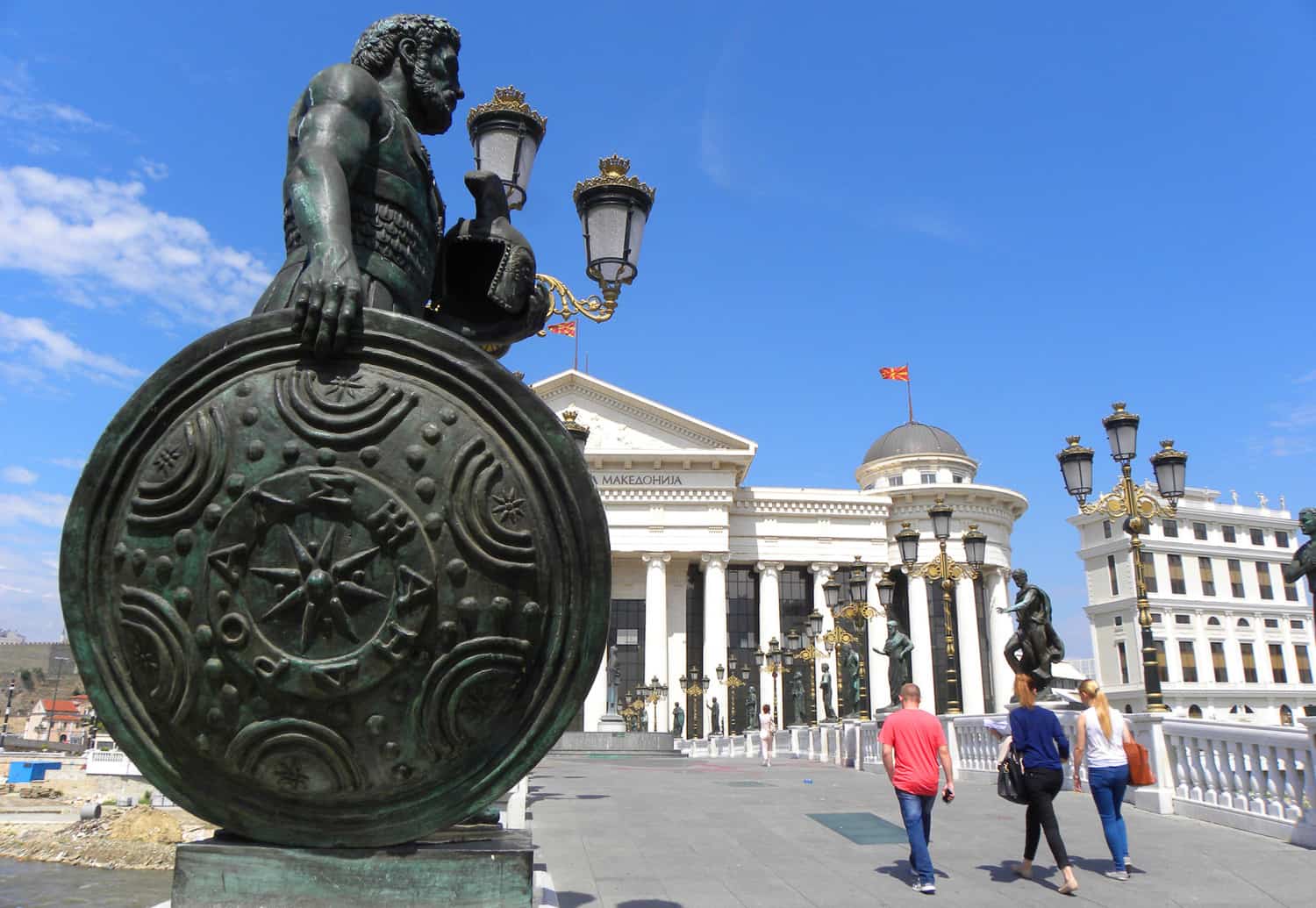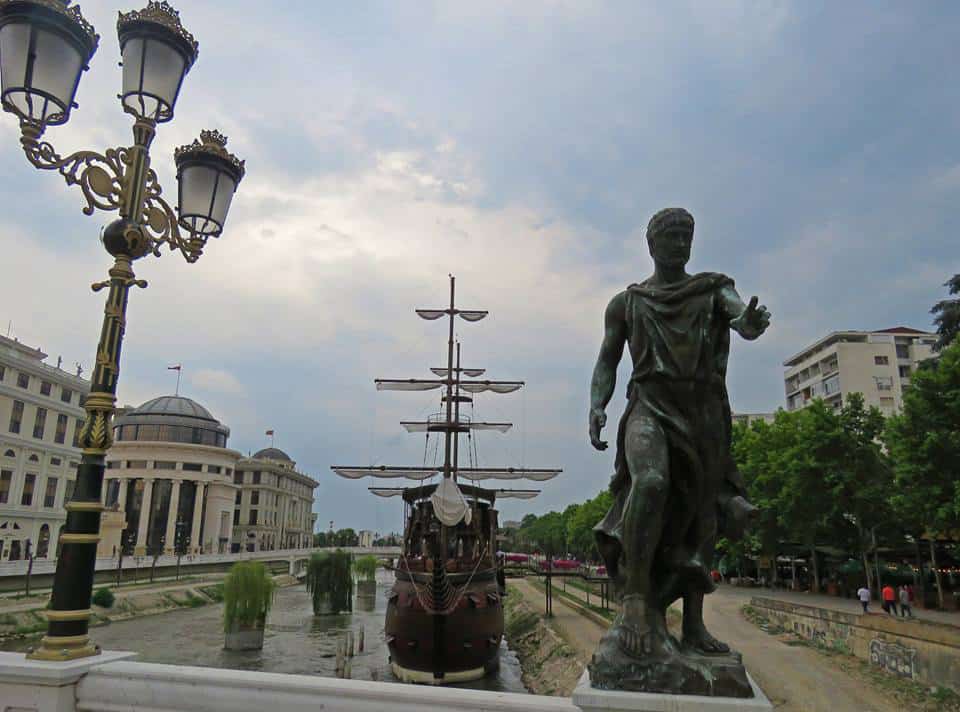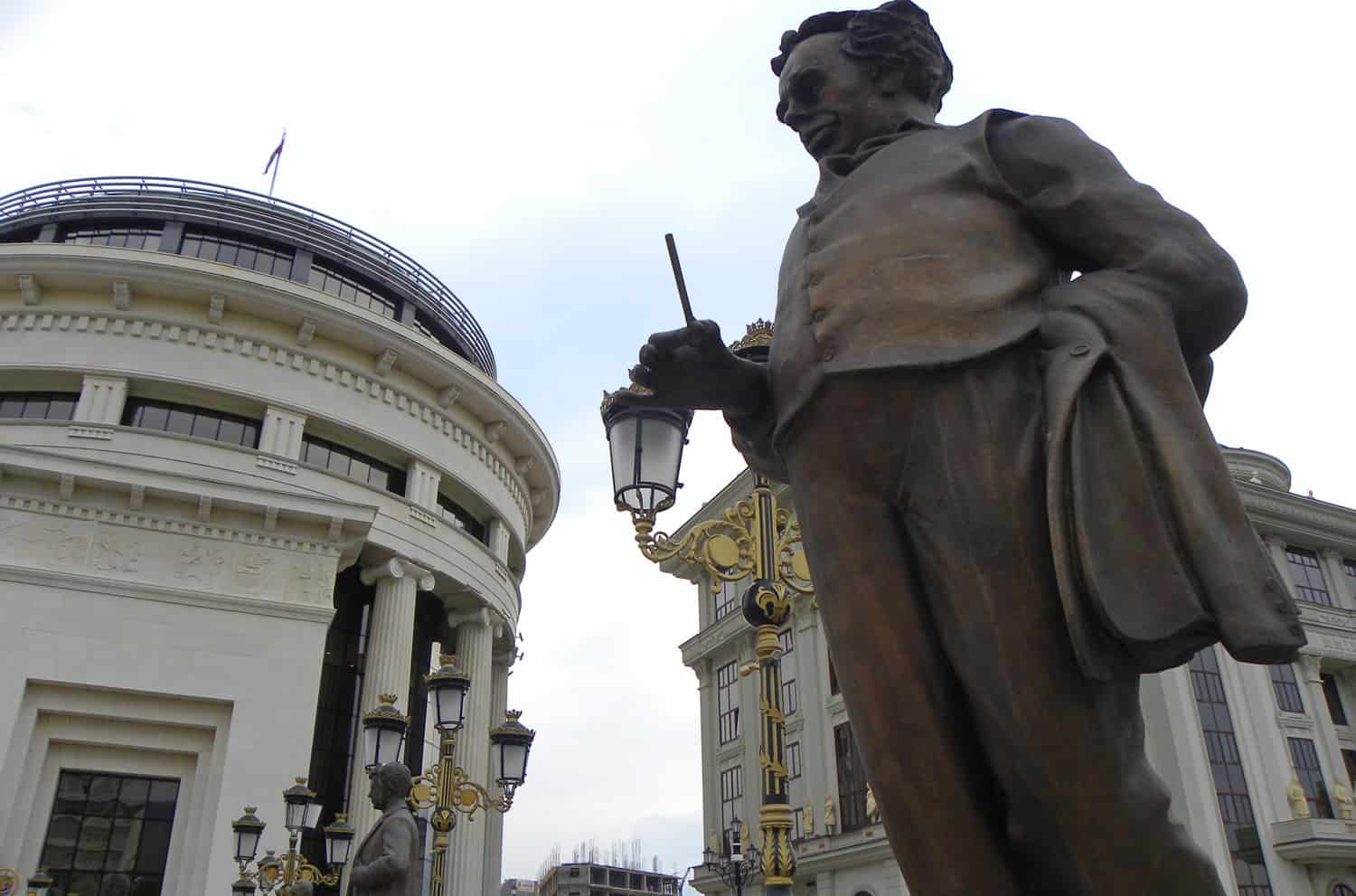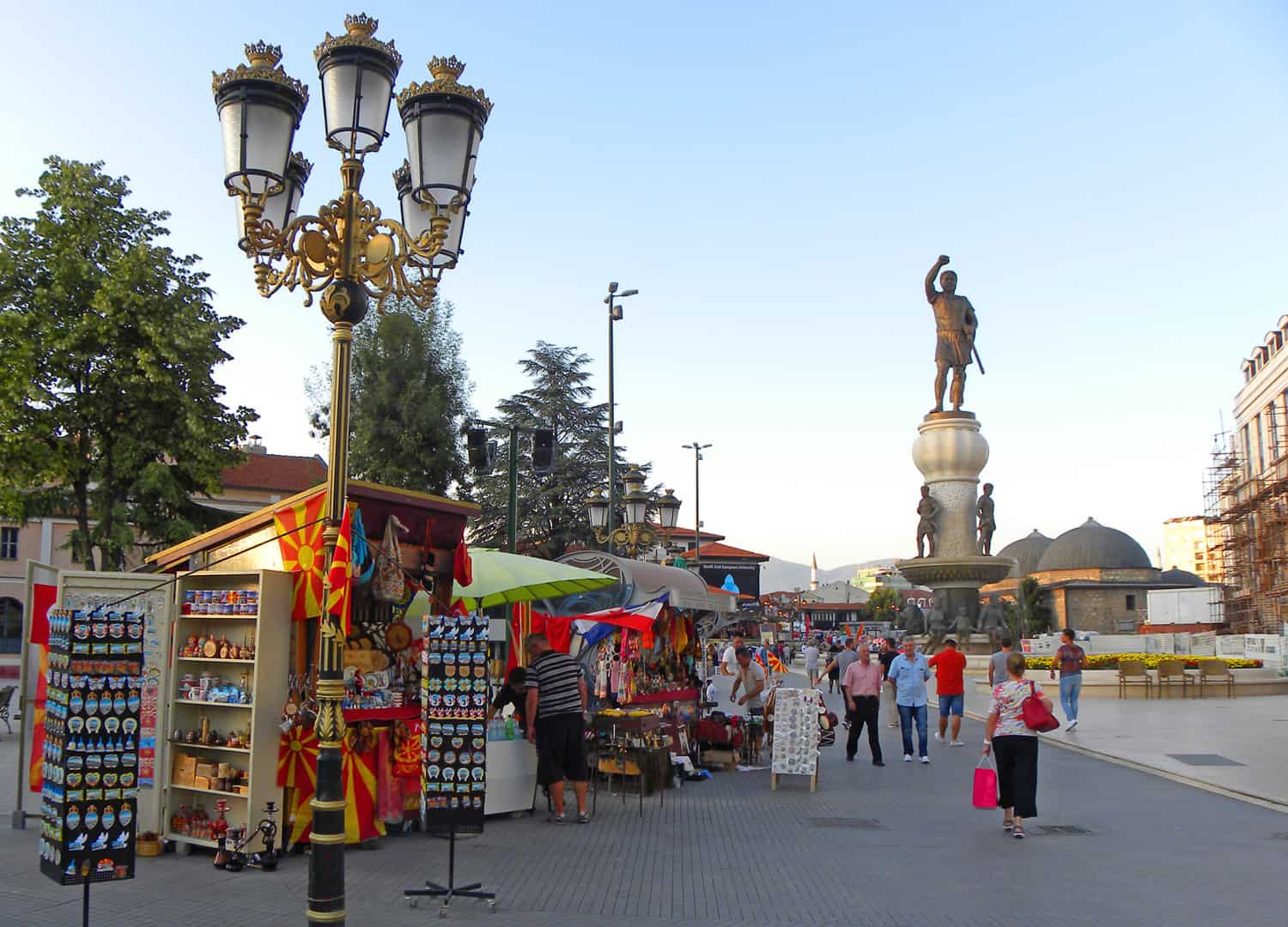 ---
---
A few more odd photos…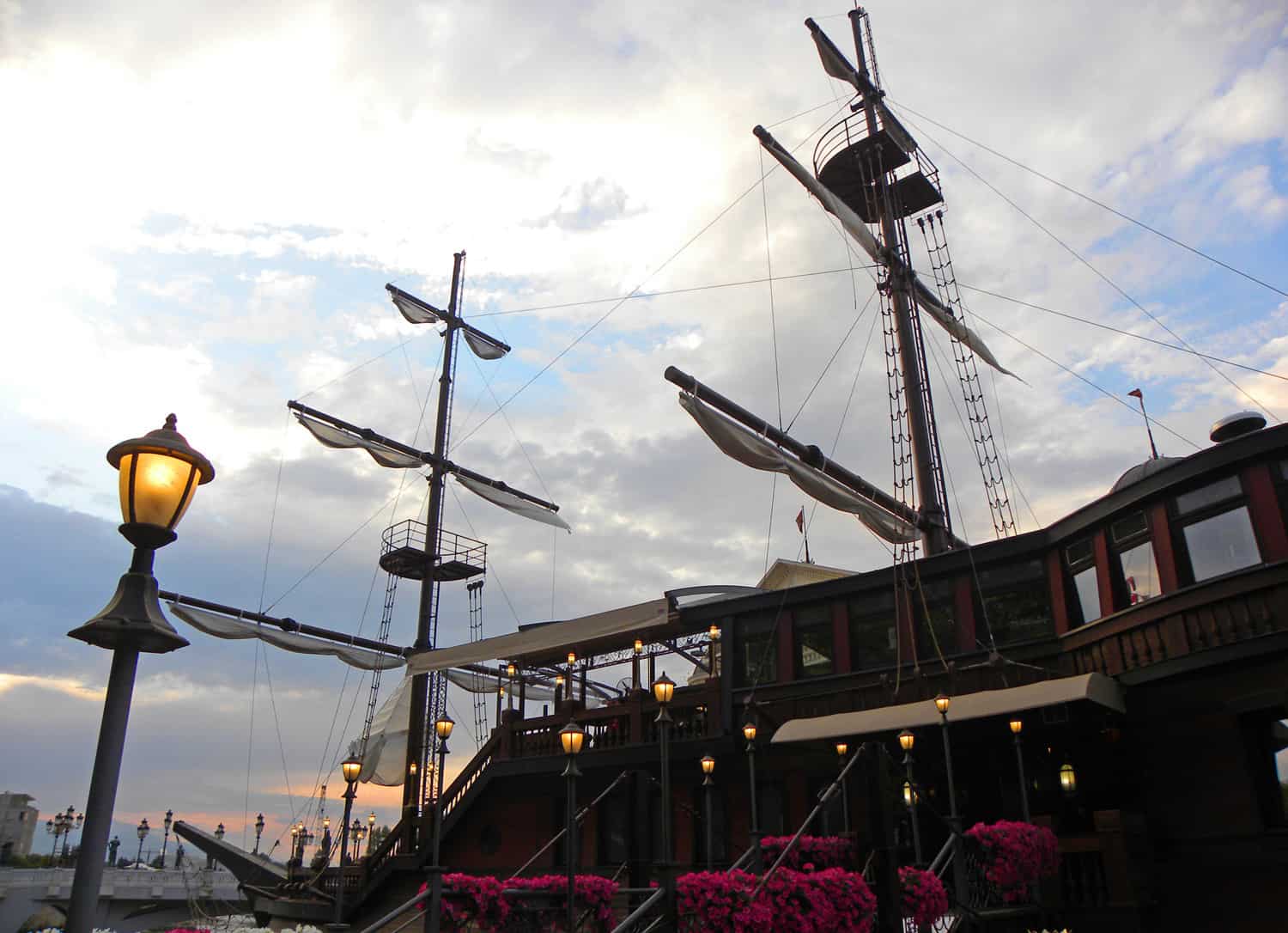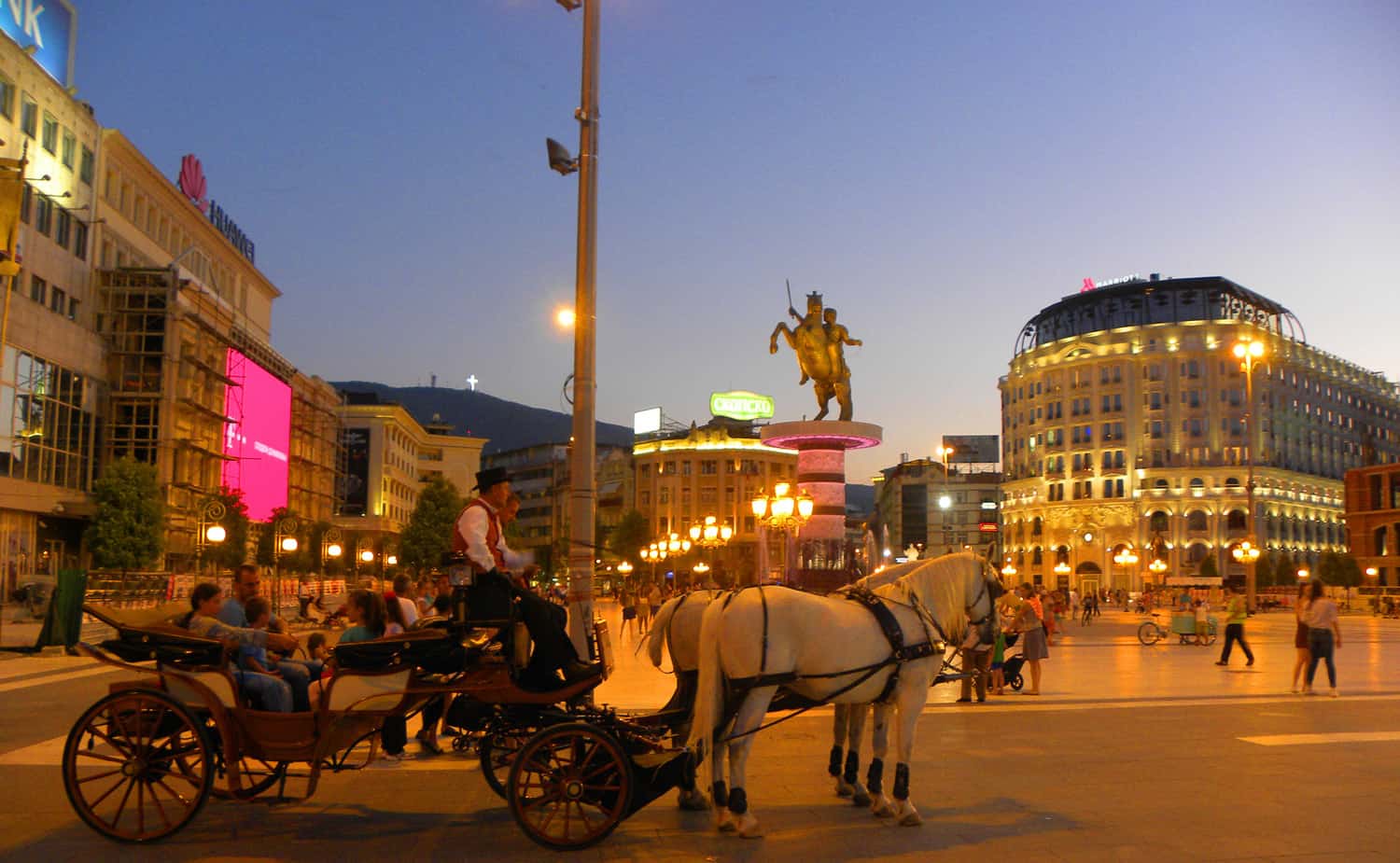 .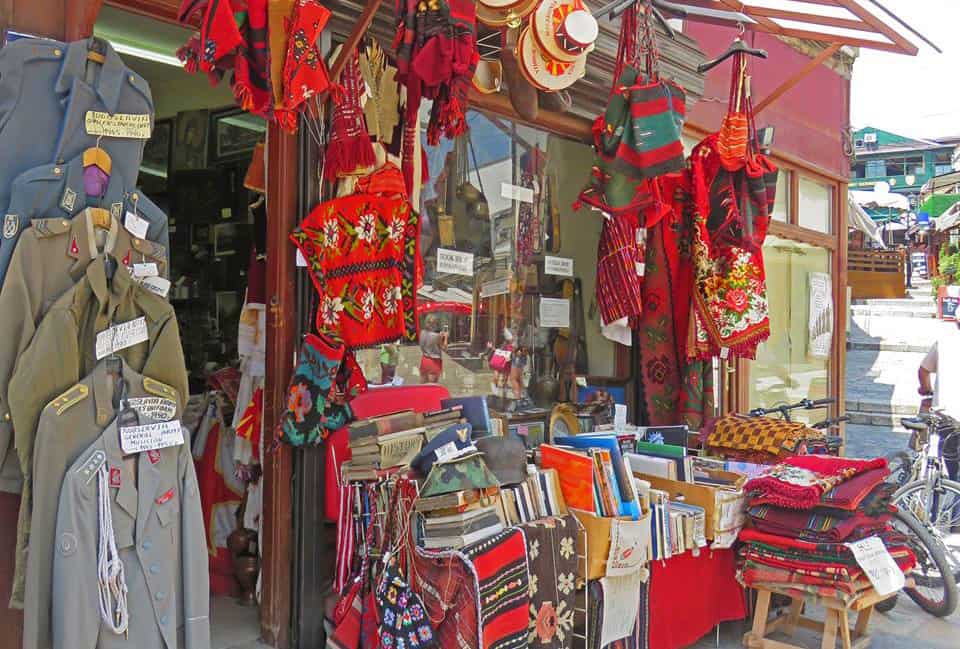 .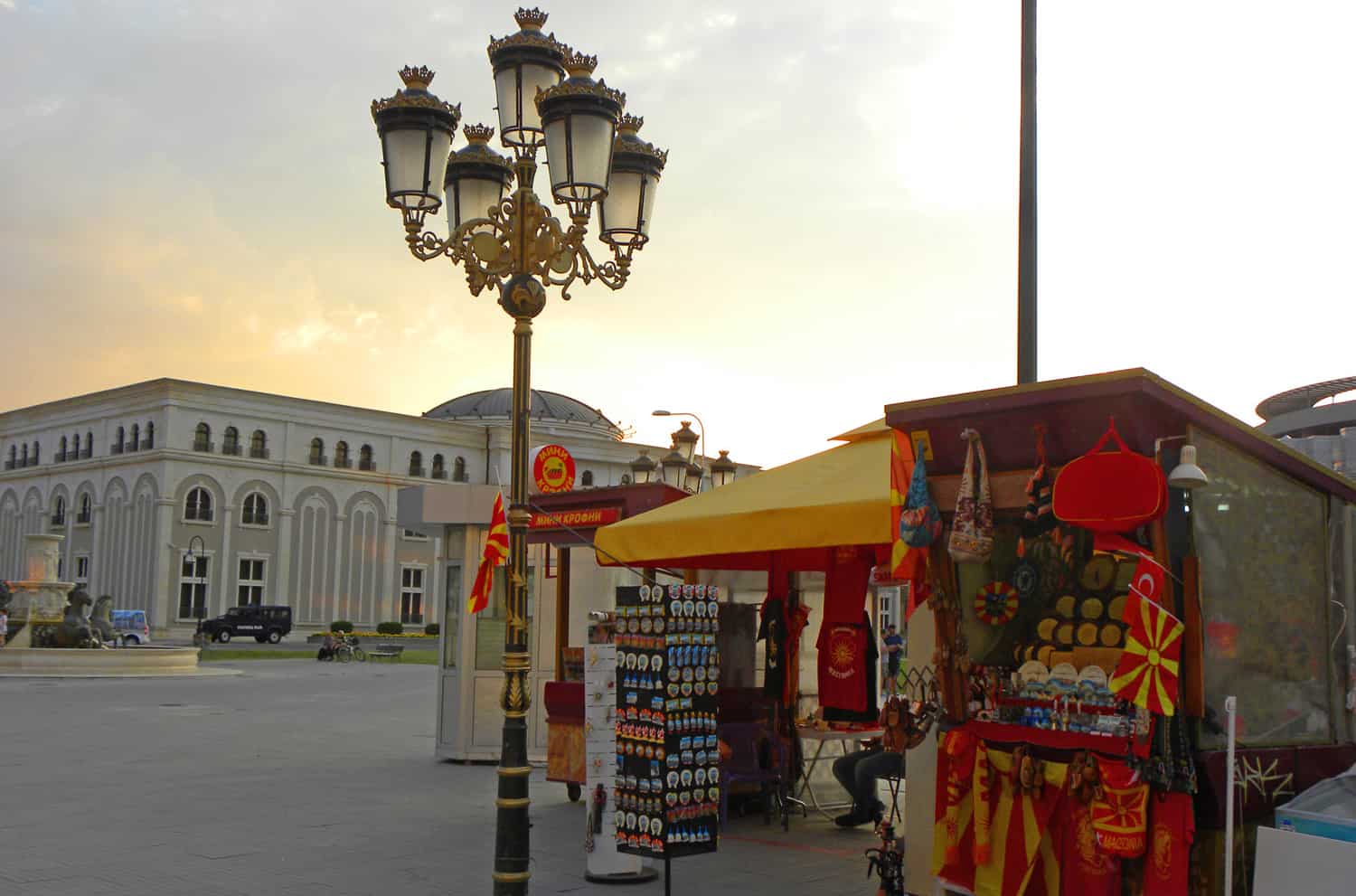 I mention at the top of this post that Skopje is not the most beautiful place we've ever visited. It's a bit of a construction site at the moment. But Lissette and I agree that in 3-5 years it might actually be a beautiful city. They just have to finish those buildings and clean up the river. They recently planted a lot of palm trees along the banks and I can just imagine the effect they'll have when they grow.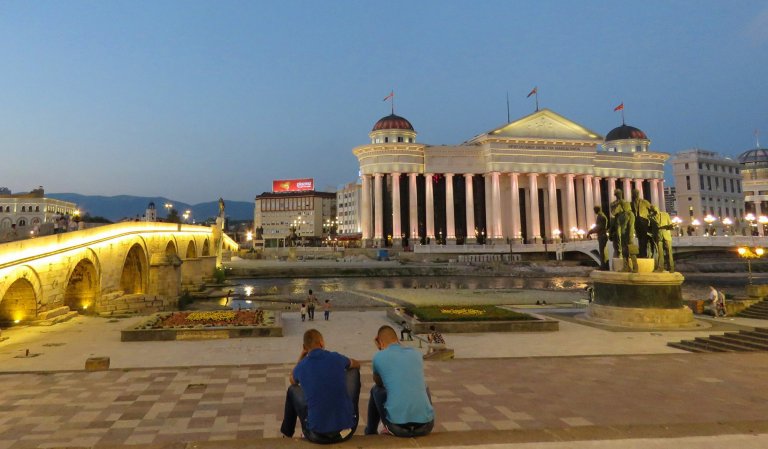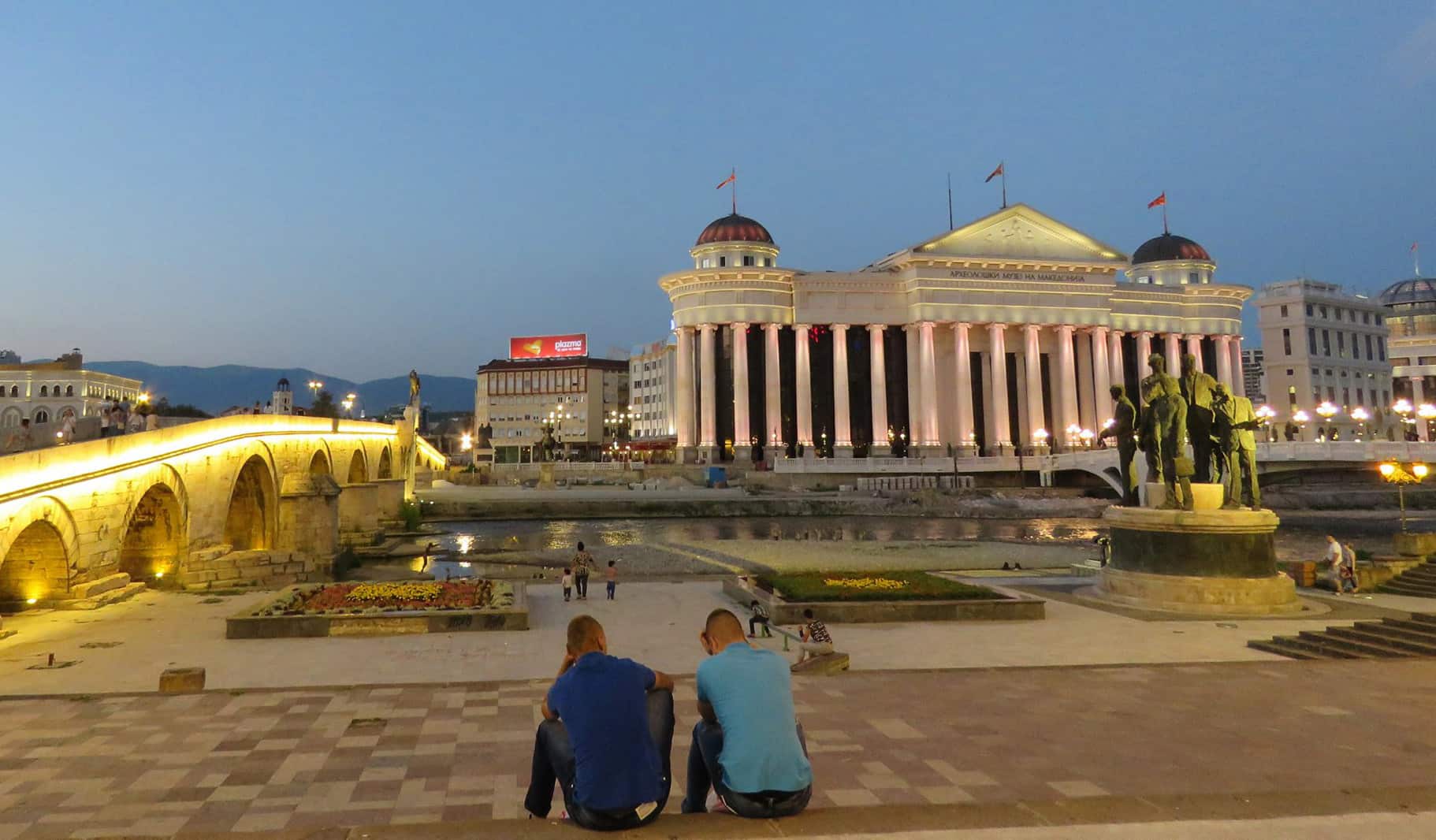 ---
---
.


Macedonia: The Cheapest European country we've ever visited (with great food)


.
It actually ranks as one of the cheapest countries anywhere that we've visited.
Example 1: Etno Bar, a riverside restaurant serving traditional Macedonian food. We had a Shopska salad (like a Greek salad but with light cheese – its a Macedonian specialty), grilled chicken wrapped in bacon, Spinach quiche, and 2 large beers = came out to the equivalent of $10 US ($13 Canadian). Wow.
Example 2: Our favorite cafe (Squeeze Me) in Skopje: great coffee, cakes, muffins, salads and sandwiches. Cappuccinos for around $1.50 US, large chicken salad with mango dressing for less than $3 US, smoked salmon sandwich for less than $4 US. And this is probably the fanciest, hippest cafe in Skopje (really recommend it).
Update: I heard that they closed up after Covid. Sorry to hear about that…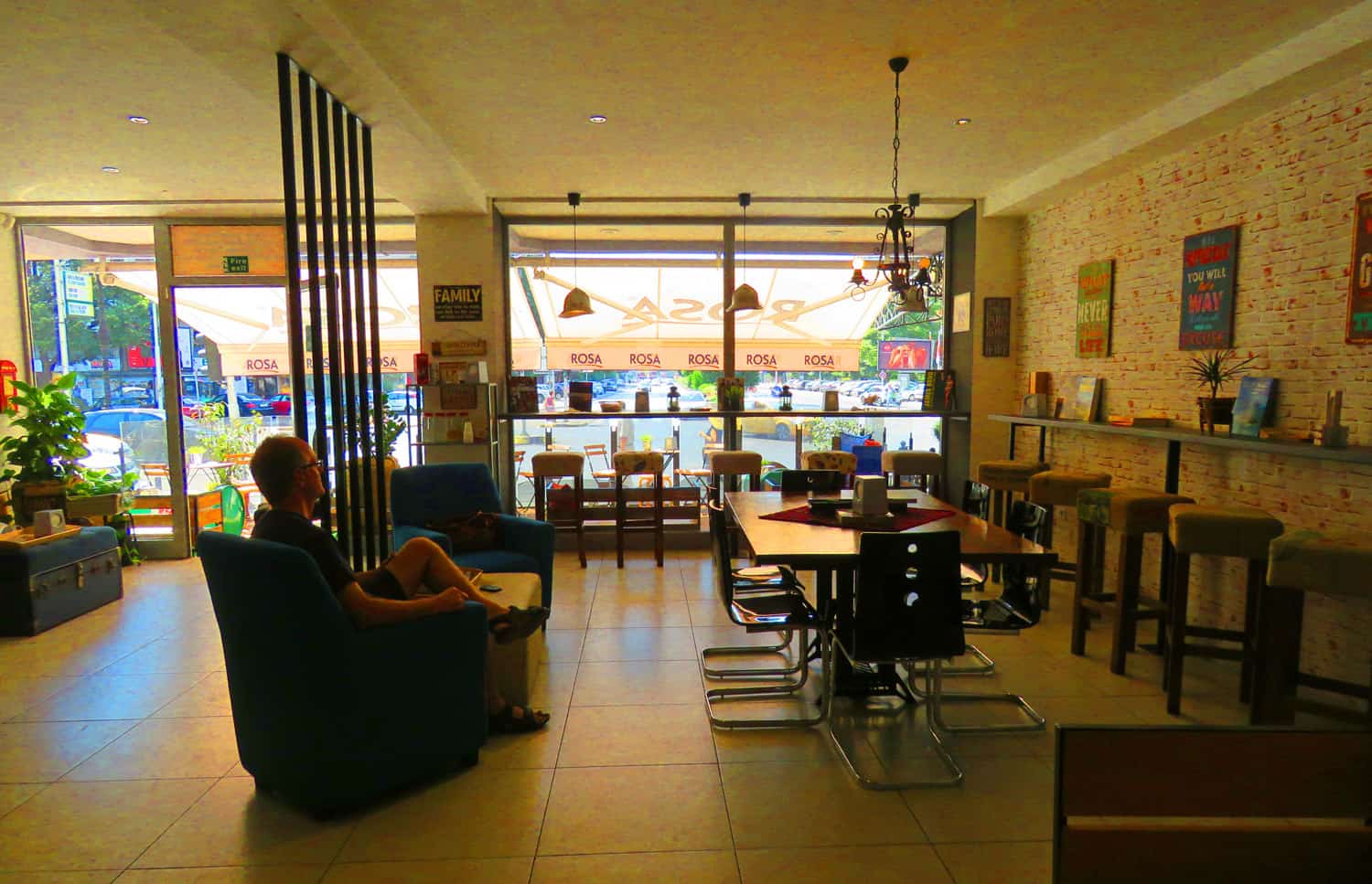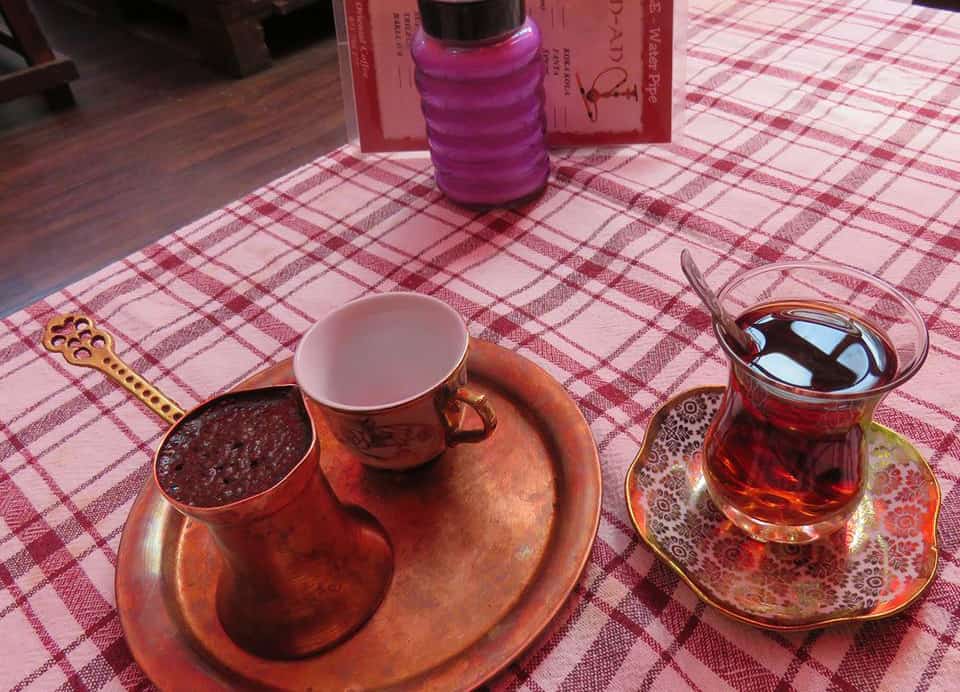 ---
---
Along the river, just off the main square is a long row of restaurants. We never had a bad meal there. We had very good Mexican food, great pizza, along with fantastic traditional Macedonian food. All inexpensive. In fact, the only bad meal we had in Skopje was at the fancy Pelister restaurant on the main square. Avoid it.
Why we came here: Travelling full-time we have to juggle time spent in Schengen and non-Schengen zones. We had a few days we had to kill before we could get back into the Schengen zone and needed a new base after Croatia. "Why not Macedonia?" we thought. We spent 10 days in Skopje and found it to be an inexpensive and relaxing getaway. It made us want to revisit Macedonia. Next time we'll go down to Lake Ohrid, Macedonia's jewel (and a UNESCO World Heritage Site) in the southern part of the country. Macedonia is known for it's rugged geography of mountains and lakes. Skopje itself is located in a large valley – look around though and you'll see mountains in every direction.
.

Practical information:
Flying in: we took a 90 minute flight from Zagreb on Croatian Airlines to Skopje International Airport (code: SKP).

Accommodation: The Mariott is the place to stay (and this being Skopje, it's quite affordable). If you want a unique experience, stay on that boat on the river – it's the Hotel Senigallia and it gets great reviews. City Park Hotel is also recommended.
Official Tourism Office of Macedonia: Exploring Macedonia
Language: Most people speak English. We were surprised by how well.
Macedonia has a great wine culture. You'll find both wine tasting as well as a brewery making it's own beer in Skopje.
Below: Some Interesting tours in Skopje and around
What do you think? Would you visit Skopje?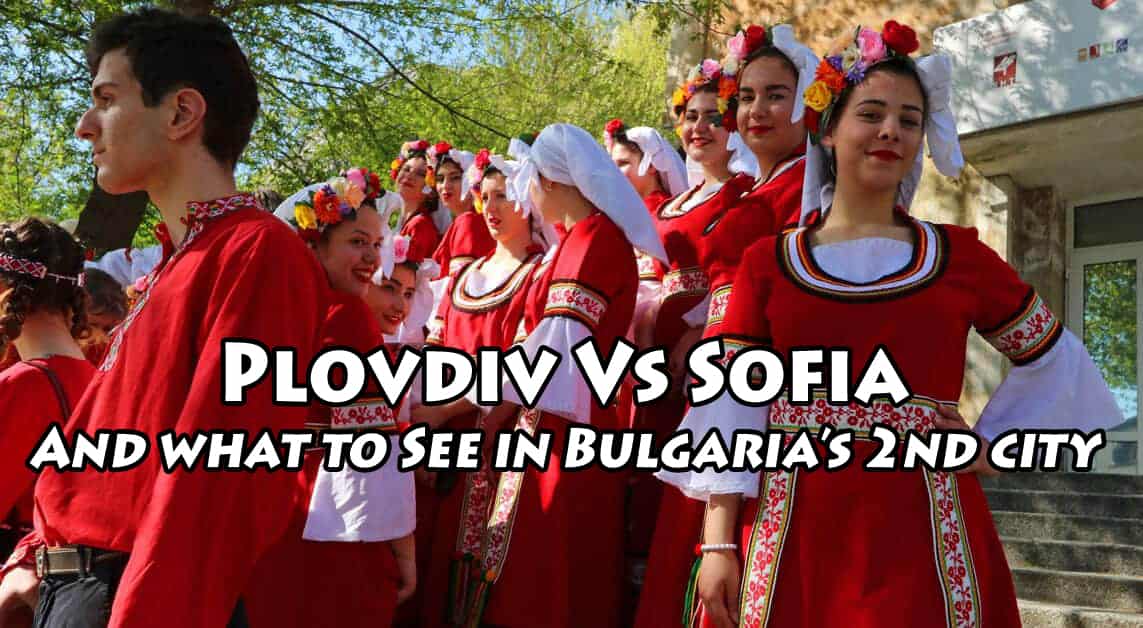 PS. Looking to book flights, hotels, tours, or rent a car? Have a look at our Travel Resources page.