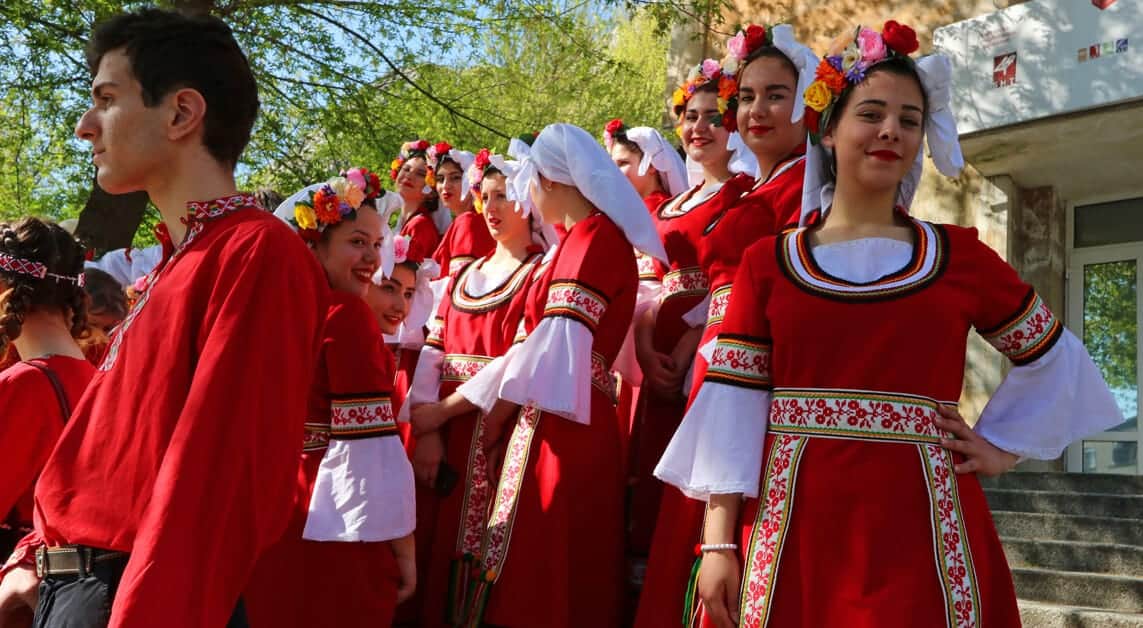 Plovdiv Vs Sofia
I'll be honest. Sofia impressed us more than Plovdiv did. But Plovdiv is a very, very different city than Sofia. Whereas Sofia has grand boulevards and Soviet era architecture, Plovdiv (Bulgaria's 2nd largest city) has a small town feel. Its old town is hilly, its streets made of cobblestone. Sofia's highlights consist of grand monuments and some very impressive churches, most relatively modern. Plovdiv's main highlights date back to Roman times. While Sofia's main geographical feature is nearby Mount Vitosha, the city is flat. Plovdiv, on the other hand, is all hills (it is nicknamed the "city of the Seven Hills").
Really the two cities couldn't be any more different and depending on your preferences you might prefer Plovdiv. We think Sofia has more to see and were more impressed by its highlights. Plovdiv however has an atmospheric old town which is full of restaurants, cafés and street art. In fact the city is more famous than ever this year, having been chose co-winner of the designation of European City of Culture of 2019 (along with Matera in Italy).
When I think of Sofia and Plovdiv, I can't help but compare them with Kyiv and Lviv in Ukraine: two cities that, although in the same country, are very different. In that case we preferred Lviv to Kyiv (although Kyiv's highlights are more impressive). Preferences are a very subjective thing.
Whatever city you end up preferring, Plovdiv should be visited. It's laid back, atmospheric and has a bit of everything: Orthodox churches, mosques, Ottoman-style buildings, Soviet monuments and Roman ruins. It epitomizes Bulgaria's diverse history. This post covers what to see and do in Plovdiv.
---
---
Accommodation in Plovdiv
A few recommendations in the city center (where you should be): Hotel Evmolpia (romantic old style in historic building), Residence City Garden (beautiful modern hotel), Villa Antica (large, modern stylish rooms). A great budget option is Guest House Old Plovdiv (tons of charm for a guest house).
---
---
What to See and Do in Plovdiv

The two most impressive highlights in the city date back to Roman times.
Roman Stadium
In the heart of downtown is the Roman Stadium. It used to be huge, an ellipse (an elongated oval shape. Like a running track that you see in championships) that used to seat 30,000 people. It was 240 meters long, 50 meters wide and dates back to the 2nd century (!!) when Hadrian was the Roman Emperor (117 – 138 AD). Gladiator games and sporting events were held here. Today only one end of the stadium remains including a main gate from which you can enter the stadium.
The downtown is literally built around and above the stadium. The reason only the end of the stadium is seen is that the rest lies under the main street. Across the square is a mosque. And across from that is the Plovdiv tourist information center (the employees there are very friendly and helpful).

Roman Amphitheatre
Up the hill, in the old town, is the Roman Amphitheatre. It pre-dates the stadium, having been built during the time of Emperor Trajan (98 – 117 AD). The theatre is beautiful preserved on a hillside with sweeping views of the city behind it. Even today it is in use, holding concerts and events throughout the year.
---
---
What else to do in Plovdiv?
– Walk through the Old Town to Nebet Tepe (lookout Hill). It used to be a fortress but only scattered ruins remain. The best reason to come here is for the best views over town.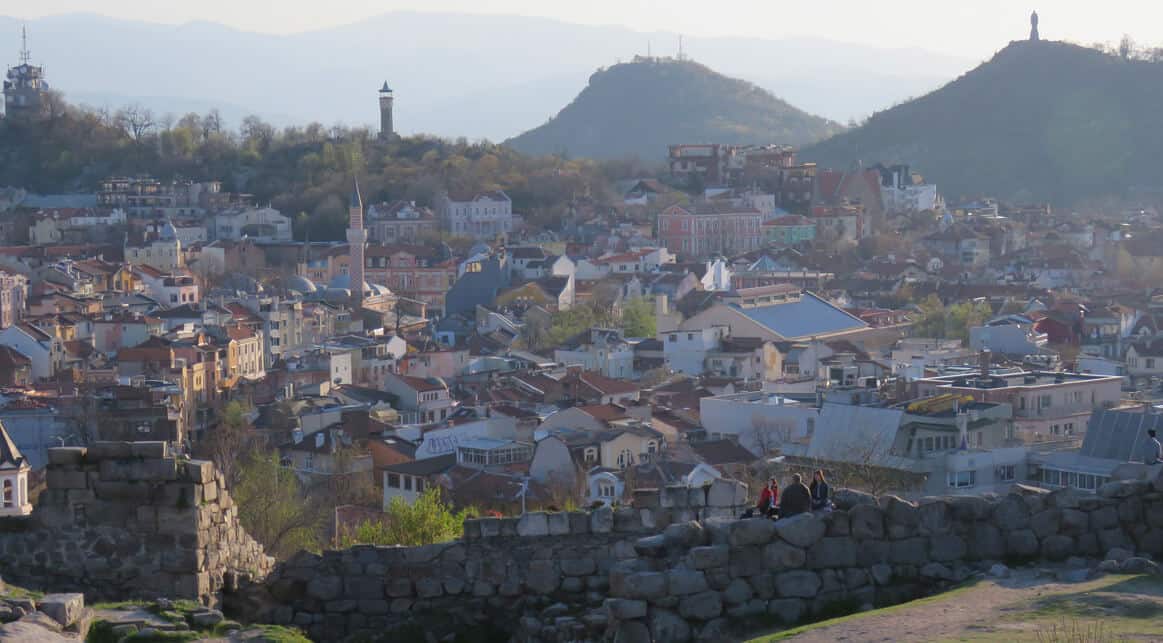 – Stroll through the Kapana district. It's the art district of town and is full of art studios, cafés and restaurants. If you like street art you'll love Kapana. If you come here on a weekend it's full of locals and tourists eating, drinking and strolling around the area (which is small. You can cover all the little streets in 30 minutes).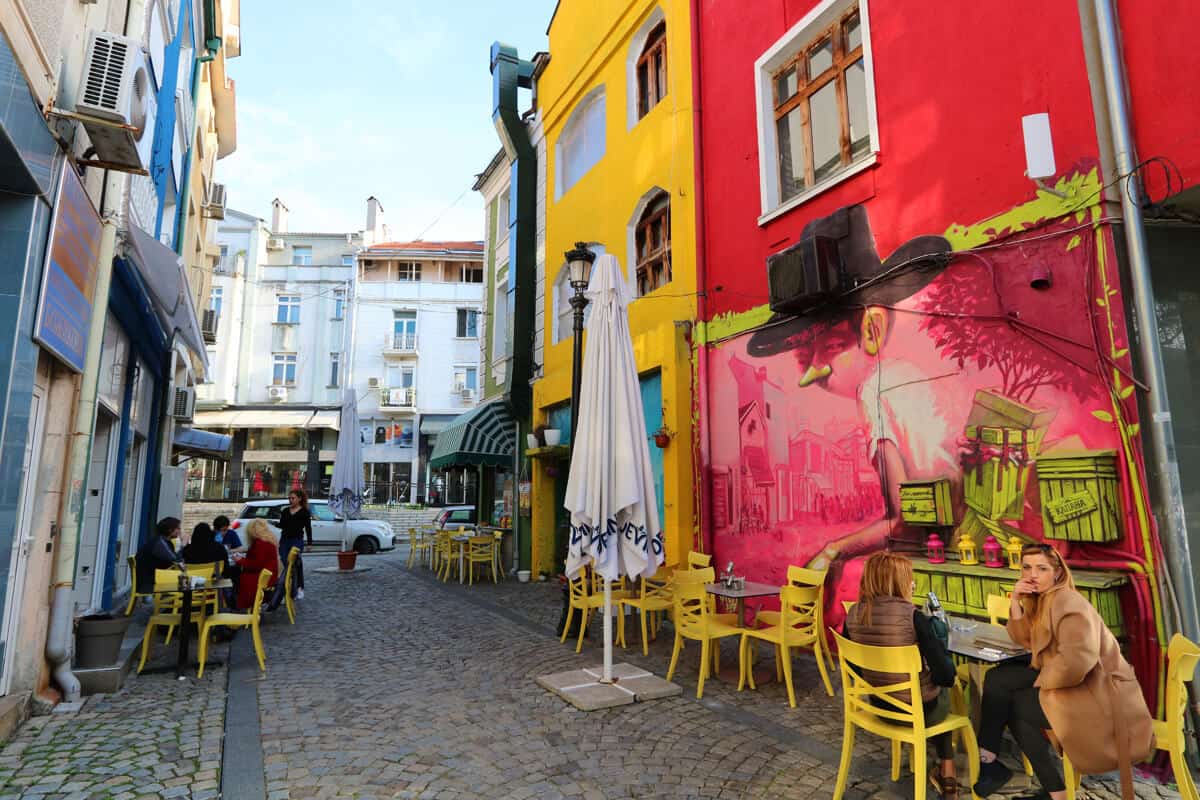 – Walk down Plovdiv's main street (Knyaz Alexander I). It's a pedestrian-only street with stores and lots of pretty buildings. The Roman Stadium lies at about the mid-mark on the street. Continue south and you'll get to Stefan Stambolov Square where there's a large fountain. Everyone walks up and down this street, it's a very popular.
---
---
– The other thing I recommend is walking up the hill (a little further from downtown) to the Alyosha monument, a monument dedicated to the Soviet soldiers that liberated Plovdiv (and Bulgaria) from the Nazis during World War II. It is on a hill called Bunarzhik ("The Liberators Hill"), the 2nd highest hill in Plovdiv. While the views of town are better from Nebet Tepe, the views from the Alyosha monument sweep over the whole region and are quite spectacular. The hill is also a nice place to get away from the city and makes for a nice trek up to the monument.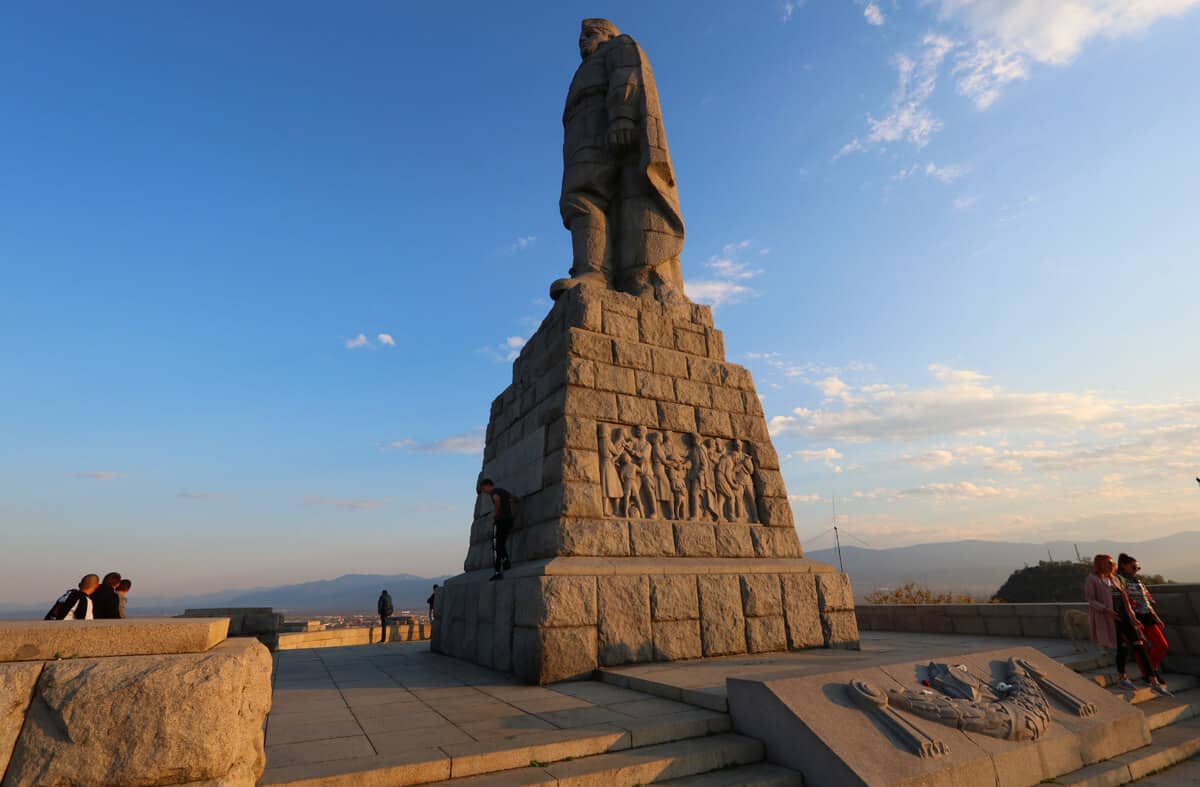 Otherwise, the best way to get an appreciation of Plovdiv is to just walk. Walk around the old town, walk through Kapana, walk through the Gardens of Tsar Simeon to the Singing Fountains (where I'm told lights in the fountains move in tune to classical music. We went to Plovdiv in March when the fountains were dry and missed the show). While Plovdiv doesn't have many spectacular highlights, it has many attractive buildings and parks. It's a place to walk and explore. That's the best way to appreciate Plovdiv.
---
---
So how long should you spend in Plovdiv? 2 or 3 days is ideal. It's the perfect weekend destination.
Another reason to visit Plovdiv? We were travelling from Sofia to Istanbul. We had two stops in between: in Plovdiv, then across the Bulgaria/Turkey border to Edirne (which is really worth visiting). Both are very worthwhile stops if making your way along that route.
---
---
Practical Information on Plovdiv
Getting there
Air. Plovdiv Airport (code PDV) is located 6 km from the city and gets flights from around Europe.

Train. We took the train from Sofia…very easy. The train takes 2 ½ hrs. My only tip is to buy 1st class tickets (very cheap and worth it)
Tours. If on limited time there are some tour options. This full-day tour from Sofia will show you around Plovdiv as well as the beautiful town of Koprivshtitsa. From Plovdiv, this tour will take you to Bachkovo Monastery and Asen's Fortress (both highlights in the mountains around Plovdiv).
Have you been to Plovdiv? What did you think of it?
---
---
PS. Looking to book flights, hotels, tours, or rent a car? Have a look at our Travel Resources page.