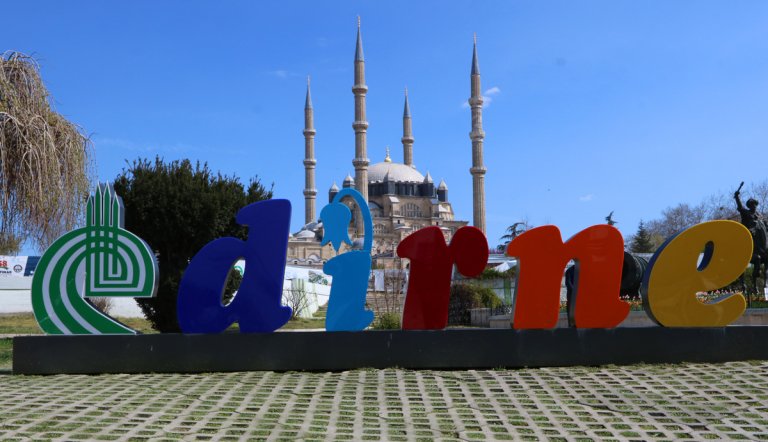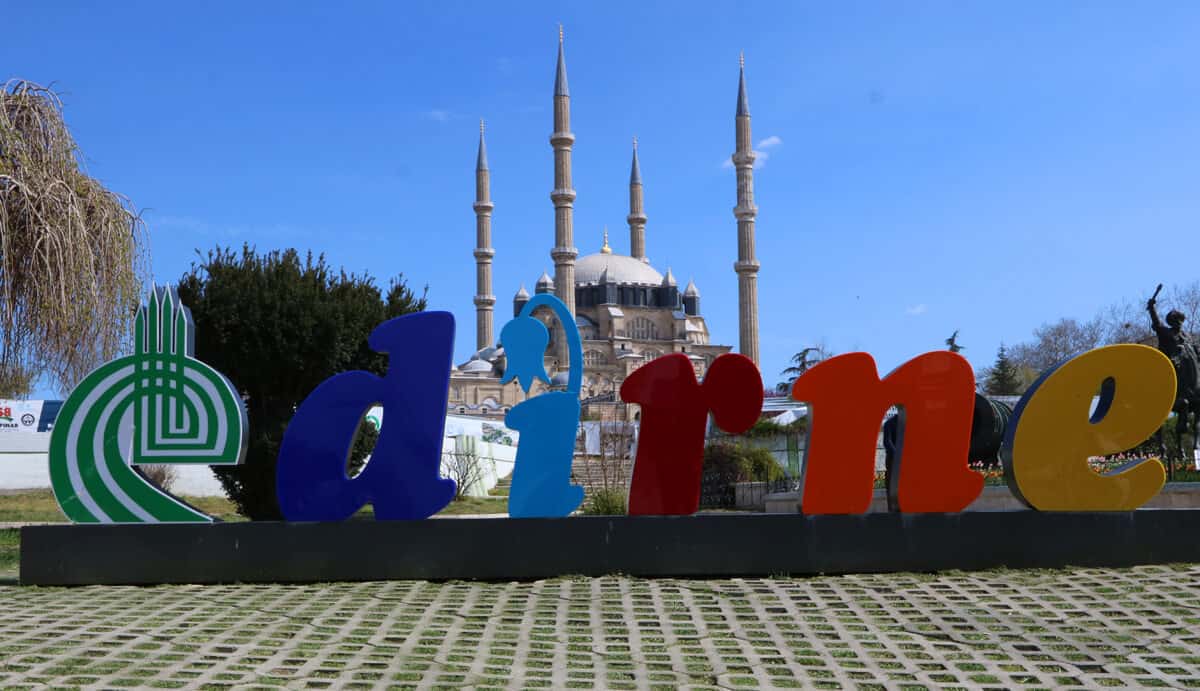 What to See in Edirne (Turkey).

We are really happy to have visited Edirne.
Visiting Edirne was a last minute add on meant to break up the trip from Plovdiv to Istanbul. It isn't the easiest place to get to (which I wrote about getting from Plovdiv to Edirne here) but is well worth a short visit. We were there two nights, allowing a full-day to explore this small city.
The highlights are three incredible mosques in the center of town, all within easy walking distance from each other. Even if you've been to Istanbul you'll be wowed by these mosques – they might be among the most beautiful mosques you see in Turkey.
---
---
A little history
– The area around Edirne, because of its strategic position on the major routes to Istanbul, the Bosphorus, and onward to Asia, had been repeatedly fought for in the past. It has been the site of no fewer than 16 major battles and sieges since the days of Ancient Greece.
– Edirne was first founded by the Romans as the city of Adrianople (Hadrianoupolis), i.e. "City of Hadrianus", named after the Roman emperor Hadrian.
– When it was captured by the Ottomans in the 14th century it became their capital. It was here that the Ottomans planned their attack on Constantinople (present day Istanbul). In the 15th century the Ottomans defeated the Byzantines in Constantinople and the capital was moved there.
– Between 1700 and 1750 Edirne was one of the most populated cities in Europe with a population of about 350,000 people. Several wars with Russia in the 1800's, the Balkans wars in the late 1800's, then WWII resulted in massive depopulation. Today's population is about 140,000.
The "Big 3"Mosques of Edirne

Selimiye Mosque (Selimiye Camii)
A UNESCO World Heritage Site, this mosque (built between 1568 – 1575) stands on the highest point in town. It is a colossal mosque with an expansive interior and the 2nd highest minaret in the world. It has 999 windows. The Blue Mosque in Istanbul is actually a copy based on Selimiye which is considered the zenith of Ottoman architecture.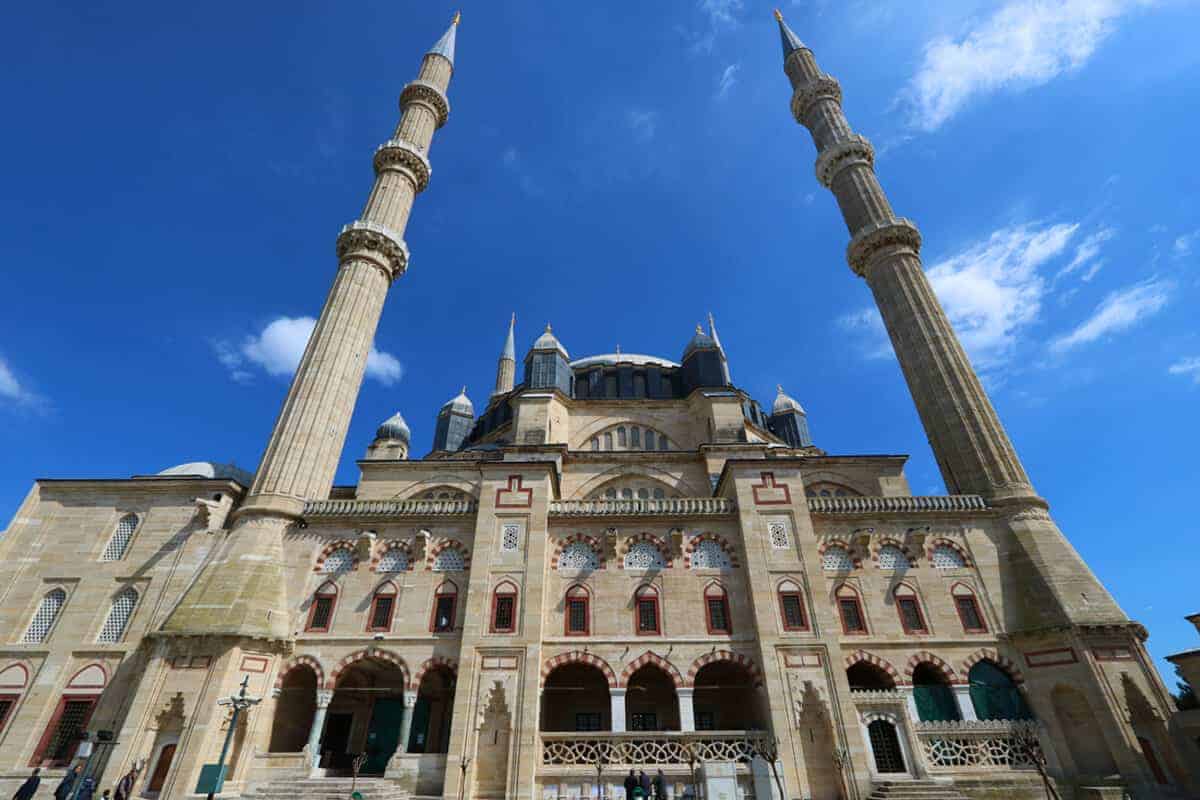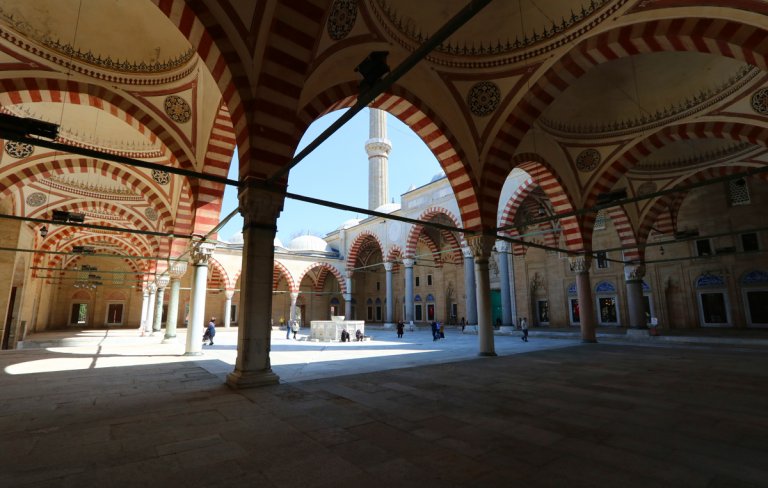 ---
---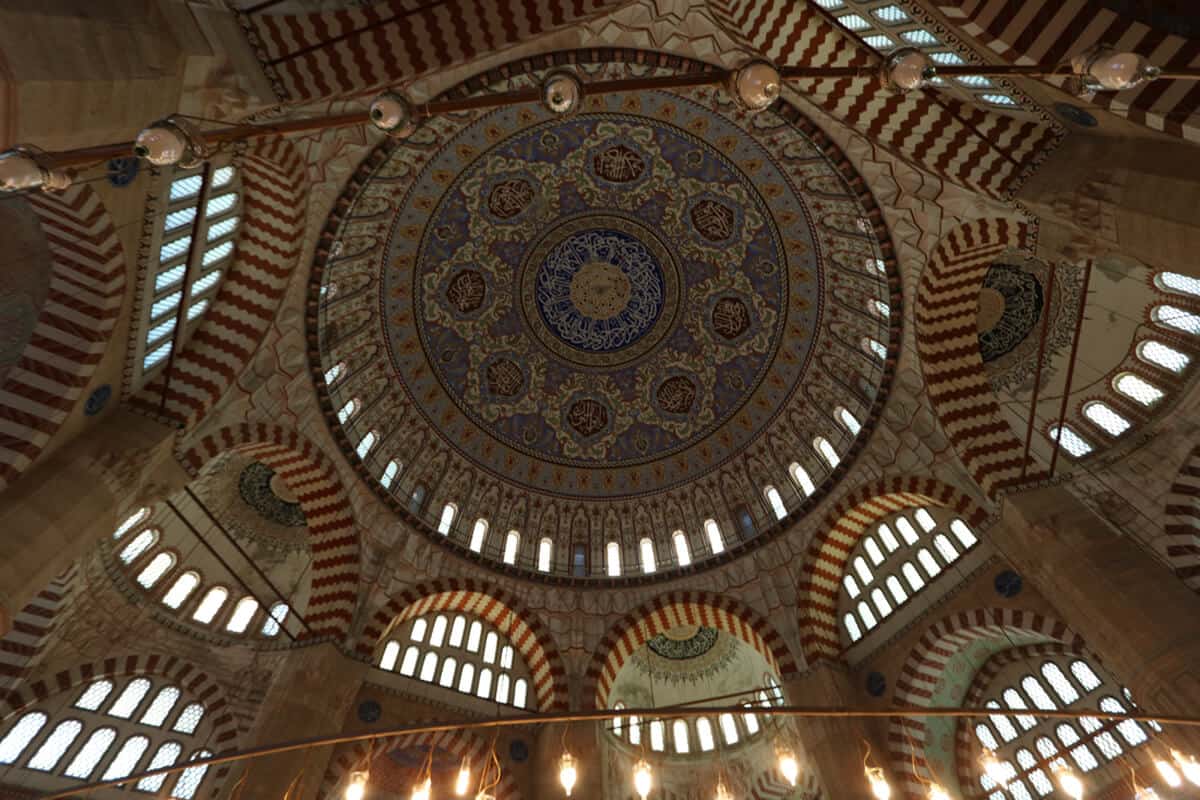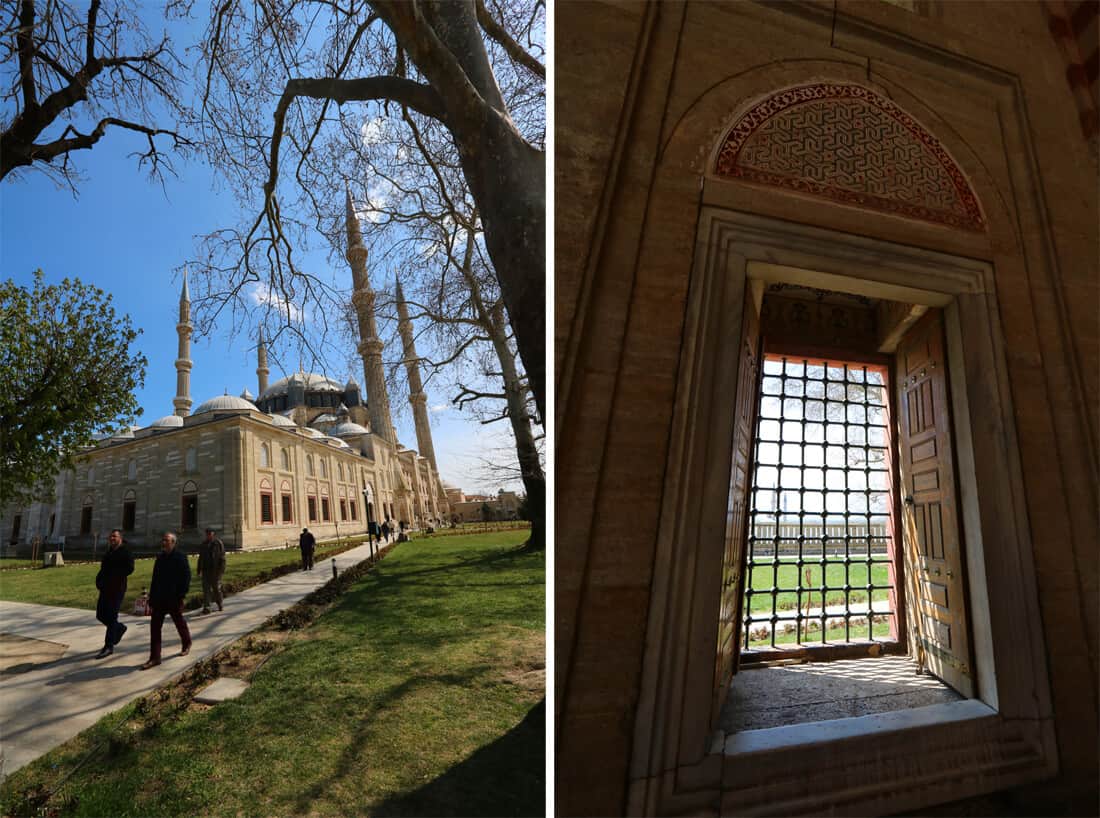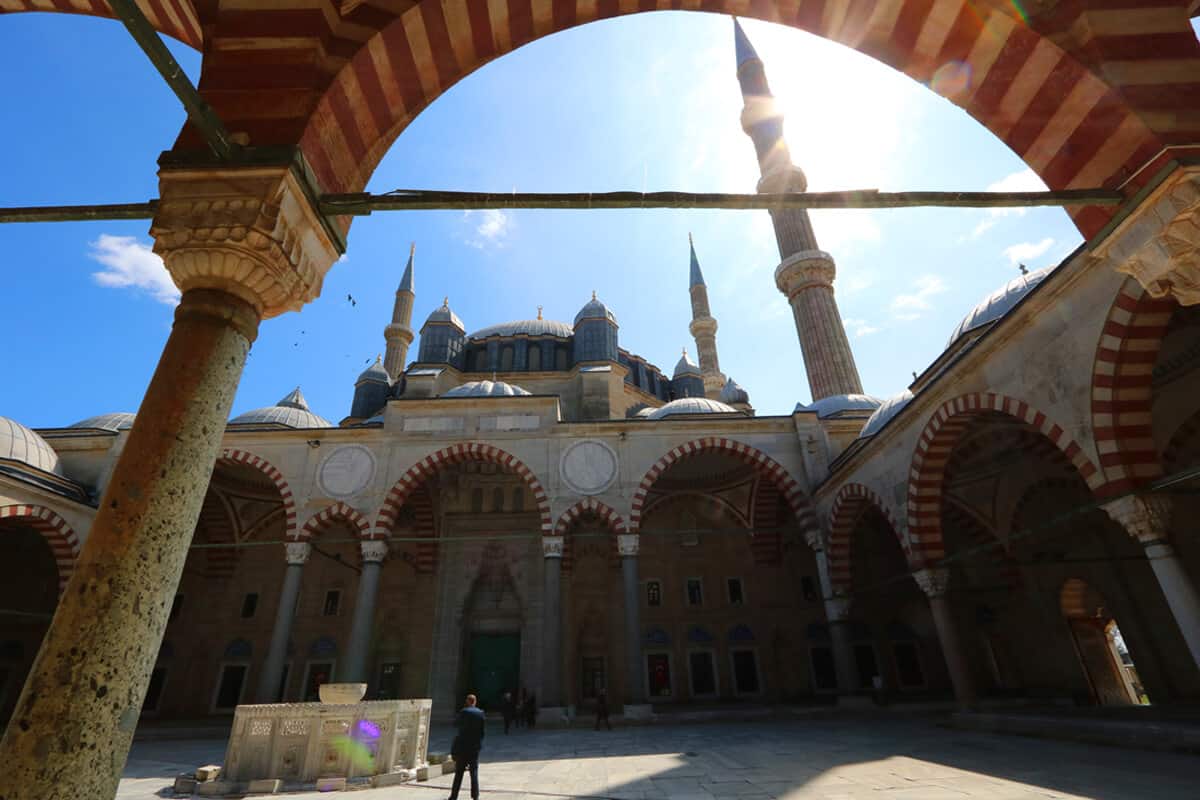 ---
---
Üç Şerefeli Mosque (Üç Şerefeli Cami)
A short walk from Selimiye, we loved this mosque. It has 4 minarets, a beautiful courtyard and 22 very colourful tiled porches. It is older than Selimeye having been built between 1438 – 1447. The interior is not as expansive as Selimeye's but it is colourful and "happy". Üç Şerefeli might actually have been my favorite of the 3 mosques.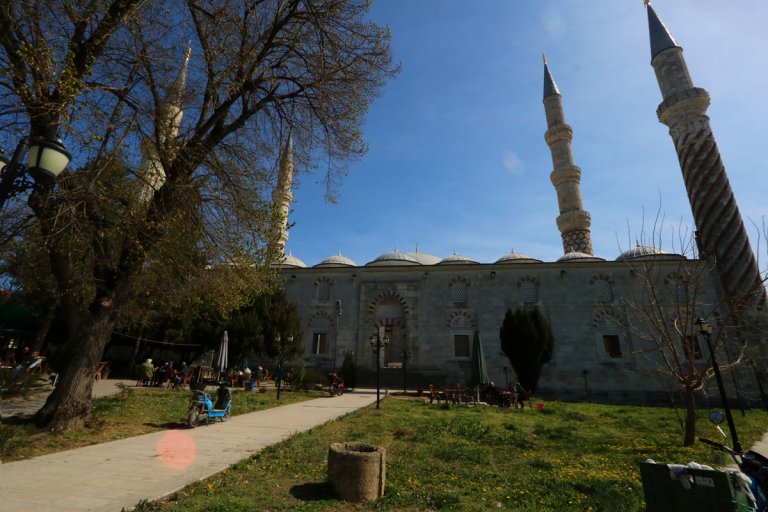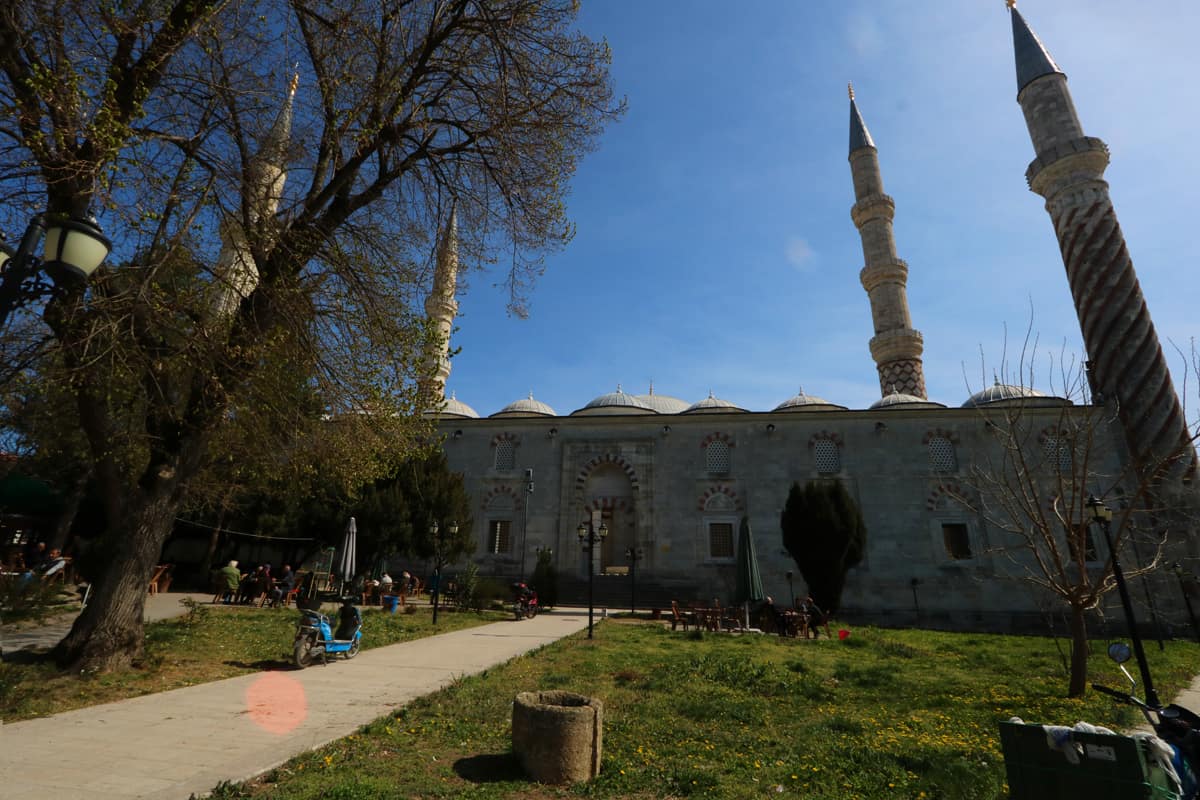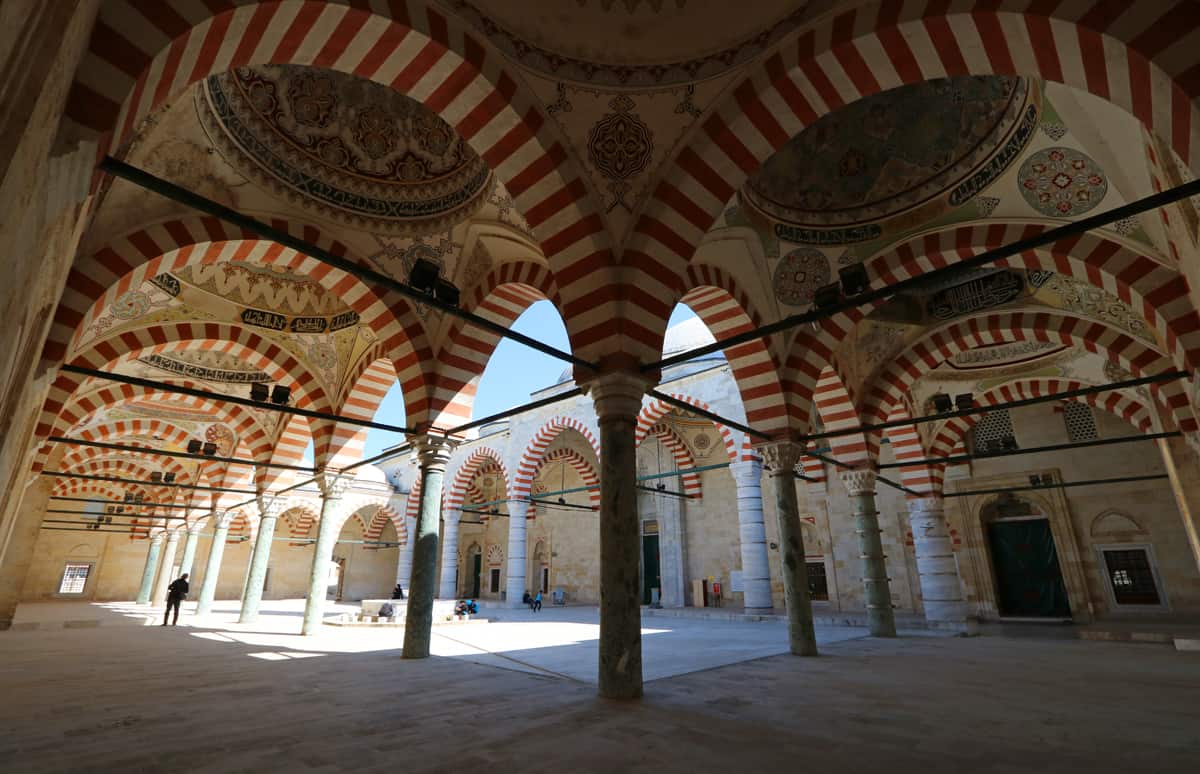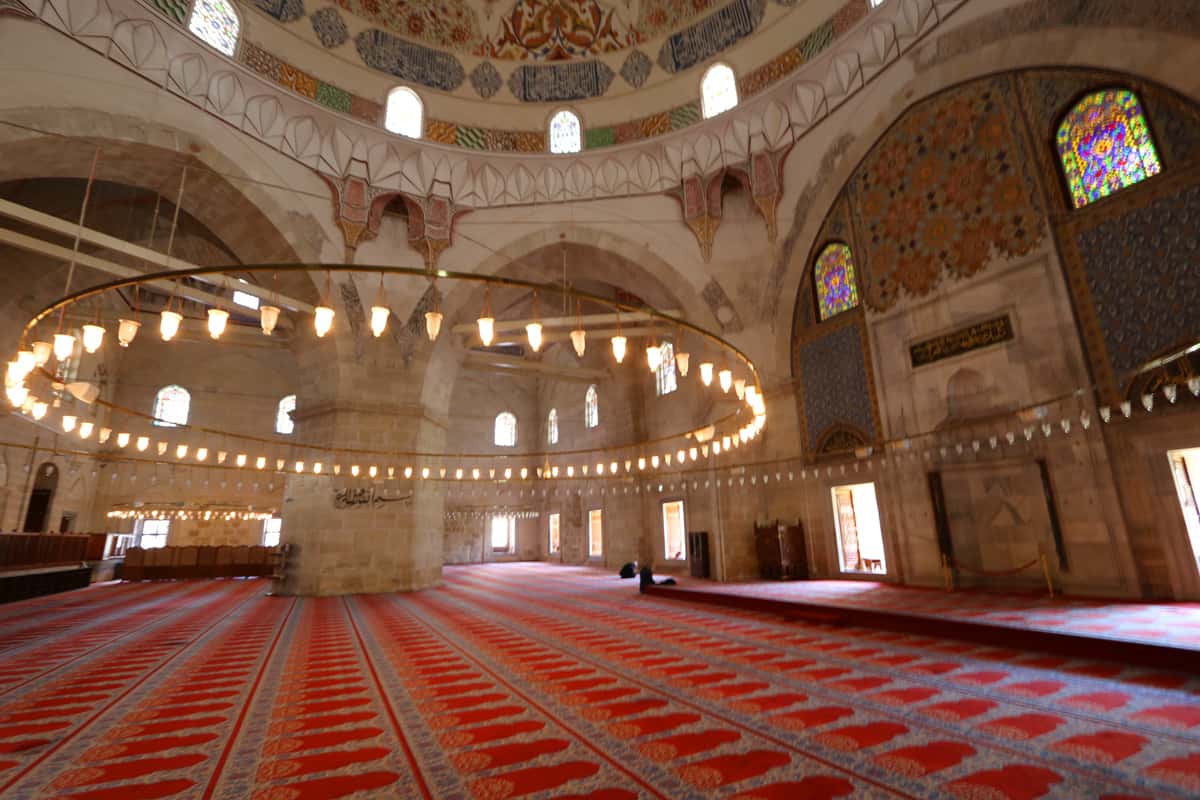 ---
---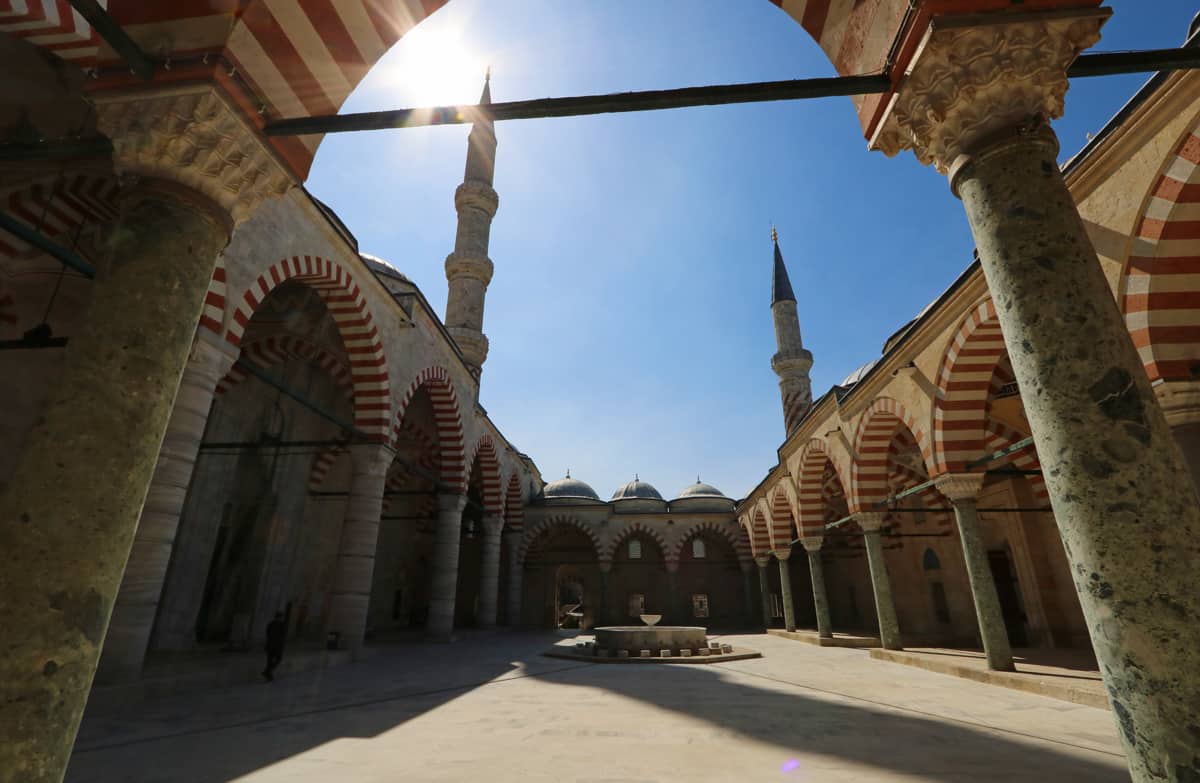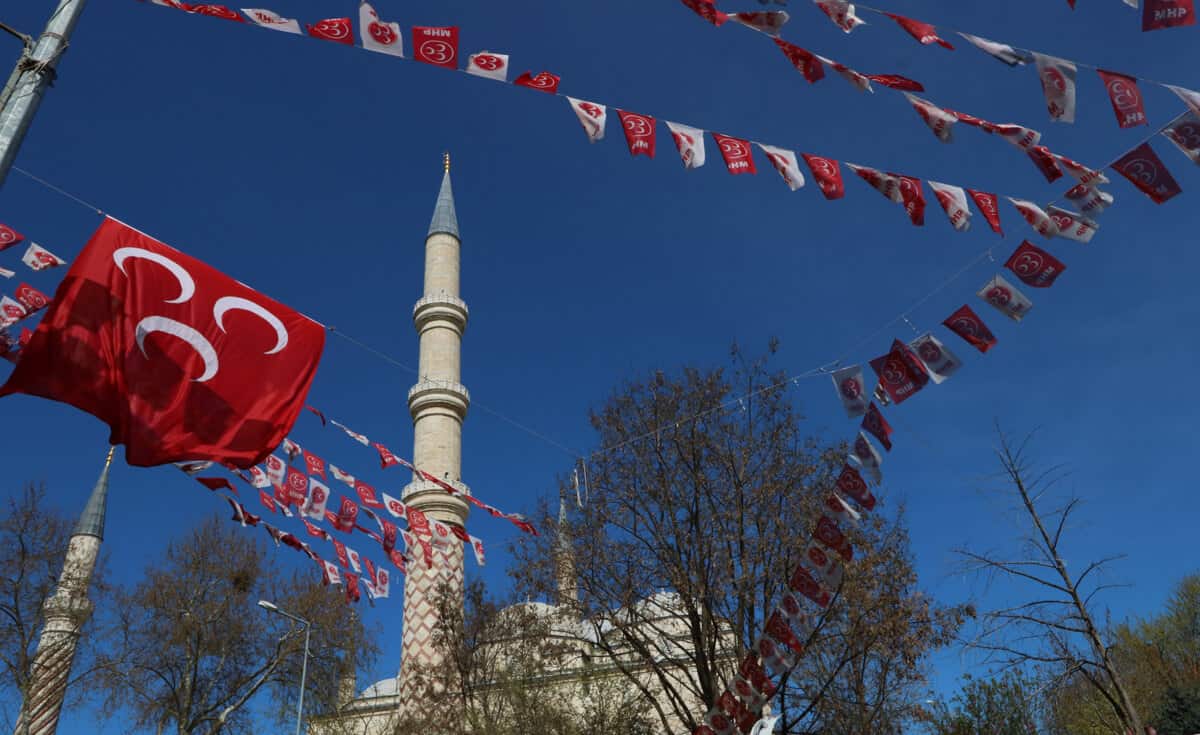 ---
---
Old Mosque (Eski Cami)
This is the oldest (completed in 1414) and smallest of the mosques. It is distinctive for the large calligraphy on the walls. Unlike the other mosques that have 1 large dome, the Old Mosque is actually made up of 9 smaller ones.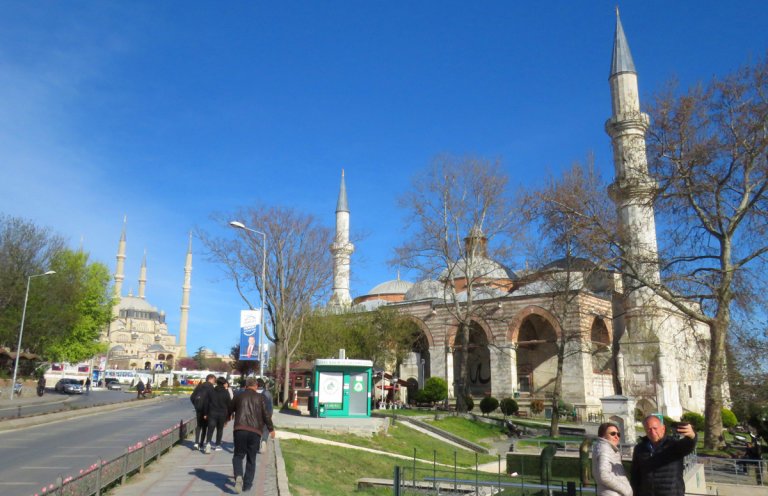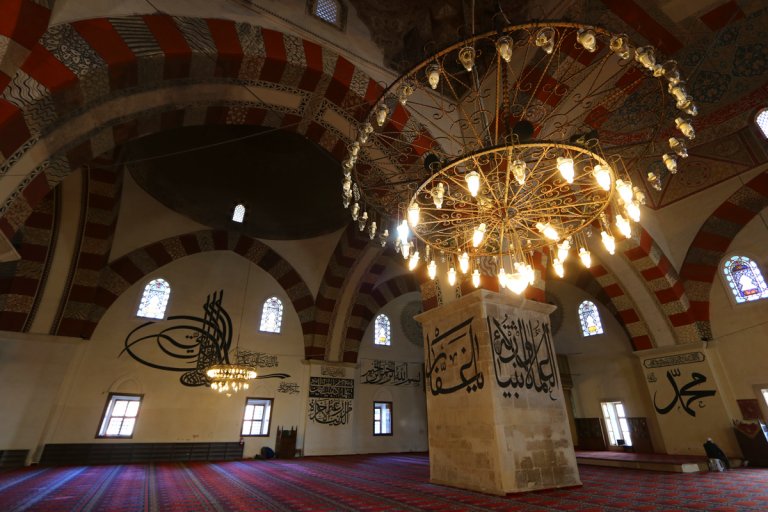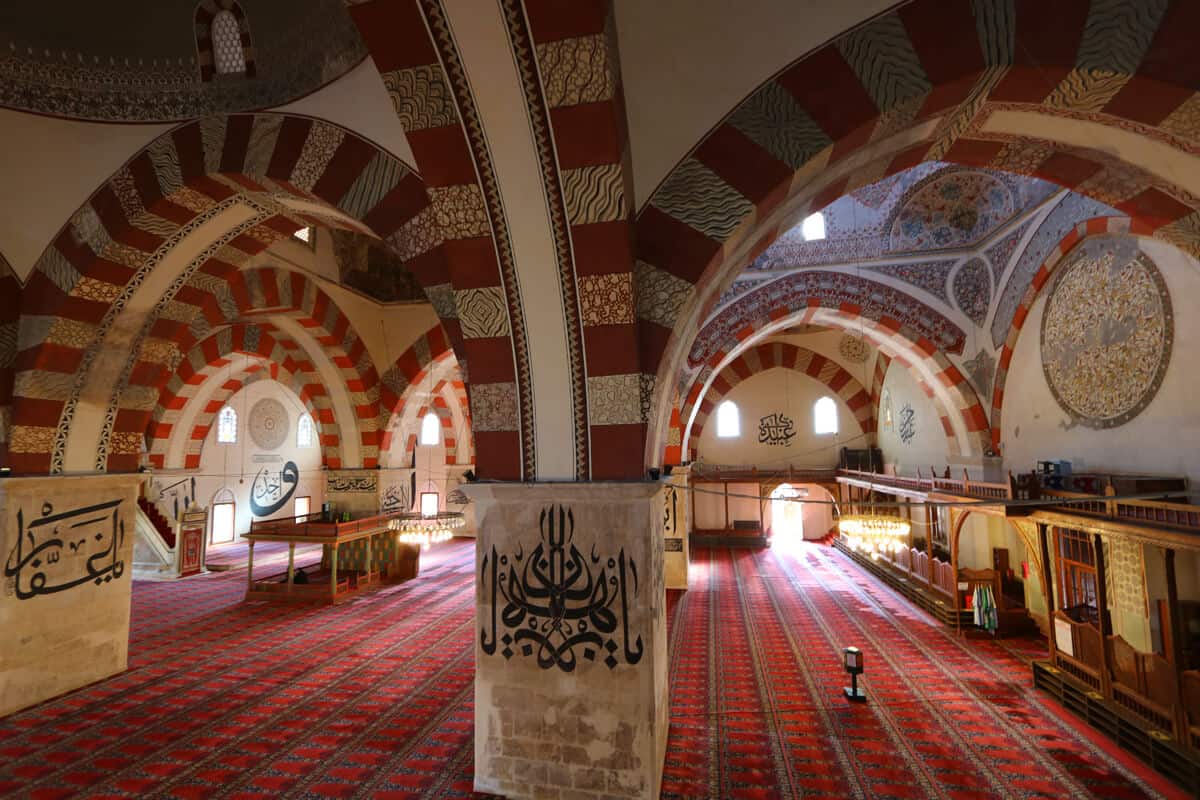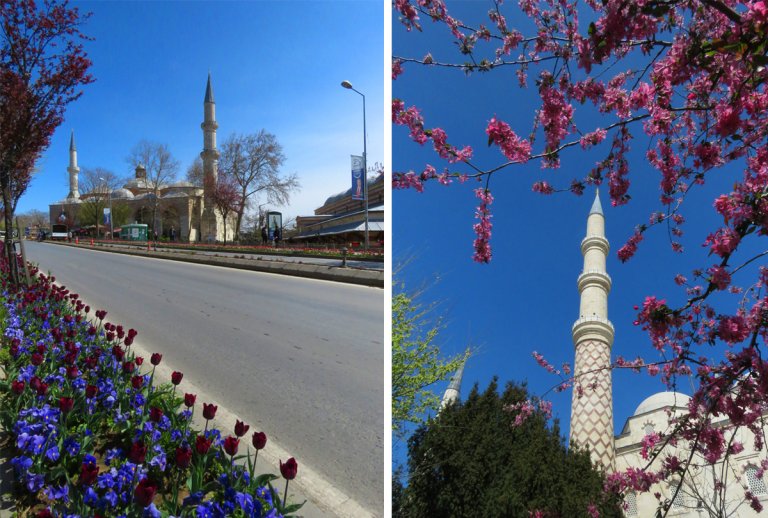 All 3 mosques are stunning and you can easily spend several hours in the mosques, their courtyards, and the gardens surrounding them. Magnificent.
---
---
Other attractions in Central Edirne
Right behind the Old Mosque is the Old Quarter (Kaleiçi, i.e. "walled city"). Having just arrived from Bulgaria it was interesting walking around this maze of small streets. You'll see traditional wooden buildings, cafés, baklava shops, and squares centred around fountains.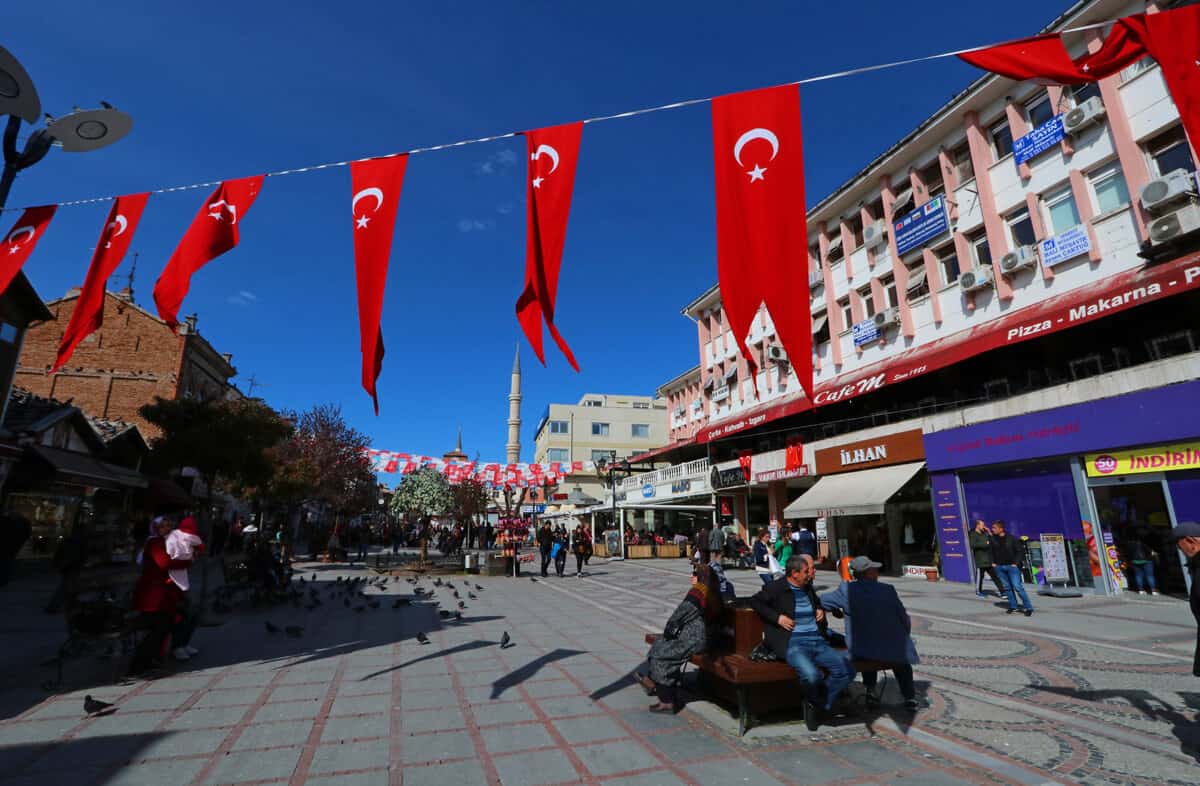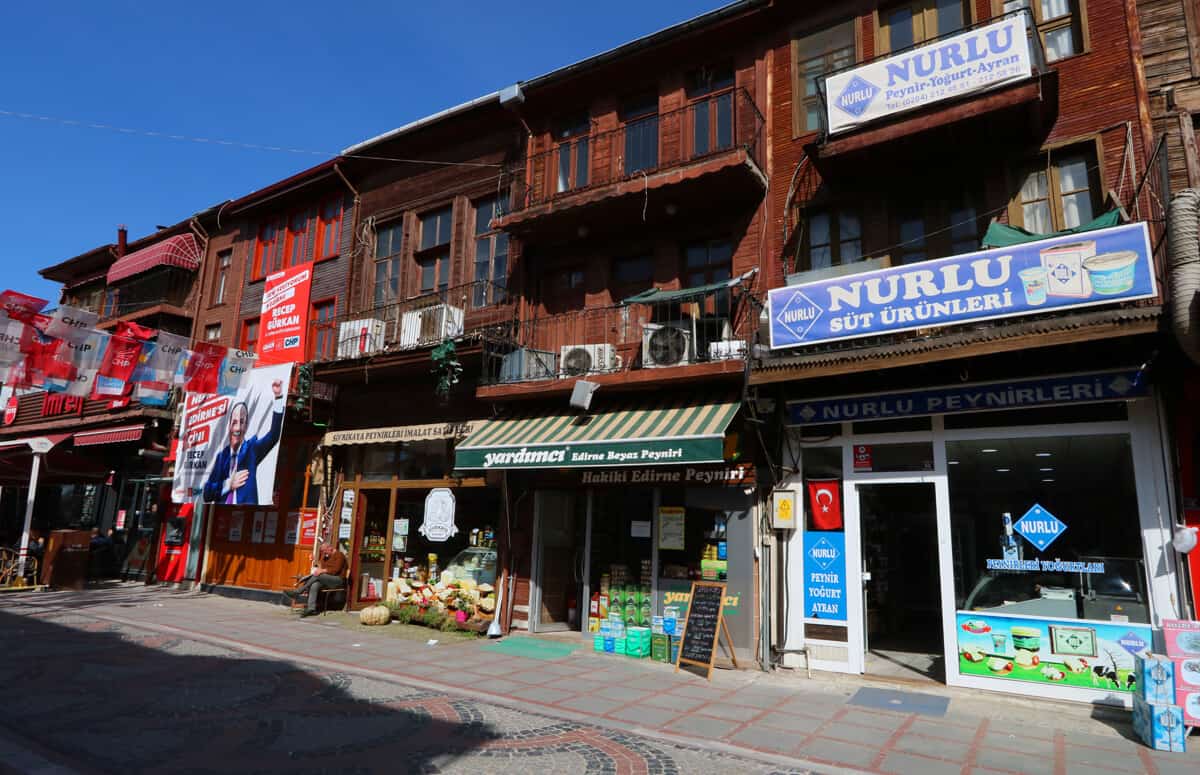 Outside Central Edirne

The 2nd most visited attraction in Edirne (after Selimiye Mosque) is the complex of Sultan Bayezid II Mosque and Health Museum. It was a mental institution during Ottoman times and was known for its progressive approach to treating mental health (which included meditative music). The museum was awarded the "European Museum of the Year" award in the early 2000's.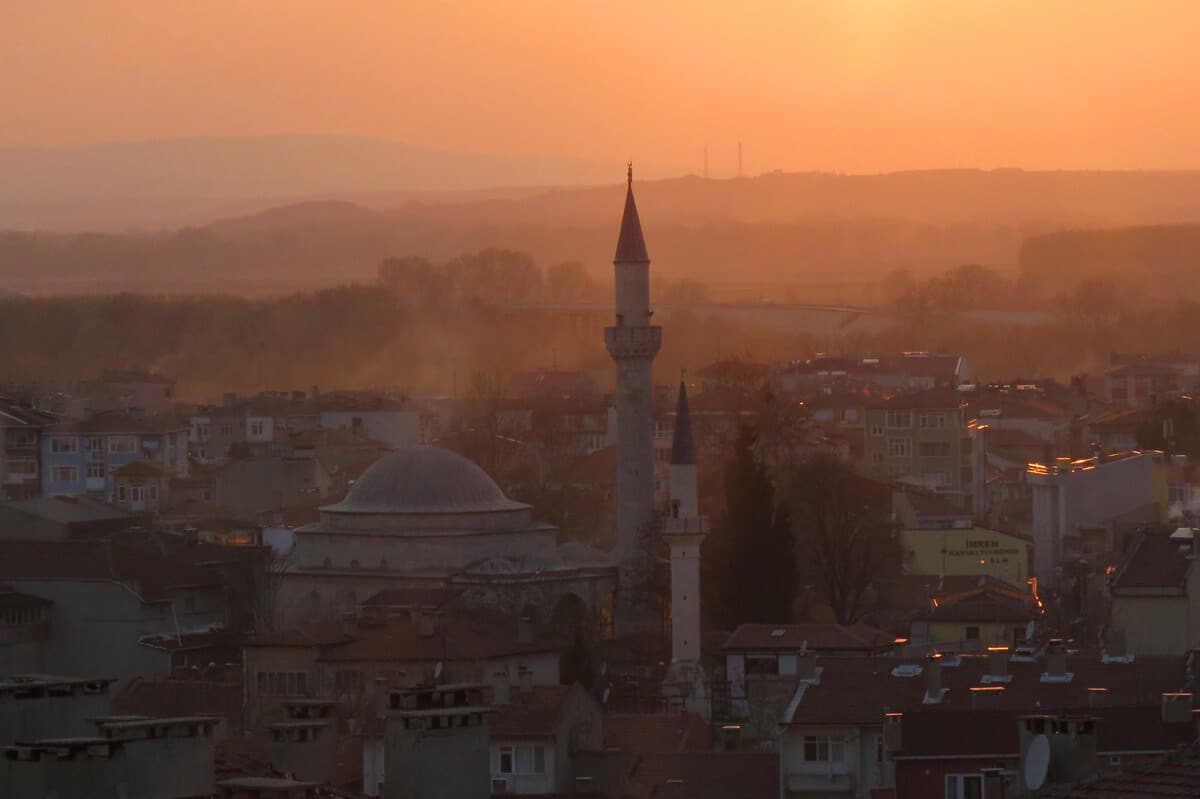 We didn't spent a lot of time in Edirne but it gave us a first taste of Turkey. It's funny – the town is only 20 km from the Bulgarian border but feels like a world away. Suddenly you're eating in restaurants where there's no alcohol on the menu, walking by cafés where only men are seated, and finding those incredible baklava shops (we got addicted to baklava in Turkey).
---
---
Practical Information
Tour. You can take a day trip to see Edirne from Istanbul.

Accommodation: We stayed at the EdrinOtel. It was ok. The room was actually great, the bedding unfortunately wasn't (small, crispy sheets). It has a nice restaurant downstairs which is very good. It is also well situated and you can get to the 3 mosques in about 10 minutes. The only negative was the uncomfortable bedding and smoke coming in from neighbours who puffed from their windows (everyone in Turkey seems to smoke). A step up is the Hotel Edirne Palace which is even better located and gets great reviews.

Tourist Information Center. Jeez. We've never been at a Tourist Information Center where nobody speaks English. We've been told that there's a helpful man who works (worked?) there who spoke English. The Tourist Office is close to the big "Edirne" sign.
---
---
PS. Looking to book flights, hotels, tours, or rent a car? Have a look at our Travel Resources page.