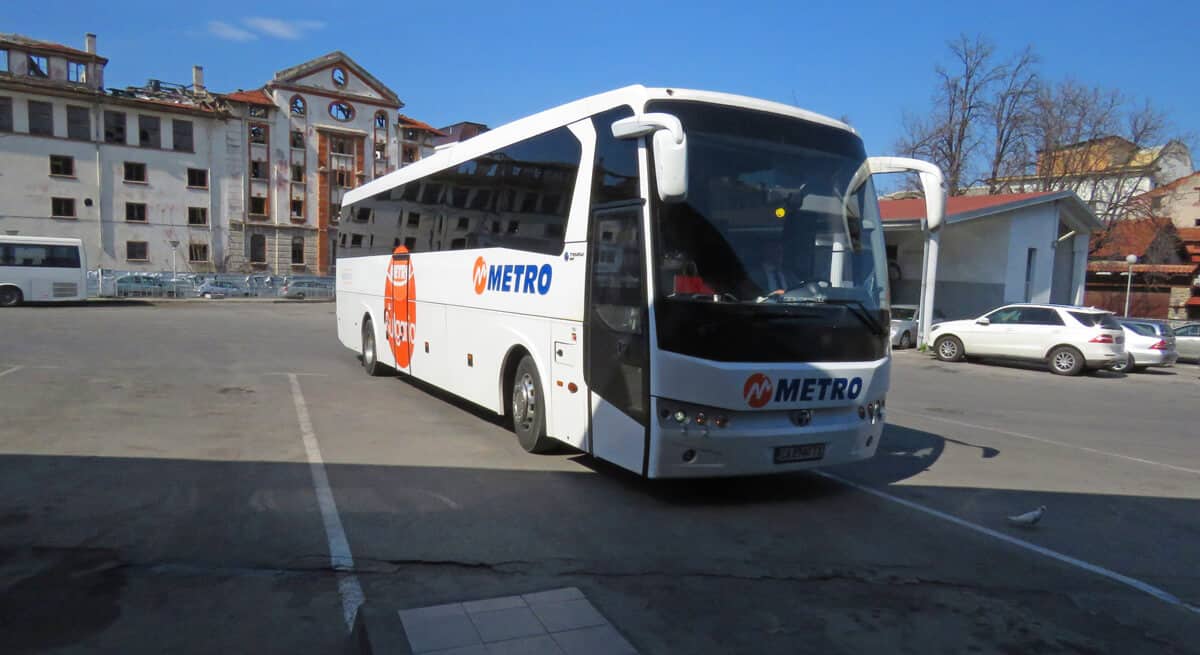 Getting from Plovdiv to Edirne (and on to Istanbul).
It's only 180 km (112 miles) between Plovdiv (Bulgaria) and Edirne (Turkey). It should be an easy trip. It's not.
There are 2 ways to do it.
---
---
The first is taking the night train, which leaves Plovdiv at 23:55 and arrives in Edirne at 3:09 am. We always prefer taking the train…but who wants to arrive somewhere at 3 in the morning?
Note: going the other way, Edirne to Plovdiv, is no better. Trains leave Edirne at 2:20 am and arrive in Plovdiv at 5:45 am.
---
---
The second way is taking the bus. Metro Turizm (a Turkish bus company) goes from Plovdiv (it actually starts in Sofia but stops in Plovdiv) 4 times a day and goes on to Istanbul. None of those buses actually go into Edirne – 1 bus goes to "Edirne" ie. the Arslanli Hotel* about 8 km outside Edirne on the highway, the 3 others stop in the Turkish town of Kapikule (which is about 19 km outside Edirne).
Update: I'm told Metro Turizm still does this route but their website doesn't include Edirne as a stop. Luks Yonka (another Turkish company) also does the route with stops in Edirne (not sure where??) and Arslanli Hotel (see below). Their website.
Note: Going the other way, Edirne to Plovdiv, the bus picks you up at the Arslanli Hotel. You can buy your ticket at the Metro Turizm office in Edirne (next to the Tourist Office) and they'll tell you to go to that hotel (note: we popped into that office and the lady working the desk was about the rudest person we've ever met. Prepare yourself and know the schedule beforehand).
Either way you'll have to take a taxi or a shuttle bus to Edirne from wherever the bus drops you off.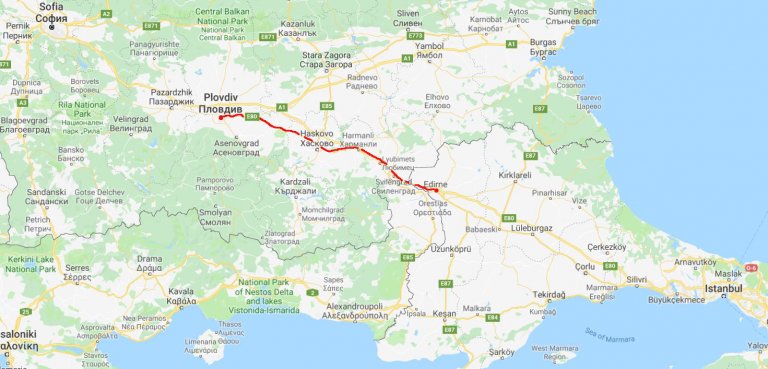 ---
---
After consulting with the Metro Turizm office in Plovdiv (where they were friendly enough), we decided to buy our tickets from Plovdiv to Kapikule (the Turkish border town). We bought it a day in advance. Ticket was about 180 Turkish Lira each (that's about $40 CAD ie about $30 USD).
I'd advise that you go to the bus station to get your scheduling info. You won't be able to buy your tickets online anyway.
We didn't know what to expect and from scouring the internet neither do most people. That's why I'm writing this post.
Our bus was to leave Plovdiv at 2 pm and arrive in Kapikule at 5 pm. We arrived at 1:30 pm and waited. At 2:15 pm the bus arrived (right in front of the Metro Turizm office). That's a photo of the bus up top.
We got in the bus. It was quite comfortable (of course no toilet) and only about a quarter of the bus was full.
The bus ride was good and uneventful, most of it down a 2 lane road. We stopped at a few towns along the way, people getting on and off.
Getting closer to the border, the bus merged onto a large highway.
You know when you are arriving at the border when you see the trucks lined up. It is a never ending line of trucks that must have stretched about 5 km. Lucky enough the bus bypasses them in another lane.
---
---
Bulgarian Border
Very straightforward. Bulgarian border agents came on board and took everyone's passports and/or ID cards. A few minutes later they came back on and gave us back our passports with an exit stamp. Easy.
---
---
Duty free (get some Turkish Lira here!!)
After passing through Bulgarian customs, the bus continued for about 5 minutes until we arrived at a large shopping center-like building. Everyone got out and we thought for a second that this was Turkish customs. But it isn't. Everyone gets out here to buy their duty free cigarettes and alcohol. They also have ATM's here as well as an exchange office. VERY IMPORTANT as we soon found out – get some Turkish Lira here (we used the ATM and also cashed out the rest of our Bulgarian Lev).
---
---
Turkish immigration (and Visa center)
We got back on the bus and about 30 seconds later stopped at Turkish immigration. There we were all told to get off the bus and take all our baggage with us.
The bus opened the luggage compartments and we took out our baggage.
You enter a building where you present your passport and Visa to the Turkish immigration official. Visa? What?? Yes, that was my expression and it was my fault for never having researched whether I needed a Visa to get into Turkey. The official told us to step back outside – right there is a booth where you can buy your Visa. For Canadians, the cost is the equivalent of $60 USD (for Americans it's $20 USD. I don't know why we Canadians always get screwed). They only take cash and we were happy to have withdrawn all the Turkish Lira at the ATM (although they also took Euros).
Note: I recommend you pre-purchase your Turkish Visa here.
Having done this, we went back in the building, had our passports and Visas stamped (they're good for 90 days in Turkey) and put our baggage through a conveyor…
No problems.
The bus was there to pick us up.
---
---
"Kapikule" bus stop & shuttle bus/taxi
The Kapikule bus stop is literally about 50 meters from the Turkish customs. It had made no sense to put our bags back on the bus.
The driver pointed at a bus stop on the road and said "free shuttle". So we stood there and waited for the free shuttle bus that was supposed to take us to Edirne (I had no idea of the schedule and nobody had spoken English well enough to explain when we could expect the bus).
That's when I spotted the taxi next to the customs office.
I went over and talked to him. We agreed on 60 Lira (ie 10 Euros) to take us to our hotel in Edirne.
The taxi ride went well and about 20 minutes later we were dropped off at the EdrinOtel.
All's well that ends well
By the time we had checked in and entered our room it was 6 pm. In the end – despite all the complications – all had gone smoothly. It had taken us about 4 hours to get from Plovdiv to Edirne.
And on to Istanbul
Two days later we were continuing on to Istanbul.
What, you may ask, is the best way to Istanbul?
Again, there is the bus. But the bus station is far from the town center (I believe you have to go to the Arslanli Hotel 8km away. But I'm not 100% sure of that).
The other option is the train. There is one daily train from Edirne's train station (about 2 km out of the center) that leaves every morning at 7:39 am and which arrives at Istanbul's Halkali station at 11:26 am). Don't go to the train station the day before trying to buy tickets – you won't find anyone working there. Instead show up 30 minutes before the train is supposed to depart.
The train was modern, fast, and on time…no issues.
As you can see Edirne is out of the way and getting there and leaving is complicated. But it is possible 🙂
PS. Looking to book flights, hotels, tours, or rent a car? Have a look at our Travel Resources page.