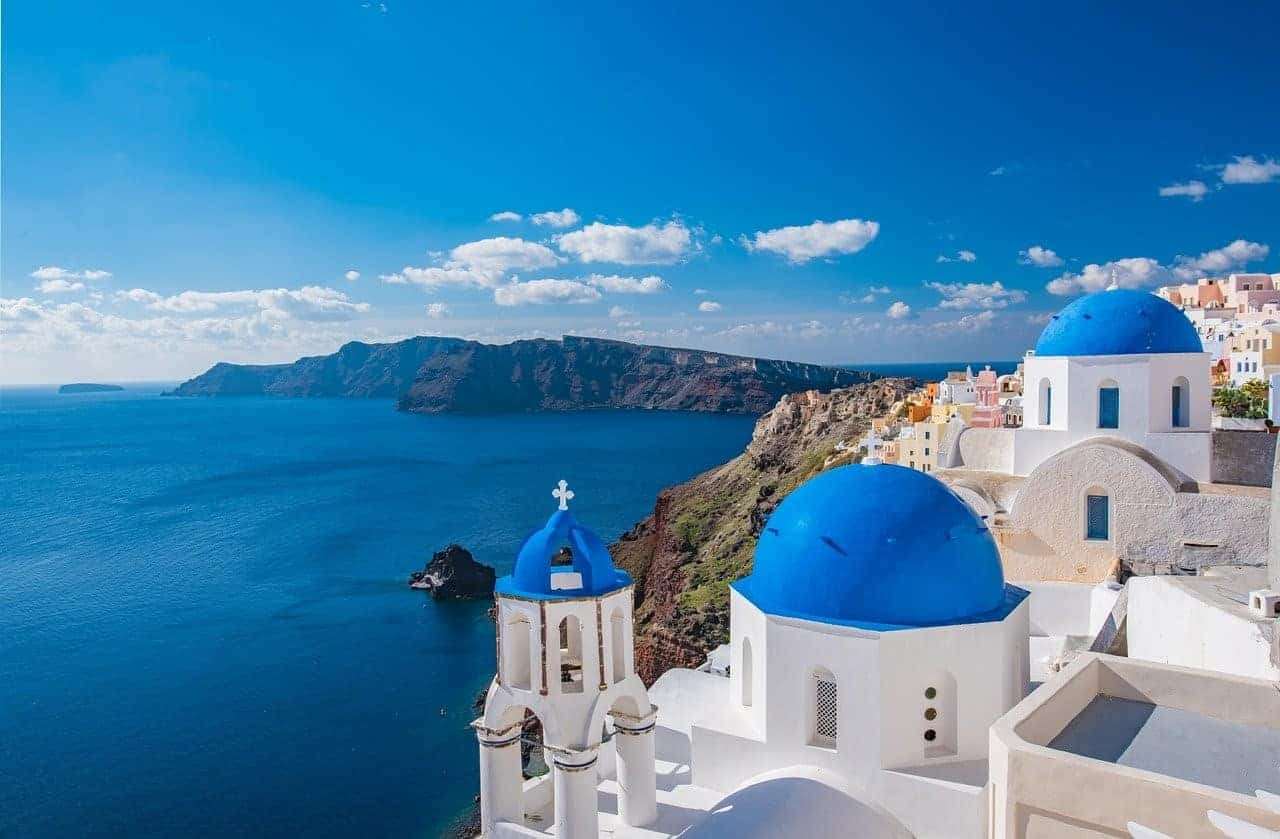 Greece has a staggering number of islands to choose from, with over 200 spread out over the Aegean and Ionian seas. Ranging in many aspects, including; size, popularity, architecture and character, the question often asked of me is "which is the best Greek Island to visit?"
Few things are more precious to the Greeks than the natural beauty of their homeland. The islands, in particular, they hold close to their heart. And with such picturesque beaches, inviting waters and fine weather who could blame them. Even the white and blue of the national flag is said to represent the blue sky and the white waves of their seas. After a visit to one of these islands, one may possibly see why.
So, after visiting over 50 islands over the course of my childhood and adult life, here is a list of the top 10 Greek islands that I think you must visit.
1. Milos
An island distinctive due to its horseshoe shape with one of the most dramatic coastlines you will come across in Greece. Still relatively low key relative to other islands within the Cyclades but with beaches and rock formations that you won't see anywhere else. The "moon beach" of Sarakiniko is completely unique and the waters of Kleftiko beach are popular stop off points for the many sailing boats touring around the small island.
The port town of Adamantas, hill-top Plaka (main town) and sea-side village of Pollonia offer visitors three great places to stay. The latter two in keeping with the beauty of the island, where the celebrated Venus de Milo was discovered.
---
---
2. Kefalonia
The largest of the Ionian islands and one the most naturally diverse, with dense green landscapes not often found on other islands. Kefalonia has impressive beaches, clear waters with typical shades of blue cyan (found primarily on the Ionian side of Greece) as well as interesting underground caves to explore
The bustling capital city of Argostoli is lively and colourful, whilst the picturesque seaside fishing villages of Asos and Fiskardo offer a completely serene and relaxed island setting. Perfect for those looking to escape and unwind from their busy urban lives.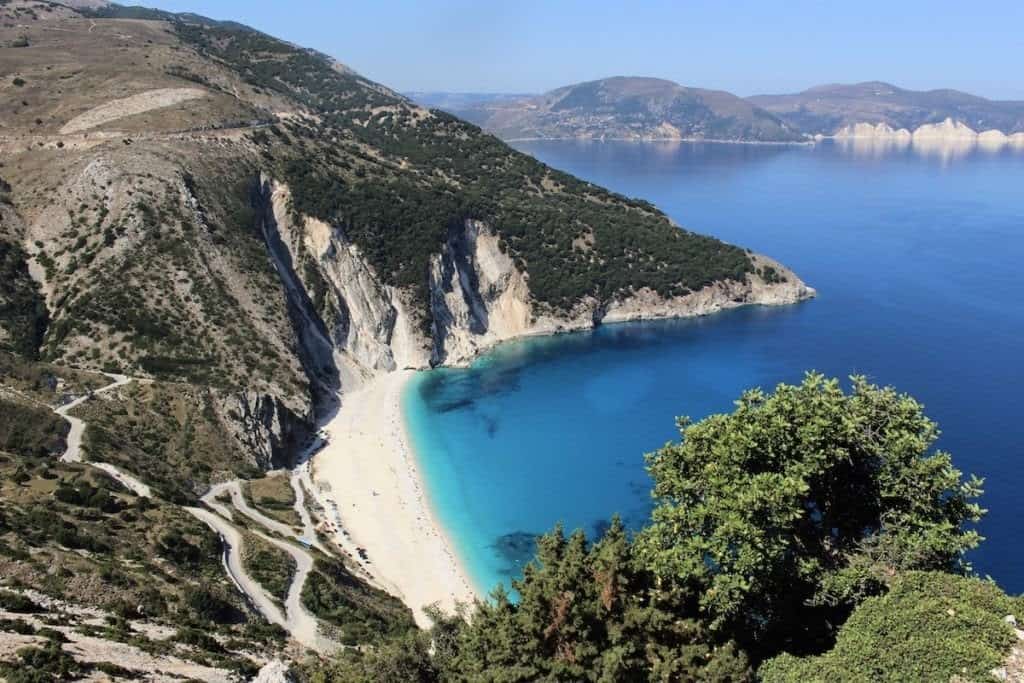 3. Naxos
Naxos is dubbed the "Queen of the Cyclades". The biggest of the Cycladic island group with ancient historic sites, pretty villages and a Venetian old town. There is a list of things to do in Naxos that goes beyond just lying on the beach. The ruins of the temple of Apollo, lies unfinished at the harbour of the island. The impressive Portara gate stands tall, providing a spectacular sight to those sailing into the port.
Naxos is an ever increasingly popular island, drawing visitors of all types – couples, young people and families. Its long stretches of sandy beaches particularly popular for those seeking resorts. Look beyond and you'll discover the traditional villages and famous produce and the cuisine the island is well known for.
4. Crete
Europe's first advanced civilisation, the Minoans, settled in Crete back in 2700BC. Understandably then, Crete has a long history and rich culture stretching back millenia.
The largest of all the Greek islands and the 12th biggest island in Europe, it has ancient sites, medieval cities and historic towns to show for it. The plethora of structures and citadels from the different eras scatters the island.
The island is, however, most well-known and visited due to its famous beaches. Recognised globally as some of the most stunning, the like of Balos, Elafonissi and Falassarna all located on the West side of the island, are enough on themselves to make Crete one of the must visit islands in Greece.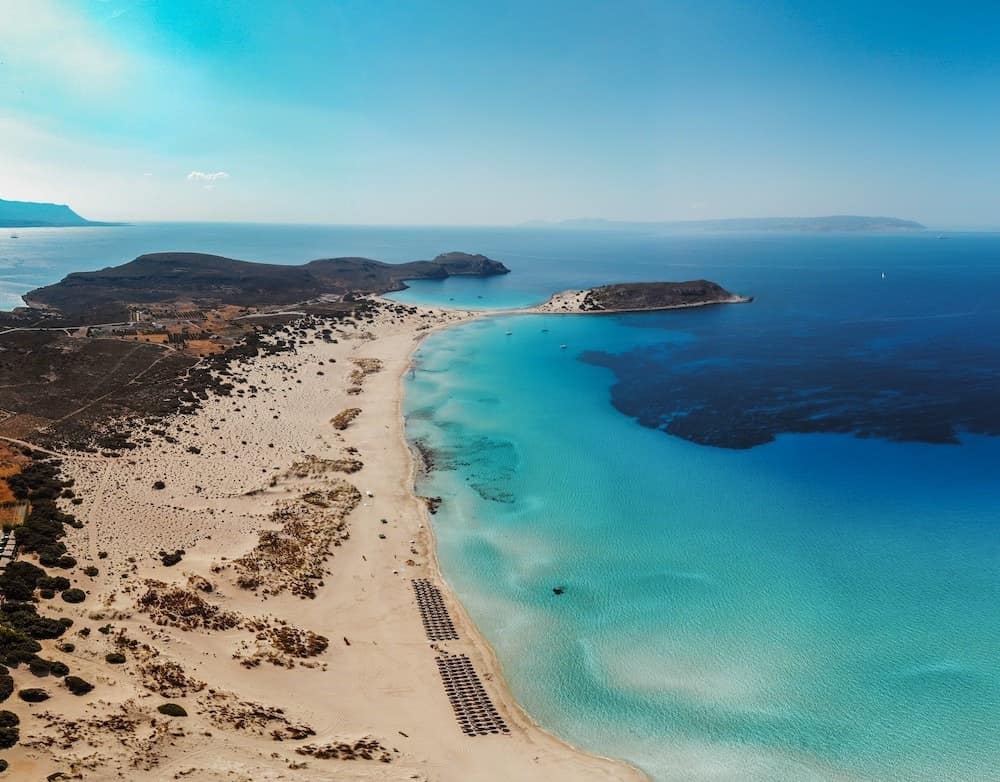 ---
---
5. Paros
If you don't want the crowds of Santorini or Mykonos but want the beauty, vibe, architecture and nightlife, this is the island for you. It's an island that doesn't try too hard but is undeniably charming and cosmopolitan in feeling. The seaside town of Naoussa is lined with waterfront tavernas, boutique hotels and whitewashed buildings with narrow and winding alleys.
Kolymbithres is one of the island's most famous beaches with undulating white rock formations. You'll find sandy beaches, calm bays and lively beach bars all over. An additional bonus is the small island of Antiparos within a 10-minute boat ride. Perfect for a day trip or an even longer stay, more secluded yet equally beautiful.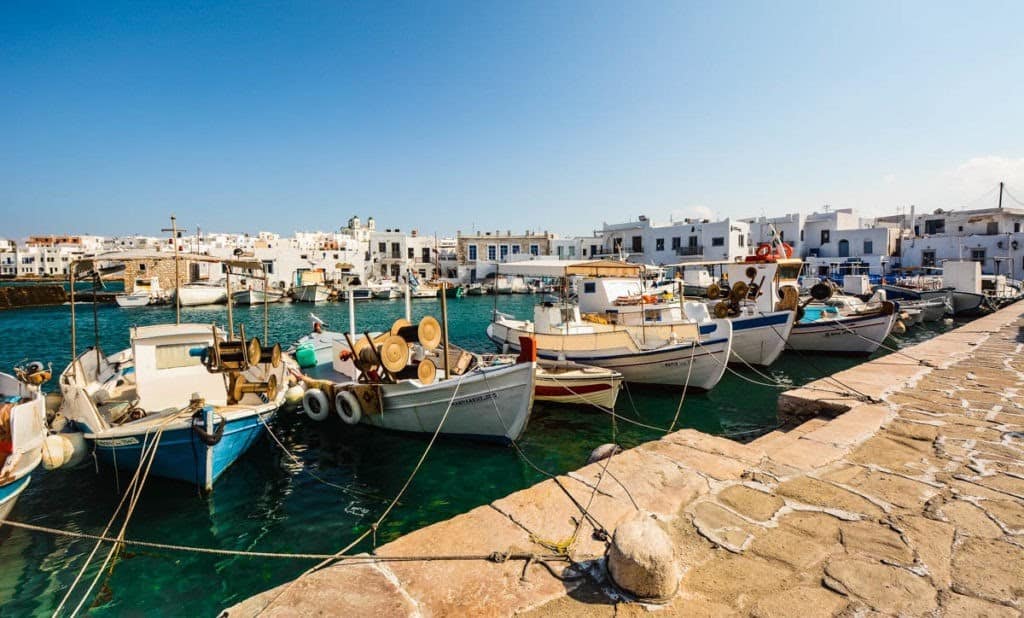 6. Zakynthos
Zakynthos is lined with lush pine trees and a natural green landscape. The electric turquoise waters are set against white beaches and its emerald green hills. None more famous a beach, or as frequently photographed, than the shipwreck seaside of Navagio.
The town of Laganas in infamous for bachelor and hen parties, with clubs, bars and restaurants brimming with tourists. Easily assumed to be a playground for those in their mid-20's, however not to be overlooked due to its vast and diverse range of flora and fauna. Zakynthos is increasingly appealing, as it should be, for nature lovers and those looking to explore its stone villages and Venetian castles.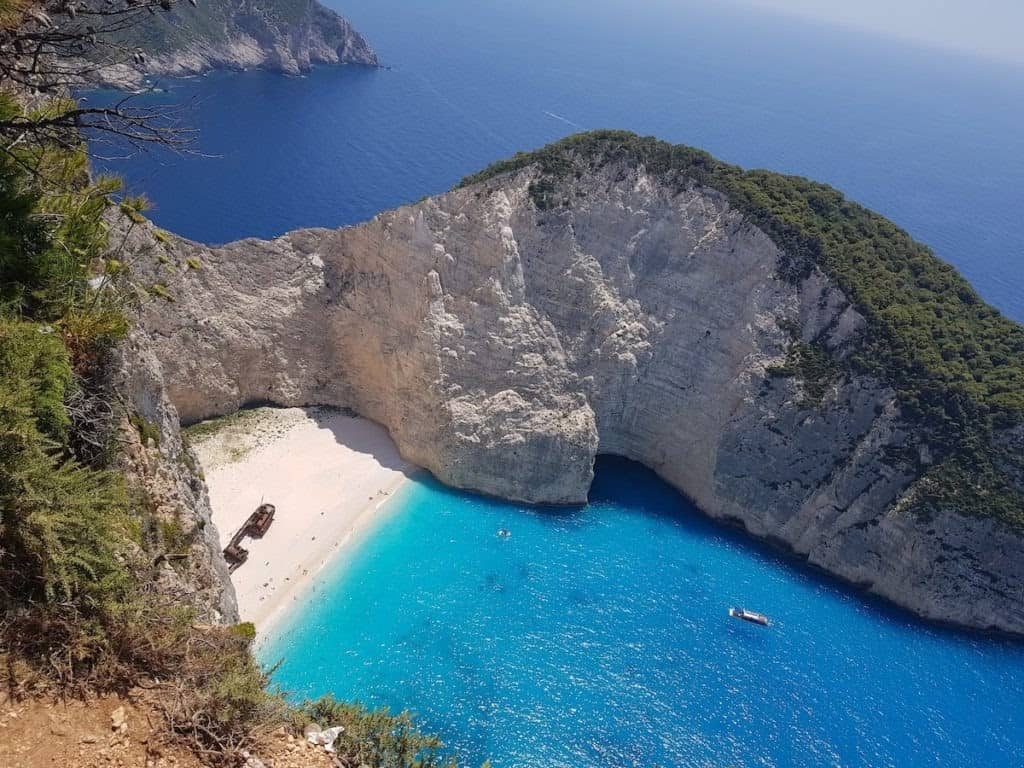 ---
---
7. Santorini
The island that has come to represent the Greek islands. Tourists of all types and from everywhere flock to Santorini, particularly couples and honeymooners. For first-timers, and those with only one get chance to visit Greece, be sure to make it Santorini. Easily one of the best Greek islands to visit, and a must for any Greek island hopping vacation.
Best known for its jaw-dropping views across the caldera and spectacular sunsets. The buildings are of typical Cycladic architecture, white-washed houses and blue domed roofs of the churches and cathedrals.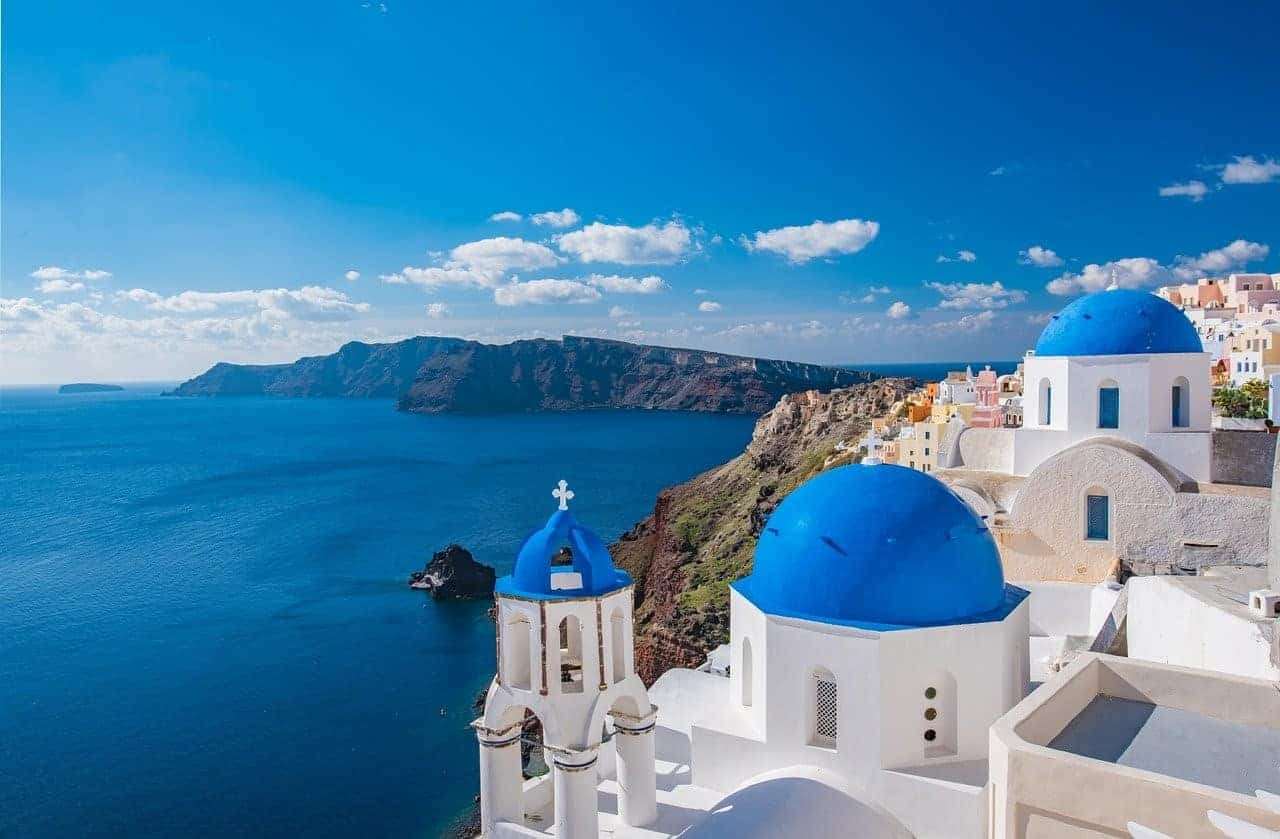 8. Ios
Often overlooked for the bucket-list Mykonos and Santorini, Ios holds its own in the group of the Cyclades. As picturesque as any and offering similarly stunning views from atop the Chora down on to the port and across the Aegean. Ios has some of the best sunsets on show, with viewpoints everywhere including bars at the Sunset club, Liostasi hotel and Pathos.
Mylopotas beach is one of the best in Greece and has a magnificent choice of laid back bars and restaurants day or night. The main Chora comes alive during the evenings and is filled with both trendy and traditional restaurants, bars and nightlife.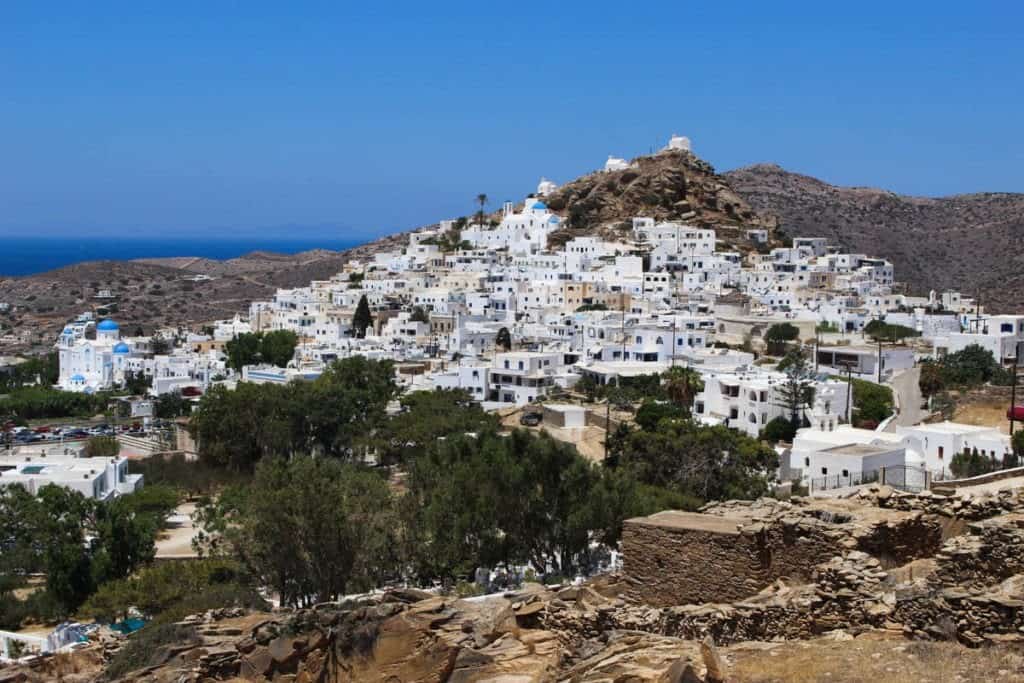 ---
---
9. Mykonos
Where A-listers are often seen getting their Mediterranean fix. Mykonos is the most cosmopolitan of the islands, LGBT-friendly and known for its vibrant nightlife, epic beach parties and international DJ's.
The main town Chora is filled with boutique hotels, swish villas, modern bars and restaurants and swanky clubs. If you are after pure luxury and VIP treatment, then Mykonos is the place to be, as well as the place to be seen. Take one look across the port and you will see it lined with super yachts. Those with money and who live a life of excess have made this island what it is today with uber cool and trendy places to stay, eat and drink.
10. Corfu
The historic centre is a UNESCO world heritage site, with graceful Venetian inspired architecture and an influence of past French and British colonialism. Pretty pastel coloured villages and impressive villas sit amidst its lush green hills teeming with olive groves.
You'll find superb beaches, resorts and fishing villages nestled around its coastline. Easily one of the best Greek islands to visit within the Ionian group.
---
---
This post is contributed by Gina. She is a native of Greece – now living and working in London – with a deep affection for the Greek Islands. She has been visiting them ever since her childhood, through her studies in Thessaloniki in Northern Greece and into her adult life. Gina's passion for the Greek archipelago has led her on a mission to visit them all and has inspired her travel blog, The Island Voyager, where she is dedicated to sharing her travel guides and advice, and inspiring visitors to travel her homeland. You can also find her on Instagram @theislandvoyager or on Facebook.
Ps. If you find our blog helpful, please consider using our links to book your flights, hotels, tours, and car rentals. Have a look at our Travel Resources page.