A Visit to Corfu Town (Kerkyra)

As much as we loved our 1 month stay in Italy, crossing the Adriatic and seeing the snow-capped mountains of Albania and Greece felt like coming home.
Corfu Town (Kerkyra in Greek) has a phenomenal geographic setting and a few very impressive highlights. I'll be honest – it's a small town and you can see everything there is to see in 2 days. Despite that it is worth visiting, both for its beauty and its history.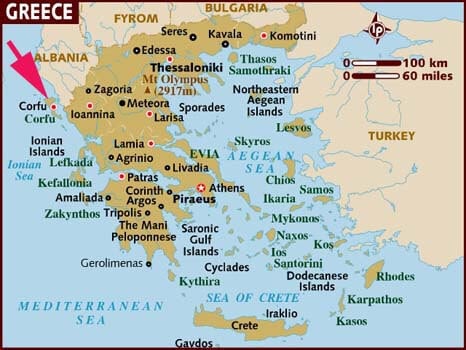 Corfu Town is a UNESCO World Heritage site, designated so because of its architectural and historic heritage. It is situated in a strategic position at the mouth of the Adriatic Sea and, while most of the region (including the rest of Greece) was taken over by the Ottomans, Corfu was a fortified city held by the Republic of Venice for over 400 years. The key to being able to resist the Ottomans were two huge forts which still stand today – the Old Fortress and the New Fortress. Some say that the modern state of Greece would not exist today if Corfu hadn't been able to repel the Ottomans.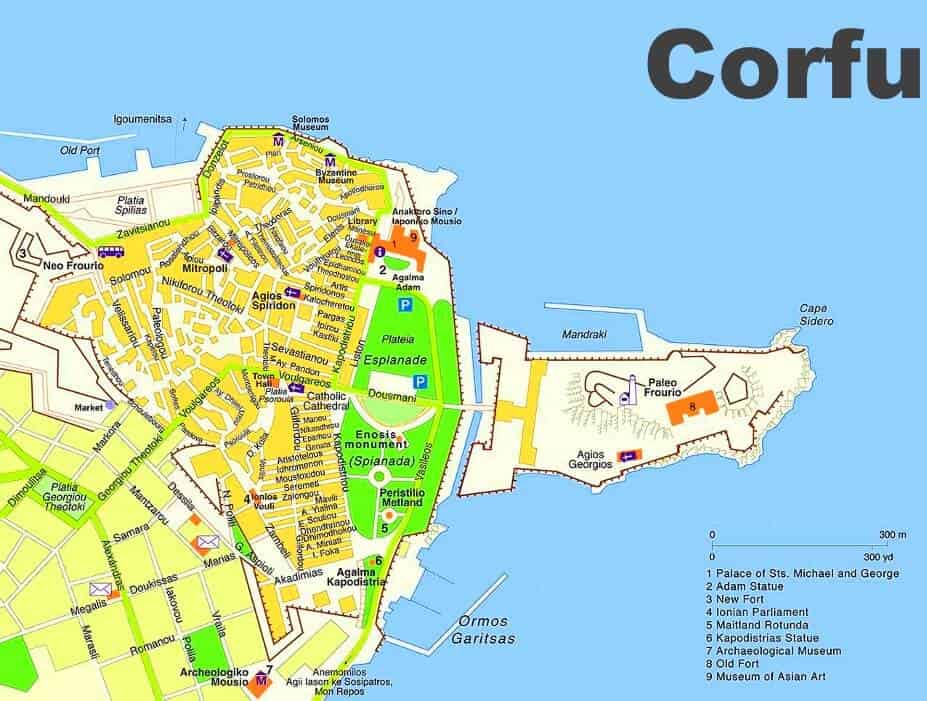 Highlights of Corfu Town
The Old Fortress
Built by the Venetians in the 15th century at the tip of the peninsula, this huge fortress is actually an island (a large ditch was dug to separate it from the mainland) and can only be accessed by bridge. There are ramparts, a church, a prison, and you can climb up to the top of the fortress where there is a lighthouse and some great views of the town.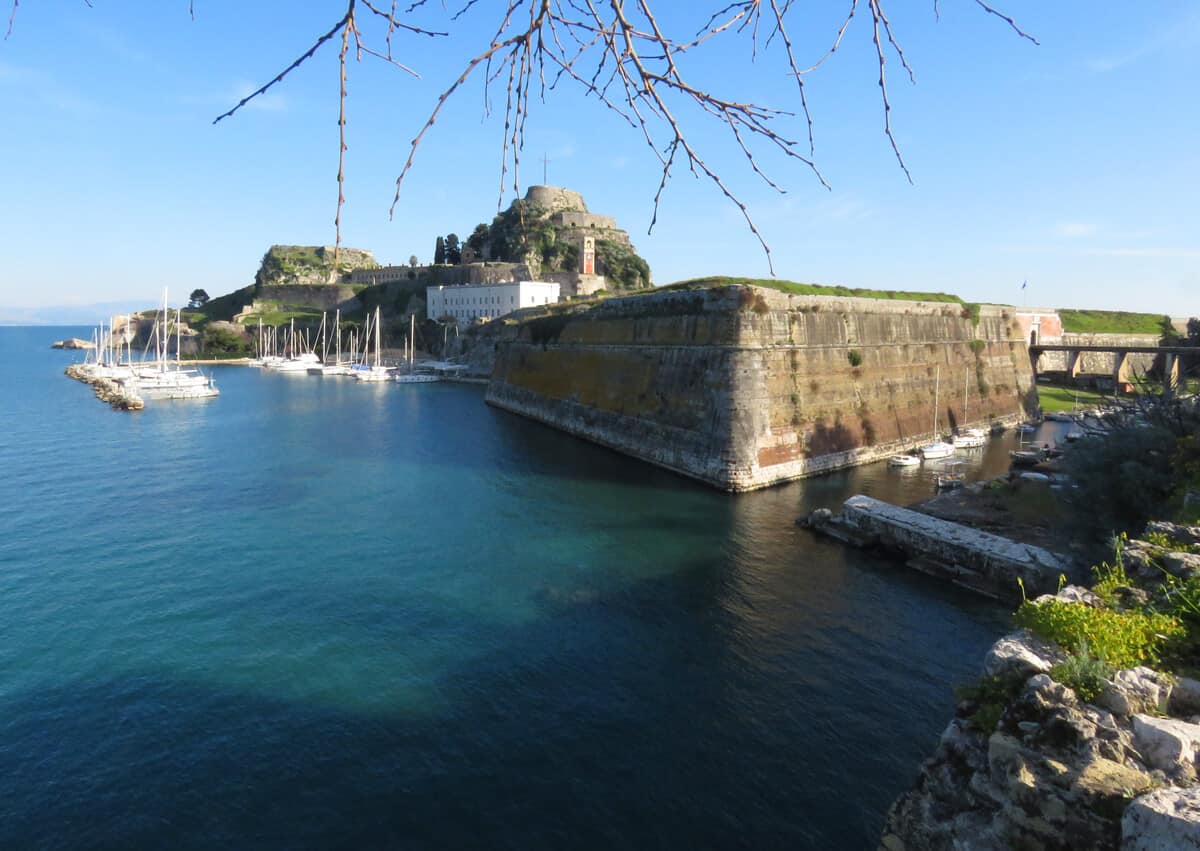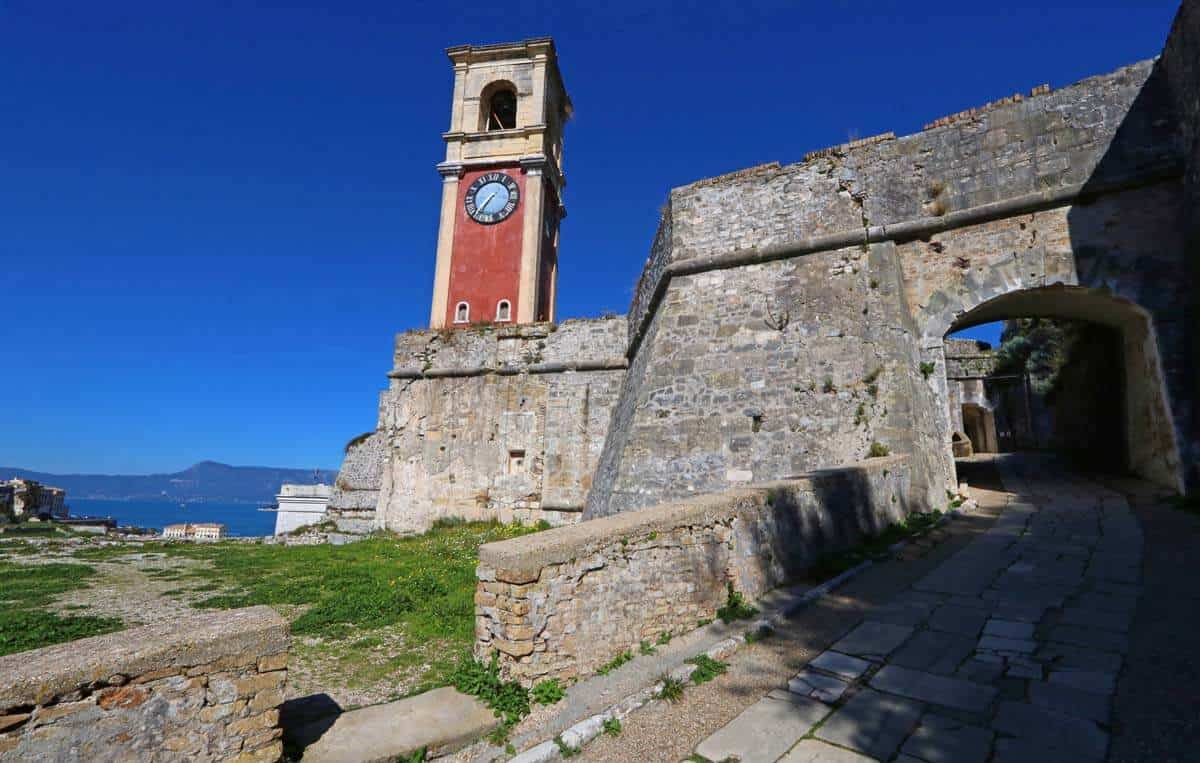 Related: Castles and Fortresses that you may have never heard of
---
---
The New Fortress
One thing you should know if visiting Corfu in the off-season: the New Fortress might be closed to visitors. It was closed when we were there in March. Like the Old Fortress it is MASSIVE, among the largest fortresses we've seen anywhere. And the views from the top over town are phenomenal (well, based on photos like the one I've attached below 🙂 ).
---
---
Most of the other highlights of the town are located near the Old Fortress. The Esplanade is a large park that is very popular with locals on weekends. Facing it is the Liston, a boardwalk lined with cafés. The church of St. Spyridon has a colourful dome on its tower and a beautiful interior. The former Royal Palace is now an impressive Museum of Asian Art. Just behind the building is the People's Garden where you'll have great views over the Adriatic. But really, the thing to do in Corfu is to walk around and just enjoy the spectacular geography and pretty town. Note: Faliraki beach is the best place in town to go for a swim. Behind the museum of Asian art, follow a path down to a pier. There's a little church there. Not technically a beach as there's no sand but a good place to lounge and enjoy the sea.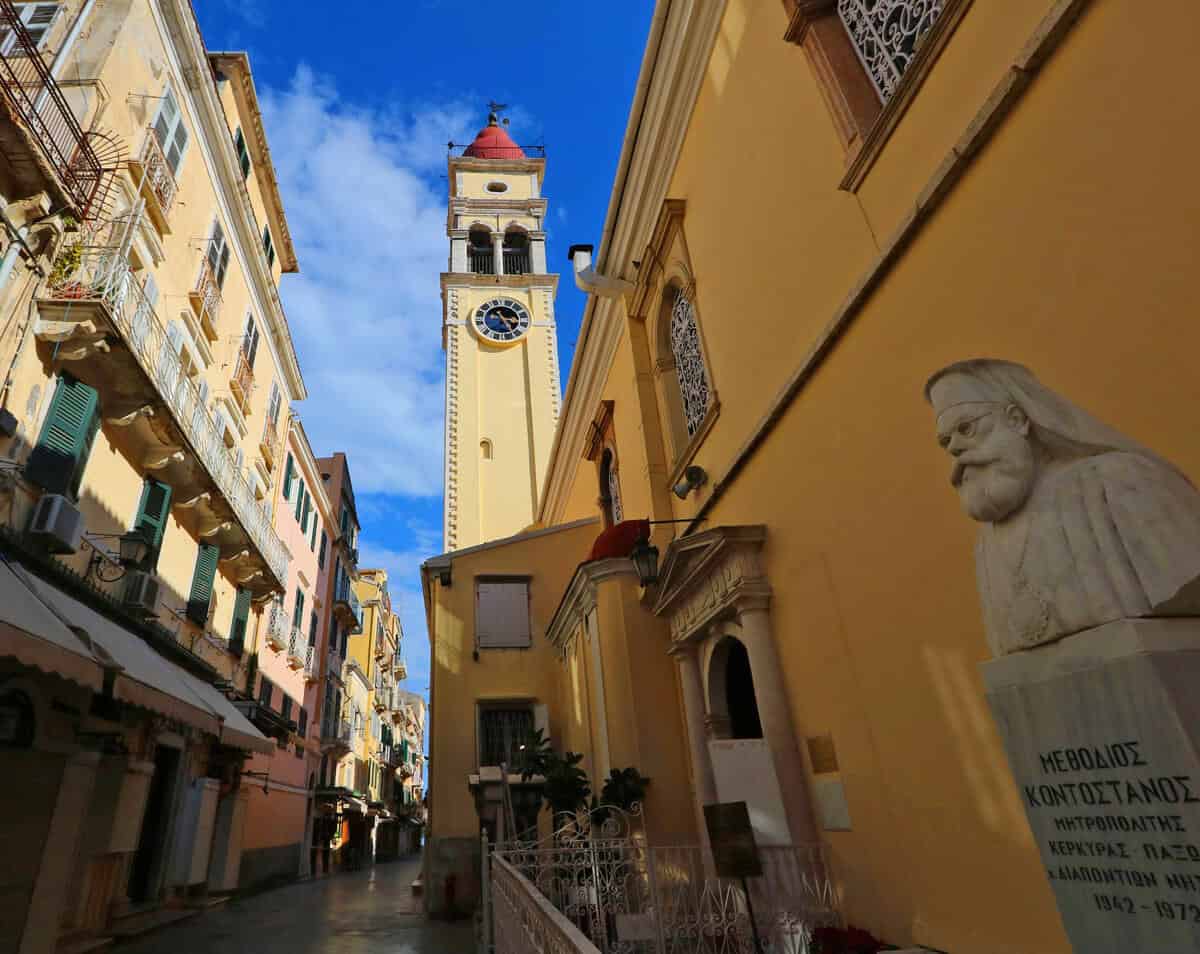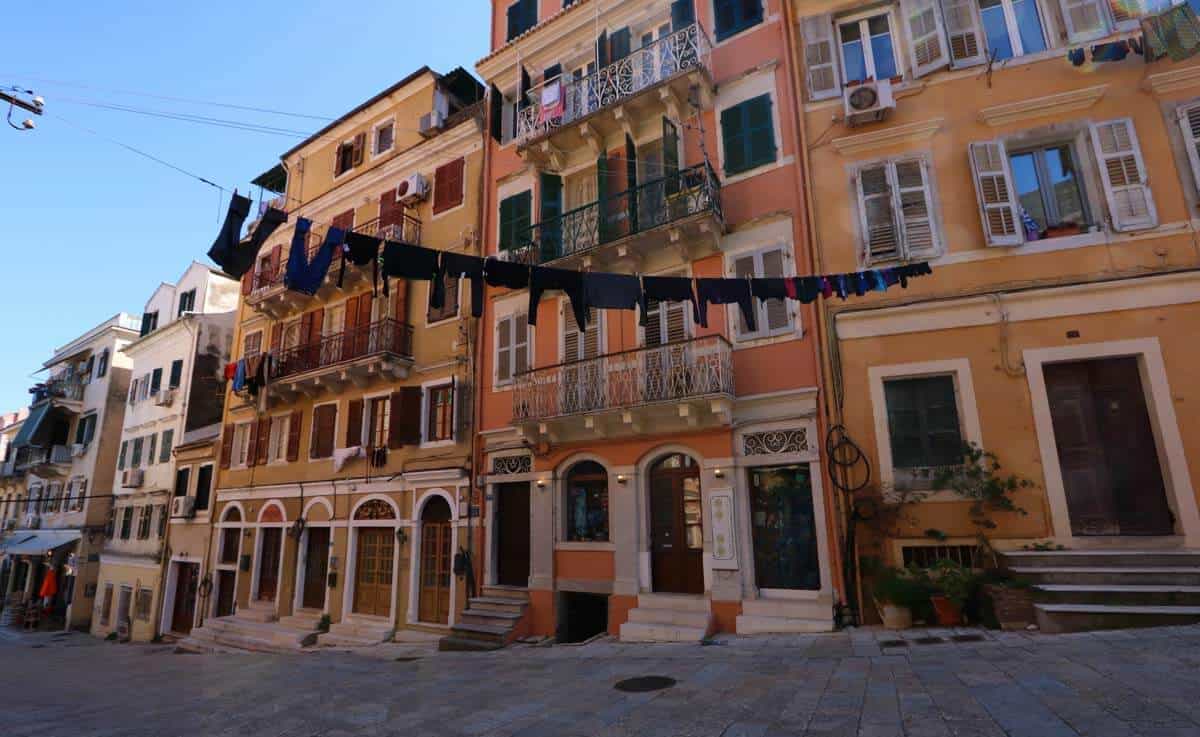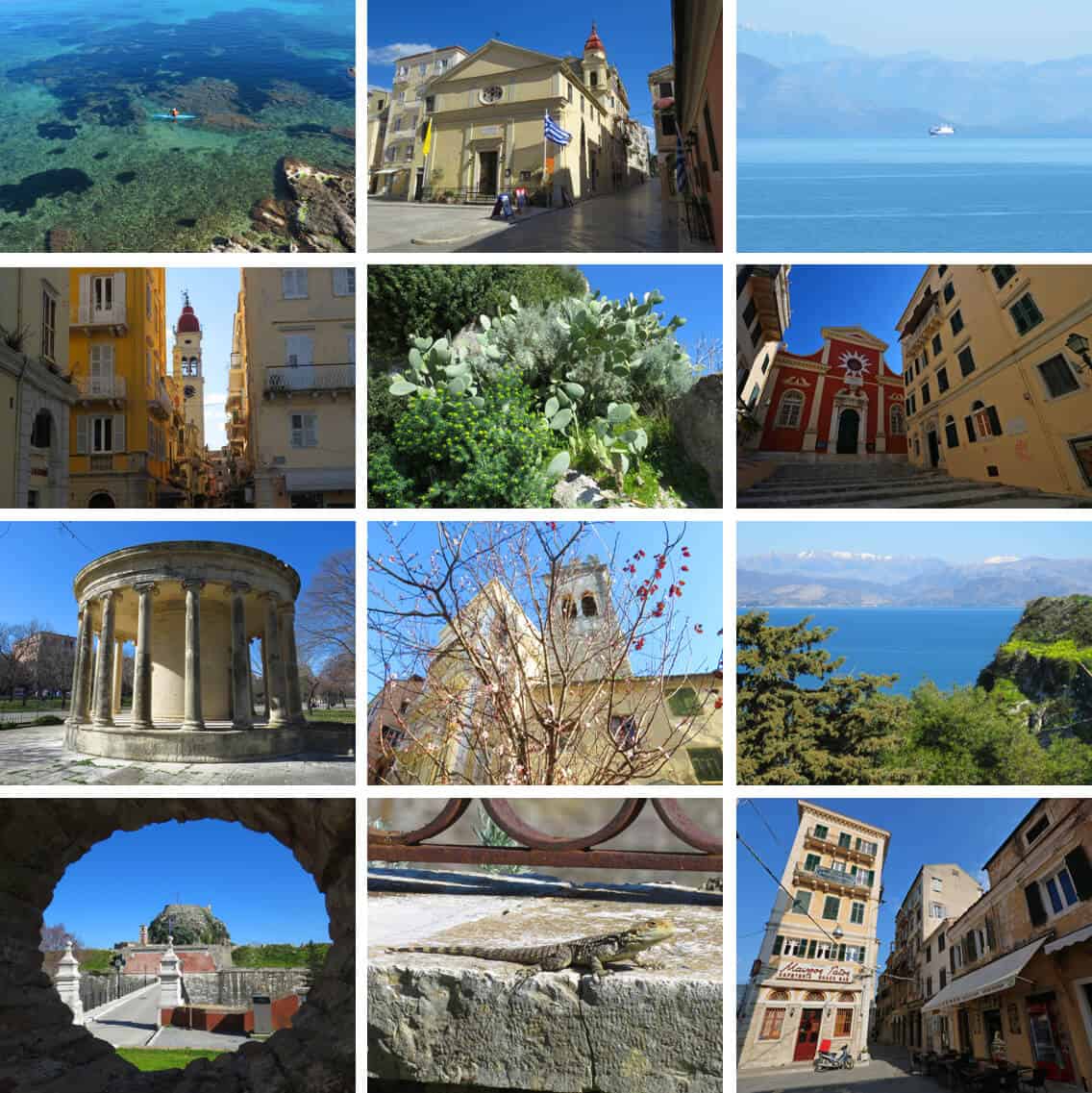 ---
---
Practical Information – Corfu Town and beyond
Accommodation in Corfu Town: A recommended hotel is the small Locandiera. Beautiful and perfectly situated at reasonable rates. If looking for an apartment, St. Spyridon Suite is a good choice as is Durell Liston Suites.
Restaurants: We didn't do a lot of eating out in Corfu but two restaurants that we really enjoyed were Aegli Restaurant (an institution in Corfu) and Ta Kokopia (up a little backstreet).
Getting here (and out). Ferry: We took the ferry to Corfu from Italy which I wrote about here. Note (we learned this the hard way): the ferry pier is an easy walk into town and it shouldn't take you more than 10-15 minutes, but when leaving please note that the ticket office is at the very far end of the pier and an extra 10 minute walk. I sweated like a pig and cursed like a sailor running there. Best to build in a little extra time. Air: Corfu has an airport (code CFU) which receives a lot of budget flights in the summer.
Corfu Beaches & Resorts. Corfu's best beaches are on the west coast, a few of the best beach towns being Paleokastritsa , Agios Gordios, Glyfada, and Roda. This covers some of the best beaches on the island of Corfu. A few recommended resorts: Marbella Corfu is high end and almost always sold out. Book early. Glyfada Blue View Corfu is an excellent mid-range option on Glyfada while Aris Apartments is very affordable and has a great location in Paleokastritsa.
Albania! Note that Corfu is the best jump off point for a visit to Albania. The ferry to the coastal town of Saranda takes 40 minutes. See the ferry link here. From there, a bus (they are very frequent) will take you to the UNESCO town of Girokaster in 1 hour. We regret we didn't go to Albania and plan on coming back to Corfu in the future to do just that.
Related: 12 Places you have to See in Albania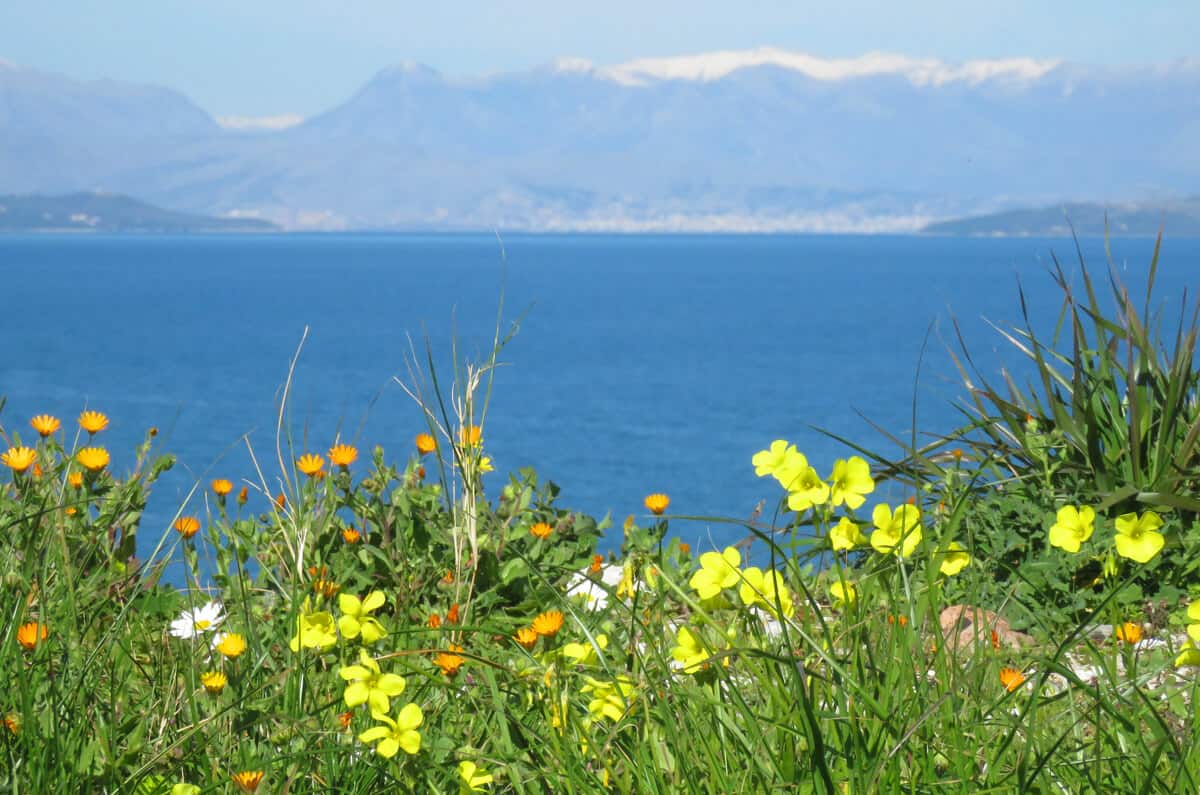 ---
---
Ps. If you find our blog helpful, please consider using our links to book your flights, hotels, tours, and car rentals. Have a look at our Travel Resources page.