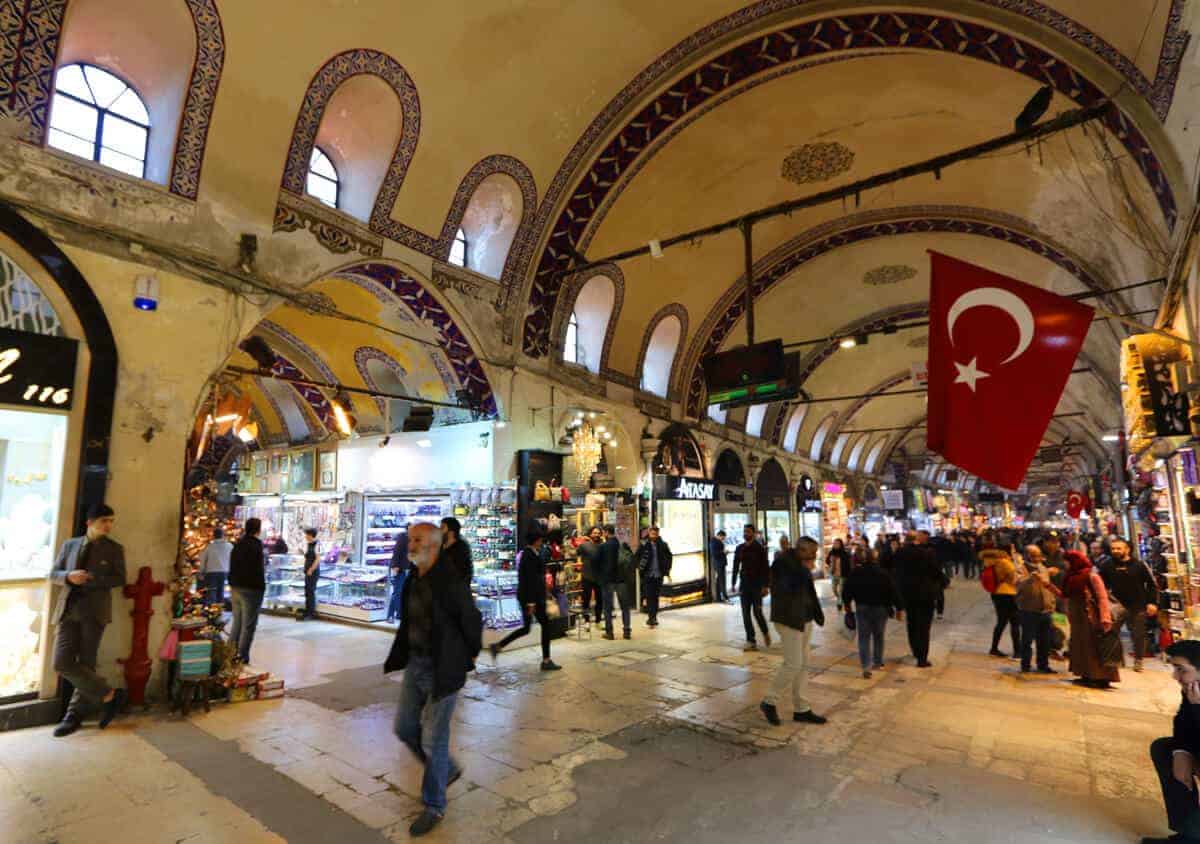 Turkey is a country with incredible coastlines, vibrant culture, delicious cuisine, and historical sites that have seen civilizations rise and fall for centuries. It is a country for the adventurer, the hiker, for the water sports lover and for the city breaker. In short, Turkey has something for everyone.
In this guide we'll cover many of Turkey's 'must-see' highlights.
But first a few formalities that need to be handled prior to arriving in Turkey.
Start by checking visa and entry requirements
On our first visit to Turkey we hadn't realized that Canadians and Americans visiting Turkey require a Visa (the present visa rules came in effect in 2013). This article covers the Visa policy of Turkey and the countries that require OR don't require an entry Visa.
If you do require a Visa (as we did), it's best to apply for your Turkish eVisa online before arriving in Turkey. It's easy and can be done in minutes.
Also good to know: As of June 2022, all Covid-related restrictions in Turkey have been removed – passengers traveling to Turkey no longer need to provide a vaccination certificate or a negative PCR test result.
Turkey's 'Must See' highlights
Istanbul
One of the great cities of the world, home to the Hagia Sofia (Istanbul's highlight attraction), the Blue Mosque, Topkapi Palace, Basilica Cistern, the Grand Bazaar, Spice market, Suleymanie Mosque, Galata Tower, Galata Bridge, Ortaköy Mosque, Dolmabahçe Palace…there's so much to see in Istanbul.
See our "3 day in Istanbul Itinerary" for a detailed guide.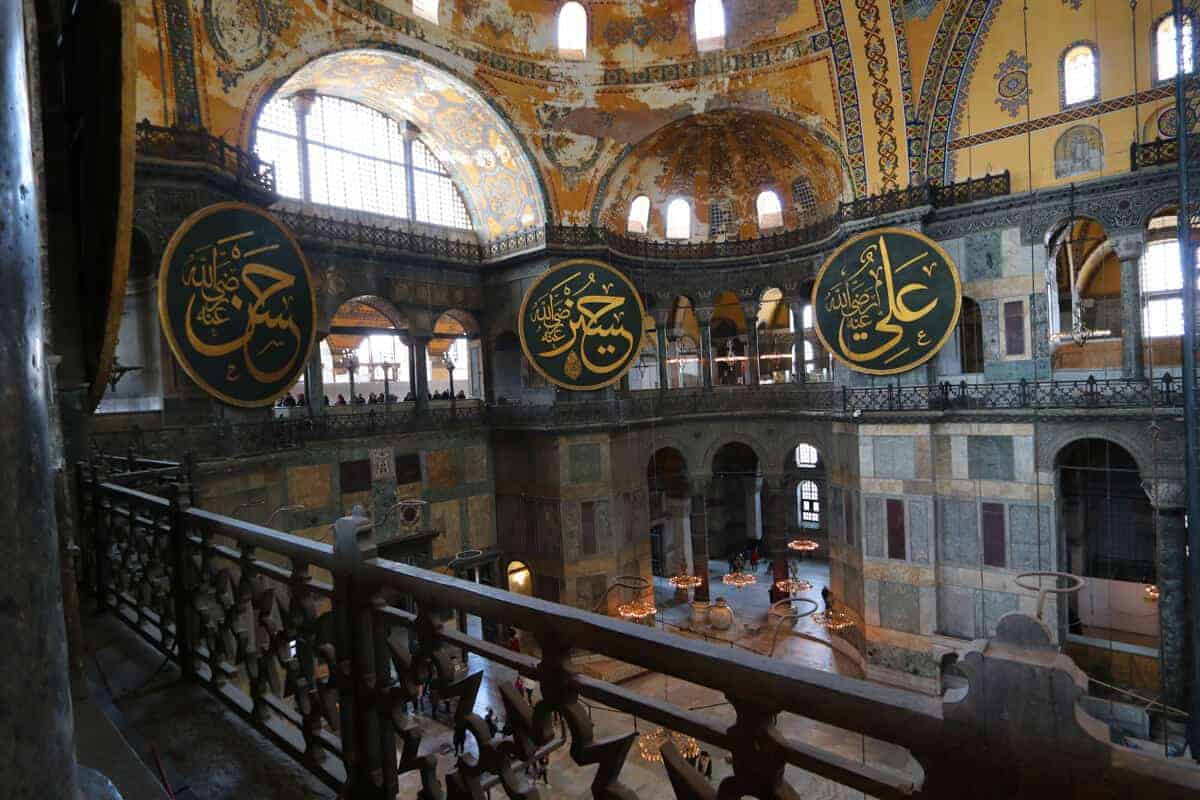 ---
---
Pamukkale
Pamukkale has been a tourist resort since the 2nd Century AD when the Romans used it as a spa town. A natural wonder with its hot springs and white (calcium) cliffs. At the top of the cliffs is the ancient city of Hieropoli which is worth seeing (the highlight being the impressive 12,000 seat Roman amphitheatre).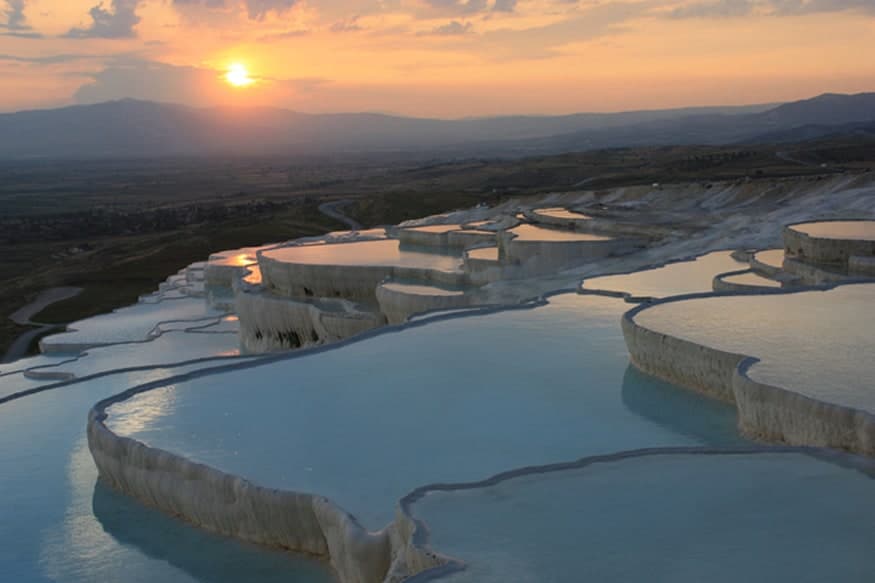 Ephesus
One of the largest, best preserved, and most visited archaeological sites in the world. First an ancient Greek city (in 10th Century BC), it became part of the Roman Empire in 129 BC. During this era it was second only to Rome in size and importance. Highlights include the Library of Celcius (named after the Roman senator), the Church of the Virgin Mary, The Theatre of Ephesus, the Terraced Houses Complex, and the Street of the Curates.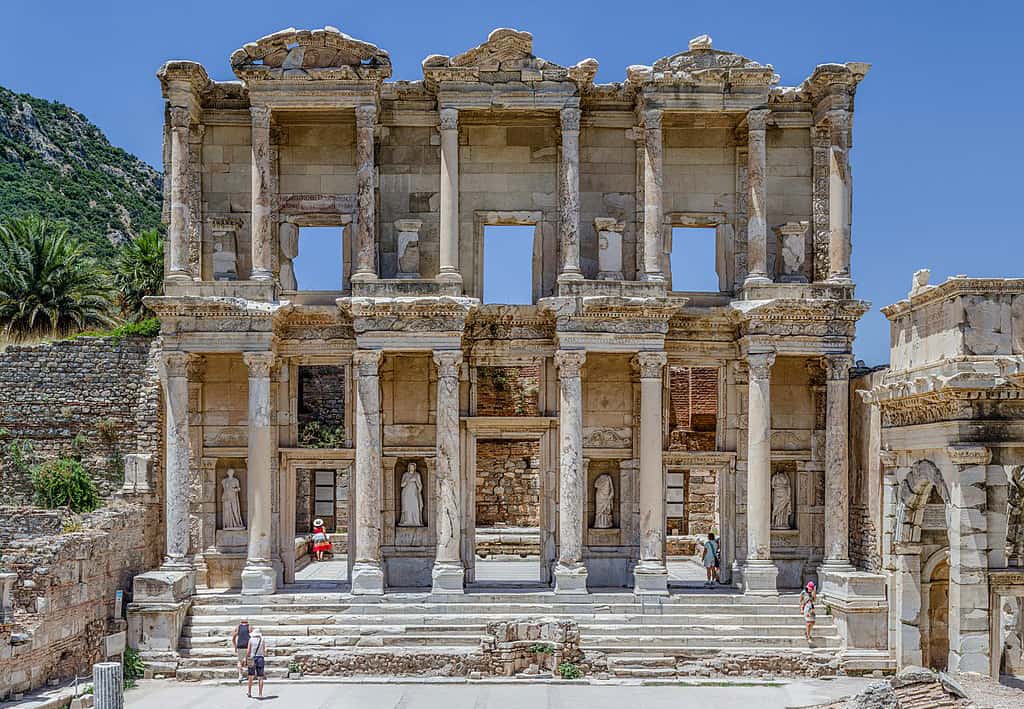 Source
Antalya
For beaches, waterfalls and incredible scenery, Antalya is one of Turkey's top destinations. The city itself is pretty with large parks, a vibrant marina and Hadrian's Gate (the main gate into the city, it was built to celebrate Roman Emperor Hadrian's visit in 130 AD).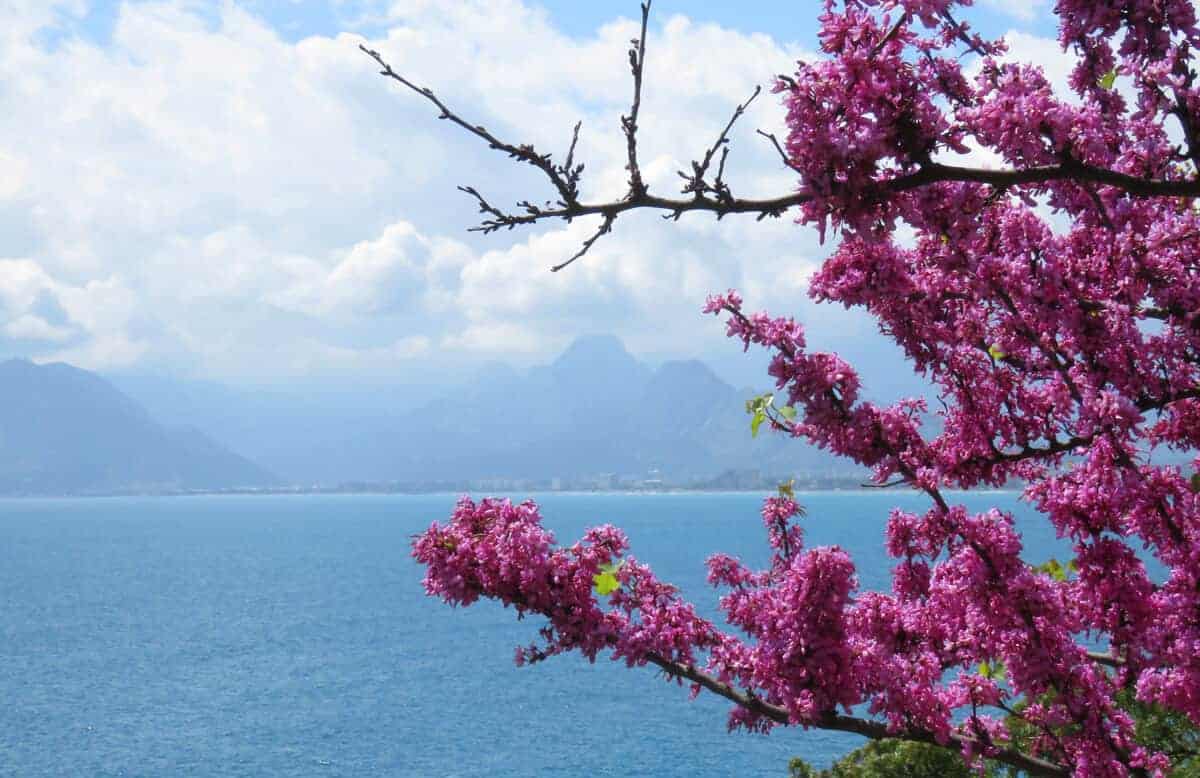 ---
---
Cappadocia
It is know for its moon-like landscape, underground cave cities and fairy chimneys. The thing to do here is taking a hot air balloon ride over the countryside. You should also stay in a Cave hotel, it's something unique to the area.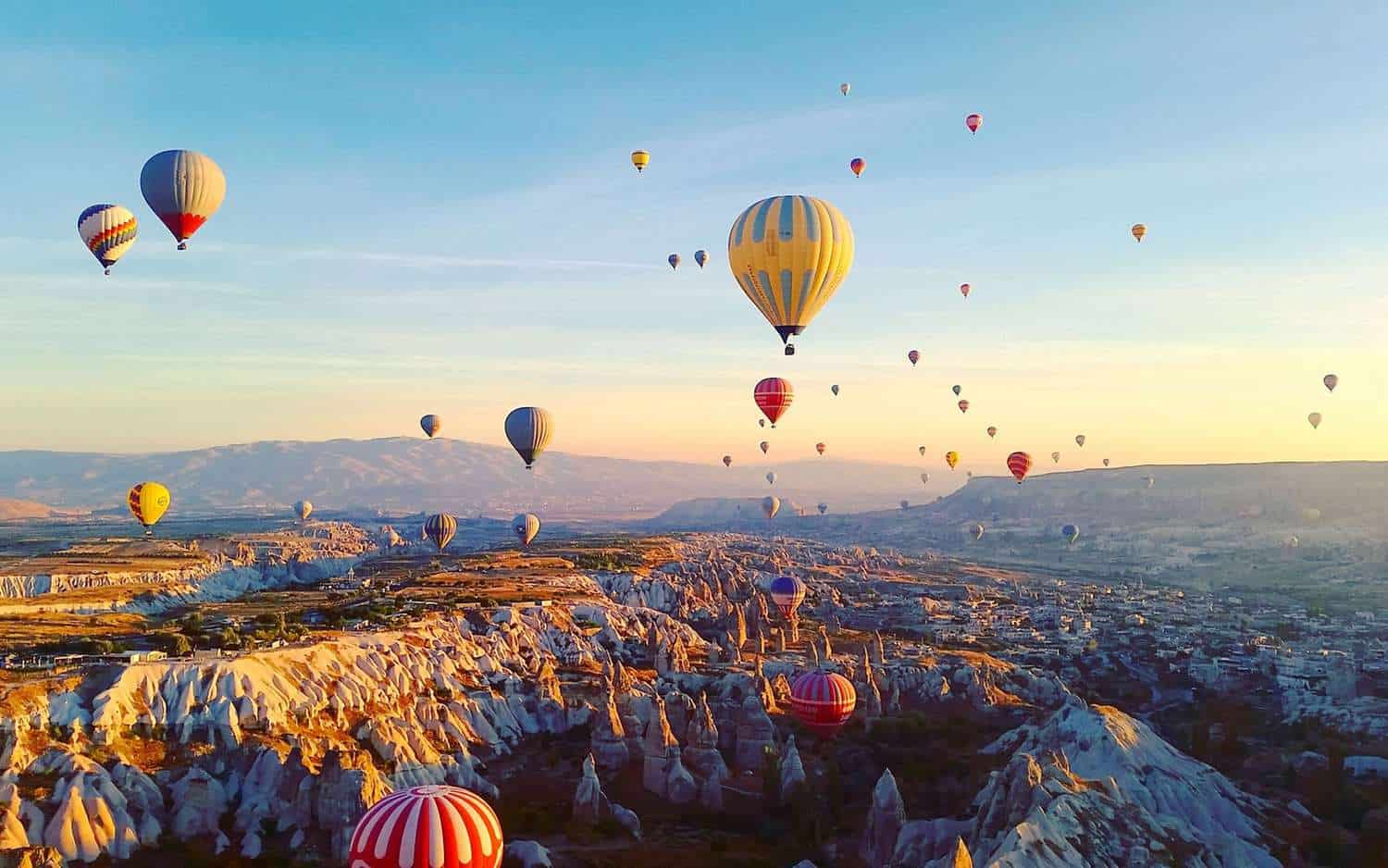 Olüdeniz
A place of beautiful landscapes and incredible beaches. Take a paragliding flight and hike to Butterfly valley. Olüdeniz has one of Turkey's most famous beaches and has incredible turquoise waters.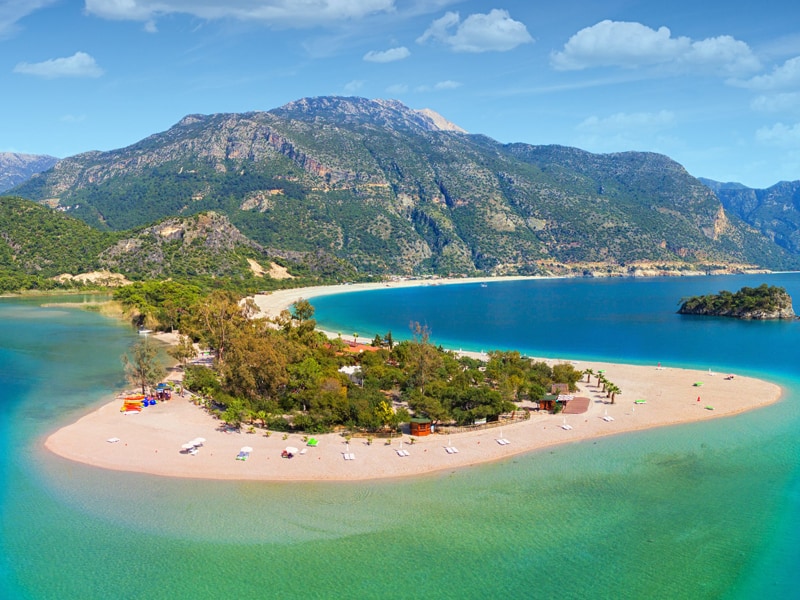 Izmir
It's Turkey's 3rd largest city as well as the westernmost city in Turkey. A great cultural destination, it has markets, a great mosque (the Blue Mosque) and a pier designed by Gustav Eiffel (the architect who designed the famous tower in Paris).
Izmir is also a great jumping off point to Ephesus and Pamukkale.
Edirne
It doesn't make it on most lists – but we though Edirne (20km from the Bulgarian border) was incredibly impressive. A small city, it was founded by the Romans as the city of Adrianople (Hadrianoupolis), i.e. "City of Hadrianus", named after the Roman emperor Hadrian. Later, Edirne was the capital of the Ottoman empire before the defeat of the Byzantines in Constantinople (present day Istanbul).
Today the city has 3 incredible mosques, all within easy walking distance of each other.
See our post: What to see in Edirne
---
---
Practical Information and Tips
Getting Around
Flying: Turkey has an extensive air network. 50 cities have domestic and/or international airports, most linked through Istanbul. Most domestic flights are under 2 hours long and are very affordable pricing. Turkish Airlines and Pegasus are the main carriers (both domestically and internationally) but there are other domestic carriers as well such as AnadoluJet and Sun Express.
Bus: Bus is the main way (and cheapest way) of getting around the country. Turkey has one of the most extensive bus networks in Europe. Metro Turizm, Ulusoy, Kamil Koç are 3 of the largest bus companies. Smaller destinations may not be covered by the larger bus companies but are covered by local buses, minibuses and dolmuş (shared taxis).
Train: Is generally limited though improving. One major exception to this is the busy high-speed line connecting Istanbul, Eskişehir and Ankara.
Language
Turkish is the main language but many people speak some English. We didn't find language to be a major obstacle to our travels around Turkey.
Food
Turkey is home to one of the world's great cuisines.
Turks like meat (lamb is the favorite) but you'll also find many vegetarian options. Try gozleme – a flatbread stuffed with spinach, cheese, potatoes, or any other filling you like. Pide – a cross between pizza and traditional Turkish flatbread – can be found almost anywhere. Meze are the most typical Turkish appetisers: dishes of various salads, pickles and roasted vegetables (such as aubergines or peppers) drizzled in delicious sauces, as well as skewers of chicken, lamb and dried fruits. 'Dolmas' are grape leaves stuffed with cooked rice and, occasionally, pieces of meat. Vegetarians and vegans should try out Cig Kofte. Originally made of raw meat this delicious paste like substance is now made up of Bulgur wheat, tomatoes and spices and is rolled up in a wrap with crunchy salad. Baklava is for the sweet tooth (we fell in love with it in Turkey). Turkish breakfasts are huge. You'll find eggs, bread, olives, salad, cheese, yoghurt, honey, fruit and more.
Besides formal, sit down restaurants, Turkey has a lot of street food. So its delicious food doesn't have to be expensive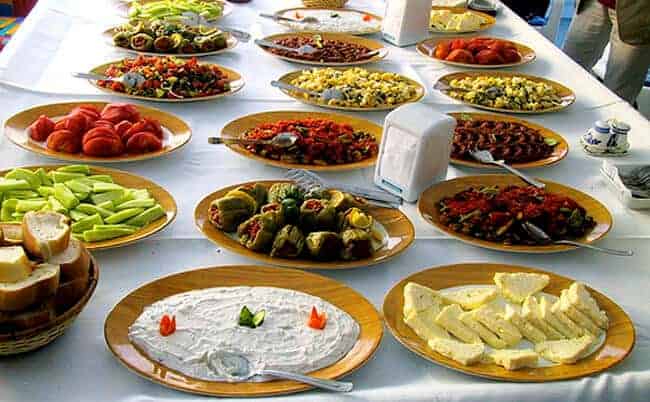 ---
---
The Bottom Line on Turkey
Turkey has tons to see with historic ruins, beautiful beaches and high mountains. It has excellent cuisine, great transportation links, and is inexpensive compared to many other global destinations. It is a lively and exciting country. Turkey is a great place to visit in 2023.