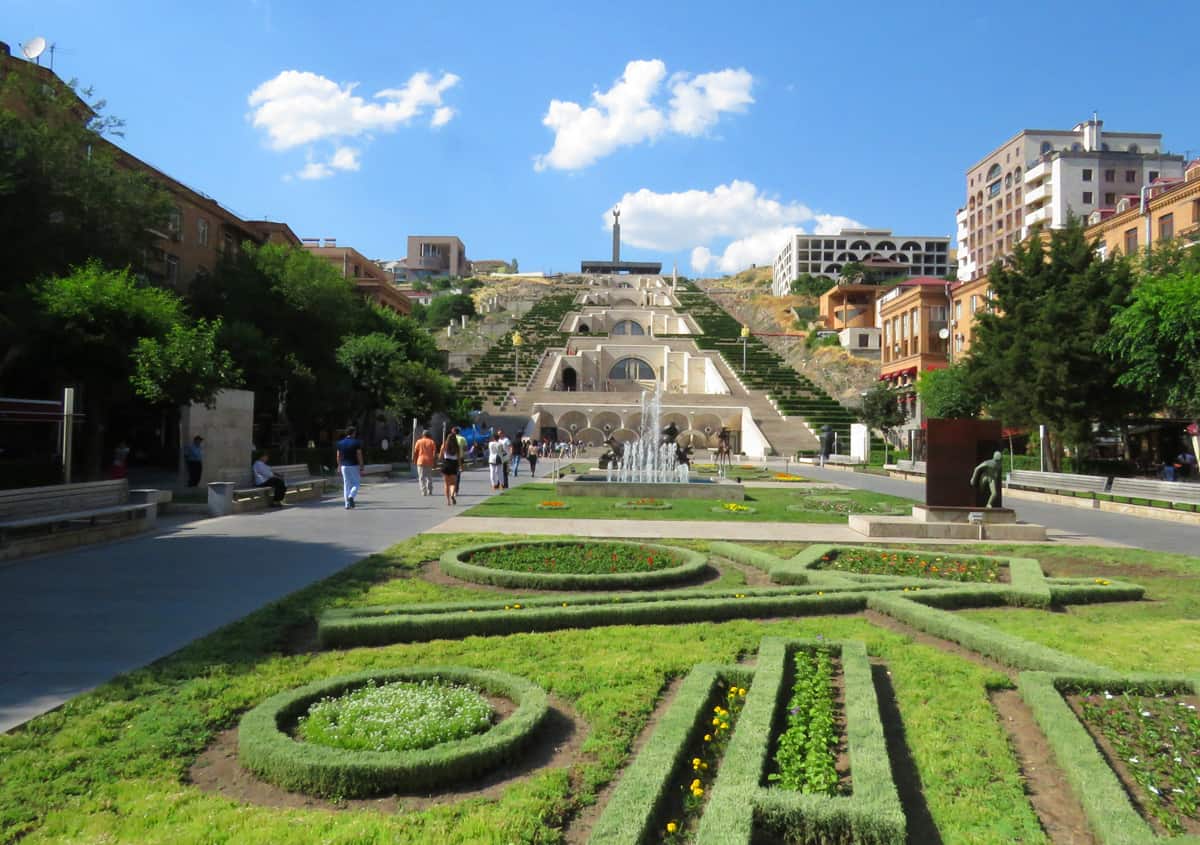 A couple of years ago we spent 2 months in the Caucasus region, splitting the time equally between Tbilisi (the capital of Georgia) and Yerevan (the capital of Armenia).
There are so many misconceptions about the 2 cities that I thought I should write this post. Yerevan is very different from Tbilisi in much the same way that Georgia is very different from Armenia. In fact, even we were surprised by just how different they were. What they both have in common is that both are attractive and interesting cities. If you don't believe me, CNN covered both cities in this article: "20 beautiful European cities with hardly any tourists" *
*"European" can be used loosely here. Most people don't consider Georgia and Armenia to be part of Europe because they are situated east of the Bosphorus and south of the Caucasus mountains. But many don't consider them Asian either, so they seem to fall under a lot of different definitions…
So, if we had to choose, which of the two cities should you visit? As I say, we spent a month in each and the answer doesn't come easy. But here are our thoughts.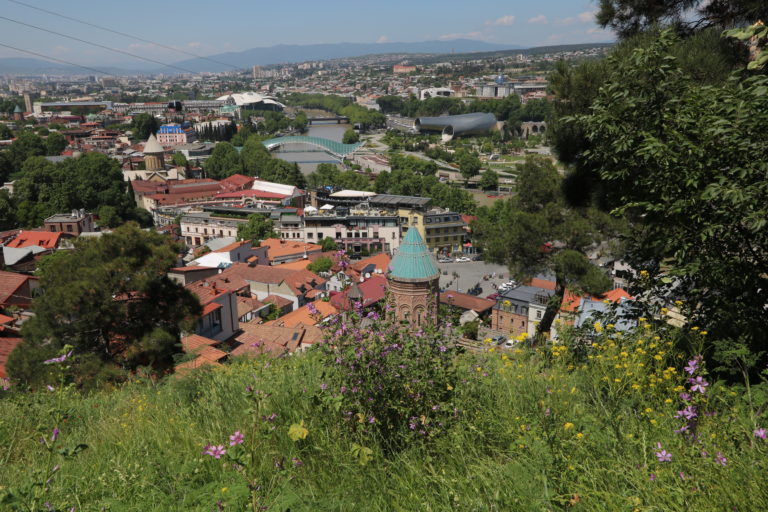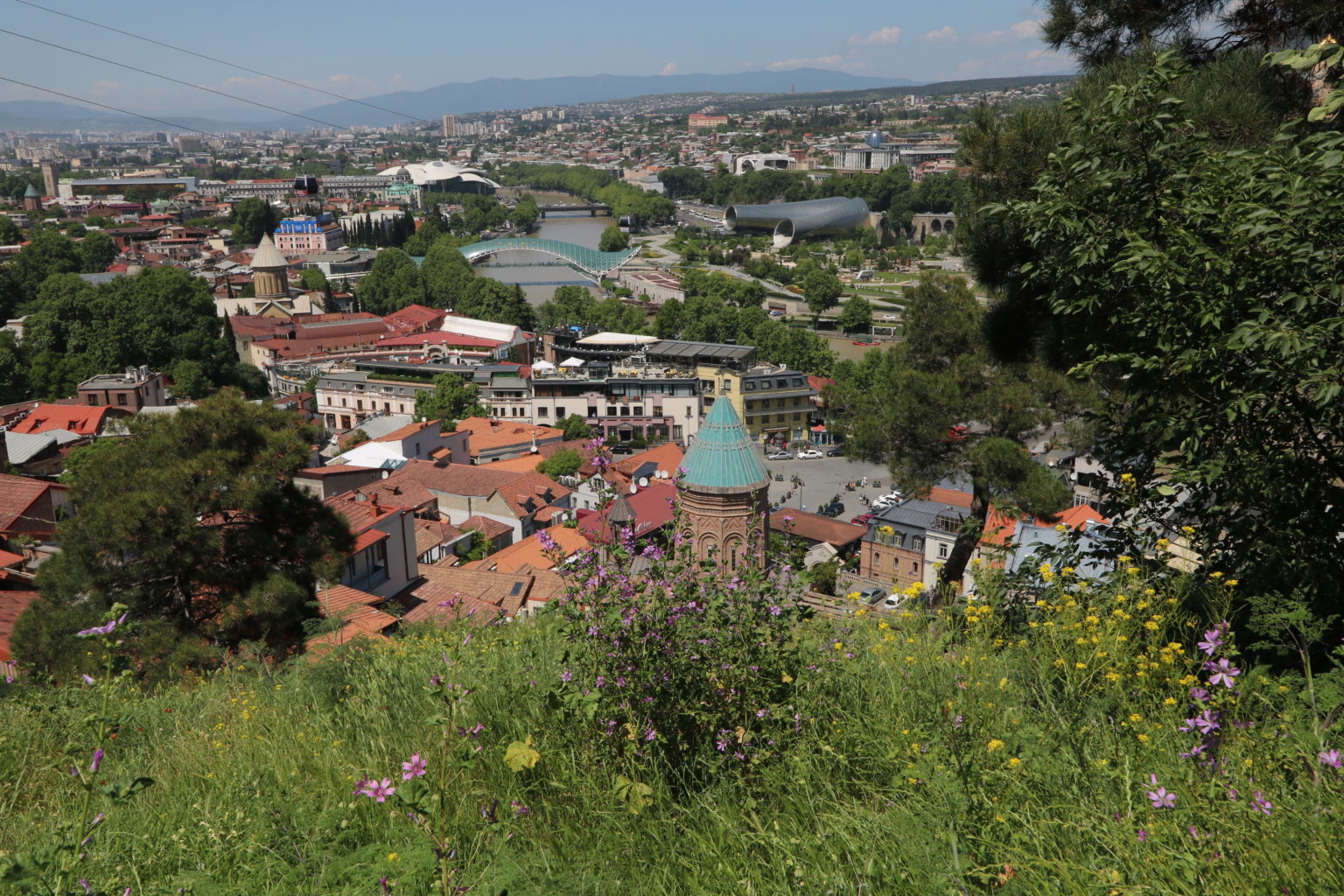 ---
---
---
Overall description of each city
Tbilisi is "long", built up on either side of the Kura river and in a valley between high hills. The city stretches out and the center has different sections, each with its own identity: from the Persian-style bathhouses in the eastern section of the old town to 6th century Orthodox churches a bit further west, to wide Rustaveli Avenue which is lined with museums, government buildings and grand hotels. Add to that plenty of modern architecture as well as traditional wooden buildings and Tbilisi adds up to a weird assortment of styles.
Yerevan's center on the other hand, is quite uniform. It is laid out in a grid street plan and you'll see large, attractive boulevards shaded by trees and lined with fountains and large Communist-era monuments. It is known as the "Pink city" because many of its buildings are constructed from the same pink stone.
Both are attractive cities but architecturally they are very different.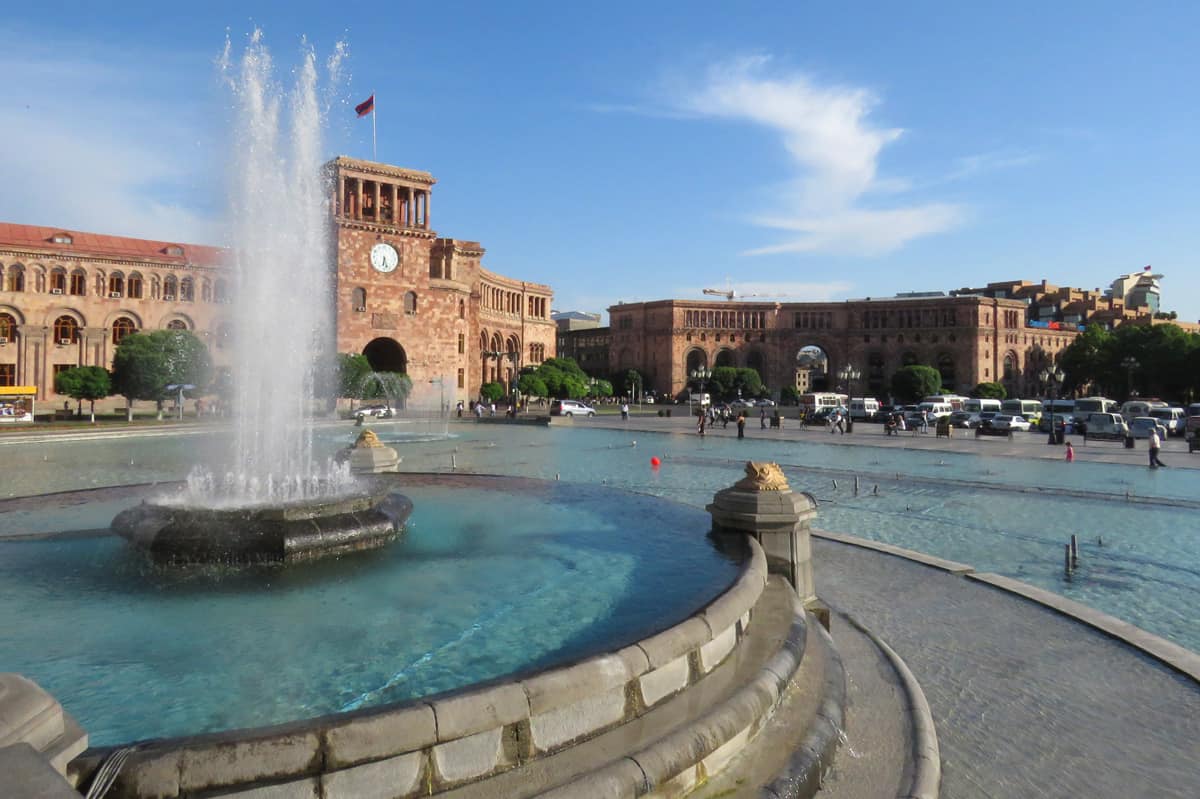 ---
---
---
---
The "feel" of each city
Tbilisi feels younger, more happening, and "western". Walking around the center of the city you feel like you could be somewhere in Europe. Young people speak English and you just feel that they're looking westwards for their inspiration. The city is quite popular with tourists so that contributes to the liveliness of the place as well as to the pull towards Europe. Tbilisi feels safe, it's streets are mostly well-kept and clean. There are street dogs which was a surprise.
The way everyone spoke of Yerevan (mostly people in Tbilisi who evidently had never been to Yerevan) we almost expected horse-drawn carriages going down the street. So it was a shock when we got there and saw those tree-lined avenues filled with outdoor cafes and restaurants frequented by well-dressed, attractive people. There were lots of boutiques, fancy cars, and no street dogs. We were impressed. Unlike Georgia, Armenians don't speak a lot of English. We also felt that the people don't look to Europe for inspiration…Yerevan seems to be tugged north (to Russia) and south (to Iran). Like Tbilisi, the city center was well-kept and we always felt safe in Yerevan.
---
---
Very brief history you should know
Georgia was taken over by the Russians in 1805 and their rule lasted until independence in 1991. Georgians in general have a very strong dislike of the Russians. Armenia on the other hand had been ruled by the Turkish Ottoman empire since the 16th century. In the 19th century the Russians became a power and took over Eastern Armenia. But Western Armenia was still under Ottoman rule and the Turks systematically started murdering Armenians in 1915 (the Armenian Genocide where it is estimated 1.5 million Armenians were killed). When both the Ottoman and Russian empires fell after World War 1 (1918) Armenia had independence. That lasted 2 years. In 1920 the Soviets took over and ruled Armenia until 1991. Since then Armenia has been independent. History has shaped Armenia's alliances: they hate the Turks and there is constant friction with Turkey (there are no open borders between the 2 countries). While they don't love the Russians they have close military alliances with Russia, mostly out of necessity. There are right now 3 Russian military bases in Armenia.
The above history explains why Georgians and Armenians have very different feelings about the regional powers and why one looks towards Europe and the other towards Russia.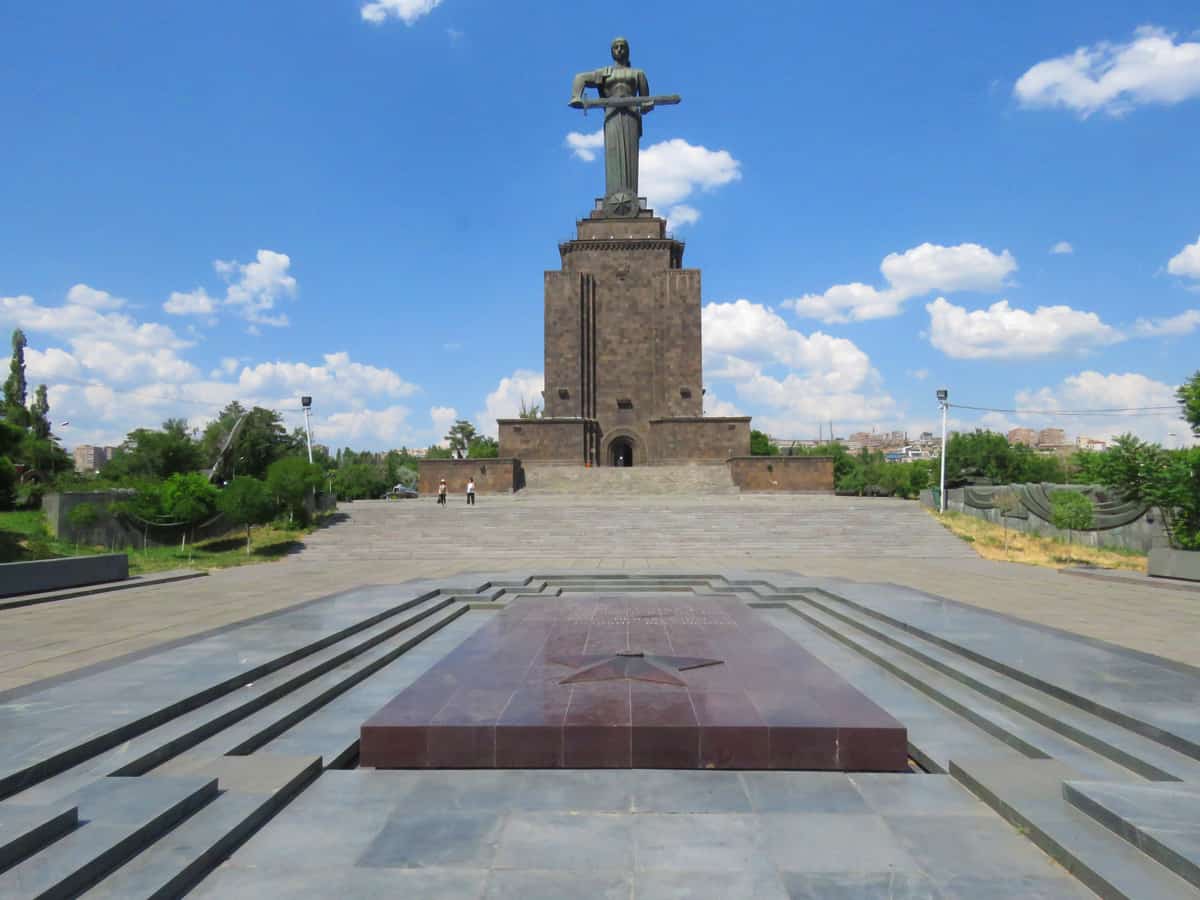 ---
---
---
Comparing each city's highlights
Tbilisi has lots to see. Narikala Fortress, the Mother of Georgia statue, Rike Park, the Bridge of Peace, the Orthodox churches of the old town, the sulfur baths, a waterfall right in the center of the city, Liberty Square, Rustaveli avenue and it's many grand buildings…there are lots of things to see in Tbilisi (lots more detail in that post).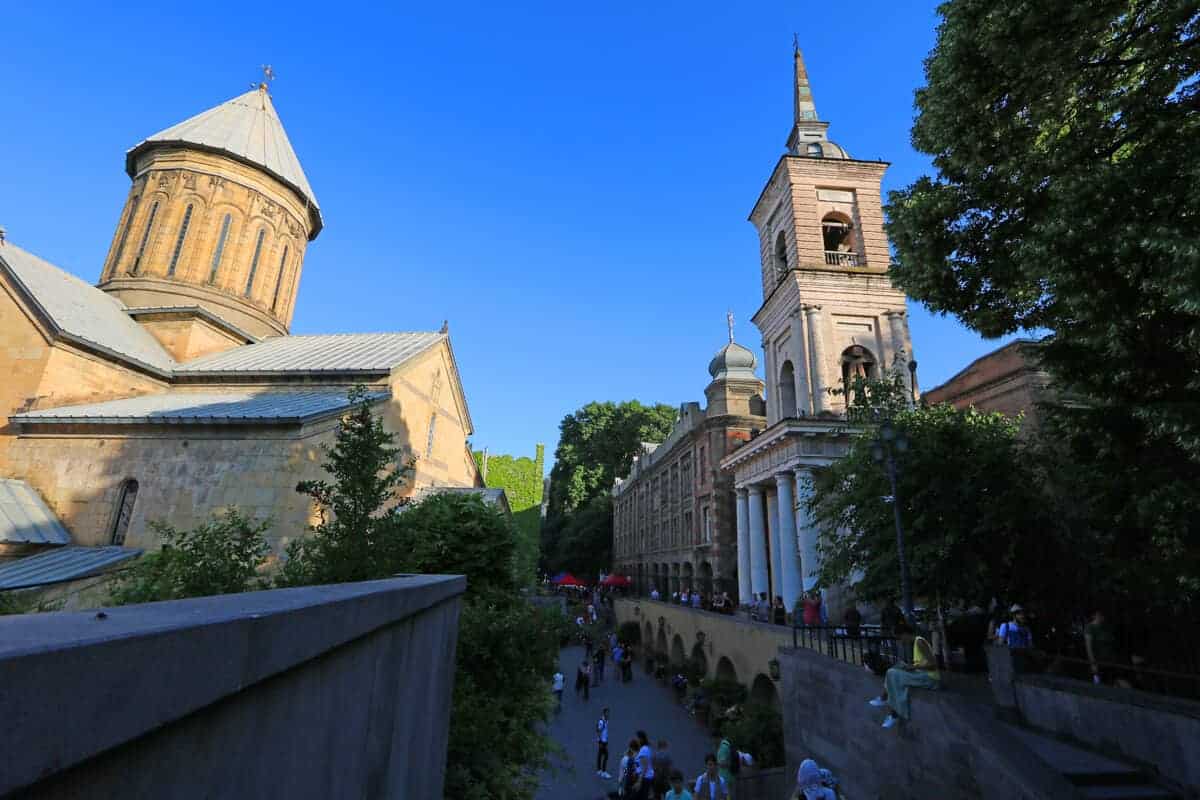 ---
---
Yerevan has less attractions but some of its attractions really are spectacular as well as very cultural. The Cascades, a giant stairwell that features tons of contemporary art, leads to a lookout over the city. From there you see Mount Ararat which seems to loom over the city (it's actually just across the border in Turkey). There's the Mother Armenia monument and its museum, Republic Square with its huge pools and fountains (come here to see "dancing fountains" at night), the Armenian Genocide Museum, the book depository, the History museum of Armenia…and there are lots of Soviet monuments (which you don't see in many places anymore, most countries have gotten rid of any memories of the Soviet past). More here on the many attractions of Yerevan.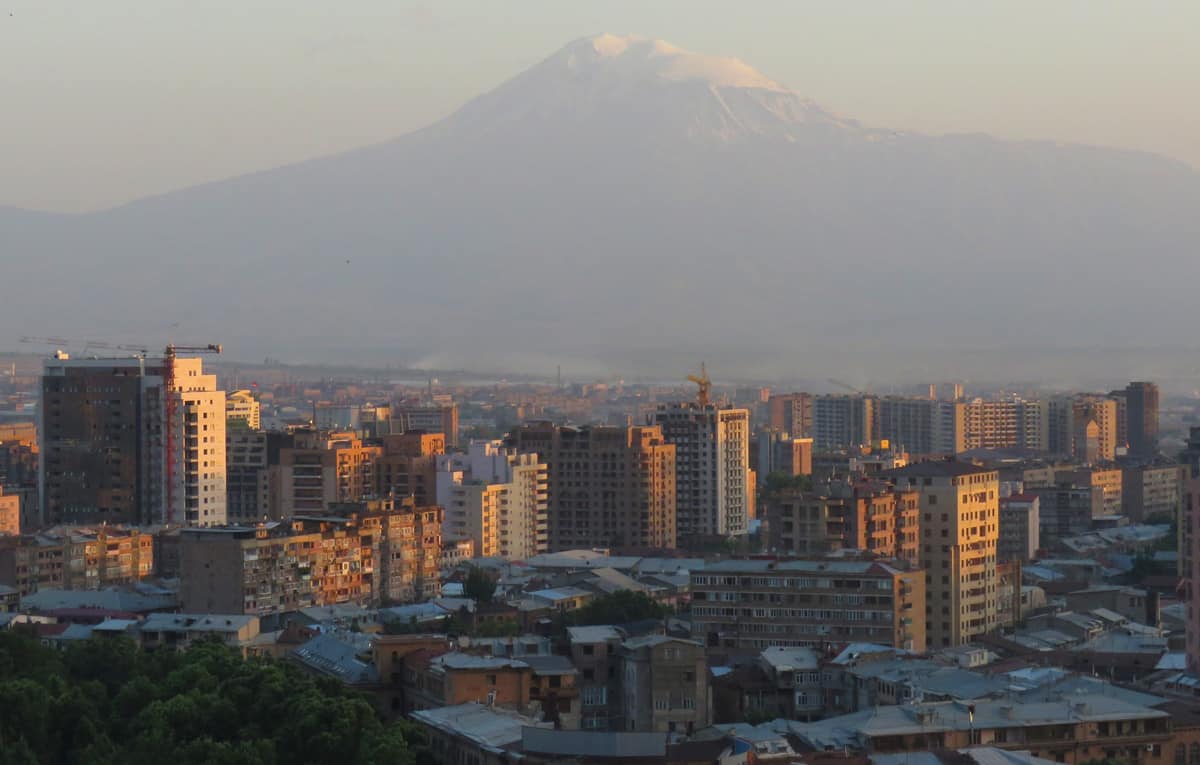 I'd say Tbilisi has more to see than Yerevan. But Yerevan has some highlights and history that are very unique.
---
---
---
Highlights outside each city
Most tourists take tours to see highlights outside both cities. There is lots of nature in both Georgia and Armenia. The absolute highlights? The north of Georgia along the Georgian Military Highway where you'll see some of the world's highest mountains on the Georgia/Russia border. Phenomenal. Armenia, on the other hand, has more impressive temples outside the capital – and Armenia's temples are set in some incredibly scenic spots.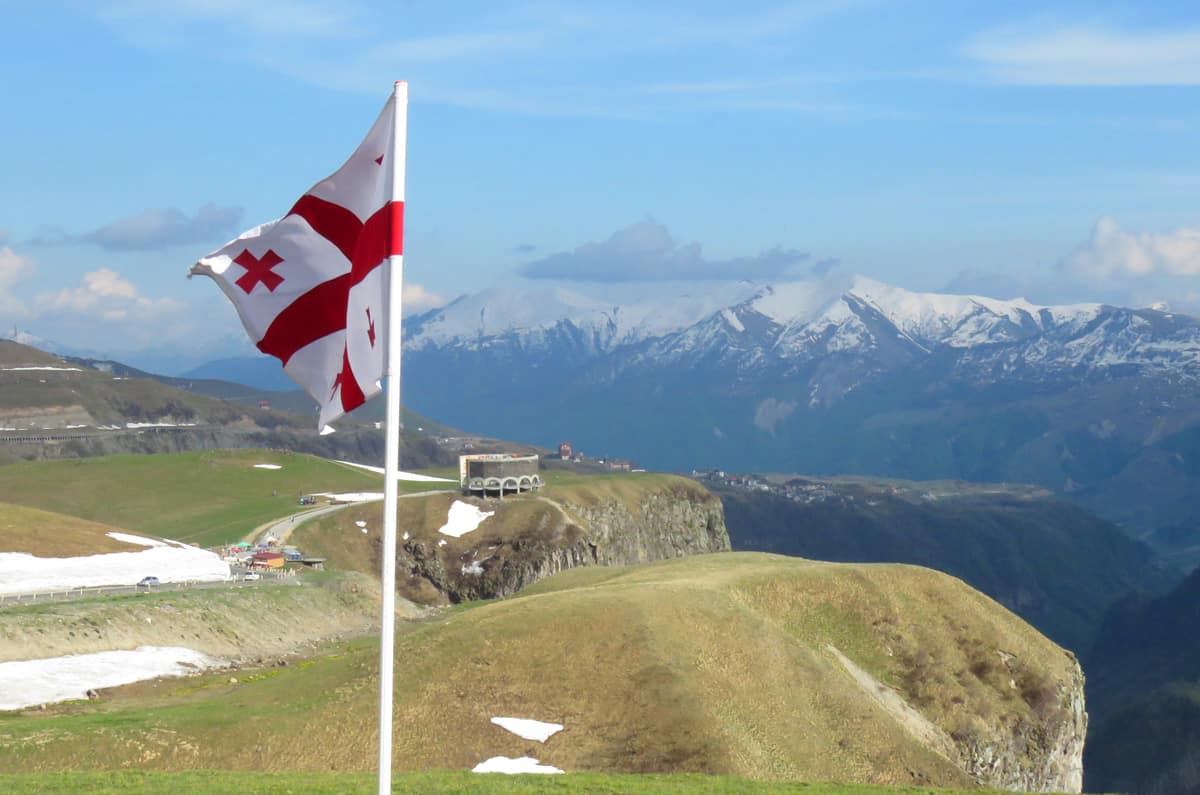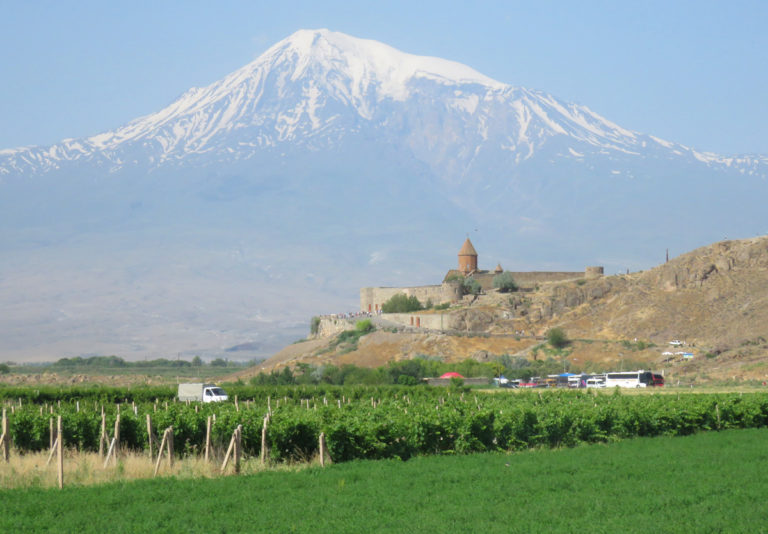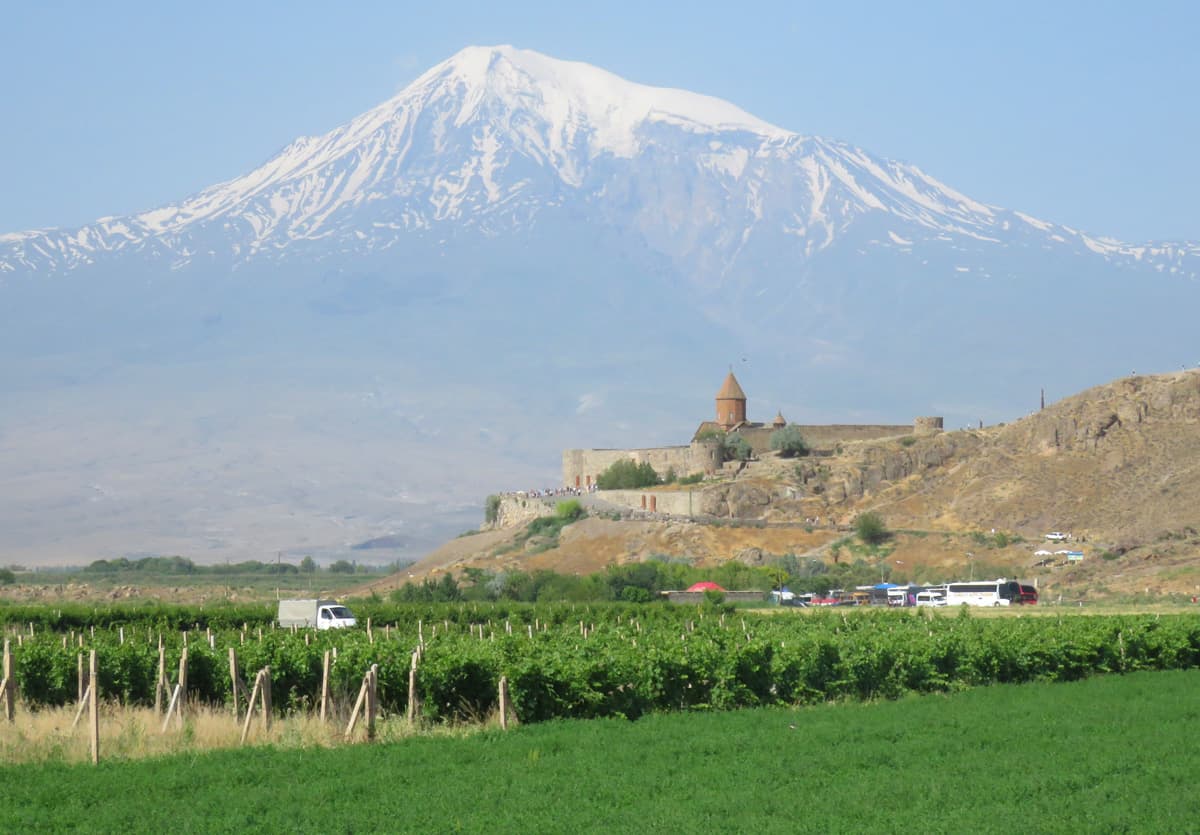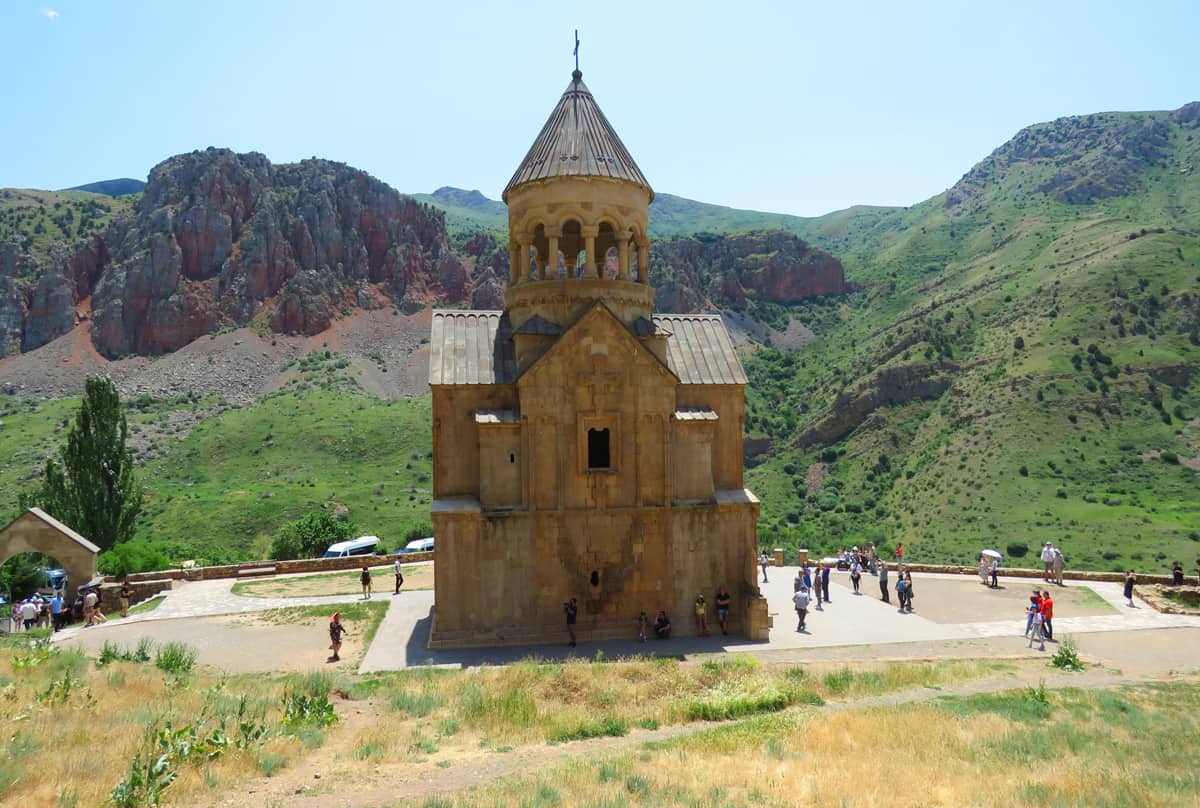 ---
---
---
Food & drink
Georgia has unique food, things like Khinkali (Geogian dumplings stuffed with meat and/or vegetables. I love it), Khachapuri (Georgian cheese bread with an egg), and Churchkhela (dried fruits and nuts. Excellent). Georgia is known for its wine but, in all honesty, it's nothing special (sorry…)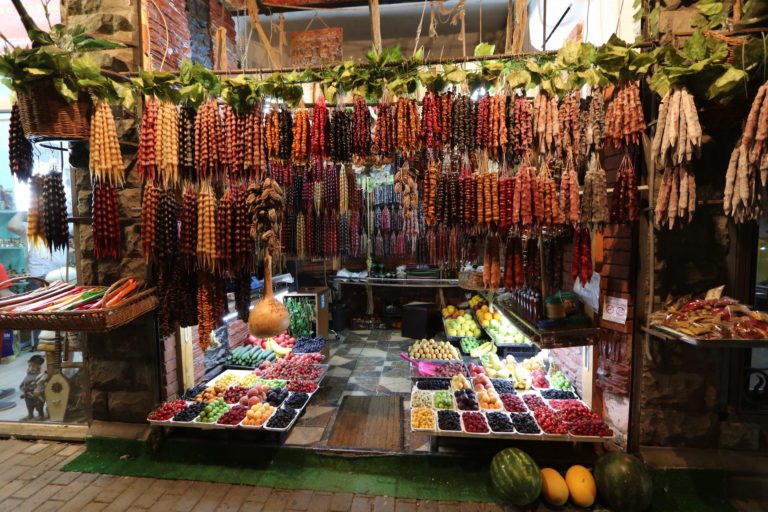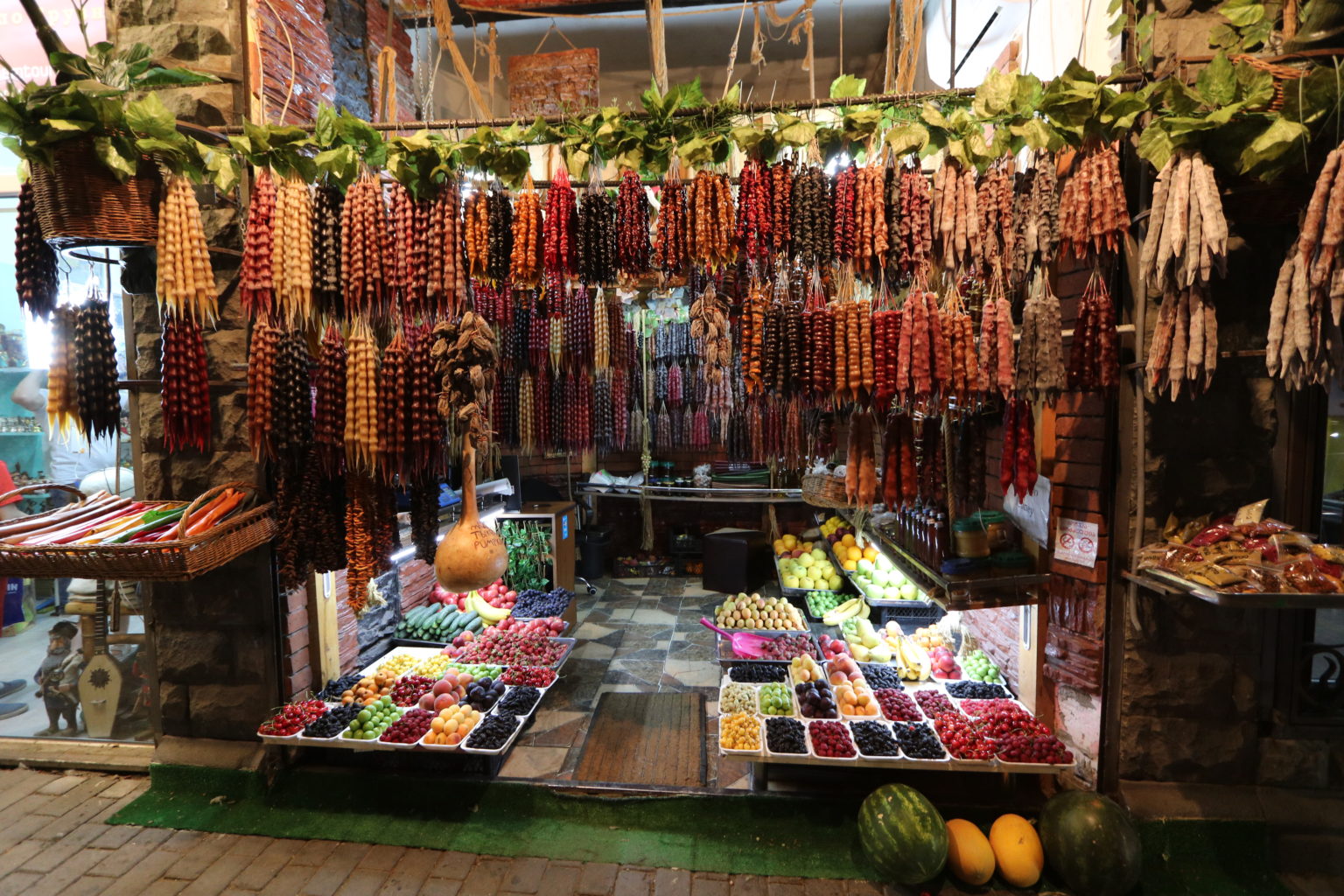 Armenia surprised us with its delicious food: Dolma (meat and rice in cabbage leaves), Boerag (flaky puff pastry with cheese), Lavash (a skinny flatbread that appears with every Armenian meal. Great). The trout from Lake Sevan is fantastic. We fell in love with Armenian food, they do a lot of things with vegetables, nuts and yogurts (something very Middle Eastern). Like Georgia, Armenia has wine but it's also nothing special (not a slam on either country, it's just the grapes available in each country are very different than grapes found in places like France, South Africa or Argentina). What is fantastic in Armenia is Brandy (which they refer to as "Cognac"). Armenian brandy is incredible and has beaten French "cognac" in various competitions. We became regular drinkers of "cognac" in Armenia*.
* Armenia has a very special relationship with France. France was the first country to recognize the Armenian genocide and welcomed Armenians to settle in France. Armenia is actually a member of the International Organization of la Francophonie. Charles Aznavour, the famous "French"singer, was born of Armenian parents and is one of the most famous Armenians of all time (there's a museum dedicated to him in Yerevan). Surprise: The French "merci" is used to say thank you (for a foreigner it's much easier than the official Armenian thank you of "schnorrhakalutsjun").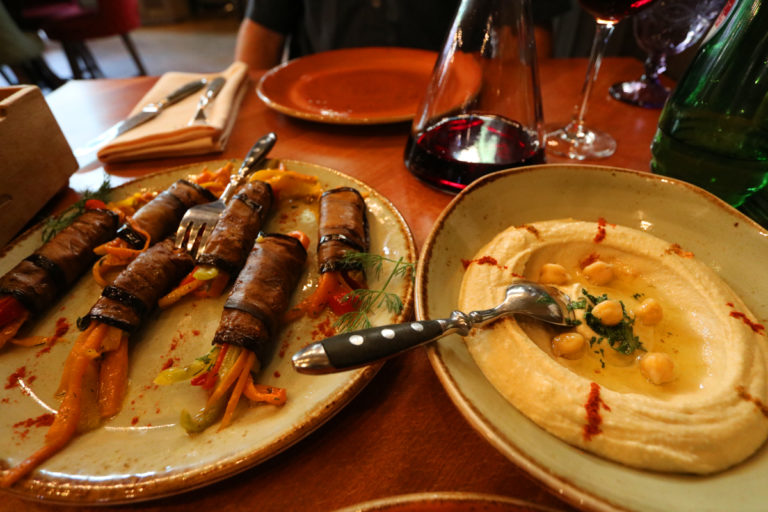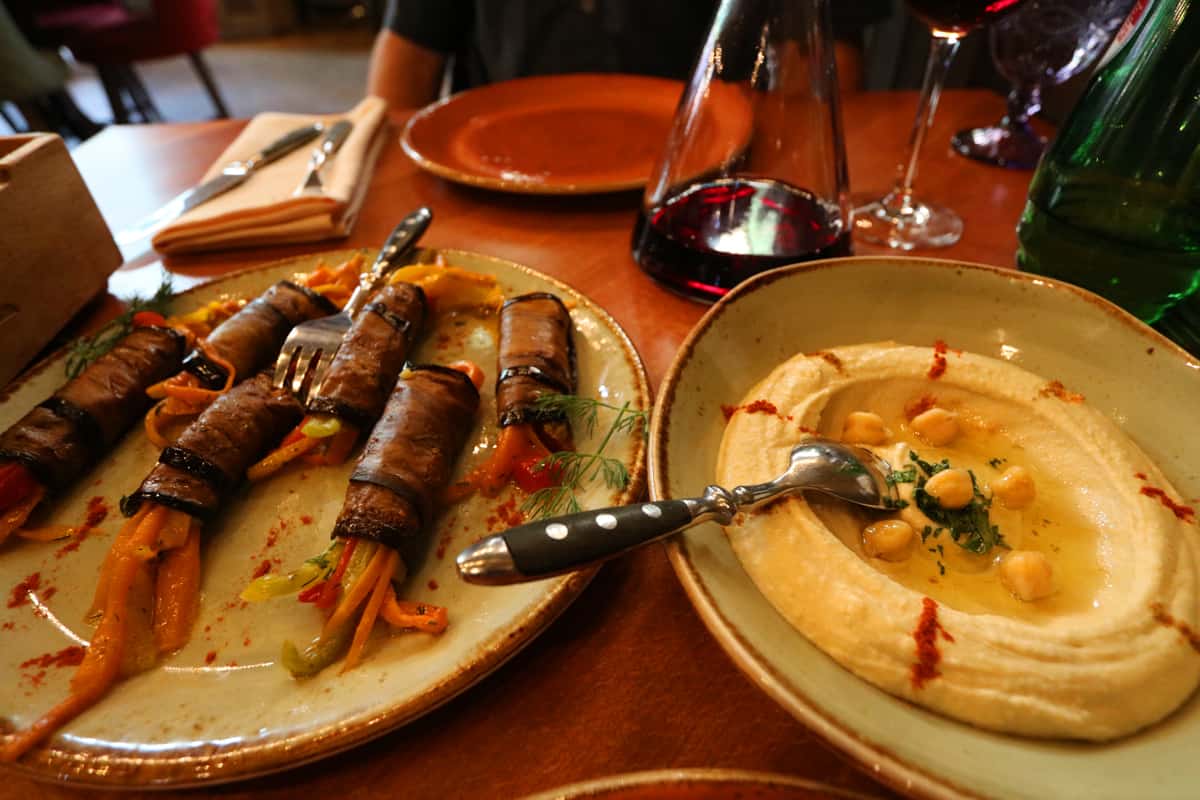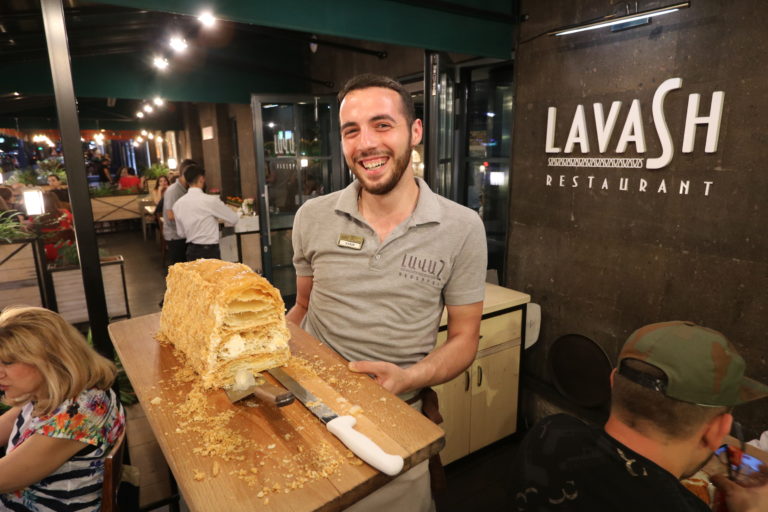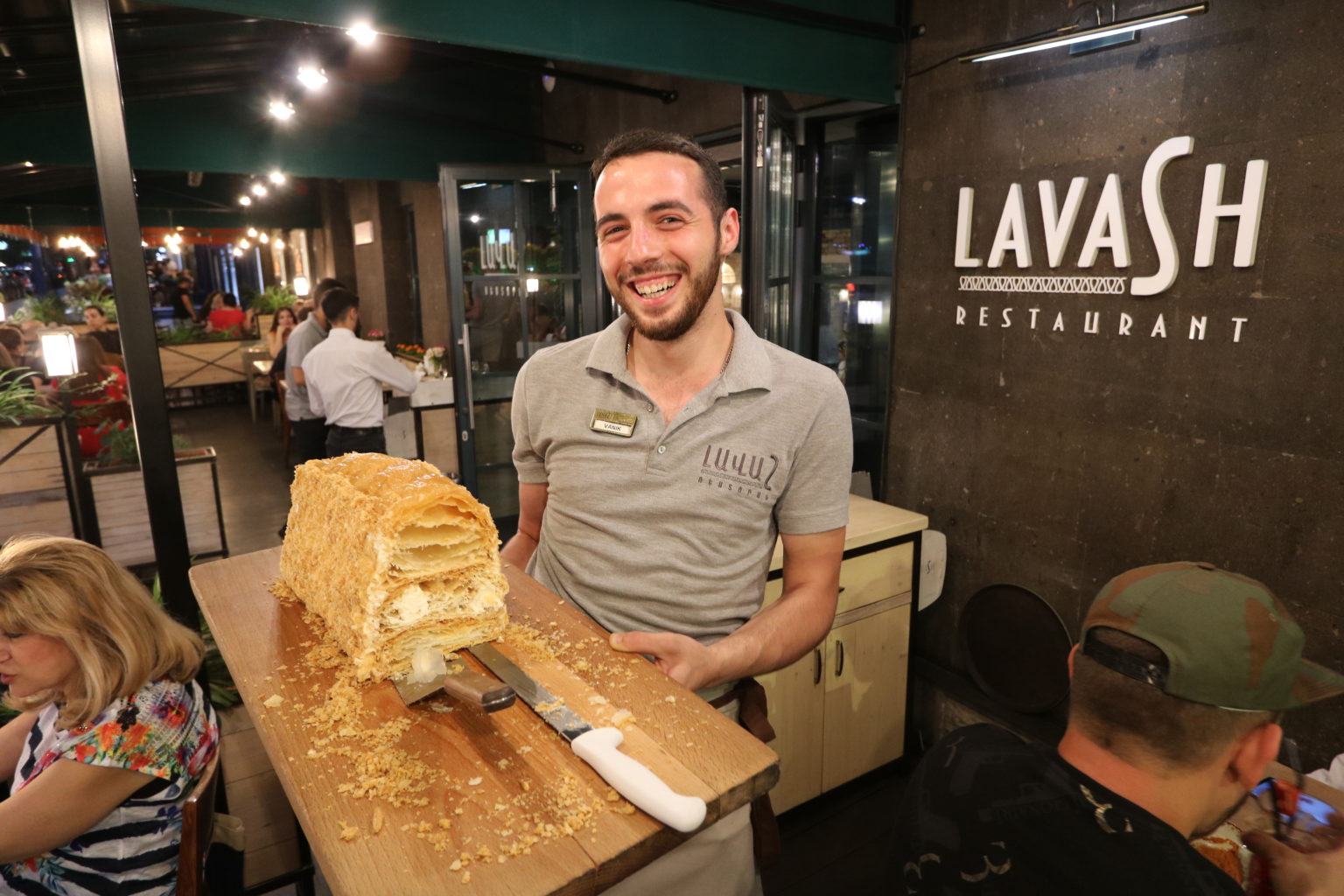 ---
---
---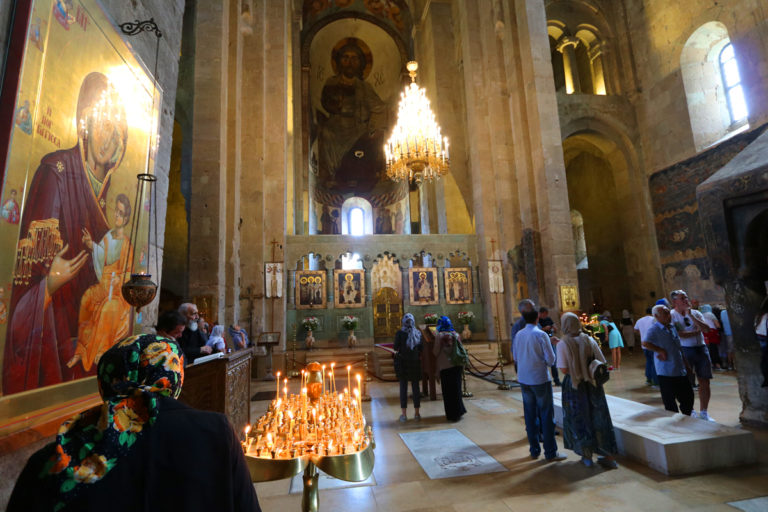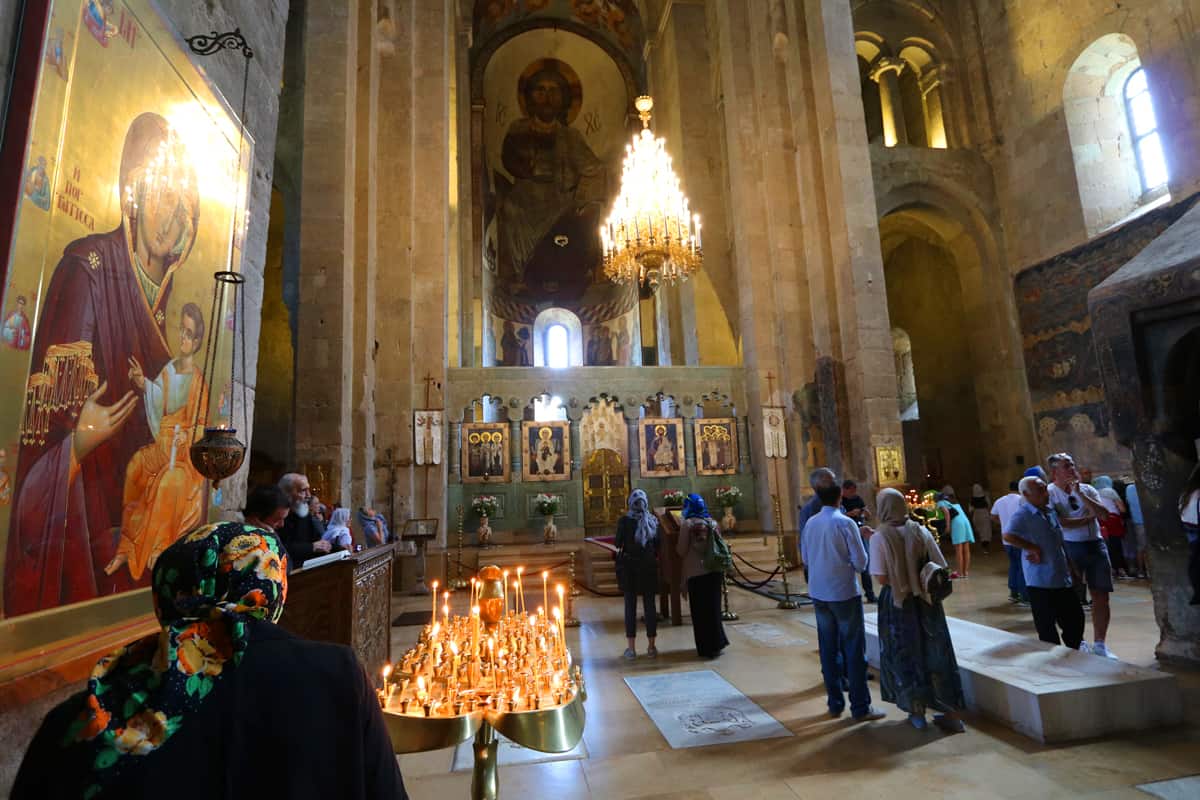 ---
People
In Georgia young people speak English. You could basically be in any European capital, that's the vibe you get. People are welcoming and open. It's an easy place to visit as a tourist.
In Armenia you have much fewer people speaking English. You'll also see much fewer tourists. Perhaps because of this the people are a little more hesitant with foreigners. It makes Armenia a little harder for tourists.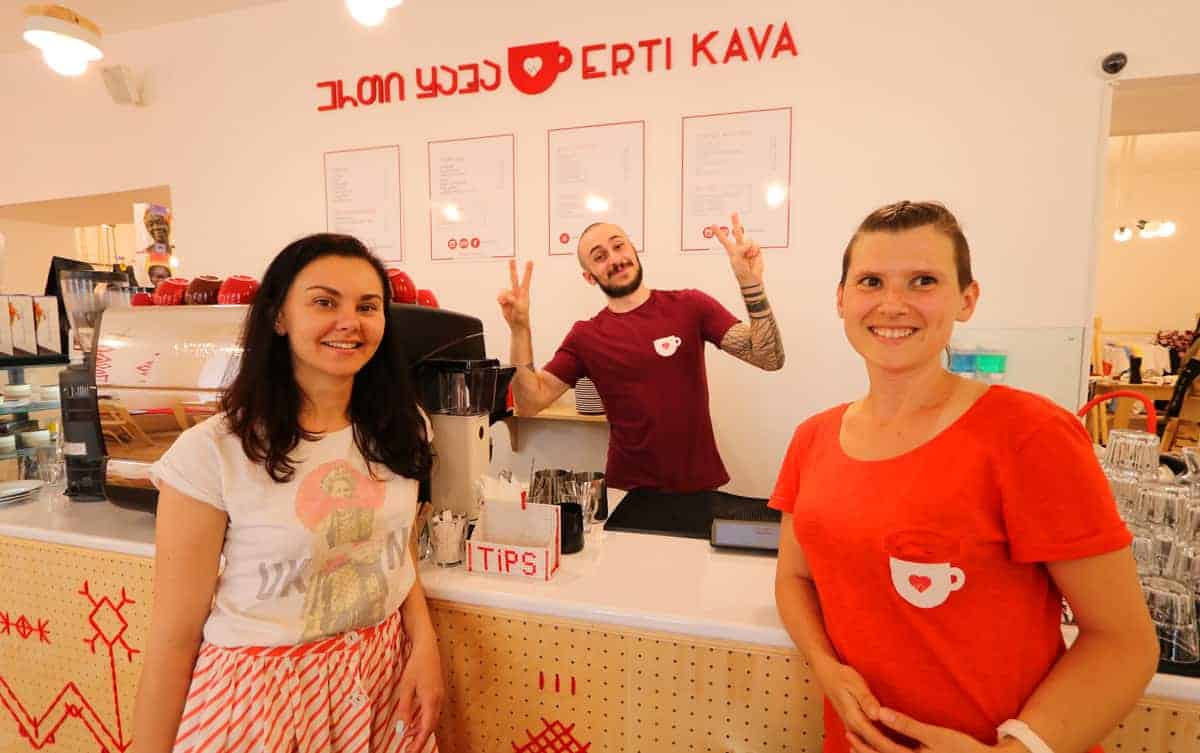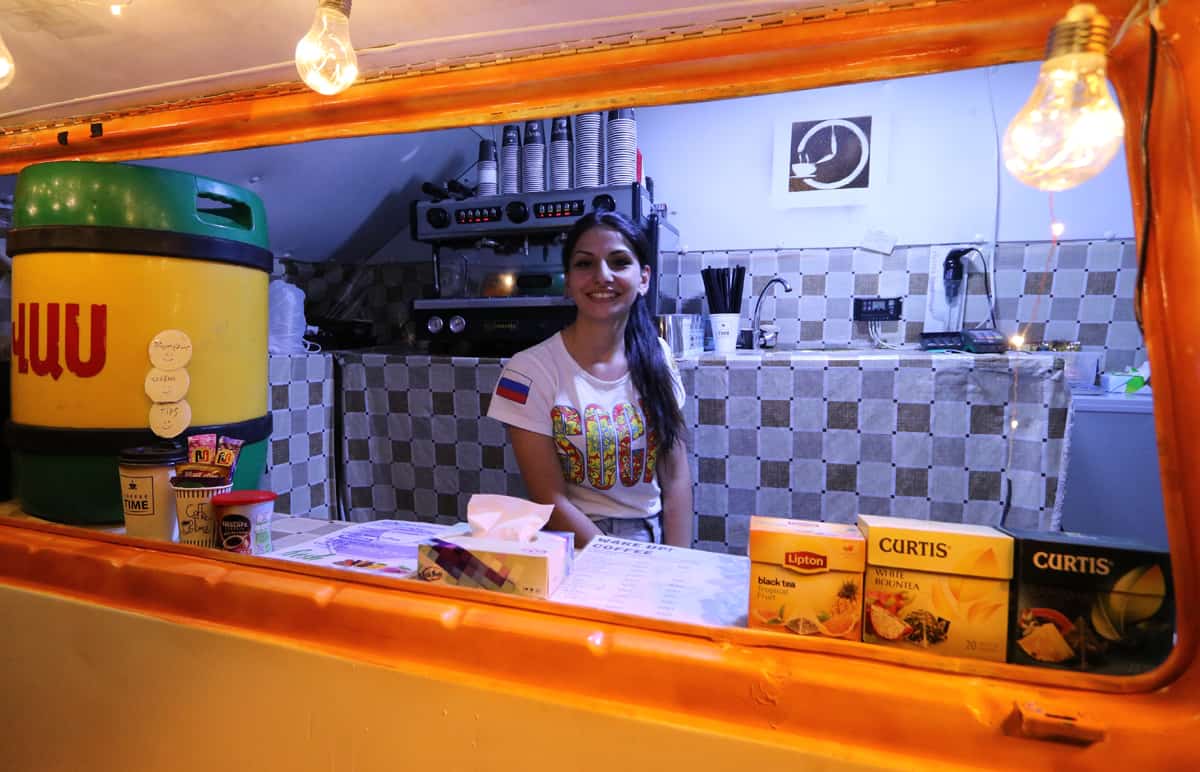 ---
---
---
Other Factors
Georgia has the best tourist infrastructure and many travellers will feel more comfortable here.
Armenia is a bit more off the beaten path and you won't see lots of tourists. We liked that.
Prices in both countries are quite similar (similar to prices in Central/Eastern Europe)


---
---
---
So, Tbilisi or Yerevan: which to visit?
You're going to hate me when I say this: but you should see them both. They're totally different and they almost complement each other in their differences. I think Tbilisi is more "fun" for a younger traveller coming for a few days. Tbilisi is "Caucasus-lite". It's easy and I would say that most people would probably enjoy Tbilisi more than Yerevan. But Yerevan was (for us) a more cultural experience and we felt a deeper connection to the city. But part of that was because we had the most fantastic guide George for a few days (look him up if going to Yerevan). He taught us about Armenia and it greatly enriched our experience. Similarly, we had a guide for a few days in Tbilisi. She wasn't great though. The guide sometimes makes all the difference in the world.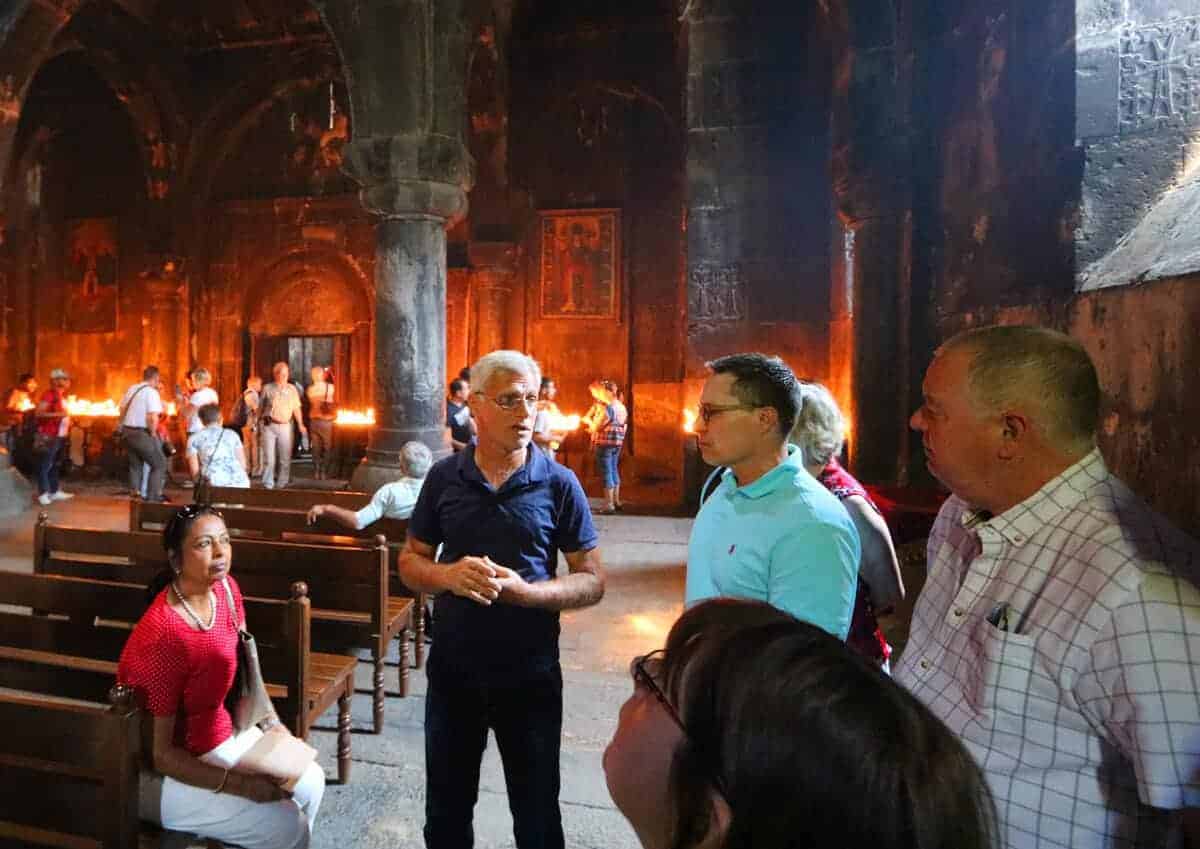 ---
---
---
How to travel Georgia and Armenia
We spent a month in Georgia, then took the train from Tbilisi to Yerevan (one of our worst ever train trips) where we also spent a month. It's not the way most people visit these countries though and not what I recommend for most travellers.
I would recommend doing these countries in either of 2 ways:
1) Do it independently. Book day tours from a local tour company once there to take you to places outside Tbilisi and Yerevan. There's lot to see in each country and to fully appreciate each you HAVE to get out of the cities. I'd recommend 4 days (min) to 7 days (max) in each country, spending half that time in cities and half doing tours in the countryside.
Where to stay. In Tbilisi: High end: The Biltmore Hotel Tbilisi (a gorgeous hotel next to the National Opera). Mid-Range: Rustaveli Hotel (beautiful hotel, excellent location). Great value: the cosy Hotel Rooftop Rustaveli. In Yerevan: Golden Palace Hotel (high end but very nice) or Central Hotel (great value for money). Both are very close to Republic Square.
2) Pre-Book a tour covering both. See this tour by Arara Tours. It's the best way to see all there is to see in both countries over a condensed 9 days (we joined their tour – doing 3 days with them in Georgia and then, a month later, doing 4 days with them in Armenia. Recommended). Alternatively, Stride Travel has a whole bunch of tours of Georgia and Armenia that cater to specific needs (cycling tours, trekking tours, etc).
The way you do it depends on your preference between group tours and independent travel (we personally prefer option #1, independent travel with the flexibility of doing tours when and where you want them).
---
Have you been to Tbilisi and/or Yerevan? What do you think?